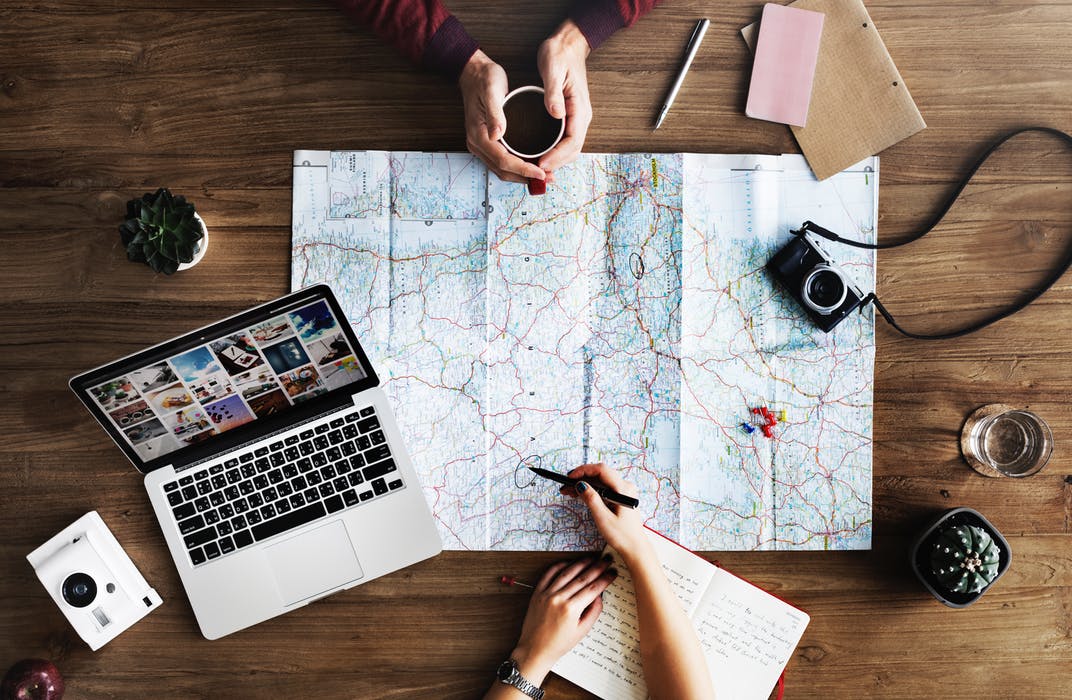 With Thanksgiving approaching and the holiday season officially here, it's safe to assume that you'll be traveling at least once during these upcoming months. Whether it be long road trips or infamous holiday flights; these tips will help minimize stress…and maximize jealousy from those around you wishing they'd thought of it first.
PACKING
Use pill case containers to store small jewelry items.
Use a contact lens container for eye and face creams to save space.
For easily wrinkled clothes, lay items flat in a dry cleaning bag and then fold them.


Image Credit: Cosmopolitan

For shorter trips, try packing in a soft-sided bag. This will provide more flexibility when storing in overhead compartments, under seats, etc.
Need to save space? Try rolling your clothes instead of folding them.
Wrap a scarf or tie around the handle of your bag or suitcase, to find it faster in the chaotic world of baggage claim. You can also purchase cute colorful tags like this one.
Use jumbo Ziploc baggies to put all of your outfits together. This will protect them from any fluids that might end up leaking n your bag. That could also be from a suitcase left in the rain on an airport tarmac. You also will not have to dig in your suitcase for all the parts of your outfit.
Image Credit: PopSugar
ROAD TRIPS
Bring cash for toll booths without an automatic toll collection.
Download the SitorSquat app to check the cleanliness of the bathrooms closest to you.
Buy a multi-outlet adapter to prevent dead phone batteries.
Visit the RoadFood website to get a complete listing of the best regional food throughout your drive.
Make a temporary phone mount for your car with just a rubber mound. Watch this video for step by step instructions!
Use apps lie GasBuddy to find the cheapest gas near you.
FLYING & AIRPORTS
If you can, flying on Thanksgiving day is often cheaper than the days before and after.
Take all batteries out of electronic items before arriving at the airport. Vibrating suitcases often cause security concerns and thus, longer lines.
This article claims that most airports have a lost & found department that often gives away phone chargers and other abandoned items.
Bring an empty water bottle to avoid having to buy marked-up beverages at the airport.
Use apps like Hopper, which analyzes fight prices daily and alerts you when prices drop.
HOTELS
Use points from credit cards towards hotel rooms. Click here for the best travel rewards credit cards for frequent shoppers.
If you are staying at a hotel for longer the week, email the hotel directly to negotiate a lower rate. This article claims to have used this hack to save up to 75% off the original rate.
Offer to write a review at check-in. Many hotels will offer you a discounted rate in return.
Instead of ordering room service, try using AmazonPrimeNow. This service will deliver food from local restaurants and groceries right to your hotel in less than 2 hours.
This article from the New York Times claims that because hotels pay 20-30% of the commission to booking sites, they'll most likely be willing to give you a discount for booking direct.
Let us know what tips you have for holiday travel, and which of these worked for you. Wishing you all a wonderful (and stress-free) start to the holiday season!
Gift Ideas for Anyone Whos Travels

SHESHE'S TIDBITS
Team SheShe started our new Facebook page called SheShe's Shopping Network. We would love for you to like our page so you can join us every Tuesday night for our Live segment all about shopping trends, style tips, beauty, travel, and more to help women look and feel confident and be in the know. It is so much fun!!
We hope to see you there!! Here is the link to like our page
https://www.facebook.com/sheshesshoppingnetwork
*CHECK OUT MY INSTAGRAM SHOP TO SHOP ALL OF MY INSTAGRAM LOOKS
*YOU CAN ALSO DOWNLOAD THE LIKETOKNOW.IT APP AND FOLLOW ME ON IT BY CLICKING HERE. Go here for our LiketoKnow.It tutorial.
* STAY IN THE KNOW: SUBSCRIBE HERE to receive exclusive sale alerts, helpful style tips, and fabulous giveaways, AND GET ACCESS TO MY VIP ONLY FOR SUBSCRIBERS!
*Be sure to check out the Shop SheShe tab at the top of the menu bar. Hover over and choose the category in the dropdown. We try to keep it up to date with the latest and greatest for all budgets.
Have a great week sweet friends and thank you for following along. Without you, we could not continue on this crazy fun journey.
XOXO, SheShe