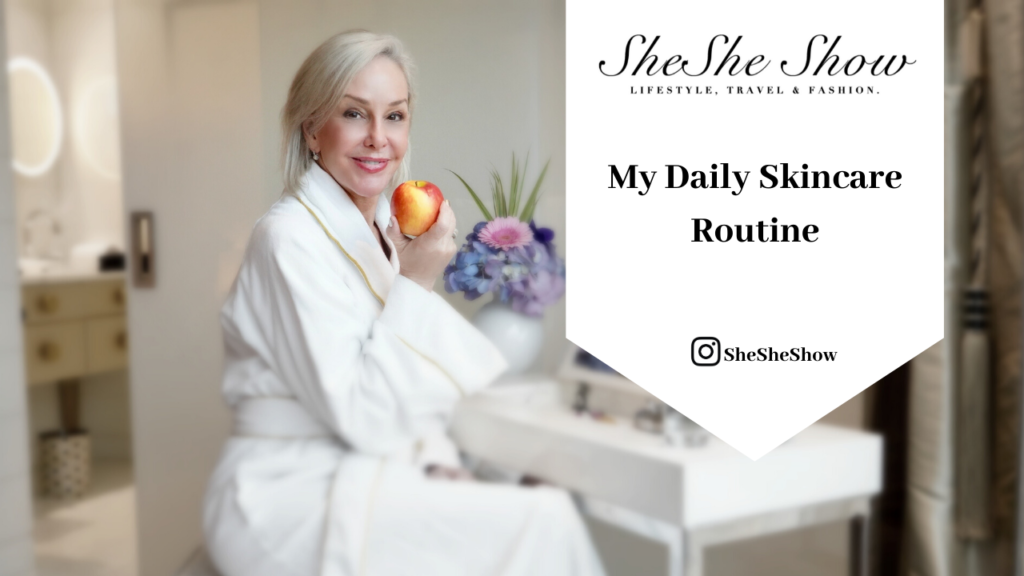 Hello, my sweet readers! I am often asked about what I do to keep my skin looking youthful. It is a journey for sure. So, today we decided to do my skincare routine in a video. It features everything you need to know about my daily skincare regimen.
To shop click on a photo of the product in the boutique.
My Skincare Routine
I want to talk about my skincare routine a bit and dive a little deeper. The first thing I want to mention is that YES, consistency is key – my skincare routine has been a major part of my beauty and wellness as a whole. While I am consistent – I am not committed to using specific brands or products as I believe it is the INGREDIENTS that make the magic happen. Vitamin C, RetinA, a good moisturizer, and sunscreen are where my loyalty and beliefs live.
The 7 Steps | Proper Skincare
A good rule of thumb is to apply products from thinnest to thickest—toner, serum, moisturizer, and oil. Skincare can be tricky and confusing but no worries, below I have the 7 steps for your skincare routine!!
Step 1: Cleanser
After removing all your makeup, cleanse your face with an oil-based or water-based cleanser—or both if you're doing a double cleanse! Depending on your skin type, you might only need to rinse your face with warm water in the morning. Use a more robust cleanser in the evening, especially if you have acne-prone or oily skin.
We recommend:
Step 2: Toner
Toner is often overlooked but is so important! Toner is meant to clean off whatever bacteria and oils that your cleanser may have missed! Lots of times when we think of toners, we think of those with acne-prone skin and may not think it applies to us. It does. No matter your skin type, toner is an important step to clearing those pores!
If you have dry skin, you MAY skip this step – or find a hydrating toner like this one. If you have acne-prone skin, consider using an alcohol-based toner or witch hazel. I love fresh Rose toner and this is a toner is have been committed to for years – it's that great.
We recommend:
Step 3: Serum
Serums are the powerhouses of your skincare routine. With just a few drops gently pressed onto your skin in the morning and evening, you're allowing your skin to take in whatever nutrients you want it to. Whether you're looking to reduce oil production, improve textural irregularities, or increase firmness, you can find a serum that will help. Vitamin C serums are often recommended as an all-around good serum if you don't have a particular concern or are just getting started.
We recommend:
Step 4: Spot Treatment
Having zits or pimples is no fun—combat them with spot treatments. Spot treatments are concentrated products that you apply directly to the affected area. (Do not apply spot treatments over your whole face.) The powerful ingredients work to shrink your blemish without drying out your entire face.
Skip this step if you don't have any blemishes currently. If your acne is persistent or cystic, I recommend seeing a dermatologist.
We recommend:
Step 5: Eye Cream
If you're in your 20s or older, eye cream is mandatory. The skin around your eyes is especially sensitive, so it's important to gently moisturize the area. Using your ring finger, gently tap (the ring finger is best) your eye cream onto the area beneath your eyes, avoiding the skin closest to your eyes. By applying eye cream every morning and night, you'll likely reduce the appearance of fine lines and wrinkles over time.
We recommend:
Step 6: Moisturizer
Lock in your serums and moisture with a face moisturizer. If you have dry skin, you can use a thicker cream, but those with oily skin will want to opt for something a little more lightweight. Even if you have oily skin, you still need moisturizer! For those with oily skin, I suggest using a hyaluronic serum or squalane oils instead of a lotion!
We recommend:
Step 7: Face Oil
Face oils are used to further lock in moisture and all the goodness from your serum! Oils cannot be penetrated, so they serve to protect your skin. You'll also get a nice, dewy glow from them!
If you have oily skin, you might consider skipping applying face oil on top of your moisturizer. If you're hesitant to apply oil because you have acne-prone skin, consider trying rosehip oil, which can decrease oil production.
We recommend:
Final Step: Sunscreen (AM Only)
If your moisturizer doesn't contain SPF, you will need to apply an additional sunscreen. I always go for sunscreen with around 30 SPF to ensure my skin is protected from harsh rays. Even if you aren't going to be in the sun all day, you still need sunscreen. Opting for a foundation WITH SPF in it is a great way to ensure you're applying your sunscreen!
We recommend:
Retinol (PM Only)
Retinols are essential for reducing fine lines and wrinkles and textural irregularities. It's a synthetic form of Vitamin A, and it works to help skin cells regenerate quicker. It's often used to prevent and reduce the appearance of acne scars, pigmentation, fine lines, and wrinkles.
You may experience what is called "purging", which is when your skin is adjusting to the retinol, so you may experience blemishes. Apply this on clean dry skin before your moisturizer in the evening. After a month or so of use, your skin should adjust, but always ask your dermatologists if you have any questions or concerns!
We recommend:
Skincare Boutique

SHESHE'S TIDBITS
Team SheShe started our new Facebook page called SheShe's Shopping Network. We would love for you to like our page so you can join us every Tuesday night for our Live segment all about shopping trends, style tips, beauty, travel, and more to help women look and feel confident and be in the know. It is so much fun!!
We hope to see you there!! Here is the link to like our page
*CHECK OUT MY INSTAGRAM SHOP TO SHOP ALL OF MY INSTAGRAM LOOKS
*YOU CAN ALSO DOWNLOAD THE LIKETOKNOW.IT APP AND FOLLOW ME ON IT BY CLICKING HERE. Go here for our LiketoKnow.It tutorial.
* STAY IN THE KNOW: SUBSCRIBE HERE to receive exclusive sale alerts, helpful style tips, and fabulous giveaways, AND GET ACCESS TO MY VIP ONLY FOR SUBSCRIBERS!
*Be sure to check out the Shop SheShe tab at the top of the menu bar. Hover over and choose the category in the dropdown. We try to keep it up to date with the latest and greatest for all budgets.
XOXO, SheShe