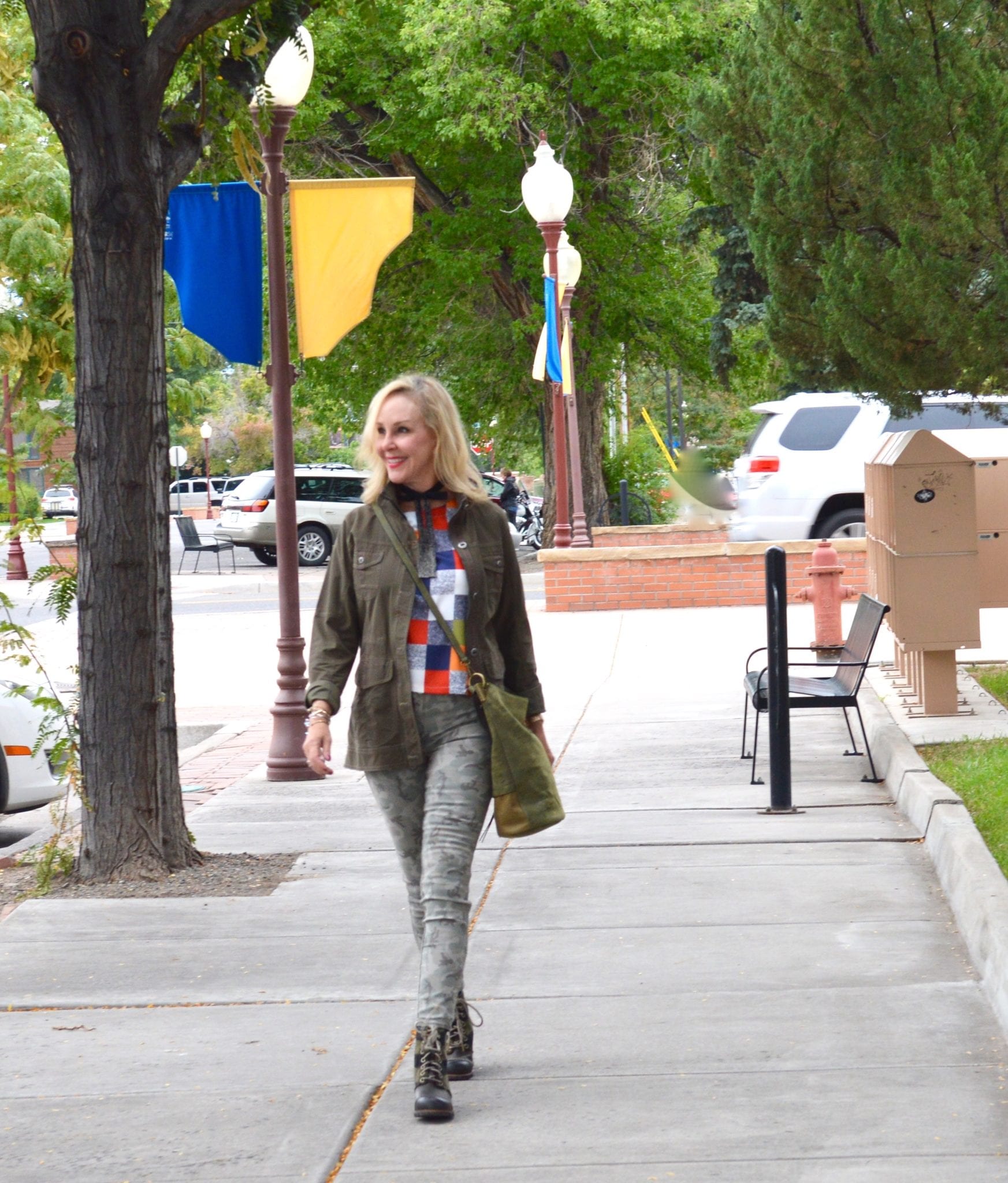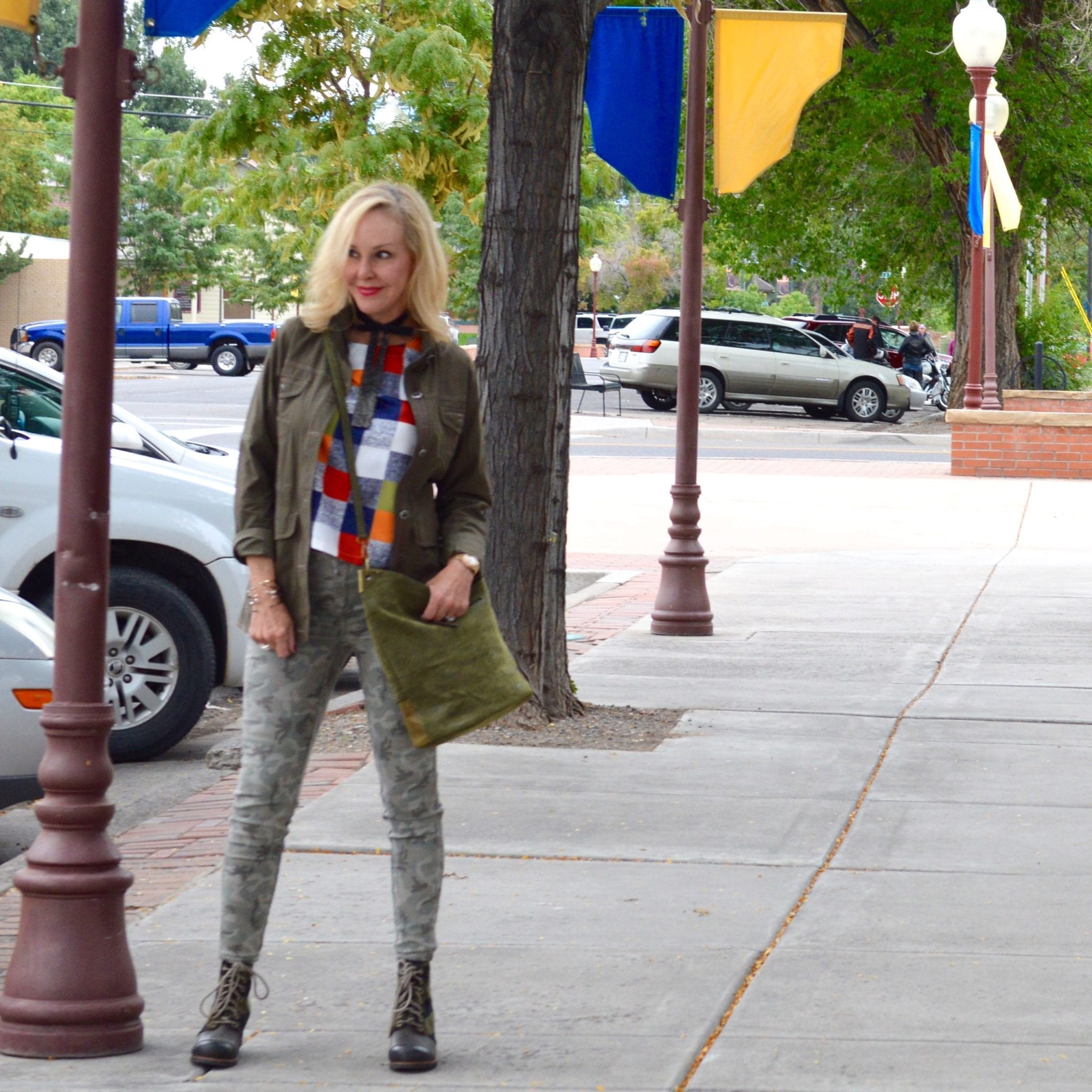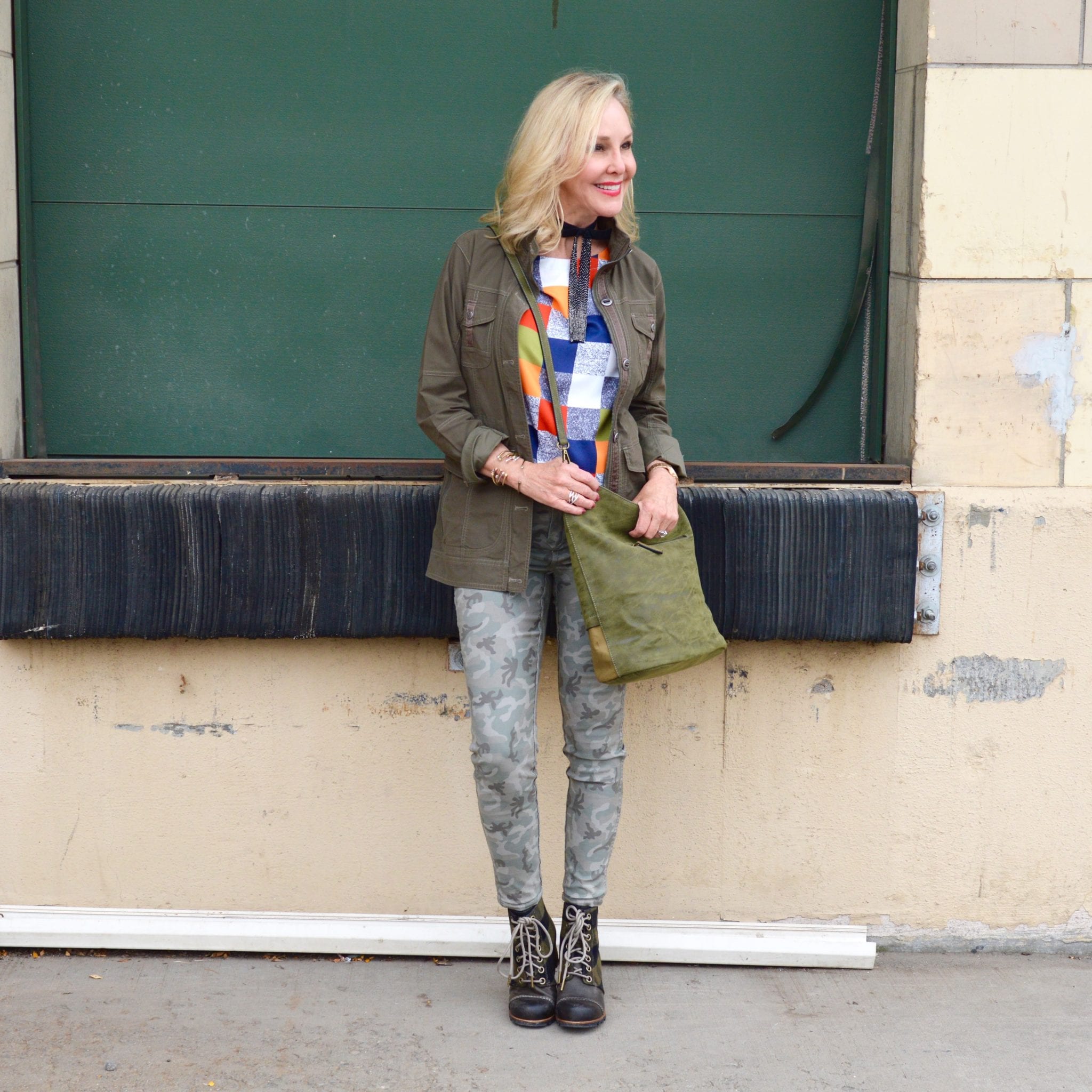 Today we're talking all about camo and the utility jacket…the ultimate fall trends for this season! I just cannot get enough of the camo trend this season, and this time I am wearing it with an army green utility jacket by Kuhl USA. Go to my previous blog "How to Plan For A Trip To Africa"  to see me wearing it in Africa as a recreation utility jacket. It is also perfect to style for a trending fashion statement.
To make the utility jacket a little more versatile, try wearing it over a floral dress  that is now on sale. A great transitional  look that has fall floral colors that work great with the dark green of the jacket. You will be surprised how cute it will look.
I love this whole commando look, but I like making it a little edgier by adding some feminine elements like the bow choker or the colorful top. It keeps me from looking like I am headed out to battle. Don't be afraid to mix feminine prints and accessories to make it more interesting and less military.
I have seen a lot of camo for fall. Jackets, jeans, and even cell phone cases are everywhere. To me camo is always on point. It may be because I live in Texas and hunting season is so big here. You may have read another recent post here on the blog "Tips on How To Wear Camo."  I also found these really cute plaid wedge lace up booties to complete the look at the Nordstrom Anniversary sale. They are now sold out but there are other fabrications in the same style that give the illusion of a combat boot but with a stylish twist.
My dad was a "weekend warrior" with the Air National Guard for most of my life. I was used to seeing military flight suits, bomber flight jackets, camo fatigues and so on and so on around our house. I will never forget how handsome he looked in his uniforms. After my dad passed away I confiscated most all of his Air Guard issued items. No one else in my family was interested in fighting over them so that made me very happy. I will do a post later styling some of these special and sentimental items.
I know that this look is not for everyone, but I sure do like it. Obviously, when I refer to this  trend so much. Just remember that the utility jacket is so very versatile and looks great over dresses as well as jeans. If you are not a camo girl then this jacket can give you the trend. I linked several styles at different prices below.
SHOP MY LOOK
Kuhl Rekon utility jacket c/o Kuhl USA | Camo jeans c/o @sheshemontrose similar style here, here and here | Checkerboard top | Beaded bow choker c/o Mignonne Gavigan, similar style | Canvas tote bag c/o @sheshemontrose similar style here and here | Similar Sorel wedge booties |


SHESHE'S TIDBITS
Yeah, it's Friday!!!! What are you doing this weekend? Believe it or not, I am watching my favorite fall pass time….college FOOTBALL!! My Tennessee Volunteers play the Georgia Bulldogs. We are 4-0, but every week makes me so nervous. I will also take some before pictures of a few rooms in our home. It has been 17 years since I have changed them up so I am excited to start working on some fresh new looks.
Thanks for stopping by and I hope you all have a wonderful weekend!! Be safe!!