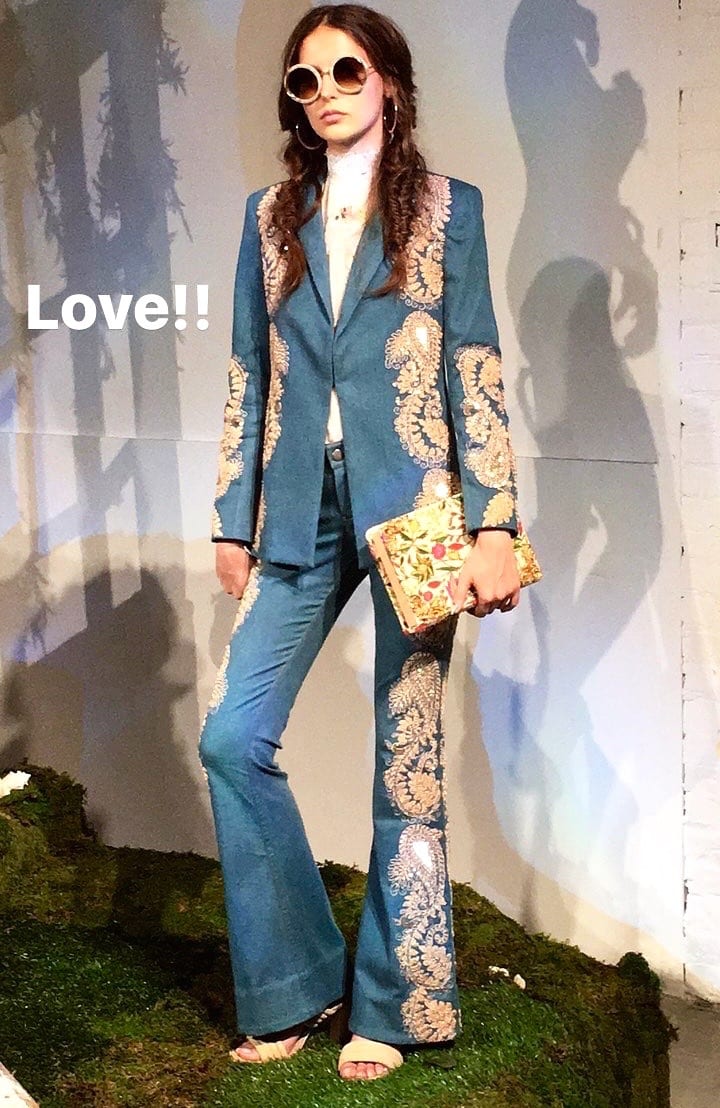 I was so excited to get an invite to the New York Fashion Week SS/2017 Alice and Olivia Presentation.
So what is a presentation? It is a display of a designers collection in a setting that is created by the designer and her team. More and more many designers are choosing this format to show their upcoming collections. I personally love this format for 3 reasons.
It is a come and go usually in a 2 or 3 hour period. If I have another show that I would like to attend at about the same time, then I could more likely be able to go to both. I love the flexibility in the time schedule.
More buyers, customers, bloggers, press and more can attend.
I can take my time walking around snapping photos and really get up close and personal with the details of the outfits.
As much as I love the drama and theatrics of a highly produced fashion show, I would much prefer the presentation format. I guess it would depend on the designer. For Alice and Olivia, they definitely found the right formula for showing off the refined details that Stacey Bendet (designer) so beautifully creates.
This collection was inspired by elements of the sun, moon, earth, air and fire that fits perfectly in a setting of romantic mystic gardens of Bomarzo in Rome…. a divine yet mysterious rainbow filled fairytale that represents the power of positivity and the ability to connect with ones higher self.
I love the way she gives us the fantasy with the classic, offering pieces that allow us to be more creative in the way we style each one of them. Her use of bright colored hues as well as the classic black and white give the right balance drawing in the most conservative and the most avant garde into her fantasy world.
I absolutely lovvvvve her accessories that include amazing attention to detail and continues with the colorful palette seen throughout the ready to wear. . I am so into the whimsy bags these days. It allows me to express the artistic and playful side of myself. It really is wearing art!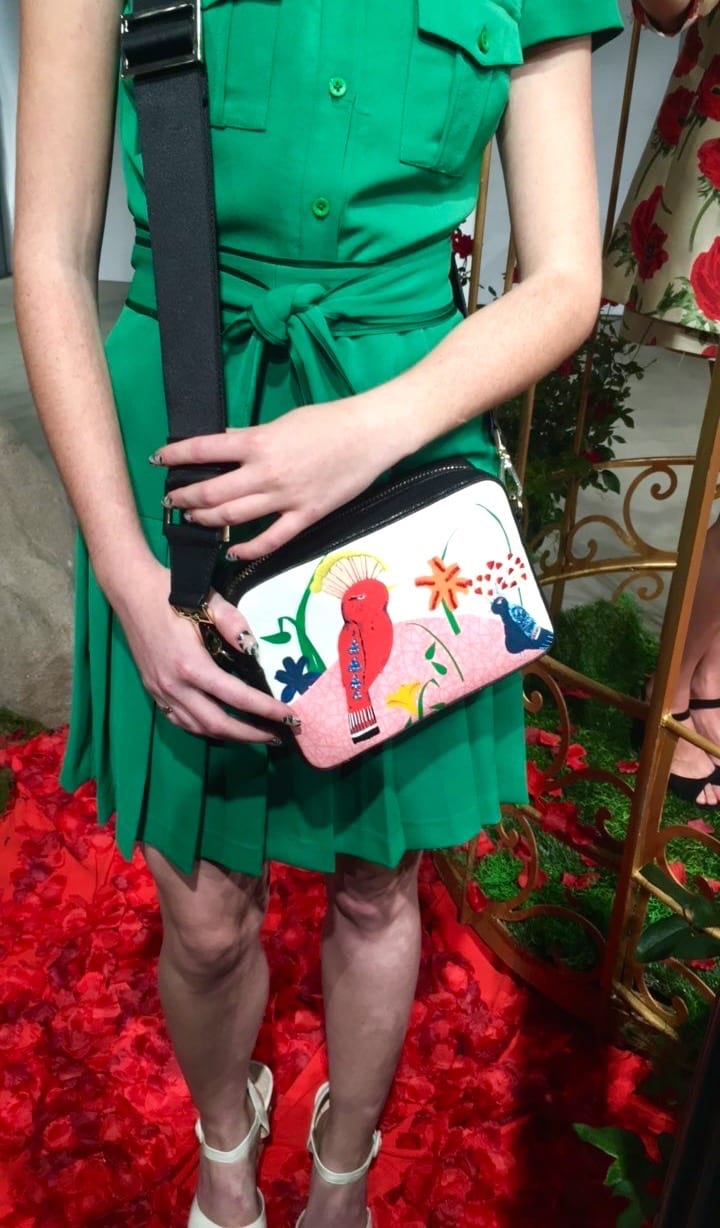 Check out the eyewear above and below photos. This is a new element that Stacey Bendet has added into to her mix ever expanding her reach. Reminiscent of Bendet's signature "Stace Face" look, the collection consists of sunnies in bold shapes including oversized cat eye, butterfully, and 80's inspired round frames.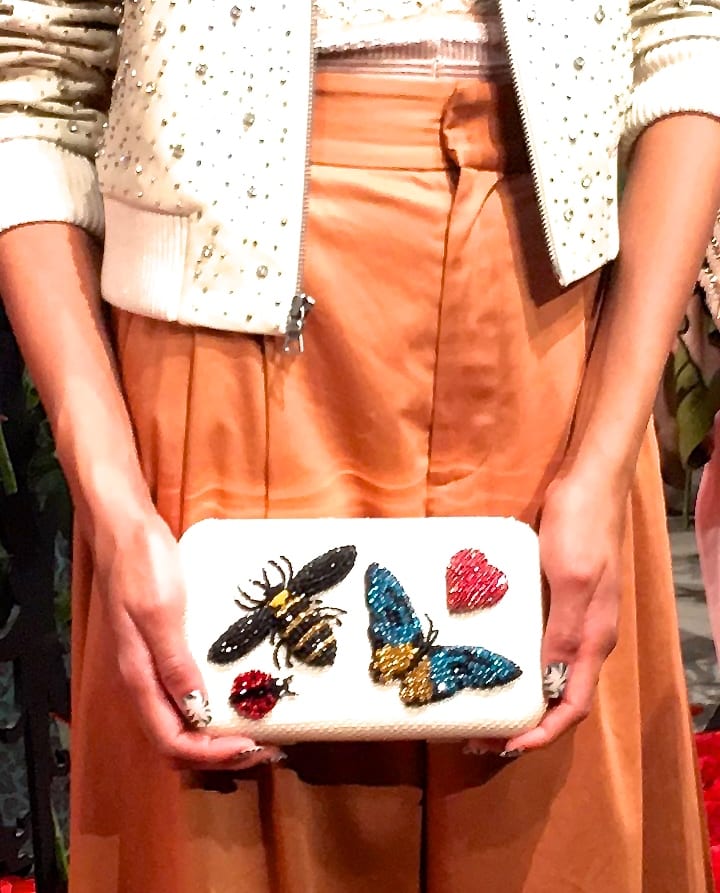 I discovered several influences from my decades past. As you all know, I am a 60's and 70's girl where much of the bohemian embellishments, florals, bell bottoms, and peasant dresses really resonate within my soul. I also love some of the 80's inspired large round sunglasses, color-blocked details, rhinestones and studs. Over time Stacey has created her signature "Stace Face" look. This moves forward with this adorable maxi skirt in the photo just below.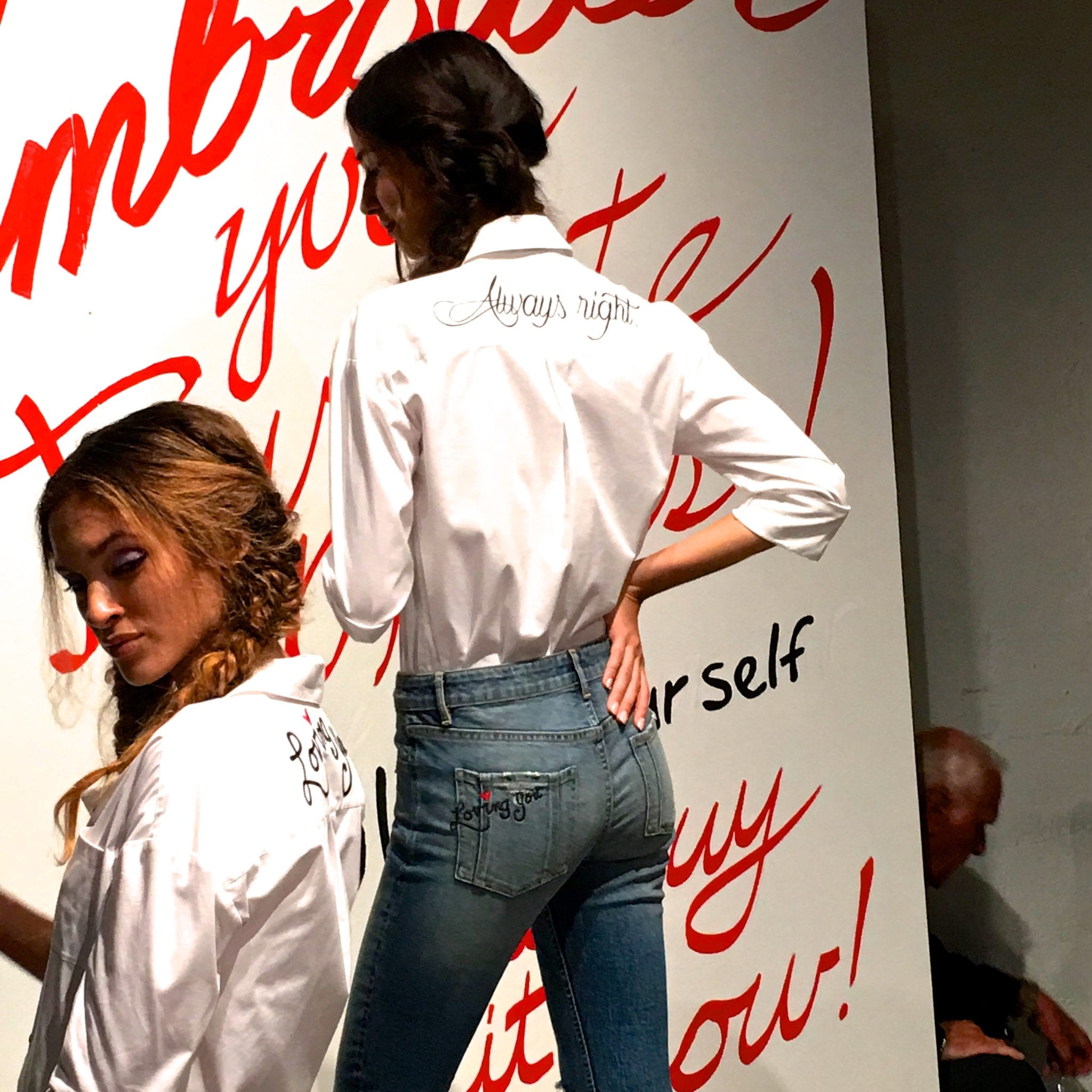 We women love instant gratification, so this season Stacey Bendet created a "See now, Buy now" collection consisting of a few classics like a color block sweater and also a black jumpsuit. Also with in this collection she introduced a "#Love Yourself" capsule with classic pieces with a fun twist. (see above) You can actually personalize their classic white button down shirt and black leather jacket, with phrases like "Love Yourself" or "Always Right" embroidered across the back. What is your favorite phrase?  A variety of customizable denim is now available as well with select retail partners or on line at www.aliceandolivia.com. You can use your own monogrammed phrases, name or initials. How fun is that? I would love to know if you have a favorite phrase. I have several that I love.
If you haven't figured it out yet, Alice and Olivia is for the strong woman that has the beauty of interpreting life's messages. This woman wants it now and wants to wear it now!!! I am so glad to be able to shop some of these latest designs now and I can't wait until the Spring/Summer line starts arriving in the stores. Next spring is going to be so much fun with Alice and Olivia!
SHESHE'S TIDBITS
Alice and Olivia has recently opened a store in the River Oaks District of Houston, TX.

4444 Westheimer Rd a150, Houston, TX 77027

This is Houston's answer to Rodeo Drive with the exception of the Galleria. It is the luxury place to shop. Please check out www.shesheshow.com to see my beautiful embroidered palazzo pants by Alice and Olivia that I wore to this presentation.

Thank you for stopping by. As I promised, I will be publishing all of the photos of our bunk room in our Colorado home this week. I can't wait to start sharing this much anticipated project with you.
We are also finishing up a new intro to my Youtube show. My assistant Carson is doing an amazing job. Our work is never done!
Have a fantastic week!