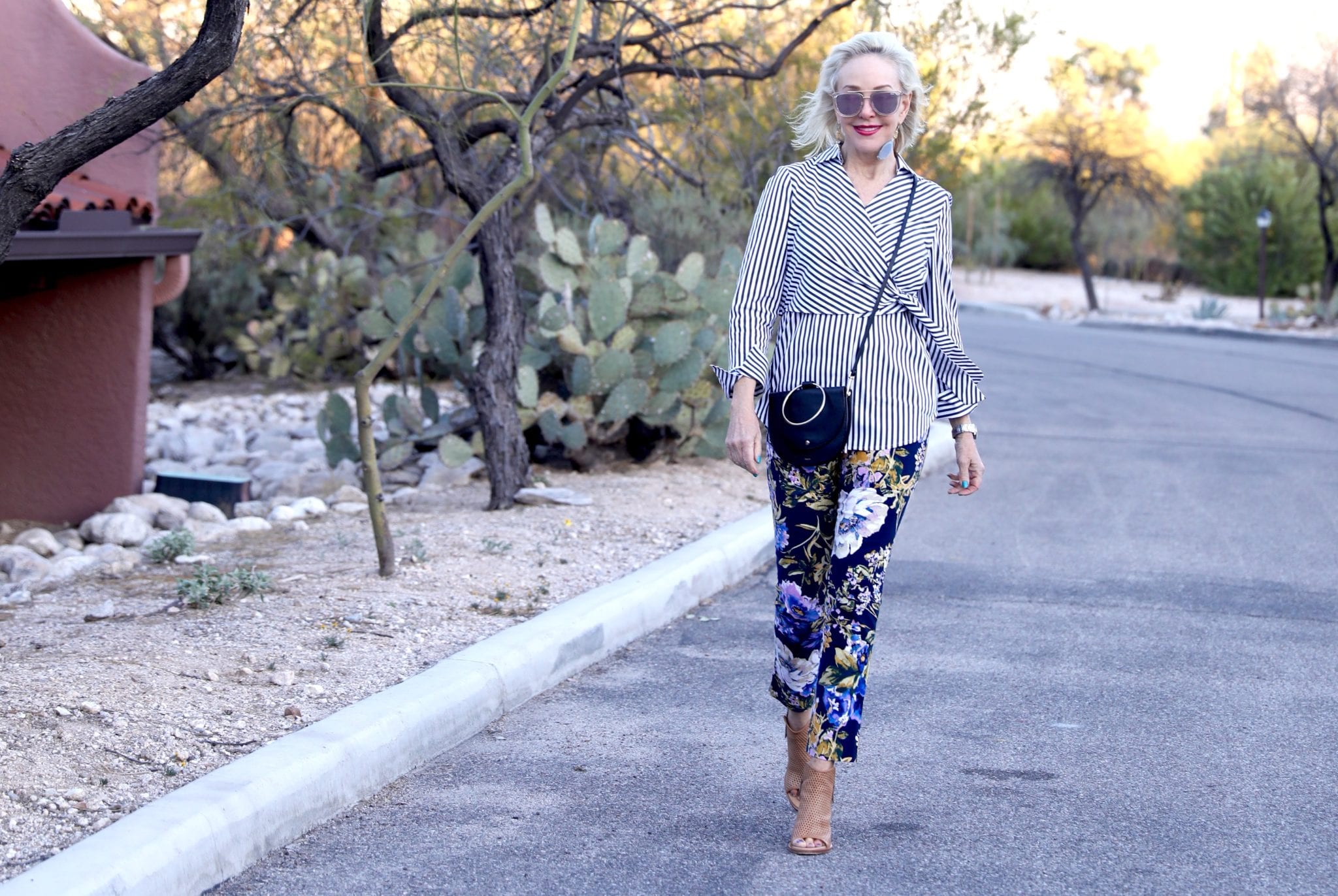 Today we are talking about mixing prints to make interesting and exciting new looks. These spring trends are not going away any time soon, so go ahead and step out of the box and mix it up!
Happy Easter to all or maybe it's Happy Passover? For Christians like myself, today is a very significant day. HE IS RISEN!! Even though I am not in church every time the doors are open, I am still reverent and thankful for this yearly reminder that Jesus died on the cross to save me from all of my stupid sins. I have peace knowing that I have faith in this promise!
So back to a little bit of spring fashion. If you have been following for a while then you might remember this blog post from last spring. It is another example of mixing prints that work and make a fun and exciting outfit. Most of the time if you take these items by themselves then they are classics, but if you mix a classic print blouse with a classic print pant then you have put a magical twist on your outfit. Today's outfit from Chico's is a great example.
Gone are the days of fashion rules sisters, so quit making excuses and jazz up your look this spring. Most of us are concerned about aging, but don't realize that one of the easiest ways to appear younger is don't give up on your wardrobe. If you put a 60-year-old woman with a modern and current outfit on next to a woman of the same age in an old dated outfit, then the later will look 10 years older! That's a fact. Nothing wrong with getting older, but I don't know about you, I want to do everything that I can to look the very best I can at no matter what age I am. Take pride in yourself! It will also make you feel 10 years younger.
I am sure most of you have a classic print blouse or shirt in your wardrobe. Now, I want you to find a print pant and put them together. Not all prints work together, so I usually look for a common denominator of a color that ties it all up.
Now that I have given you a pep talk and then a challenge, let's hear all about how you are stepping out of your old ways and trying something new.
HAPPY EASTER!!

Outfit Details
Mixing Prints 
This post was brought to you in partnership with my friends at Chico's 
SheShe's Tidbit
We go to Sanibel Island on Tuesday and close on our new vacation home. This is a dream for me and my family. There will be lots of things to discover and we just heard that VP Pence will be on the island for a week. Maybe we can do some shelling together. Ha Ha!
 Gala's, weddings, graduations, holidays or just everyday wear…..we have fashion suggestions for you, so stay tuned. Be sure to check out ShopSheShe tab at the top of the menu bar. Hover over and choose the category in the drop down. We try to keep it up to date with the latest and greatest for all budgets. Subscribe here and then you won't miss a post. Simply enter your email in the pop-up box when you come to this site or at the top of this page in the subscribe box.
WELCOME new readers. We are a fashion/travel/lifestyle blog. We talk about anything and everything, from fashion, travel, health issues to even an occasional recipe. If there is a topic that you are interested in, then let us know. We will do our best to bring that story to you. Have a great week sweet friends and thank you for following along. Without you, we could not continue on this crazy journey!