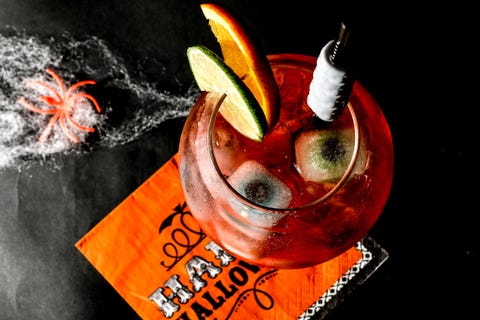 If you joined us last week, we broke down some of the healthiest Halloween treats we could find. But this week, we decided to have a little bit more fun with it, and give everyone a different kind of treat…Halloween cocktail recipes! The team over at The Saloinniere curated this list of both expert and beginner level recipes, and we added a few more of our favorites. Enjoy this list…responsibly….and comment below what your Halloween plans are!
Ghoulish Gingerale (via Cosmopolitan)
Poison Apple Martini (via Half-Baked Harvest)
Level: Expert. Like an appletini, but even better! This recipe even includes activated charcoal…spooky!
Bat-Berry Margarita (via Domino)
Level: Medium. A new twist on a classic margarita, with blackberries!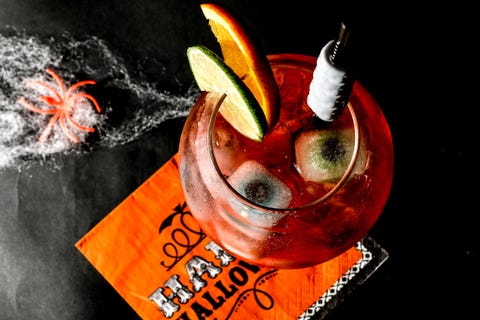 Ghoulish Gingerale (via Cosmopolitan)
Level: Easy. Another recipe for beginners, involving just a few ingredients. Even better, it involves two of my favorites: cranberries and gin! 
Dark and Stormy Death Punch (via Food & Wine)
Level: Medium. So this one is a bit easier for large parties, as the recipe serves more than the other cocktails. It does involve a special ingredient, lychee, to make it extra unique. 
The Deathly Hallows (via Half-Baked Harvest)
Level: Easy. Typically as long as the recipe involved ginger beer, I'm in. Needless to say, I will be making this one first!
The Black Heart (via Drinkwire)
Level: Easy. Fig vodka and vermouth… a match made in Heaven.
Walking Dead (via Town & Country)
Level: Expert. This recipe involved a few unique ingredients, including pear liqueur. But if it's anything like the show, it's going to be great!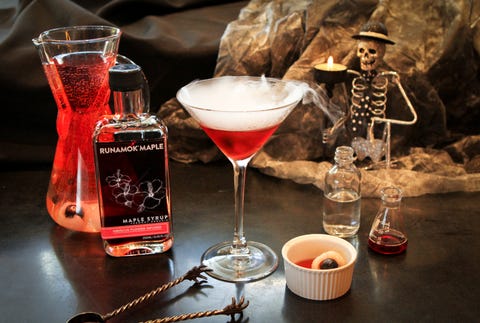 Spooky Kitty (via Cosmopolitan)
Level: Easy. The best part of this recipe? It only calls for 3 ingredients! 
Sleepy Hollow Cocktail (via Jewels of New York)
Level: Medium. The rosemary addition in this recipe makes it perfect for Halloween and beyond. Maybe it can even make the transition to a Thanksgiving drink? 
Death & Co. Get Lucky Cocktail (via Harper's Bazaar)
Level: Medium. Blackberries, rum, and ginger oh my! 
CHEERS! 
SHOP THE POST
SHESHE'S TIDBITS
Hi sweet readers! After an amazing influencer trip to the Baja of Mexico with very little internet, I am back. The first day I was having major social media withdrawal symptoms, but after a couple of days, it actually felt pretty good to just let it go! We will be bringing you all the great information about Todos Santos and Las Cruces over the next 6 weeks so stay tuned for a fascinating adventure with me and 2 other midlife influencers.
We have updated most of the Shop SheShe categories located at the top in the menu bar. Simply hover over and click on the category you are interested in.
Gala's, weddings, graduations, holidays or just everyday wear…..we have fashion suggestions for you, so stay tuned. Be sure to check out ShopSheShe tab at the top in the menu bar. Hover over and choose the category in the drop down. We try to keep it up to date with the latest and greatest for all budgets. Subscribe here and then you won't miss a post. Simply enter your email in the pop-up box when you come to this site or at the top of this page in the subscribe box.
WELCOME new readers. We are a fashion/travel/lifestyle blog. We talk about anything and everything, from fashion, travel, health issues to even an occasional recipe. If there is a topic that you are interested in, then let us know. We will do our best to bring that story to you. Have a great week sweet friends and thank you for following along. Without you, we could not continue on this crazy fun journey!