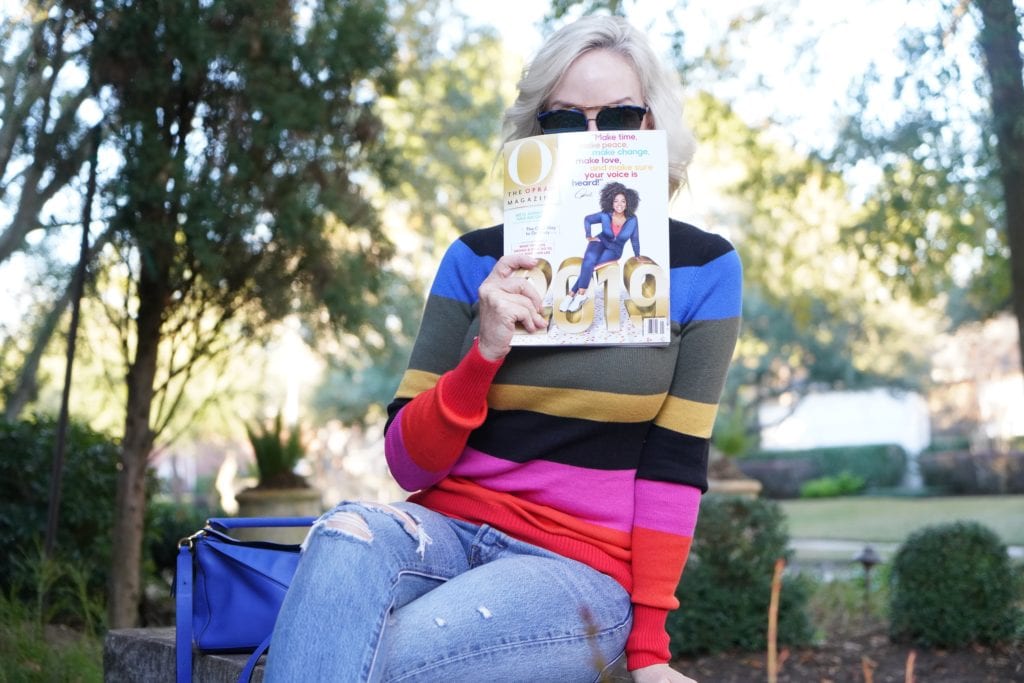 HAPPY NEW YEAR!! I hope that you all had a great 2018. My year was great and so blessed that my close friends and family are all healthy. This year like every year we review, update and grade our New Year Resolutions. We are also so excited to share some exciting news that will give new life to SheShe Show.
If you don't know, exactly 5 years ago today I created SheShe Show and started my YouTube channel that later led to Instagram, Pinterest, and my blog. It has been a journey for sure and I really didn't know what I was getting into or where it would go.
Finally this past year some great things started happening in my business and just recently I was invited to be an O Mag Insider.

What is an O Mag Insider?
Well, I don't know a lot right now, but I do know that it is an awesome opportunity to work with the Oprah Magazine team and over 60 accomplished women from around the United States. They are not all bloggers but women who are accomplished in a variety of ways. What I understand is there is an opportunity to write for the magazine, go on a trip or two, collaborate with major brands, and maybe get a trip to Oprah's Favorite Things announcement. The best part though will be getting to know the other O Insiders and the fab O Mag team.
O Magazine started this group 2 years ago and it keeps evolving. We were chosen from thousands of applicants. I don't know that I would have been selected had I not had the opportunity to work with Oprah's longtime fashion director Adam Glassman back in October. Sometimes it is who you know that can get you a closer look.
I will learn more as the weeks ahead unfold and I cannot wait to take you on this journey with me!! After all, you are a part of the whole SheShe Show success equation and for that, I am so grateful! Stay tuned……..
~Scroll to the end for my report card and resolutions~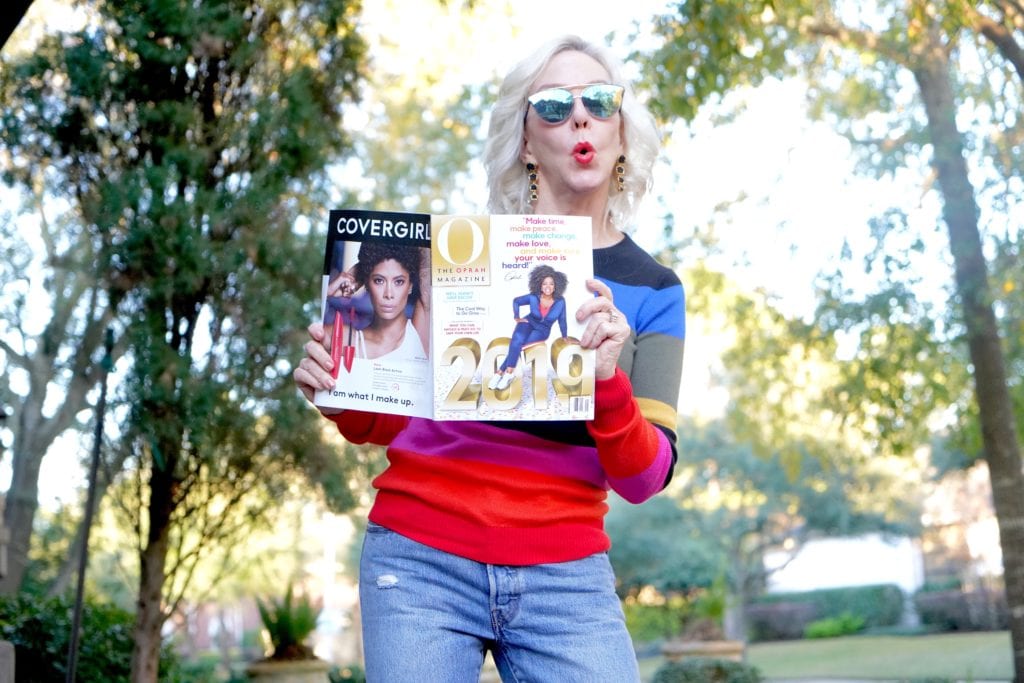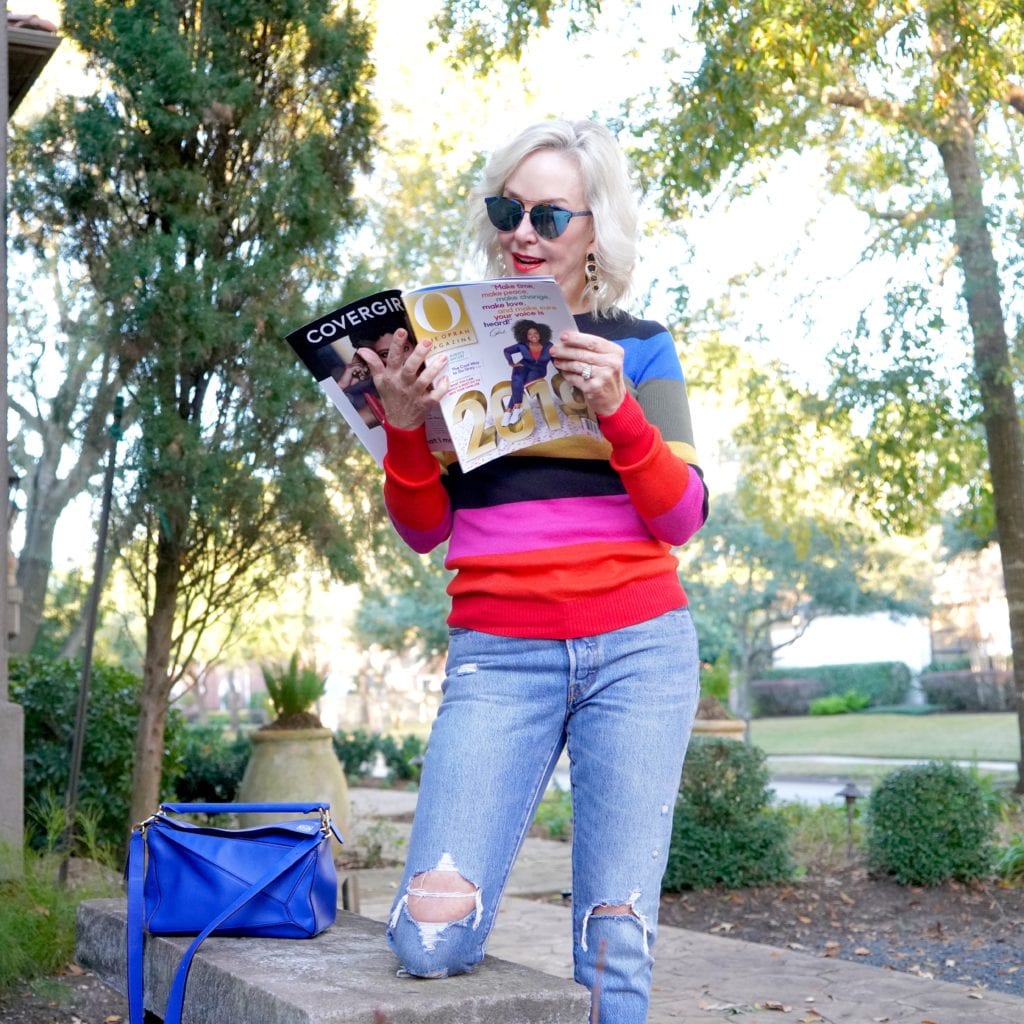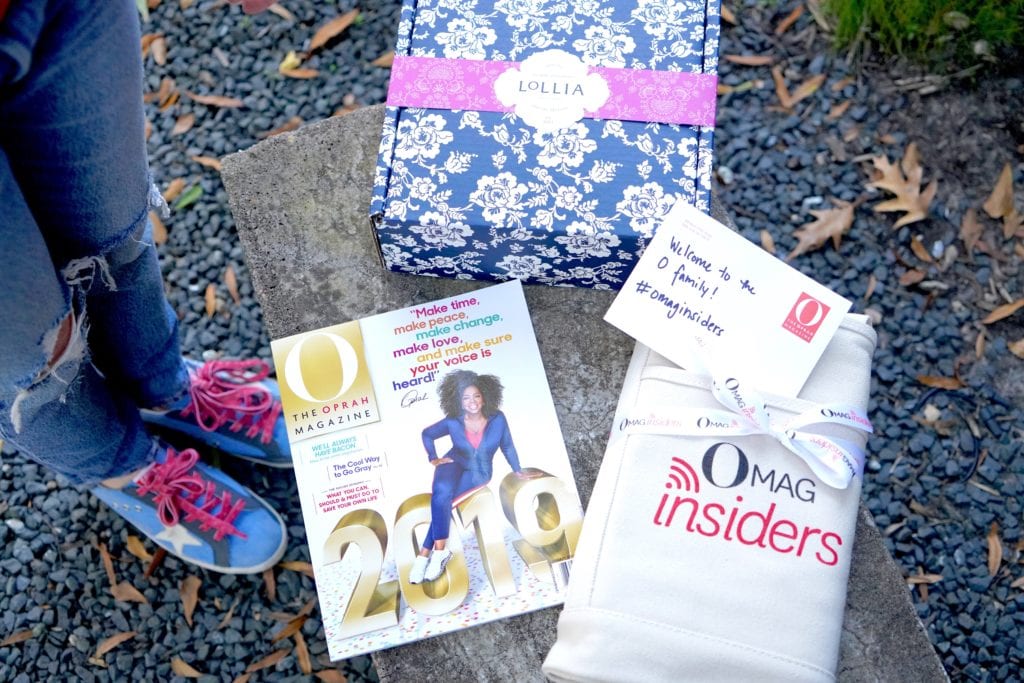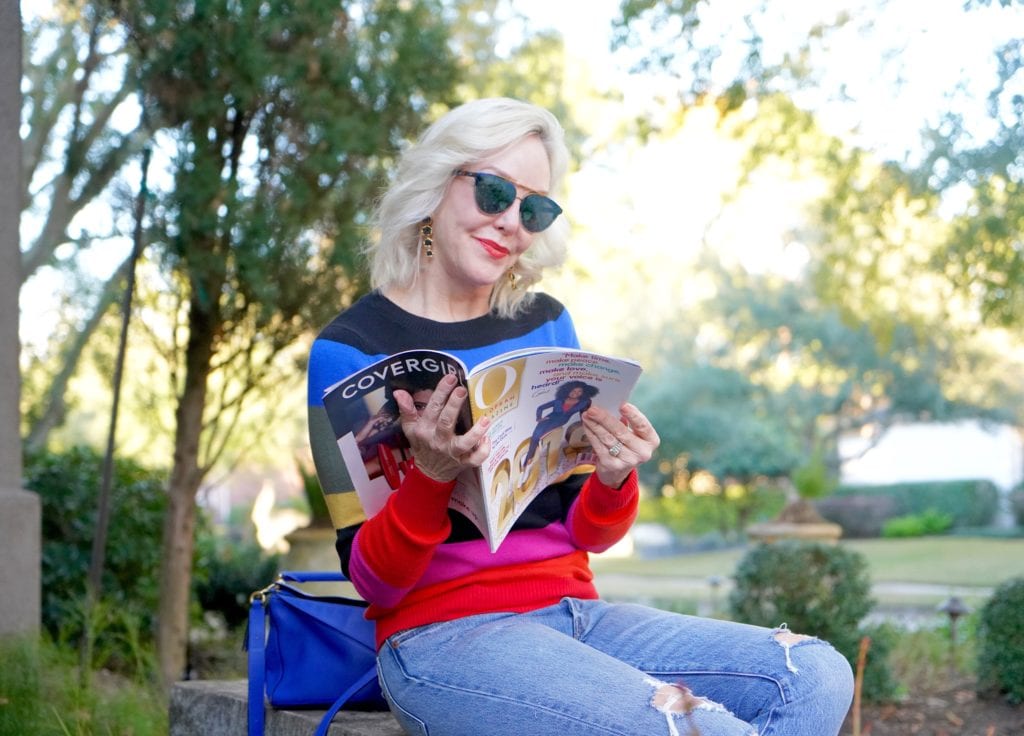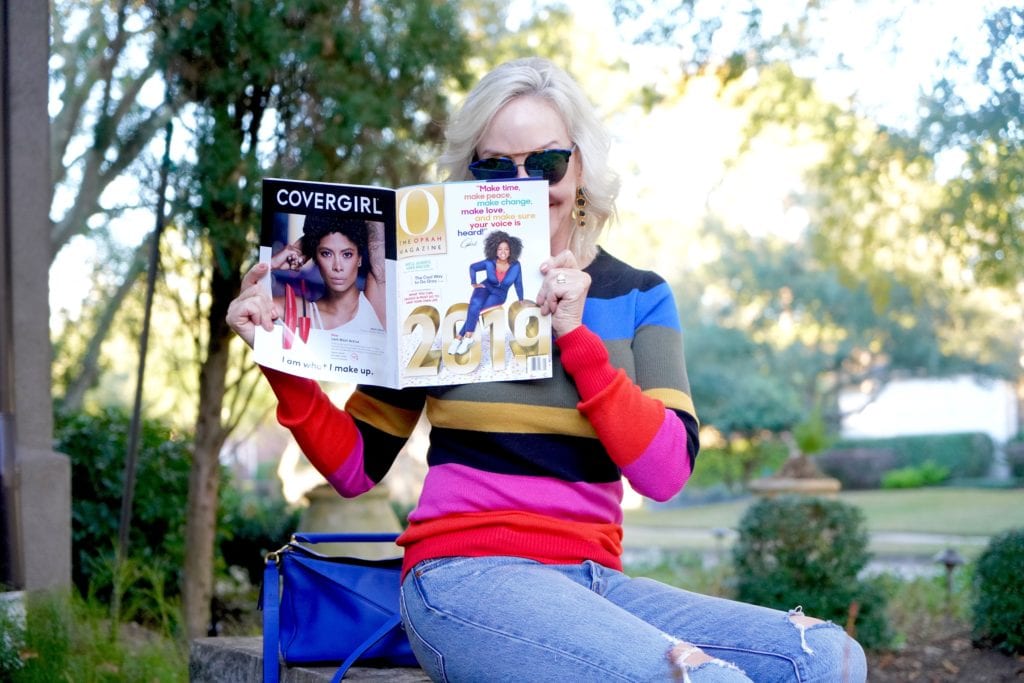 OUTFIT DETAILS

MY 2018 REPORT CARD
This is the 5th year that I have shared my New Year resolutions and report card. As you will see most of my resolutions are the same every year with a little bit of tweaking. I have a feeling that most of my resolutions are very similar to yours.
Norman and I had a discussion that goals and punch lists are different from resolutions. So here is the definition of resolution in the dictionary.
A firm decision to do or not to do something.
So, yes, the following are resolutions. They are my firm decisions that I am going to do or attempt to do in 2019. So here we go on this New Years Day…..drum roll again please…..
Stay close to God. 
I continue to read my daily devotional and I don't miss too many days. Arrow prayers are daily, but so much room to grow. I just need to keep the world from interfering. Being a blogger, the world gets big and in the way, so I need to keep focused on the one who brought me!! My grade hasn't changed much this year. I haven't improved and I haven't slipped any further. As I get older though, I find myself talking to God more often.
Continue to learn about social media as it relates to sharing my fashion/travel & lifestyle blog. 
Still giving myself an A on this one. As soon as I hear about something new I try to find someone to teach it to me and there is always something to learn. This next year I will be learning more about how to edit videos and SEO practices.
Exercise at least 3 to 4 days a week doing a mix of Pilates, yoga, weights, and different cardio activities.
I moved up from a C to a B on this one. Not so good at the beginning of the year but knocked it out of the park since September. We just got a new Club Pilates 5 minutes from my house and I am loving all of the classes and time slots. With my erratic schedule, their program is really working for me. I have been going 3-5 days a week. Yeah!!!!!
Be loving, considerate, and patient with my husband, friends, and family.
Overall I think that I moved up from a B to a B+. It is known that friends and family can disappoint. We cannot control what they do but I for sure can control my attitudes and actions. Of course, I still have feelings but I decided to not harp on things that I cannot change.
I am still having to work very hard to be patient with my husband. He can be the sweetest man on the planet but there is something about aging that causes them to get cranky as they get older. There again, I need to learn to not engage when he is in a crabby mood because it does no good. Always a challenge but I am constantly working on it.
Once a week clean out and reorganize one drawer or cabinet in my house. It is time to purge!!!
I think I am about the same on purging. I am always getting rid of stuff. The older I get the less I want all the stuff. I am actually going to collaborate with an organizing team on a project here at my house. We meet on the 15th to decide what room we will attack. Can't wait!!
Take a big trip somewhere out of the country every year!!  
Last year I got a big fat F because I didn't take a big trip. I did not take a really big trip this year either but I did get to do some amazing unexpected travel. Check out this post to Todos Santos, Las Cruces and Santa Fe, NM. We have some more trips in the planning stages for 2019 so stay tuned.
I want to sell a property in Montrose, CO and reinvest into a beachfront home.
Grade | B
Well, my building in Montrose did not sell but in February Norman and I went ahead and put a contract on a vacation home Sanibel Island, Florida. We closed in April and now doing a little remodel on the master bathroom and family room. It is my heaven on earth.
Stay Close To My Tennessee Roots
Grade | B
One thing that will keep me and my sisters together is our new beach house in Florida. In fact, we are meeting there for a few days at the end of this month.
We all love going to the beach!! I also love spending a week in Tennessee around Thanksgiving.
Create & Design my own brand of fashion & lifestyle products.
Grade |

F
I am not looking to be a big name designer, but the industry is changing and even at over 60 years old, I see an opportunity to fulfill a dream, even if it is just a cell phone case or T-Shirt. Stay tuned….we will see…..
I have many ideas but my other blog work is a time sucker and prevents me from working on this project.
NEW RESOLUTIONS
Hire an intern/assistant so SheShe Show can focus on creative work.
Finish decorating my office. I started it this year but stalled out so now trying to finish it up.
So there you have it. I am putting it out there once again and I am ok if you hold me accountable. There are so many things that I could do better and improve on, but I want to make my list achievable. We will see when we look at our new year resolutions again next year at this same time. We would love to know some of your resolutions. Just leave at least one of yours in the comment box below. It would be fun for us to read.
May God Bless you all in the coming year. Thanks for following the SheShe Show. We could not continue on without your support. HAPPY NEW YEAR!
 SHESHE'S MOTTO

NO MATTER WHAT LIFE CHALLENGES BRING THIS YEAR, I RESOLVE TO NEVER, NEVER, EVER GIVE UP!!!!
SHESHE'S TIDBITS
We will be in planning mode this week for what is to come on SheShe Show this year. I will be unplugging on Instagram for a few days too. I hope I can do it. Ha!
Gala's, weddings, graduations, holidays or just everyday wear…..we have fashion suggestions for you, so stay tuned. Be sure to check out ShopSheShe tab at the top of the menu bar. Hover over and choose the category in the drop down. We try to keep it up to date with the latest and greatest for all budgets. Subscribe here and then you won't miss a post. Simply enter your email in the pop-up box when you come to this site or at the top of this page in the subscribe box.
WELCOME new readers. We are a fashion/travel/lifestyle blog. We talk about anything and everything, from fashion, travel, health issues to even an occasional recipe. If there is a topic that you are interested in, then let us know. We will do our best to bring that story to you. Have a great week sweet friends and thank you for following along. Without you, we could not continue on this crazy journey!