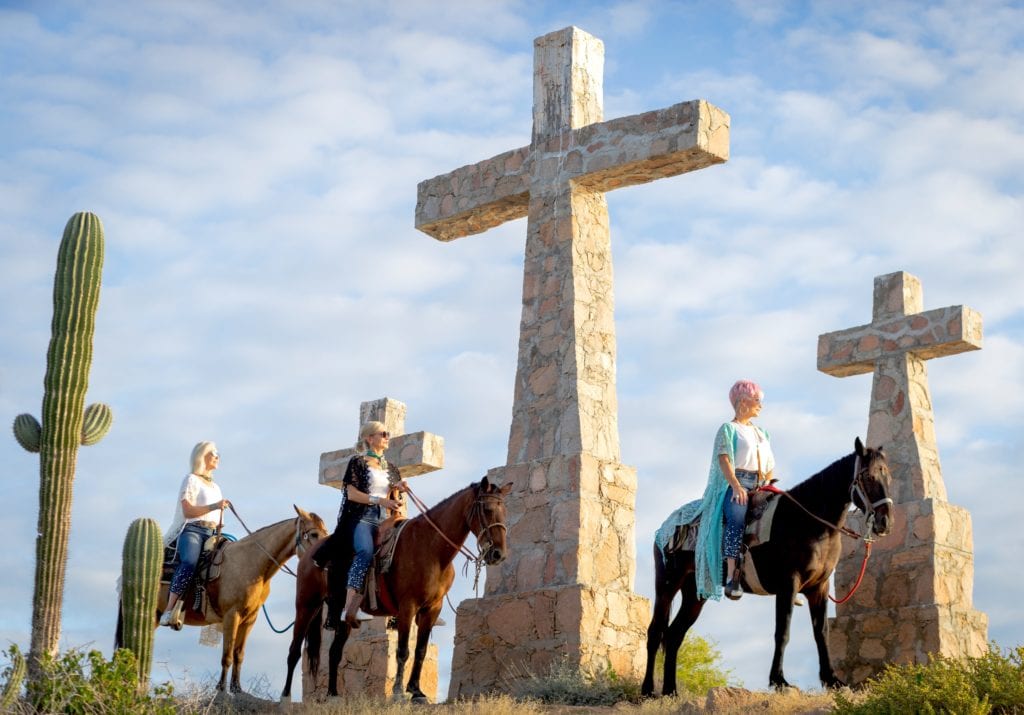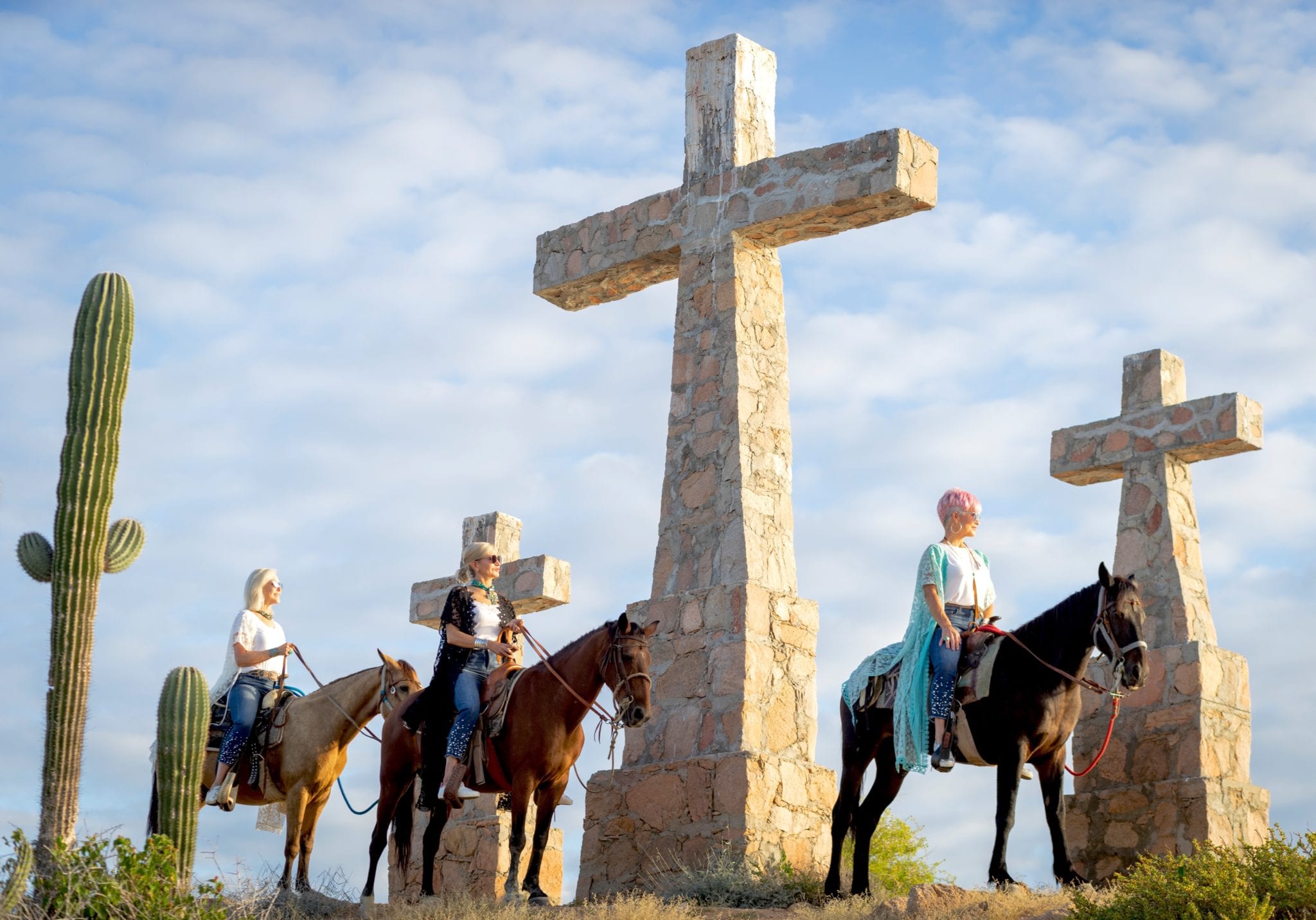 This trip was sponsored by Nina Ornstein of  The Paradise Story and participating brands. 
Are you looking for that special place to visit in 2019 that won't break the bank but will be a luxury experience? Rancho Las Cruces, meaning the ranch of the crosses is where we will take you today and after you read this post I feel sure it will be on your bucket list. This luxury beachside resort and Baja paradise is Part II of Baja trip that I experienced with Shauna, Chic Over 50, Jamie, More Than Turquoise and our amazing travel producer Nina of The Paradise Story.
A few weeks ago I published a 3 day trip to Todos Santos, Mexico, Part I of our Baja trip. After leaving there we took an hour an a half drive to the other side of the Baja to Rancho Las Cruces where we spent 2 more incredible days. Three hours from the San Jose Del Cabo airport or 45 minutes from La Paz lies 7 miles of private coastline and 10,000 acres of secure, pristine desert ranch on the Sea of Cortez. After traveling a 20-minute drive down a desolate dirt road in the middle of nowhere and beyond we came upon the most breathtaking view of Rancho Las Cruces.
See next 2 photos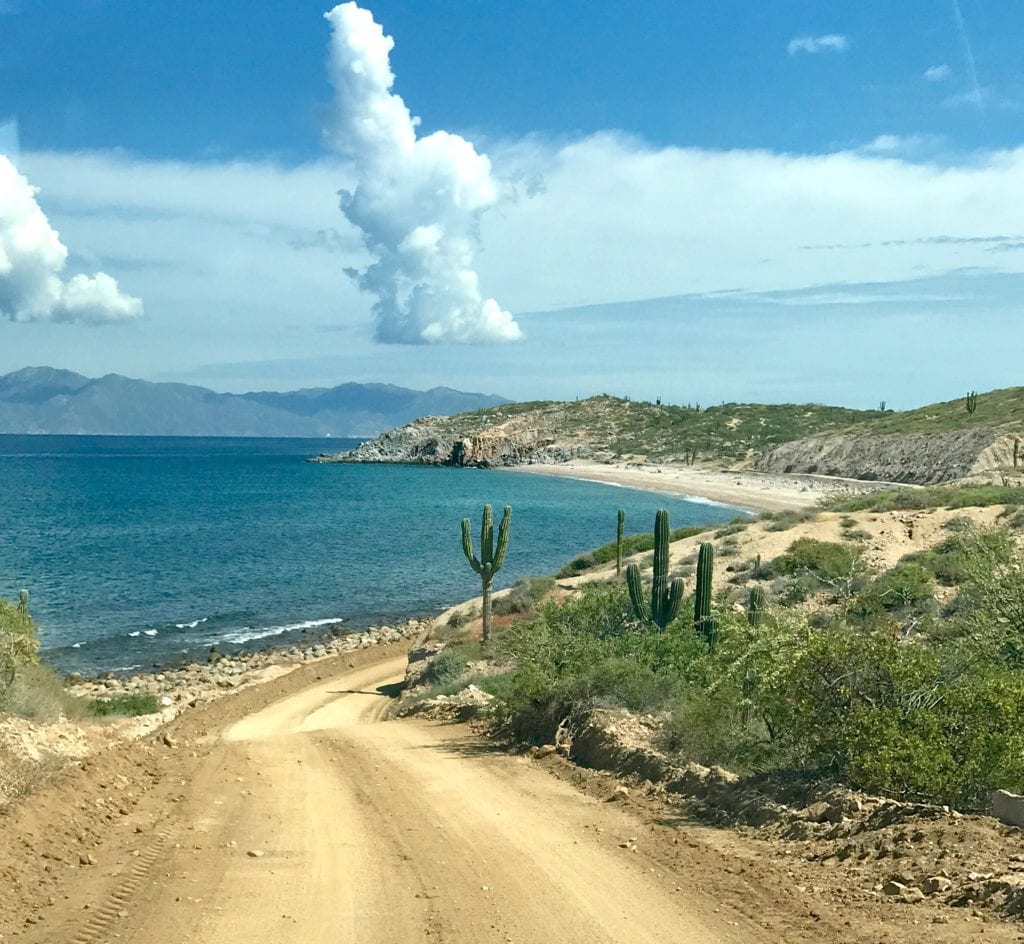 You can get to Rancho Las Cruces by a charter boat, helicopter or even by donkey. Ha!! There is a small rough landing strip where you can also arrive by a charter hopper plane.
How about this beautiful crystal clear water of the Sea of Cortez?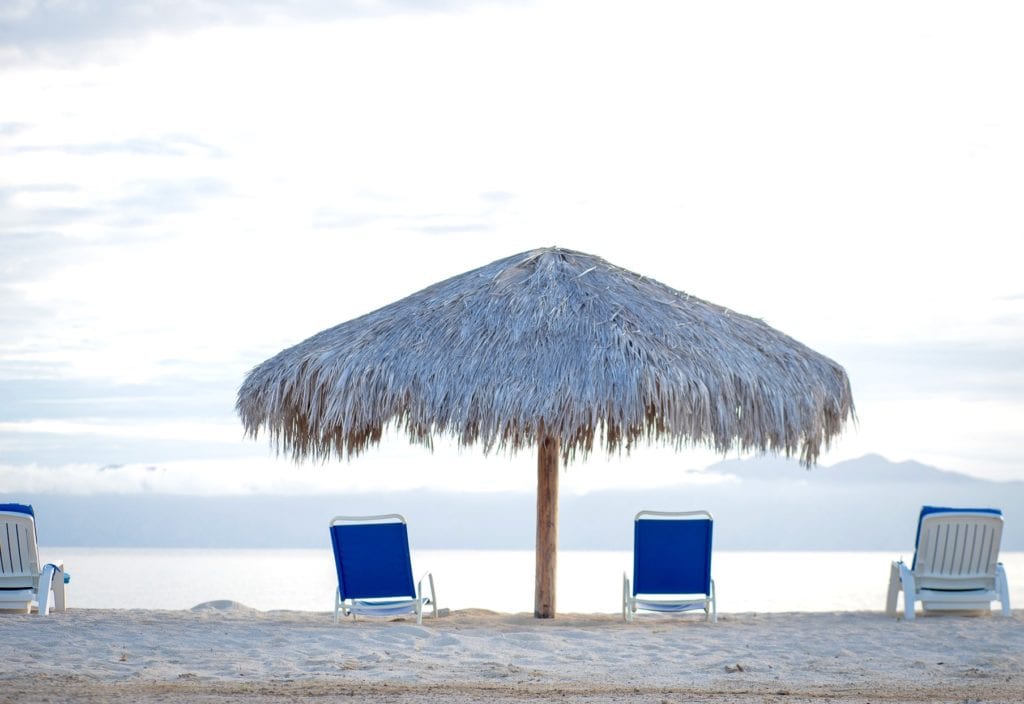 DAY 1
Upon our arrival, we were greeted with big welcoming smiles by the hotel staff. They showed us to our 4 bedroom villa where we unpacked, changed clothes and headed to the beach for some yoga. I could wake up early for yoga every day if I had this view….right?
Our photographer Lili Salgado captured the most amazing photos on this part of our trip. She is excellent with natural lighting as well as post-production edits. Lili posses a talent that allows her to capture the emotion of experience and bring it to life on digital media. See more about Lili here.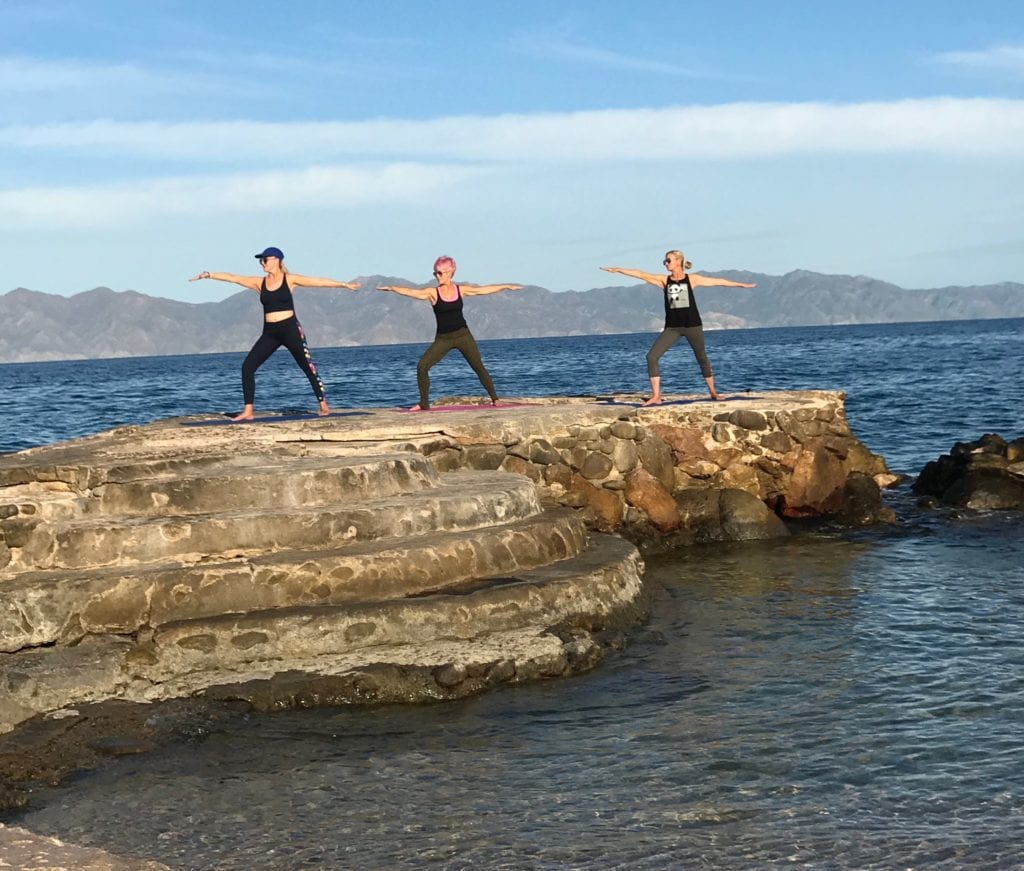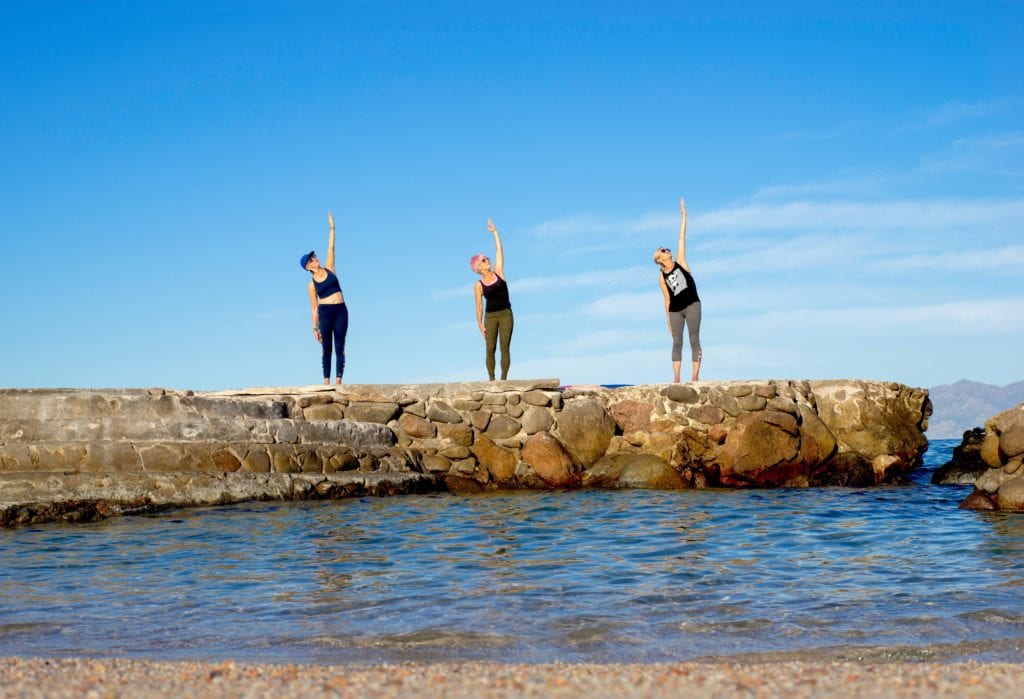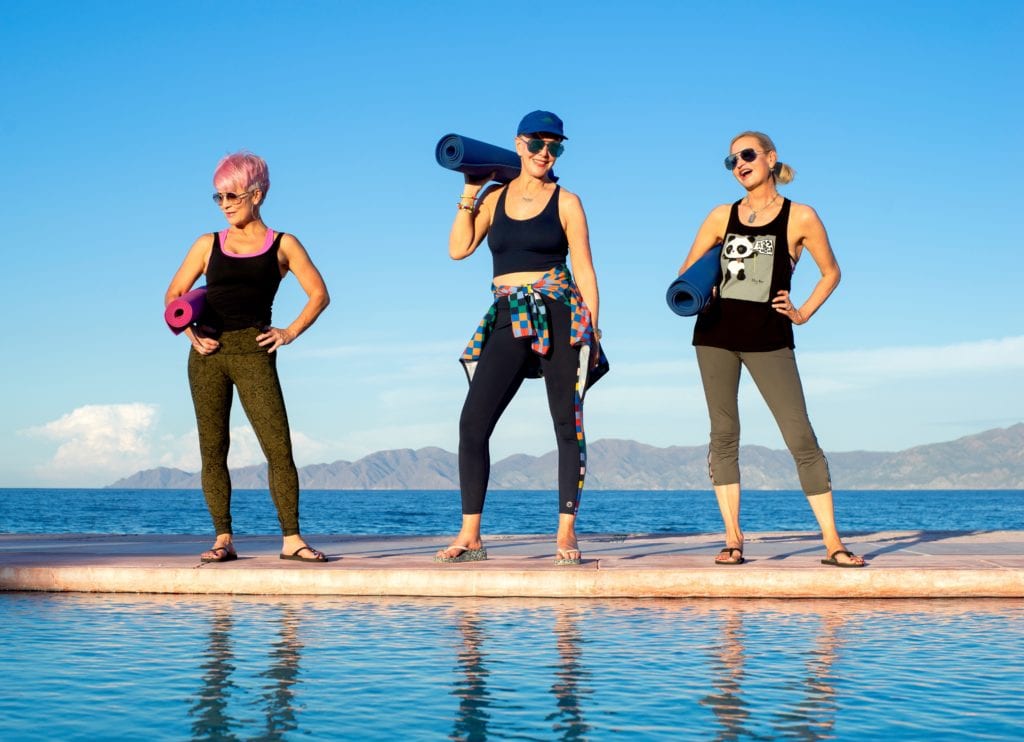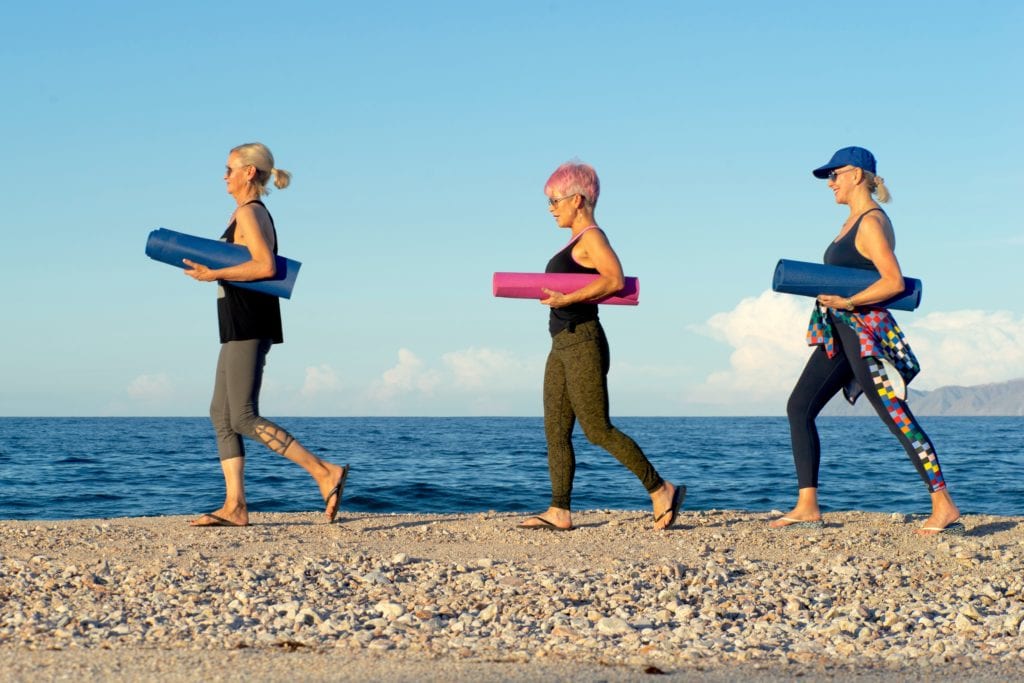 THE FOOD
Next, we headed to the main clubhouse where we had a delicious healthy late lunch. Food is a very important part of the Rancho Las Cruces experience. Most of their vegetables and herbs are grown in greenhouses right there on the ranch. Very farm to table dining. They also raise livestock for their meats, fish right out of the sea for seafood, fruits from the native fruit trees and get their eggs from the chickens. This is all very important since the ranch is so remote.
The Kitchen staff is overseen by longtime employee Maria and her protegé Gaby. Maria has been there for almost 60 years. I would love to hear some of her tales, wouldn't you? When hiring a private chef to serve at the villas, I recommend requesting Gaby (and Heidi).
All of the staff has style and are passionate about sharing their culinary talents with visiting guests. In fact, they published their own Rancho Las Cruces cookbook full of their original recipes. The quality of food & service here is top notch! Don't forget to try the pecan pie, pudding, warm bread, and fab salads. I had the tapioca and it was out of this world. You can check out more on the resort cuisine here.
THE COCKTAIL LOUNGE
The craft cocktails by Jose Luis are prepared from fresh juices & syrups from trees such as tamarindo, key limes. The lunchtime Michelada (my favorite) was super refreshing. Do you know about Baja wines……they are crisp and delicious?
Side note: There is a still a dress code in the dining area and cocktail lounge. (no beachwear allowed)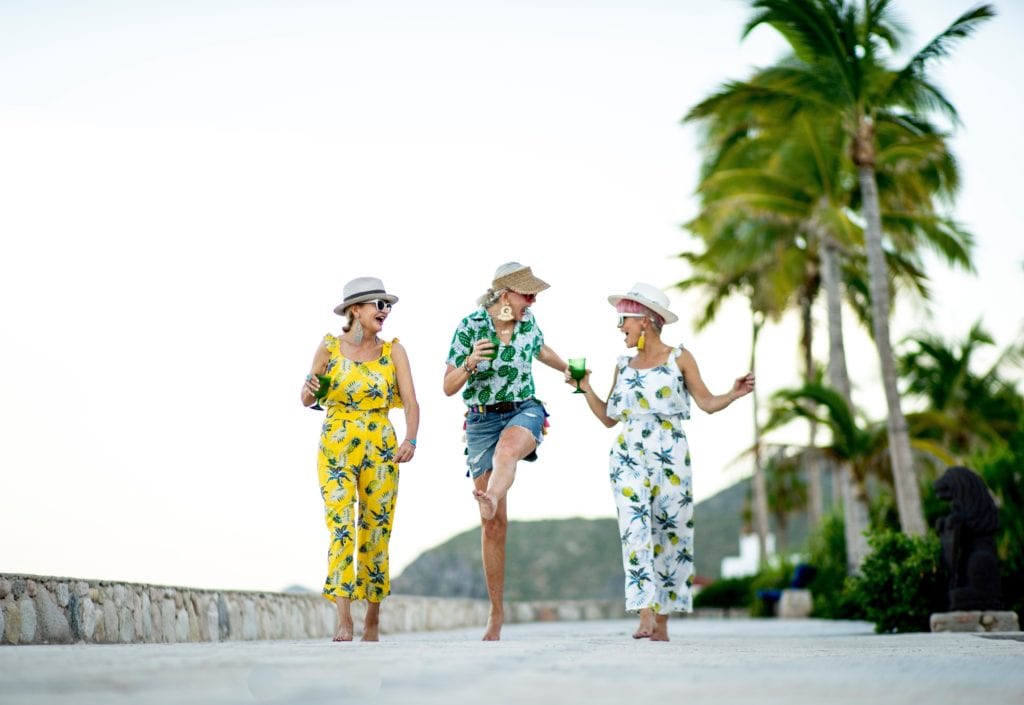 After lunch, we had some kind of pineapple fun!! I just want to say that my travel team (Shauna, Jamie & Nina) knows how to have fun and we know when and how to work hard. We have a unique way of weaving it all together!!
After some blog photos and some shenanigans, we headed back to the resort headquarters to learn all about this once private resort, the founder, family, and famous visitors.

HISTORY
I found some very interesting history about this area and the founder Abelardo L. Rodriguez Montijo on the Rancho Las Cruces website.
IN THE BEGINING
Hernán Cortés, the Spanish conquistador, was told about a great Island filled with gold and pearls of wonderful size and color. Determined to find the source of such impressive riches and to claim the fabled island of pearls for the Spanish crown Cortés sent various expeditions. 
On one of these Cortés, himself set forth and landed on May 3rd, 1535 on what was thought to be an island. In commemoration of his landing, he placed three crosses on the land he baptized as Santa Cruz. Stone replicas of these crosses still remain in the site where Rancho Las Cruces now stands.
Part of the land known as Santa Cruz by the early Explorers would later be named Las Cruces. Although he found no gold, Cortés did find pearls of astonishing beauty.
20TH CENTURY
Down the centuries the shores of Las Cruces and the islands of Cerralvo and Espirito Santo were renowned for their fabulous pearls. Later a decline in the pearl oyster started as early as 1900 and by 1929 the pearl industry of Baja belonged to the past. 
Standing where Cortés once stood more than 400 years earlier, Abelardo L. Rodriguez Montijo watched the rising sun cast its array of magnificent color on the tranquil sea. Seeing the remains of all the tracks of the past he realized then, that although depleted of pearls, Las Cruces could still provide treasure.
Believing the enchantment of ten thousand acres with more than seven miles of private seacoast would be gratifying to those who must face maddening crowds and churn through congested traffic. In 1948 he and his beautiful bride, Lucille Bremer decided to turn Las Cruces into a small luxury resort.
FUN FACTS
As the story goes and as I understood it, Abelardo or Rod as he was later referred to, wanted a place where his actress wife could invite her famous friends to Mexico. They would be able to have the luxury at Rancho Las Cruces that offered them the same natural beauty, tranquility, and charm that attracts distinguished guests. Many stars, presidents, dignitaries, and celebrities visited often and several, including himself, built homes there.
We saw the villas still owned by the Desi Arnaz family, Bing Crosby, Dwight Eisenhower and more. We even got to take photos in Grandpa's (Rod's) house which I will talk about later in the post. Rancho Las Cruces was the place Abelardo and his family always called home and still today is run by his family.
The success of Rancho Las Cruces prompted Abelardo (Rod) to build other world-class resorts in Baja. Hotel Palmilla which opened in 1957 is still thought of as the shining star of Los Cabos (now the One and Only Palmilla) as well as Hotel Hacienda in Cabo San Lucas.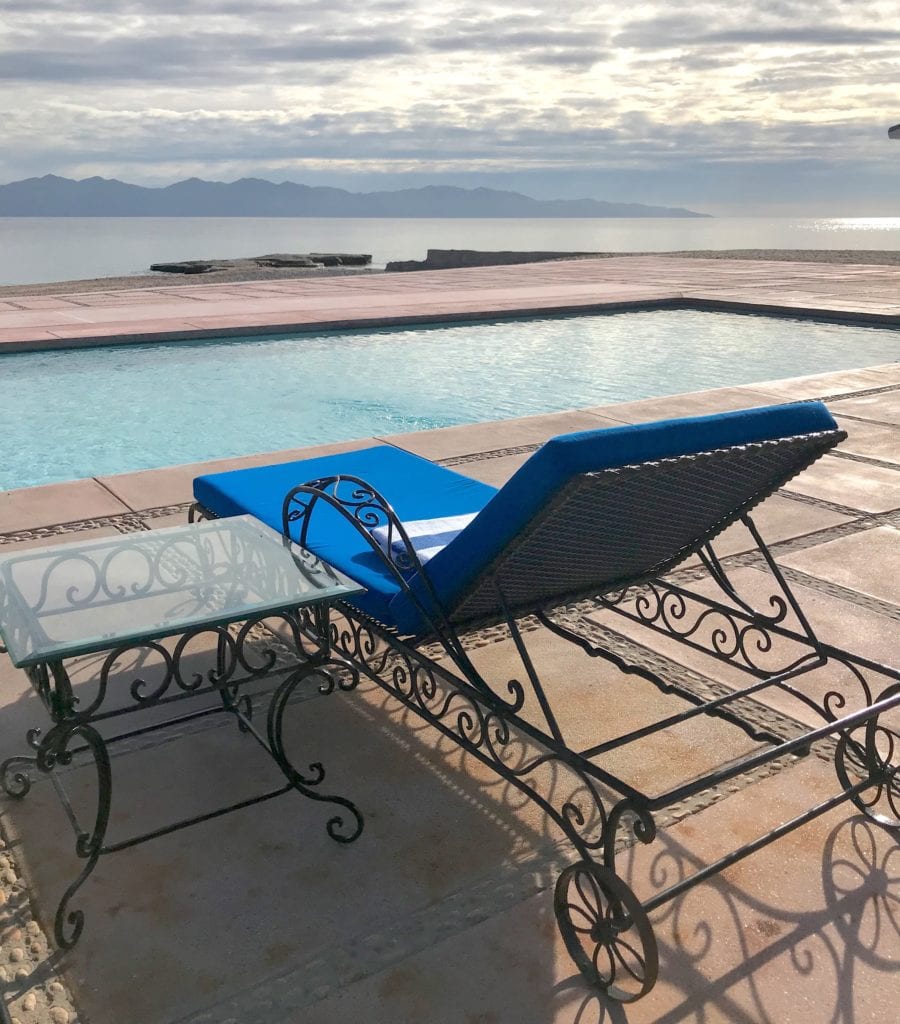 After a crazy busy and fun day, we headed to the water's edge where a bonfire had been prepared. Just like when we were little girls we shared all kinds of stories and secrets while enjoying the full moon reflecting out over the calm Sea of Cortez.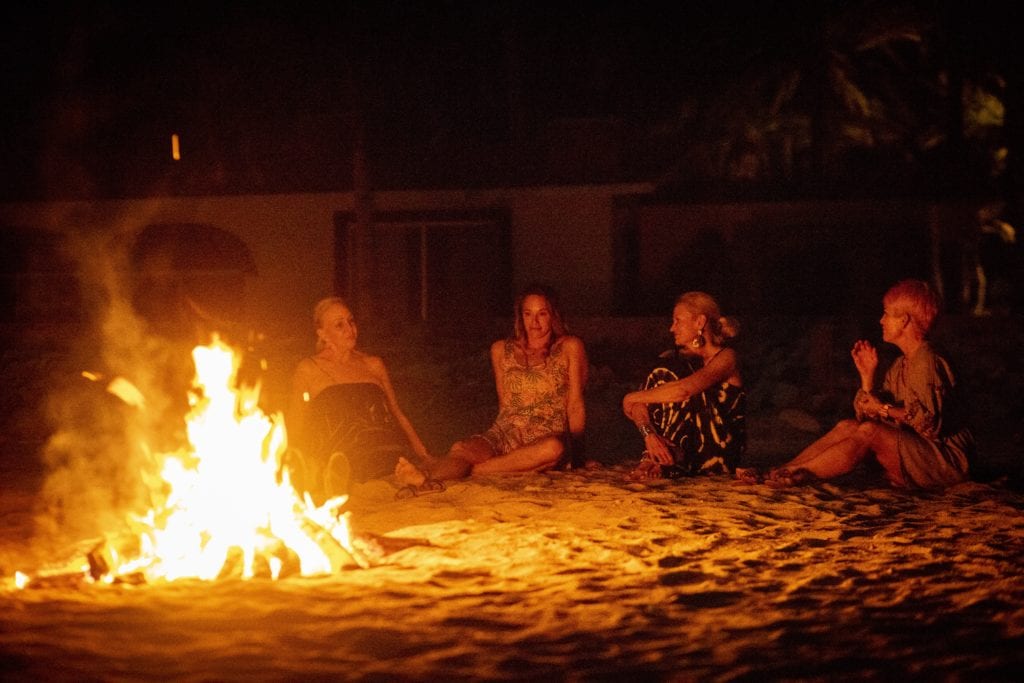 DAY 2
Up and at 'em early starting with a delightful breakfast on the main Terrace. We enjoyed the fresh fruits of the Baja as well as a good strong cup of coffee to fuel another busy day.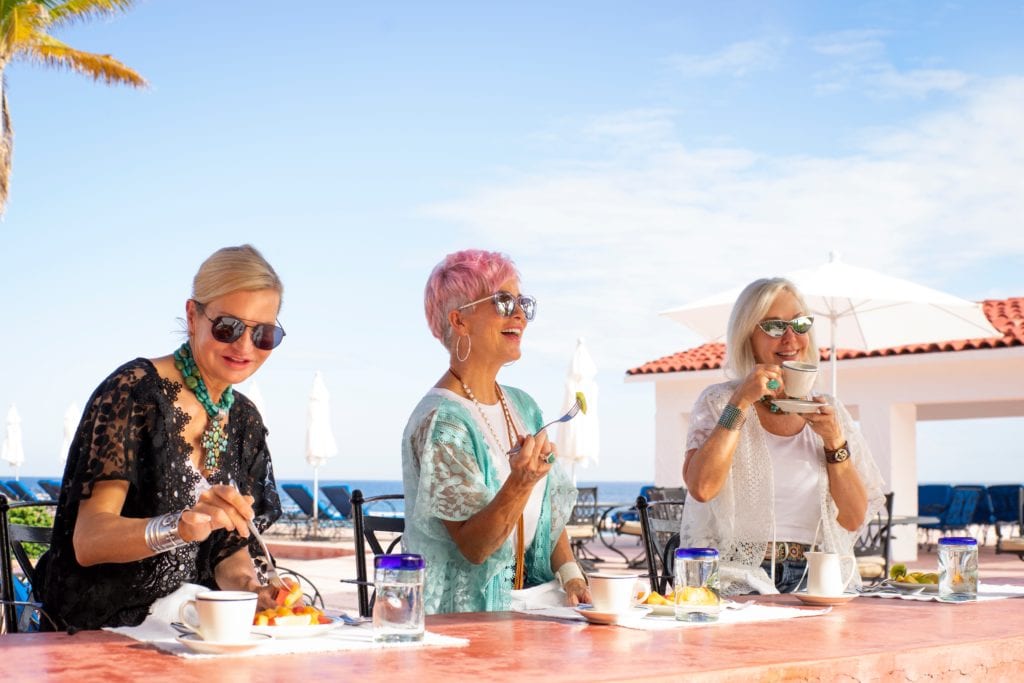 We all restyled our beautiful lace beach coverups that we wore in Todos Santas and layered them over our pearl embellished jeans. It made for a very romantic look for our morning horseback ride.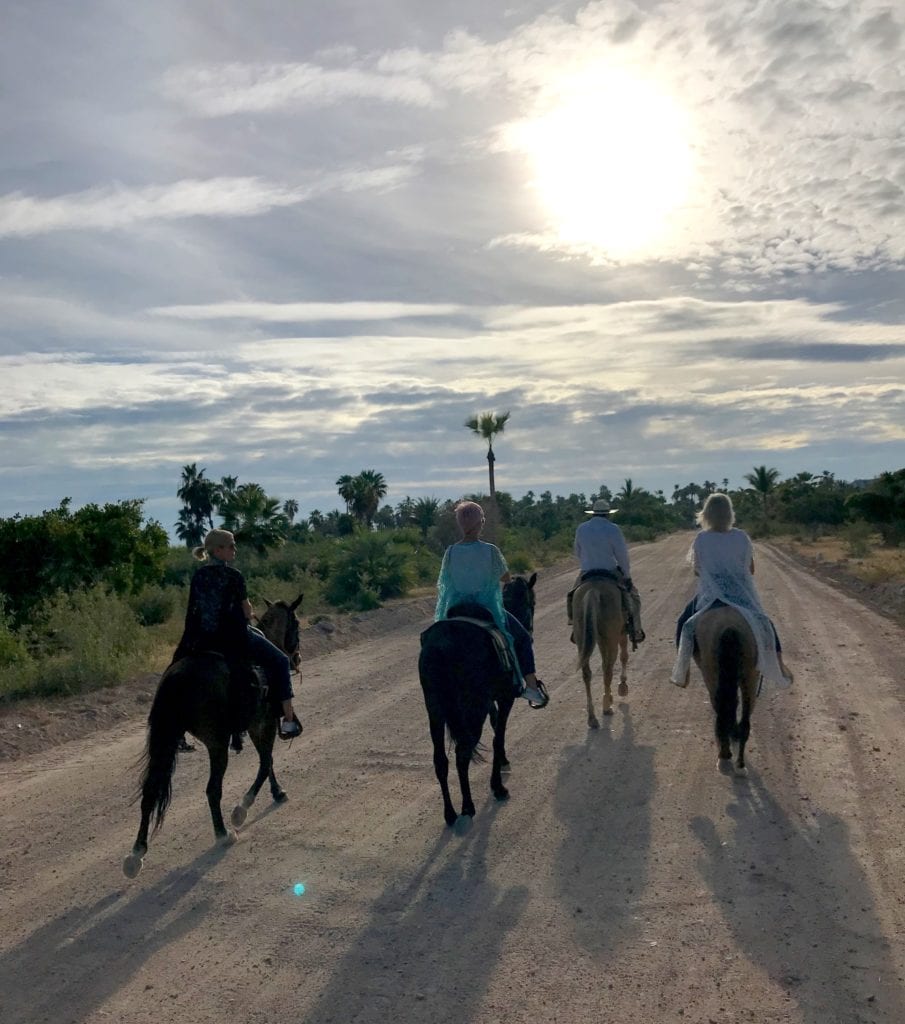 Cuervo, the ranch foreman guided us to Las Cruces (the crosses). He really didn't know what to do with us, but I feel sure he was very happy to be our fearless leader. He really wanted to show us the entire ranch especially the sacred pools in the Santa Cruz mountains. It would be a 5-hour hike up the canyon to visit fresh water flowing through the desert. This incredible journey physically and spiritually will be our big activity the next time we visit. For more activities available at this resort go here.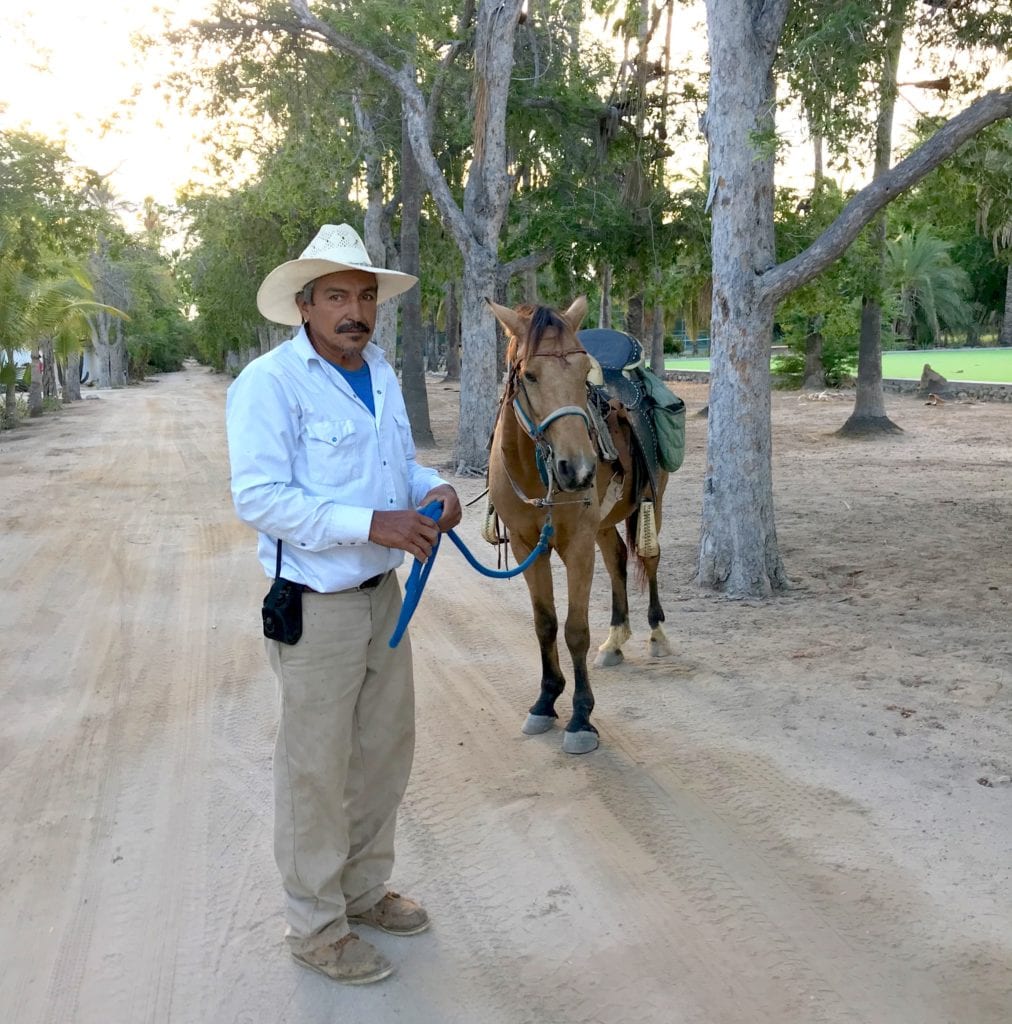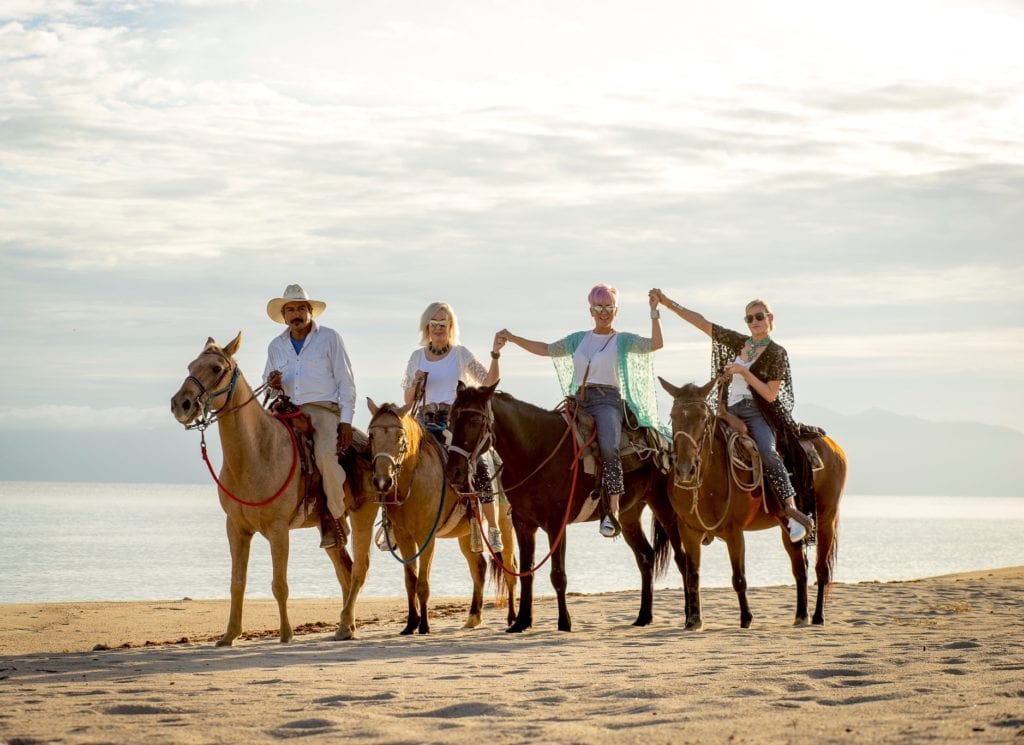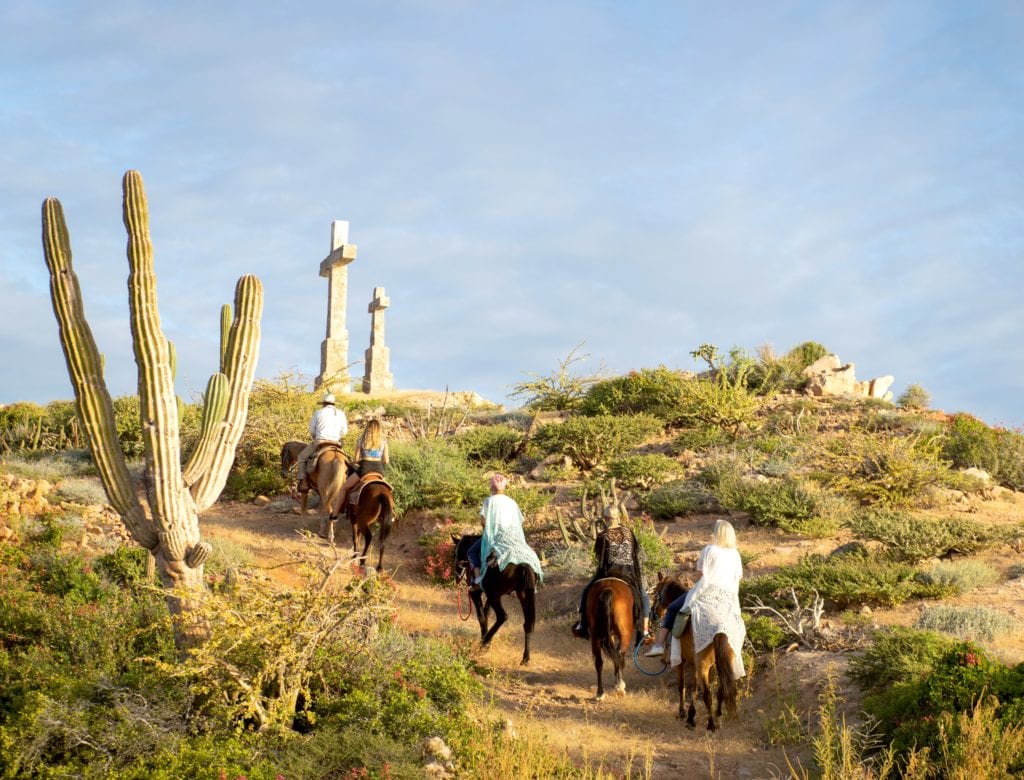 The horses were very easy with us all. They are safe and well maintained. The sunrise ride to the crosses is perfect, but there are also trails up to the "Luz" lookout and up canyon worth exploring. My horse's name was Spongebob…..so funny to me but he loved me and I loved him!!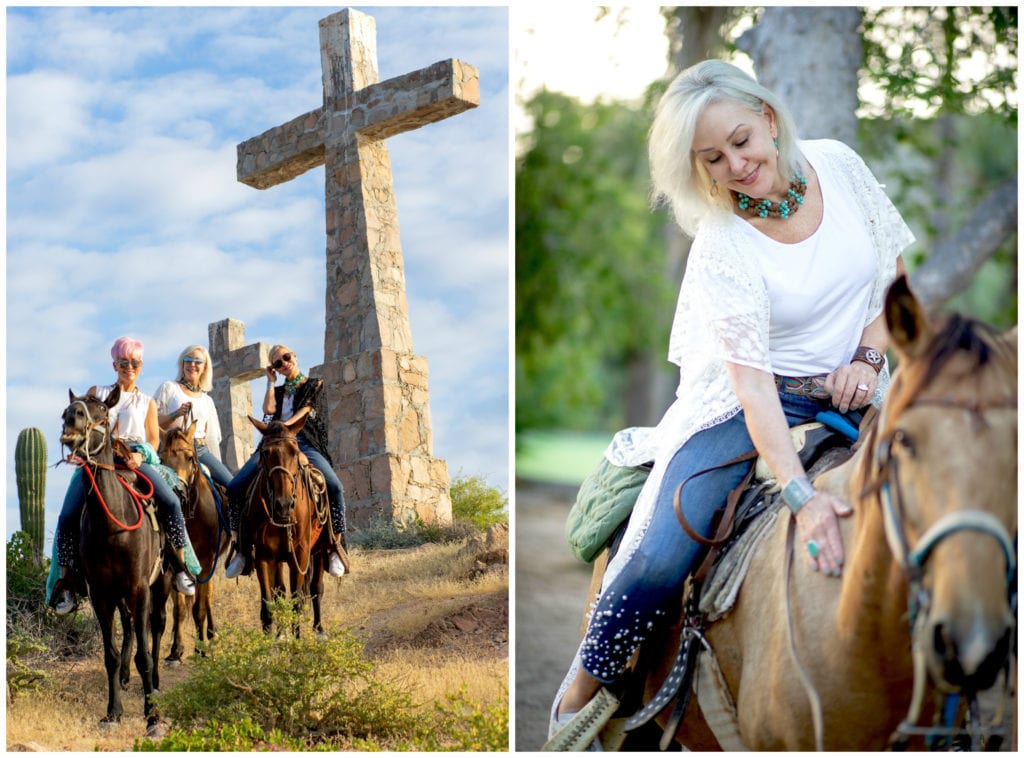 Once at the top with the crosses, we all were awestruck with the beauty all around. I couldn't help but think about what it must have been like for the early explorers. I know now why Rod and Lucille fell in love with this place and made it their home. So magical!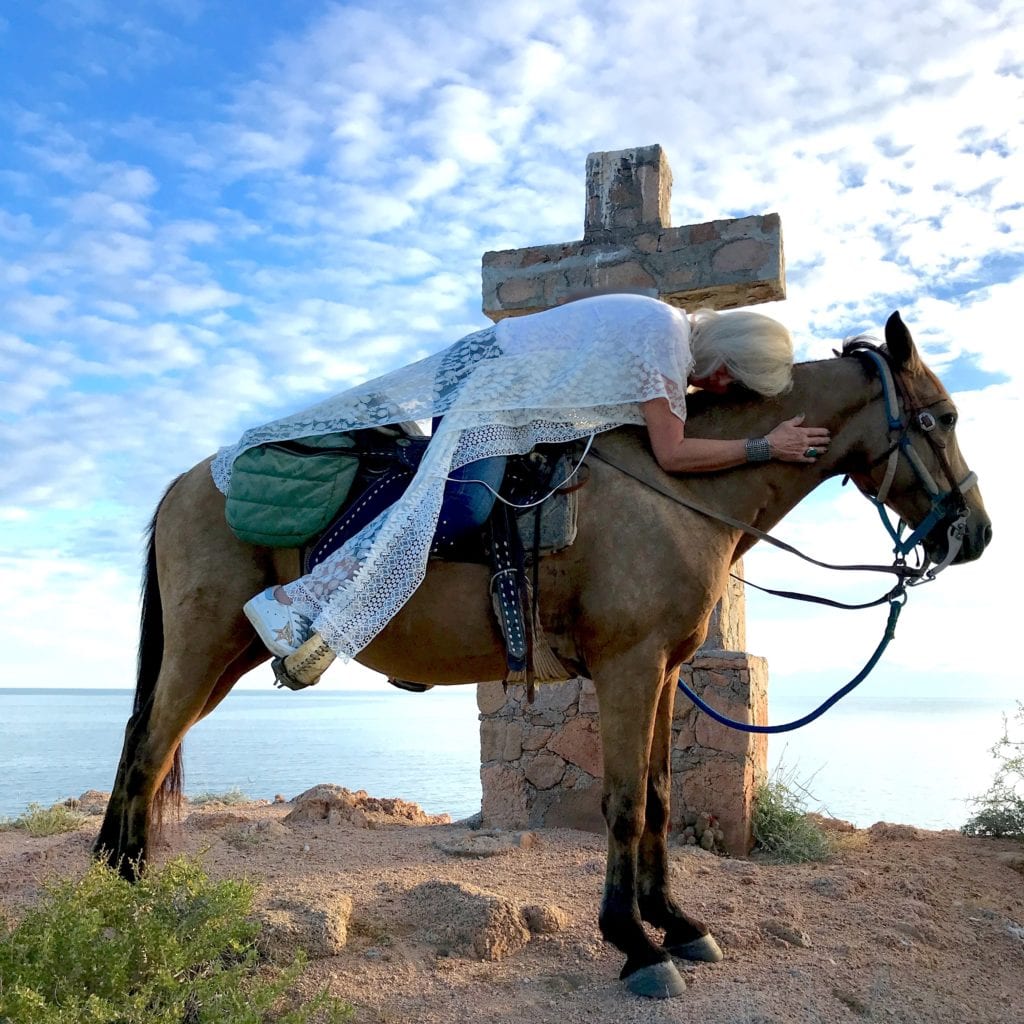 After our morning ride, we found some beautiful locations to do some blog photos. We drove around looking at the other villas and also got a chance to visit the beautiful church on the hill where the ranch workers attend service there every Sunday.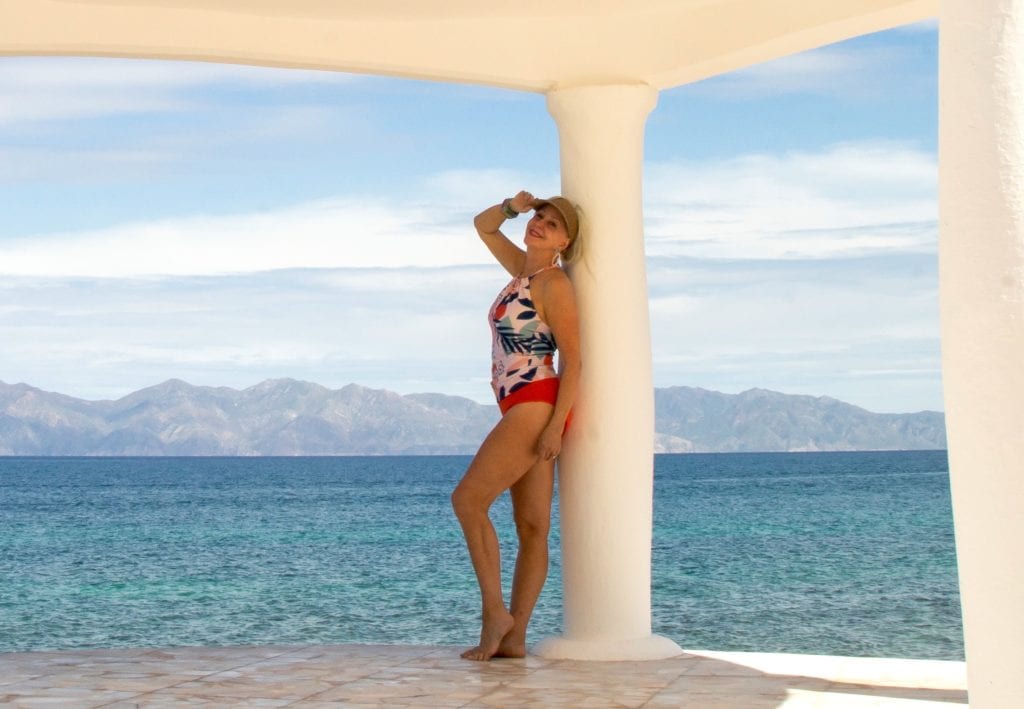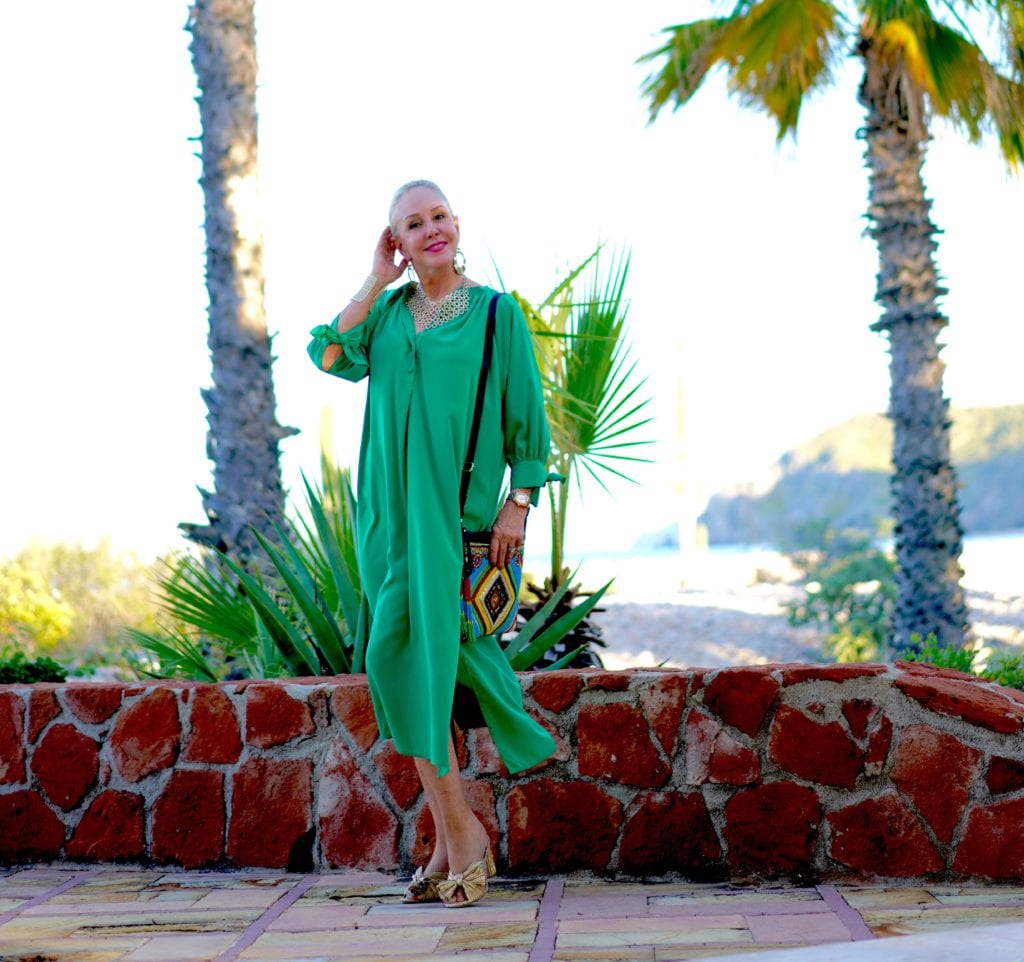 [ green dress c/o, similar here | beaded crossbody bag c/o | gold bow sandals | necklace, old, similar here | earrings c/o |

On our last stop for the day, we were privileged to explore and do photos in the beautiful home of Abelardo Rodriguez (Rod's house or Grandpa). I couldn't help but feel like there was a sweet spirit with us that afternoon.
As Rod grew much older he moved to La Jolla, California where he could have better medical facilities available, so his visits to Rancho Las Cruces became less frequent. His wife Lucille died back in 1996 at the age of 79.
The craziest thing happened that day. First of all, it was Grandpa's (Rod) 100th birthday! What a life!
Secondly, he coincidently or not, died at the exact time we were enjoying hanging out in his Las Cruces home. The family had been notified about dinner time and they all prepared to leave the resort immediately. Nina was informed by Rod's grandson Kamal, so she then came and told us while we took an evening moonlit swim by the sea. All we could do is just sit there and think about him, his life, the people he touched and the beautiful place that he created called Rancho Las Cruces. Can you imagine…….?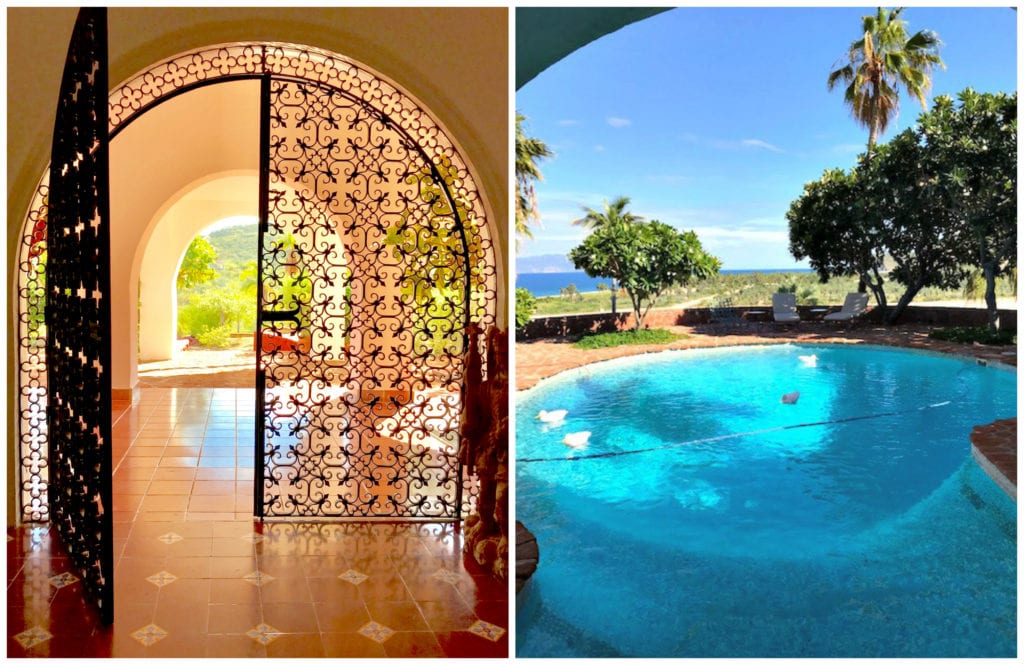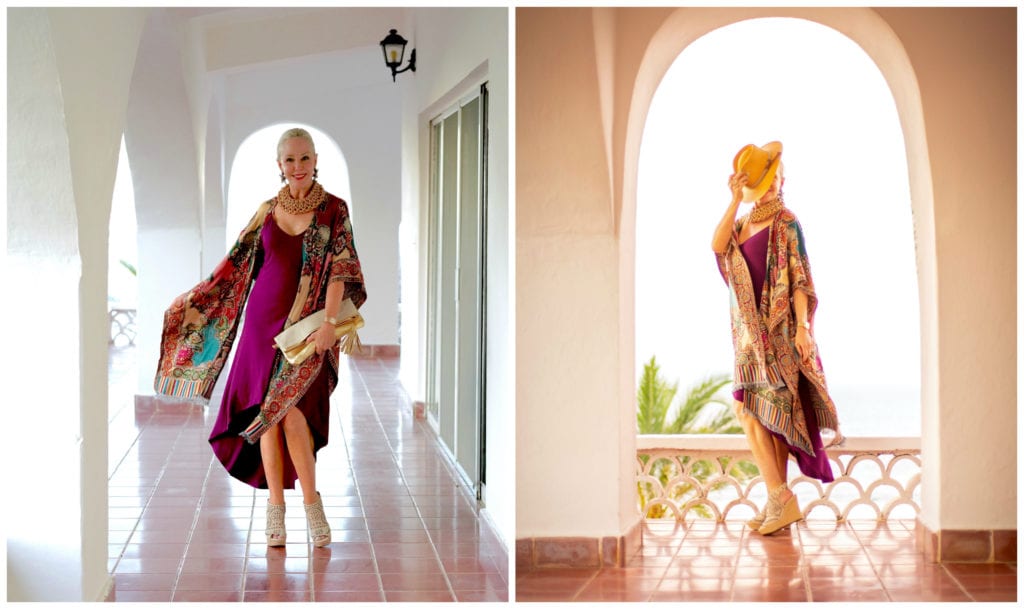 Outfit Details
Wrap sold out c/o, similar here | hat c/o | necklace sold out, similar here c/o | clutch c/o | earrings sold out, similar here |
DAY 3
Before leaving very early the next morning we stopped by the main headquarters because we wanted to sign the guest book. The resort has kept all of the guest books since opening in the mid-1950s. It was so fun to look back to read some of the great comments made by special guests.
Thank you, Nina (The Paradise Story) for making this experience so special. Your love for what you do as a travel planner/producer reflects in all the details that you provide for your guests. I will be back for more of Rancho Las Cruces for sure.

IN CONCLUSION
It's definitely a FAMILY THING, and you can tell! Not only that but a VIP thing as well. It's a very well-kept secret with a glimpse to a traditional lifestyle and fabulous level of hospitality. A must for any travel enthusiast.
Rancho Las Cruces is a great place for a destination wedding/honeymoon, anniversary celebration, birthday bash, girlfriend trip or just a quiet getaway for you and your bestie! If you want fab photos then think about hiring Lili because she specializes in all of these kinds of events as well as a great blogger photographer. You can find her and her information on Instagram @lilianasalgadophoto
When I return I want to paddle board, kayak, take the mountain hike to see the 7 sacred pools and experience the Huerta dining experience that they are developing. A tour to Bahia Lalandra and La Paz sounds like a great side trip too!
Food is included in most of the packages. Check out the lodging and rates here.
To book your personalized trip to Rancho Las Cruces contact Nina Ornstein.
  @NinaOrnstein
  @TheParadiseStory
  Questions, Email: nina@theparadisestory.com
  +13109932552