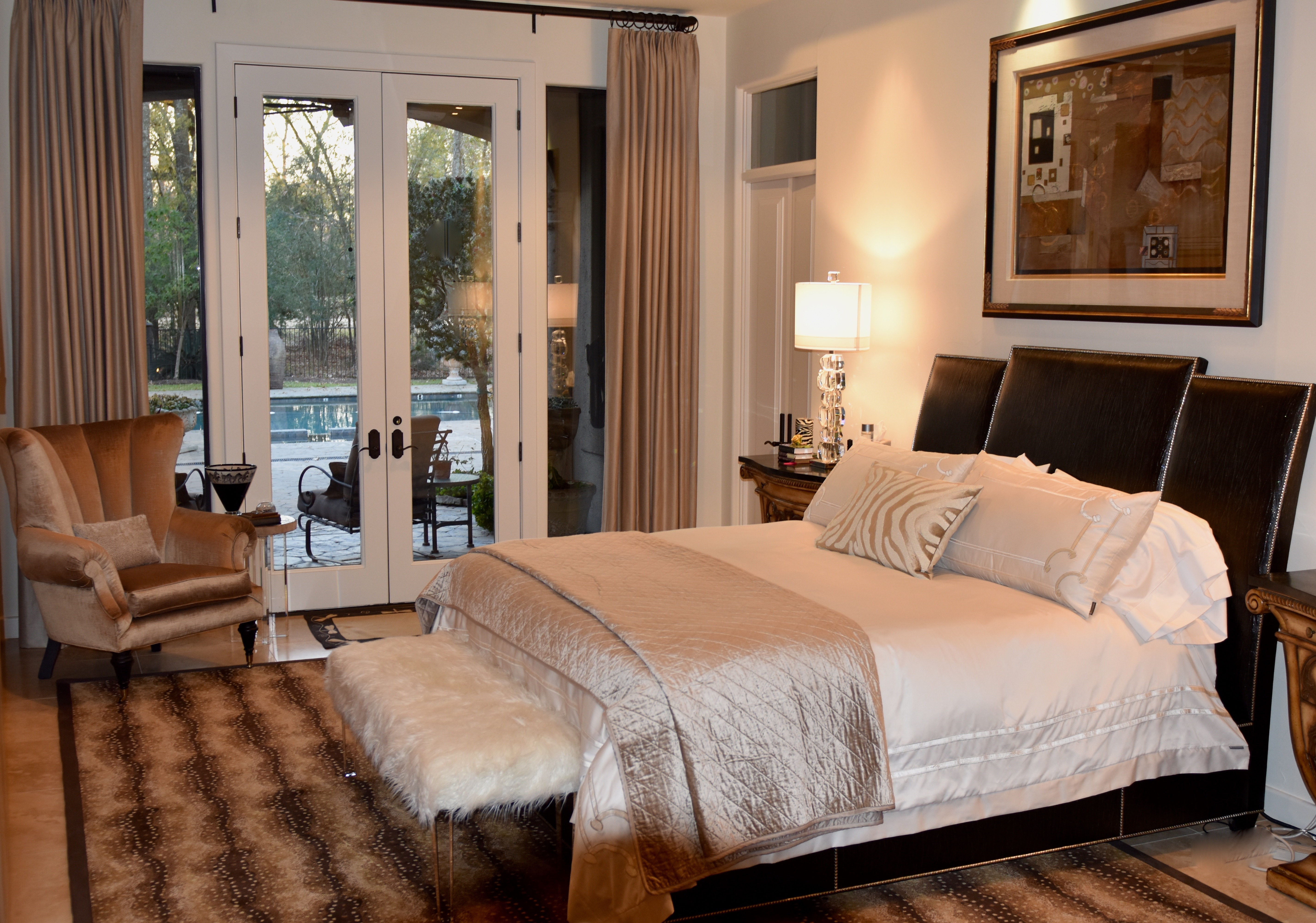 I know I have been telling you for weeks that I would post our master bedroom remodel and today I finally have it for you. We finished building and moved in our home in the Clear Lake area of Houston 1999. So in 2017 it was time to give it a refresh. Today I am sharing ideas on how to remodel your master bedroom.
First of all the double photos below was what our bedroom looked liked in the beginning and in 2002 our home was featured in Houston Lifestyle Homes. Unfortunately, the magazine went out of business a few years later but we have a few more photos that I will share as I show you the kitchen and living room re-do.
First Steps to Take
Are you going to do this remodel yourself or do you need to get the help of a professional? I always do my own remodel or building projects but I love bringing in a professional to bounce off ideas and to use their resources. I called on my friend and professional Trisha McGaw Designs this time because I have brought her in on several of my projects and we work well together.
Decide what direction in style to take. Our bedroom wasn't bad it was just tired but it still had some of the heavy feels with the bouillon fringe and darker colors. I definitely wanted to bring in a more contemporary look without being too modern. Our home design wouldn't show off an ultra-modern take so a little of both is what we decided…eclectic.
What changes will you make in the room? For us, fresh paint, new bed, and bedding, recover occasional chair (in the left-hand corner that you can't see in this photo), add art over the bed, add the bench, new lamps, new drapes, side table, and rug. The only thing that didn't change was the nightstands.
Hire a painter, unless you can do it yourself. Get a schedule and expect to be tied down until the room is painted and choose your paint colors. Paint is always the hardest for me, especially when choosing in the white family. There are so many whites and they all change and reflect light differently depending on the type of light in the room.
Allow at least 2 months when ordering furniture and about 2-3 weeks when having furniture recovered. In a perfect world, all of the furniture will be ready for delivery when the paint is done followed by drapery installation. Trisha and I used Max Movers to store our furniture as it came in and then they delivered everything all at once.
Room Details
Follow along as I give you details on our selections. Next photo is the before photo from 2002.
We had a home in Austin and purchased this black platform bed so when we sold the home, we brought it to Houston and changed it out with the old one. (above) Now we were moving away from an old world vibe to an Art Deco feel.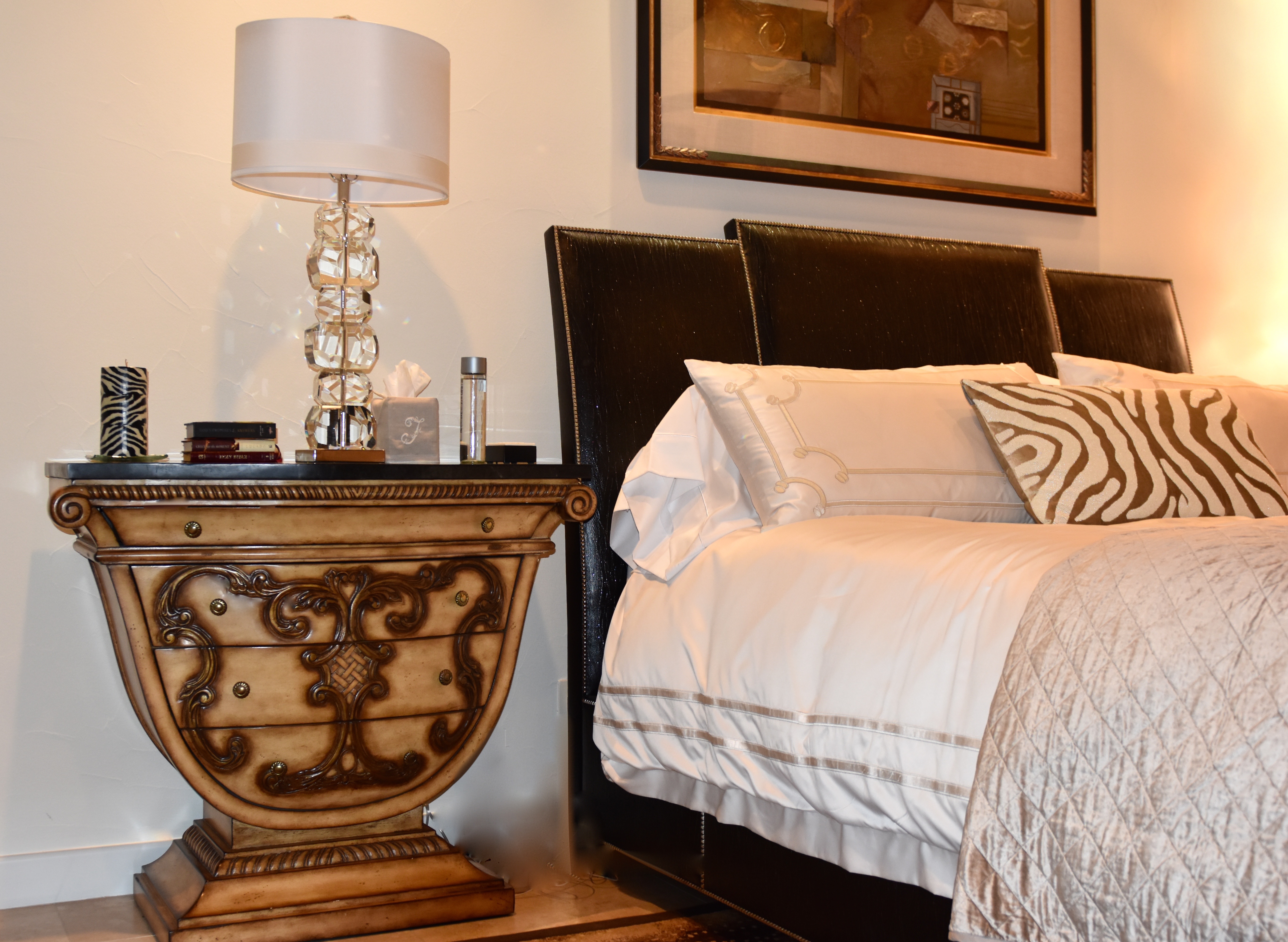 Bedding
After 18 years our old bedding that was very expensive at one time, was starting to get dry rot. Ha, Ha…. so it was definitely time to change. This time I wanted a simple, cleaner, fresh, lighter and brighter room, so I went with white. Our bedding is from a line by Lili Alessandra. The coverlet is a velvet diamond quilt and the shams scream chic. If you notice I have only one decorative pillow which is liberating. We must have had 8 decorative pillows before and I hated taking them off every night for 18 years.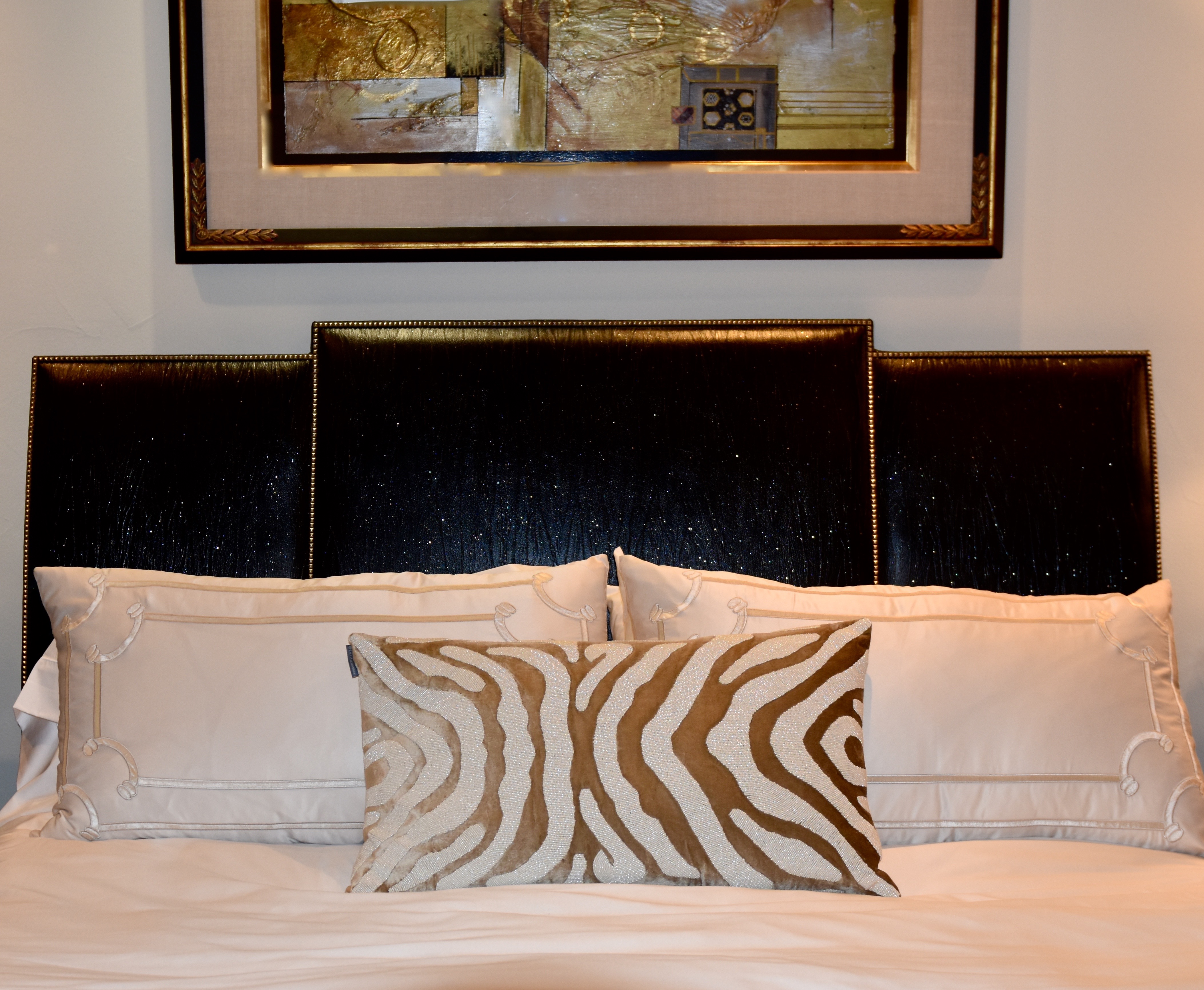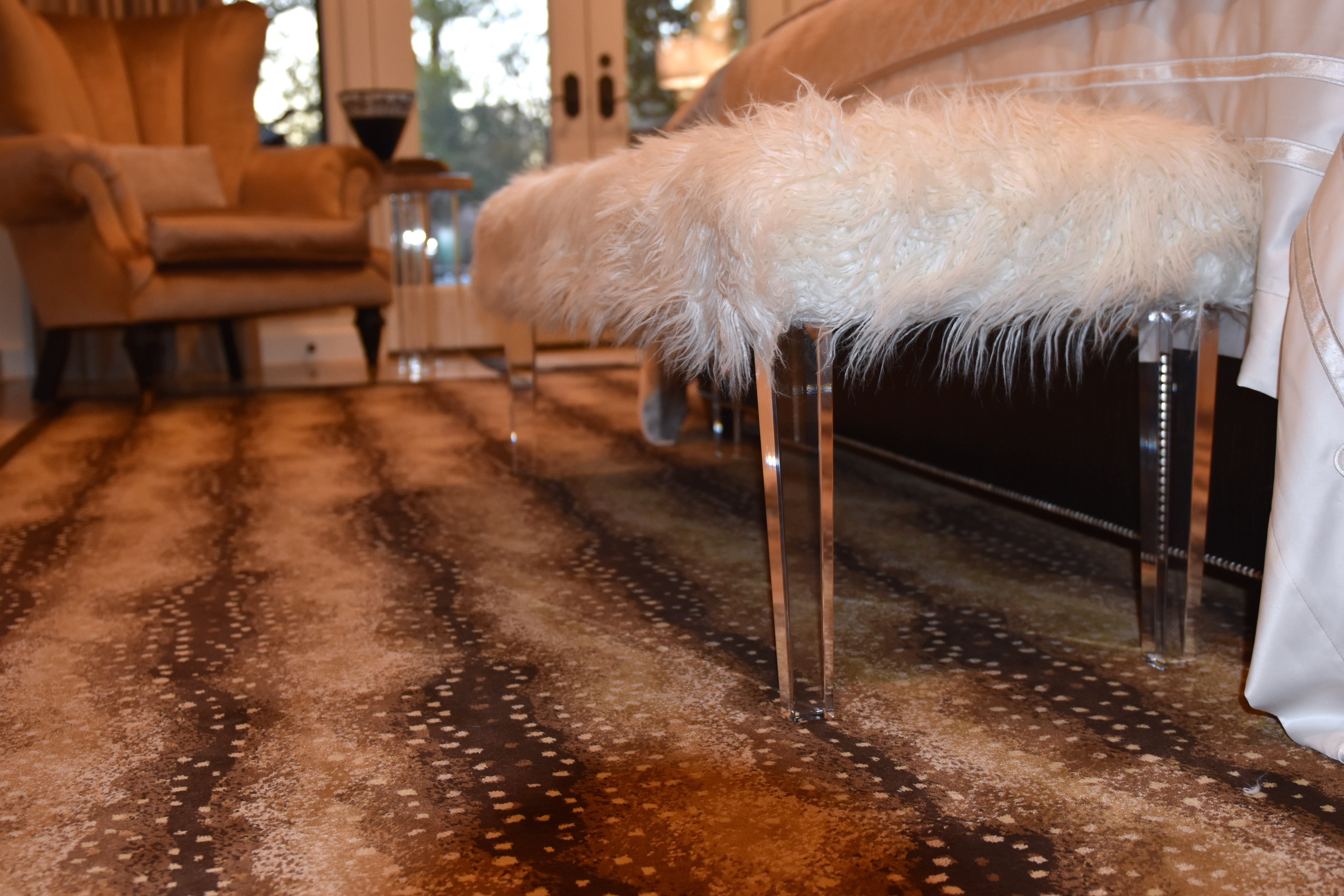 Then ze faux fur and acrylic bench.….isn't it the cutest, chicest addition? Acrylic is a huge trend right now as well as faux fur so why not add some texture! Below is a really cool natural wood table with a live edge and acrylic legs. It was a custom piece from a store in Houston. The black vase on the side table below is a piece we have owned for maybe 25 years and I just found it still available. Crazy, right?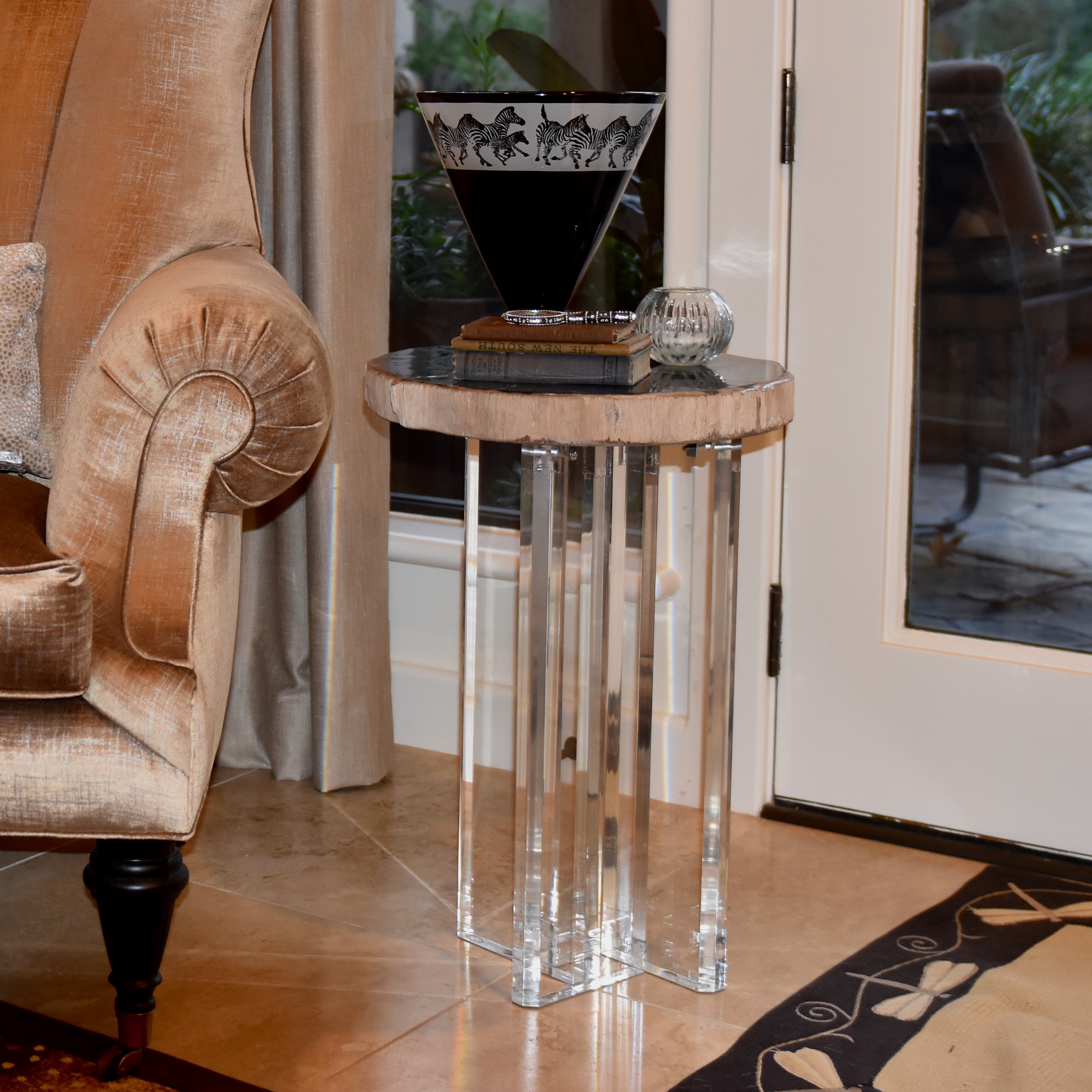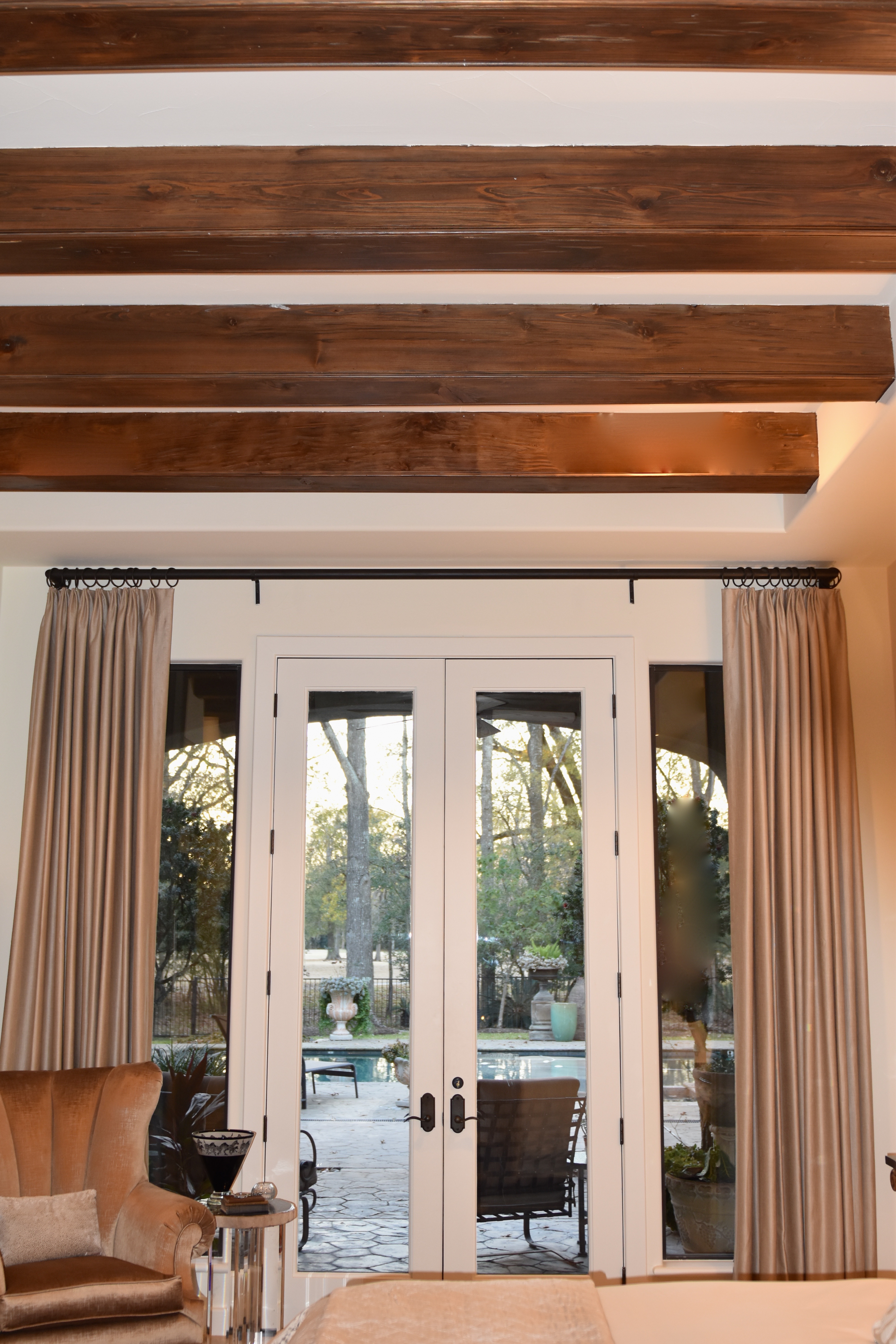 Drapes & Rug
Our old drapes were also getting dry rot from age so it was so refreshing to do a much simpler style. I wish you could have seen the chair below before we recovered it. It now looks nothing like it did. The fabric is sort of a velvet and soooo yummy.
We changed out the rug about 6 years ago so since it was still fairly new, we decided to keep it. I actually went to a carpet store and picked out the springbok print and they took the measurements and did the binding around the edges. If you can find the rug you want then that is a great way to get what you want.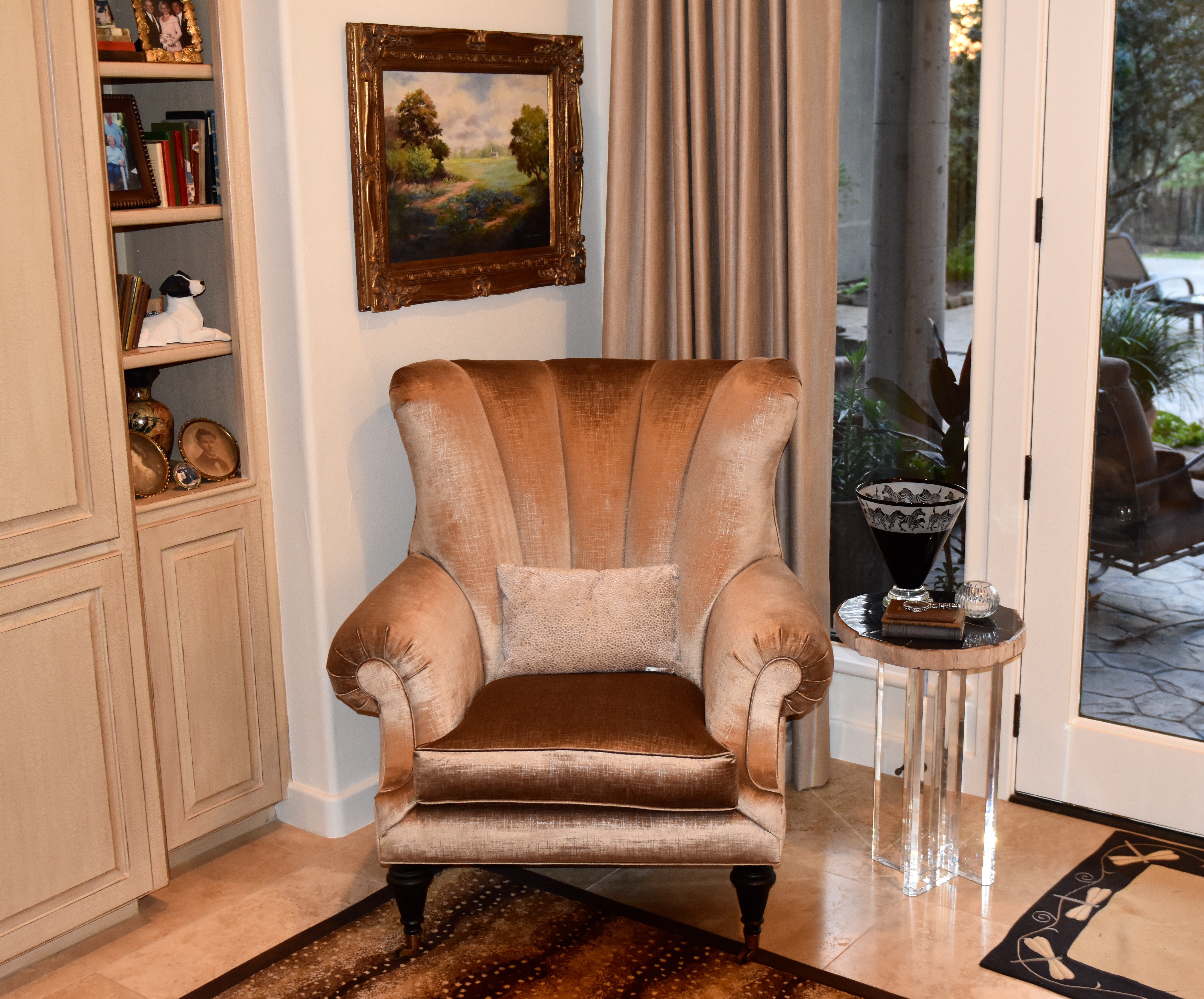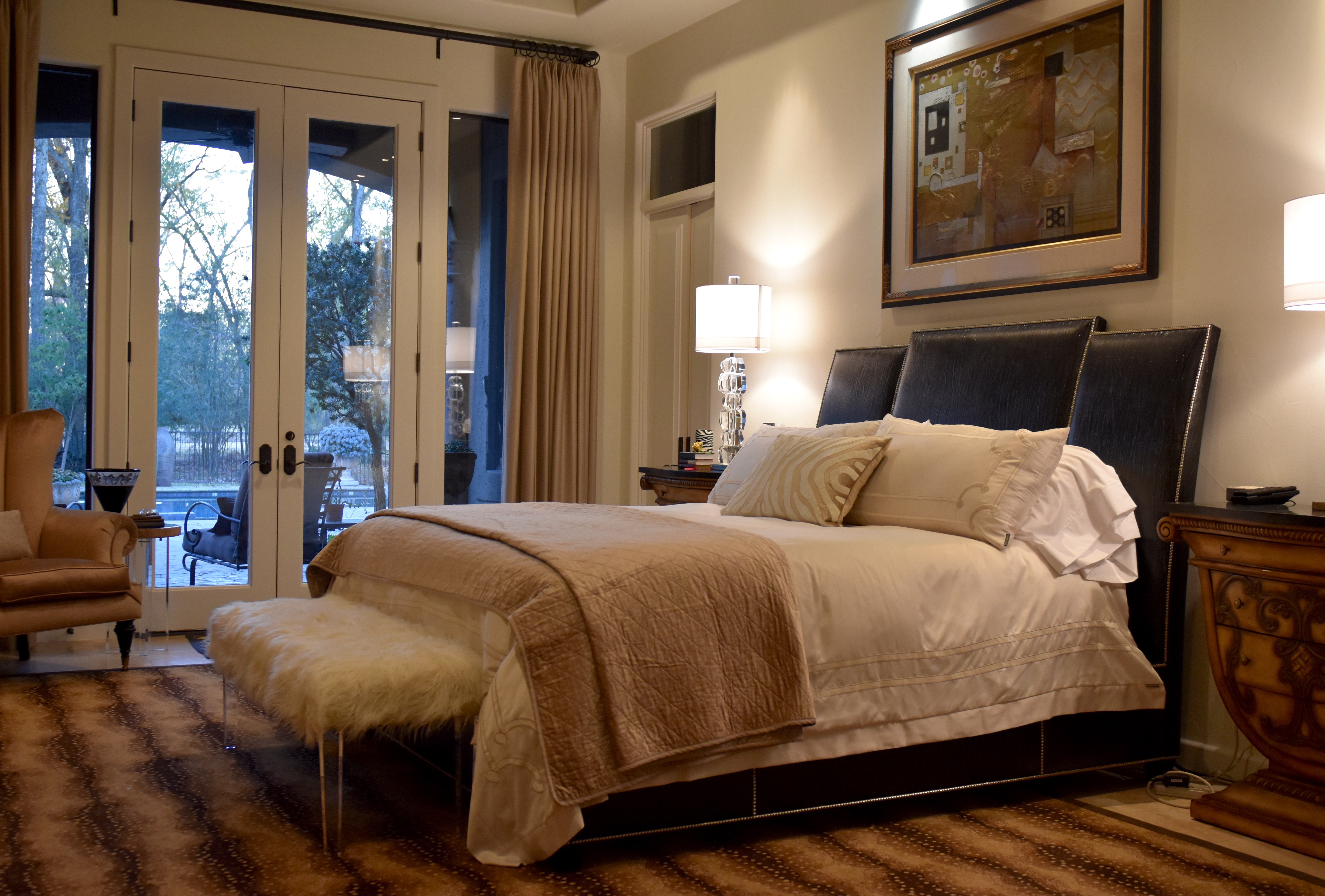 IN CONCLUSION
If you are thinking about changes at your house then we hope these steps will keep you from getting overwhelmed. If you like anything in our room then I have linked the same or similar items. Just click on the photo and it will take you to the website where it can be purchased.
Also, if you like to be inspired by home interiors, then check out our other posts with our past remodel and building projects. We have several more posts that will come forth this year that we hope you will enjoy.

SALE ALERT
Anthropologie
Take an extra 40% off sale items
Club Monaco
Take 25% off your purchase with code STARTFRESH
Diane von Furstenberg
Take an extra 20% of sale items with code EXTRAEXTRA
J.Crew
Take an extra 40% off your purchase with code YESPLEASE
Kate Spade
Take an extra 30% off sale styles with code MORELOVE

SHESHE'S TIDBITS
We are working on a couple of influencer trips that will happen in mid-March then another one in May. Planning is part of the fun when doing these types of trips. Stay tuned..…
Gala's, weddings, graduations, holidays or just everyday wear…..we have fashion suggestions for you, so stay tuned. Be sure to check out ShopSheShe tab at the top in the menu bar. Hover over and choose the category in the drop down. We try to keep it up to date with the latest and greatest for all budgets. Subscribe here and then you won't miss a post. Simply enter your email in the pop-up box or below.
WELCOME new readers. We are a fashion/travel/lifestyle blog. We talk about anything and everything, from fashion, travel, health issues to even an occasional recipe. Let us know if there is a topic that interests you. We will do our best to bring that story to you. Have a great week sweet friends and thank you for following along. Without you, we could not continue on this crazy fun journey