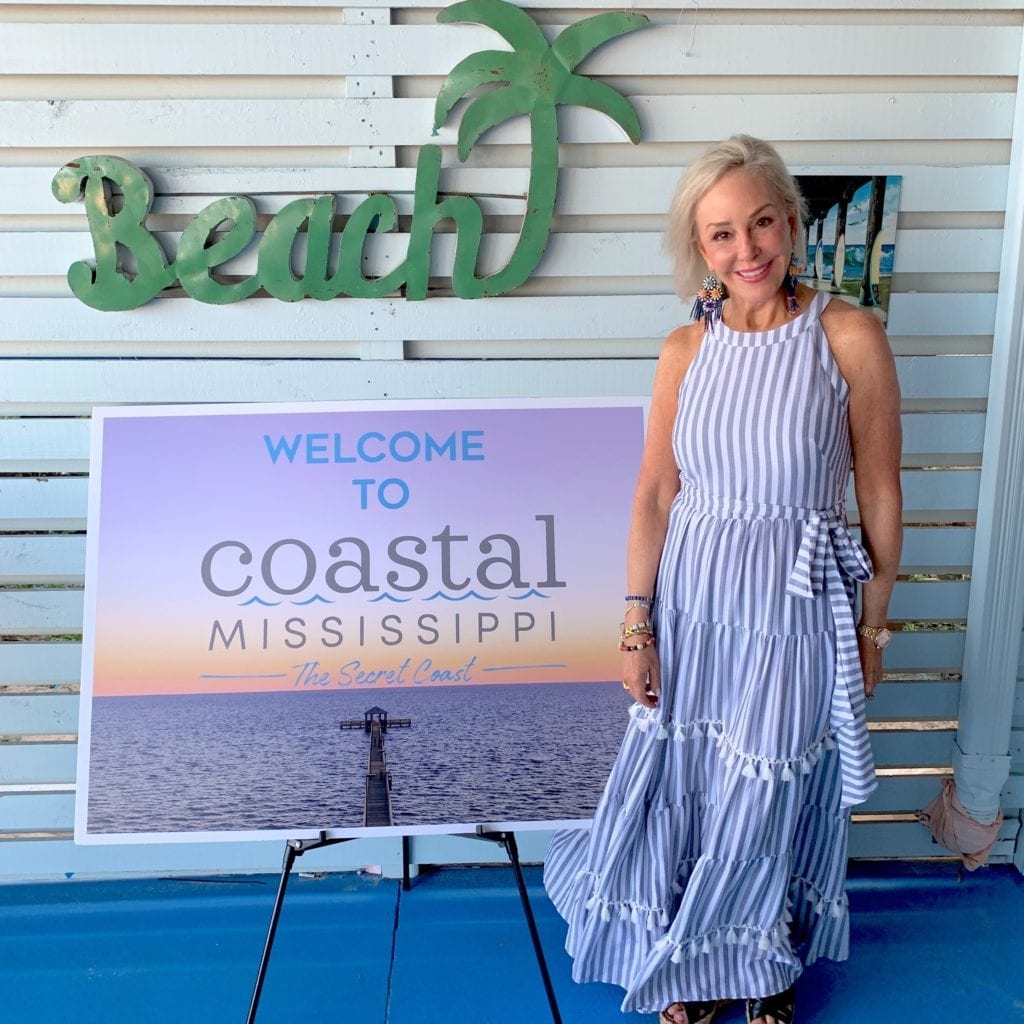 My trip was paid for by Coastal Mississippi. I was also compensated for sharing my experience here on my blog and on social media.
Would you ever think about planning a vacation to Coastal Mississippi? I always thought that this area was mostly for those who love to gamble. Well, that is true but recently discovered that there is so much more to see and do in this beautiful part of the Gulf Coast. That is why we refer to it as the SECRET COAST. Today we are sharing Part I of 10 reasons why you should visit Coastal Mississippi.
OUTFIT DETAILS

DAY 1
Travel day to Gulfport, Mississippi, about an hour flight time from Houston. I flew on United but American and Delta also serve this airport. Planning to arrive around noon gave me time to get settled in my hotel room before our first dinner together as a group. I was so delighted to find a wonderful swag bag on my bed from our hosts www.CoastalMissippi.com. It was full of all kinds of fun and useful goodies representing this area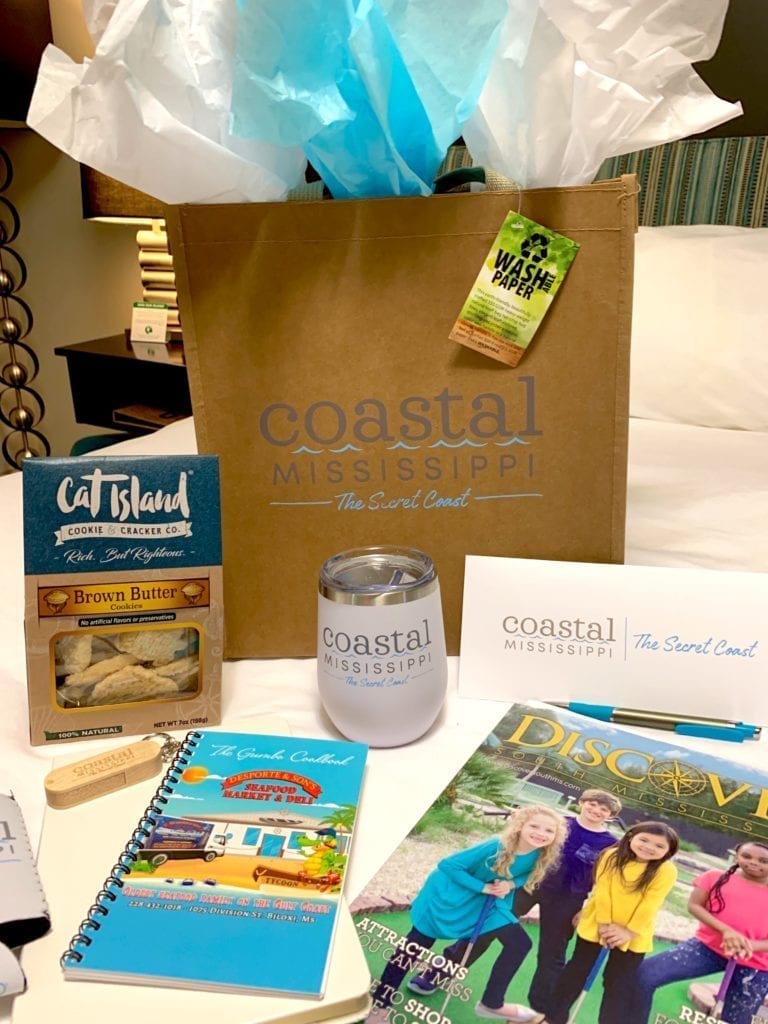 Lunch at Chimney's
Anna with Coastal Mississippi picked me up at the airport and whisked me off to a wonderful lunch by the water in a restaurant called Chimneys located in Gulfport. A perfect way to start my day….feeding this girl and boy was that Godchaux Salad with jumbo lump crab, shrimp, and avocado good!! It was also great to get one on one time with Anna getting to know her and picking her brain about this area…..so much to learn.
COASTAL MISSISSIPPI FACTS
Louisiana and Alabama border the east and the west boundaries.
44 Miles of coastline along the Gulf of Mexico
26 Uninterrupted miles of manmade beach along scenic Hwy 90
3 Counties & 12 cities make up Coastal Mississippi
12 Casinos, 8 in Biloxi
BILOXI, MS
Population around 46k (2017) . Located in Harrison County, is well known for its beaches and casinos. For families check out a Biloxi Shuckers game at MGM Park or enjoy a ride on an authentic replica of a Biloxi oyster schooner.
WHITE HOUSE HOTEL
Me and 5 journalists all stayed at the beautiful historical White House Hotel located at 1230 Beach Boulevard, Biloxi, MS. This hotel with a beachfront location first opened as a boarding house in the 1890s. It sat vacant for 30 years, surviving Hurricane Katrina and reopened in 2014 after a major renovation bringing in some contemporary decor to beautifully compliment its old architecture.
Relax in the over-sized lobby or rooftop terrace, dine at Cora's the onsite restaurant and don't forget to enjoy the beautiful pool and gorgeous landscaped grounds. As you can see in the photo below, they host a lot of weddings and special events.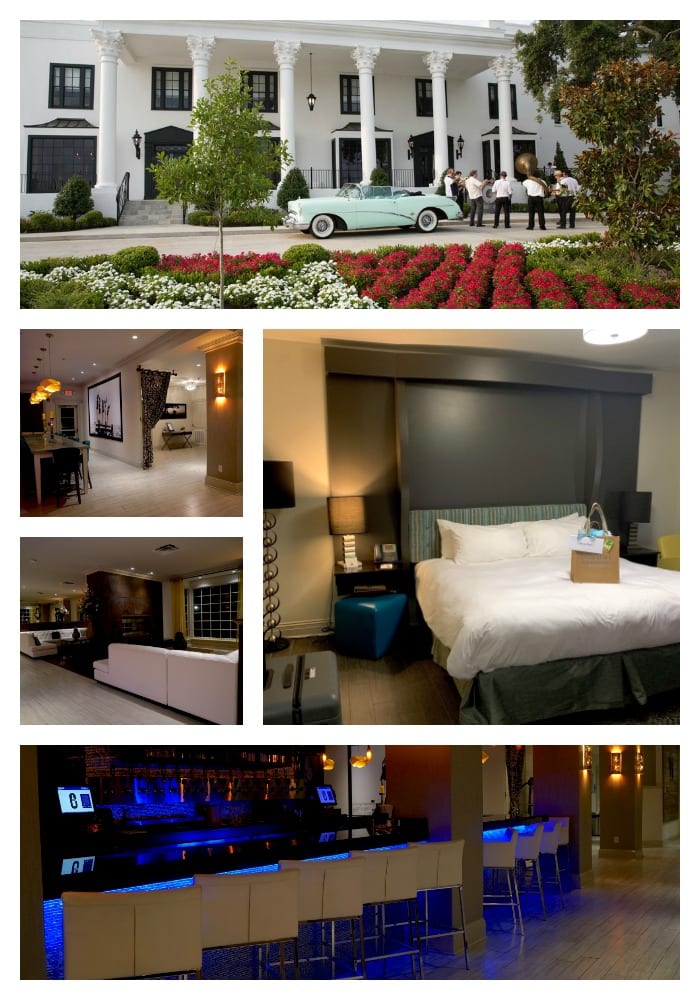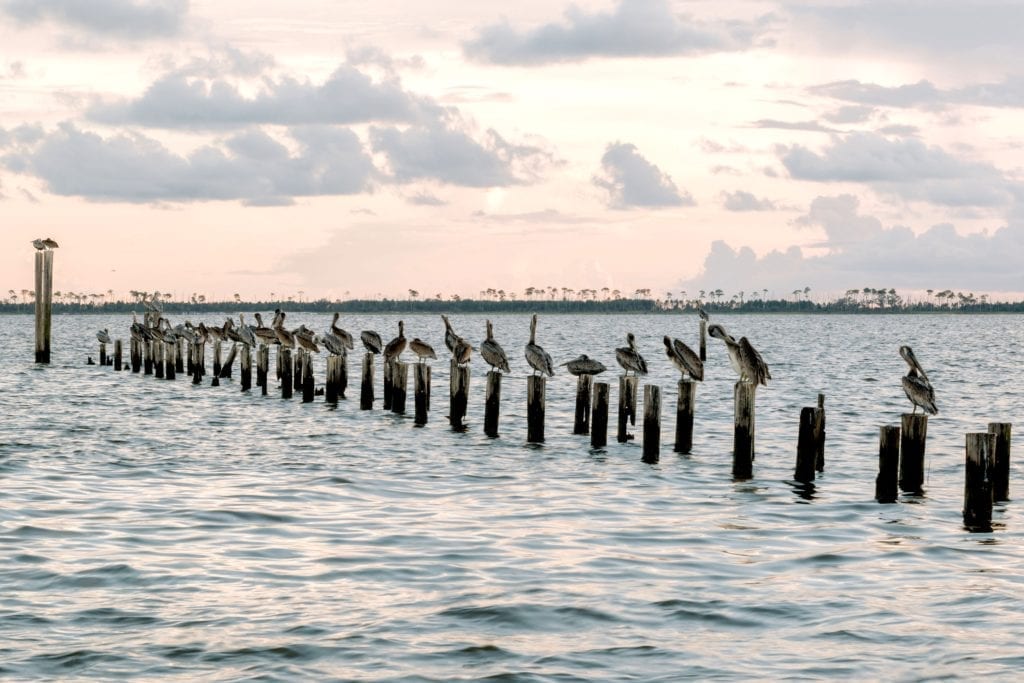 LUCY'S RETIRED SURFER'S BAR
Our group met out front of our hotel at 5:40pm to load up in our own chauffeured coach that by the way, we would have for the next 3 days. We headed to Lucy's Retired Surfer's Bar for cocktails and appetizers. Here we got to meet some more or our hosts from Coastal Mississippi as well as Maggie, the sweetest girl from Peter A Mayer PR firm.
Lucy's a family-friendly (and dog friendly!) bar and restaurant with a laid-back casual vibe serving coastal-inspired favorites. Some local favorite drinks we loved was the Scorpion Shot, Blue Whale, and Shark Attack! I think I tried the Shark Attack? If I remember correctly……….
We took fun photos with the Coastal Mississippi sign, ate some good ole nachos and dips and tried the drinks before heading to dinner.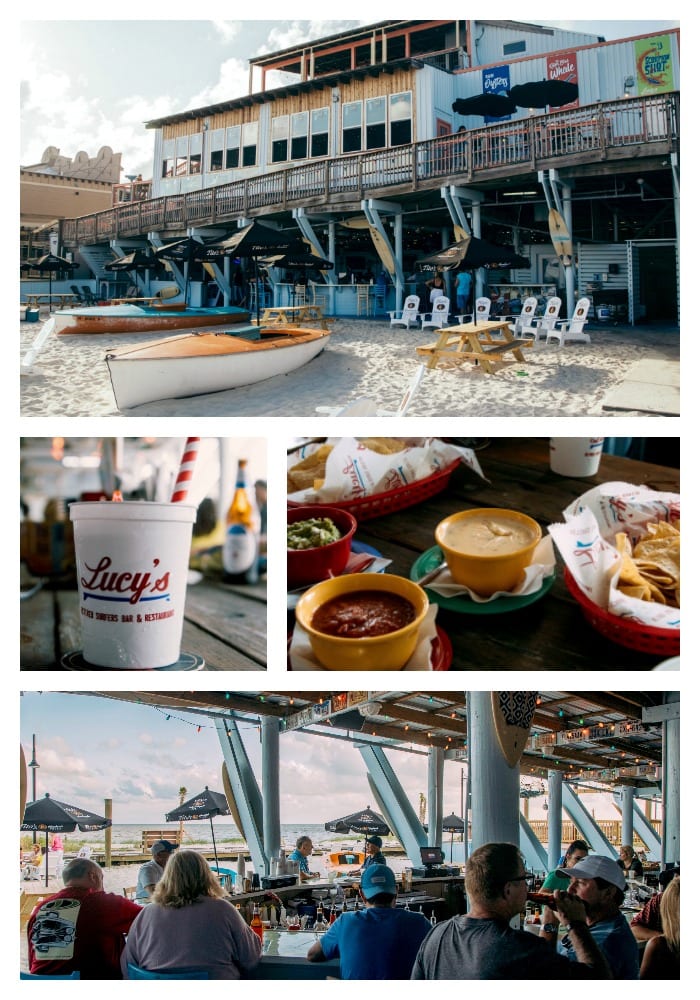 WHITE PILLARS RESTAURANT
White Pillars Restaurant, another historical remodel that prides their decor on being right from their home state. Handcrafted tables and even the dishes were handcrafted from the area. This beautiful structure, once Gunston Hall was built in the late 1800s, was also abandoned for many years. In 1989 it was purchased, remodeled and survived Hurricane Katrina with minimal damage. Go to http://history.biloxiwhitepillars.com/history/white-pillars-history to read all about the history of White Pillars.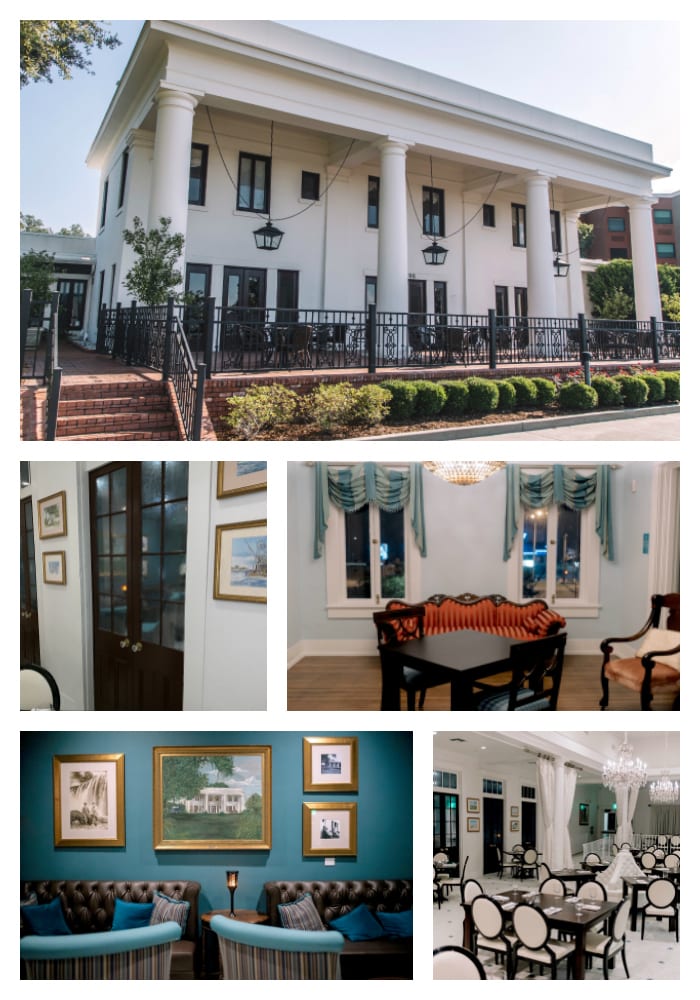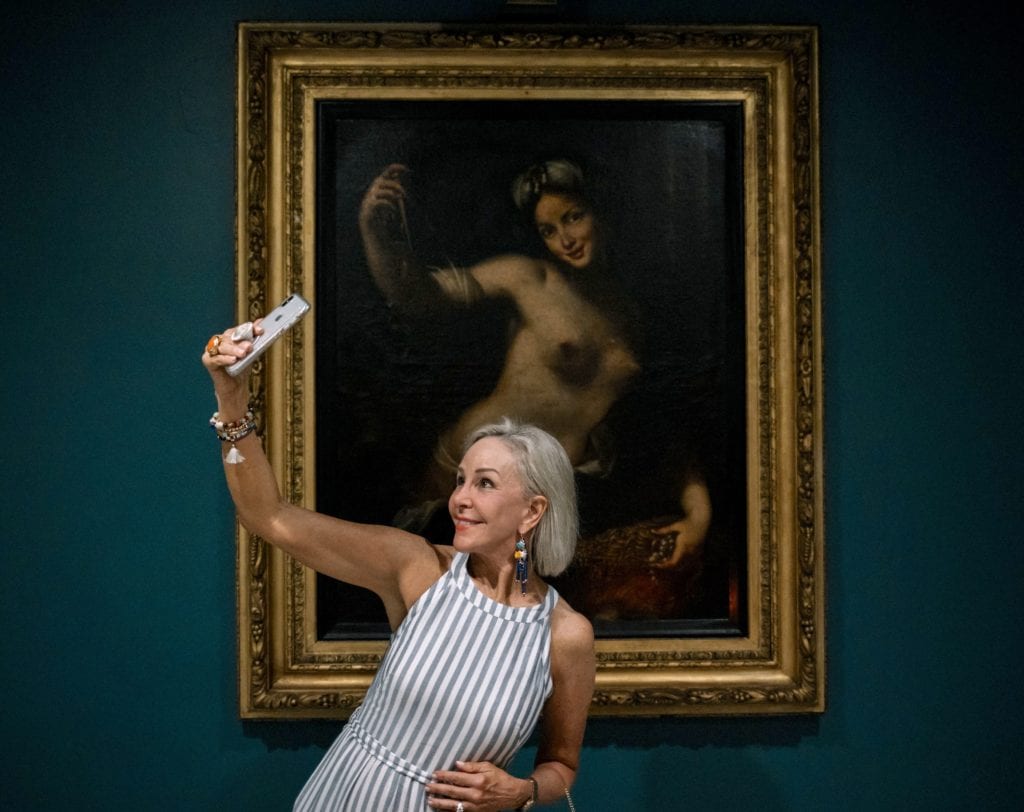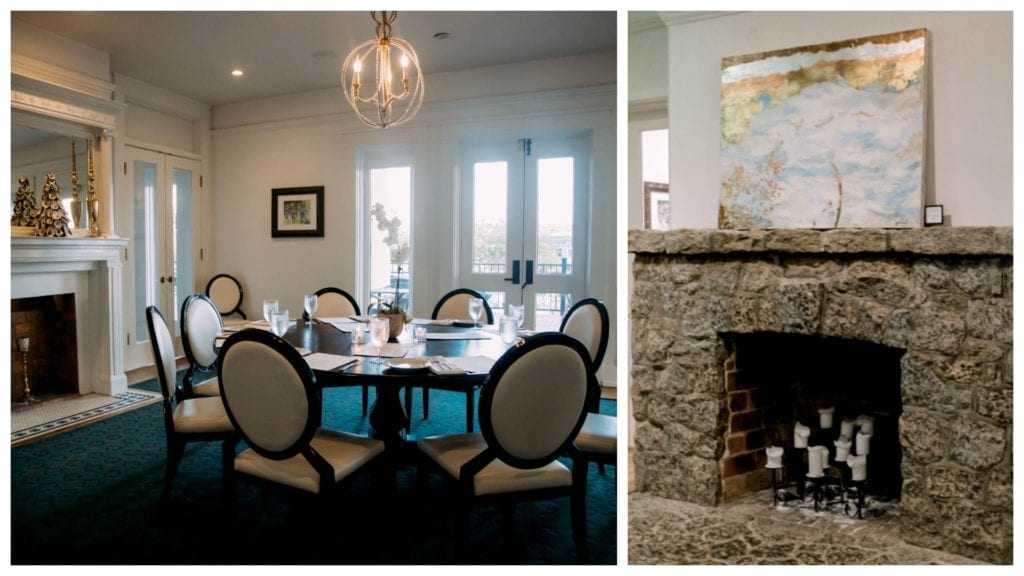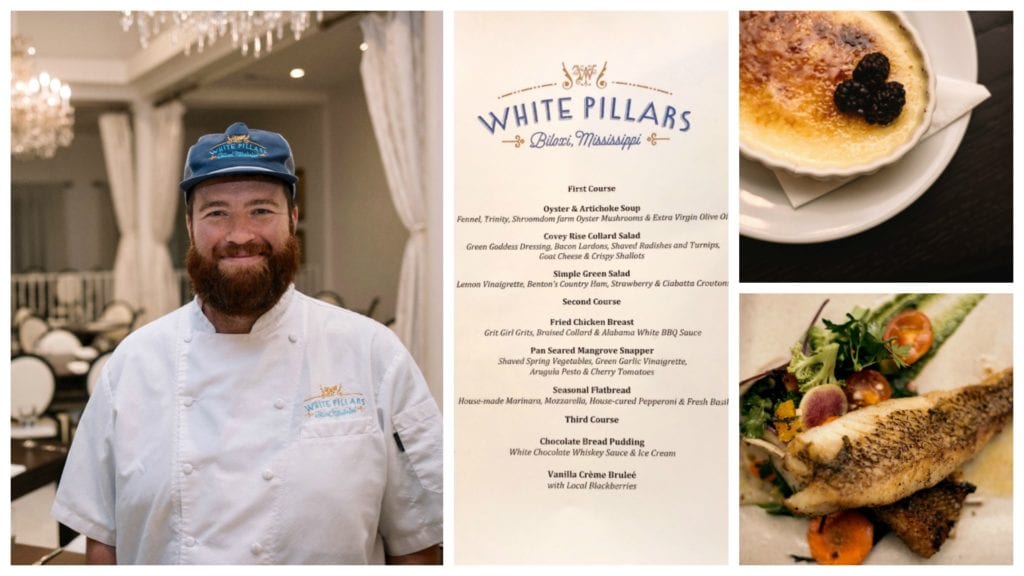 Owners, Chef Austin Sumrall (above) and his wife Tresse are from Mississippi and that is one of the big reasons we got that good ole down home southern hospitality. They treated us to a fine curated dinner in a private room (photo by the fireplace photo) and invited local oyster farmers Anita & Mike Arguelles to join us for dinner. What an extraordinary couple who shared all about how they started their oyster farm French Hermit Oysters. I will say they were some of the sweetest, freshest oysters that I have EVER eaten.
Mike Arguelles shucks a French Hermit oyster pulled from his oyster farm near Deer Island, off the coast of Biloxi. Arguelles and his wife, Anita, are among more than a dozen farmers practicing off-bottom aquaculture near Biloxi Harbor. The Mississippi Department of Marine Resources provided initial seeding of the oysters that are raised in cages near the water's surface. "I like the challenges of working the farm," Arguelles says. "If we approach a local chef and he asks where the oysters came from, I can just point to the spot." USA TODAY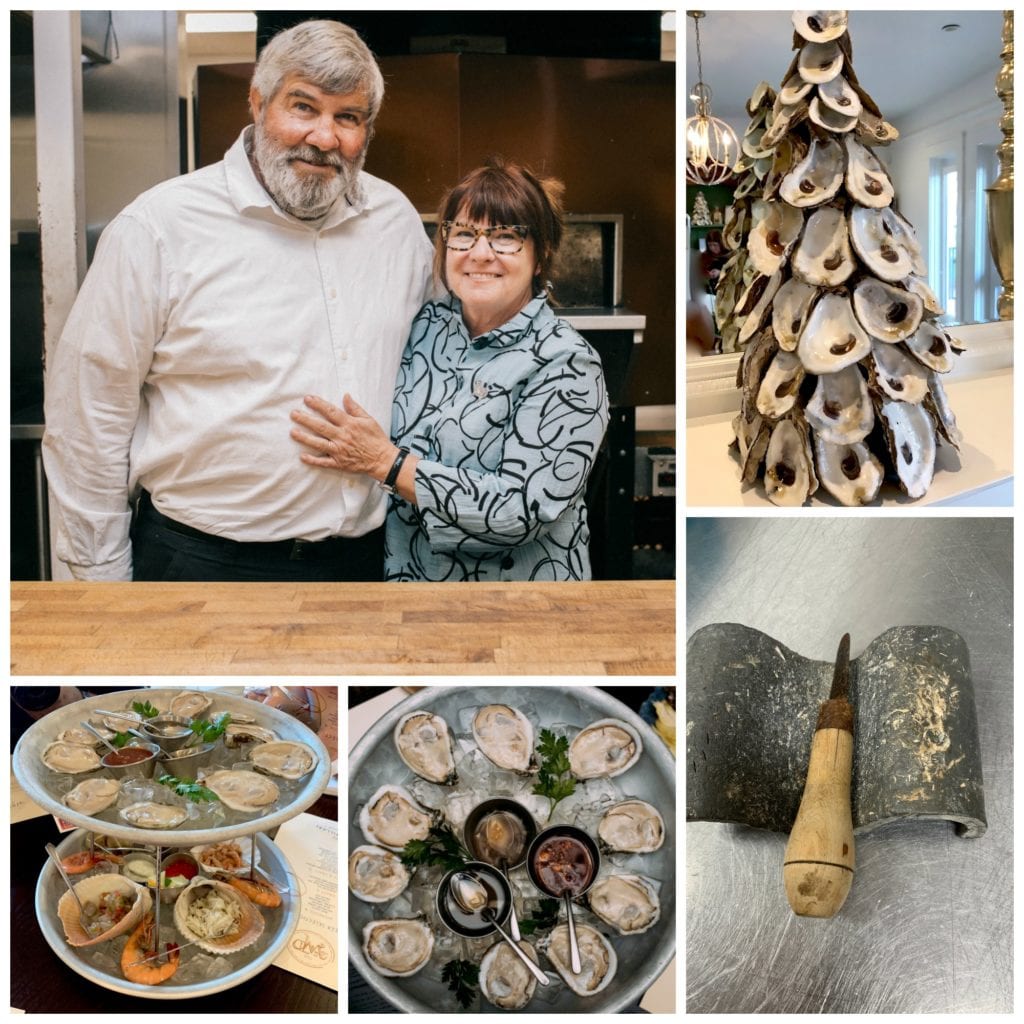 DAY 2
THE GREEN HOUSE on PORTER
To fuel our tanks for our busy day we stopped at The Green House on Porter in Ocean Springs for a really delicious assortment of biscuits, fruit, and pour over coffee…. oh yes we are on a foodie adventure and just starting. Can I just say that this was the cutest whimsically repurposed greenhouse not only serves the best biscuits in the world but loves that space, food & coffee to bring people together? They also host a community art show, trivia nights, live entertainment, are markets and yoga! A must visit for breakfast if you are in the area!!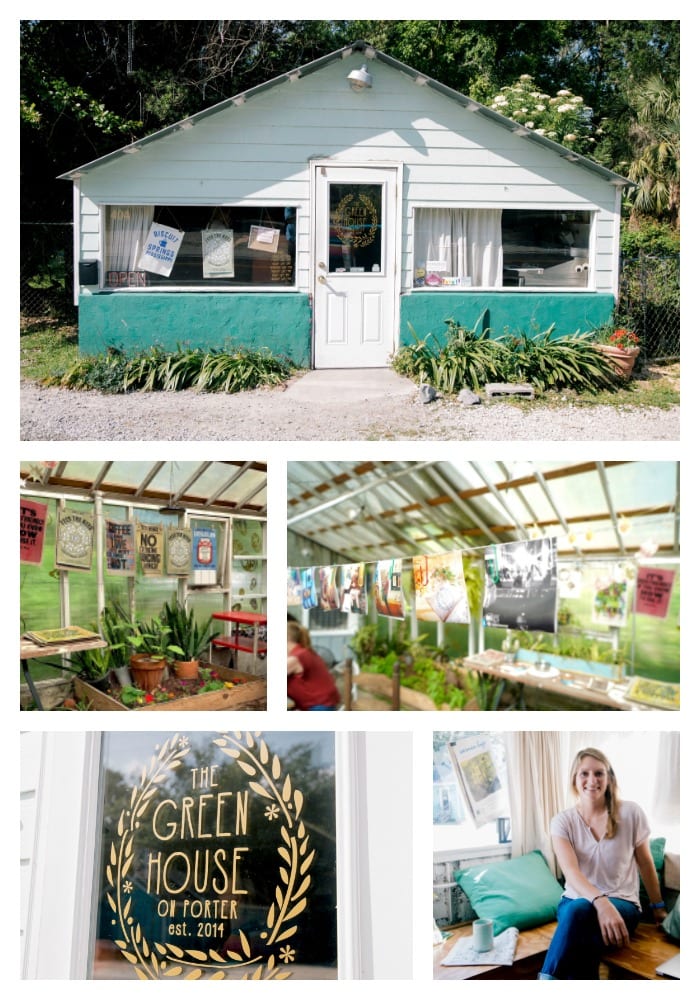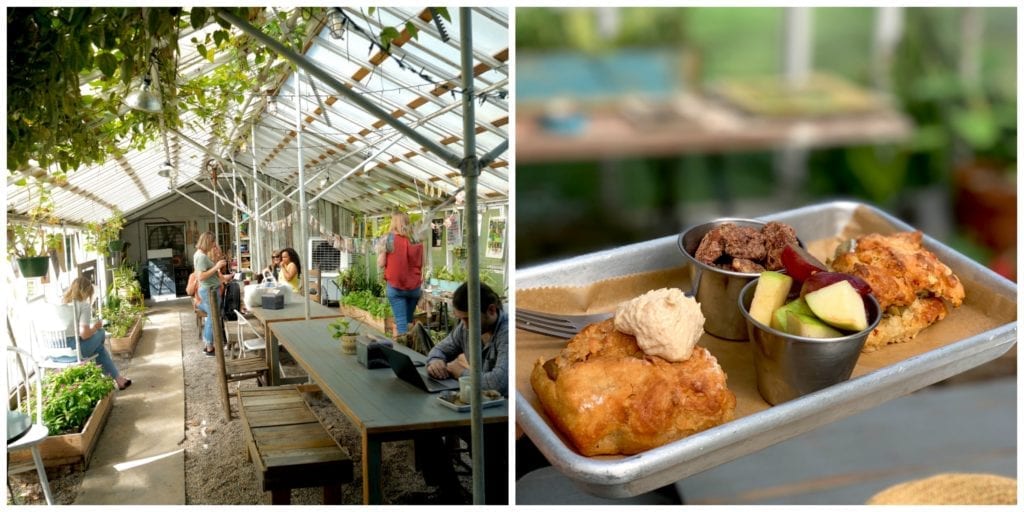 GULF ISLANDS NATIONAL SEASHORE AT DAVIS BAYOU
We had a little space of time so we headed to see some nature at the Gulf Islands National Seashore Park and guess what…….right off the bat a big, very big gator was spotted. He was just chilling……almost like he was posing for photos. That was exciting!!!
By the way this park has a very popular campground! Go to this site for more information.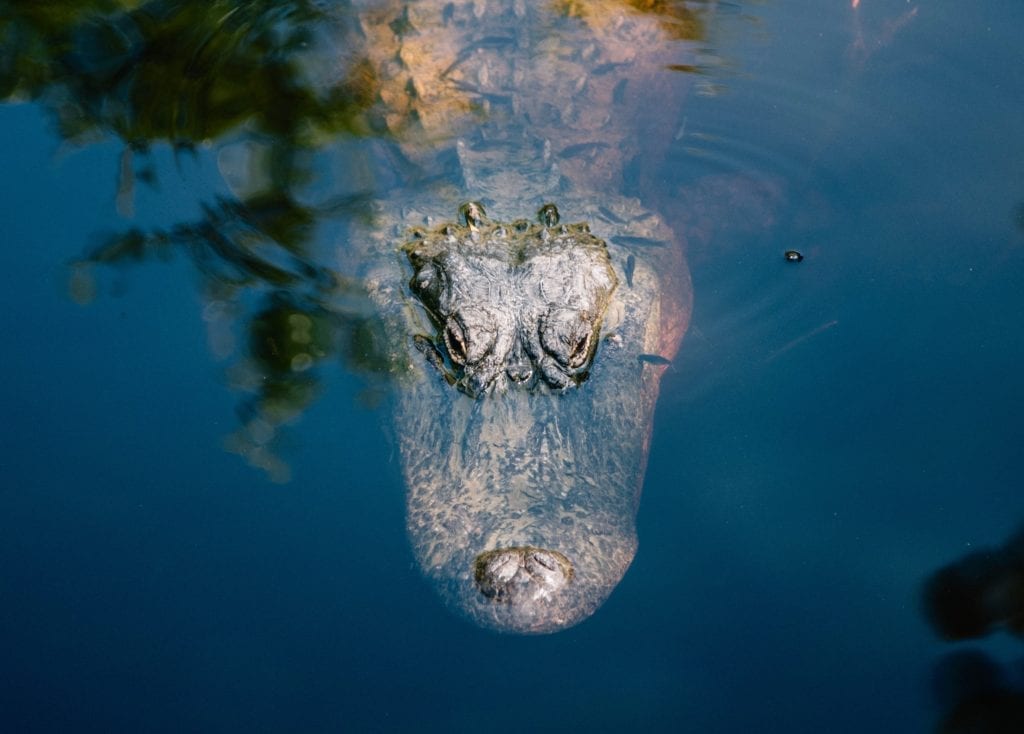 COOKING CLASS
Next, we headed back to Biloxi to the Seafood & Maritime Museum where we had a cooking class with well-known food writer Julian Brunt. Yes, we learned how to make gumbo using basically only 5 vegetables: bell peppers, okra, onion, jalapeno & celery. Onion, bell pepper & celery, the holy grail of creole are the veggies used in classic Creole, but Julian prefers to add in okra and jalapeno for more flavors and textures. For the protein, he uses chopped sausage, cooked chicken and sauteed shrimp.
THE SECRET TO GOOD GUMBO
The most important part of making gumbo is cooking the rue the right way. Use flour, and oil in equal portion and as it gets darker turn down the heat or it will burn and you will have to start all over. Not to forget the rice….he uses The Original Grit Girl & Delta Blues Rice, both sold locally. Once it was done, we all got to have a bowl and it was so yummy!!!!
I really don't like to cook that much but after our time with Julian, I was excited to try my hand in making gumbo so we will see if I can do it!!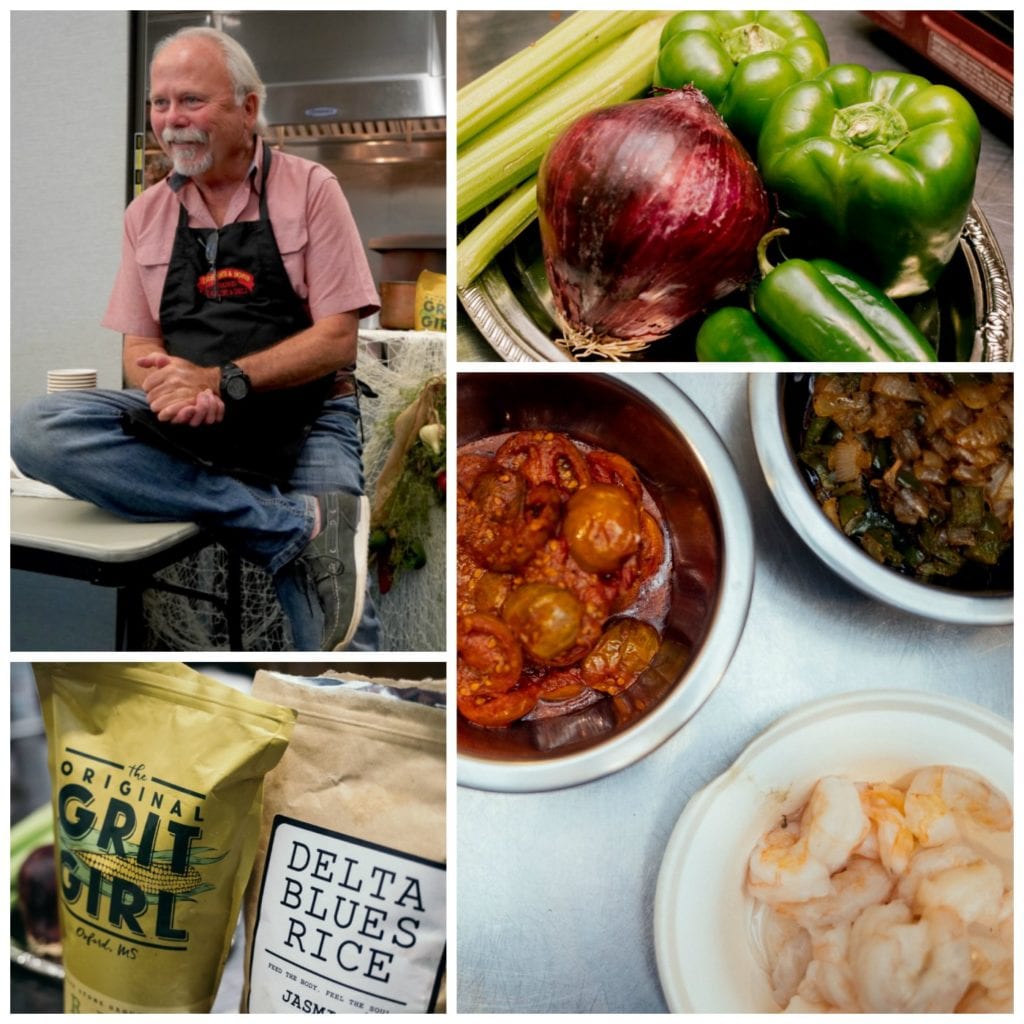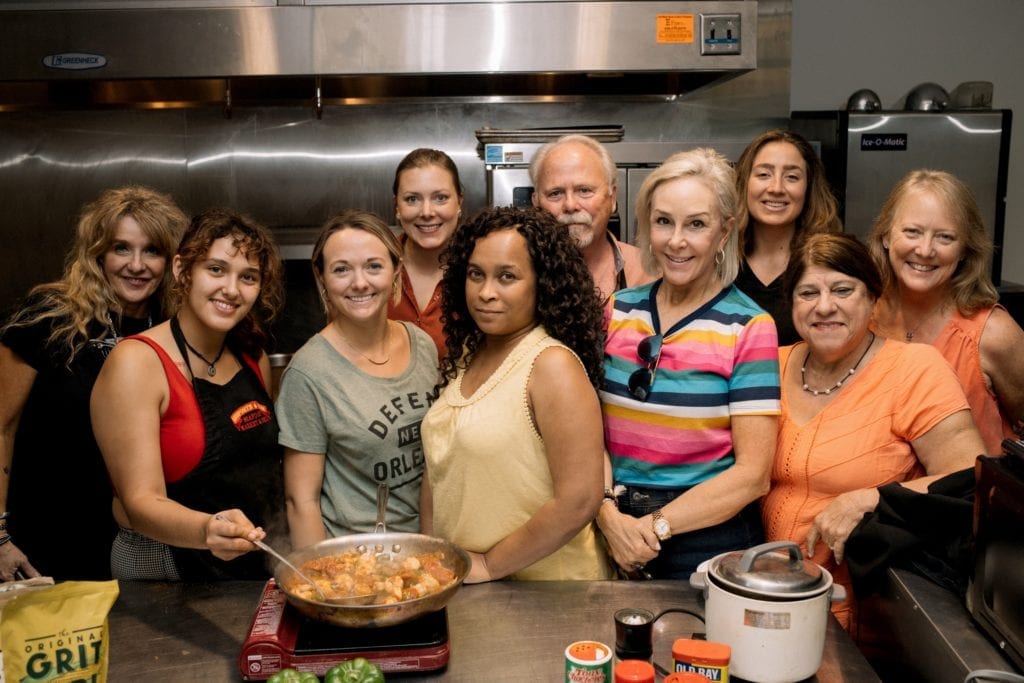 After our cooking class at the Seafood & Maritime Museum, we went to a small room where we watched a film all about the history of seafood in the area. I know that seafood is always important to the coastal regions on the Gulf of Mexico but I had no idea that Biloxi was once the seafood capital of the world. After Hurrican Camille in 1969 and Katrina in 2006, much of the gulf changed and so did the seafood industry in these parts.
This building in the photos below is the new building that was built after Katrina destroyed much of the old museum. I could have stayed there all day reading, looking at before and after photos and learning all about the seafood and maritime industry.

The machine below is the automatic shrimp peeling machine invented in 1943 by James Martial Lapeyre. The far right photo of a lighthouse beacon was busted up during Hurricane Katrina but they were able to find most of the pieces and put it back together.

BILOXI SHRIMPING TRIP
It was time for some fun and friends the Biloxi Shrimping Trip was a blast for all. On this 70 minute ride, you can learn everything you ever want to know about catching, cooking, and eating this delicious southern delicacy, Mississippi Gulf Coast Style.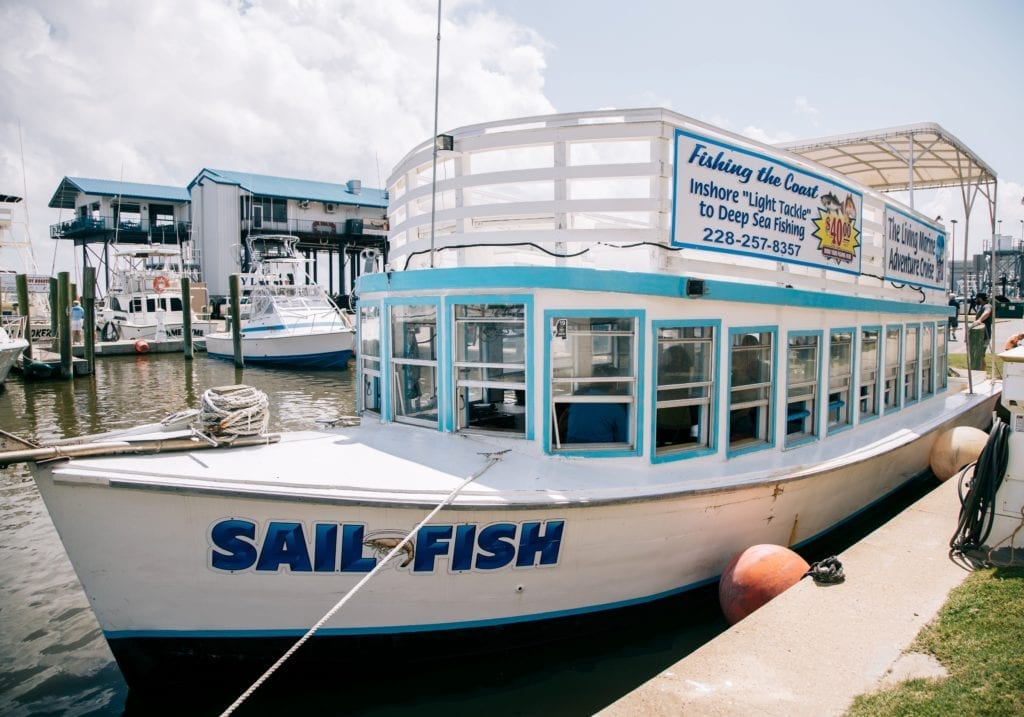 The Crew
From the captain, Mike Moore to shrimper David and to their adorable lab mascot we were entertained and taught all about shrimp. Captain Mike had taught his sidekick lab to serve cold sodas and beer to his guest. (see photo below right)
I especially loved watching the children interact and get bold holding the live shrimp that we caught. Using a 16-foot trawl dragging the bottom of the Mississippi Sound we also caught Blue Crab and a baby Stingray. That is one of many reasons why you want to experience good seafood along the coast of Mississippi!!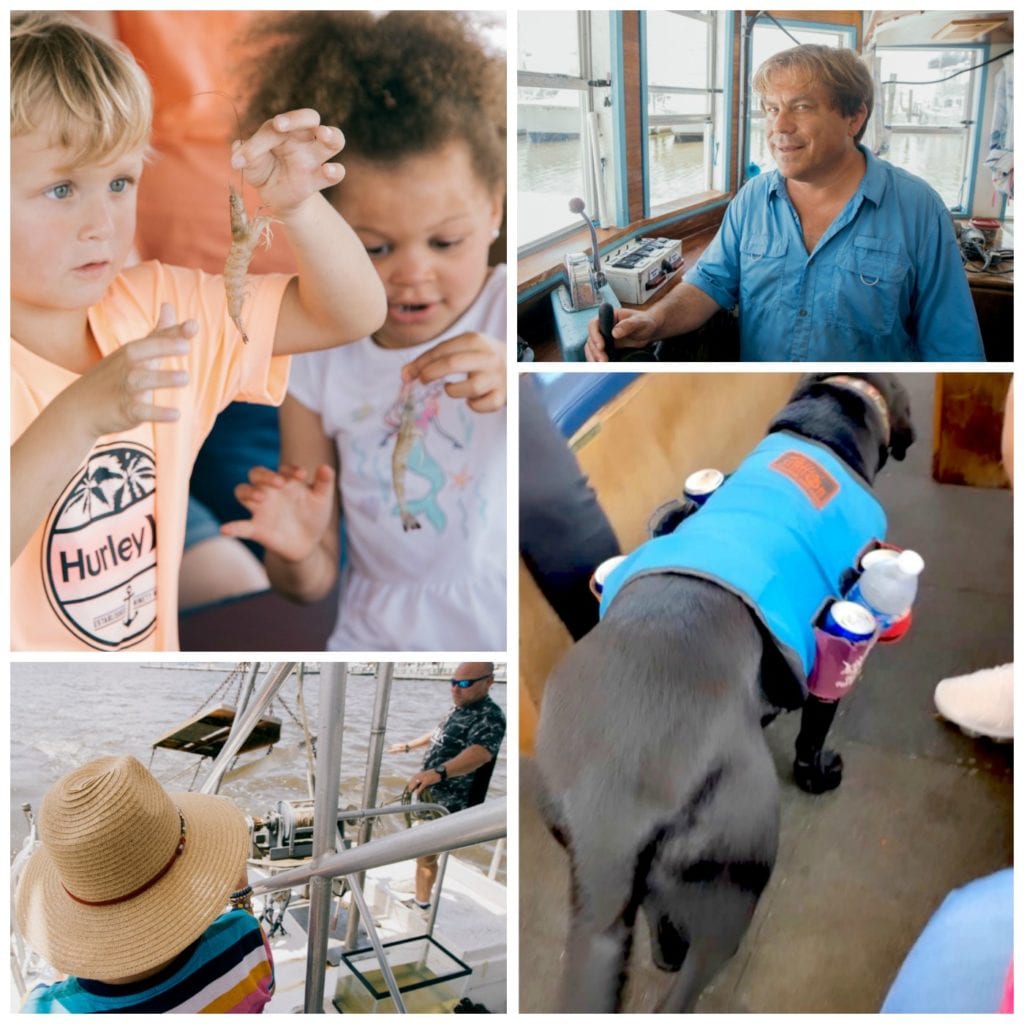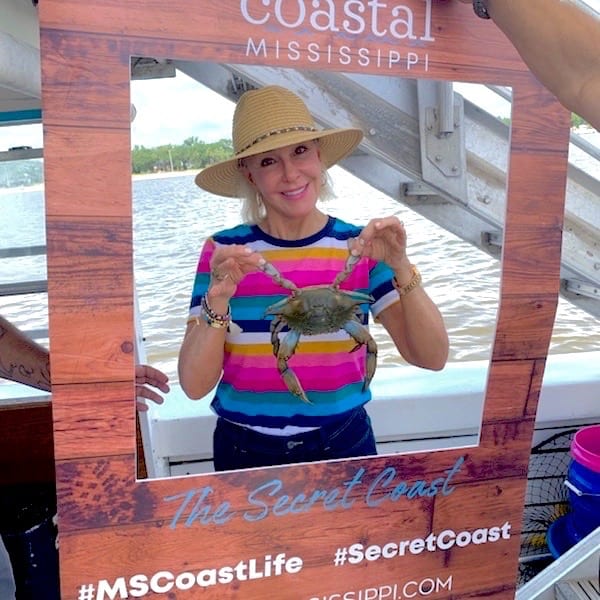 Beau Rivage
The Beau Rivage among the other 11 casinos were once on barges in the water. Hurricane Katrina destroyed them so the state decided to allow the casinos to re-build buildings instead of barges but they had to remain by the water.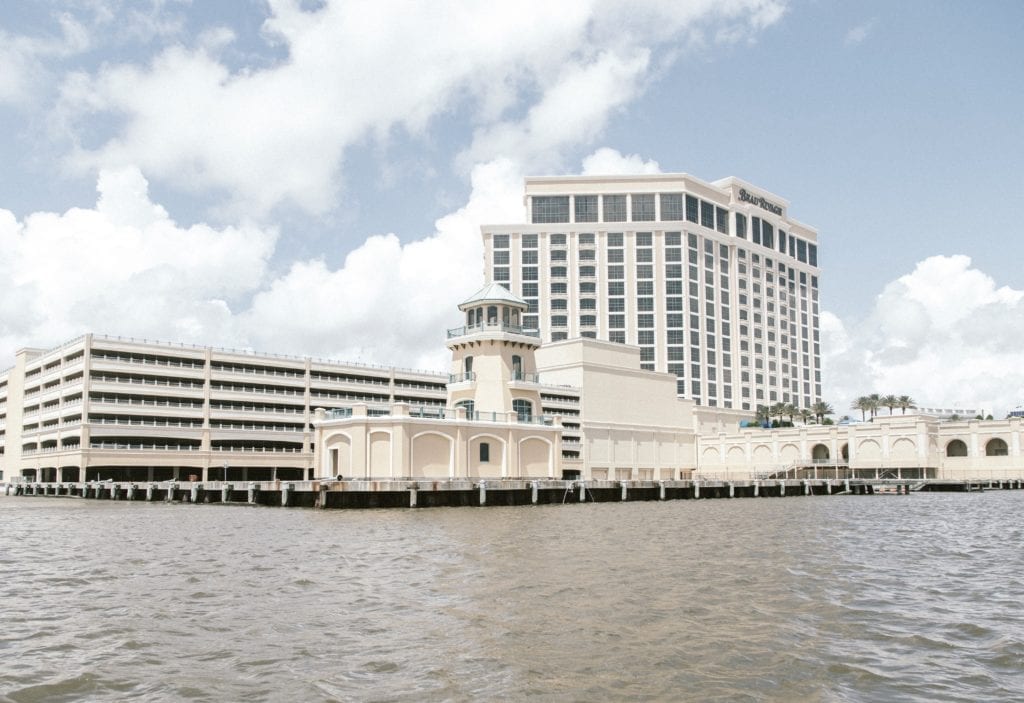 OCEAN SPRINGS
A small town of around 18,000 nestled on the scenic shore of the Mississippi Gulf Coast, this charming little town stole my heart. I could really live there and be so happy just enjoying the art, food, culture, lush landscapes, over 200 independent shops, galleries, restaurants, and nightlife. This community captures the small town charm with its walkability, white sand beaches, year-round activity. and the friendliest folks.
WALTER ANDERSON MUSEUM
"In order to realize the beauty of man, we must realize his connection to nature." Walter Inglis Anderson
Early Years
Walter Anderson born 1903 and passed away in 1965 this was just no ordinary man, an artist, a naturalist, a mystic.
He was from a well to do New Orleans family that gave him the opportunity to study at several schools.
His mother encouraged her 4 children to be an artist.
About his art
Started painting on pottery.
Today Walter Anderson is well known for his jewel-like watercolors, his prolific ink drawings, the flowing lines of his linoleum block prints, and his extraordinary murals.
Andy Warhol recognized Walter Anderson as a genius and collected his art.
One of the only museums in the south dedicated solely to one artist.
He revolutionized art in the South
To learn more about this very talented artist go here and here.
Photos below-
Top left: the main gallery exhibiting several styles of Walter's art.
Top right – the community- building that he painted murals on all walls, mostly with birds as the focus.
The turquoise boat: He loved biking and boating and the great outdoors.
Bottom left photo: The Little Room that is now attached to the museum. It was his sanctuary where he painted for years and it was not discovered until after his death.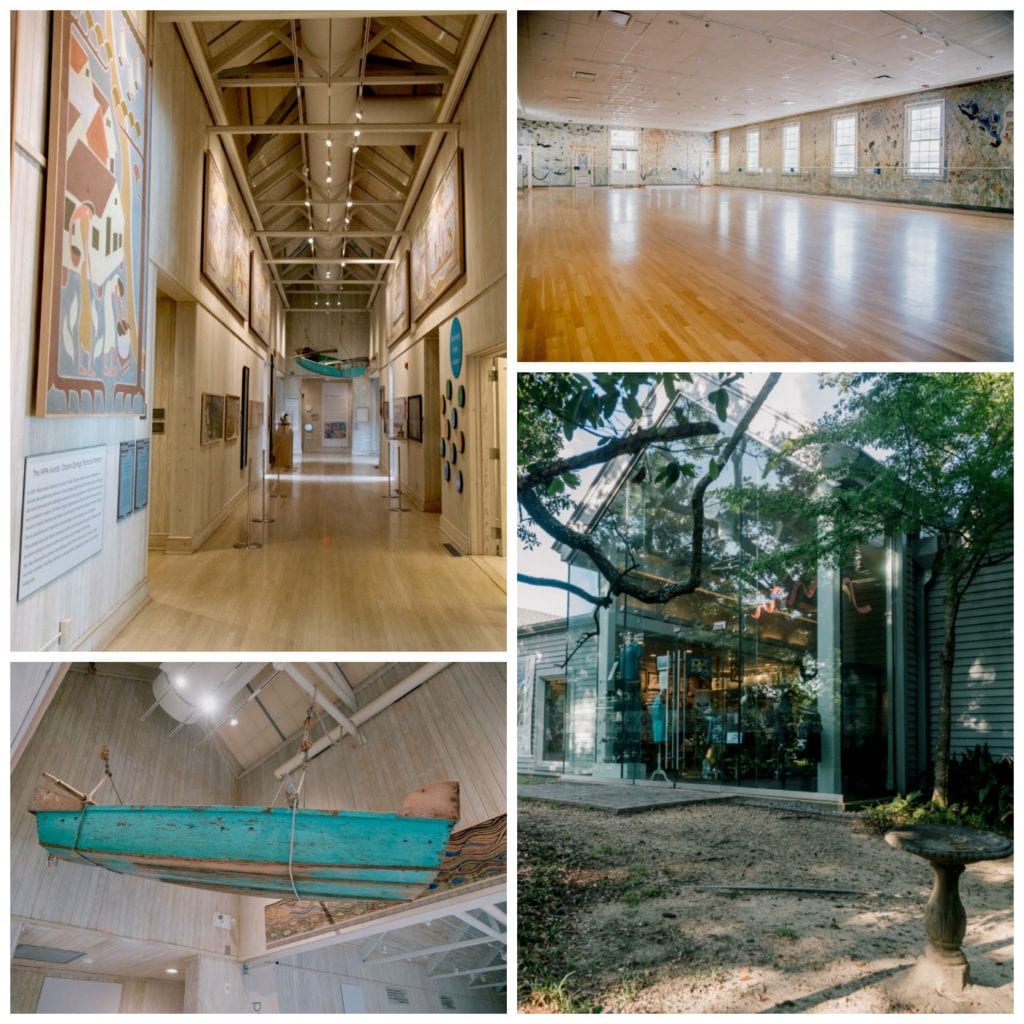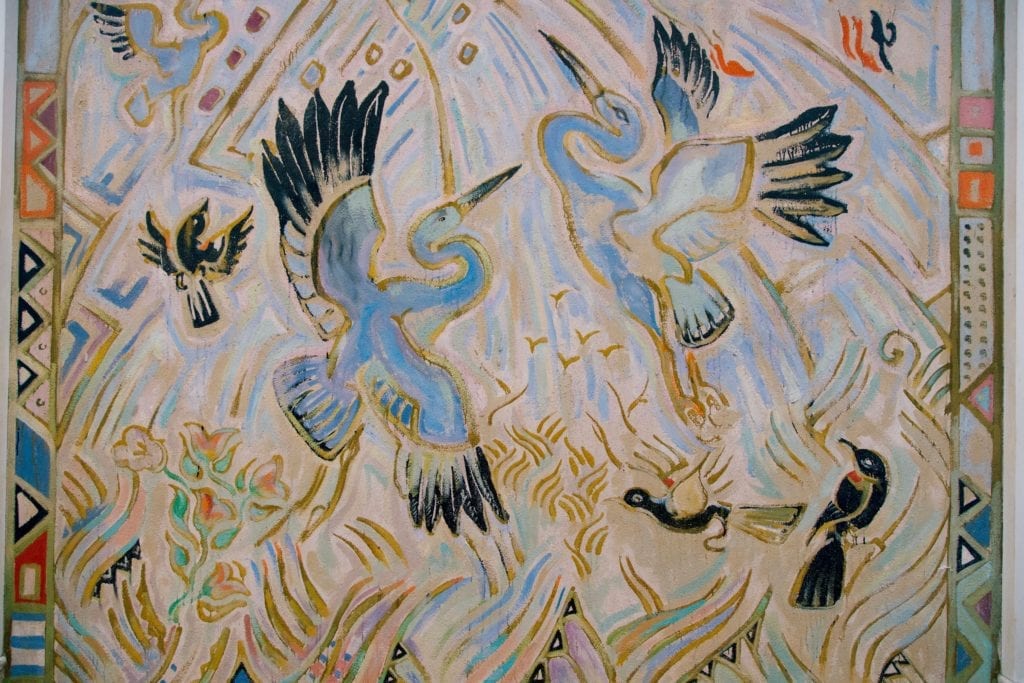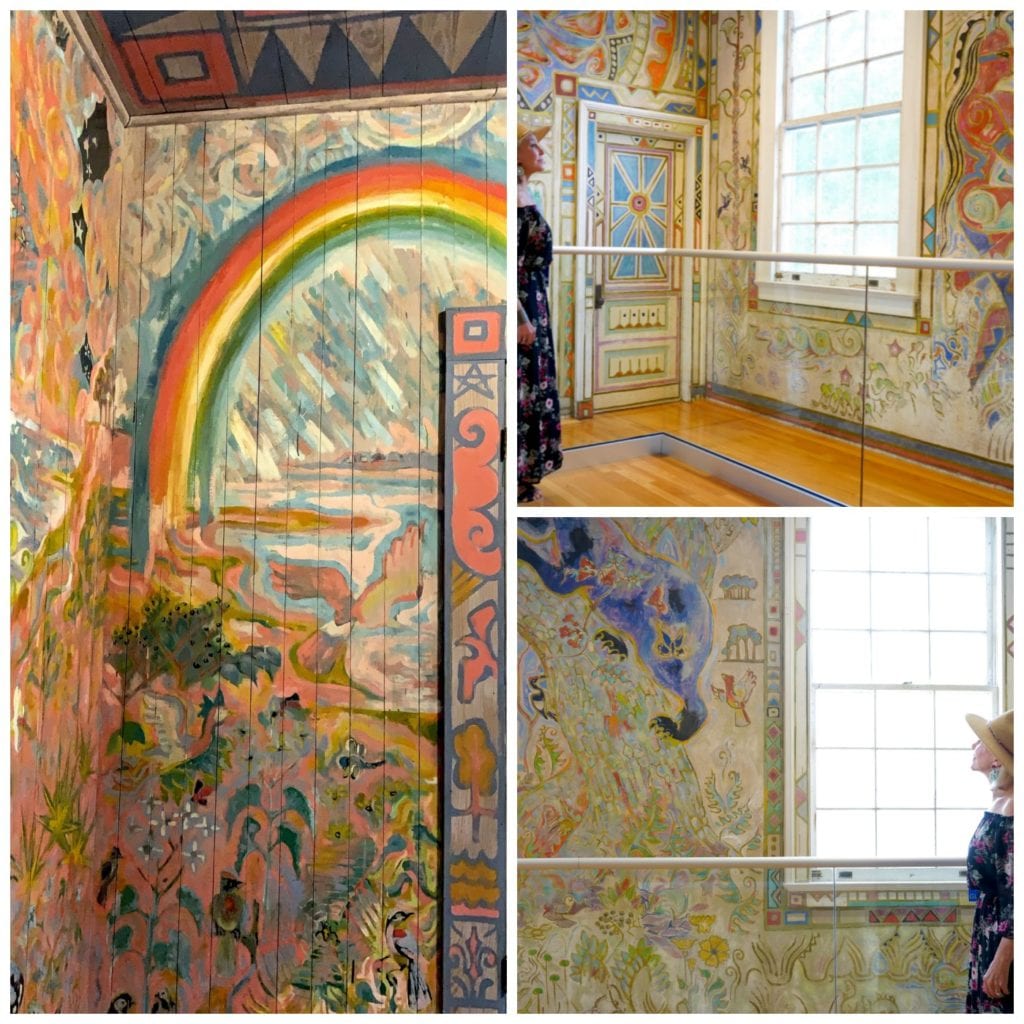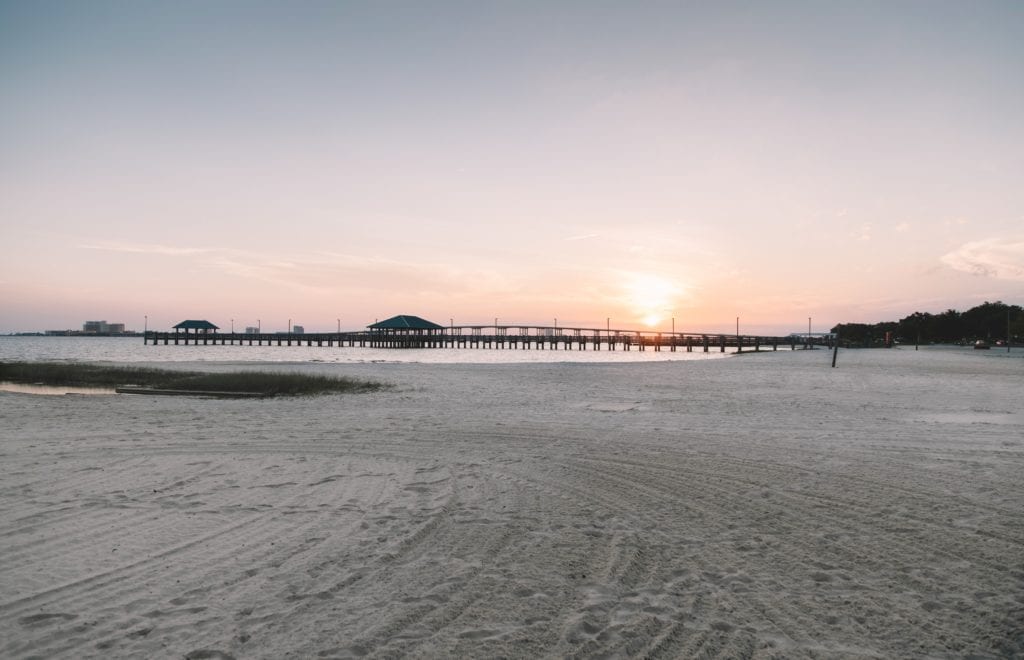 THE ROOST BOUTIQUE HOTEL
Still discovering Ocean Springs and time for cocktails we stopped by the oh so charming Roost Boutique Hotel, where we had appetizers and cocktails at the speakeasy bar called The Wilbur located inside the hotel. Recently featured in Architectural Digest's "Most Beautifully Designed Bars in Each State," the Wilbur watering hole showcases the history of Ocean Springs (including a surprise connection to gangster Al Capone!) Check out more photos of this super cool bar here.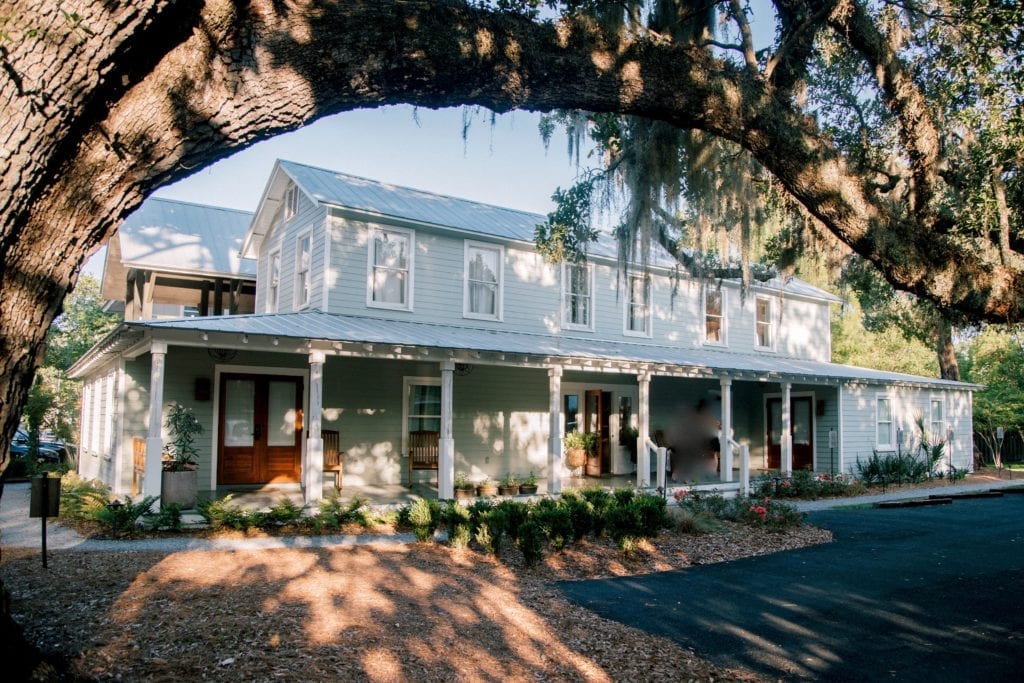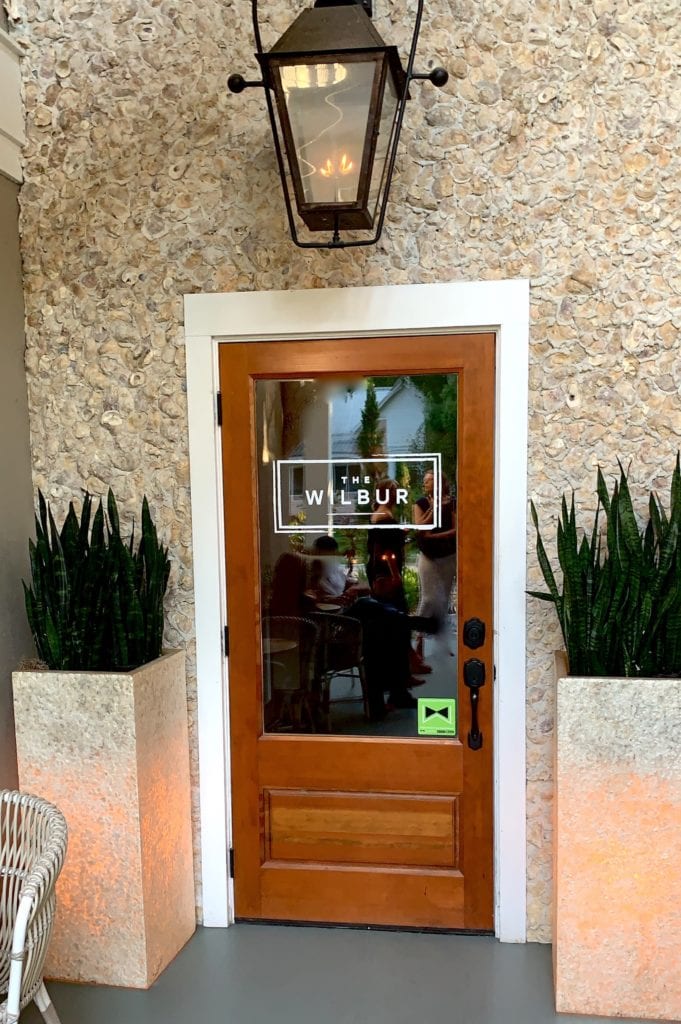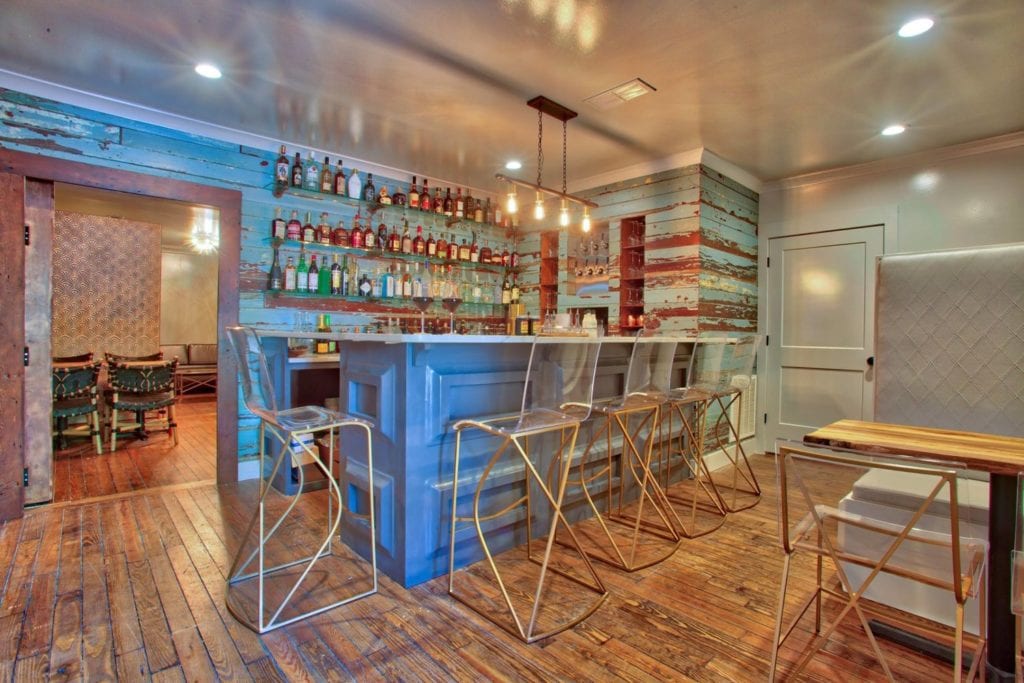 After quenching our thirst and munching on a beautiful Charcuterie Board, the hotel owner gave us a personal tour of the beautifully restored historic building/hotel walking distance from both serene sunsets on the beach and eclectic downtown atmosphere from the hotel owner.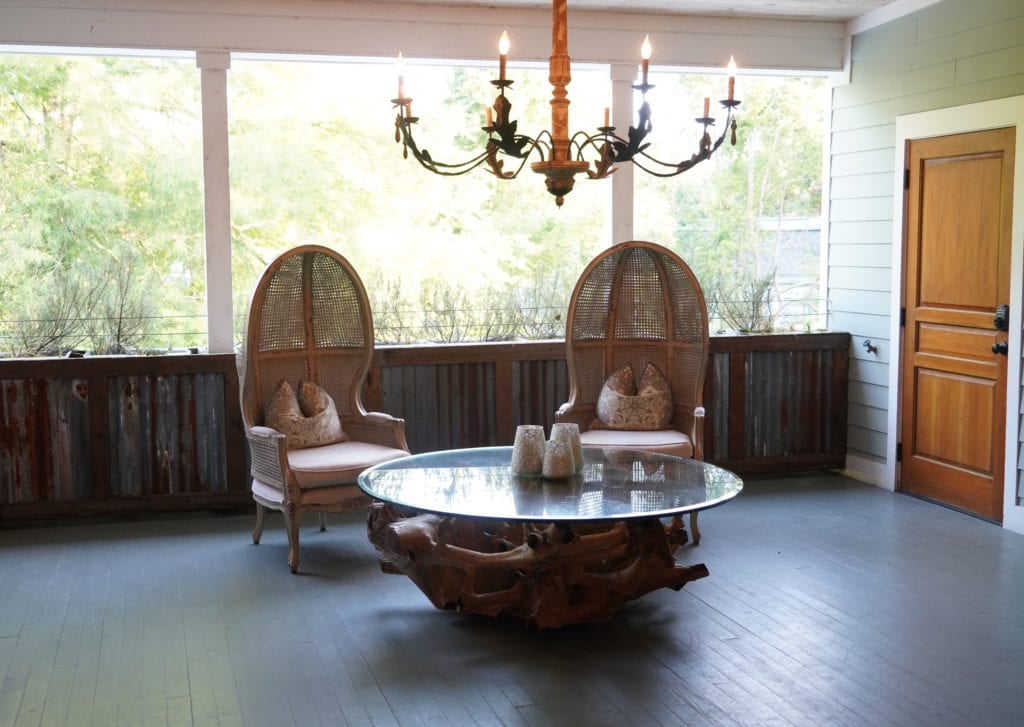 DINNER AT VESTIGE
Seriously we did not need one more bite of food but I somehow managed to eat another beautiful meal at Vestige, a modern American restaurant located in Ocean Springs. Chef Alex Perry a James Beard-nominated Oceans Springs native and his wife Kumi Omori own this charming restaurant and they love providing a full sensory experience to their guest. Seasonal dishes made with locally sourced foods are used whenever possible.
Alex actually dined with us sharing many more tidbits about his restaurant and his love for food. He must have really gotten relaxed with this group because at the end of our meal he broke out the really good stuff, after dinner drinks. Yes, I did partake……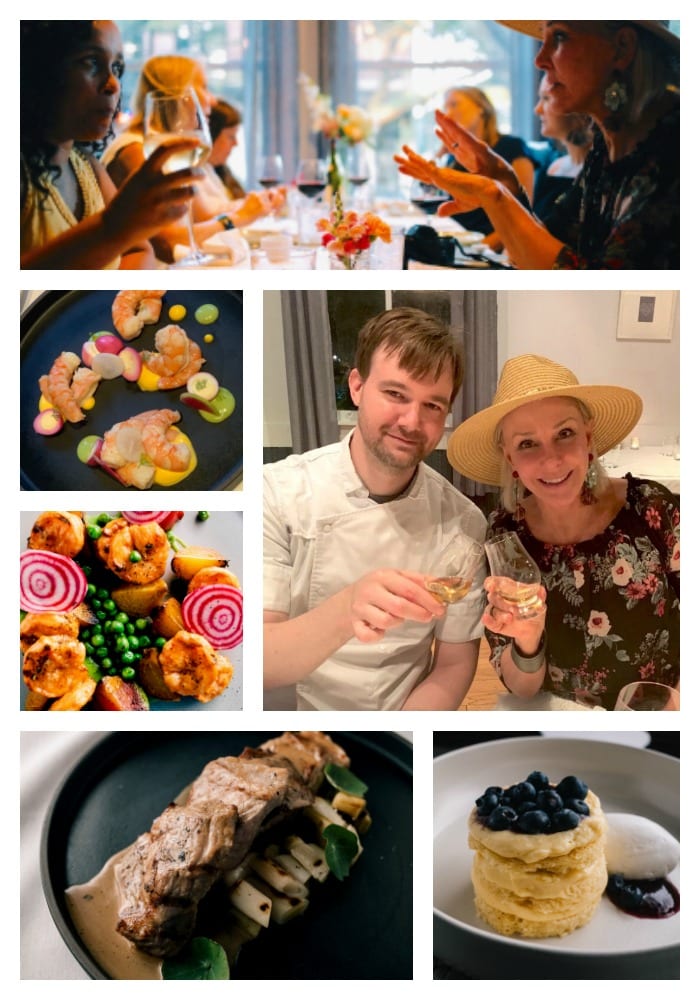 IN CONCLUSION
Can you believe that we did all of this in only a day and a half? Can you see how I gained 5 pounds in 3 days? Well, we are not done, so in about a week we will continue this trip along Coastal Mississippi. You will not want to miss what else we have to share with you. It is no wonder that it gets its nickname SECRET COAST because I seriously doubt you never knew about all of the great things to do and to explore in this area.
Can you name the 10 reasons to visit Coastal Mississippi yet? Come back for Part II and we will name them out.
SHESHE'S TIDBITS
Well, Norman and I are back in South Florida. We just returned from a fab 3-day island hopping adventure with 2 other couples. Whew….can I just stay in one place for a while. I need to be careful what I pray for because I just might get it. Don't get me wrong I love to travel, but I am definitely ready to leave my bags unpacked!! We will be at our house on Sanibel Island for over a week….the longest stay for me in 3 months. Yessssss!!!!
Gala's, weddings, graduations, holidays or just everyday wear…..we have fashion suggestions for you, so stay tuned. Be sure to check out ShopSheShe tab at the top in the menu bar. Hover over and choose the category in the drop down. We try to keep it up to date with the latest and greatest for all budgets. Subscribe here and then you won't miss a post. Simply enter your email in the pop-up box or below.
WELCOME new readers. We are a fashion/travel/lifestyle blog. We talk about anything and everything, from fashion, travel, health issues to even an occasional recipe. Let us know if there is a topic that interests you. We will do our best to bring that story to you. Have a great week sweet friends and thank you for following along. Without you, we could not continue on this crazy fun journey.