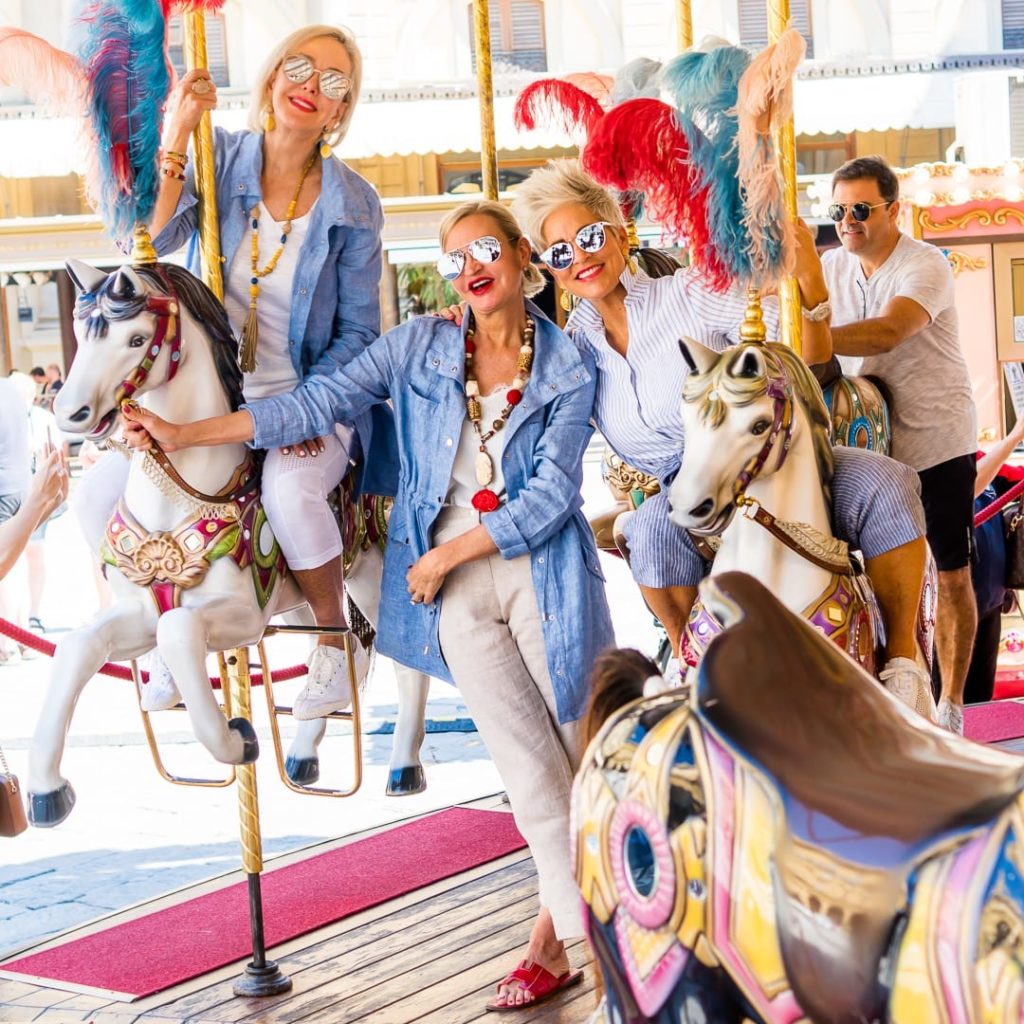 Our trip to Italy was sponsored by Chico's, Soma Intimates, Serovital, Reptiles House, American Tourister, Cecilia Shoes and Arcopedico Shoes. I was gifted products and received compensation. All opinions are my own.
After a lot of summer travel, I am getting to the wonderful part of travel blogging. I love recalling of all the moments and putting them on paper so today my "Rockin the Ages" babes Chicover50, MoreThanTurquoise and I are in Florence part II of our trip to Italy.

If you didn't get a chance to read part I then head on over to Rockin' the Ages Travel Part I |Rome. We left Rome and hired Deluxe Limo Itlay to drive us 1/2 hours to Florence. It was like we were on a raceway…. dang those Europeans and their driving. Our driver was nice and he had a clean van, but most importantly we got there safe!!
OUR HOTEL
Once we arrived we checked into our adorable historic In Piazza della Signoria. It is located centrally in the corner of the Piazza della de Signoria (the most famous square). A copy of the statue of David is located there among other famous statues. This was the perfect spot for us to scout out locations for all of the brand photoshoots, as well as see the sights and beauty of Florence.
We were treated to some delicious wine and snacks while we settled into our rooms which were all together and no one else. It was like our own private wing so we could hang out between our rooms, just like in dorm, but nicer!!
Built-in the 1300s this hotel still stands tall and narrow with every room different but as beautiful as the other. We used a small spiral staircase to get to our rooms on the 3rd floor so I got my quad and butt exercise every day. Umberto, Monica and the entire staff were so gracious and always willing to help us plan our outings and locations to do our photoshoots. I highly recommend this charming boutique hotel!!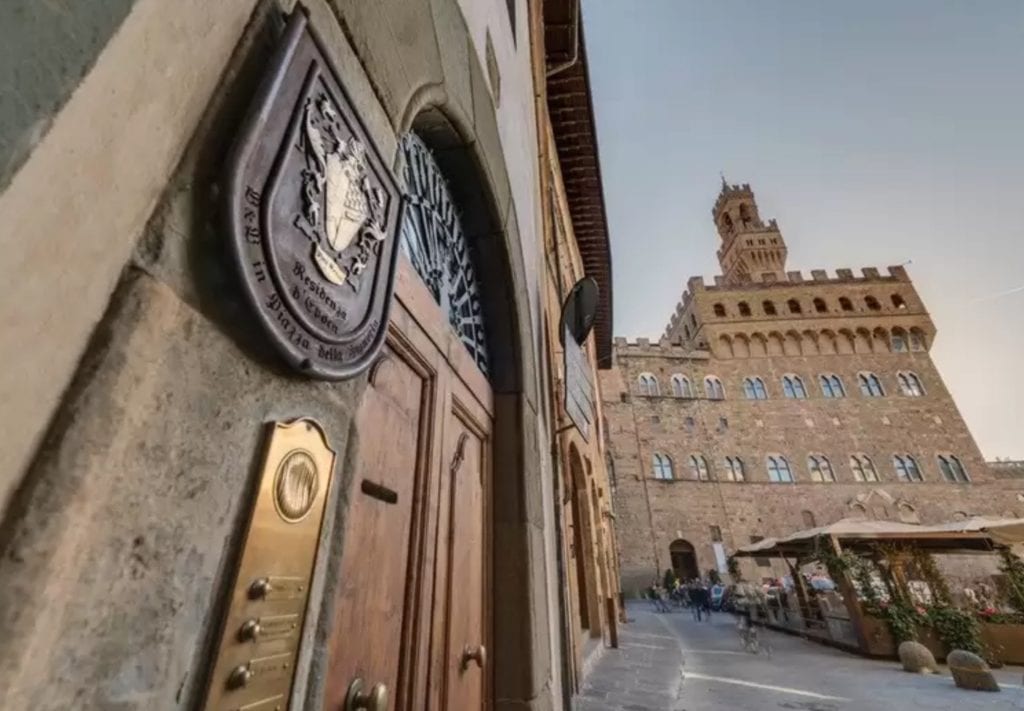 OUR ROOMS & AMENITIES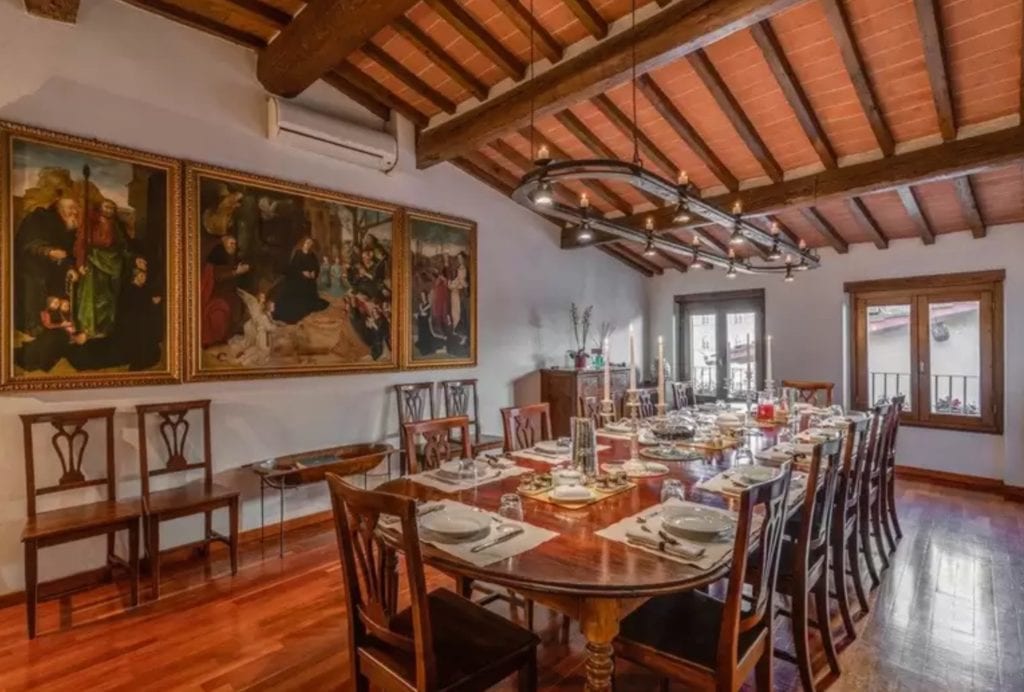 BREAKFAST
Breakfast was included with our hotel rooms so we took advantage of fueling up every morning before we began our day. The three of us knew that we needed sleep and energy to get us through our busy days while in Itlay, so we brought along our Serovital Advanced supplements. Jet lag started our pattern of very little sleep making us even more tired than normal so having a supplement to keep us balanced was so important. Go here to learn how Serovital Advanced gave us energy and so much more!! We started our day…….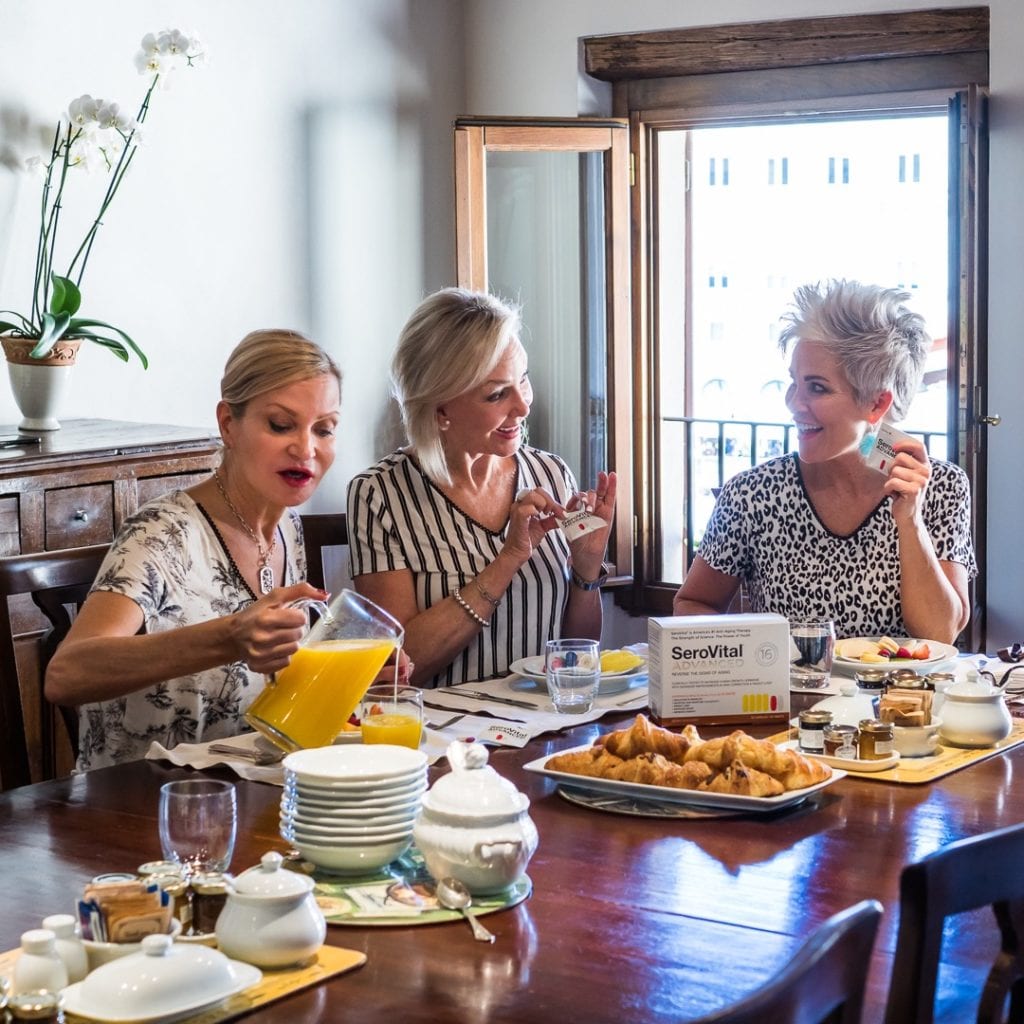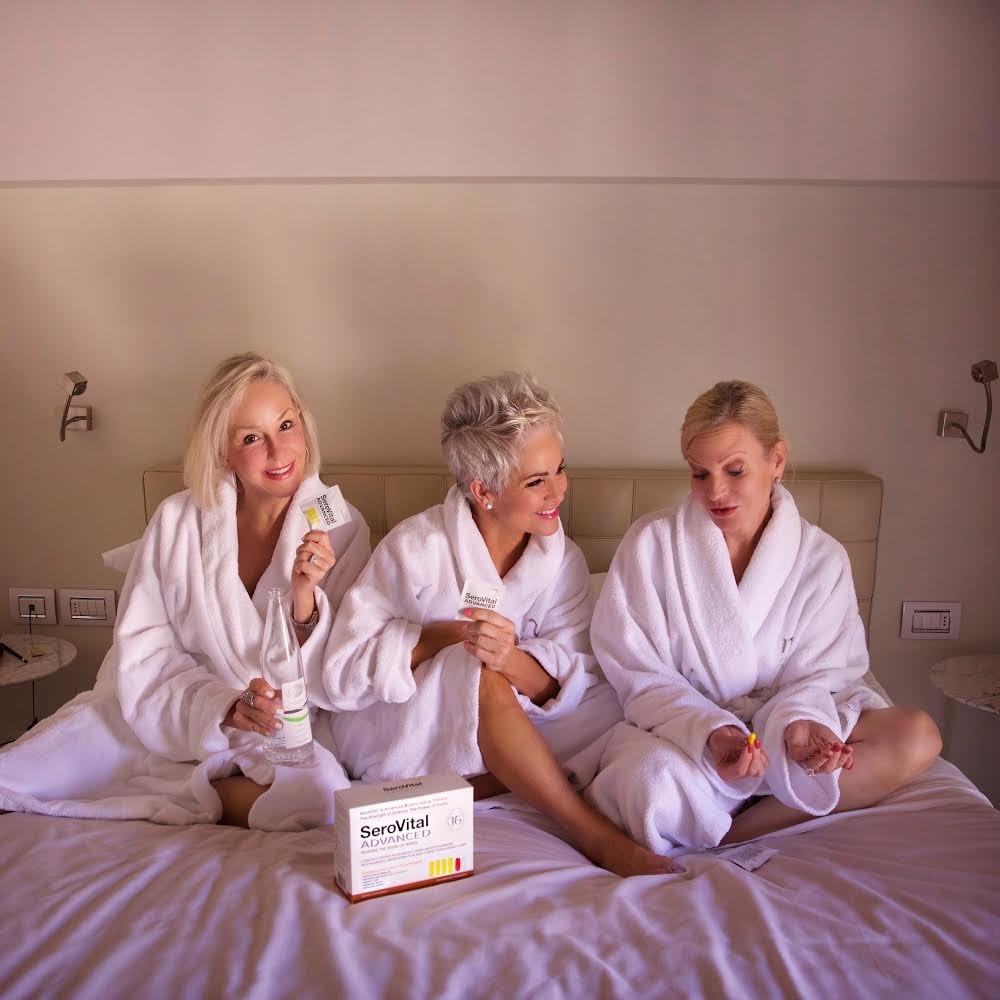 …….and ended our day with Serovital Advanced.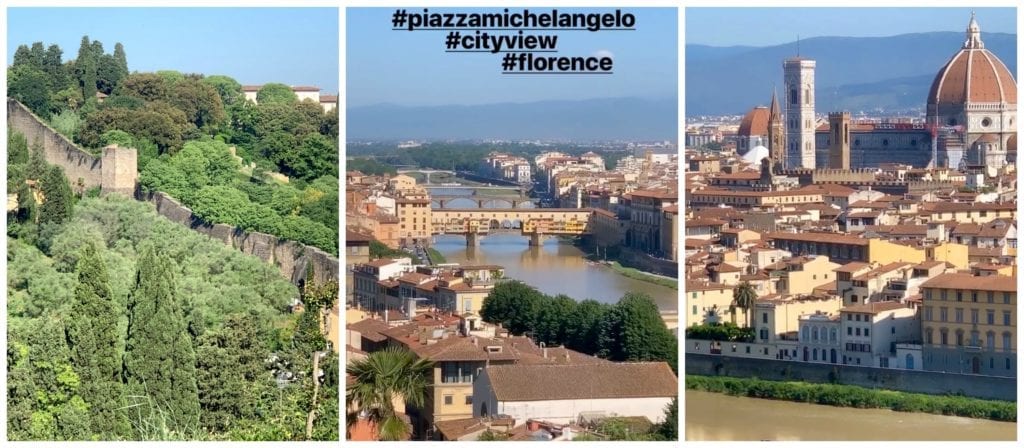 SIGHTSEEING
Our first full day in Florence we headed for a great walk up to Piazzale Michelangelo to get a lay of the land. I love going to cities where I can see how it looks from a birds-eye view. We climbed a very large, steep set of stairs to get to the most spectacular panoramic view of Florence. There were little vendors set up on top trying to make a living on all of the tourists that come there every day.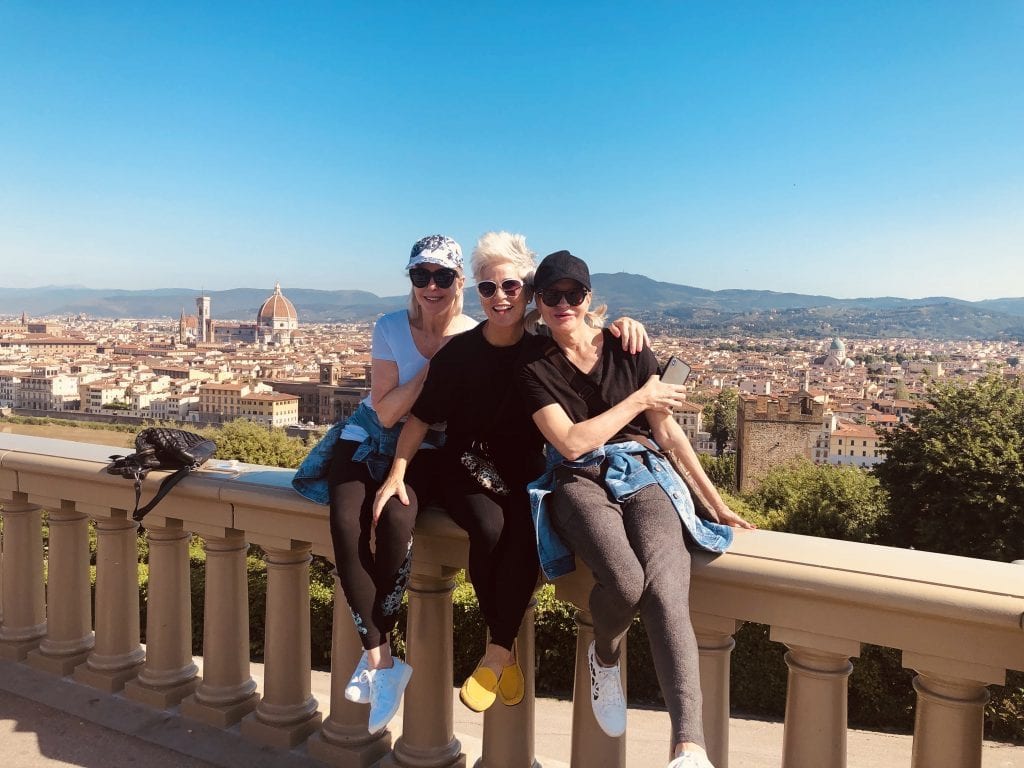 The dome in the background (above) is the Piazza del Duomo just a 5-minute walk from our hotel.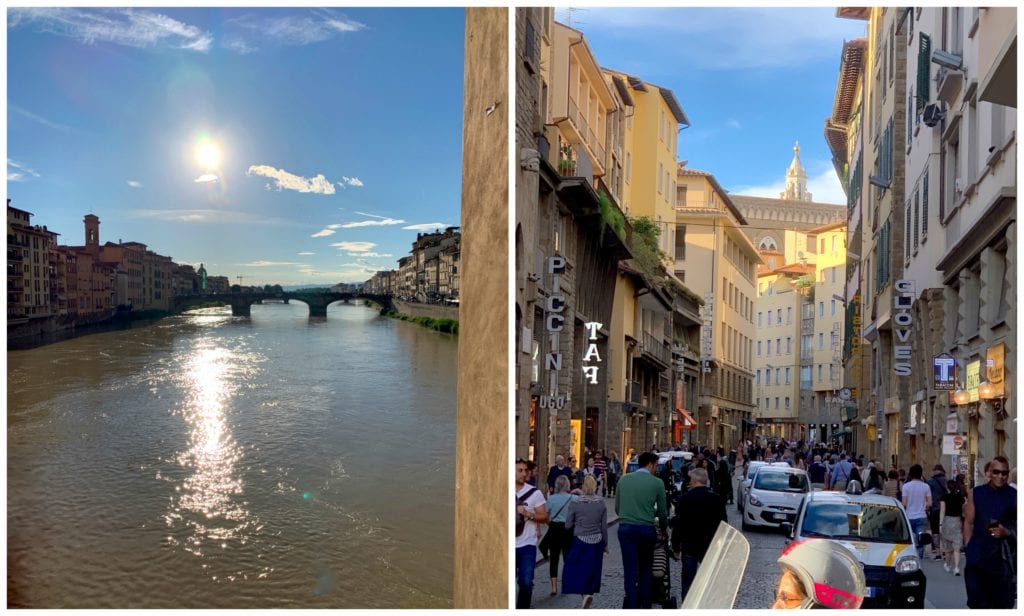 Above is a photo of how most of the streets look in the summertime….. lots of people!! The left photo is the Amo River with the Ponte Vecchio bridge meaning "old bridge". This medieval stone arched bridge has little shops lined up and down the river and like most cities, the river played a big part in how the city was built.
After we freshened up after our walk, we came back to shoot our very practical luxury backpacks from Italian leather goods brand Reptiles House. I can't say enough how my black backpack saved my life while running around Itlay!!
I also cannot forget to mention the most comfortable travel shoes EVER by Arcopedico!! Check out my blue knit sneaker and Shauna and Jamie's yellow suede loafers They can also be purchased at Arcopedico here. My sneaker comes in several colors so it was a no brainer when I ordered another pair.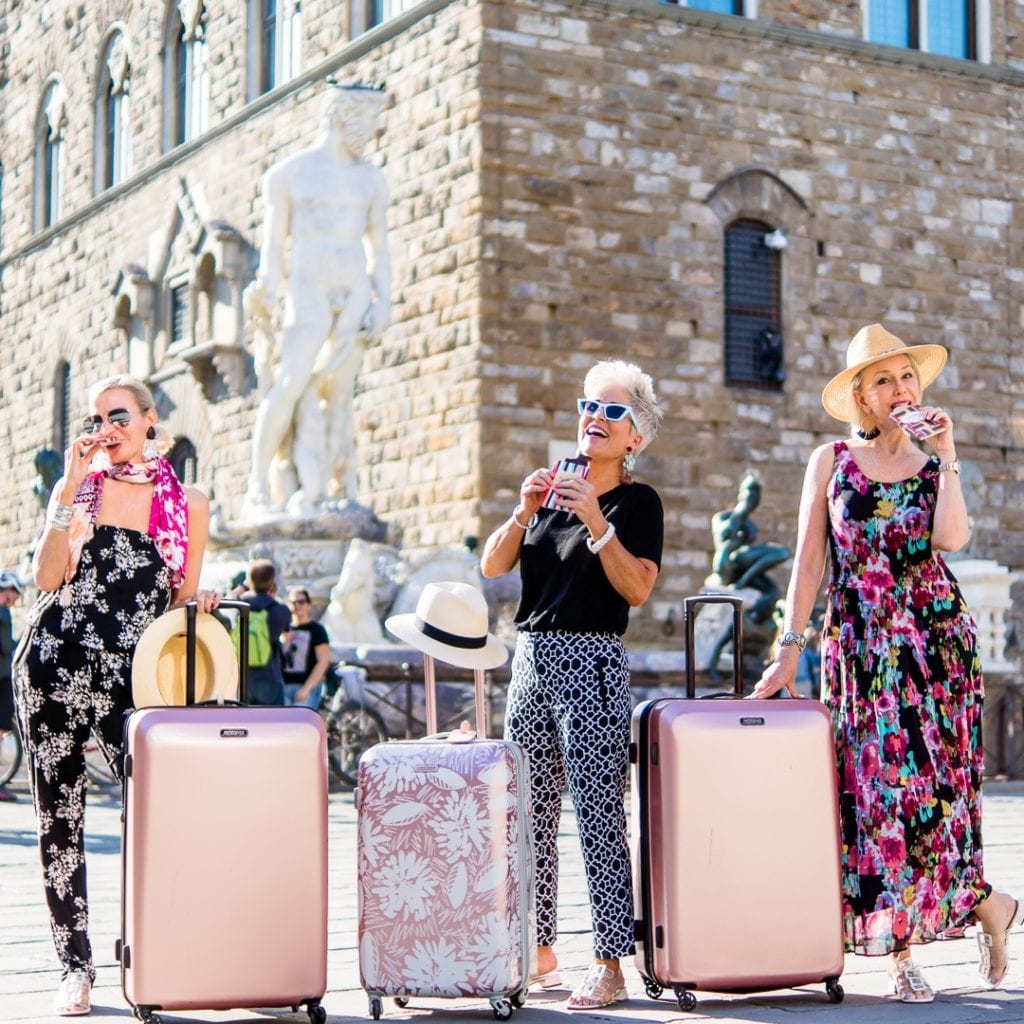 Jamie's bag // Shauna's pink floral bag, Chico's pants, T-Shirt // Sheshe's bag, floral dress (similar here) and white Cecilia New York sandals
PHOTOGRAPHER
On Sunday we hired a local photographer Eva Perocsenyi of YOUR DREAM PICTURES to knock out several of our sponsored collaborations. If you are ever in need of a great photographer in Italy you should really call on Eva to capture your special moments with your friends, husband or family.
We had so much fun in the Piazza della Signoria amongst all of the tourists shooting these awesome metallic rose-colored suitcases by American Tourister. This brand is so iconic and still keeps going on and on. I found that my bag was very durable and I love the color. The spinner feature makes it so easy to maneuver this bag wherever you are. These over 50 and 60-year-old babes had an audience while we did our photos. We were totally thinking we were some kind of supermodels……of course we were!!
My dress, similar here // suitcase // sandals // hat // earrings
The bella girls below are all wearing a big trend in accessories and that is the clear acrylic block heel sandal. This shoe is from Cecelia New York. This brand is on the rise and certainly deserving because I love all of their shoes!!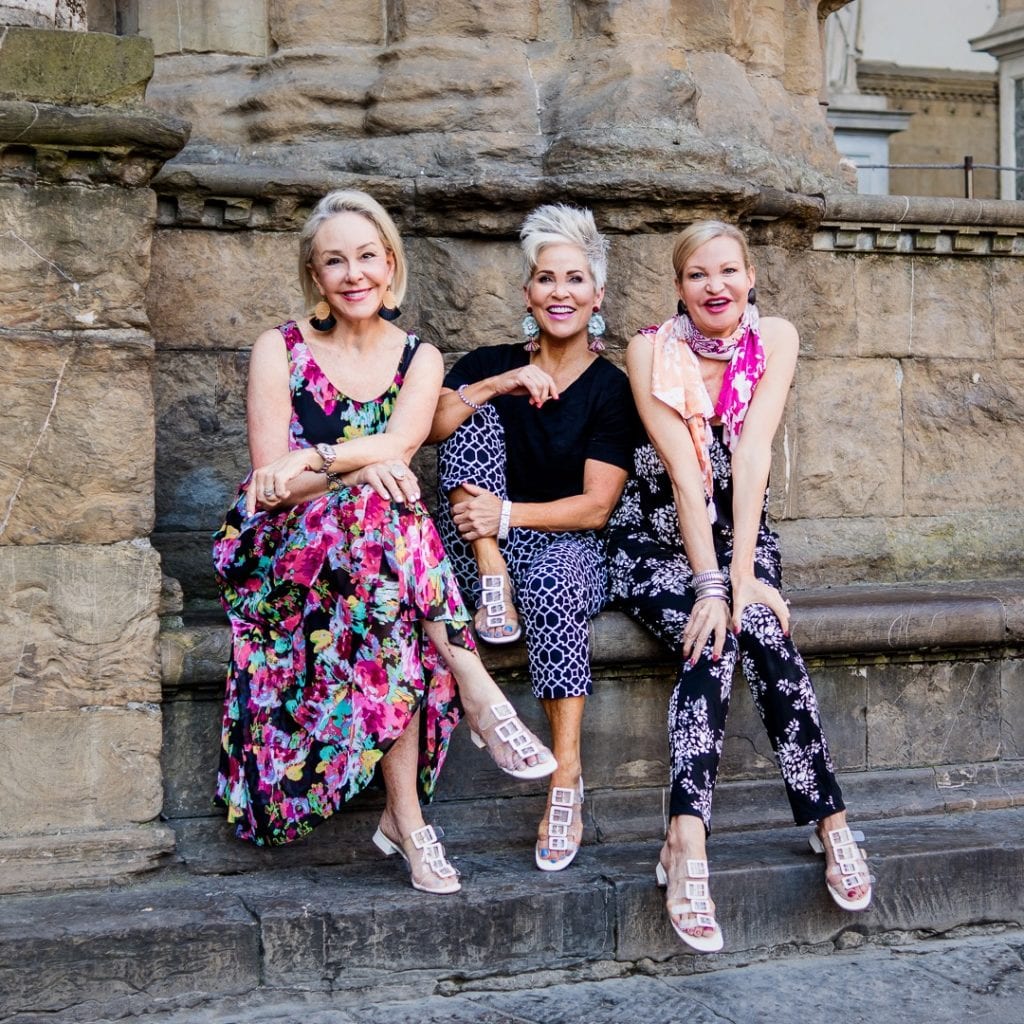 TREATS
Well, what I learned for sure is that you cannot go to Italy without sampling a Gelato, chocolate and some good bargains. Shauna was the choco addict, Jamie and I were definitely on the hunt for a fab accessory and we all agree that we luvvvv a big ole Gelato in a sugar cone!!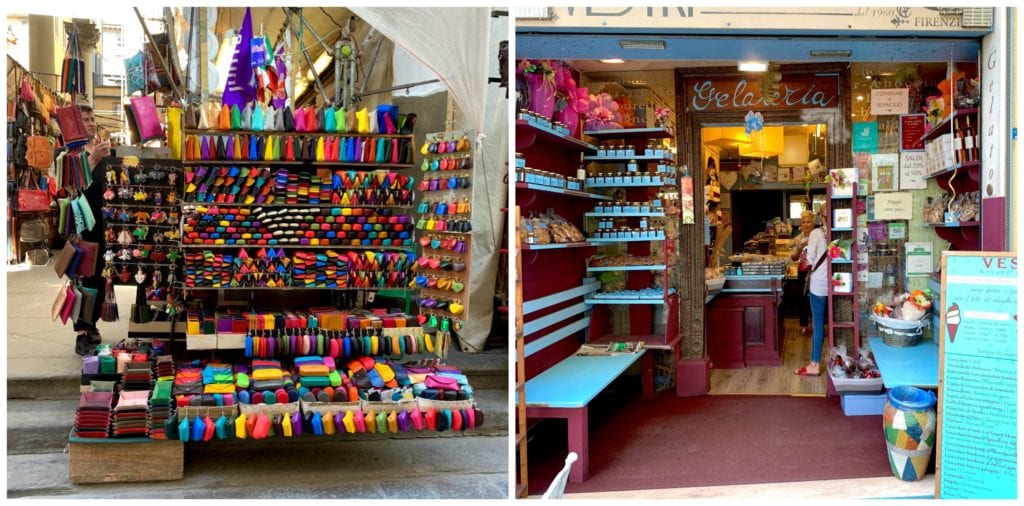 ARCHITECTURE
One never gets tired of the oh so amazing historical architecture in Europe and especially in Florence. The photo below is the Piazza del Duomo and in all it's grandeur. Photos cannot even capture what I saw in my eyes. Piazza del Duomo is located in the heart of the historic center of Florence. It is one of the most visited places in Europe and the world and in Florence, the most visited area of the city. You can buy tickets to see the inside but we didn't have time to stand in the very long line to get in. I would recommend a trip to Italy not in high season to get easier access to cathedrals and museums.
We absolutely had the best hotel location because a copy of the museum Statue of David was right outside our hotel. I know that I shouldn't stare but this guy has the best body EVER!! Ha! Ha! Ha! Would you agree? (smiley face)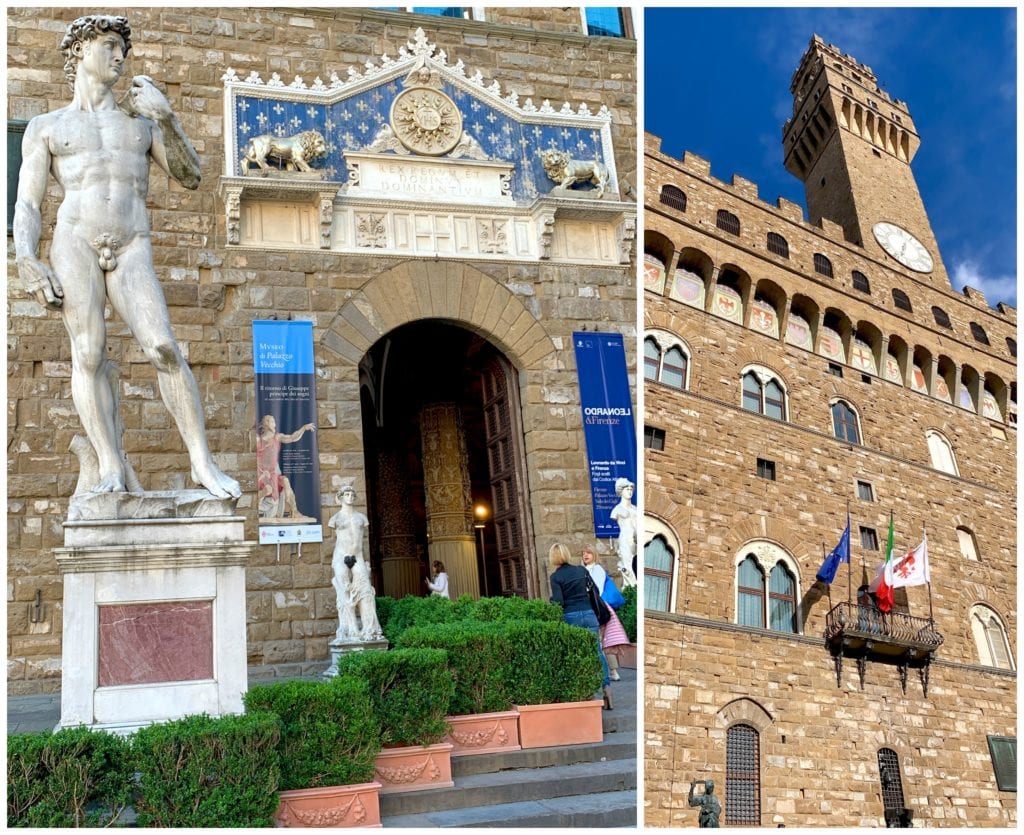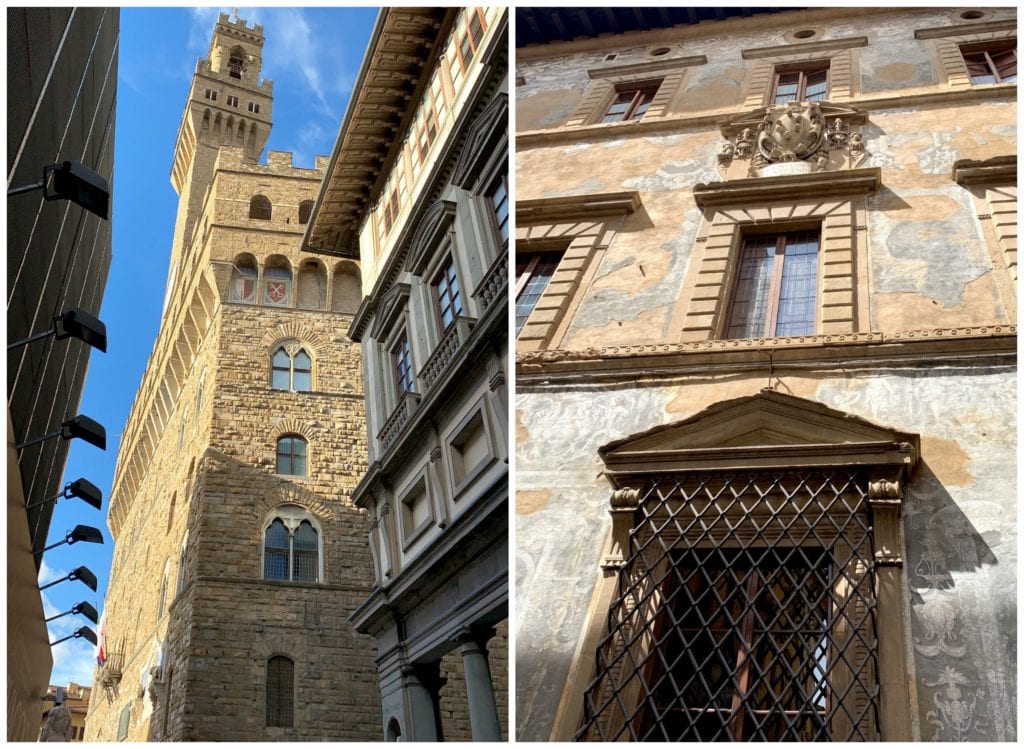 AMUSEMENTS
How about some street fun? This carousel is famous and located in a city square. Of course, we planned to buy our tickets and arrive early. Thank goodness we had our photographer Eva of Your Dream Pictures with us to take our photos. I don't think we could have done it with a tripod and remote.
Also, one evening we watched a puppeteer entertain us all especially the children! On another day we witnessed the magic clear ball about the size of a large grapefruit float around the artist without any support. He did his routine to really cool music. It is hard to explain but certainly amazing to watch. Everyone was mesmerized!!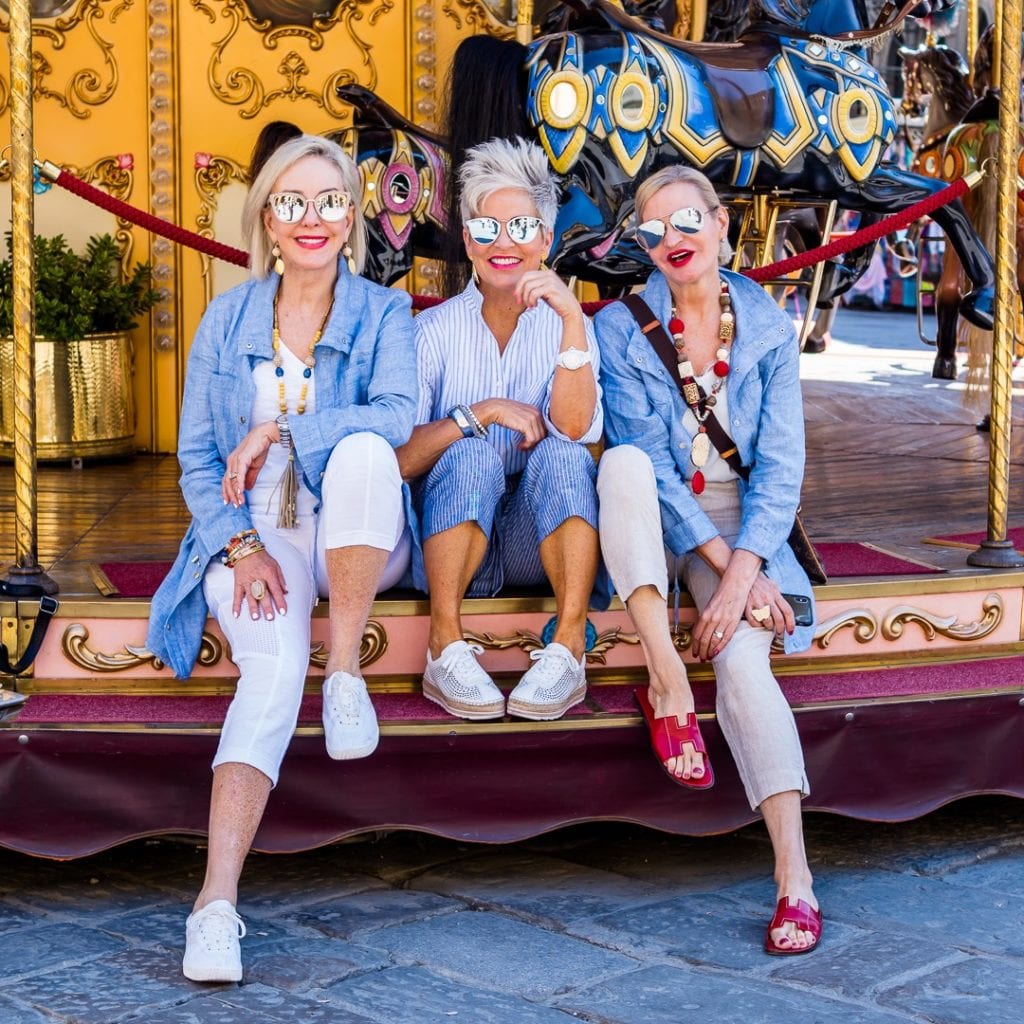 STREET ART…a beautiful rendition of the Mona Lisa!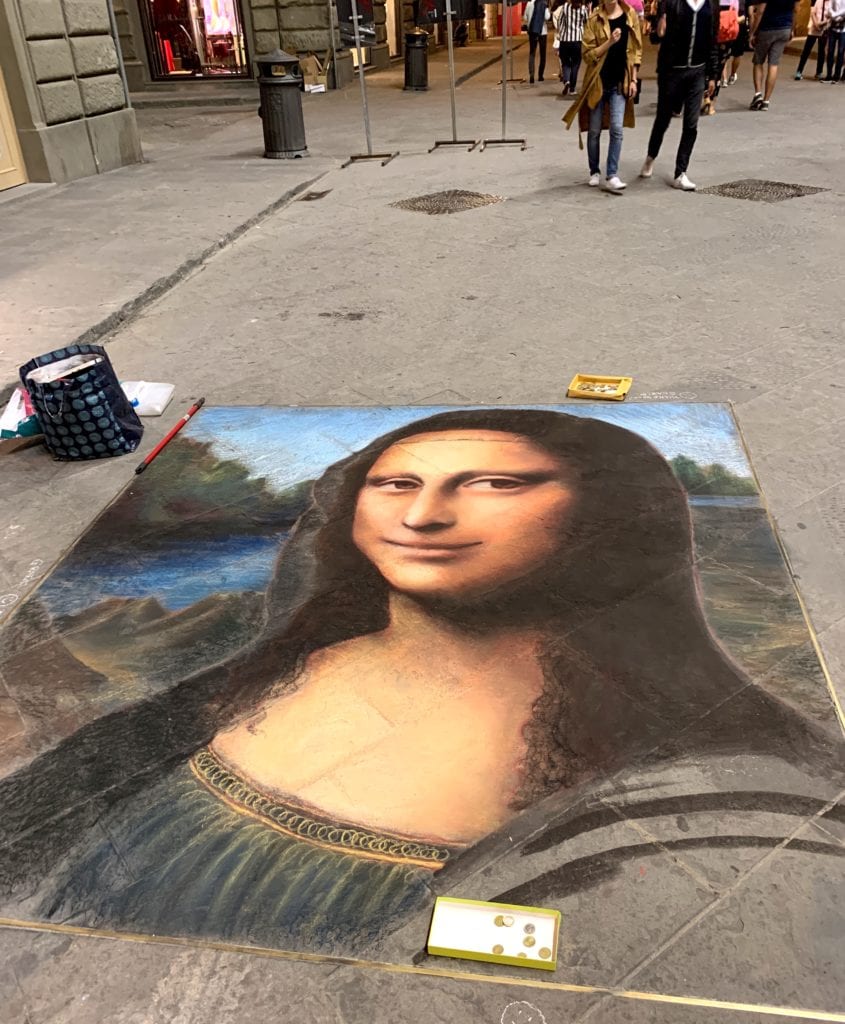 THE PHARMACY
Visiting the Santa Maria Novella, the oldest pharmacy in the world was a highlight. You could never imagine how beautiful this place is. I was thinking like CVS or Walgreen's but nooooooo, this pharmacy is luxury plus!! This best-kept secret once made treatments for the Black Death and today, the Florentine company makes award-winning, botanically inspired beauty products that inspire a cult following. I picked up a few gifts as well as special lotions and potions for myself!!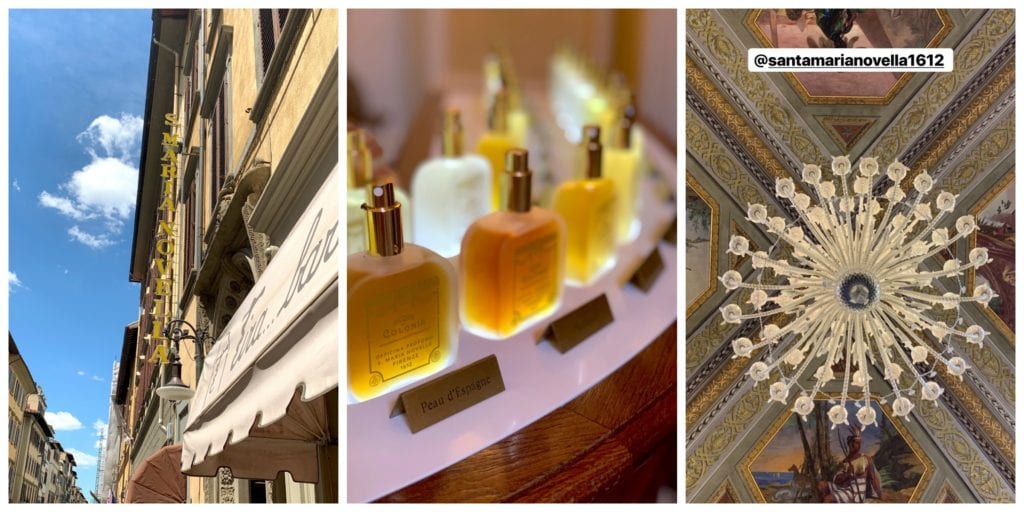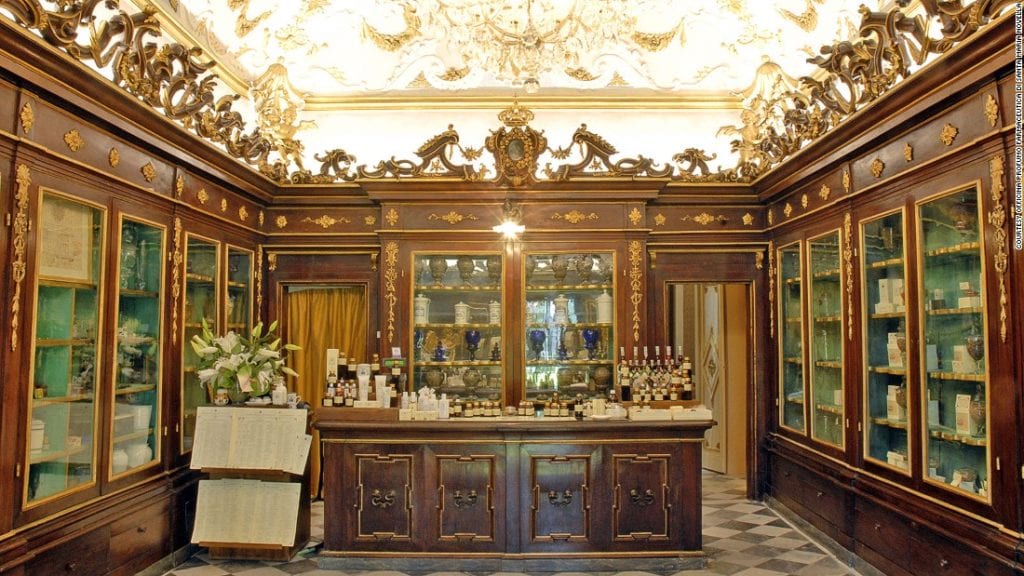 My outfit below is from Chico's Travelers Collection. It is a 2-piece set that I made look like a jumpsuit, but these pieces can be styled in so many ways. You can wear the top over black pants, white pants or a black skirt and a black cardigan over the print pant. The print pull-on pant would look great with a black blazer or a big oversized sweater that transitions well into fall.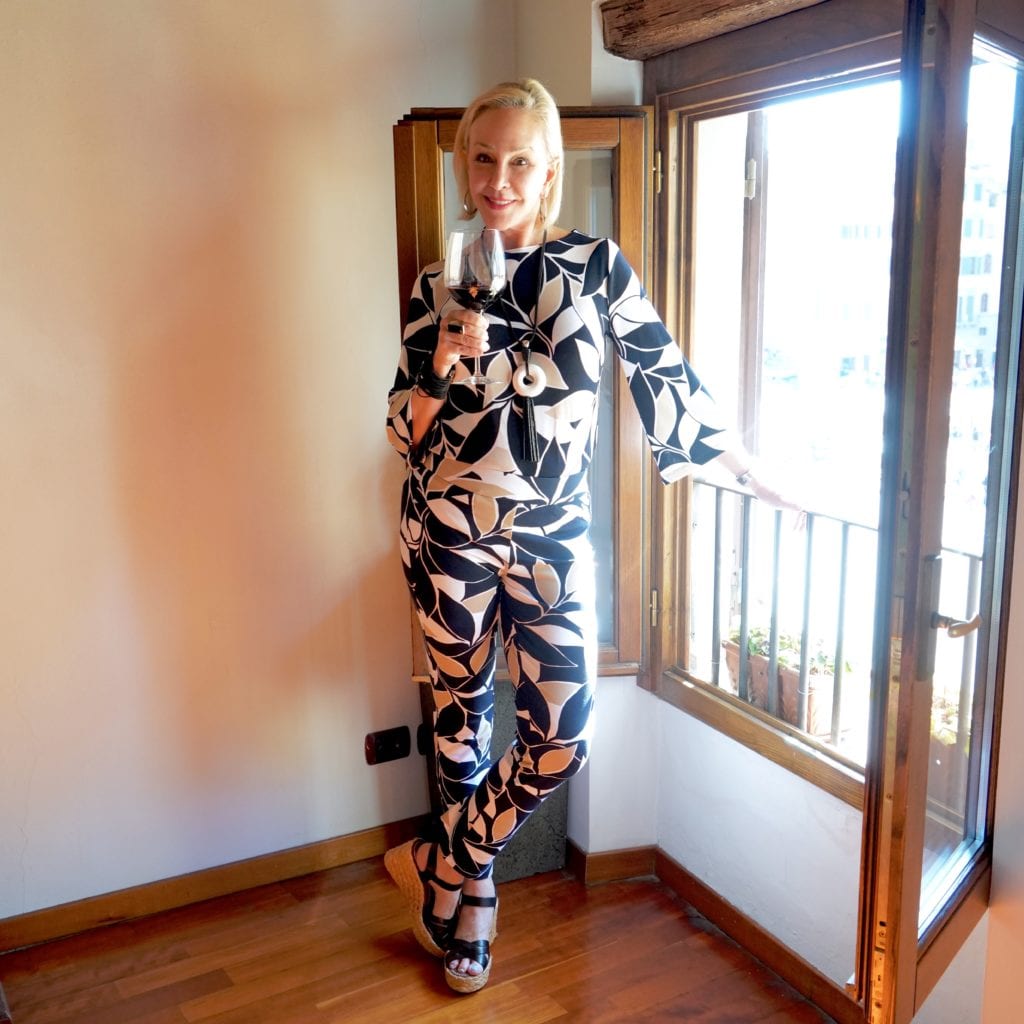 Our Evenings
By the time we fulfilled our days with photoshoots and sightseeing, we were spent. We did manage to have some really nice relaxing dinners. I think our favorite time was having a quiet cocktail at our hotel, then getting into our oh so comfy, cute Soma pajamas and laughing about our daily shenanigans.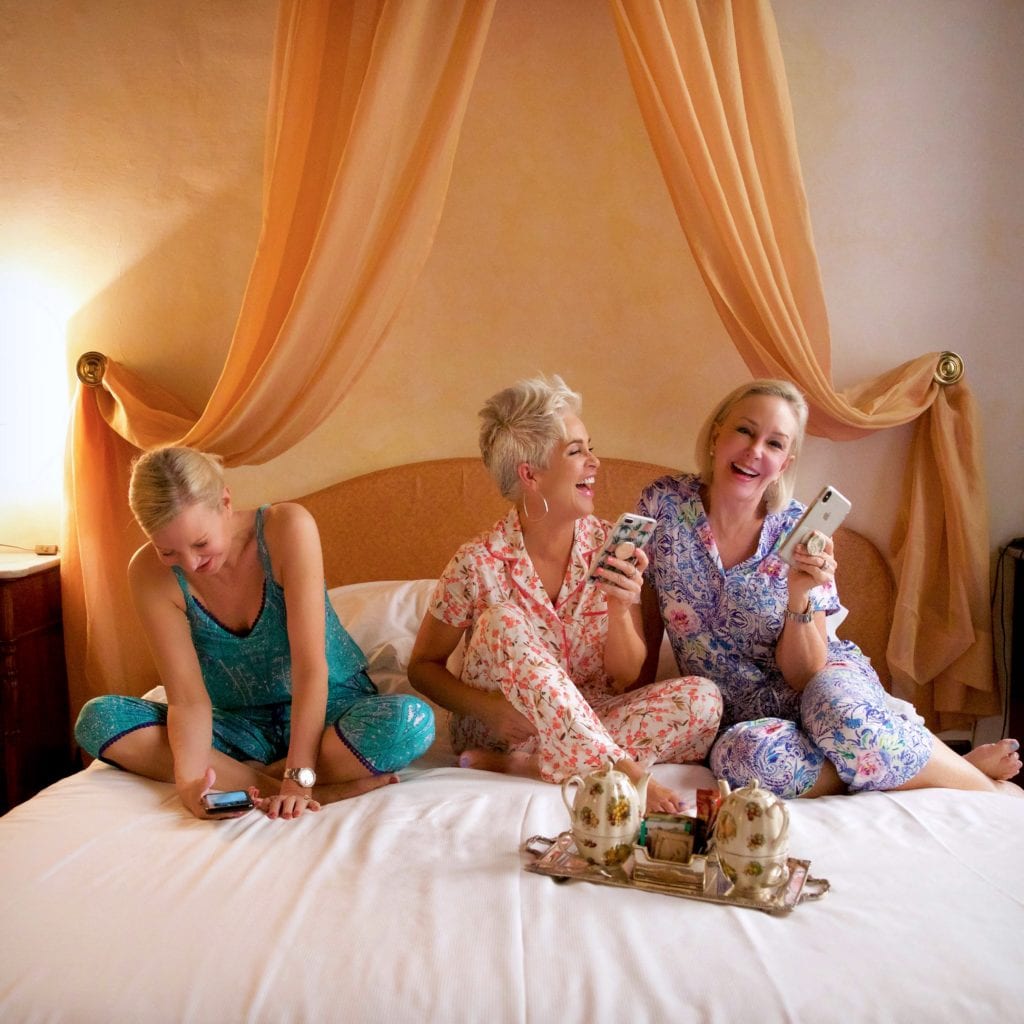 Wearing these #ladyboss t-shirts sure did cause a stir out in the streets. Even the men would nod their heads and give us a big smile. The women young and old were like YESSSSS!!! If you would love one of your very own t-shirts then get one soon at Chicover50.com.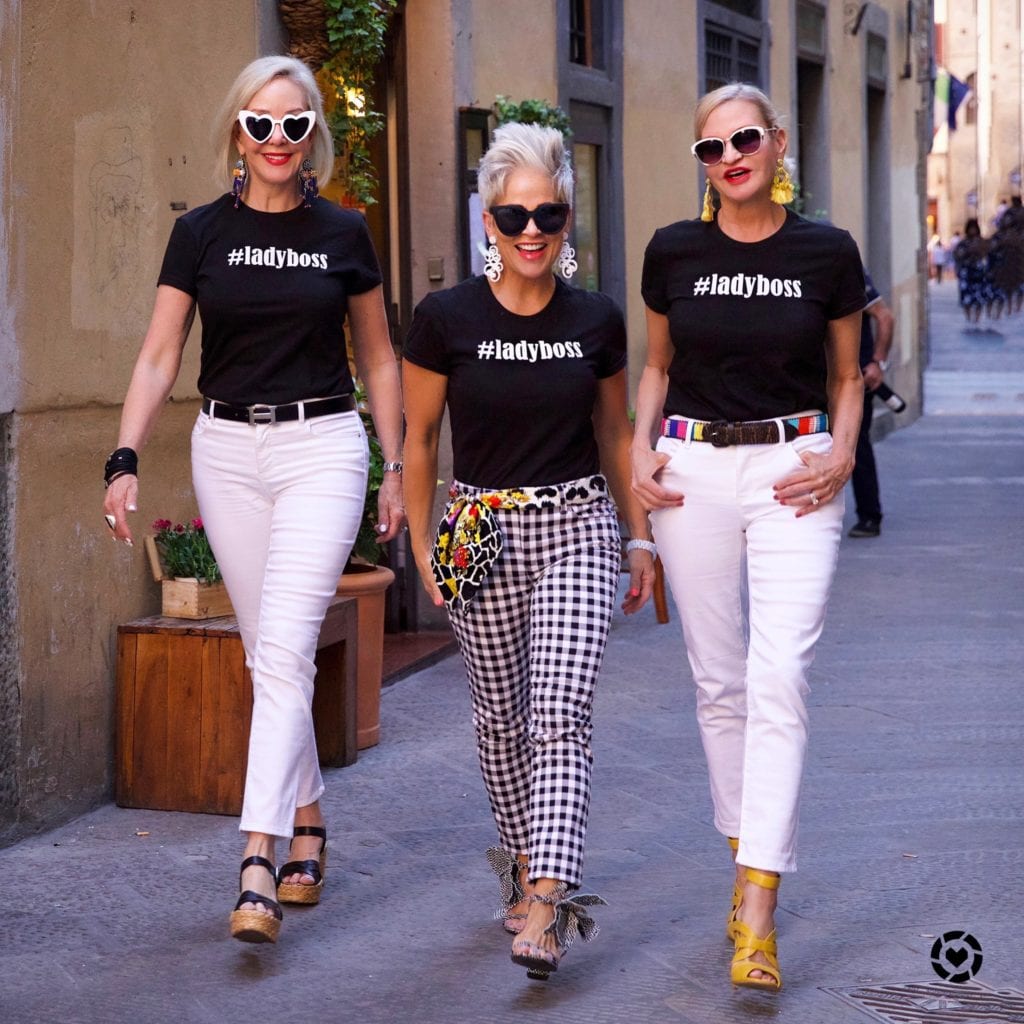 SHOP THE POST

IN CONCLUSION
After months of planning our trip to Italy, I could have never imagined it as it unfolded. It was far better than my expectations and we are not done yet!! Stay tuned for Part III, the grand finale as we head to Assisi and Solemeo. We have another adventure that we can't wait to share with you!!
SHESHE'S TIDBITS
We are back at home in Houston for a week and a half. That is longest I have been in one place in over 3 months. Next trip is to our river ranch in Montrose, CO. It will be so nice to get into the higher elevations where the temps are cooler!!
Gala's, weddings, graduations, holidays or just everyday wear…..we have fashion suggestions for you, so stay tuned. Be sure to check out ShopSheShe tab at the top in the menu bar. Hover over and choose the category in the drop down. We try to keep it up to date with the latest and greatest for all budgets. Subscribe here and then you won't miss a post. Simply enter your email in the pop-up box or below.
WELCOME new readers. We are a fashion/travel/lifestyle blog. We talk about anything and everything, from fashion, travel, health issues to even an occasional recipe. Let us know if there is a topic that interests you. We will do our best to bring that story to you. Have a great week sweet friends and thank you for following along. Without you, we could not continue on this crazy fun journey.