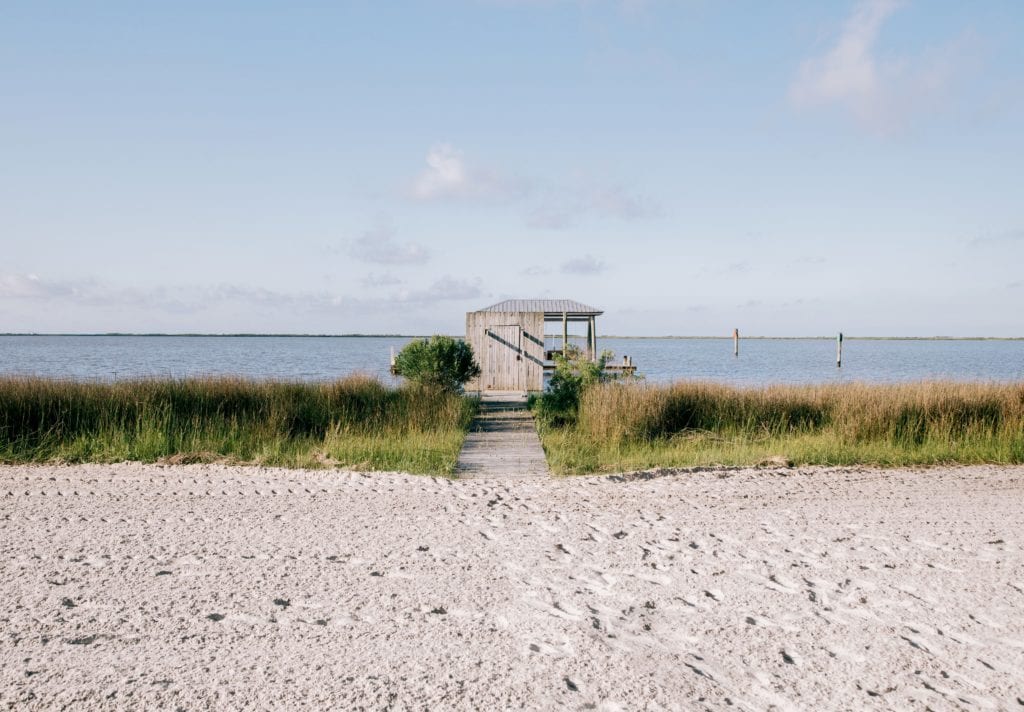 My trip was paid for by Coastal Mississippi. I was also compensated for sharing my experience here on my blog and on social media.

Hi sweet readers, we are back today sharing a destination that should be on your bucket list. We started my journey through Coastal Mississippi a couple of weeks ago here on the blog. Did you read it? If not you can read it still read it here. I had so many great comments and loved every one of them, so today we are going to continue my journey of the SECRET COAST that you probably don't know much about unless you are from the area.
In Part I of discovering Coastal Mississippi, we took you to Biloxi, Ocean Springs, and Gulfport. Part II we are traveling to Long Beach, Pass Christian, Waveland, Bay St. Louis and back to Gulfport. The great thing about these towns is their proximity to each other and that is why we were able to see and do so much in a very short amount of time.
DAY 3
LONG BEACH
We were up and out by 8:30 AM so we could have breakfast in the cool little town of Long Beach. On our short drive down the coast, we were able to see the Mississippi Sound, beautiful beaches and all the old southern mansions that survived Hurricane Katrina. Long beach is the perfect place for families, friends, and couples to play. Bike riding, flying kites, shopping the cute boutiques and shops and eating at the local eateries sampling their eclectic cuisines.
BANKHOUSE COFFEE
For breakfast, we were invited to Bankhouse Coffee, home of Coast Roast Coffee located in guess what….yes, an old historic 100-year-old bank. It was such a cool place. Our host and owner, Shawn Montella let me come behind the counter and watch him make espresso steamed eggs. He put a couple of eggs in a cup and stuck the cup up under the steamer ( mostly used for making specialty coffee drinks ) and turned on the steam. In a matter of seconds, the eggs were ready to eat. www.facebook.com/Bankhouse-Coffee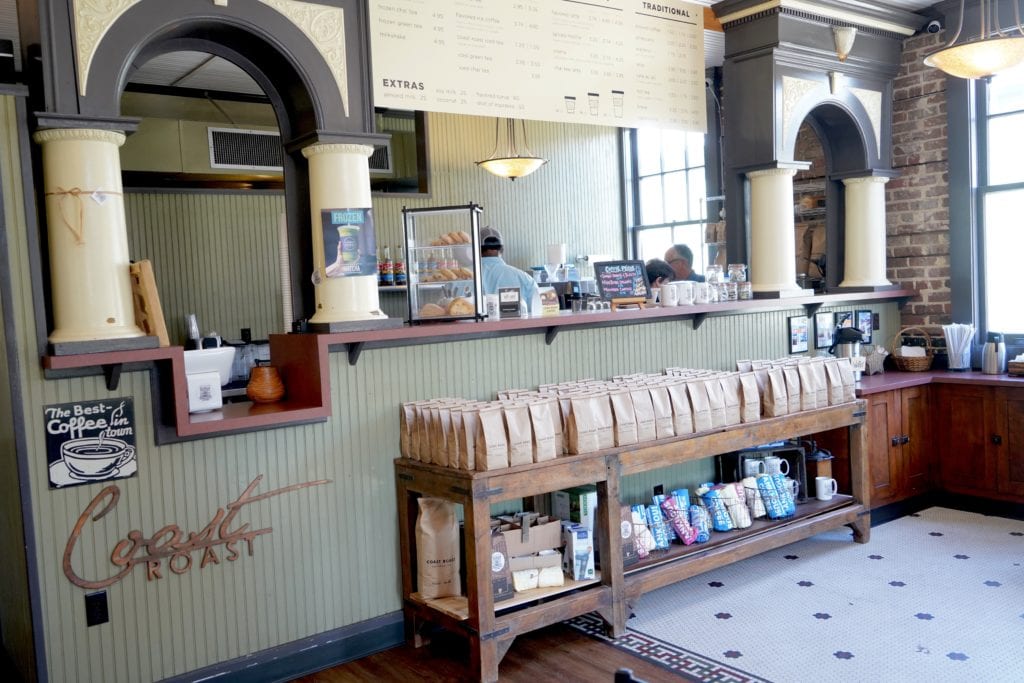 We all sat down to enjoy an over the top breakfast of an espresso steamed egg sandwich and beautiful fruit parfait. Of course, we had a delicious cup of coffee made with fresh Coast Roast coffee beans. What a way to start off our day!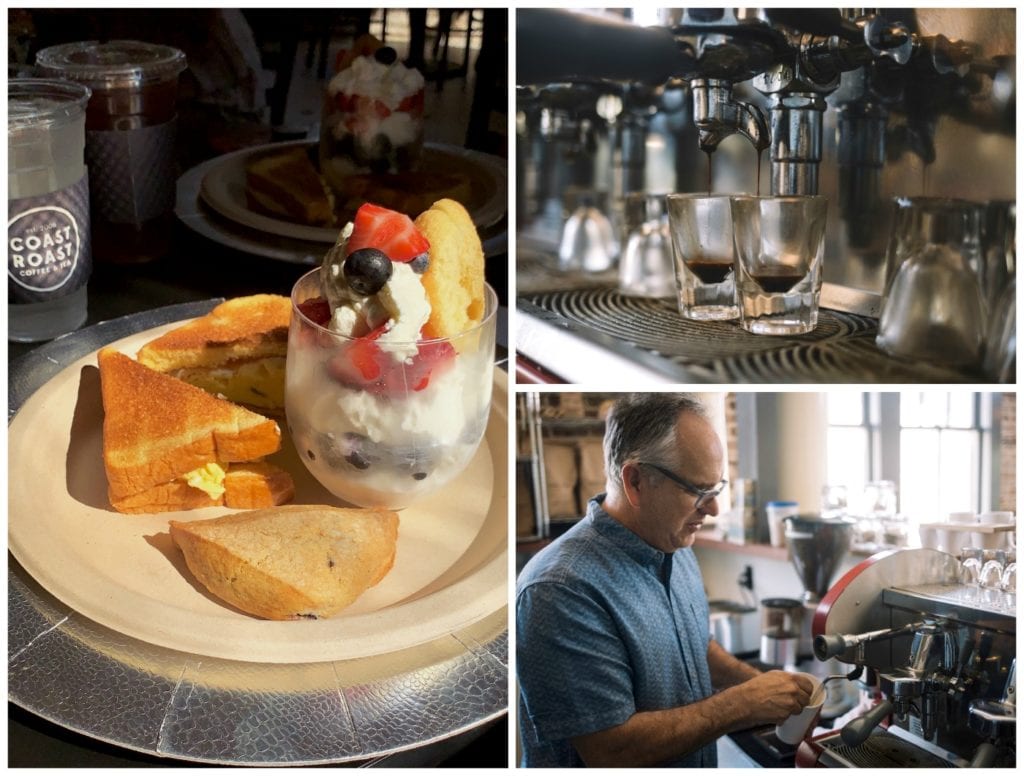 COAST ROAST COFFEE
After we finished with our breakfast and toured the bank, we walked out back to another building where Coast Roast Coffee is made. As soon as the door opened I got a whiff of the smell of the freshest coffee. Even if you don't drink coffee, there is something so good about the smell of fresh coffee.
Coast Roast Coffee & Tea pairs 100-year-old roasters with the talent of skilled hands, sharp eyes, and muscle, using small crop, high-quality Arabica. Check out how beautiful the roasters are….they look brand new!!
To get the right flavor the coffee beans must not over or under roast, the handlers must know what they are doing. When those beans came out of the roaster, oh my gosh what a fabulous smell. They then stir them while cooling. Coast Roast is available several locations across Coastal Mississippi and in New Orleans, as well as wholesale. www.the coast roast.com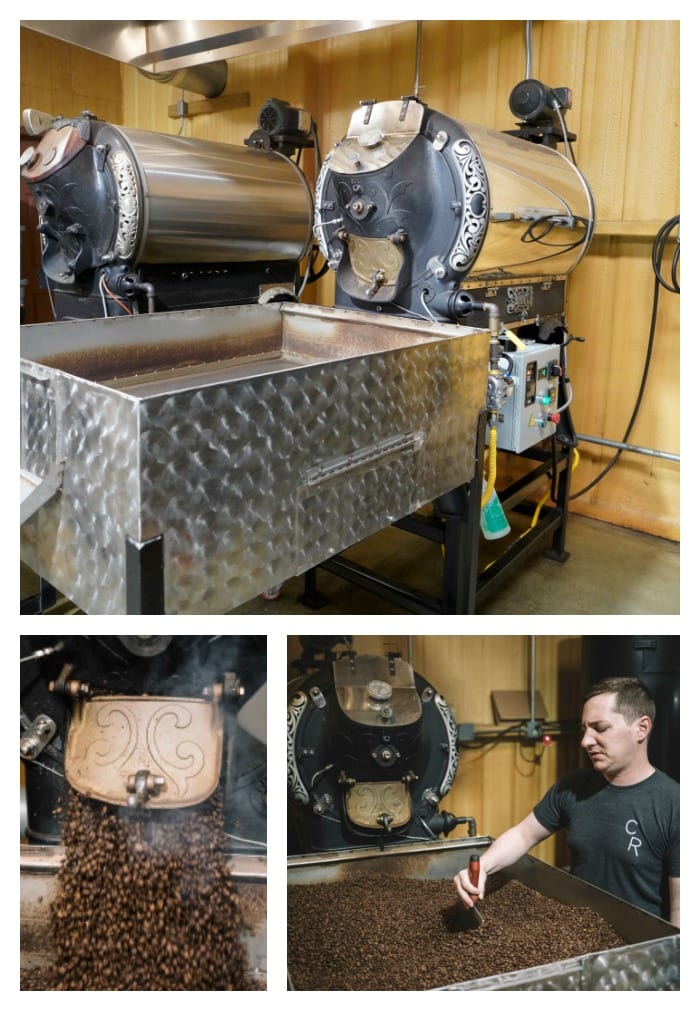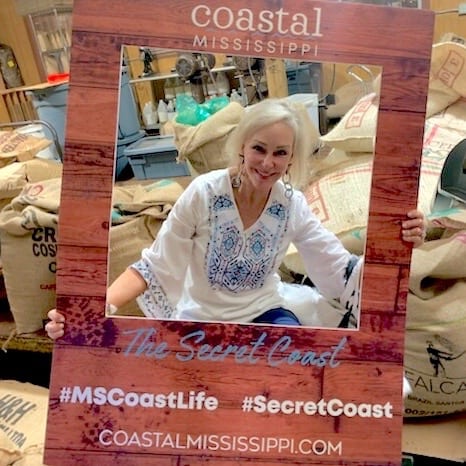 PASS CHRISTIAN DRIVING TOUR
On the way to our next town, we drove through the unforgettable view of the historic home and magnificent oak trees. "The Pass" Pass Christian's unique way of life is relaxed and resolute, casual and carefree. Pick up a one-of-a-kind antique or gift from a range of local retailers in this friendly laid-back atmosphere or grab a freshly brewed coffee at Cat Island Coffee House, that just happens to have an incredible view of the Mississippi Sound.
BAY SAINT LOUIS
This quaint seaside town considered "a place apart", has been named one of the 'Coolest Small Towns in America' by Budget Travel and recognized as a top 10 small beach town by Coast Living Magazine. This was impressive to me and could see how they got their badge because we met the friendliest folks, visited unique places, historical buildings that embrace the heritage of this region. I need a return visit to soak it up more….
BAY TOWN INN
If you decide to visit Coastal Mississippi, then the Bay Town Inn at 203 N. Beach Boulevard, Bay St. Louis, would be one of my top suggestions for lodging because the innkeeper/owner Nikki Moon was so welcoming and southern at her best. If you are a boater coming from other Gulf Coast towns the Bay St. Louis Marina is right across the street.
The Inn features ten guest suites that include a living and kitchen area, full bath and separate bedroom with a king bed. The poolside accessible room with two double beds also has kitchen facilities. The Lighthouse Room has a queen bed, sofa bed, full bath, large kitchen area and a private deck to view the Bay, and the courtyard. Breakfast included and there are a few dog-friendly rooms. I promise that you will want to visit the Bay Town Inn!!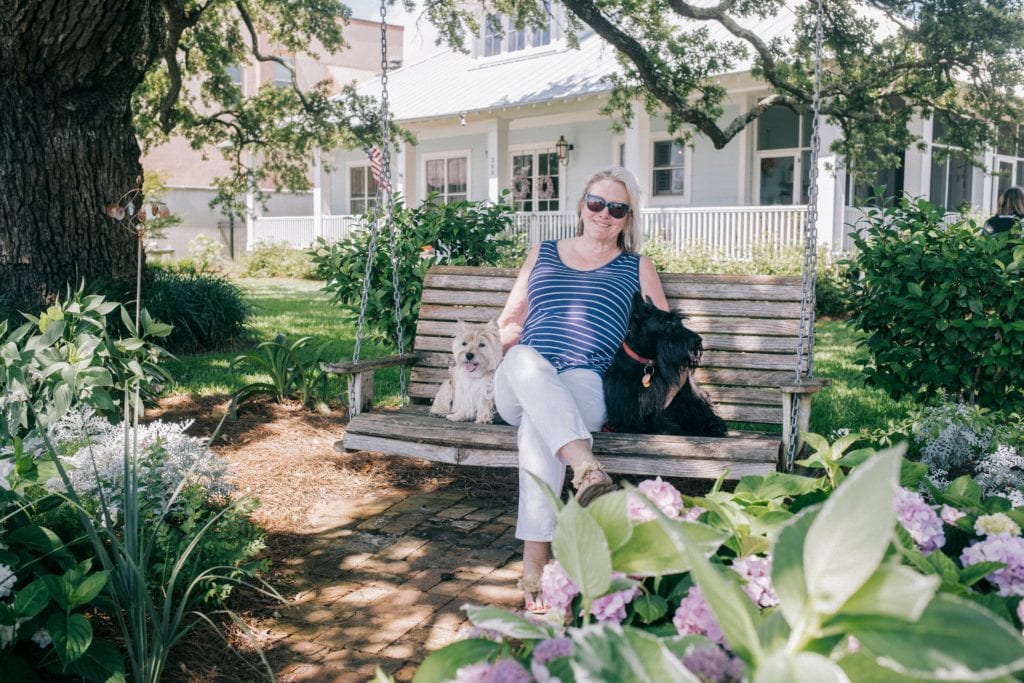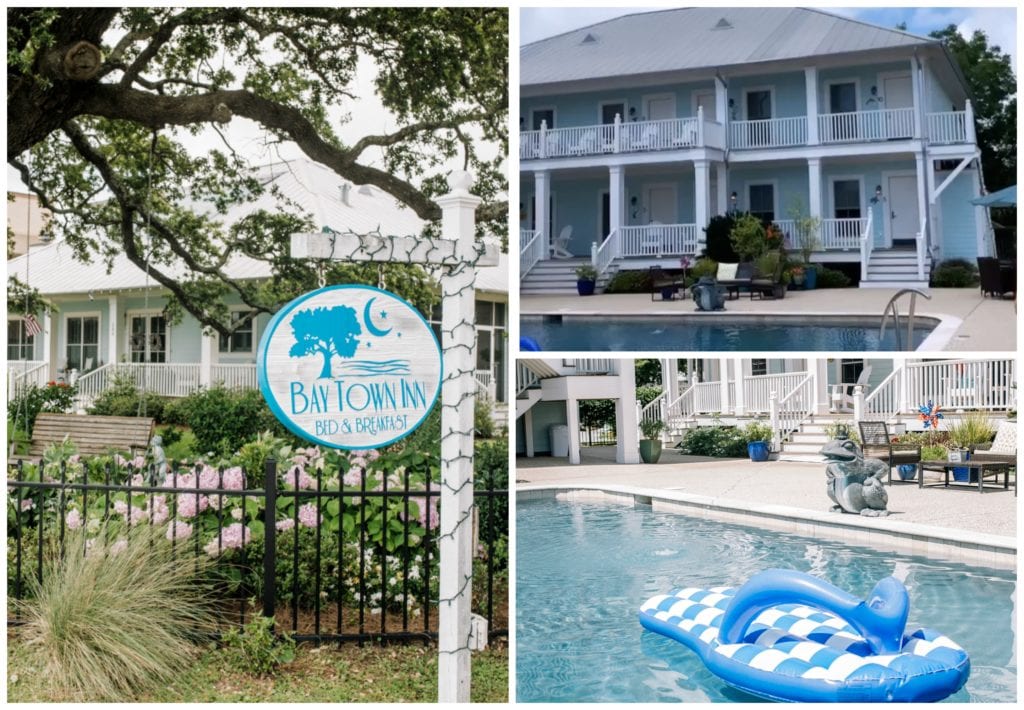 SMITH & LENS GALLERY
This gallery of goodness is located at 106 South Second Street, Bay Saint Louis. Featuring the work of Sandy Maggio, Ann Madden and more are located in an old shack with so much eye candy that it was hard to see it all. Maggio and Madden are also founders of two of Bay St. Louis's most buzzworthy events- January's "Dolly Should," marking the icon's birthday and July's Frida Fest (for Frida Kahlo). Both include a costume contest that attracts participants from across the region. If you are the arty type then check out this gallery and these events at https://www.smithandlens.com/ It would be so much fun!!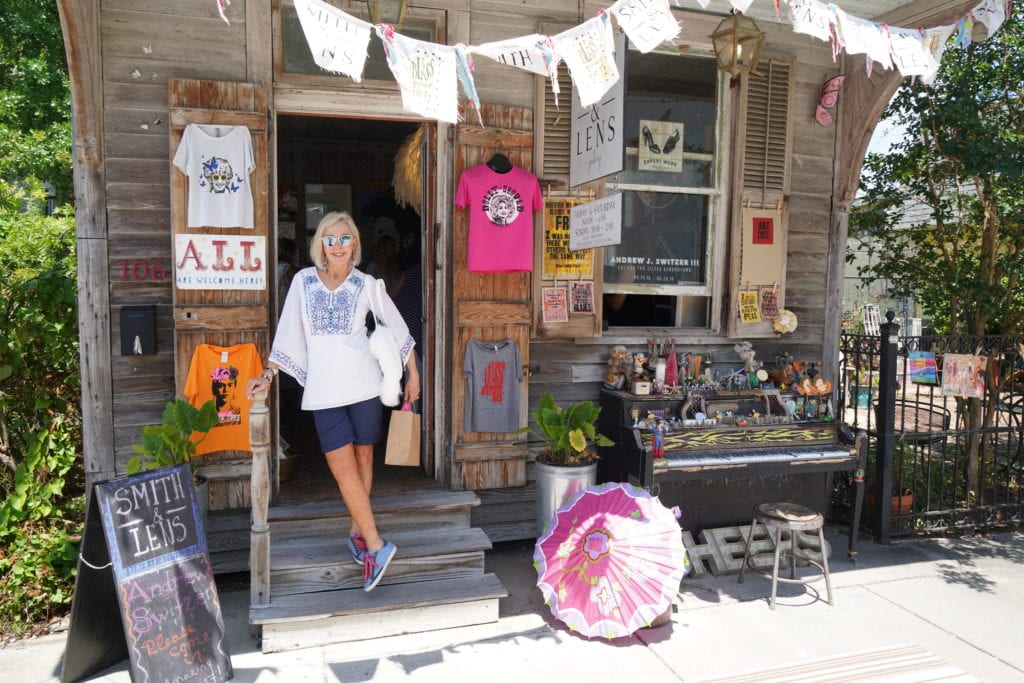 MAIN STREET UNITED METHODIST CHURCH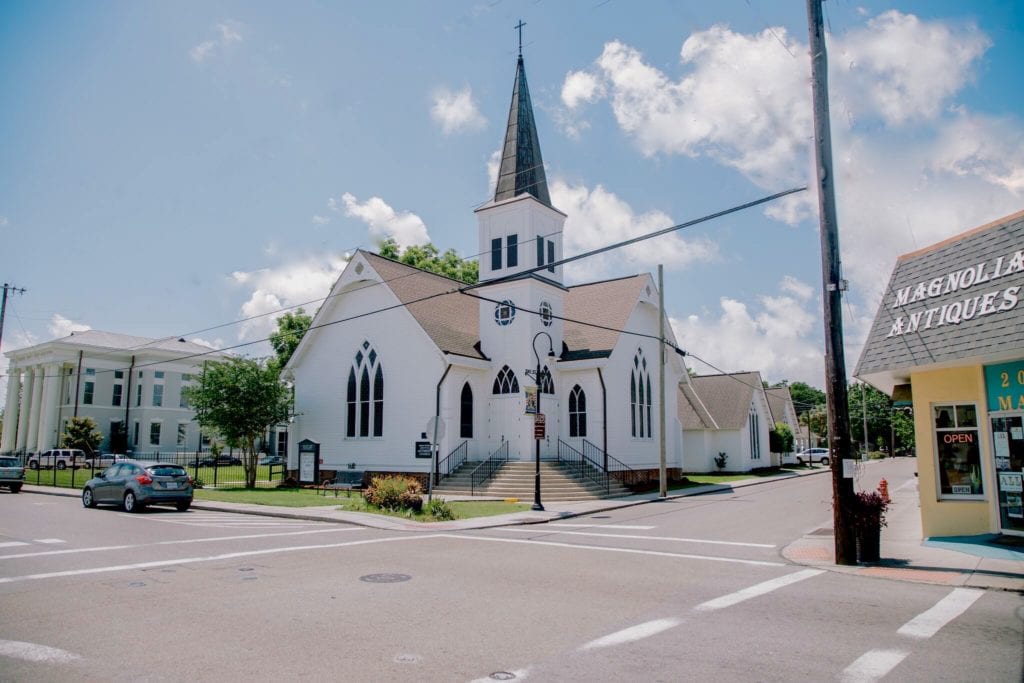 MOCKINGBIRD CAFE
After all of this, we were famished and needed food….. not really….can you believe all of the great food so far? We can't wait til you try the dialed-up version of southern vittles. Yep, it is fried chicken on a waffle in the photo below. "That will put a lump in yo grunt fo shore!!"
Built-in 1868 and boasting a rare three-sided gallery, the Mockingbird Café located at 110 S. Second St. Bay St. Louis is a small, charmingly eclectic venue located two blocks from the beachfront. The 'bird is the preferred hangout of anyone with an easy spirit. This restaurant called the "Living Room of the Bay" was born out of the destruction of Hurrican Katrina when locals and volunteers alike foud the 'bird' to be a welcome and comforting presence in the trying, chaotic times. The Mockingbird is a proud partner of Plastic Free Gulf Coast. https://www.mockingbirdcafe.com/
100 MEN HALL D.B.A.
Talking about history and an important cultural part of this community is the 100 Men Hall D.B.A. located at 303 Union Street, Bay St. Louis. Built-in 1922 by the One Hundred Members' Debating Benevolent Association was the log time center of African-American social life and entertainment. Many legendary entertainers performed here over the years. Can you imagine seeing Etta James, Ray Charles, Big Joe Turner, Guitar Slim, Irma Thomas, Professor Longhair, Ernie K-Doe, Deacon John, Earl King and many more? The Hall now operates as a nonprofit music venue, multipurpose event space, and community hall. When I stepped inside this building I could feel the spirit of the life that it once lived. A must-see if you are in the area and especially if you are a music lover. To read more about this history, go to 100 Men Hall.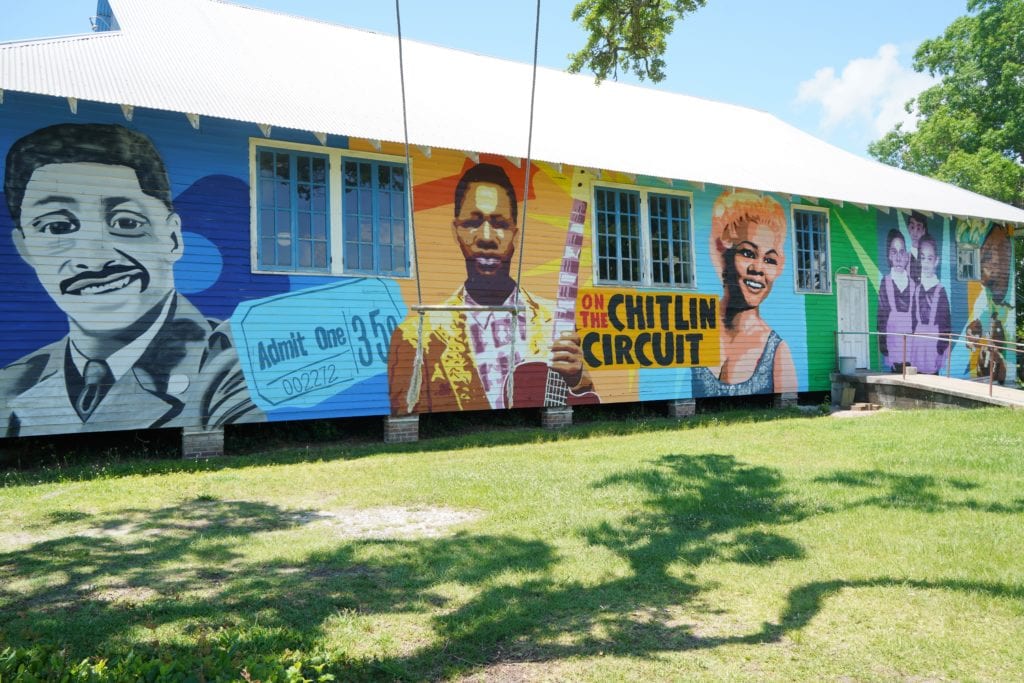 WAVELAND DRIVING TOUR
On our way back to our hotel, The White House Hotel in Biloxi, we drove through Waveland, a small Gulf-front town that takes pride in its people and traditions. This unique town is the only Coastal Mississippi community prohibiting commercial buildings on its beachfront. Instead, you will find the veterans Memorial Monument and the adjacent Garfield Pier, frequented by residents and visitors alike for fishing, walking and enjoying a picnic. Buccaneer State Park encompasses 343 acres of beachfront property, formerly owned by Andrew Jackson. If you are a camper or outdoor enthusiasts then put this down for the books, because it has a 4.5-acre waterpark, more than 300 campsites accommodating RVs and tents, 18-hole disc golf course, and a 1.8-mile nature trail.
GULFPORT, MS.
After a little free time, we departed for Gulfport, the largest of all the coastal towns in Mississippi. (about 72k population). The entertainment district covers the waterfront from just east of 18th Avenue to 36th Avenue, including the harbor, and runs north to the CSX railroad track in the downtown area.
If you have your family with you then choose from 34 distinct parks and water recreation areas throughout or spend the entire day at Gulf Island Water Park, featuring miles of slides.
Ready to eat some local cuisine, take your pick of succulent steak, Gulf-fresh seafood, and other coastal delicacies.
There is a public ferry called the Ship Island Excursion that can take you from Gulfport or Biloxi to the barrier islands where you can swim, fish and explore Fort Mass Massachusetts. This trip will give you another perspective on the other side of the Mississippi Sound right on the Gulf of Mexico. You can buy tickets here.
PASCAGOULA
Rated as one of Outdoor Life's top 200 best towns in America, Pascagoula boasts incredible antebellum architecture and a rich 300 -year history, Pirate Jean Lafitte, Andrew Jackson, Ulysses S. Grant, Zachary Taylor, and Jimmy Buffett all spent time in Pascagoula and considered ith home, a hideaway or a respite throughout the yeas. Visit La Pointe-Krebs House, the oldest building in the entire Mississippi Valley, (circa 1718), in its entire rugged splendor with a panoramic view of Krebs Lake.
We recommend an outdoor adventure day in Jackson, County, including exploration of the Gulf Islands National Seashore and the Pascagoula River Audubon Center.
FISHBONE ALLEY
Fishbone Alley is a funky little destination that backs up to a number of restaurants and bars located along the alley, featuring an ever-evolving array of local street art. Experience some street art, locally brewed beer, and some good ole barbeque!. Since I have been blogging I am always on the hunt for really cool street art/wall murals to take photos so if you love a little something different then check this avenue out. The New York Post featured Fishbone Alley as "8 amazing American streets you've never heard of."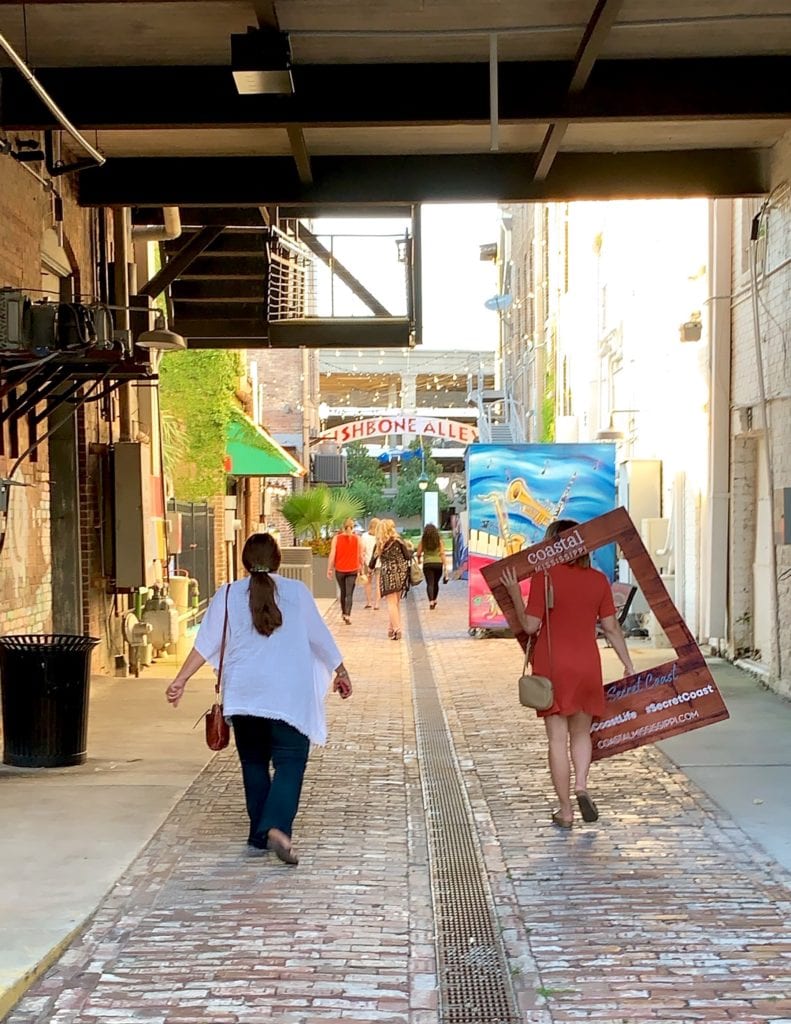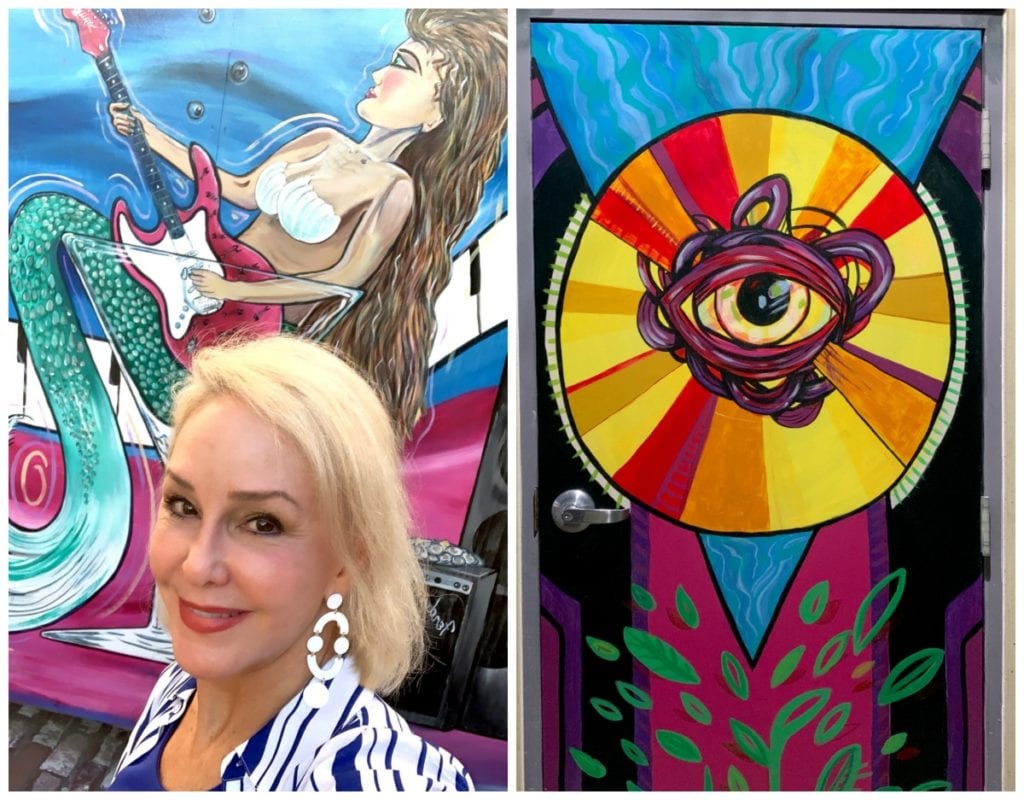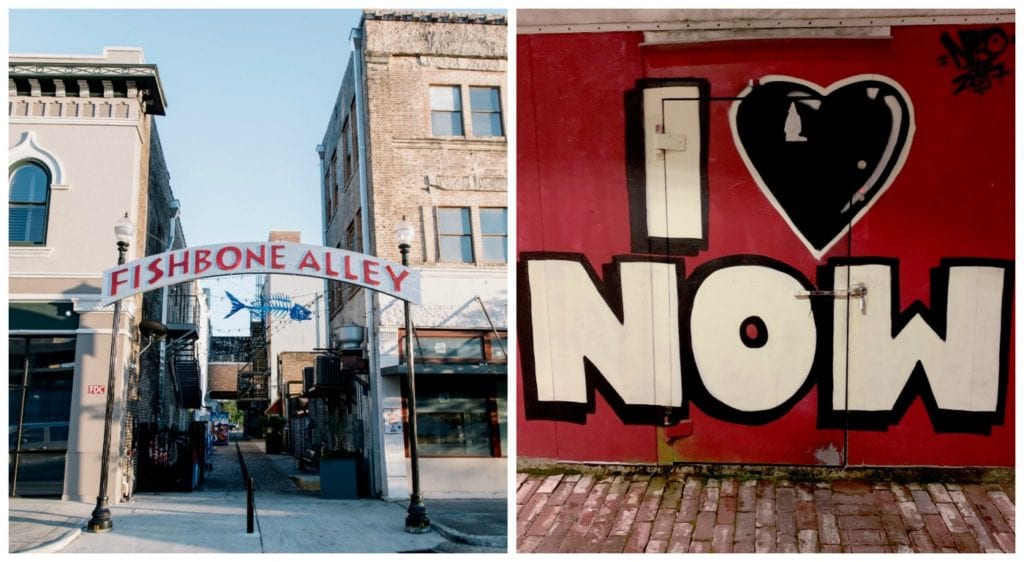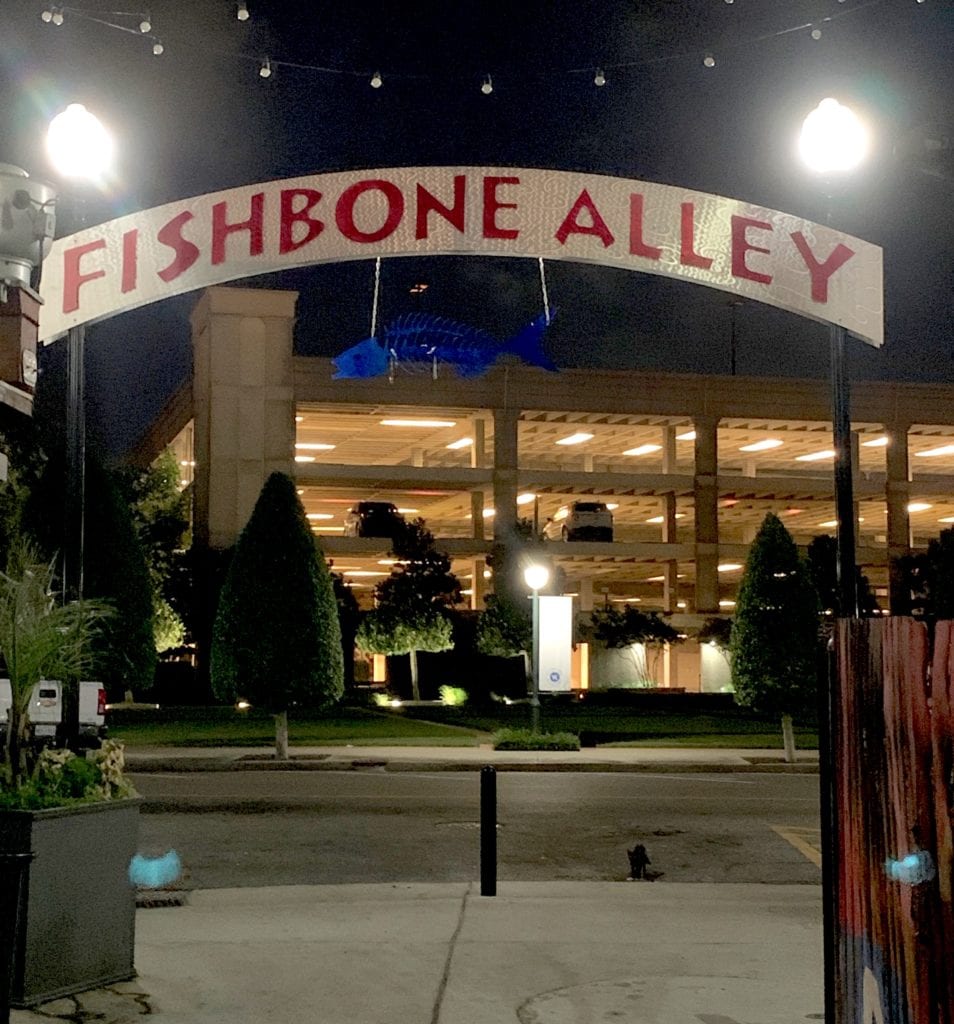 MURKY WATERS
If you love good barbeque then Murky Waters has the BEST, so just head down Fishbone Alley and dive into this barbecue and blues joint. It began as an idea between three college friends and has expanded to multiple locations. On our last night touring Coastal Mississippi, we gathered on the patio of the original Murky Waters right off of Fishbone Alley.
The rest of the Coastal Mississippi team and a few local dignitaries joined us on the patio for some great music by a blues saxophonist and a variety of delicious barbeque dishes. I was in "hog heaven" for sure. Oh, and one can't have BBQ without a cold beer, right? (unless you don't like beer or you don't drink) We were treated to some local brew from the Lazy Magnolia Brewery. Owner Mark Henderson made sure we got to quench our thirst.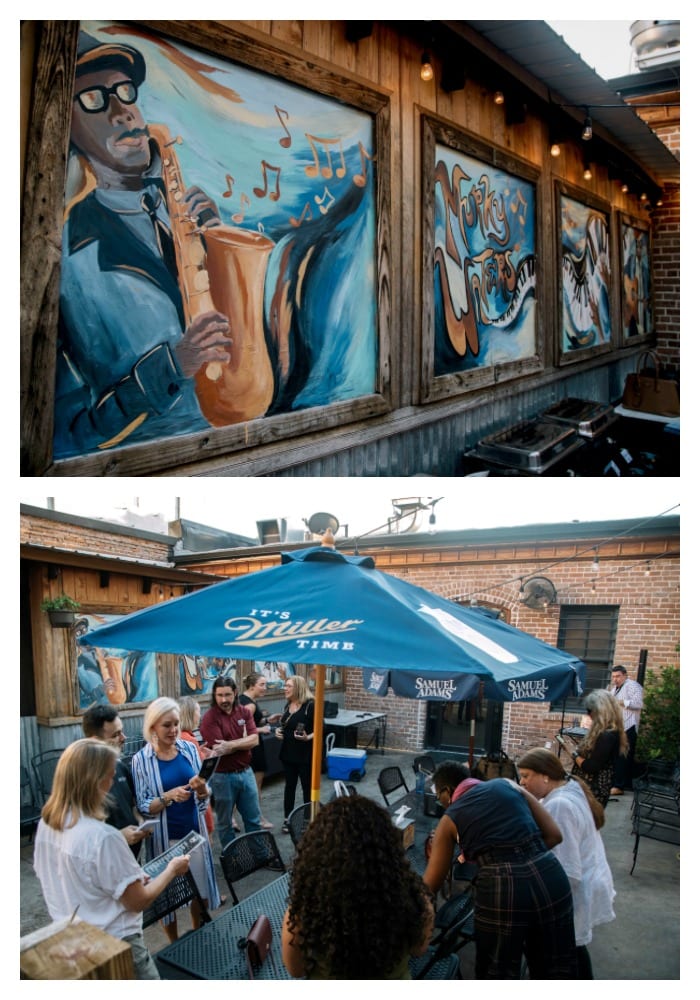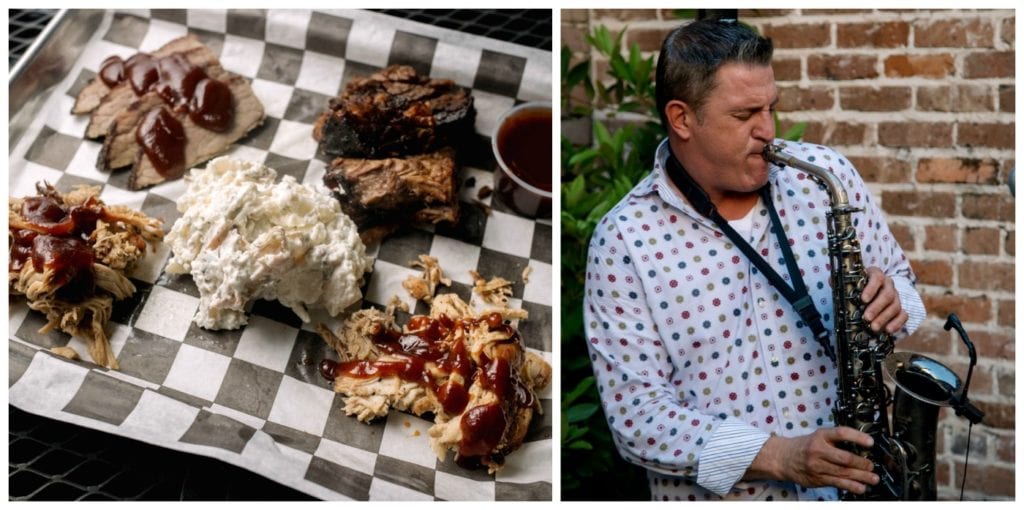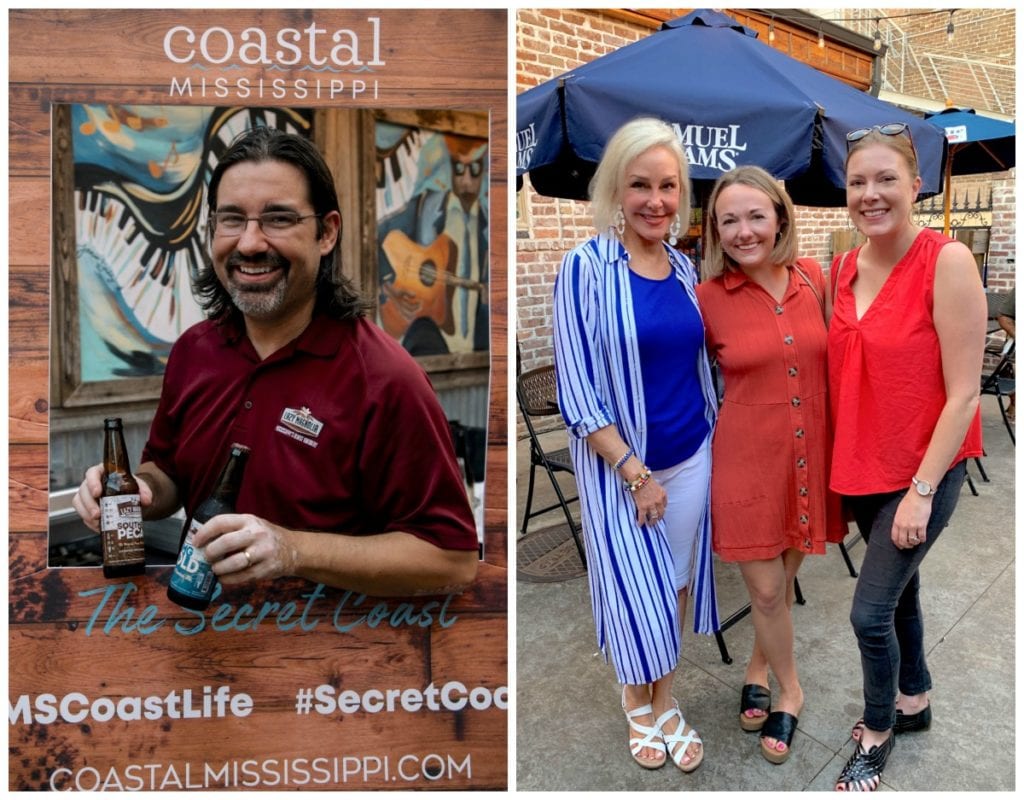 DAY 4
Hanging out with 5 journalists, Maggie, and Anna representing Coastal Mississippi was so much fun. Our different backgrounds and personalities were just as diversified as the 7 Coastal Mississippi towns we visited over the last 3 days making a very interesting and fun experience. I had a mid-day flight so I checked out of the hotel and Anna took me for one last delicious breakfast at Le Cafe' Beignet
LE CAFE' BEIGNET
124 Lemeuse St. Biloxi, MS. the location of this one of a kind French cafe that offers Cafe' Au Lait, Chicory, Lattes, coffee as well as gourmet sandwiches, fresh leafs, soups, desserts, breakfast, and Beignets. As soon as we walked in this adorable eatery I was in awe by the charming aesthetics of this old home/library. If I remember right, I had the omelet and Anna had the shrimp and grits. Can I just say……..another meal……another delicious meal!
The iconic Spanish Colonial revival building was designed by architect Carl Emil Matthes of Biloxi and was built in 1924-25 as the second home of the Biloxi Public Library. Note the books flanking the half-circle window above the front door. The building is on the National Register of Historic Places and has been designated a Mississippi Landmark.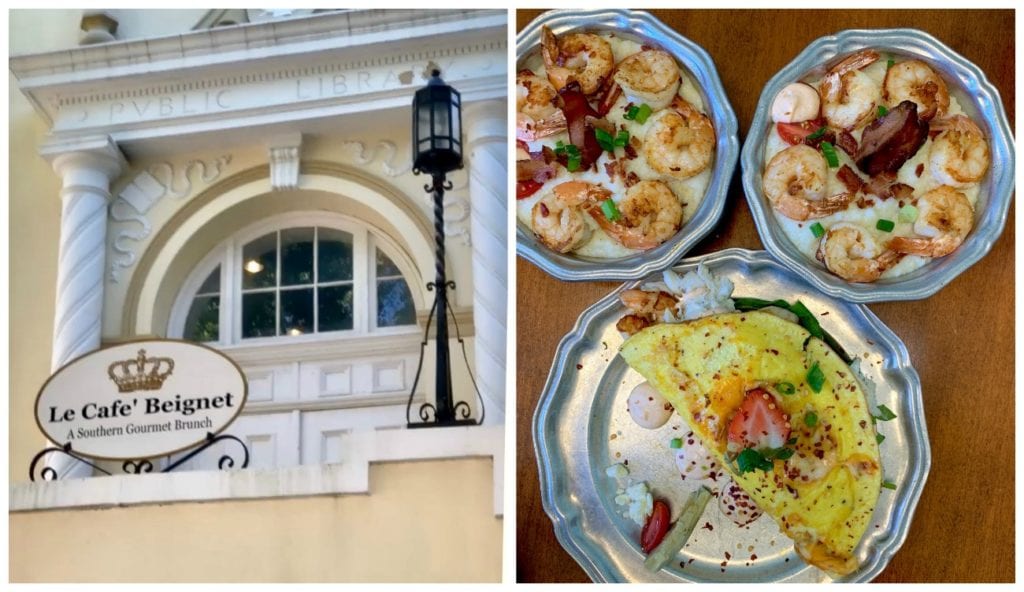 IN CONCLUSION
Well, there you have, an adventure through Coastal Mississippi that I will never forget. There is so much more to see and do along the coast of Mississippi, but just not enough time to see and do it all. I guess I will just have to go back. When are we booking?
So, can you guess my 10 reasons why you should visit Coastal Mississippi? Here ya go and there are even more than this.
Southern hospitality | Accommodations | Scenic | Food-Seafood | Nature | Gaming | Arts | Hipster | Water Sports | Fishing | Cultural-Museums
Book one of our featured hotels here –> White House Hotel // The Roost in Ocean Springs // Bay Town Inn– Bay Saint Louis You can also check out Coastal Mississippi or Trip Advisor for just about anything you need to know about Coastal Mississippi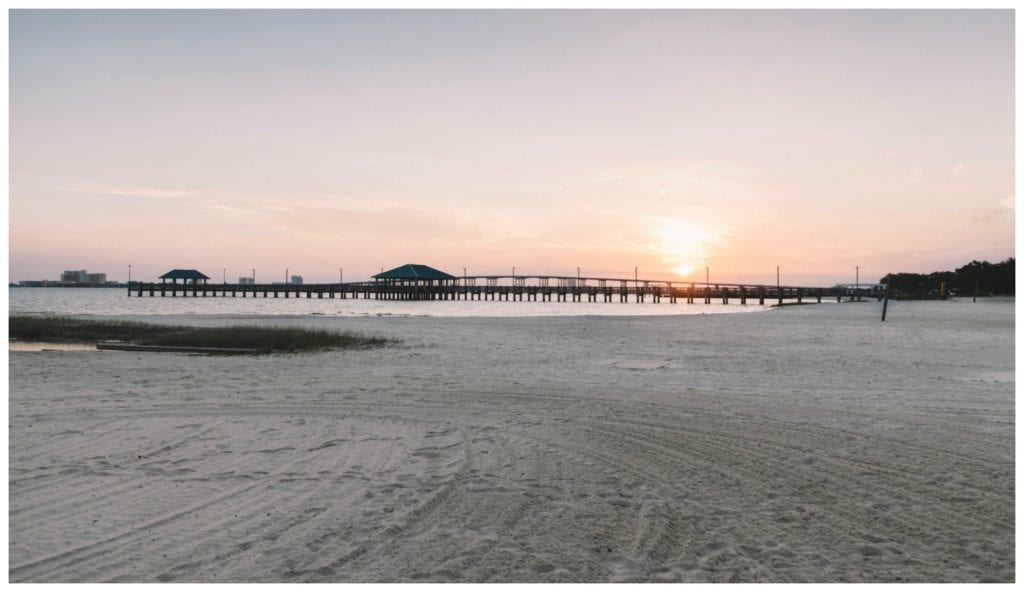 That's All Folks"….. for now!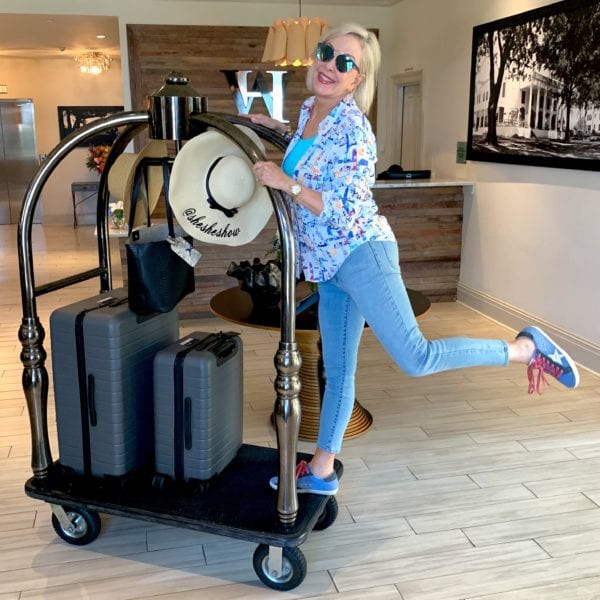 Photos are my own and some are by Eddie Robbinson Photography.
SHESHE'S TIDBITS
We have been back home in Houston for a week now and boy does it feel good. We leave again Friday for our river home in Montrose, CO. where I do look forward to getting to cooler temps. Have a great week my friends!
Gala's, weddings, graduations, holidays or just everyday wear…..we have fashion suggestions for you, so stay tuned. Be sure to check out ShopSheShe tab at the top in the menu bar. Hover over and choose the category in the dropdown. We try to keep it up to date with the latest and greatest for all budgets. Subscribe here and then you won't miss a post. Simply enter your email in the pop-up box or below.
WELCOME new readers. We are a fashion/travel/lifestyle blog. We talk about anything and everything, from fashion, travel, health issues to even an occasional recipe. Let us know if there is a topic that interests you. We will do our best to bring that story to you. Have a great week sweet friends and thank you for following along. Without you, we could not continue on this crazy fun journey.