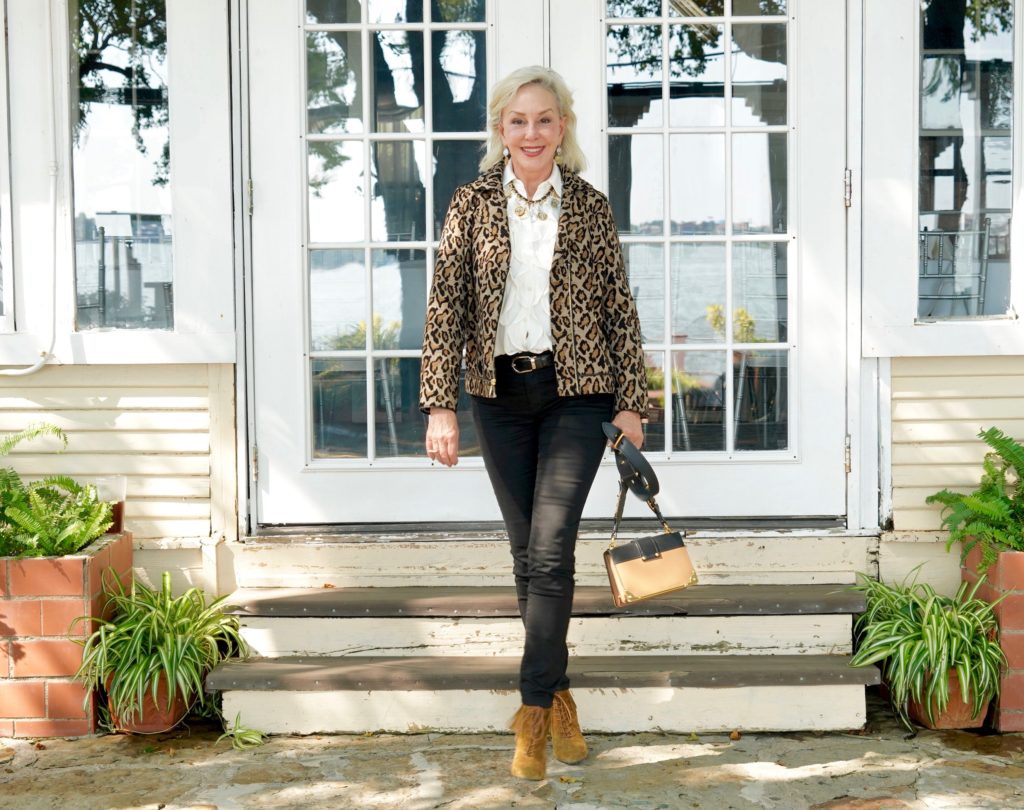 This post has been sponsored by Chioc's. I received product and compensation, but all opinions are my own.

Leopard, leopard and more leopard…..bring it on….oh and did I say that Chico's has curated the best leopard prints lineups for this Fall 2019 season? Today, we are going to show you why to shop their leopard prints pieces and how to style them.
I cannot remember when I first saw something made up in a leopard print. I think it was a leopard print faux fur jacket that my grandmother owned. That is at least how long it has been a fashion statement. Did you know that leopard print is also a basic? Every year you can find many styles of leopard to choose from. It goes with just about anything and NEVER goes out of style.
ABOUT CHICO'S
A brand for the 35-year-old and up that I call classic style with a twist. The store first opened on Sanibel Island, FLA in 1983 then to expand and grow into a multimillion-dollar company. This brand founded by Helen Gralnick and her husband is a true success story. For more about the Chico's story go to this blog post –> https://shesheshow.com/2017/03/26/chicos-rockin-the-ages/
STYLE: They are tuned into the trends ahead of time as any upscale brand would do.
FABRICS: Chico's scours the world for beautiful fabrics for inspiration then they come back to their workshops and have their artists draw out the prints. They then create the prints into fabrics. I have seen this at Chico's headquarters and it is amazing that they do all of it in-house.
QUALITY: I can't say enough about the quality. I do not know how they can keep their costs in line with the amount of thought, planning and creating they put into their collections.
VALUE: Chico's pricing will shock you. So affordable and if you check their website, stores or get on their email list then you can get some great deals!!
Read more below…….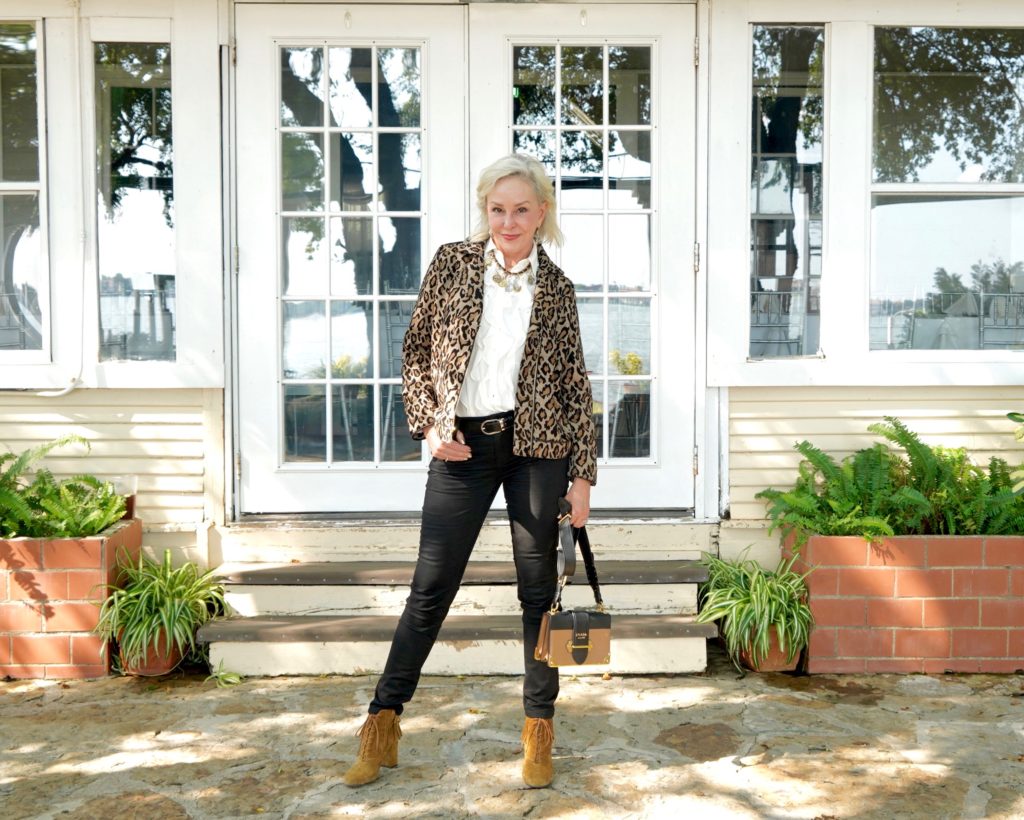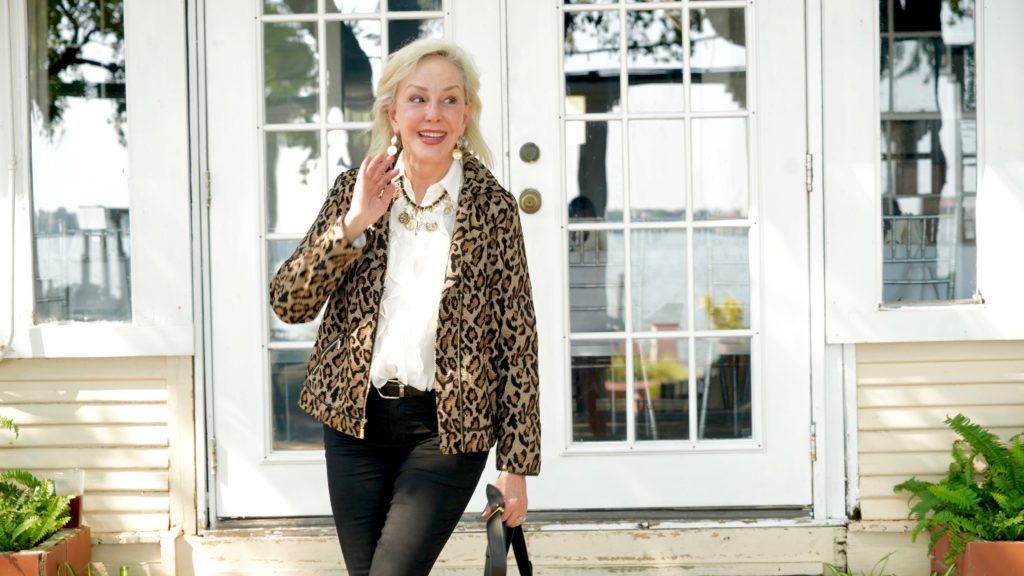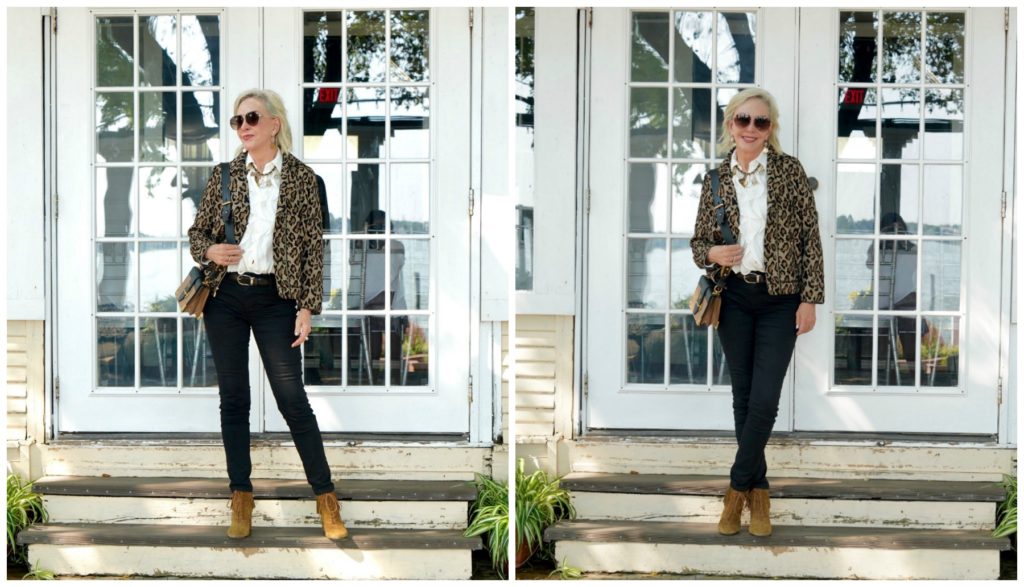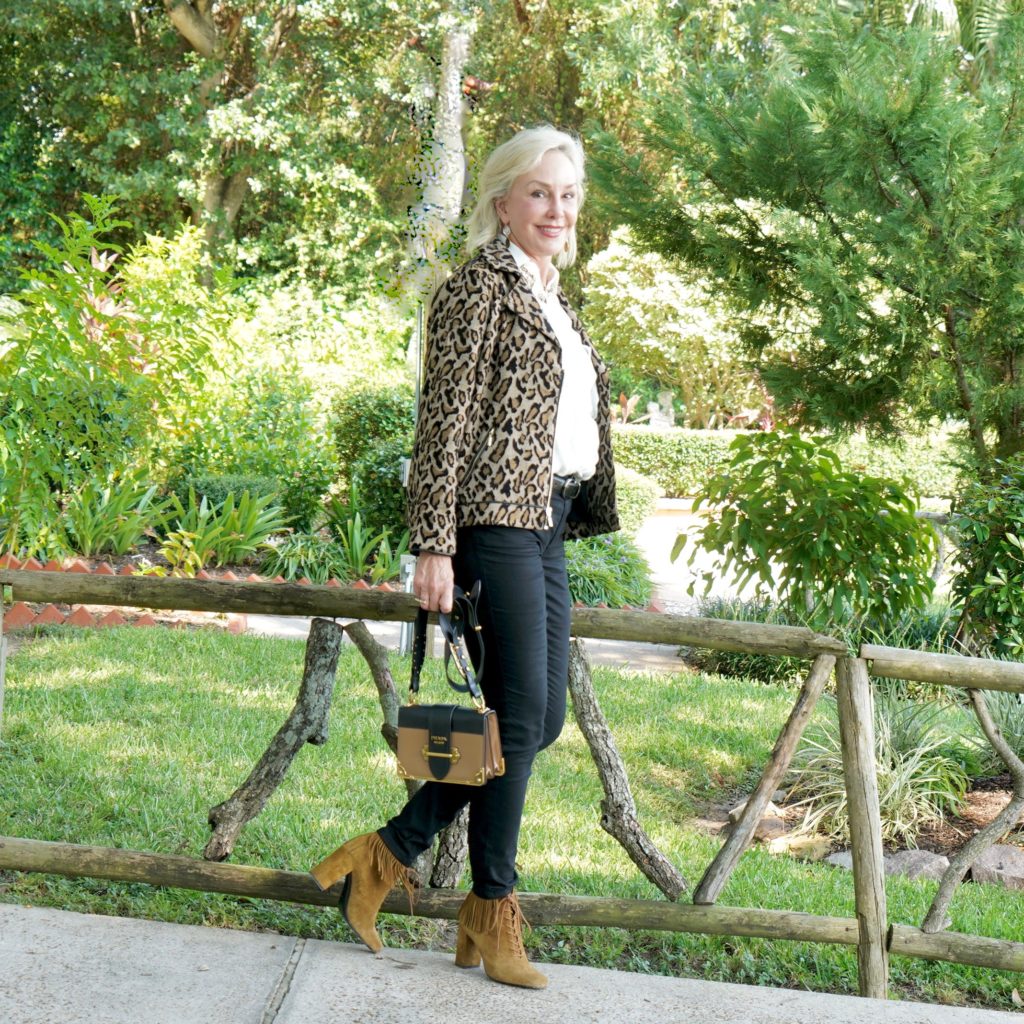 HOW TO STYLE CHICO'S LEOPARD PRINTS
We are going to share a few leopard print items from Chico's and give you some ideas on how to style them. Each row is our idea of how to wear some of Chico's leopard prints. Just click on the item and it will take you to their website to shop.
LOOK #1

LOOK #2

LOOK #3

LOOK #4

LOOK #5

LOOK #6

CHICO'S SIZING
If you have never worn Chico's then you should know that they do not follow the standard sizing system that we are familiar with. I am normally a size 6 and in most all of their clothing, I am a size 0. Sounds good huh? However, in some of their jeans, I wear a 00… even better! I think that is because of the ample stretch. We should never think about the number though!! I would recommend trying on a couple of different styles of tops and bottoms as well as jeans and a dress. That would give you a good idea of what size to choose if shopping online.
00 (0/2-XS)0 (4/6-S)1 (8/10-M)2 (12/14-L)3 (16/18-XL)4 (20/22-XXL)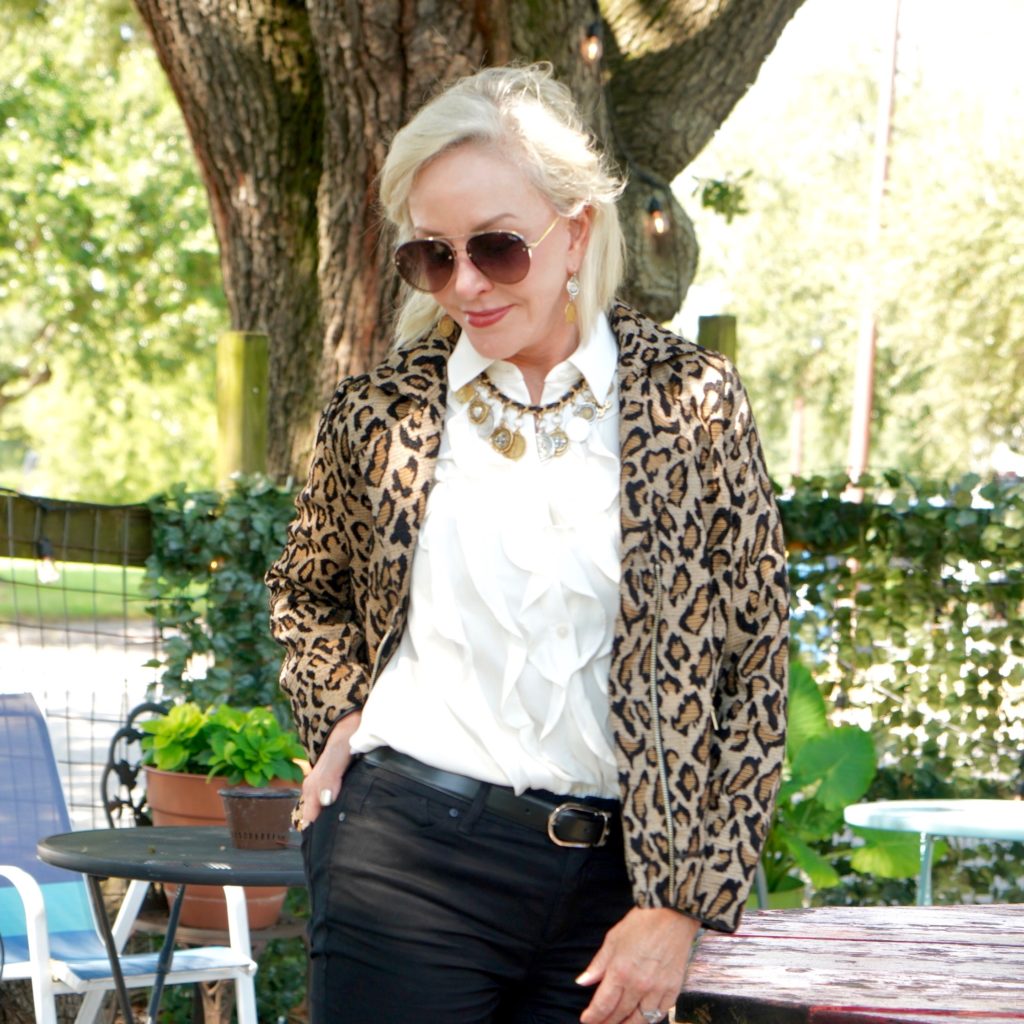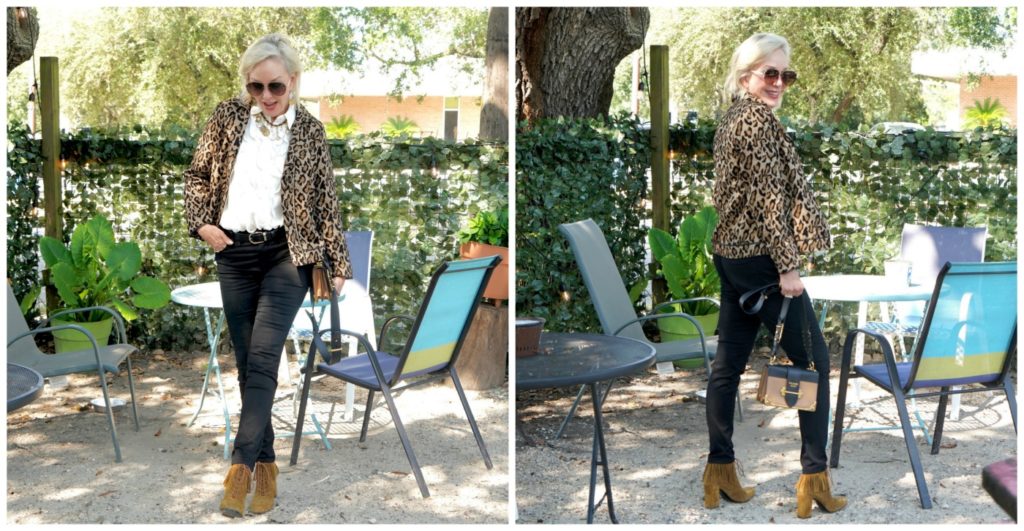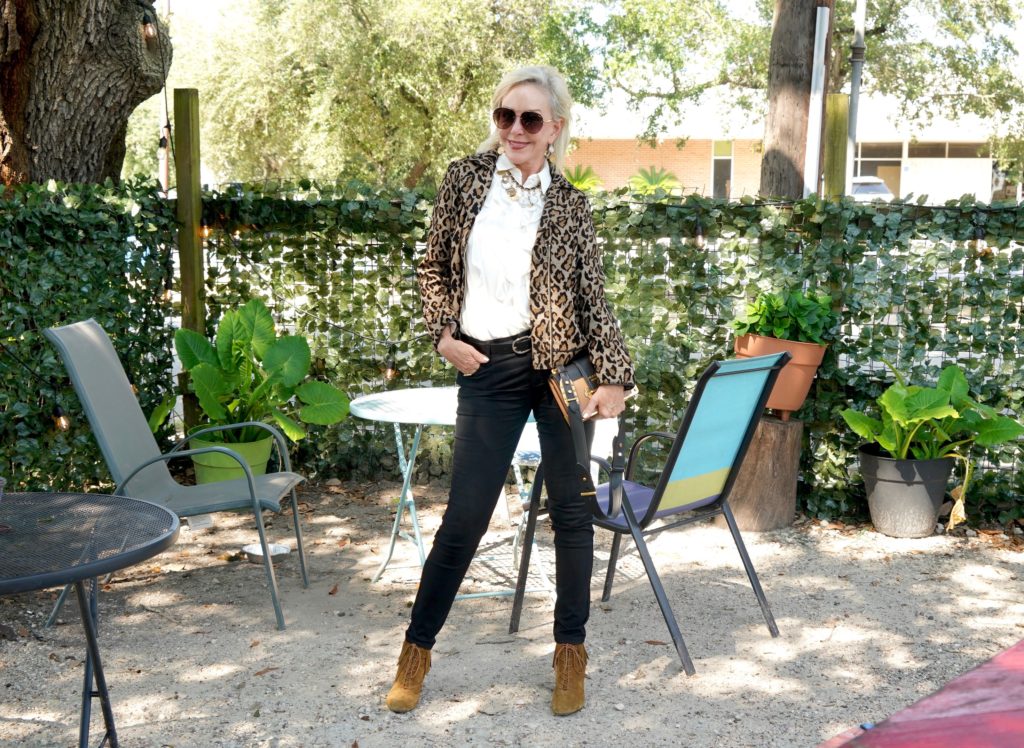 OUTFIT DETAIL

IN CONCLUSION
When looking for classics like a great white shirt, the perfect black pant or looking for something a little more fashion-forward then Chico's fits the bill. I have been mixing in great Chico's items into my wardrobe for years. I am always looking forward to seeing what they will unleash next. Leopard for sure!!

SHESHE'S TIDBITS
Had a great time in Austin with a Longhorn win. Headed back home to Houston and not ready for another week so I need an attitude adjustment. Do any of you feel the same here!!
CHECK OUT MY SHOP MY INSTAGRAM IN THE MENU BAR TO SHOP ALL OF MY INSTAGRAM LOOKS.
SUPER EASY WAY TO SHOP MY LOOKS: DOWNLOAD THE LIKETOKNOW. IT APP ON YOUR PHONE AND FOLLOW ME BY CLICKING HERE.
Gala's, weddings, graduations, holidays or just everyday wear…..we have fashion suggestions for you, so stay tuned. Be sure to check out ShopSheShe tab at the top in the menu bar. Hover over and choose the category in the dropdown. We try to keep it up to date with the latest and greatest for all budgets. Subscribe here and then you won't miss a post. Simply enter your email in the pop-up box or below.
WELCOME new readers. We are a fashion/travel/lifestyle blog. We talk about anything and everything, from fashion, travel, health issues to even an occasional recipe. Let us know if there is a topic that interests you. We will do our best to bring that story to you. Have a great week sweet friends and thank you for following along. Without you, we could not continue on this crazy fun journey.