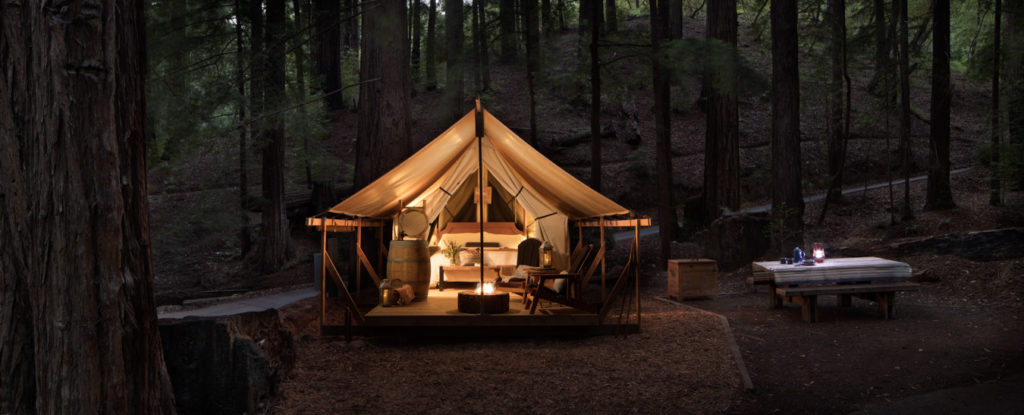 For those of you like me who aren't big on camping…glamping might be the perfect workaround. And today, we're talking in-depth about our favorite glamping destinations in the US.
So what is glamping? Simply put, glamping is upgraded camping. Sleeping bags are traded for real mattresses (even heated mattresses in one of the locations we covered) and tents are traded for tipi's and treehouses. Oh my gosh, I want to book myself!
A few weeks ago, we covered Dude Ranches in the US. And while glamping is similar, these locations are a little different–think fewer attractions, fewer amenities, but more intimate and more connected with nature.
To me, that sounds like a pretty good trade off.
Keep reading, and let us know where you are headed to next!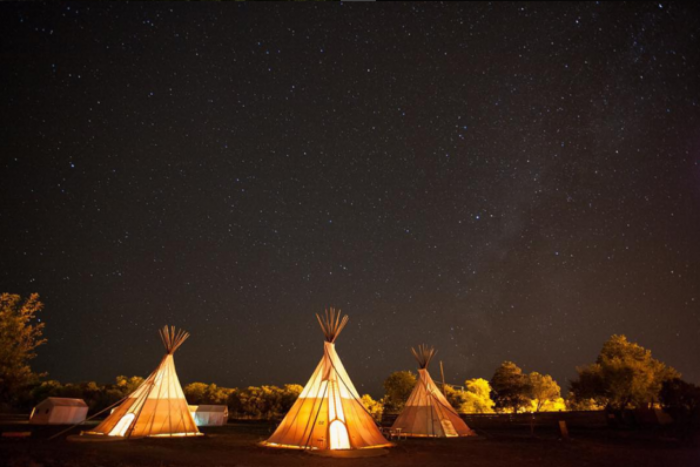 El Cosmico (Marfa, Texas)
El Cosmico is a hotel and campground for adventurers and wanderers in far west Marfa, TX. According to their website, El Cosmico offers "simple, unique accommodations that promote sitting on porches, naps and other moments of non-action." They have a hammock grove, and limit the reach of our wireless internet to the lobby to give our guests the opportunity to be disconnected from technology when they want to.
They offer beautiful tepees to stay in, as well as yurts and other tents. The accommodations in each of these include heated mattress pads, lighting, and an electrical outlet for charging devices. They also provide linens and towels for use at the nearby bath house.
This one is for those truly wanting to disconnect, and experience the simplicity of Texas scenery.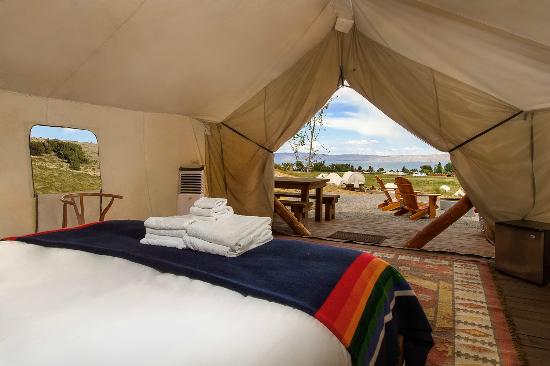 Glamping at Conestoga Ranch (Bear Lake, Utah)
Conestoga Ranch is located in the beautiful Bear Lake, Utah and offers plenty of unique accommodations and activities. Their Royal and Grand Tents sleep between 2 and 6 guests, and include in-suite bathrooms. You can also "Circle The Wagons" with our extraordinary 4 and 6 person wagons. Or cozy into their value forward Traditional Tents.
Activities include complimentary cruiser bikes, valet campfire service (how cool!), beautiful bathhouse, a restaurant on the property, and even a general store.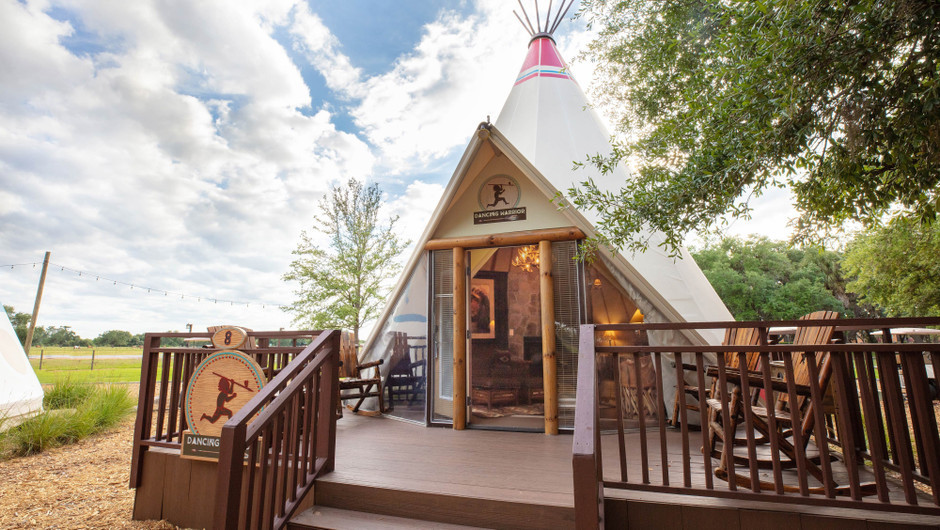 Glamping at Westgate River Ranch (Polk County, Florida)
You really should experience one of the last untouched pieces of Florida wilderness at Westgate River Ranch Resort & Rodeo. This is an authentic Florida dude ranch that lies just one hour South of Orlando in Polk County, FL, where you can kick back and relax in the beautiful, great wide open.
Now don't worry, this isn't just a dude ranch. There are also BEAUTIFUL tent and tepee options and I love how their website. It describes glamping as "Westgate River Ranch Resort & Rodeo in Florida that provides all of the thrills of camping without exactly roughing it. Set on a platform, each of the spacious Glamping tents is fully furnished, provides real beds with upgraded linens, offers air conditioning and heating to keep your tent at the perfect temperature and comes with a private bathroom."
Wondering about activities nearby? This property features horseback riding, fishing, boat rentals, and even a Saturday night rodeo!
Sinya on Lone Man Creek (Wimberley, Texas)
Inspired by the owners' life-changing journey to Africa, Sinya is a quaint and secluded retreat for two located atop a ridge overlooking Lone Man Creek in Texas Hill Country. The structure of Sinya is an authentic, custom-designed safari tent from South Africa.
The tents include king-size beds, century-old claw foot bathtub, feather-cushioned sofas, Newspresso machines, and smart ovens (along with a full kitchen).
Outside there are complimentary fire pits, hot tubs, and a creek-side deck to marvel at the nearby waterfalls. In the Hill Country of Texas, there are plenty of attractions like hiking, wineries, and shopping, but something tells me you might not want to leave these luxurious tents.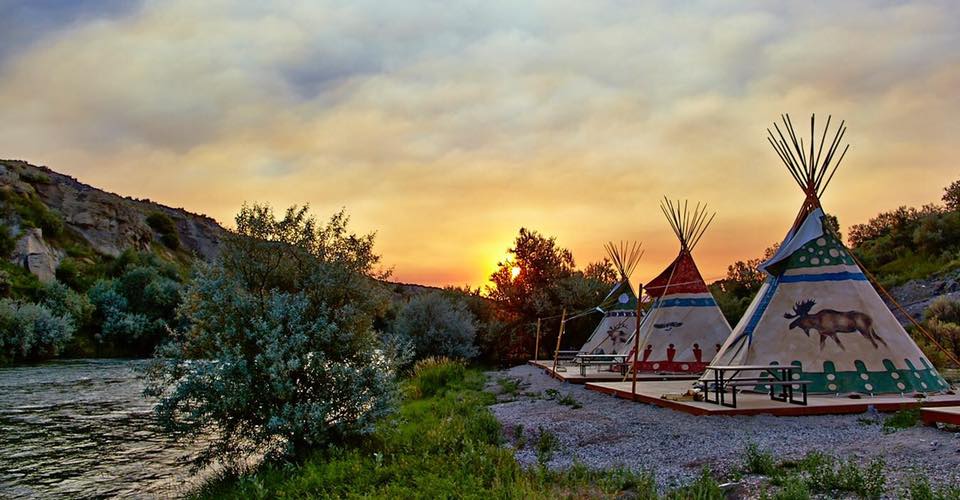 Cody Wyoming Trout Ranch (Cody, Wyoming)
The Cody Trout Ranch Camp offers a truly unique vacation experience just an hour outside of Yellowstone National Park. The main highlight: you can rent one of their beautiful 20-foot diameter, fully furnished Glamping tipi's on the picturesque Shoshone River. The ranch offers campfire pits with a cooking grate, picnic tables, and a community fire pit for sharing your day's adventures and for cooking smores. They've recently built new laundry facilities and offer clean bath/shower facilities.
For those of you who love to fish then this is the perfect place to relax and catch some trout. I will say though, while this one might not be as "glamorous" as the rest, the scenery is truly so beautiful you won't need another attraction!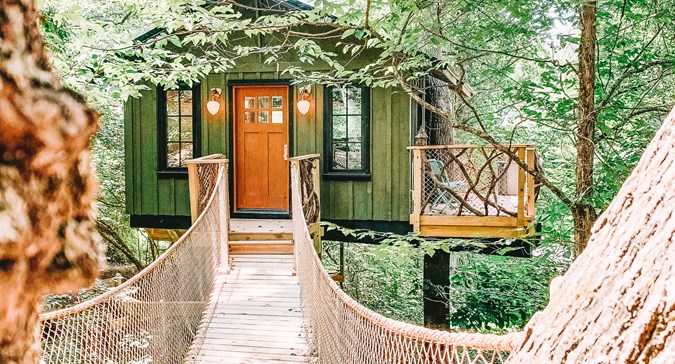 Asheville Glamping (Asheville, North Carolina)
Asheville Glamping claims to be the most unique vacation experience in Beer City USA…and we can't disagree!
This one's a little different because Asheville Glamping is a company that offers different glamping sites all across Asheville, North Carolina. They also claim to be the most unique vacation experience in Beer City USA…and we can't disagree!
They are probably most known for their treehouses (yes, you read that right), that seems like absolute paradise nestled around in the trees, but Asheville Glamping has a ton of other properties besides treehouses: vintage trailers, airstreams, domes, yurts, tipi's, and safari tents. So while they don't have a ton of attractions, the variety in their accommodations is truly unmatched.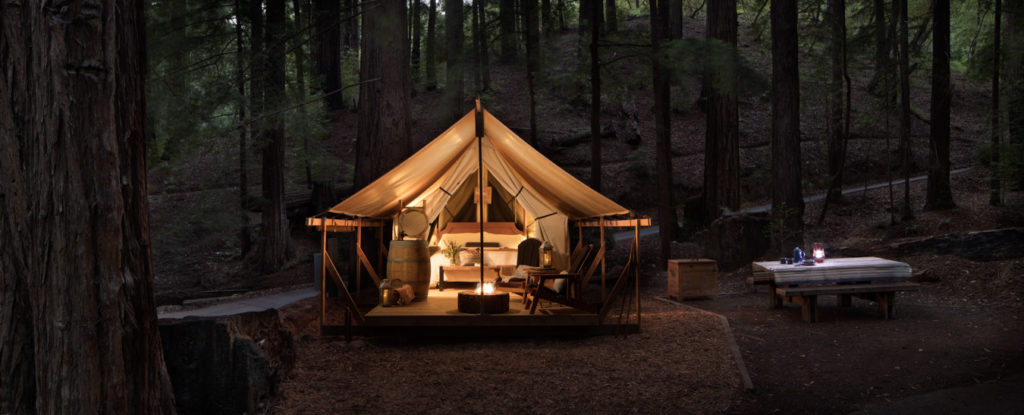 Ventana Big Sur (Big Sur, California)
Simply put, this one is the definition of luxury.
As far as the accommodations, Ventana Big Sur promises that guests can "sleep deeply on a custom-designed mattress and premium linens in their safari-style canvas tent. Marvel at the views of a 20-acre canyon. Light up the fire pit, make s'mores and tell stories—or just let the landscape do all the talking." Sign me up.
Amenities include a wood-burning fire pit along with a propane fire pit on the deck, electirc lamps, power outlets, bathroom linens, handheld interns, picnic tables, and Zingle, a convenient communication system for guests. Again, sign me up!
Which glamping destination is your favorite?
SHESHE'S TIDBITS
I thought we were getting a cool front but nope…..we are still above 90 degrees, but It stalled out on the north side of town. Argh!! I am hoping to start planting a little fall garden of herbs and winter lettuces this weekend. What are you up to…..we would love to know.
Be sure to check out the ShopSheShe tab at the top in the menu bar. Hover over and choose the category in the dropdown. We try to keep it up to date with the latest and greatest for all budgets. Subscribe here and then you won't miss a post. Simply enter your email in the pop-up box or below. Also, download the LiketoKnow.It App, follow @shesheshow to shop all of our daily outfits, home, beauty, and more. Go here for our LiketoKnow.It tutorial.
WELCOME new readers. We are a fashion/travel/lifestyle blog. We talk about anything and everything, from fashion, travel, health issues to even an occasional recipe. Let us know if there is a topic that interests you. We will do our best to bring that story to you. Have a great week sweet friends and thank you for following along. Without you, we could not continue on this crazy fun journey.