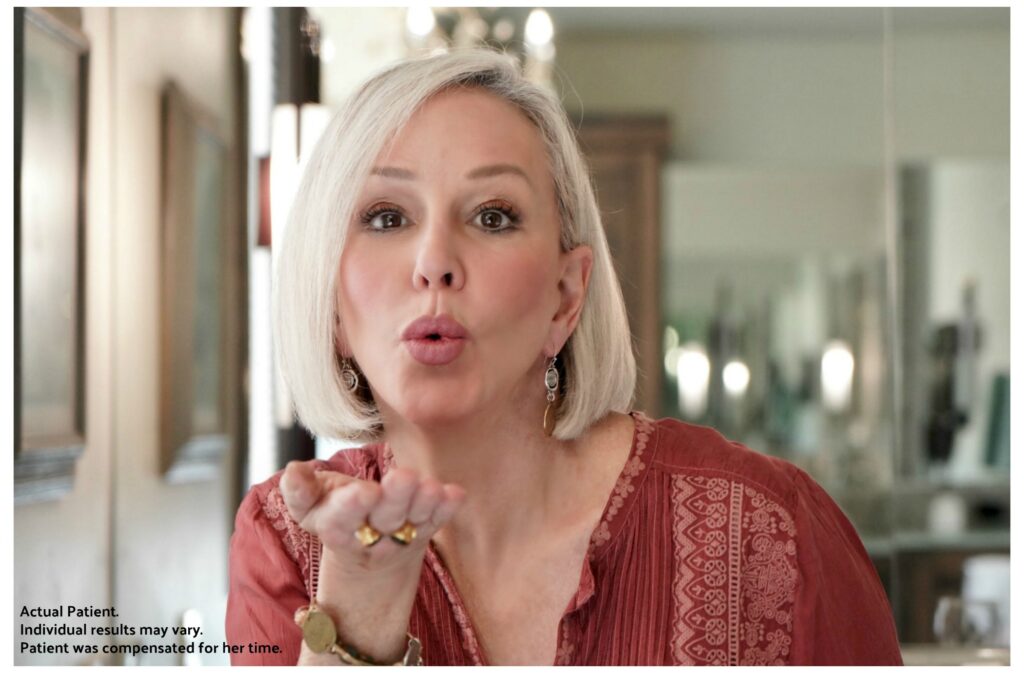 This post was sponsored by Galderma and does not constitute medical advice. My personal story and opinions are my own. I am not a medical professional and am not qualified to give medical advice. Please talk with your healthcare provider about your individual medical situation.
I know that some of you have never gotten lip filler and maybe are curious and would love to know more. In my opinion, it is a safe and common beauty treatment with awesome results! In this post, I will tell you all about it and share my recent experience with Restylane® Kysse lip filler by Galderma. It really does give you Kysse-able lips. Head here to get up to $100 off your next Restylane Kysse treatment.*
I have gotten lip filler about once a year for the last 6 years. Why??? Because I want to look the best I can! I would probably do it more often, but I am not a fan of needles, so I postpone as long as possible. Yes, it hurts, but the price of beauty is worth it. I love the way I feel and look with a more natural-looking approach. This was the first time I used the new product Restylane® Kysse. It is my best lip filler experience to date!!! I will explain more in detail below why I am a fan.
About Restylane Kysse
Restylane Kysse is the newest hyaluronic acid (HA) lip filler from Galderma. 1,2
It is designed to enhance lip volume, reduce fine lines above the upper lip and provide a natural look and feel.1,2,3
Restylane Kysse is the first HA lip filler formulated with XpreshAn Technology, which allows individuals to maintain their natural-looking expressions for up to one year1,4,5,6,7
Kissability study results showed that significant others reported their partner's lips were more kissable and natural feeling.2
What Does RESTYLANE KYSSE Do for Me

First of all, who doesn't want more kissable lips? Mr. Norman certainly loves how much fuller and softer my lips look and feel. He was amazed at how natural they look too1,2,3. I love it when his eyebrows go up…….that means a kiss is coming my way!
When my lips are fuller my lipstick goes on smoother and it keeps those above-the-lipstick bleeds from happening. So good!! Oh, and one other thing I am loving is the pretty natural rouge color that it gives my lips. I can now wear a clear gloss and not worry that my lips blend into my face. 😉 One great thing is Restylane® Kysse is proven to last up to 1 year.1 This makes me happy because….. well, you know how I feel about needles!
To see for yourself why I love my new lips, check out my before and after photos below.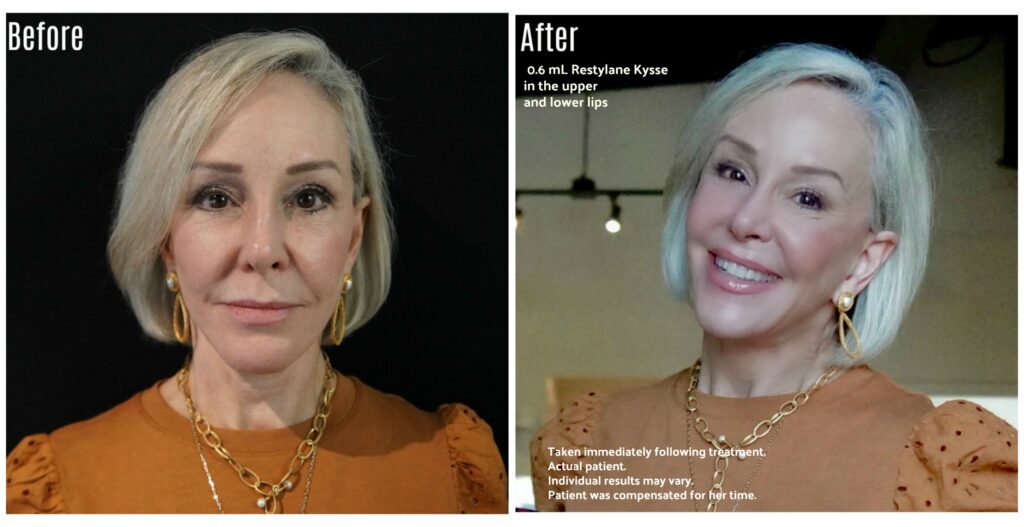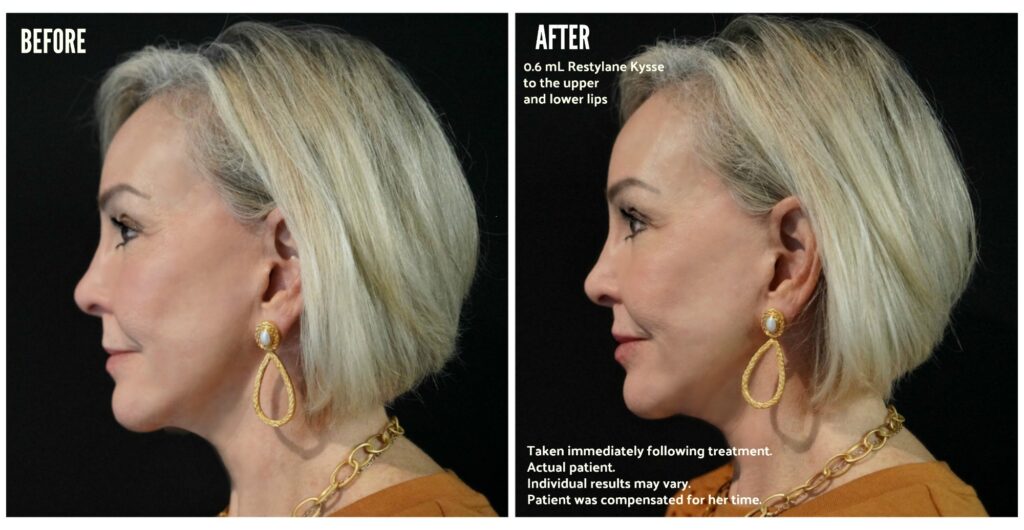 The right photo above shows a very nice subtle change in my lips. So natural looking. Richer, natural lip color, and more definition.
The before and after photos above say it all. The after photo was taken 10 minutes after my treatment. I bruised a little and had some swelling, but it went away after a couple of days.
I only used 1/2 of the syringe because I was nervous about looking unnatural. Now that a couple of weeks have passed, I definitely could have gone a little fuller. It is an individual preference. Also, I recommend to insist on the numbing cream, it helps a lot!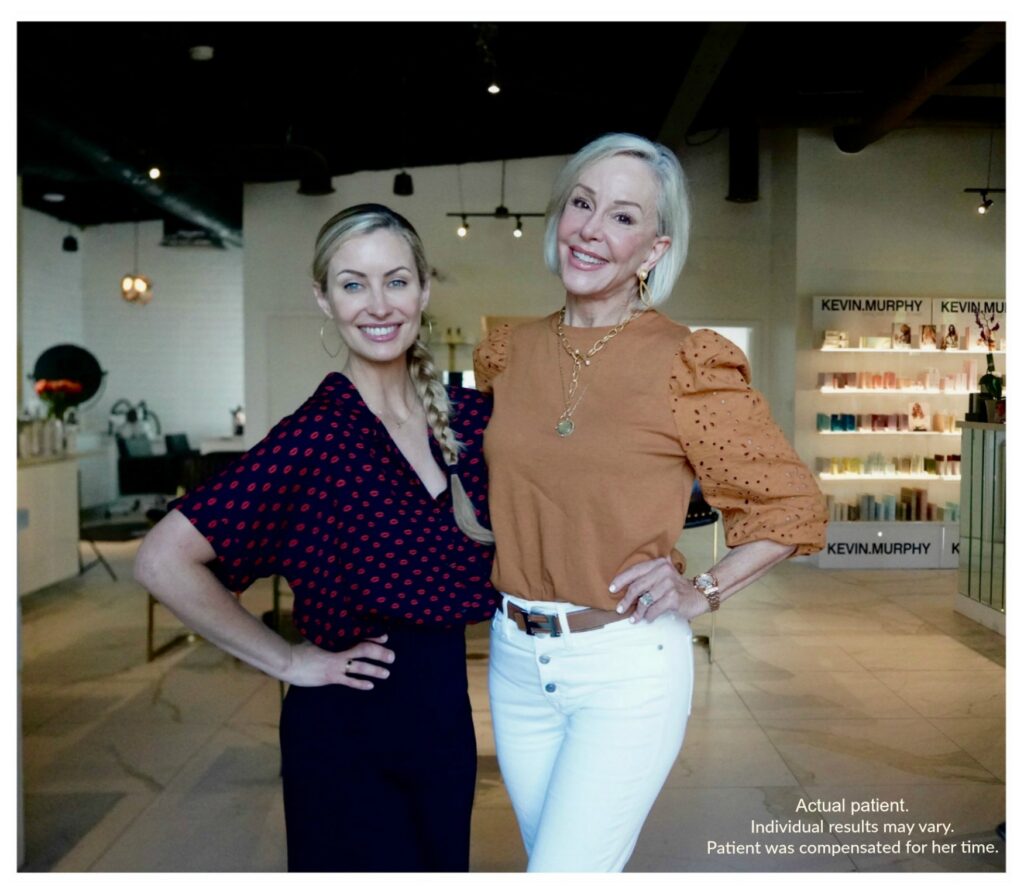 I went to Bri Collins at BCRN Aesthetics in Houston, TX. (picture above)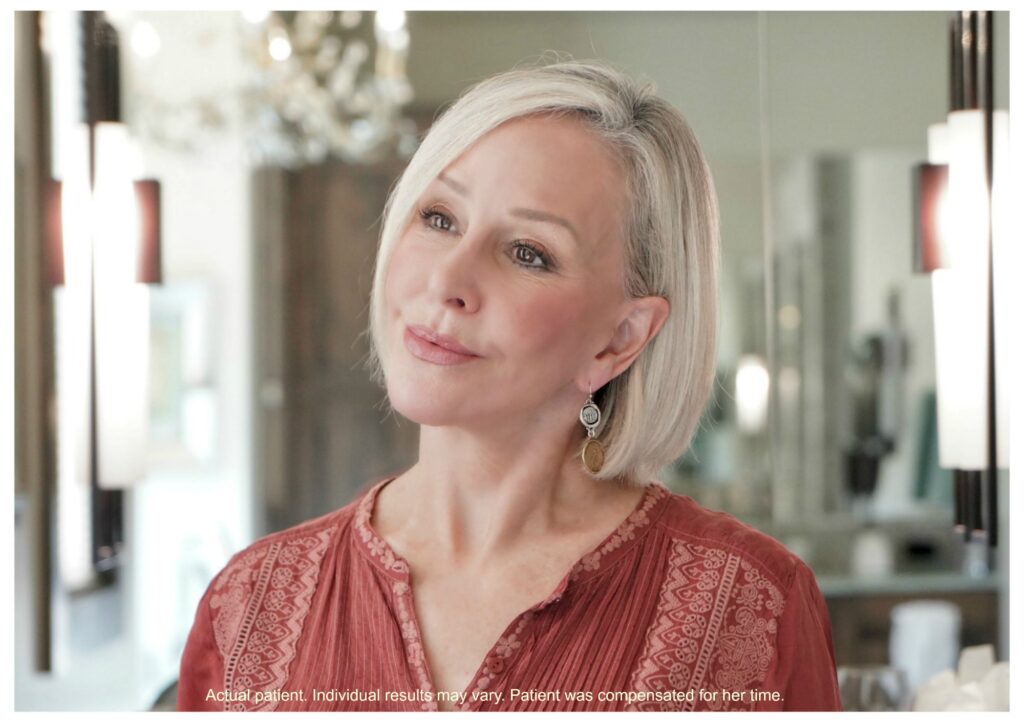 FINAL THOUGHTS
Having fuller lips (without overdoing it) is such a game-changer when I look at myself in the mirror. My lines above my lips are smoothed out, my lip color is more youthful-looking, lipstick applies more smoothly, and most of all my lips are so Kysse-able1,2,3. Norman loves them!!
Visit this link to get up to $100 off Restylane Kysse.*
*Offer terms and conditions apply.
Restylane Kysse. Instructions for Use. Galderma Laboratories, L.P., 2020.
Data on file. 05DF1807 Clinical Study Report. Fort Worth, TX: Galderma Laboratories, L.P., 2020
Data on file. 43USK1701 Clinical Study Report. Fort Worth, TX: Galderma Laboratories, L.P., 2019.
Hilton S, Gerhard S, Berg AK, Samuelson U, Wong C. Randomized, Evaluator-Blinded Study Comparing Safety and Effect of Two Hyaluronic Acid Gels for Lip Enhancement. Dermatol Surg. 2018;44(2):261-269
Philipp-Dormston WG, Wong C, Schuster B, Larsson M, Podda M. Evaluating perceived naturalness of facial expression after fillers to the nasolabial folds and lower face with standardized video and photography. Dermatol Surg. 2018;44(6):826-832
Data on file. Fort Worth, TX: Galderma Laboratories, L.P.
Segura S, Anthonioz L, Fuchez F, Herbage B. A complete range of hyaluronic acid filler with distinctive physical properties specifically designed for optimal tissue adaptations. J Drugs Dermatol. 2012;11(suppl 1):s5-s8.

IMPORTANT SAFETY INFORMATION ABOUT RESTYLANE KYSSE
Indication: Restylane® Kysse is indicated for injection into the lips for lip augmentation and for correction of upper perioral rhytids in patients over the age of 21.
Restylane Kysse contains traces of gram-positive bacterial protein and is contraindicated for patients with allergies to such material or for patients with severe allergies that have required in-hospital treatment. Restylane Kysse should not be used by patients with bleeding disorders, with hypersensitivity to amide-type local anesthetics, such as lidocaine, or by women who are pregnant or breastfeeding.
Use of Restylane Kysse at the site of skin sores, pimples, rashes, hives, cysts, or infection should be postponed until healing is complete. The most commonly observed side effects are swelling, tenderness, bruising, pain, and redness at the injection site. These are typically mild in severity and usually resolve within 7 days after treatment. Serious but rare side effects include delayed onset infections, recurrence of herpetic eruptions, and superficial necrosis and scarring at the injection site. Do not implant into blood vessels. Use with caution in patients recently treated with anticoagulant or platelet inhibitors to avoid bleeding and bruising.
Treatment volume should be limited to 1.5 mL per lip per treatment and 1.0 mL for upper perioral rhytid correction, as greater amounts significantly increase moderate and severe injection site reactions. The safety or effectiveness of treatment in areas other than lips and upper perioral rhytids has not been established in controlled clinical studies.
Restylane Kysse is only available through a licensed practitioner. Complete Instructions for Use are available at www.RestylaneKysse.com.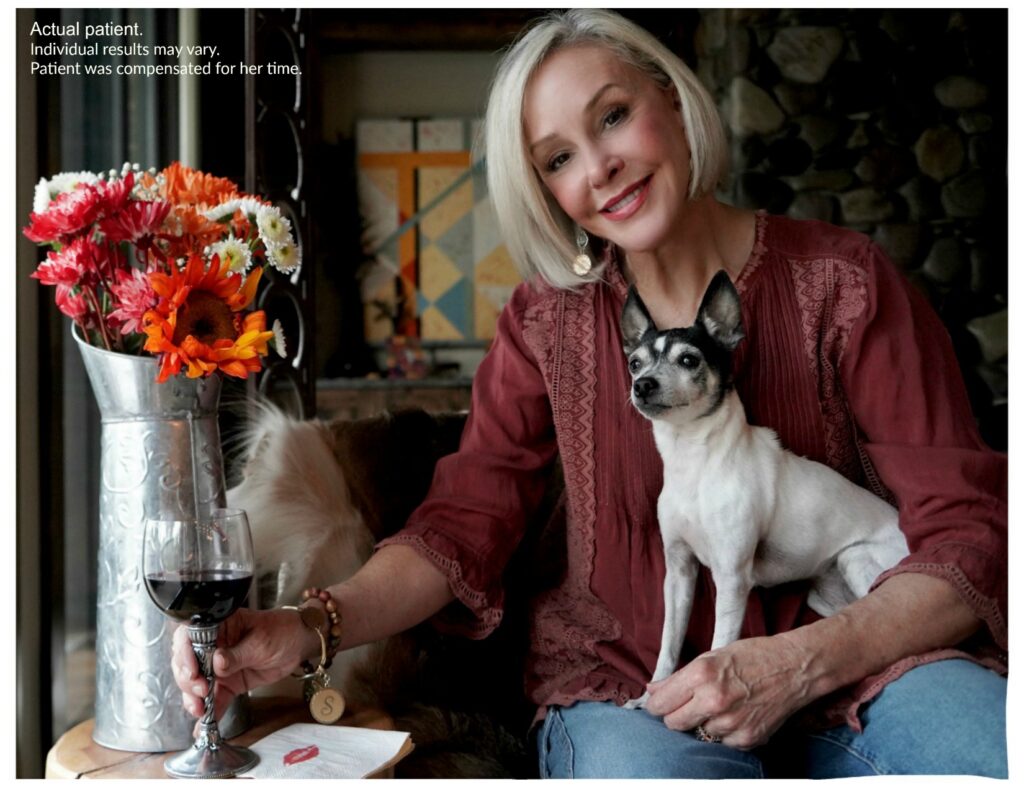 SHESHE'S TIDBITS
WELCOME new readers. We are a fashion/travel/lifestyle blog. We talk about anything and everything, from fashion, beauty, travel, health issues to even an occasional recipe. Let us know if there is a topic that interests you. We will do our best to bring that story to you. Have a great week sweet friends and thank you for following along. Without you, we could not continue on this crazy fun journey.
Be sure to check out the Shop SheShe tab at the top of the menu bar. Hover over and choose the category in the dropdown. We try to keep it up to date with the latest and greatest for all budgets. Subscribe here and then you won't miss a post. Simply enter your email in the pop-up box or below. Also, download the LiketoKnow.It App, follow @shesheshow to shop all of our daily outfits, home, beauty, and more. Go here for our LiketoKnow.It tutorial.