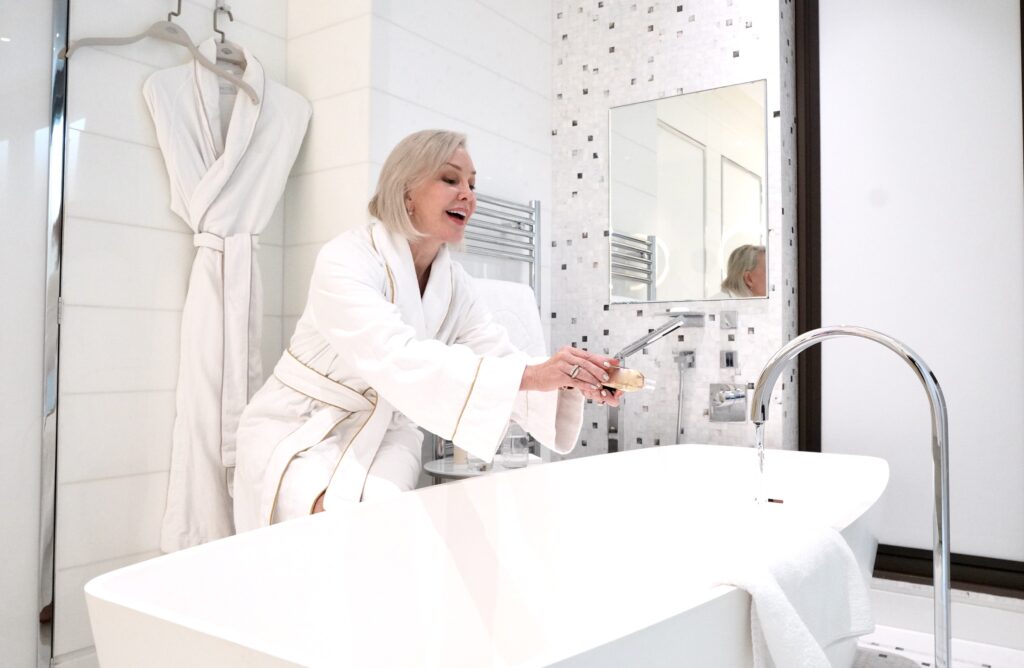 As women, we love all things beauty and self-care! Today we are featuring our favorite gifts for the beauty lover. You girls loved our post on preparing your skin for winter, so you can read more here. With that being said, we are covering our favorite beauty and skincare products.
Skincare
To really give a cool skincare gift that isn't like the rest, this Luxe Skin Care Fridge is perfect. A skincare fridge that helps increase the shelf-life and efficacy of natural skincare products. I think we all need one of these! The Foreo is a tool I live by! I even have travel-sized ones. These are great stocking stuffers and ON SALE!! We also love these Silk Pillowcases. A silk pillowcase is great for protecting the hair, lashes, and preventing wrinkles!

Beauty + Gift Sets
Beauty gift sets can never fail! The best part is usually you get them at a major discounted rate than if you were to buy each product separately! Usually every year I pick up a few because I know they are fun and contain so many products. This year I picked up a few of these Pillow Talk Lip Secrets Full-Size Sets, Anastasia Brow Bae-sics Kit, Charlotte Tilbury Charlotte's Magic Skin Duo was a must-have, and Living proof® Full Dry Volume Blast Home & Away Duo. Speaking of Charlotte Tilbury this Charlotte Tilbury The Supermodel Look Set is in my cart now! A couple actually. This is a huge deal and a great gift for any girl.

Hair Care
Hair care products are always appreciated! Olaplex has been a go-to hair repair treatment since it first launched. We have it here for under $30. Last year we featured hair drying towels and they sold out – this one is even better and makes a perfect stocking stuffer (available in 8 colors). To accompany great hair, these Pure Silk Hair Ties will keep your hair from bending and breakage! Here's a Living proof® Full Dry Volume Blast Home & Away Duo under $30.

Body
Let's not forget about the body! Tree Hut is known for its amazing body scrubs, and I think these scrubs make the perfect gift! To seal the deal after exfoliating this Brazilian Bum Bum Cream is a must-have. It's fast-absorbing, antioxidant-rich, and helps visibly smooth and tighten the appearance of your skin thanks to potent, caffeine-rich Guaraná Extract! We're all about sanitizers these days and this Noshinku Hand Sanitizer is THE BEST. Not only does it sanitize but it contains oils of jojoba, argan, rosehip, and coconut to effectively clean your hands while hydrating, refreshing, and protecting your skin. The perfect stocking stuffer.

Feet
Revive your old Uggs or just slide these insoles in any shoes/boots and secretly wear slippers! These are the warmest and coziest insoles! These socks are perfect for winter! They are buttery soft and my favorite cozy socks. Barefoot Dreams does no wrong when it comes to comfort! With this foot peel watch your feet peel away and reveal new feet! When I say new feet I mean baby soft and callus free feet!

Beauty + Self Care Shop

SHESHE'S TIDBITS
I am back on the ground in Houston and non-stop, of course. Just making my list of everything I need to get accomplished by the weekend. Whew….anyone feeling the crunch? We are winding up the year with several more campaigns so stay tuned, then I hope to take a breather. I need the break so bad!! Have a great weekend!!
ABOUT SHESHE SHOW
WELCOME new readers. We are a fashion/travel/lifestyle blog. We talk about anything and everything, from fashion, travel, health issues to even an occasional recipe. Let us know if there is a topic that interests you. We will do our best to bring that story to you. Have a great week sweet friends and thank you for following along. Without you, we could not continue on this crazy fun journey.
Be sure to check out the ShopSheShe tab at the top in the menu bar. Hover over and choose the category in the dropdown. We try to keep it up to date with the latest and greatest for all budgets. Subscribe here and then you won't miss a post. Simply enter your email in the pop-up box or below. Also, download the LiketoKnow.It App, follow @shesheshow to shop all of our daily outfits, home, beauty, and more. Go here for our LiketoKnow.It tutorial.