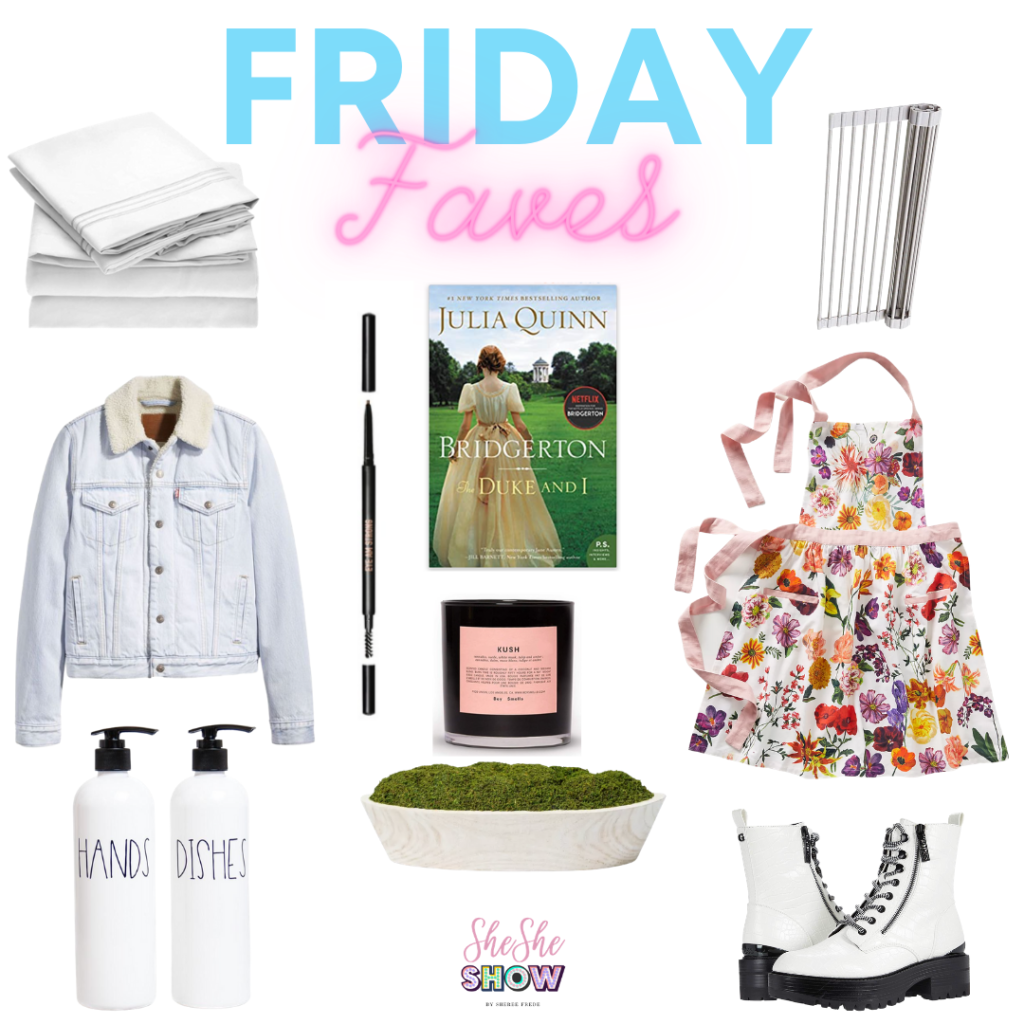 It's Friday and we are sharing all of our favorites from the week. You can find everything here from, home, lifestyle, fashion to beauty.
Friday 02|12|2021
Home

Moss Wood Plant Arrangement – Bring the beauty and warmth of lush outdoor spaces to your interior decor with the Artificial Moss Wood Plant Arrangement from Target and UNDER $35! Having plants inside has made a comeback for home decor trends 2021. This faux plant arrangement is designed with realistic-looking green textured faux moss inside of a distressed-finish wood container for stylish appeal in your living room, entryway or anywhere else in your home you'd like to add a touch of green.
SALE ALERT! Roll-Up Dish Drying Rack – This Roll-Up Dish Drying Rack is not only simple, a necessity but it is sanitary! Forget drying dishes on a dish pad or towel that just collects bacteria and has a hard time drying. This has made handwashing dishes so much easier.
Hands and Dishes Soap Dispenser – These soap bottles are trending and I caved and bought some for my bright and fresh newly-renovated kitchen! Easily spruce up your kitchen by getting rid of that ugly dish soap bottle!

SALE ALERT! Mellanni Bed Sheet Set –  Sleep better and wake up each morning feeling refreshed and full of energy. These sheets are one of the best-selling sheets out right now and UNDER $35. While the price tag may make them seem "cheap", they definitely feel luxurious.
Boy Smells Candle – As the hemp flowers and brushed suede warm-up, the amber accord grounds this intoxicating scent. Perfect for having some "me time"! Grab a good book and light this baby and RELAX!
Nathalie Lete Helena Apron – Exclusive to Anthropologie, this apron is one of a kind! How beautiful are the colors and patterns? This also makes for a great hostess gift!
Beauty

Definer Brow Pencil – This favorite of ours is a long-lasting, micro-tip pencil that allows you to create individual-like hairs for a subtle or bold brow look. Its creamy wax-based formulation glides beautifully and naturally on the skin. This waterproof pencil is stress-free to help you through any challenges you face in life!
Fashion

SALE ALERT! Denim Jacket – Everyone needs a denim jacket! They are NOT going out of style anytime soon. In fact, they have never gone out of style! This one is on sale UNDER $50!
Cutie Booties – These trendy white croc booties are EVERYTHING!! From winter to summer we all need a good bootie. Pair with cute leggings or some shorts, tee, and a duster and have all the vibes going!

A Good Read

The Bridgertons – Well as you may know we are OBSESSED with all things Bridgerton! In fact, I am on my second round of watching it! Well if you are like me and need more, read the book series. Yes, Bridgerton has been renewed for 8 seasons and there are NINE books!
Friday Fav Shop

SHESHE'S FRIDAY TIDBITS
Valentines's Day is Sunday. Our yearly ritual has changed for this year because I waited too long to make reservations and now our favorite restaurant is all booked up. We are instead going to our country club and have a beautiful brunch with 2 close couple friends. Do you have plans this weekend to celebrate Valentine's Day? Hey, if there is no love in your life then pamper yourself!! Cheers to the weekend!!
ABOUT SHESHE SHOW
WELCOME new readers. We are a fashion/travel/lifestyle blog. We talk about anything and everything, from fashion, travel, health issues, skincare tips, to even an occasional recipe. Let us know if there is a topic that interests you. We will do our best to bring that story to you. Have a great week sweet friends and thank you for following along. Without you, we could not continue on this crazy fun journey.