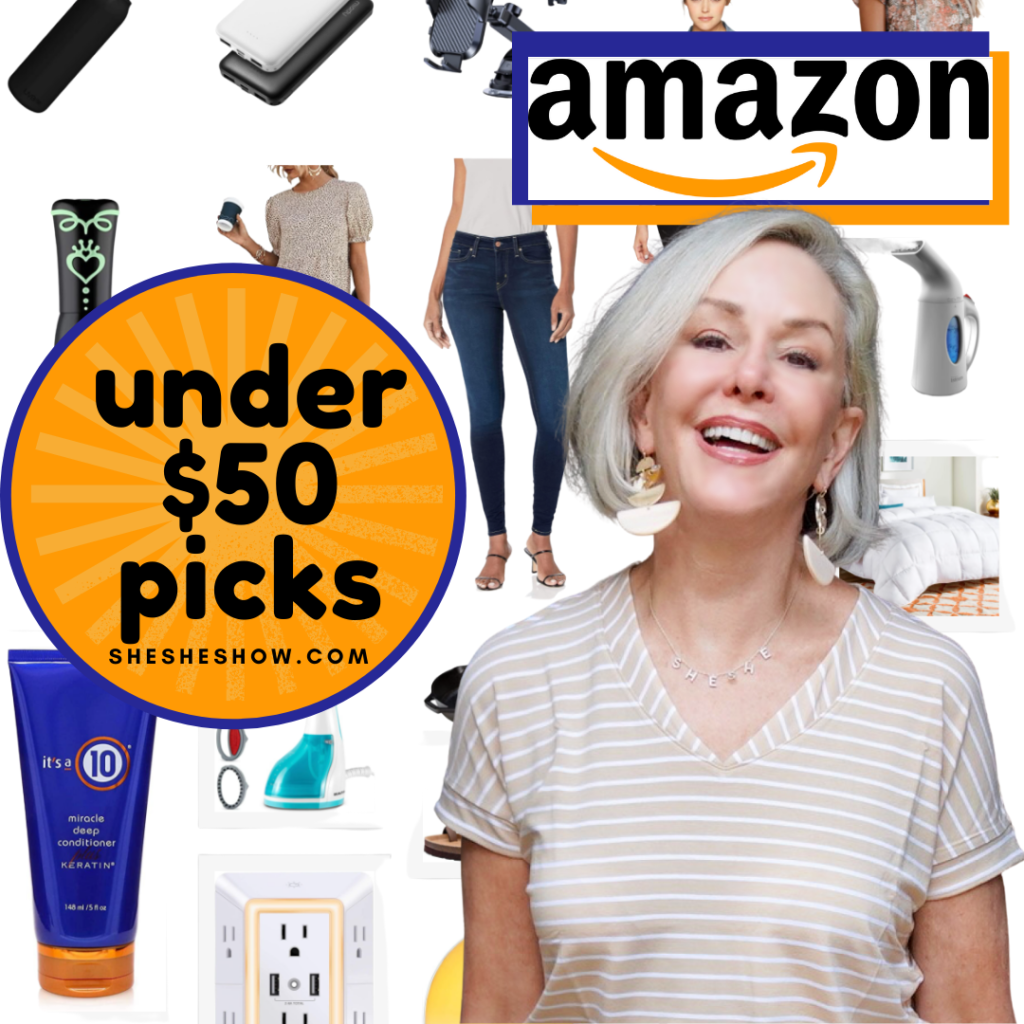 Amazon has become the #1 place to shop these days. Whether it be for dresses, phone cases, or even groceries, they have it all! Today we have our top picks for under $50!
Amazon Fashion


While I do love my designer pieces, there are some cute fashions I will snag from Amazon. I love this chic boho dress that is perfect to dress up or down and truly is a great transitional dress. These joggers are VERY similar to the LuLu Lemon and a fraction of the price – and how about this feminine and floral top?! Too cute!
Amazon Techie


As the years pass I'm getting more in touch with the techie in me! I am obsessed with my Roku streaming stick and this portable charger are my tops faves as far as "techie" things go. Also, Norman and I are old-fashioned and like a traditional alarm clock and this one is so MODERN! It even has a light that mimics the sun rising so you are gently woken up.
Amazon Beauty


I think Amazon is a great place to go for all things beauty. I have discovered my ALL TIME FAVORITE mascara here and it is less than $5…can't beat that!! This makeup brush is also a great find and I have gifted it to all of my girlfriends!! You can also find the PERFECT hair conditioner here and it's ON SALE!!
Amazon Home


Amazon Under $50 Shop

SHESHE'S TIDBITS
We have had what I call a "life" kind of week. Our annual trip to Key West is scheduled for Tuesday, so I flew down to Sanibel Thursday to have a few days there before our trip down the Keys. Unfortunately, Norman was exposed to COVID 19 on Wednesday so we scrambled to change up our plans. He is still in Houston and waiting for an ok from his doctor. We wanted him close to good medical in Houston just in case and to be responsible making this decision. I am going to go ahead with our plans in hopes that he can join me later in the week. This all being said, COVID 19 is perking its ugly head back up so please step up your protective game so you don't get sick. It is so disappointing but ……… Have a great week!
Have a wonderful day sweet friends!
ABOUT SHESHE SHOW
WELCOME new readers. We are a fashion/travel/lifestyle blog. We talk about anything and everything, from fashion, travel, health issues, skincare tips, to even an occasional recipe. Let us know if there is a topic that interests you. We will do our best to bring that story to you. Have a great week sweet friends and thank you for following along. Without you, we could not continue on this crazy fun journey.
Be sure to check out the Shop SheShe tab at the top of the menu bar. Hover over and choose the category in the dropdown. We try to keep it up to date with the latest and greatest for all budgets. Subscribe here and then you won't miss a post. Simply enter your email in the pop-up box or below. Also, download the LiketoKnow.It App, follow @shesheshow to shop all of our daily outfits, home, beauty, and more. Go here for our LiketoKnow.It tutorial.