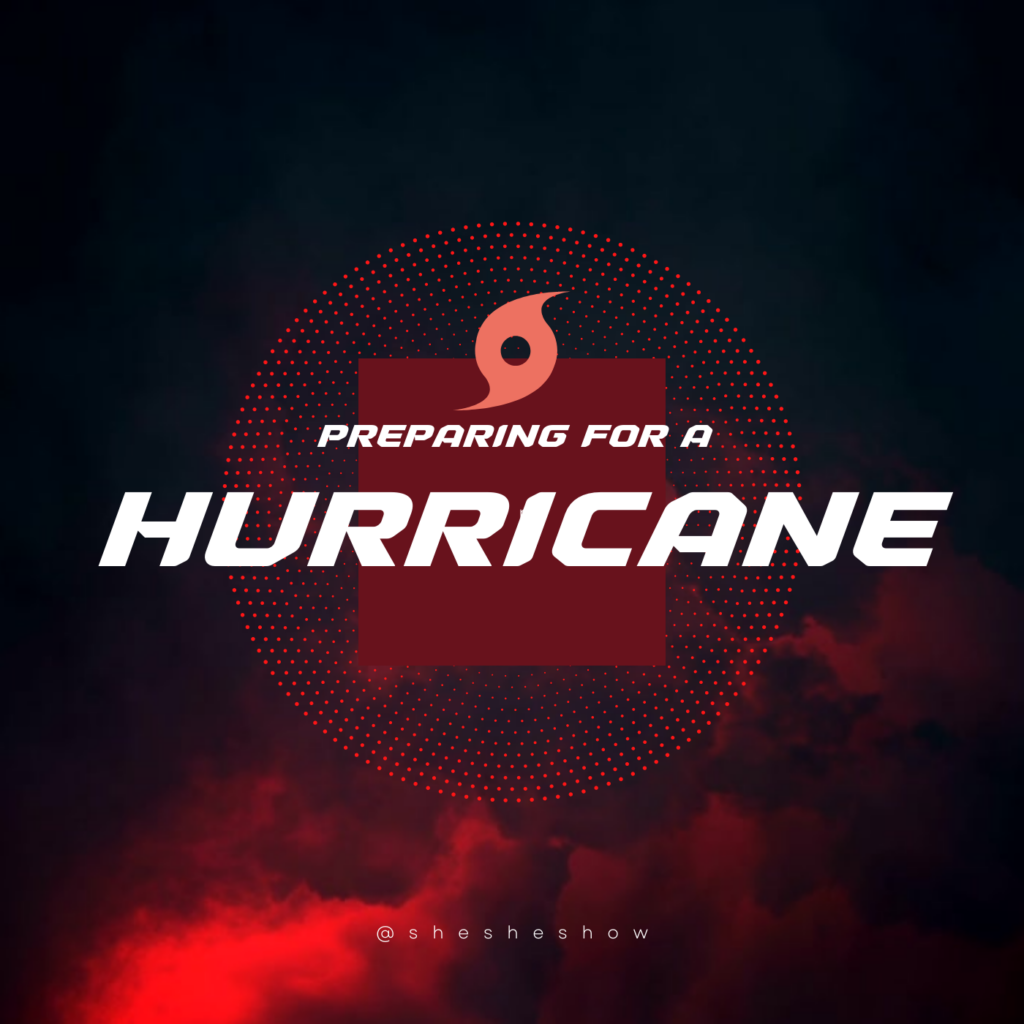 Hurricane season is here and living on the coast of Texas, I like to be prepared. Year after year, we experience some sort of hurricane or tropical storm – preparing for these potential disasters is something I have become accustomed to. Today I am sharing my tips and a few from the CDC about preparing for a hurricane or tropical storm.
Make a Plan
Hurricane season starts on May 15 in the north Pacific and June 1 in the Atlantic and the Caribbean. It ends on November 30. Before hurricane season each year, make sure you and your family are prepared by planning ahead.
Stock Up!
During and after a hurricane, you may need supplies to keep your family safe and healthy. Remember that a hurricane could cut off your power and water supply. You also may not be able to drive because of damage to your car. Roads may be flooded or blocked.
That's why it's best to be prepared—stock up on everything you might need now. Be sure to prepare the following:
Hurricane Food + Water Supply


If there's one thing we cannot survive without, that is food and water! Luckily there are plenty of healthy and tasty kits to keep you and your family nourished. This meal kit comes with 13 breakfasts and 13 dinner options including a creamy stroganoff, lasagna, to a strawberry cream wheat! None of these meals require that you have power or fire and you can eat them right out of the bag. These Redcon1 – MRE Ready To Drink Protein Shakes are also a great way to fill up fast and give yourself some nutrients. If you are lactose intolerant these protein shakes are a great option.


Water is so important and we tend to run into shortages of it during hurricane season and have even run out of water during the recovery time of a hurricane. This is when I found LifeStraw. Keep in mind, a gallon of water a day – per person. Don't forget your pets!
About this item:
Power Sources


Batteries and power sources are a MUST. I suggest stocking up on batteries for your electronics. A phone charger (this is a solar-powered charger), flashlights, and this power bank are my top 3. The power bank has it all from a phone charger, flashlight, a solid reception radio, SOS alarm, and 5 ways to connect to power. To charge the battery is simple, just wind it up and it will recharge.
Medicine + Medical Supply


A first aid kit and medicines are necessary to have to stay prepared. This First Aid Only 298 Piece All-Purpose First Aid Emergency Kit has everything you could need for minor injuries. I also love this survival kit which includes paracord bracelets, wire saw, water bottle clip, emergency blanket, flint stone, scraper, blow fire tube, 4pcs fire tinder, flashlight, whistle, saber card, survival pen, multi-use spoon fork, 2 carabiners, 4pcs fishing tools, and box.
Ready To Roll
Make sure your car is ready before the storm hits.
If you don't own a car, consider making plans with friends or family or call authorities to get a ride if you need to evacuate.
Important Documents


You'll want to make sure all of your important documents are stored in a safe place and easy to get to. These include medical documents, wills, passports, personal identification – and any other important documents you may need say your home gets flooded or any other tragedies were to occur. This Fireproof and Waterproof Document Bag was created by professionals, so you can rest assured your new document storage case will offer unwavering protection for your important possessions. I like to include extra cash because once the power is gone, so are ATMs and devices that accept electronic payments.
Home Ready!
Hurricane Preparation Shop

SHESHE'S TIDBITS
Team SheShe did start our new Facebook group page called SheShe's Shopping Network. We would love for you to join the group and join us every Tuesday night for our Live segment all about shopping trends style tips and more. It is so much fun!!
We hope to see you there!! Here is the link to join
https://www.facebook.com/groups/shesshesshoppingnetwork
Have a wonderful day sweet friends!
ABOUT SHESHE SHOW