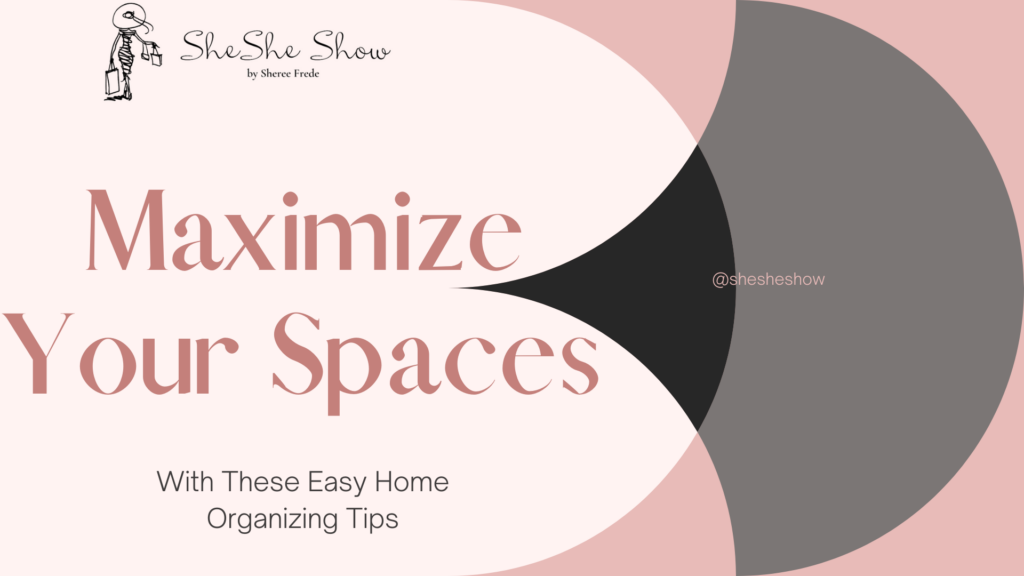 It's the time of year when we are all starting to organize and purge. When organizing, it's more than just sorting and placing in bins. Organizing those smaller – less-seen spaces is a must to have that home that feels and looks magazine worthy!
Cabinets


Cabinets are usually very easy to organize! One thing that I want to talk about with organizing your cabinets is to consider all of the wasted storage with height! Maximize your storage space in your cabinets by adding shelves and finding ways to stack your things! Above I have many great ways to organize your cabinets in every room! I really love this organizer for bottles – instead of taking up a shelf with a few bottles, stack them!
Closet


Okay, I MUST say as a lover of all things involving fashion, my closet is its own entity in itself! With that being said, I have it organized where no matter the occasion or season, I know exactly where to find what I am looking for. This is a great way to organize your jewelry and small pieces! Consider using the same storage bins and organizers in all of your spaces. Whether you need to organize your beads for crafts, socks, or serums, these little things can turn clutter if not given their own space.
Bathroom


A few years ago I organized my bathroom. WOW…I must say that was a space where I felt overwhelmed and could not believe how many products and just stuff in general I had. I purged old and expired products and gave each category its own place. To see my before and afters and also get more tips on bathroom organizing click here.
Garage


Organizing Shop
Below we have a shop that is constantly restocked and refreshed so come back and refresh and see stay in the loop with our favorite organizing tips, tricks, and items!

SHESHE'S TIDBITS
Team SheShe started our new Facebook page called SheShe's Shopping Network. We would love for you to like our page so you can join us every Tuesday night for our Live segment all about shopping trends, style tips, beauty, travel, and more to help women look and feel confident and be in the know. It is so much fun!!
We hope to see you there!! Here is the link to like our page
https://www.facebook.com/sheshesshoppingnetwork
*CHECK OUT MY INSTAGRAM SHOP TO SHOP ALL OF MY INSTAGRAM LOOKS
*YOU CAN ALSO DOWNLOAD THE LIKETOKNOW.IT APP AND FOLLOW ME ON IT BY CLICKING HERE. Go here for our LiketoKnow.It tutorial.
* STAY IN THE KNOW: SUBSCRIBE HERE to receive exclusive sale alerts, helpful style tips, and fabulous giveaways, AND GET ACCESS TO MY VIP ONLY FOR SUBSCRIBERS!
*Be sure to check out the Shop SheShe tab at the top of the menu bar. Hover over and choose the category in the dropdown. We try to keep it up to date with the latest and greatest for all budgets.
Have a great week sweet friends and thank you for following along. Without you, we could not continue on this crazy fun journey.
XOXO, SheShe