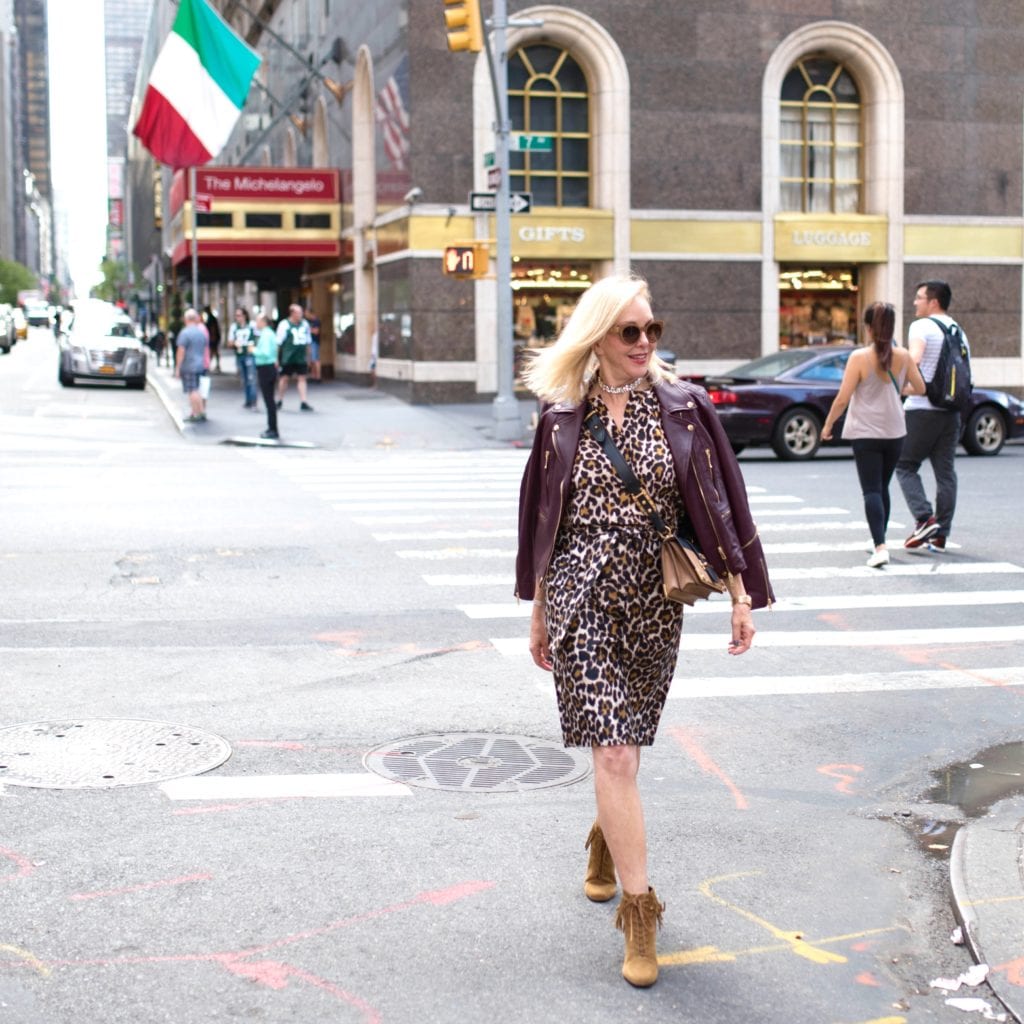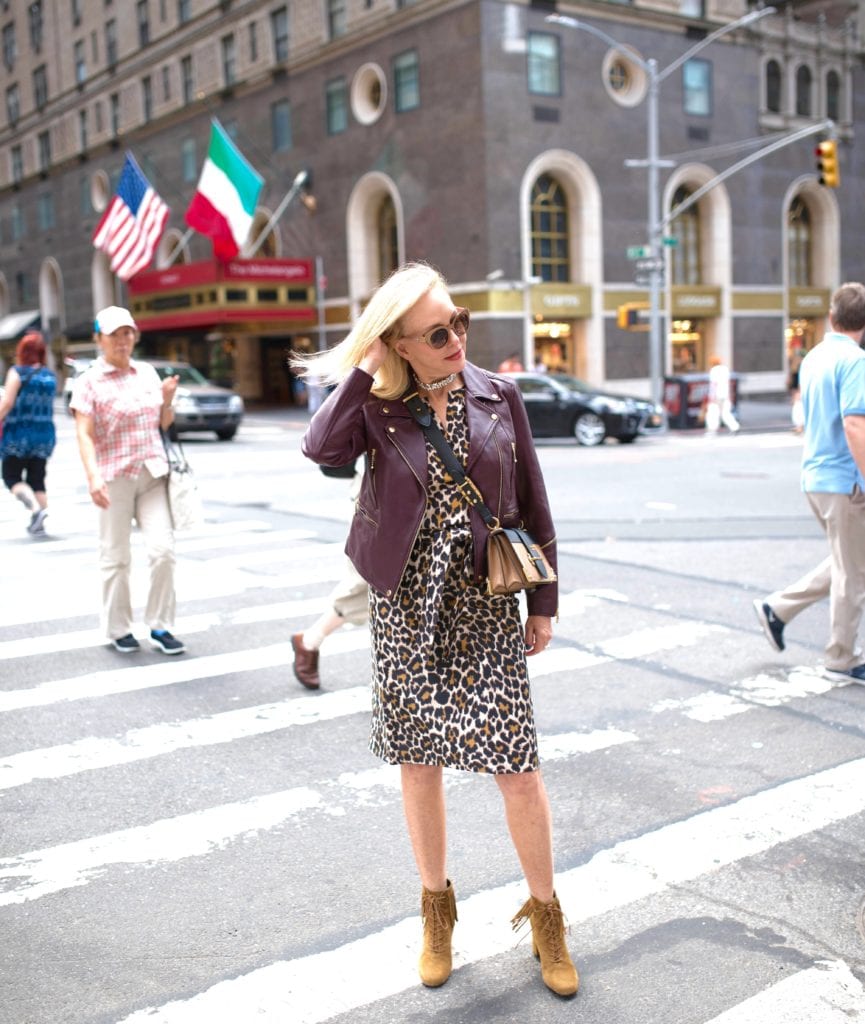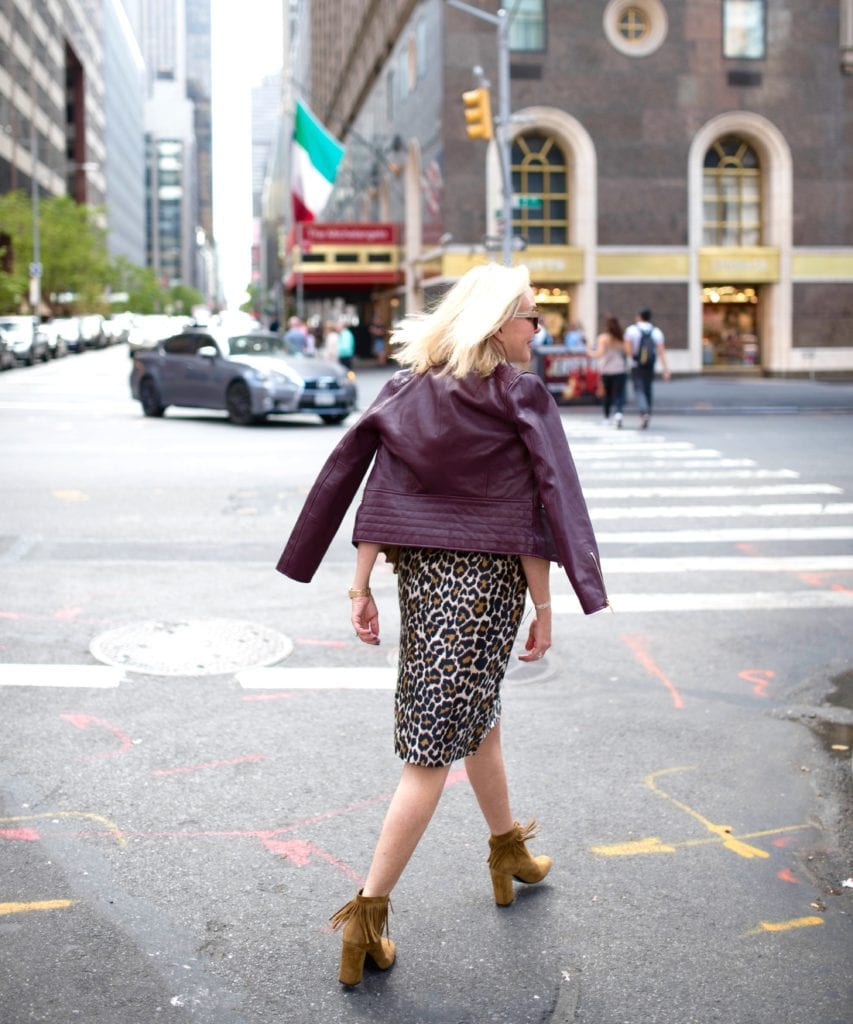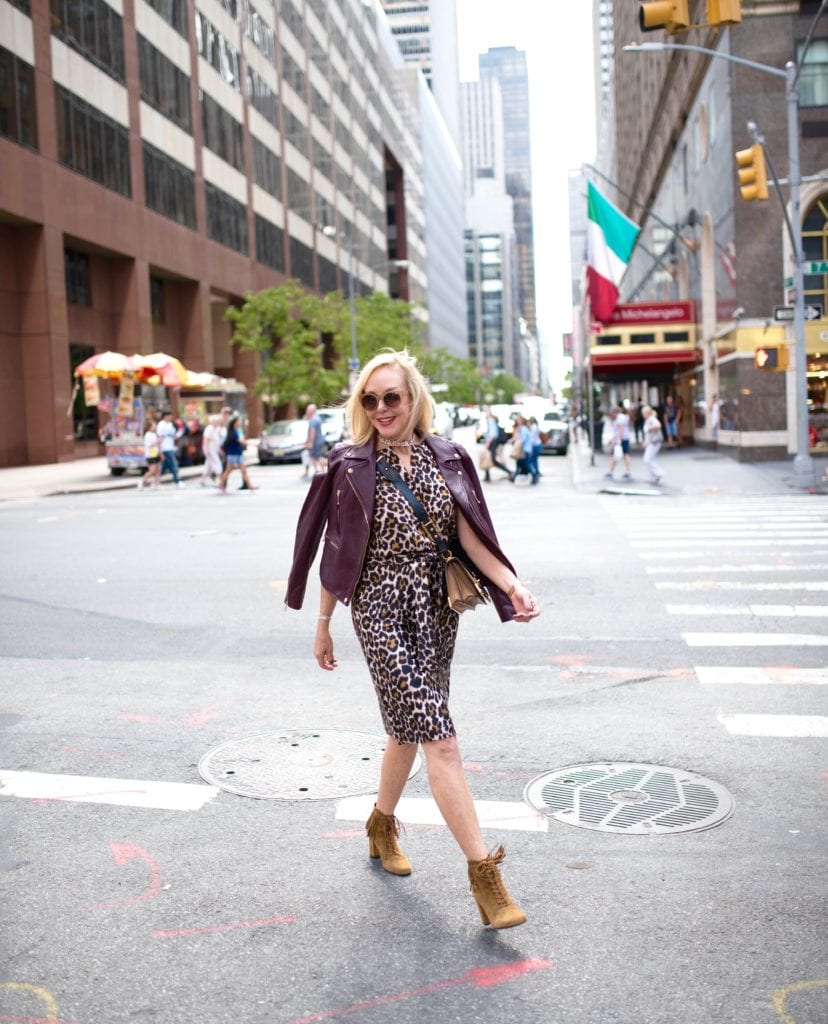 Every September buyers, bloggers, customers and editors arrive in New York city to see what the fashion designers have prepared to present on the runways and their presentations. Today I am sharing what I wore for New York Fashion Week Outfit Day 2.
Before I left for New York I was freaked out that I had packed clothes that I would be miserable in due to the hot weather forecast. I had just  purchased great fall inspired outfits to wear and that would be great for photoshoots but what to do about the hot temps?
At the last minute I ran by one of my favorite go to stores, J Crew, and found this cute leopard skirt and top that looks fall but would keep me cool while running around NY from shows to brand meetings. I love it so much that I styled it for you today. The best part about separates is that I can wear this top with jeans, black pants or a black, brown, or tan skirt. Layer the look with a leather coat as I have done here or maybe a black blazer. Everyone needs something leopard, leather and a black blazer for their fall closet basics.
Speaking of leather coats, the moto jacket is still everywhere. In additon to black we are now seeing this new trending burgundy color.
Of course I was looking for comfortable shoes to wear and I really didn't like the idea of sneakers with this outfit, so I pulled out some fringe suede booties that I purchased in early spring. They were the right choice because they gave me the comfort that I was looking for and yet elevated the look to another level. There are so many shoe or boot choices that would work with this outfit and don't be afraid to use a pop of color such as a red pump. I love red with leopard!!.
The cross body handbag is getting a new look this season. Prada showed their bags on the runway for fall a little shorter where it rests on the top of the hip.
The choker necklace is a must if: You have a good neck or If you don't like your neck then get a choker that is a little wider. Don't wear a choker if you have short full neck. It will only make your neck look shorter and bigger. If you fall into those categories then don't fret, there are a lot of options to accessorize. I need to do an accessory blog I think?????
Large Huge sunglasses everywhere. They almost make us look like Atom Ant. Do any of you remember Atom Ant? I have been wearing them, but it has taken a little getting used to. Now I love them!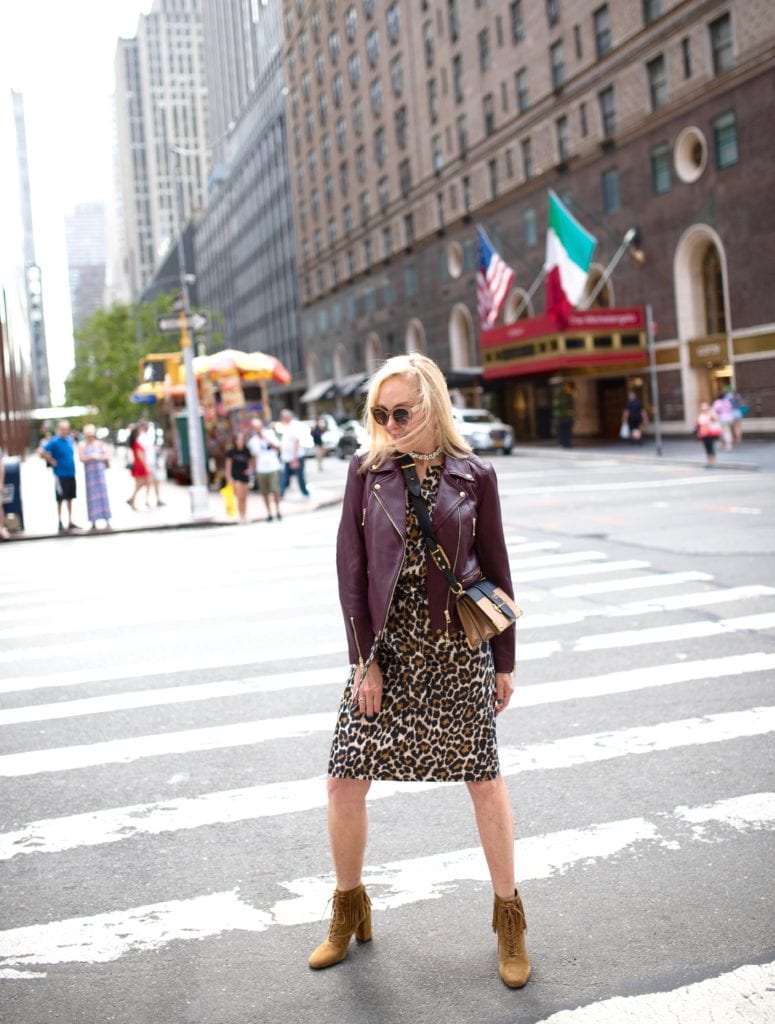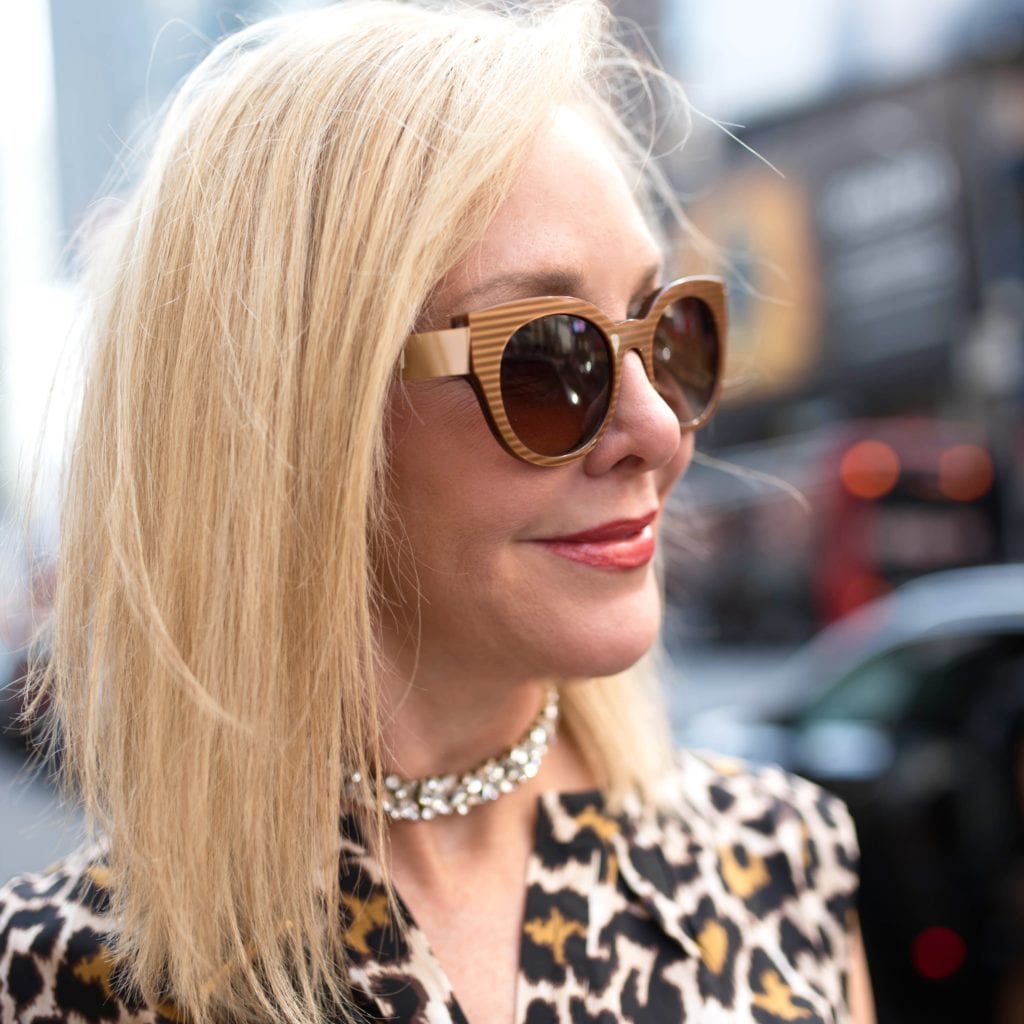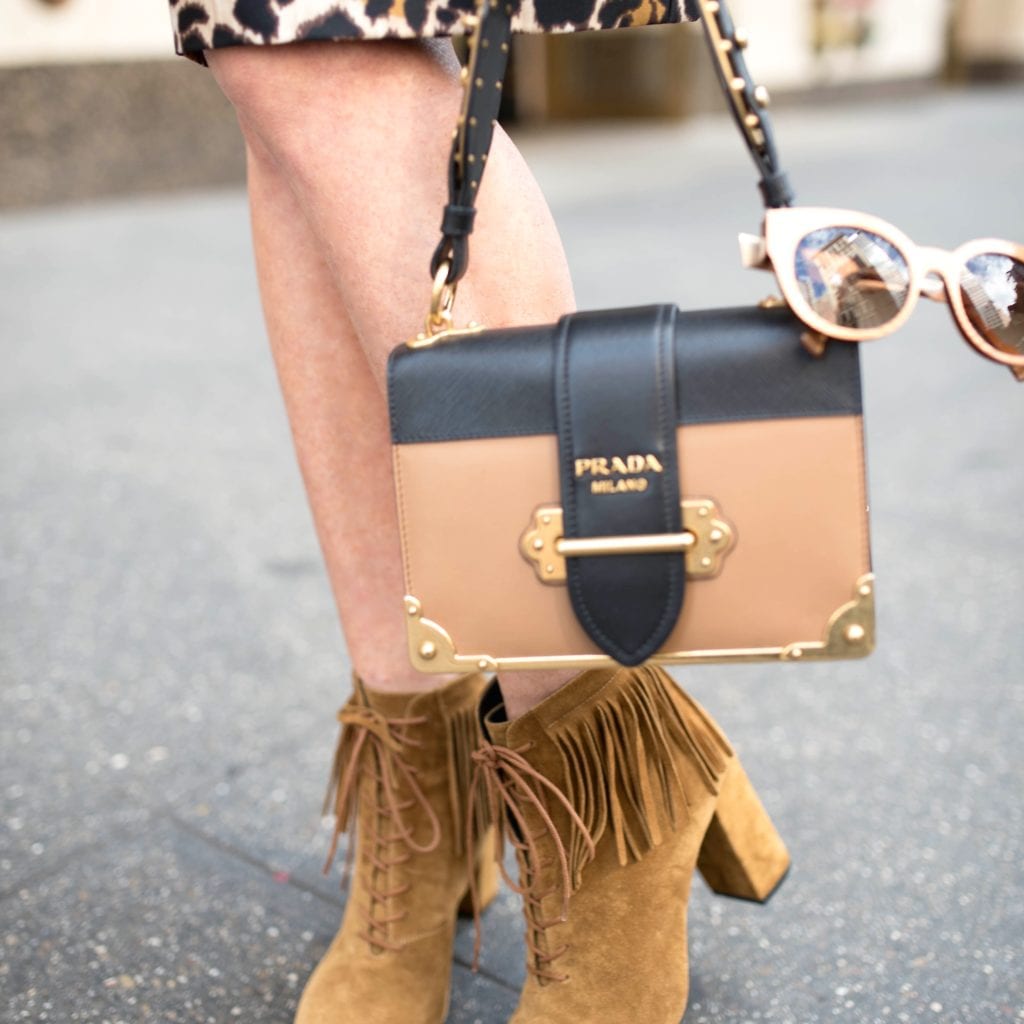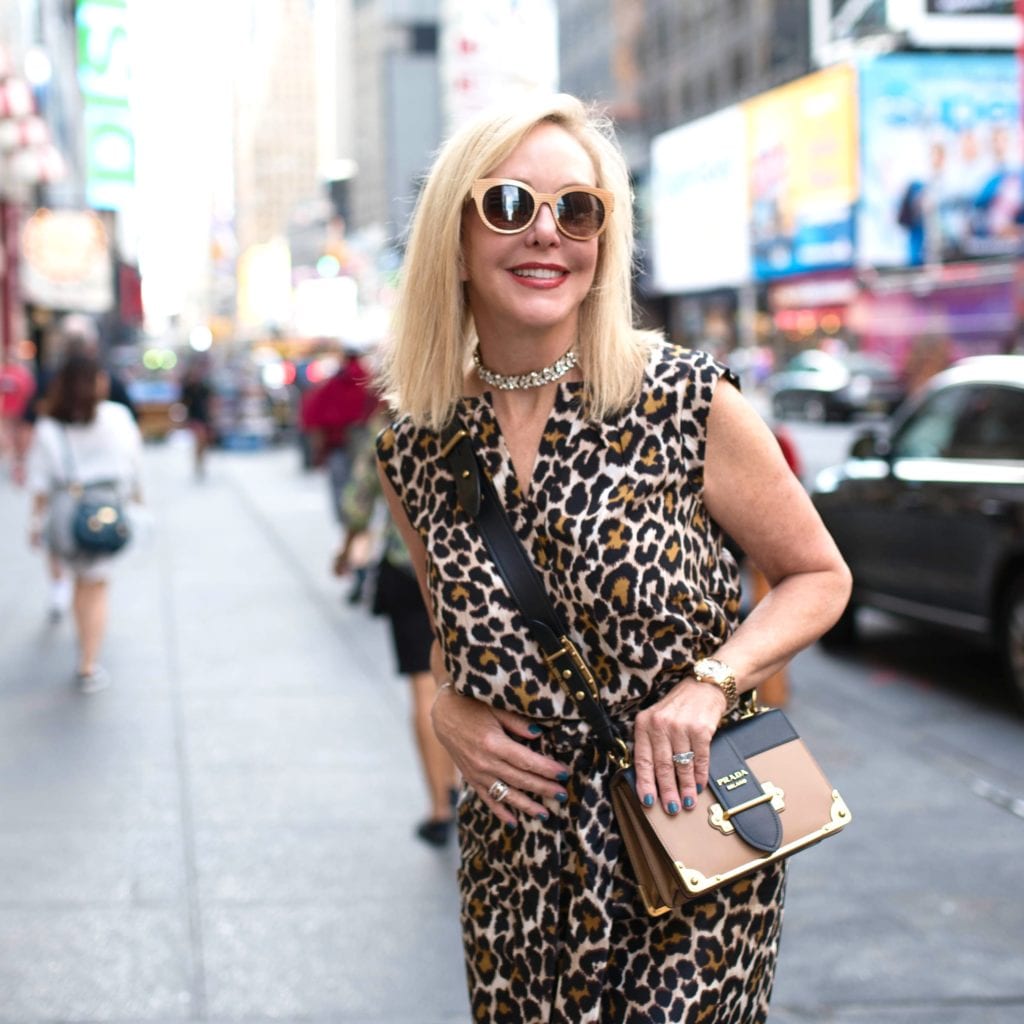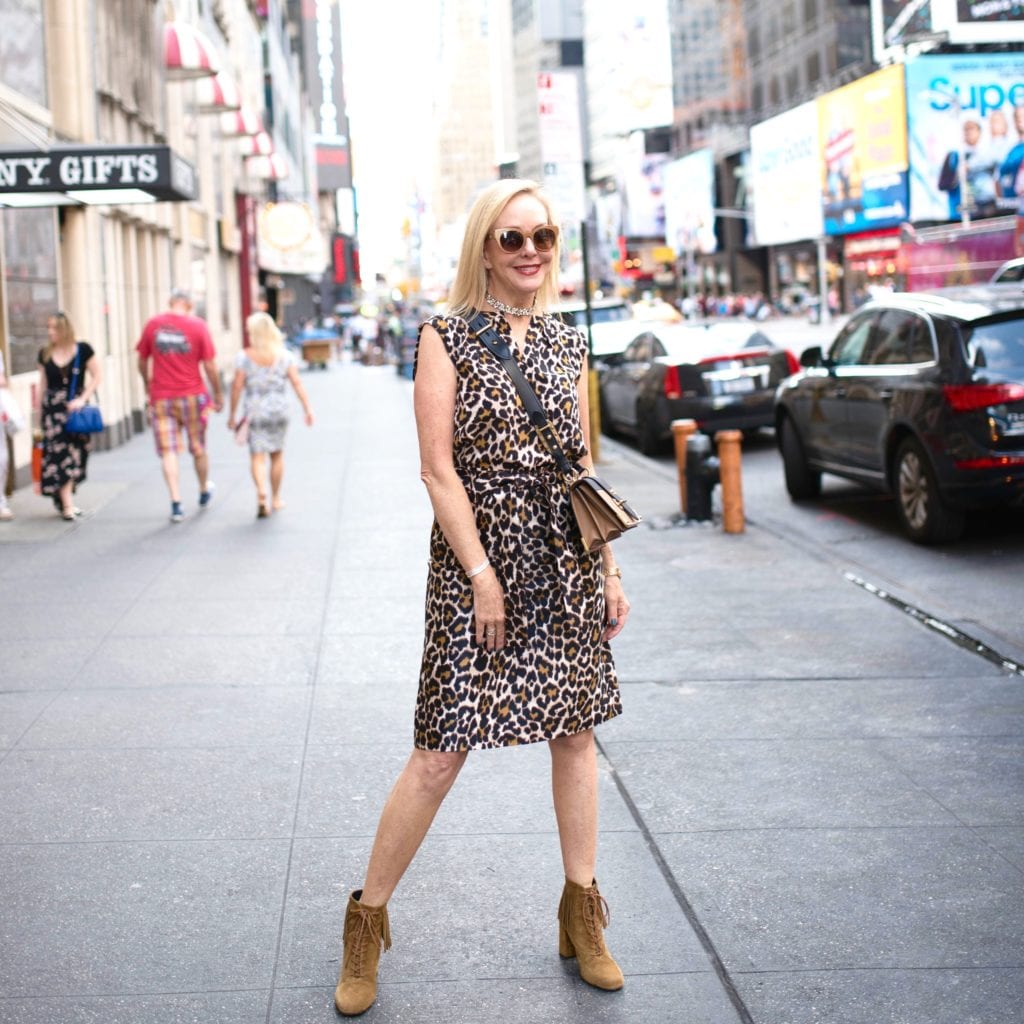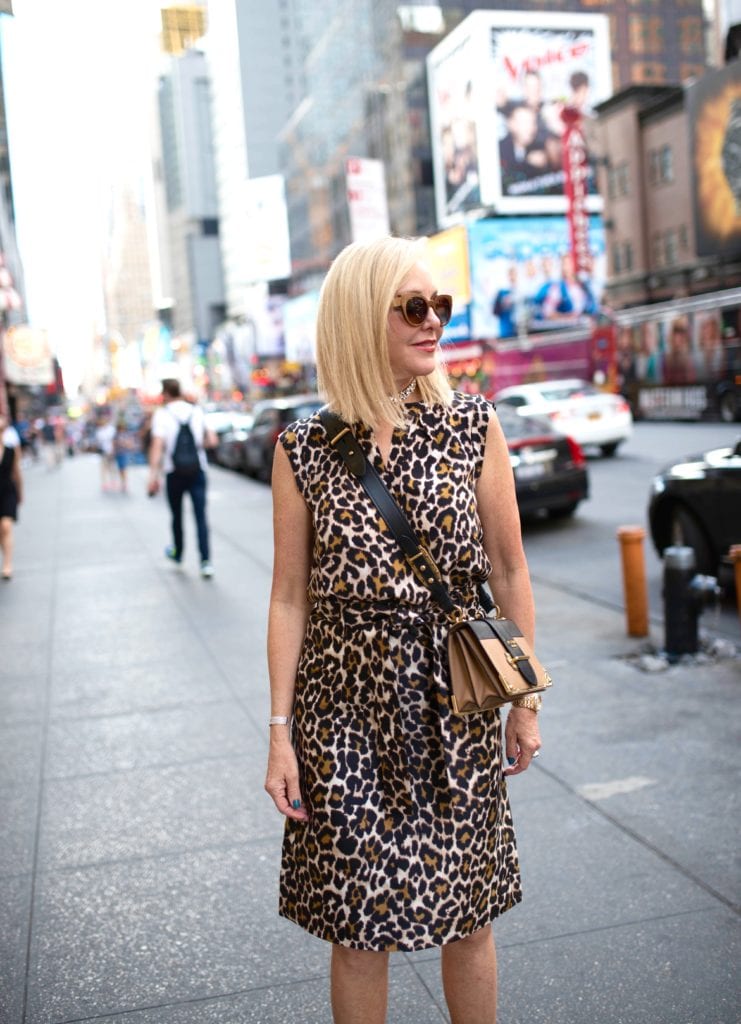 Photos by Paige Sovic http://www.paigenicollephoto.com/
Here are some other fall closet basics to incorporate into your wardrobe:
White button down blouse
Moto jacket
Black pumps
Booties
Denim jacket
Velvet anything
Silk camisole
Black, silver, gold strappy sandal
White T-Shirt
Skinny and flared jeans
Black Leggings
Structured handbag preferably in black, greay or off white.
Black blazer
Now let me remind you, these are not trends, they are basics to build your wardrobe around.
SHOP THE POST

SHESHE'S TIDBITS
WELCOME NEW SUBSCRIBERS!!!!! Most of you found me through my dear sweet friend Cathy Williamson of www.themiddlepageblog.com. She is the best!!! I hope you enjoy our show and I promise not to disappoint. If there is any topic that you would like for me to share with you then I am all ears!!! I welcome your comments as it helps me to get to know you better!! You can read my ABOUT page to get to know me a little better. I also have a blog that I wrote when I first starting blogging about My Aviation Journey. You will at least know a little of my background.
Where I Stayed While in NYC. I stayed at the beautiful 4 Star Grand Master Michelangelo Hotel located at 152 W. 51st New York, New York. ( see the red awning in the first few photos) This hotel is part of the Star Hotels Collexione and is among the best 4 star hotels in New York City. It was not cheap however it wasn't $1,000 a night either. There were 6 of us girls from Texas going together so it worked out that we each had a roommate. The rooms were great because it was large with 2 king beds, a separate vanity and walk in closet. My roommate Cathy and I never got under one another's feet. At our age, that is VERY important!!! Location was in mid town on the corner of 7th, walking distance to the best shopping in NYC and the service was awesome. We had our valet guys wrapped around our little fingers. Ha Ha! They took pictures of us and flagged down our cabs to mention a few things above and beyond.  I give them SheSheShow's best rating!!
Thanks again for stopping by!