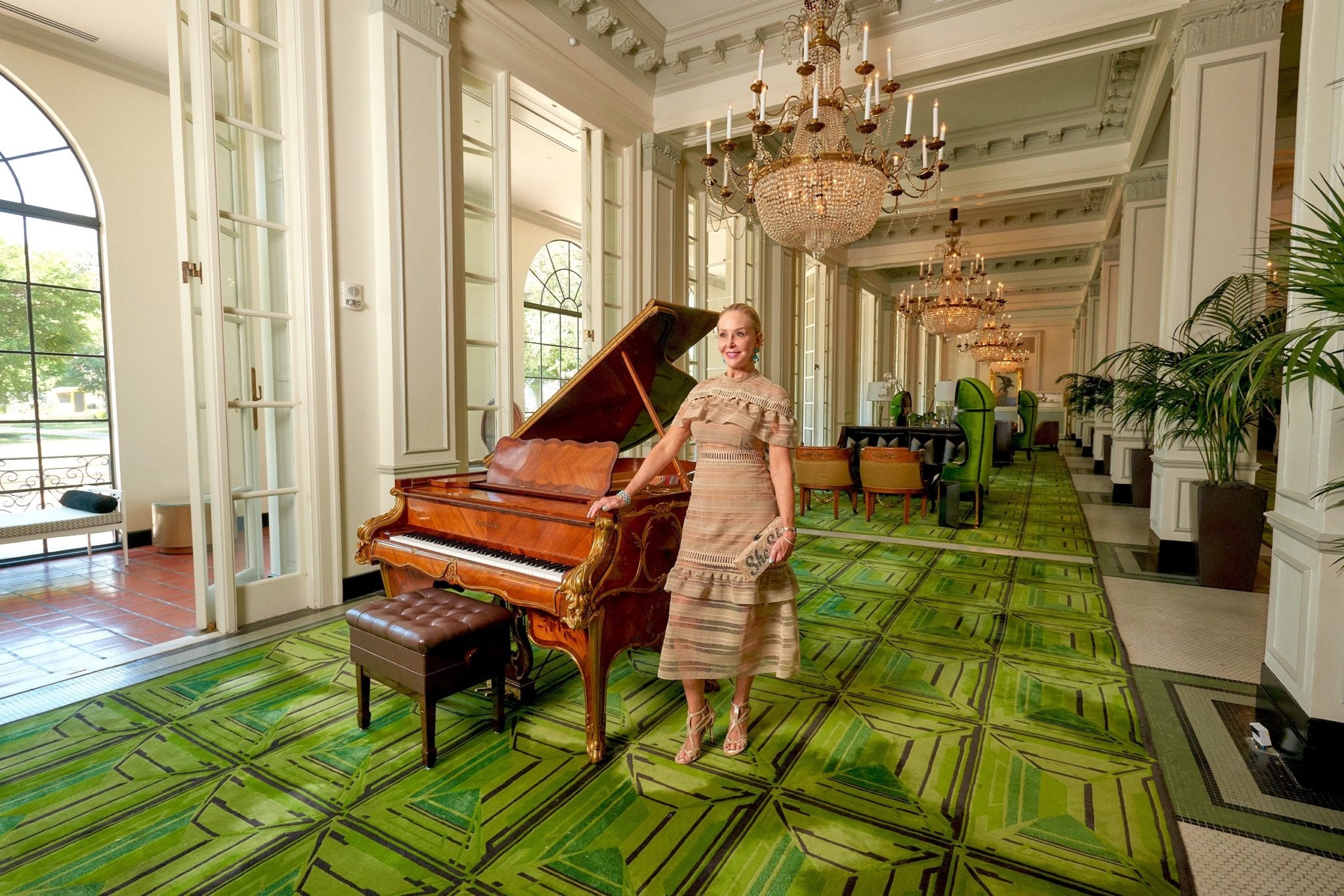 This post was brought to you in partnership with the St Anthony Hotel in San Antonio, TX
Welcome to the The St Anthony Hotel, a Texas Jewel and one of the most historic hotels in Texas located in downtown San Antonio. You must visit my new favorite hotel that is a national historic landmark and has recently been restored back to it's grandeur of the early 1900's. Two successful oil men brought a vision to reality by opening a luxury hotel to bring the best of southern hospitality to it's guests. This hotel has always been the first of so many innovative features. For example, it was the first air conditioned hotel in the world and today they still look to be the first. I loved hearing about the famous a-list celebrities, royalty, and politicians that roamed these beautiful halls, cutting deals, making for great gossip and making history.
The new owners BC Lynd Hospitality, restored this gem into a place where you will want to be seen! It is again the IT hotel hosting events like anniversaries, celebrations, fund raisers and the perfect backdrop for the most beautiful weddings and receptions. Now, with all the modern conveniences, wonderful service and only 3 blocks to the famous San Antonio Alamo and River Walk, why wouldn't you choose this place that has so much charm, grace and style!!
Last month, I was invited to an A-List wedding where the bride-to-be blocked rooms at The St Anthony Hotel for their out of town guest. After reading about it, I decided that I could help spread the word about the resurrection of this iconic place, so I collaborated with their PR firm for the hotel to bring this post to you. As it turned out, it was way more of a wonderful experience than I could have imagined.
Upon my arrival, I was greeted by social media and catering sales executive Wendy Haralson, where I got the royal tour, not to mention a nice afternoon cocktail at the "Haunt Lounge". (see photo below). This was perfect because it gave me a great overview of the entire hotel as well as some great stories that Wendy shared.
I took a lot of photos, but of course, it would be hard to publish all of the photos that I took, but you can go to The St Anthony photo gallery for many more. I also took the opportunity to use this fabulous setting for some fashion photo shoots. So, you can follow along by scrolling down the photos and I will narrate so that you can get the feel of this fabulous property and put it on your bucket list.
Starting here is the front of the hotel where it still has it's turn of the century facade. I am so glad that it wasn't changed through the years. You will be greeted by the most friendly and helpful bellmen ever. As you enter through the doors you will walk straight ahead and meet your front desk staff and check in. Just to your right are stairs that go up to the Library Cafe where you can have breakfast in the mornings.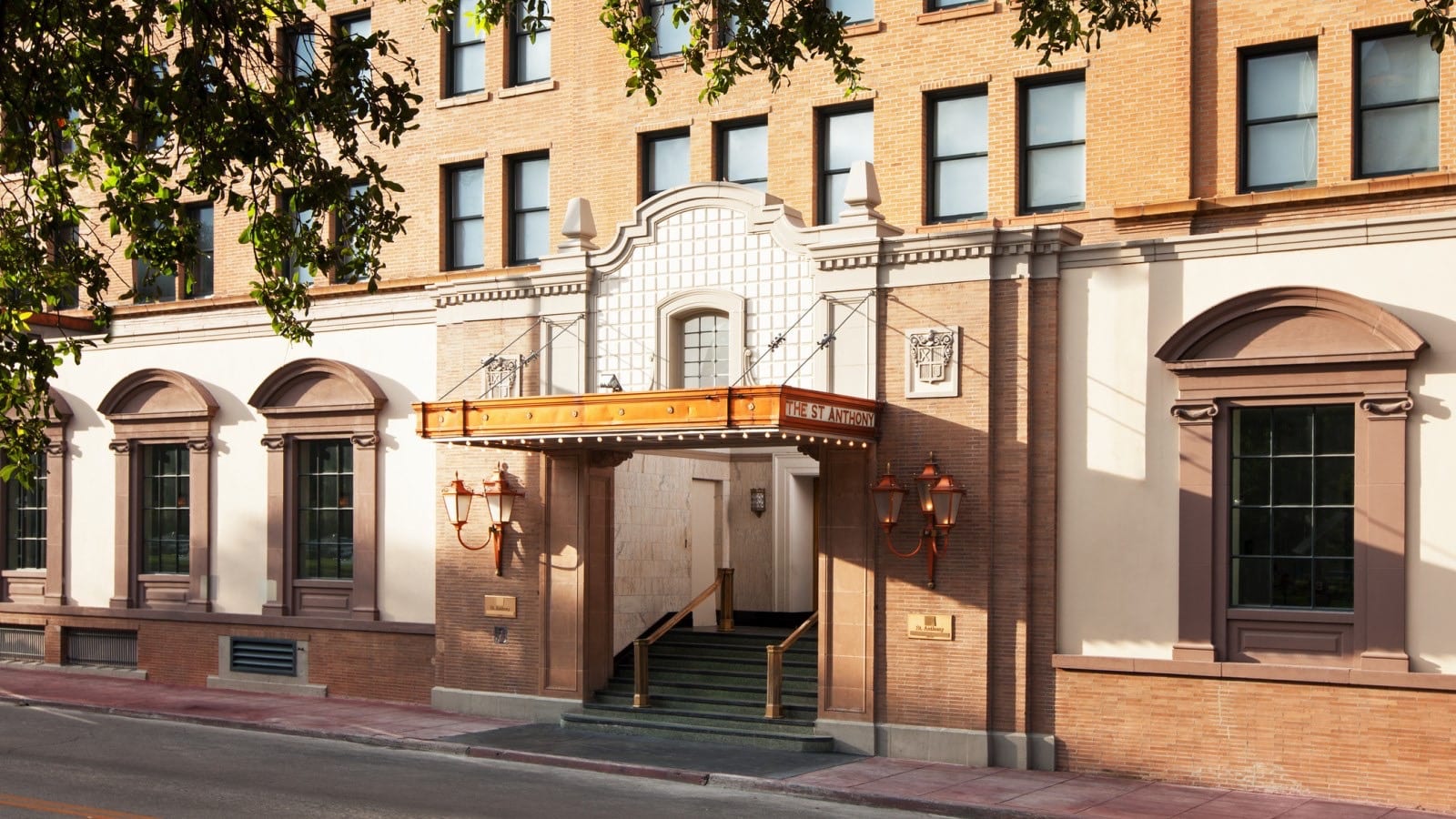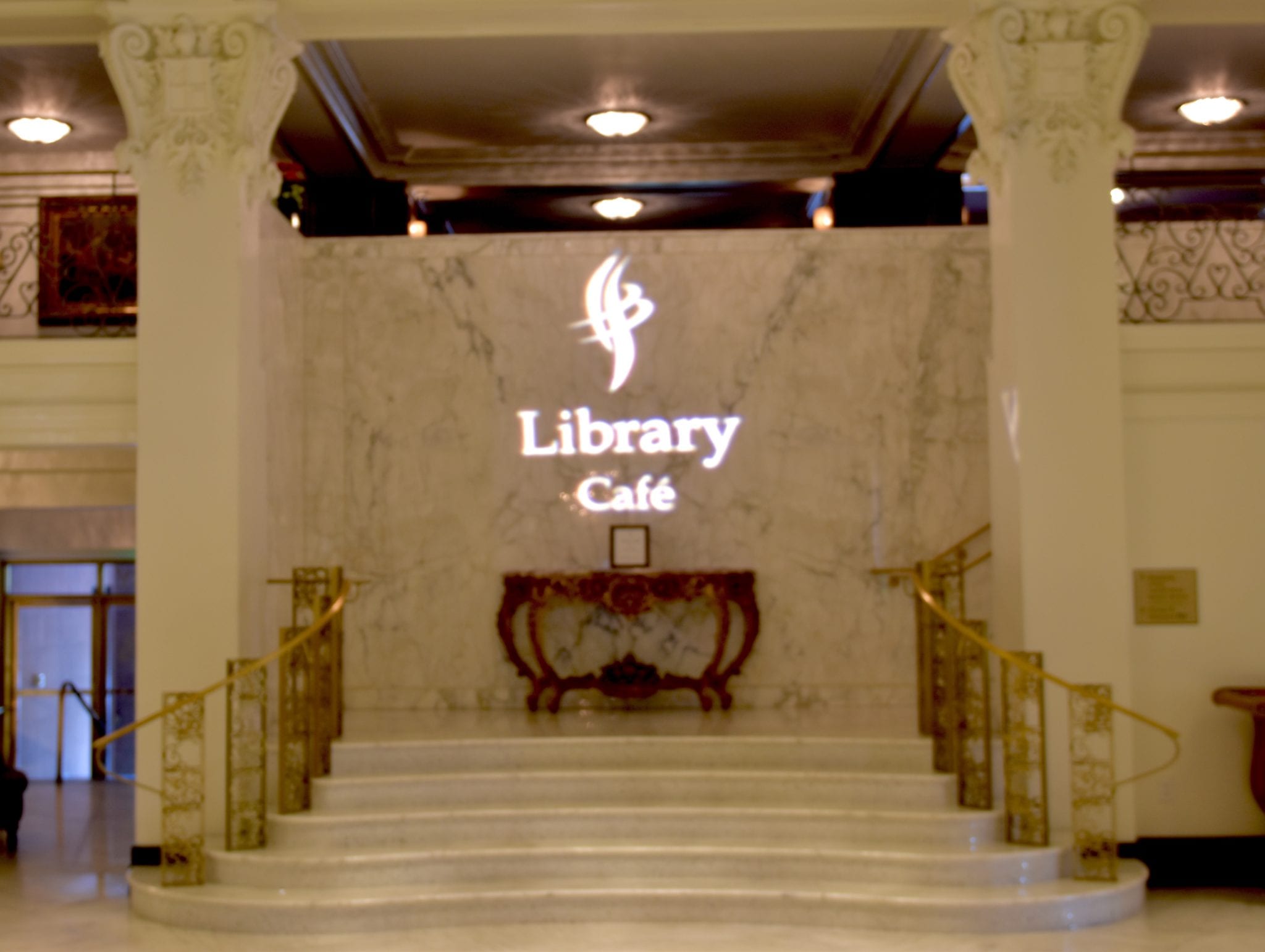 To your left is the grand hall better known as Peacock Alley. This is where the next 2 photos were taken. This was the area where the rich and famous would strut their stuff and make themselves seen. The first photo at the top of the blog was taken in this area as well. There were so many beautiful locations in Peacock Alley for my fashion photos, but the 1927 Steinway piano really lured me in and was perfect for the dress that I was wearing. (see first photo) The beloved 1927 Steinway was once a fixture of the hotel, but for whatever reason was sold many years ago and recently repurchased, rehabilitated and returned to her rightful place in Peacock Alley. Can we just talk about this piano????
You can go to What to Wear to Weddings..., Summer Trends Our Top 25 Eyelet Dresses | Tops and History of Gingham….. All 3 of these fashion photoshoots were shot at different locations at The St Anthony Hotel.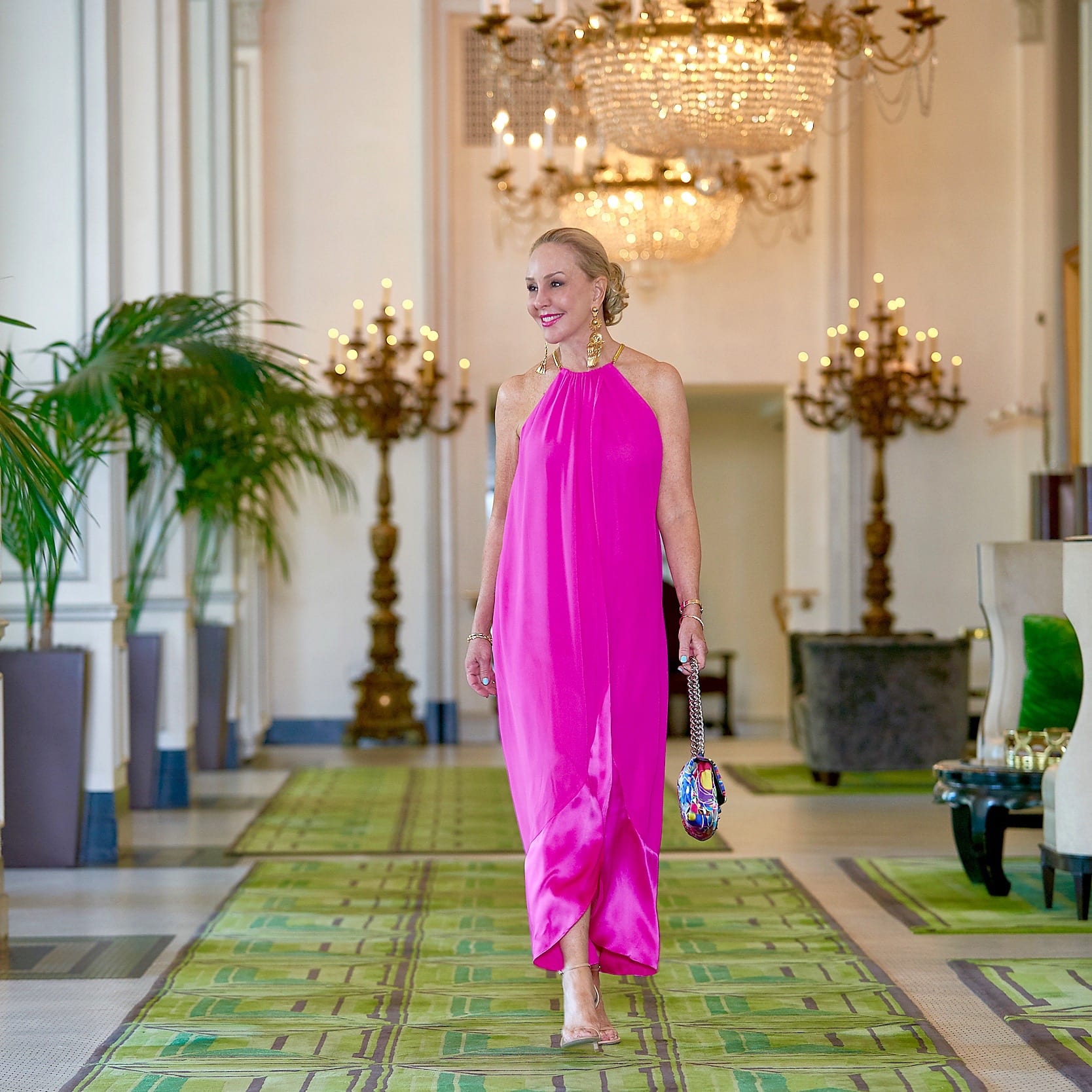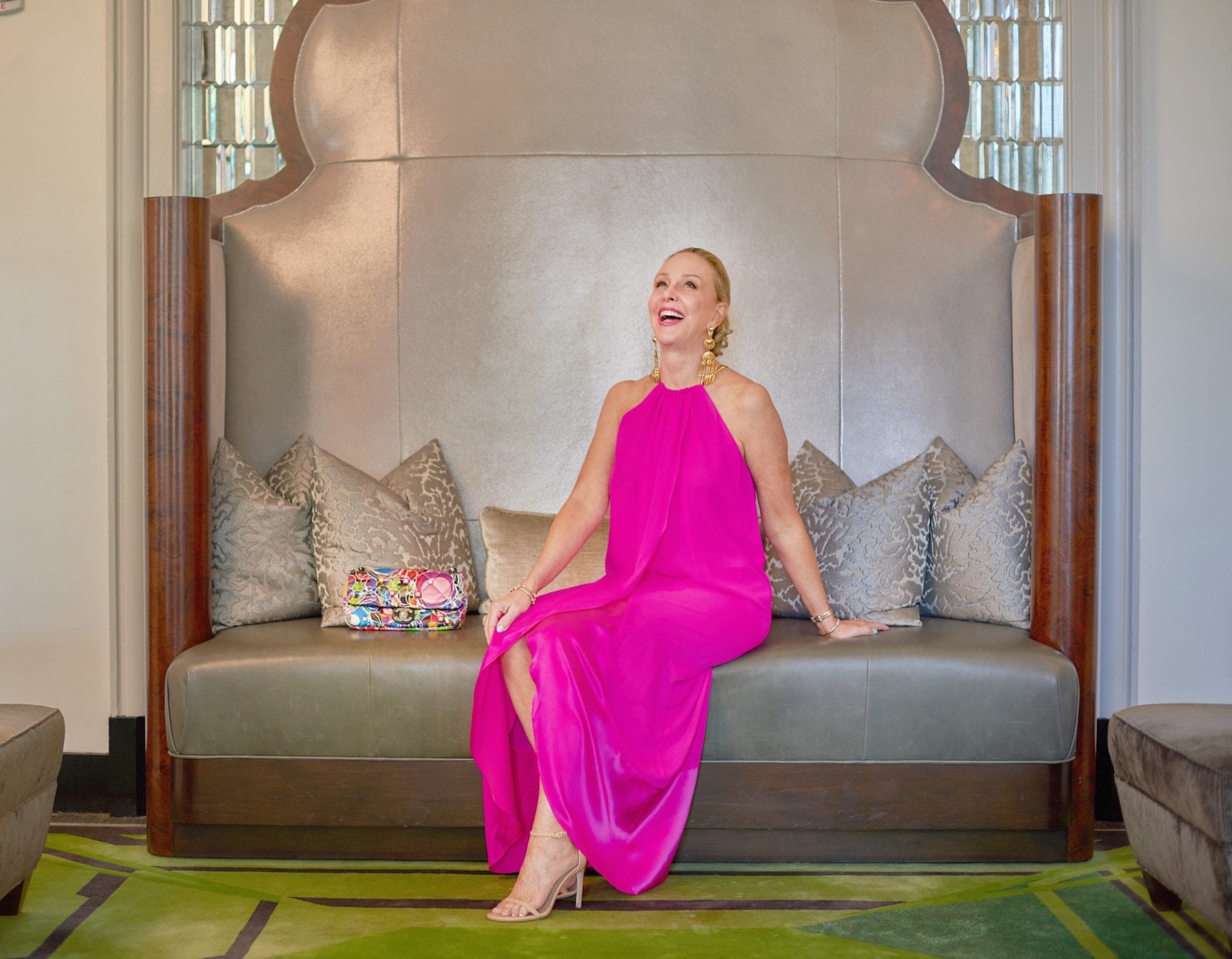 Outfit Details (pink)
Outfit Details (nude, top photo)
The 2 photos below are examples of some of the amazing lighting details. The hotel is full of Old-world interiors and in 1935 Ralph Waldo Morrison purchased the hotel. He loved filling the halls with museum-quality paintings, sculptures, tapestries and French Empire antique furniture. Even after the renovation in the 1950's, Dorothy Draper, a very famous decorator gave the hotel a "traditional, with a hit of modern" look that can still be seen today in the St Anthony Club. Oh and by the way, this club was where many big deals were made by oil men, business men, king's and presidents. (2nd photo down) I really did love this cozy elegant bar.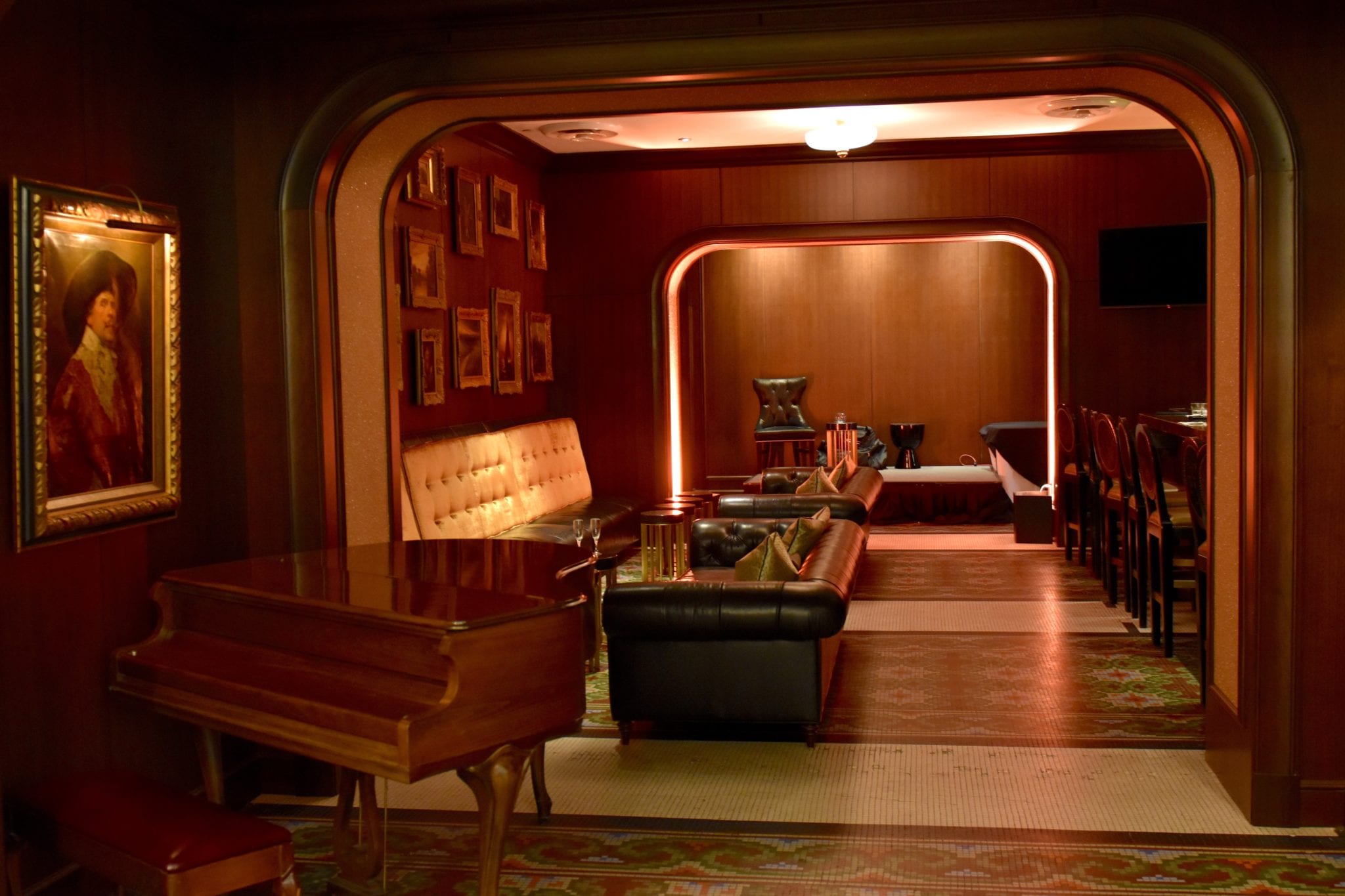 Friday evening, one of my old best friends came in for the same wedding I was attending and Wendy invited us to dine in the famed Rebelle Restaurant within the hotel. Check out the mirrored lion master piece (below) that greeted us as we entered the restaurant. The entire place had the same old world architecture mixed with contemporary accents that kept in step with the hotels decor.
Scroll on down and notice the fabulous curved staircase ascending to another dining area. Also, the beautifully decorated private dining room. Every where we looked was a lot of eye candy for sure.
We loved hearing that Chef Stefan Bowers was now the executive chef for the Rebelle and all of the other restaurants, room service and bars in the hotel. This was a real win for the St Anthony Hotel owner and guests because Chef Bowers comes with a glowing resume that includes owning 3 local restaurants and being named 2017 Tastemaker Award as San Antonio's Chef of The Year.
We were encouraged to order the shared dishes as they are a personal plate experience. Oh my goodness….we enjoyed some great fresh seafood, quail, octopus and beets all served with fresh organic produce grown locally.
The last photo in this series is our toast drinking the signature drink at the very cool Haunt Lounge. I do believe that this name was derived from old tales of ghosts wandering around the hotel. Obviously….nice ghosts. Check out some stories here, here and here. Very interesting to say the least.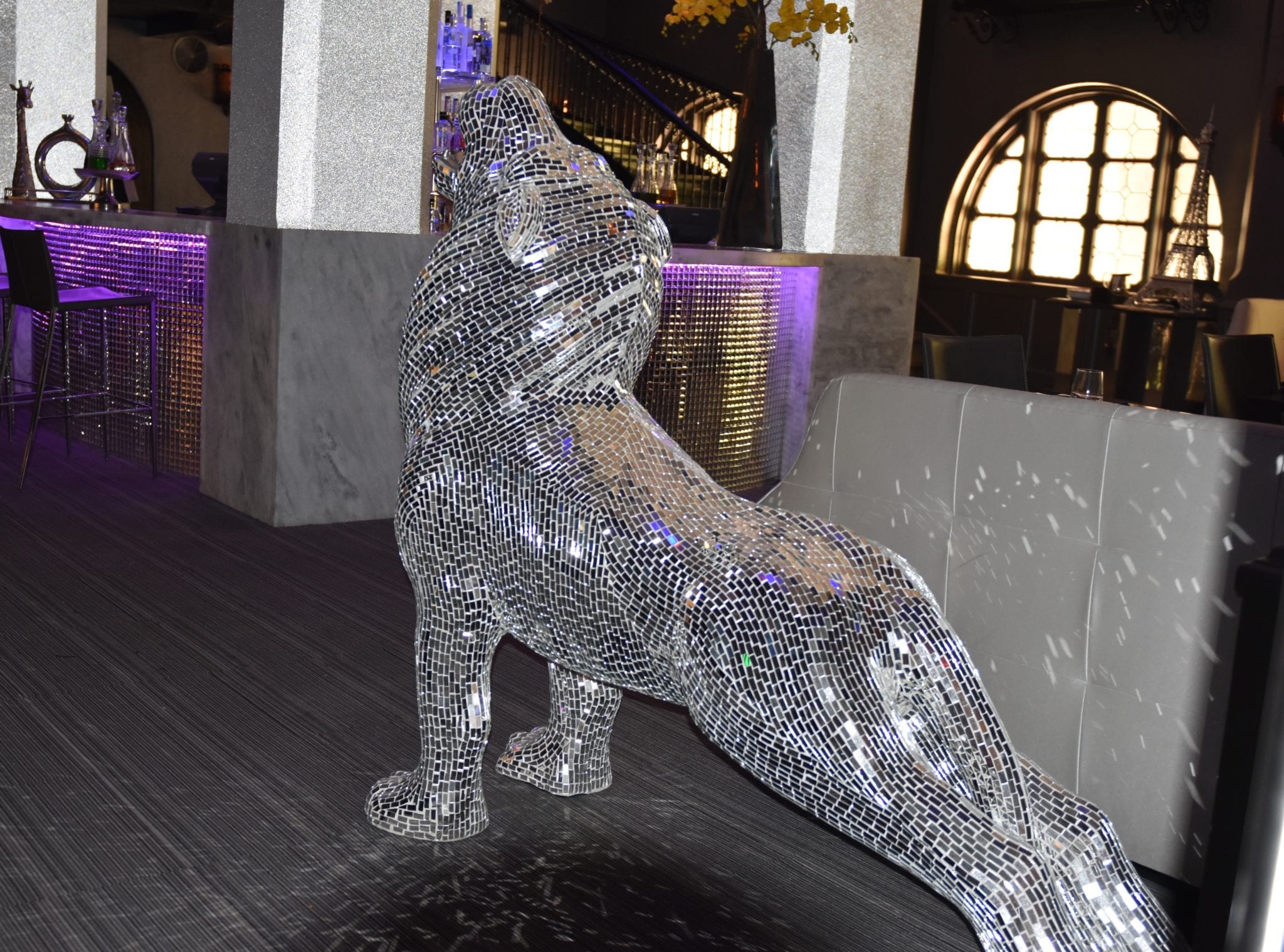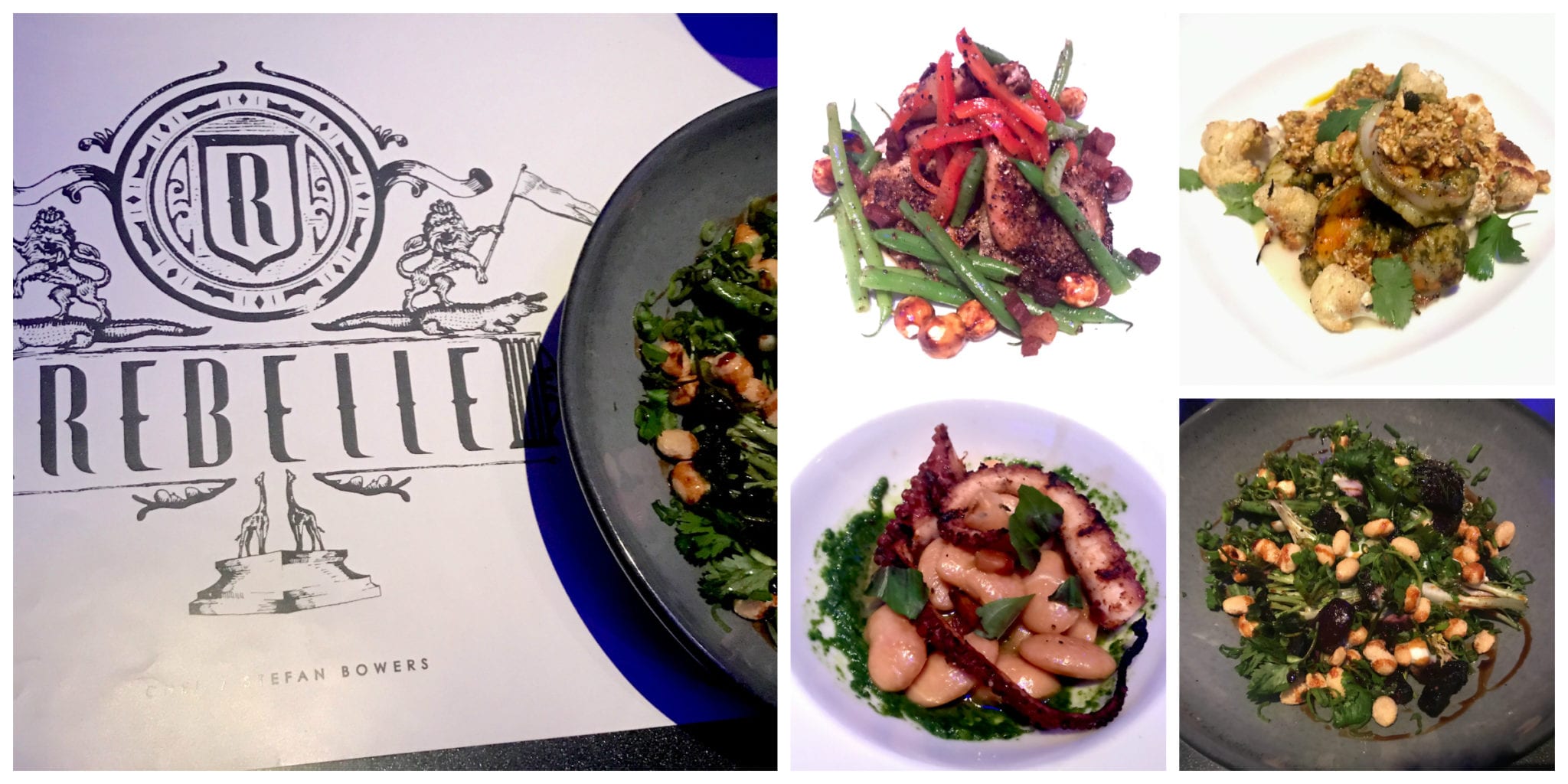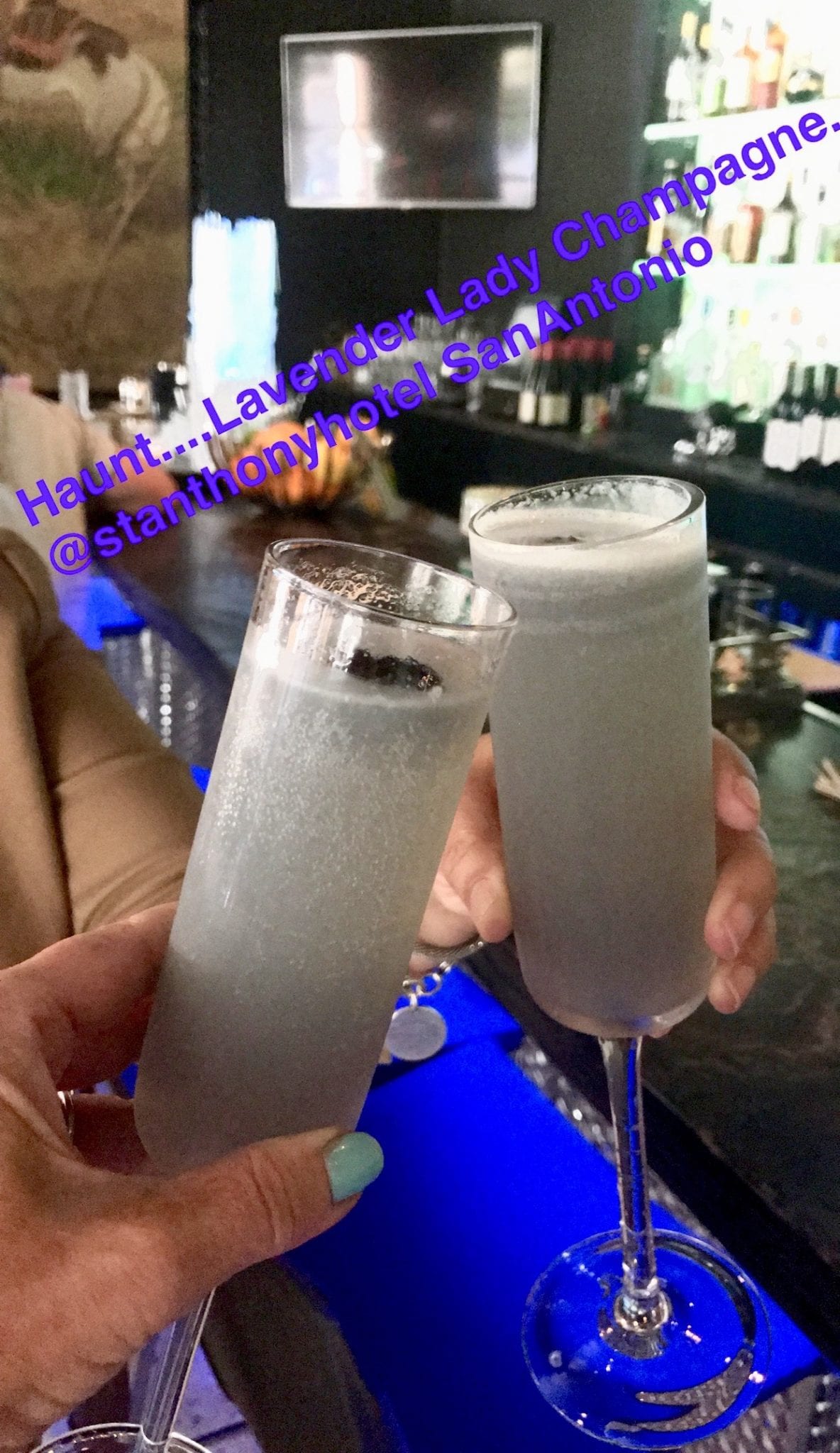 Now we are at the place in the hotel where you will see the wall of fame and photos of past kings of the "Fiesta' festival that happens every spring. I have heard about this extravaganza for many years but certainly learned more as Wendy did a show and tale describing how the St Anthony Hotel plays such a significant roll in the 11 day festival in San Antonio. Because I am the fashionista, I was fascinated with the gowns that are designed for each princess. These gowns can cost more that $100,000.00. Yes, I said one hundred thousand dollars.
I would have to write another full blog telling you all about 'Fiesta', but this article is a great read and explains so much about all of the significance of the festival and many of the events. Every year since the opening of The Saint Anthony in 1909 it has hosted the biggest parties of the year associated with 'Fiesta'.
From the article FIESTA HISTORY COMES TO LIFE AT THE ST. ANTHONY "Fiesta has humble roots in the Alamo City, beginning as a way to honor the memories of heroes of the Alamo and the Battle of San Jacinto. That commemoration still takes place, but over the past 125 years it has grown into a celebration of the growing culture and diversity of San Antonio as well."

The next photos are of the rooms, pool, fitness center and rooftop terrace. There are so many great places for so many different kinds of events you can attend or host. I was told that a spa is in the plans. YESSSS!!
When the hotel was renovated they made 2 rooms into one room, so when you walk down the halls you will see about every other door that does not operate. This allowed the hotel to offer more space and amenities that guest are wanting today.
The pool and fitness center is on the fifth floor where the view is great. They also cater to special needs in the pool. So very accommodating I think. You can also reserve a covered cabana with more private relaxation and order up drinks and lunch from the pool bar.
Scroll down for the end of our tour and more fashions.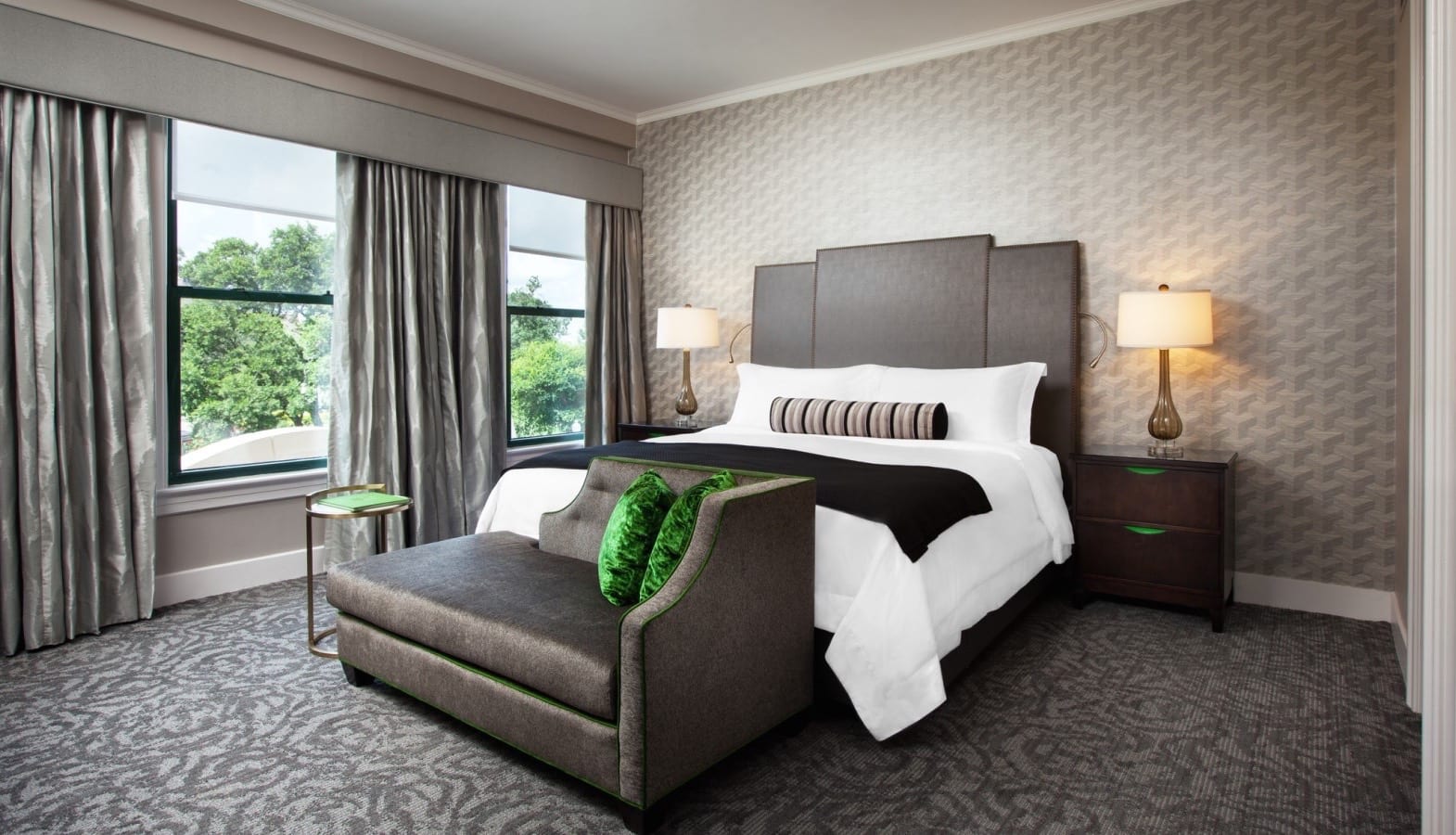 Outfit Details (above)
Outfit Details (below)


This post is in partnership with The Saint Antony Hotel in San Antonio, TX
In Conclusion
Finally we end up with the tour at one of my many favorite spots at the historic St Anthony Hotel…..the rooftop terrace. Be sure to go there just before sunset because it is absolutely spectacular. The view of the city is awesome, but feeling the love of this historical city seems so prevalent to me. The Alamo, Fiesta, the river walk but most of all the diverse influence of culture on this most cherished Texas city!
****I surely hope I have been able to give you a really good overview of The St Anthony Hotel in San Antonio, TX. As you are planning future trips, this is a great spot for a couple or a family. There is so much to do in San Antonio. I know that I am planning another one and show it off to my husband who has not been there in many years.
SHESHE'S TIDBITS
We have been in Montrose, Colorado for a little over a week and just now getting settled. We will spend most of the summer here with the exceptions of some quick side trips. I started back into my biking and did 4 miles my first day. Coming from sea level to 6400′ in elevation takes some adjustment, plus I haven't done a lot of cardio in a while. Needless to say I was huffin' and a puffin'!I am looking forward to lots of walking, fishing, hiking, biking and just enjoying the great outdoors!! We are now live on SnapChat and Instastories. Don't miss the fun. If you don't know how to do Instastories and Snapchat, then stay tuned as we have a series of tutorials planned soon for those of you that are feeling left out of the digital social world. I will say that you can get by without it all, but after you understand it's benefits, then you will love it so much.
Next up, a super exciting weekend in Los Angeles at a #Fierce50 meet up. There will be close to 30 (over 50) bloggers that follow and like each others blogs and socials that will meet each other for the first time. Wouldn't you love to be a fly on the wall????? Stay tuned as there will be lots of Snaps and Stories coming out of the west coast next weekend!!
Gala's, weddings, graduations, or just everyday wear…..we have fashion suggestions for you, so stay tuned. Be sure to check out ShopSheShe at the top in the menu bar. Hover over and choose the category in the drop down. We try to keep it up to date with the latest and greatest for all budgets. Subscribe and then you won't miss a post. Simply enter your email in the pop up box when you come to this site or at the top of this page in the subscribe box.
Welcome new readers. We are a fashion/travel/lifestyle blog. We talk about anything and everything, from fashion, travel, health issues to even an occasional recipe. If there is a topic that you are interested in, then let us know. We will do our best to bring that story to you. Have a great great week sweet friends and thank you for following along. Without you, we could not continue on this crazy fun journey!