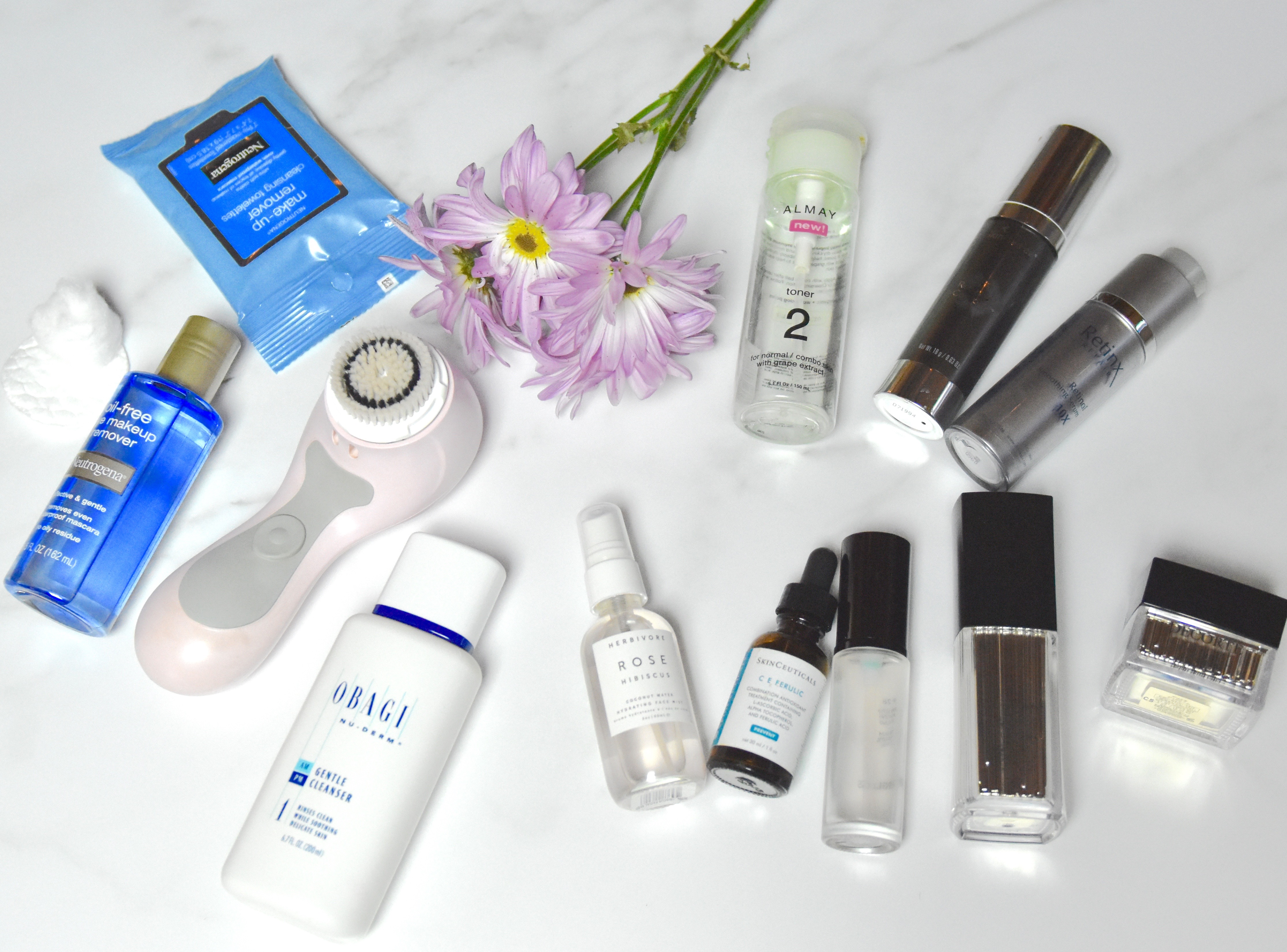 Hello friends, We did it!! This video is done today, meeting one of my goals for this new year. I am still struggling with mistakes along the way, but it is part of this learning process, so please be patient with me. I often have questions on what I do to keep my skin looking youthful as possible. There are no miracles, but using the right products with consistency can certainly help. Today I will be going over my night time skin care routine for over 40 skin.
 We have committed to posting once a week on YouTube, so if you like to watch vieos, then please follow us www.youtube.com/shesheshow. It is so much fun and you definitely will not want to miss out.
When doing this video, I did leave out a couple of important steps.
First, I forgot to mention an eye makeup remover. I love Neutrogena's oil-free remover and also their remover towelette's for travel. It is gentle and does the job!
Secondly, I left off under eye cream and I never forget this step. We linked 2 options for you. (When you see the indention under Featured Products, that is where we have given you an option. We love both the brands.)
I forgot to mention that I sleep with a silk slip mask over my eyes ever night. It helps prevent deeper wrinkles. The item linked was listed in January's Favorite Things.
There are so many great products on the market and I am always trying out new products.  The most important thing to take away from this, is to be consistent and don't miss the steps.
Robe  & Product Details
Featured Products
* Neutrogena oil-free make up remover or the towelettes.
*Clairsonic Mia 2 Skin Cleansing System
*Obagi Nu Derm Gentle Cleanser or
Cetaphil Skin Cleanser
*Clinique Clarifying Lotion 2 or
Almay Toner #2 For Dry Skin  or
*Herbivore Rose Hibiscus Hydrating Face Mist
*Skin Ceuticals C E Ferulic Antioxidant
*Skin Medic TNS Recovery Complex
*Replenix Repair 10 x Retinol Smoothing
*Hour Glass No. 28 Primer Serum
*Decorte V1 Fusion Essence Micro treatment
*Decorte Vi-Fusion Overnight Performance Cream
*Clarins 'Extra-Firming' Advanced Neck Cream or
Tula Probiotic Skin Care Advanced Neck Cream
*NeuLash Eye Lash Serum
*Anastasia Advanced Brow Enhancing Serum
*La Mer The Illuminating Eye Gel or
*Estee Lauder Advanced Night Repair Eye Serum II
*Silk Slip Mask
SHESHE'S TIDBITS
New plans for 2018 SheShe Show posts…..
On Tuesday's and/or Wednesday's, we will be doing SheShe's Showcase. A great time to discover new brands and shop.
We will be continuing Weekend Wanderings on Saturdays with all kinds of good stuff. Great reads, sports, current events and more are just a few topics. We hope you are enjoying some of our weekend posts.
Friday Favorite Fun Finds is coming soon. We are working on a few key outside contributors to bring in food recipes, DIY projects, and more…..so stay tuned as we make this happen.
And last, we will be striving to save Thursdays for our YouTube post called The Show, which will also be posted here on the blog. Beauty and tips are on our calendar!
Sunday's are for miscellaneous posts and special collaborations with brands. It would be fun to have a name here as well. We would love to hear your thoughts.
If we get good at staying ahead, then you can expect to have at least 4 days a week of content from us. 
Gala's, weddings, graduations, holidays or just everyday wear…..we have fashion suggestions for you, so stay tuned. Be sure to check out  ShopSheShe  tab at the top in the menu bar. Hover over and choose the category in the drop down. We try to keep it up to date with the latest and greatest for all budgets. Subscribe here and then you won't miss a post. Simply enter your email in the pop up box when you come to this site or at the top of this page in the subscribe box.
WELCOME new readers. We are a fashion/travel/lifestyle blog. We talk about anything and everything, from fashion, travel, health issues to even an occasional recipe. If there is a topic that you are interested in, then let us know. We will do our best to bring that story to you. Have a great great week sweet friends and thank you for following along. Without you, we could not continue on this crazy fun journey!