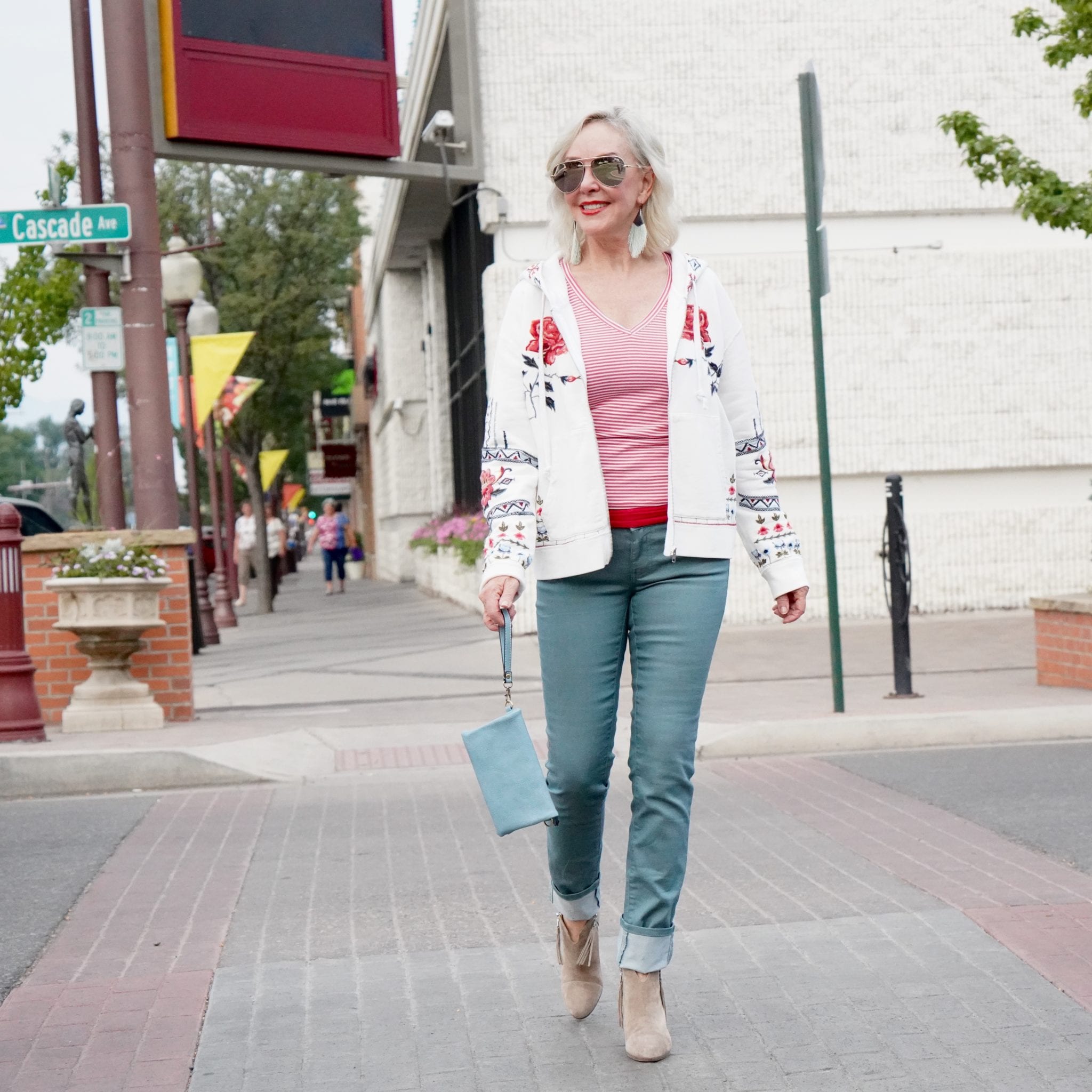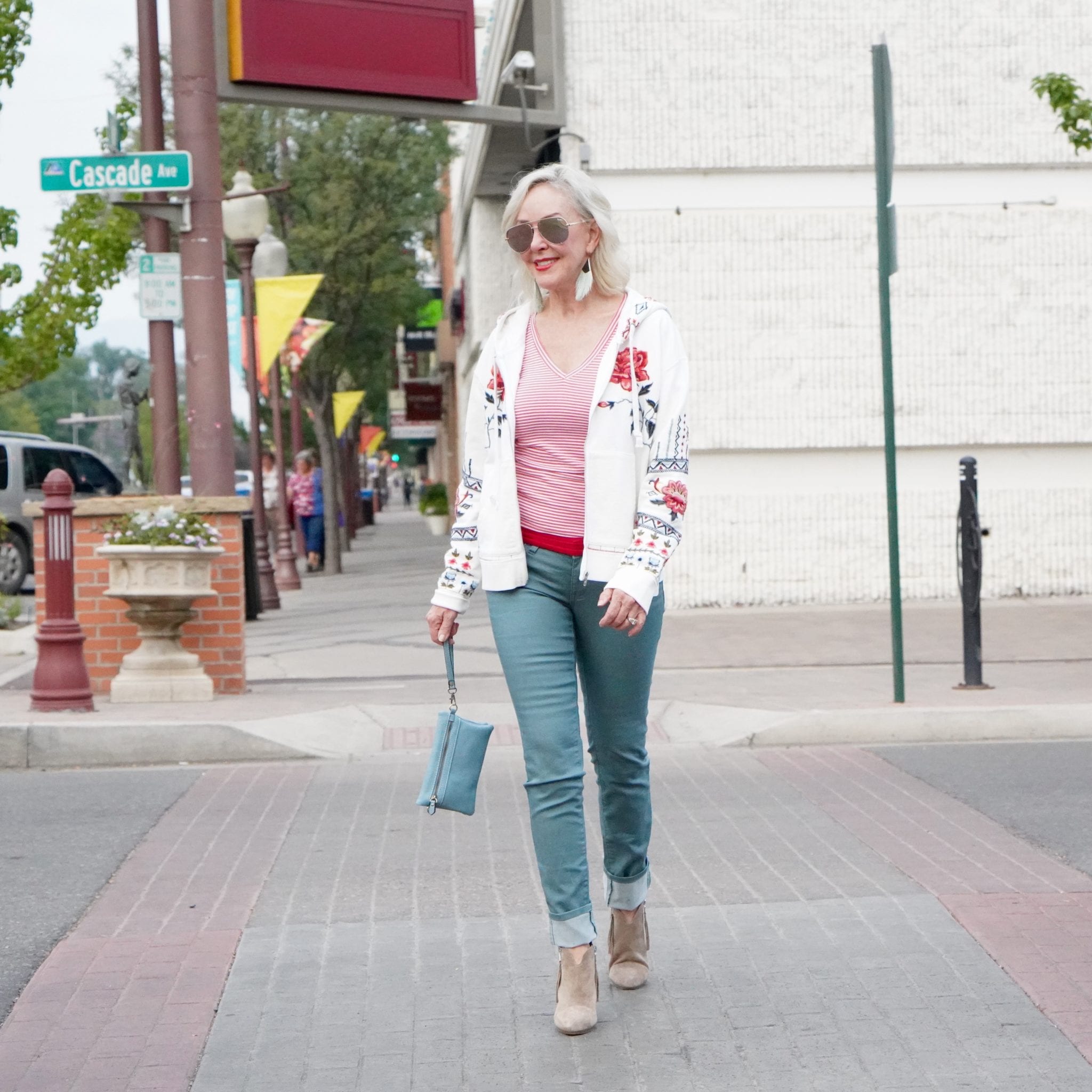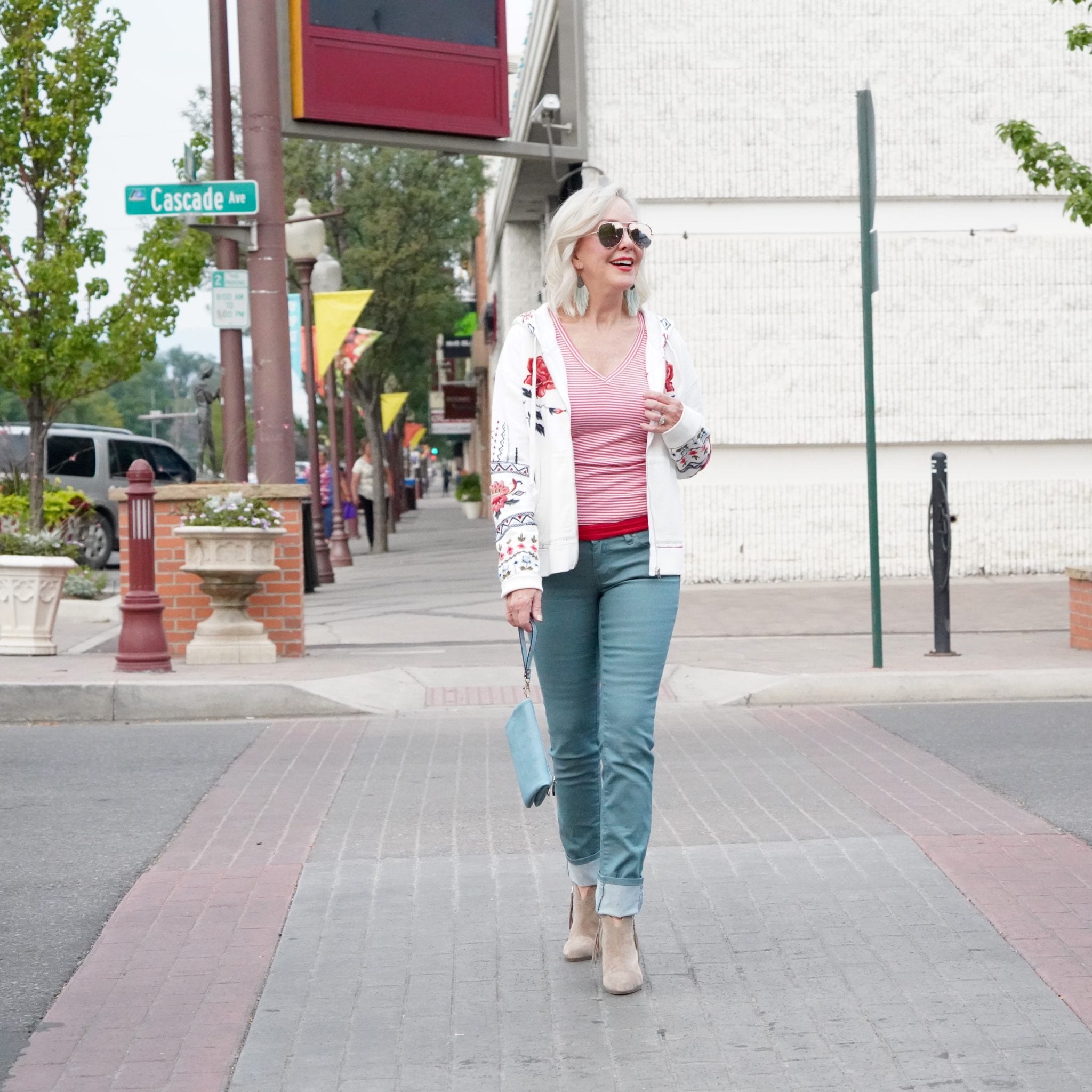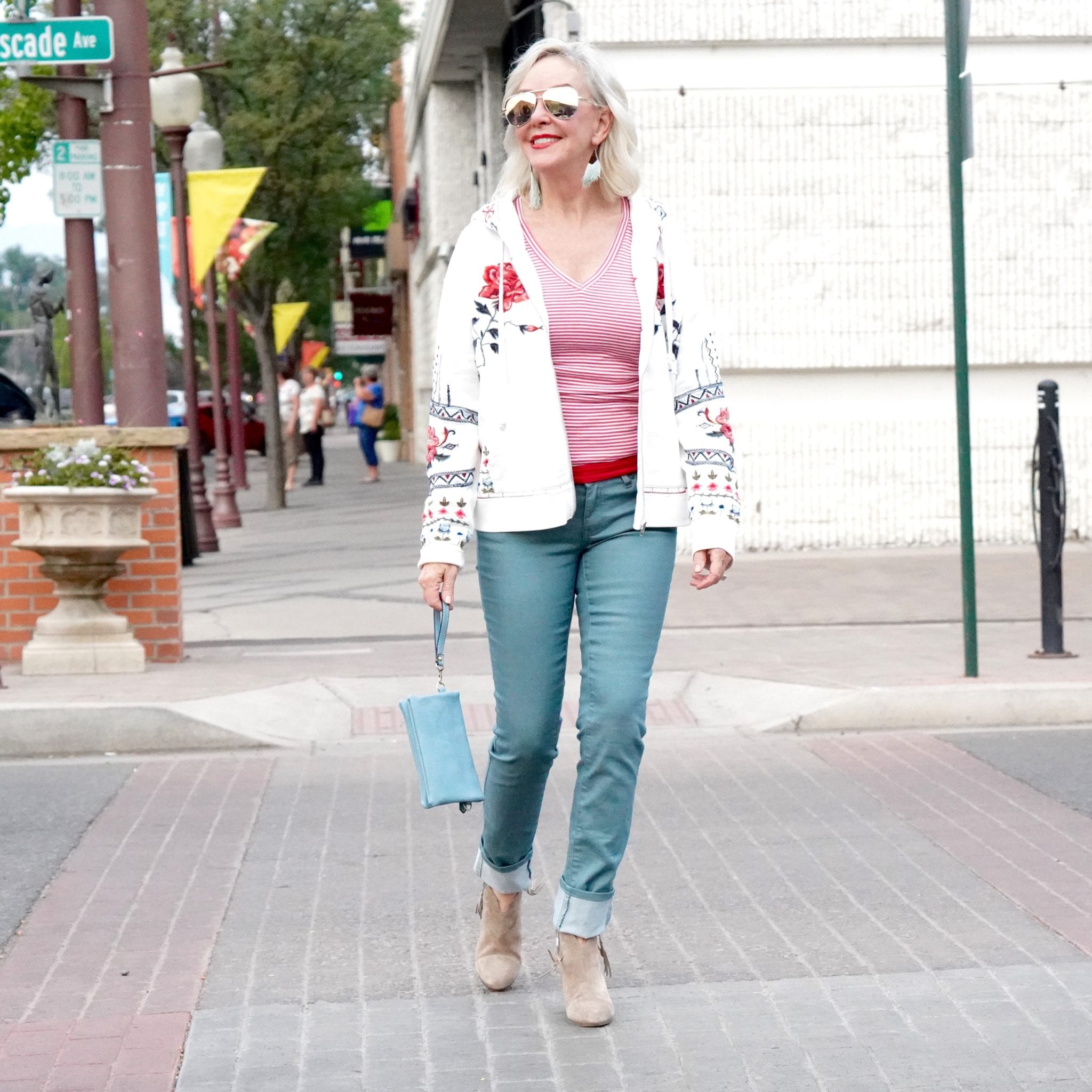 No matter how much our expendable income is, we should all have a clothing budget. Some of you do and some of you don't. For many years now, I have set a monthly clothing budget for myself. As I love to invest in high-end designer products, I still love a deal and a steal. Today this outfit looks high end, but each item is under $100 and a couple is under $50!! I bet you thought that I could not do style on a budget?
Norman and I spend part of our summer in Montrose, CO. where we have a home. I also owned and operated a cute boutique in Historical Downtown Montrose. I sold the business in 2011 but I am still the landlord and I love going in to support the current owner Kimberly. She still carries many of the lines I carried but she also finds some new brands that I cannot resist.
This outfit is from SheShe Boutique. These colored jeans are by Prana, which is a lifestyle brand. I think it started as a yoga wear brand but has expanded into a full athleisure line. These jeans have been so popular with the local active customer and the zip jacket is totally adorable & cozy with embroidery lending itself to be worn with several colors. The jeans have a great stretch that really gives your booty and thighs a really great tight feel.
Don't rule out wearing your stripe summer t-shirts from the summer on into the winter. Who made up the rule that stripe t's can only be worn in the summer. Oh, by the way…..we are working on a blog post about breaking all of the fashion rules!
Anyway, from time to time we will give you a choice deal/steal or splurge.
OUTFIT DETAILS
SHESHE'S TIDBITS
We just got back home to Houston and our flight was delayed due to the weather. Is that surprising in Houston, TX? It has been one year since Hurricane Harvey and there are so many still suffering. Today, our thoughts and prayers go out to the Eastern part of our country as Hurricane Florence approaches as a fierce storm. This weather…….???? Please Lord protect those in the path of this storm!!
Gala's, weddings, graduations, holidays or just everyday wear…..we have fashion suggestions for you, so stay tuned. Be sure to check out ShopSheShe tab at the top in the menu bar. Hover over and choose the category in the drop down. We try to keep it up to date with the latest and greatest for all budgets. Subscribe here and then you won't miss a post. Simply enter your email in the pop-up box when you come to this site or at the top of this page in the subscribe box.
WELCOME new readers. We are a fashion/travel/lifestyle blog. We talk about anything and everything, from fashion, travel, health issues to even an occasional recipe. If there is a topic that you are interested in, then let us know. We will do our best to bring that story to you. Have a great week sweet friends and thank you for following along. Without you, we could not continue on this crazy fun journey!