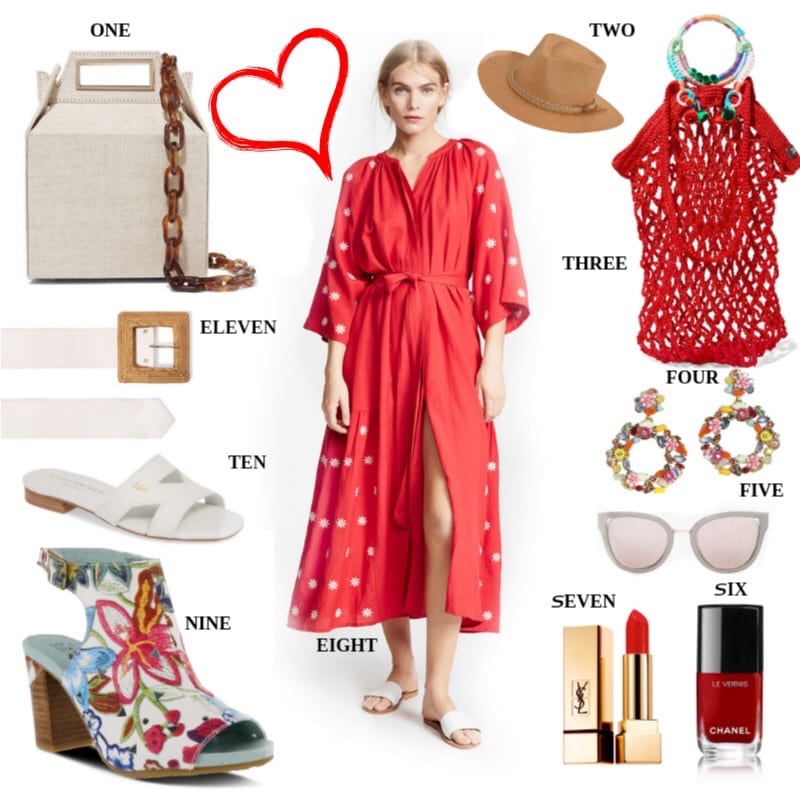 HAPPY VALENTINES DAY sweet readers. Do you know that February is also Go Red for Women Month. The American Heart Foundation started the campaign years ago to make us all aware that heart disease is the number one cause of death in the US for men and for women? So in honor of heart month, we are sticking with a red theme for your upcoming spring break vacation style.
Everywhere I go people are talking about the crazy weather and how they wish they were on vacation at some exotic beach. Some of you might be so blessed to get the heck out of dodge and the rest of us just dreaming. You know the philosophy that if you dream long and hard enough then your dream will come true. Today we have pulled together some great items that work together or would be great styled with items you already have in your closet.
First of all, besides sunscreen a hat is your best friend when you're having fun in the sun. I have so many and I usually travel with at least 2 and sometimes 4. So you are probably wondering how I travel with them? No, I don't pack them but I wear them all stacked on my head as I go through the airport. It is funny but it works and I have my hats when I get to my destination. I really love this one and if you don't mind a really wide-brimmed hat then this one is awesome and it comes in other colors as well.
Belts have been on a hiatus for about 8 years now but I am seeing them pop up all over the place lately. I am so glad I didn't get rid of mine and I have already been wearing some from my collection. If you are thinking about an investment belt then the Gucci GG belt has been seen on so many bloggers. If you don't want to spend that kind of money, then I love this one and this one as well as the one in the collage above.
I have been seeing the fishnet bag trend a lot lately. If you don't want to pay a lot then you should buy this one and get it in several colors. I added a zipper pouch to put inside for your money, id, etc. I gave them for girlfriend gifts at Christmas and didn't break the bank because they are under are under $4. They make a great beach bag or a bag to take to the market or grocery store if you are trying to be green.
Sunglasses are all over the place in style. We are seeing the cat eye, aviator, round, heart-shaped, mirrored and so on and so on. Whatever feels right on your face is the right style for you. It is all a personal preference.
IN CONCLUSION
These are a few of the trends happening, so keep them in mind as you are planning what to add to your spring and summer wardrobe. If you have any questions about what to wear to an upcoming event, then leave your questions in the comment box at the end of this post.

                
                


                    
                    
                


            
SHESHE'S TIDBITS
We are working on a couple of influencer trips that will happen in mid-March then another one in May. Planning is part of the fun when doing these types of trips. Stay tuned..…
Gala's, weddings, graduations, holidays or just everyday wear…..we have fashion suggestions for you, so stay tuned. Be sure to check out ShopSheShe tab at the top in the menu bar. Hover over and choose the category in the drop down. We try to keep it up to date with the latest and greatest for all budgets. Subscribe here and then you won't miss a post. Simply enter your email in the pop-up box or below.
WELCOME new readers. We are a fashion/travel/lifestyle blog. We talk about anything and everything, from fashion, travel, health issues to even an occasional recipe. Let us know if there is a topic that interests you. We will do our best to bring that story to you. Have a great week sweet friends and thank you for following along. Without you, we could not continue on this crazy fun journey