Do you recall when you first discovered the track suit? I think it was probably in college for me which was in the mid 70's. Today we are stepping back in time and giving you some history and a timeline on this athletic warmup suit that has evolved into fashionable streetwear. Check out a new hip brand of tracksuits that we are loving.
1960's & 70's
Back in the 1960's space-age technology in fabrics gave way for the tracksuit to make its way into sports worn before and after events. A little later in the 70's Adidas became the first brand to create the look of a monochromatic jacket and pant with a 3 stripe down the arms and down the sides of pants This is the decade when tracksuits became as culturally relevant as they were athletically.
1980's
Then in the 1980's when the fitness craze (Jane Fonda and jogging) took the world by storm is when the tracksuit became mainstream. At that time the other brands like Fila and Patagonia were buying in to the trend.
1990's & 2000's
This period of time is when pop culture & hip hop adopted the tracksuit. Jay- Z and Diddy even created their own labels making it cool to wear the same thing every day. How about Juicy Couture? They took the style but changed the fabric to a soft velour. By the late 2000s, the tracksuit trend faded away for a while.
Over the last few years, we have seen a return to the tracksuit in a big way. This iconic look works perfectly with the popularity of the athleisure trend. Designers are all showing their version as a casual chic cocktail look to an everyday comfort outfit. For me, I have found that it works so good for my travel days but I can also change my shoes and accesories and go out to dinner without feeling like I just came from the gym.
Pam & Gela ~ Brand Review
Just recently I was just looking around the internet for some track style outfits that would serve multi purpose and tripped across the brand Pam & Gela. I was all in on first look. I first bought the black set and I loved it so much that I went back to the site and found the red printed set.
They run fairly true to size. I did buy the medium but I could have worn the small. I don't like tight fitting clothes anymore so I opted to bump up a size. It is all your preference. Also, this line is a little pricey but for me, if I can get a lot of wear out of it then I don't mind spending the extra dollars. We have linked several styles at the end of the post and a couple of them are on sale.
I will wear both of these sets in several different way. I wore the red printed jacket in this post last week. I have worn the red print crop pants with sneakers as well as the leopard booties.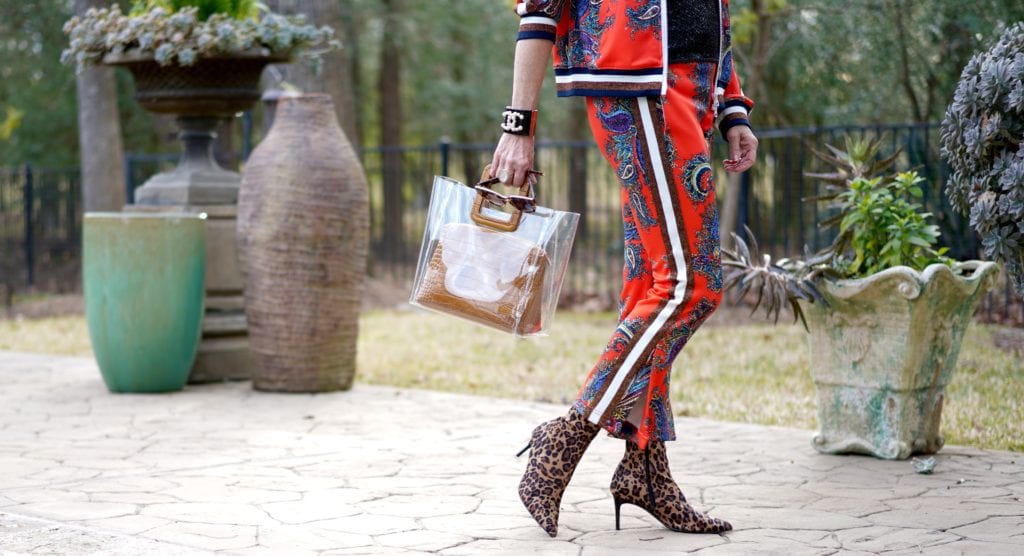 OUTFIT DETAILS
                                


                
                


                    
                    
                


            
OUTFIT DETAILS
                                


                
                


                    
                    
                


            
IN CONCLUSION
Whether you like the tracksuit look for mainstream fashion or not, it is here to stay. The designers will just keep recreating it adding a new twist. If Pam & Gela is out of your budget then check out your favorite retailers because you will probably find some really cute sets for much less.

SHESHE'S TIDBITS
We are working on a couple of influencer trips that will happen in mid-March then another one in May. Planning is part of the fun when doing these types of trips. Stay tuned..…
Gala's, weddings, graduations, holidays or just everyday wear…..we have fashion suggestions for you, so stay tuned. Be sure to check out ShopSheShe tab at the top in the menu bar. Hover over and choose the category in the drop down. We try to keep it up to date with the latest and greatest for all budgets. Subscribe here and then you won't miss a post. Simply enter your email in the pop-up box or below.
WELCOME new readers. We are a fashion/travel/lifestyle blog. We talk about anything and everything, from fashion, travel, health issues to even an occasional recipe. Let us know if there is a topic that interests you. We will do our best to bring that story to you. Have a great week sweet friends and thank you for following along. Without you, we could not continue on this crazy fun journey