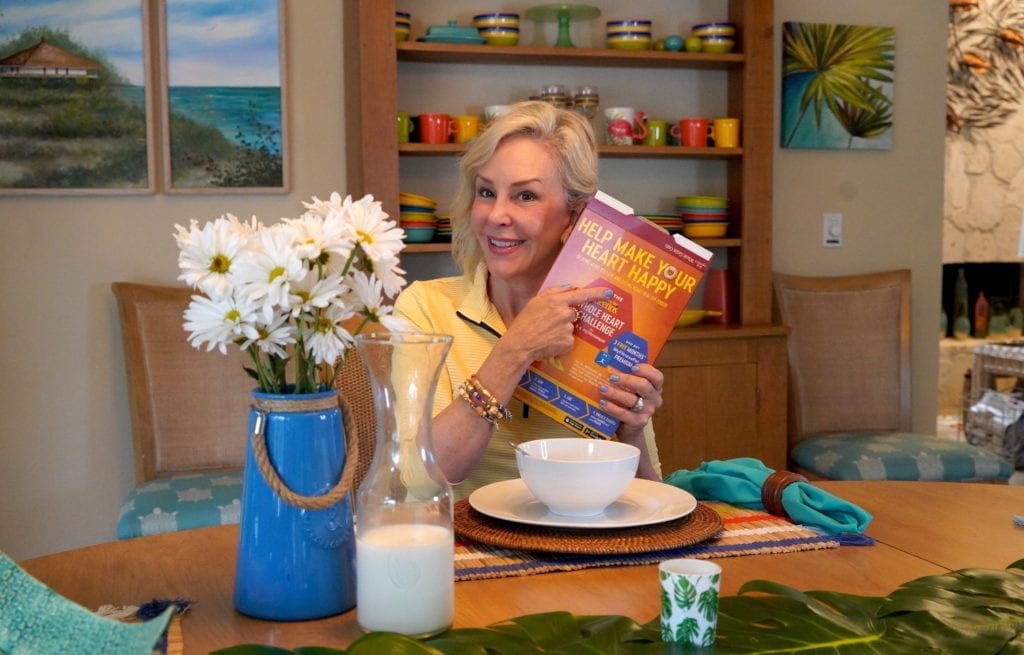 This post was sponsored by Honey Nut Cheerios. All content and opinions are that of my own.
Heck yes, I am eating and not feeling one bit guilty. Do you know why???? Honey Nut Cheerios is on a mission to inspire happy hearts and they want us to adopt simple, fun behaviors to keep us active. Heart disease runs deep in my family history so I am paying close attention to what I am doing in my life to keep my heart as healthy as possible. I can't wait to share with you how I am committed to living a happy heart life that includes eating Honey Nut Cheerios.
HEART HEALTHY FACTS
According to the Centers for Disease Control & Prevention (CDC), nearly 1 in 3 American adults have high cholesterol. People with high cholesterol have about twice the risk of heart disease as people with lower levels. To help keep hearts healthy, medical experts recommend practicing healthy living habits, like maintaining a healthy weight, getting enough physical activity and eating a heart-healthy diet wich can include foods made with whole grain oats, like Honey Nut Cheerios. (2015:cdc.giv)
Did you know that eating three grams of soluble fiber daily from whole grain oat foods, like Honey Nut Cheerios can help lower cholesterol as part of a heart-healthy diet? Honey Nut Cheerios provides 0.75 grams of soluble fiber per serving and a serving size is about 3/4 cup.
Eating the right heart-healthy foods, seeing my doctors regularly and staying active with exercise or activity that moves me is my plan of action.
HOW I LIVE A HEALTHY HEART LIFE
DIET
Fruits & vegetables – I love vegetables and most fruits. I am a salty dog so I have to work harder at eating fruits. Give me some spices and I will devour almost any vegetable. I have recently been making mango salsa to put on my fish!! Yummy!!
Lean meats – I eat just about any meat there is, but as my cholesterol numbers have bumped up in recent years I limit my red meat intake. Thank goodness that I am a big fish lover because I could eat it for every meal of the day! All of this said, given a choice ……fish is on my plate.
Cheerios – After learning about Honey Nut Cheerios Whole Heart Challenge, I now am trying to incorporate at least one serving of Honey Nut Cheerios into my diet every day. I am not much of a breakfast eater so I carry a little baggie with me to snack on during the day.
I know that my daily food consumption sounds almost perfect, but I will tell you that I still give into chips. They are my biggest weakness…..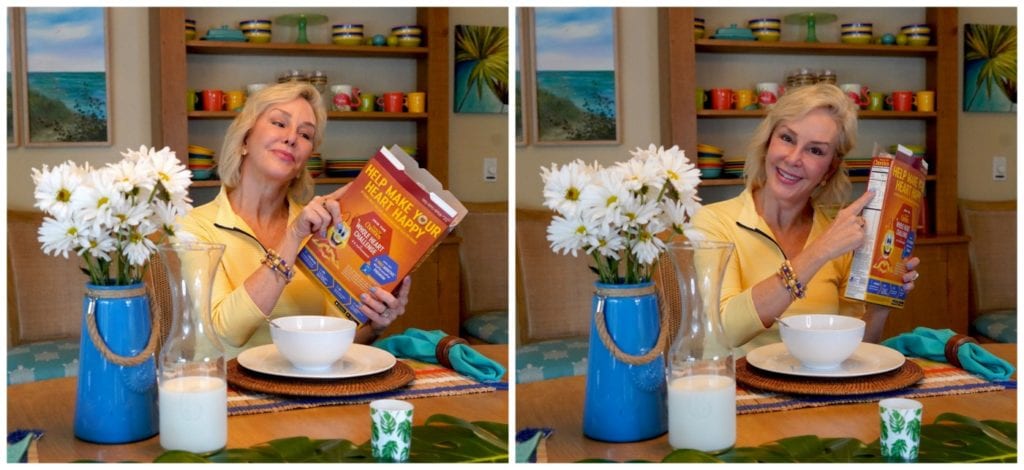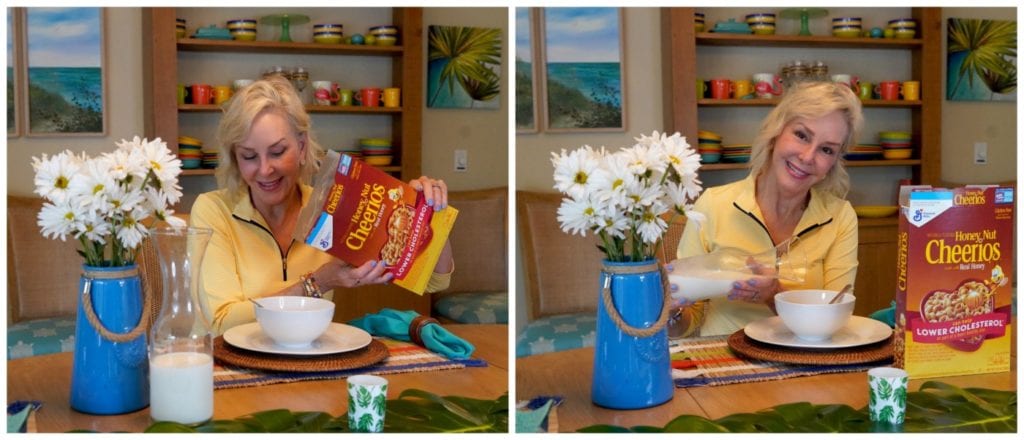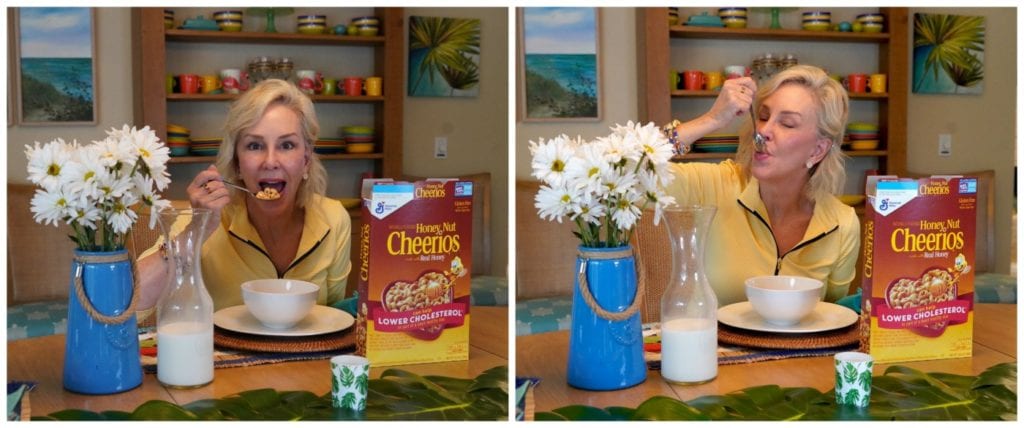 VISIT MY DOCTOR REGULARLY
One thing I know for sure is prevention and early detection is most important in protecting our health. One way I do this is by seeing my doctor regularly especially since I have a family history of heart disease.
A few years ago I found a good cardiologist and I see him about every year. At 64 my body is changing and the last time I was in for a checkup my cholesterol was a little on the high side. Rather than put me on a statin my doctor recommended eating more soluble fiber and Honey Nut Cheerios was a great choice.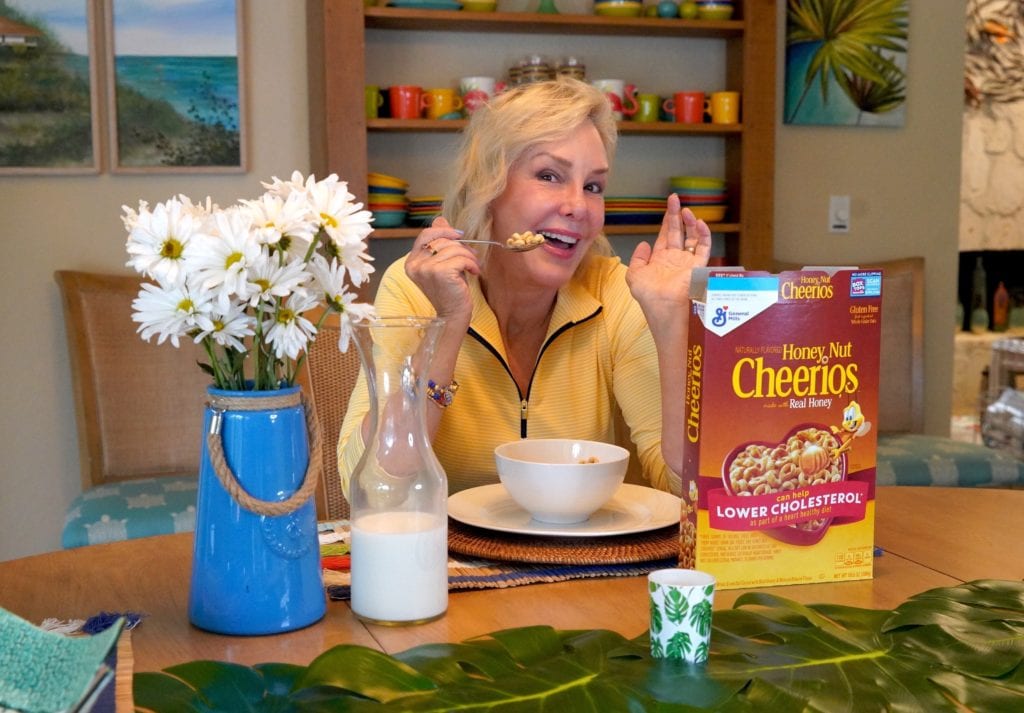 I have had a regular exercise routine since Jane Fonda showed us new fun ways to stay fit back in the 80s. Just about 6 years ago I was doing boot camp and other very hard workout programs. Since then my body just can't handle the pounding so I found other ways to stay strong without putting more undue stress on my aging bones & joints.
WAYS I STAY ACTIVE
Pilates – I started with floor pilates until recently a Club Pilates studio opened right by my house. This has been so good and perfect for strengthening, toning without hurting my joints. They are a nationwide chain and I give them 5 stars!!
Biking – now I am not saying that I am a serious cyclist, I am saying that I love to hop on my bike and just cruise around my neighborhood enjoying nature and the great outdoors.
Shelling – Since Norman and I bought a vacation house on Sanibel Island, Florida I have taken up shelling. Someone recently asked me what is "shelling". All it is is hunting for pretty or rare shells. So it is like a treasure hunt for me. It is easy but does require a lot of walking, bending, and squatting.
Gardening – As you know I don't enjoy being in the kitchen but I do enjoy working in my flower beds. This is a great form of exercise.
Dog Walking – I don't know about you but my dog Miss "Pippa" loves to take walks. Not only is it good for your dog to walk it is so good for us too. Just being outdoors, deep breathing and meditating are sided benefits of a good walk!
Travel – I have traveled extensively since my early twenties. Walking, lifting and pulling bags all keep me moving.
Light Weights – When I can't get to my Pilates classes I incorporate a few basic exercises with light weights ( 8 pounds ) to keep my muscles toned. I love walking lunges, pushups and squats.
Stretching – is so so important to keep us from getting injured. This is one area that I fall short for sure!!! I have to remind myself every day to stretch stretch stretch. When I do, I feel soooo good!!
These are just some activities that I love and try to incorporate into my life, but I also love to go fishing, re-arrange my closet, and so much more. For more ideas on how to be active please refer to the Honey Nut Cheerios Happy Hearts activity list below.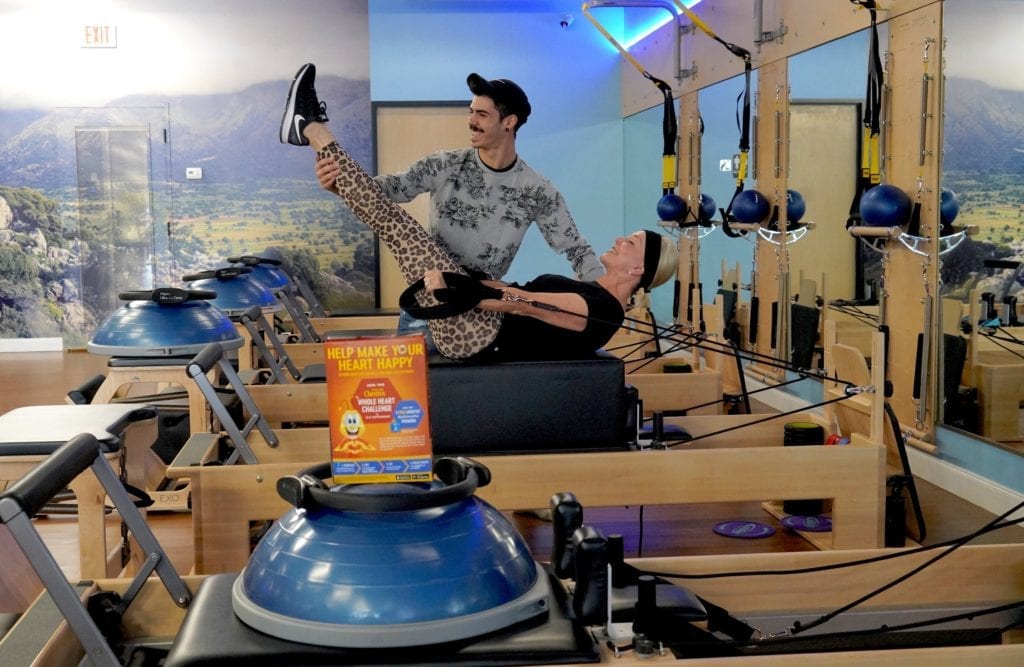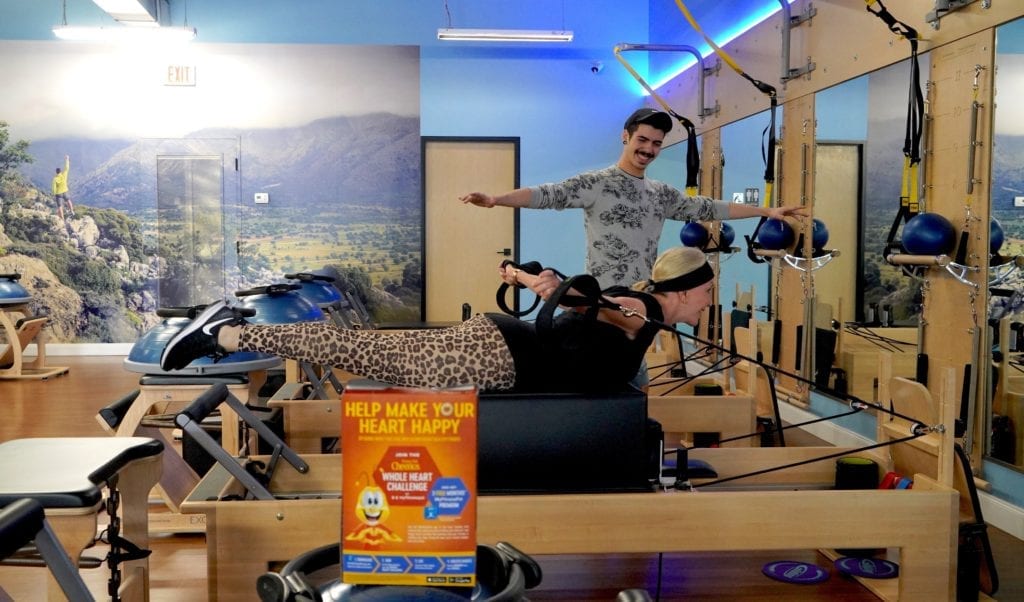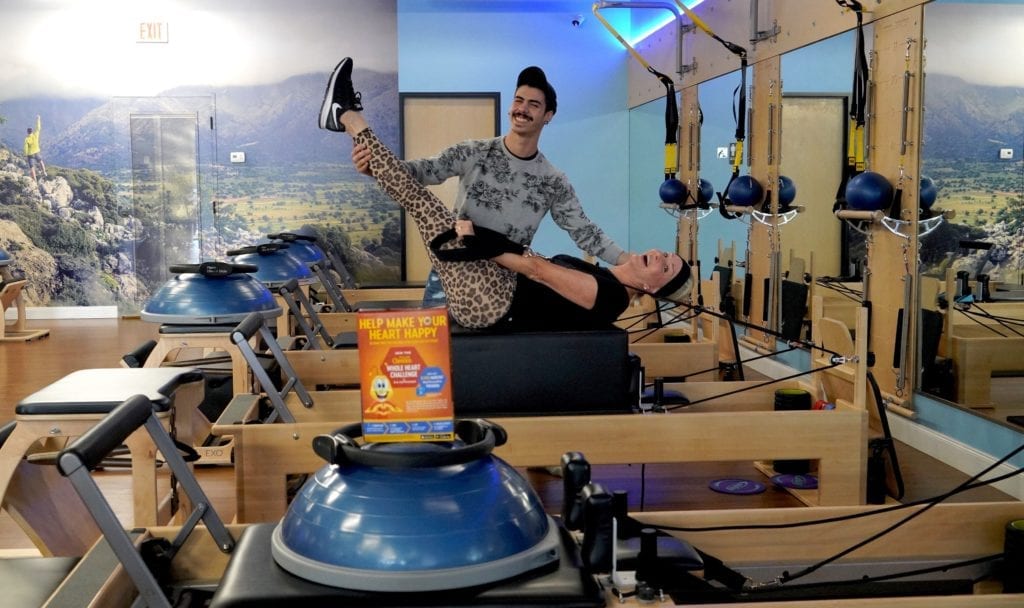 MORE IDEAS FOR STAYING ACTIVE

WHOLE HEART CHALLENGE
Are you feeling like you are doing what you can to keep your heart healthy? Today I would like to challenge you to join the Honey Nut Cheerios Whole Heart Challenge on MyFitnessPal app for the chance to win prizes and participate in fun challenges that will help your entire lifestyle. It would be fun to do with your husband, sister, brother or friend. We all need and deserve to have a happy heart!! Learn more here!
IN CONCLUSION
Every day researchers and doctors are giving us new ways for us to have heart-healthy lives. I am thrilled that Honey Nut Cheerios is on their list…..aren't you?
SHESHE'S TIDBITS
We are enjoying the cooler temps in Colorado this week. Catching up on some much-needed rest and then entertaining a few friends and family, so stay tuned. You can follow along on my Instastories @shesheshow
Gala's, weddings, graduations, holidays or just everyday wear…..we have fashion suggestions for you, so stay tuned. Be sure to check out ShopSheShe tab at the top in the menu bar. Hover over and choose the category in the dropdown. We try to keep it up to date with the latest and greatest for all budgets. Subscribe here and then you won't miss a post. Simply enter your email in the pop-up box or below.
WELCOME new readers. We are a fashion/travel/lifestyle blog. We talk about anything and everything, from fashion, travel, health issues to even an occasional recipe. Let us know if there is a topic that interests you. We will do our best to bring that story to you. Have a great week sweet friends and thank you for following along. Without you, we could not continue on this crazy fun journey.