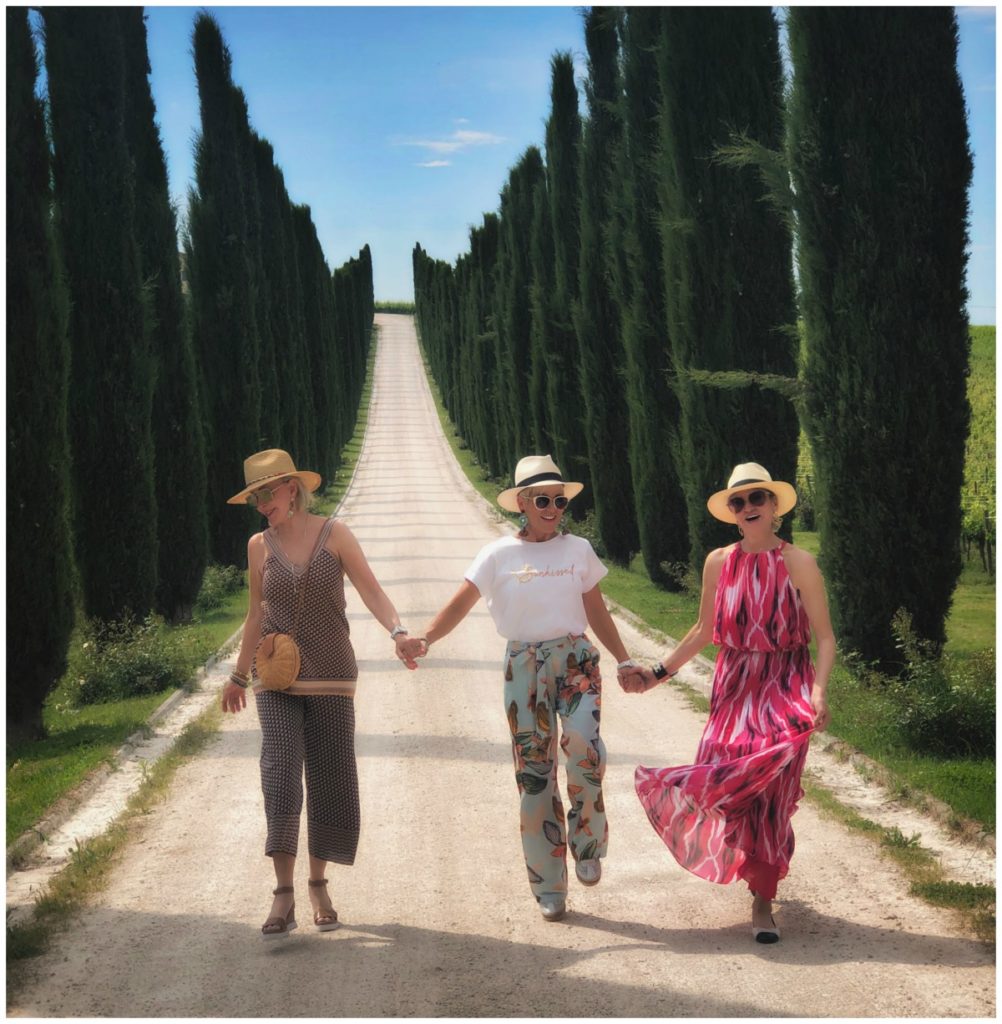 Hi sweet readers, welcome to Part III of "RockinTheAges" Italian girlfriend getaway. My partners in crime Chic Over 50, More Than Turquoise and myself thank you for following along this fun journey. Today, we are leaving Florence and headed to the central part of Italy in the Umbria region to visit the quaint towns of Assissi and Solomeo. Be sure to read until the end because we have a special excursion that was over the top.
DAY 6
ASSISI & ANTONELLI SAN MARCO
After enjoying our last morning in Florence at the charming Piazza della Signoria boutique hotel, we were picked up by the private driver that drove us to the Nunn Assisi Relais Spa Museum. We knew that this 5-star hotel would be fabulous but it was fab in the most unusual organic way.
OUR HOTEL – THE NUN ASSISI RELAIS SPA MUSEUM
For the first time on our trip, we shared a room but the hotel was so good to give us a 2 story room that gave us ample room to relax and get ready. What I really loved about this hotel located just on the edge of town was its outdoor areas of natural landscapes. Perched at the top of the hill this property gave us a wonderful perspective of the lay of the land of this ancient city.
ABOUT THE NUN RELAIS
The building was once the former convent St. Catherine, an ancient monastery, built-in 1275. An inspired renovation not only transformed the 13th-century structure into a sleek, minimalist haven but also uncovered the ruins of a Roman amphitheater. It is now home to an atmospheric "spa museum.
2 1/2 hour drive from Rome Airport
Most everything you would want to see is within a 15-minute walk or less from the Nun.
Built into the ruins of a first-century Roman amphitheater the spa here is truly a centerpiece. It has barrel-vaulted cisterns, a pool, and many other extraordinary features.
Free breakfast every morning
5-star restaurant and bar called EATS.
Free internet, bathrobes, herbal tea room and so much more
Go here to learn more and book your stay at the Nun Assisi Relais Spa Museum.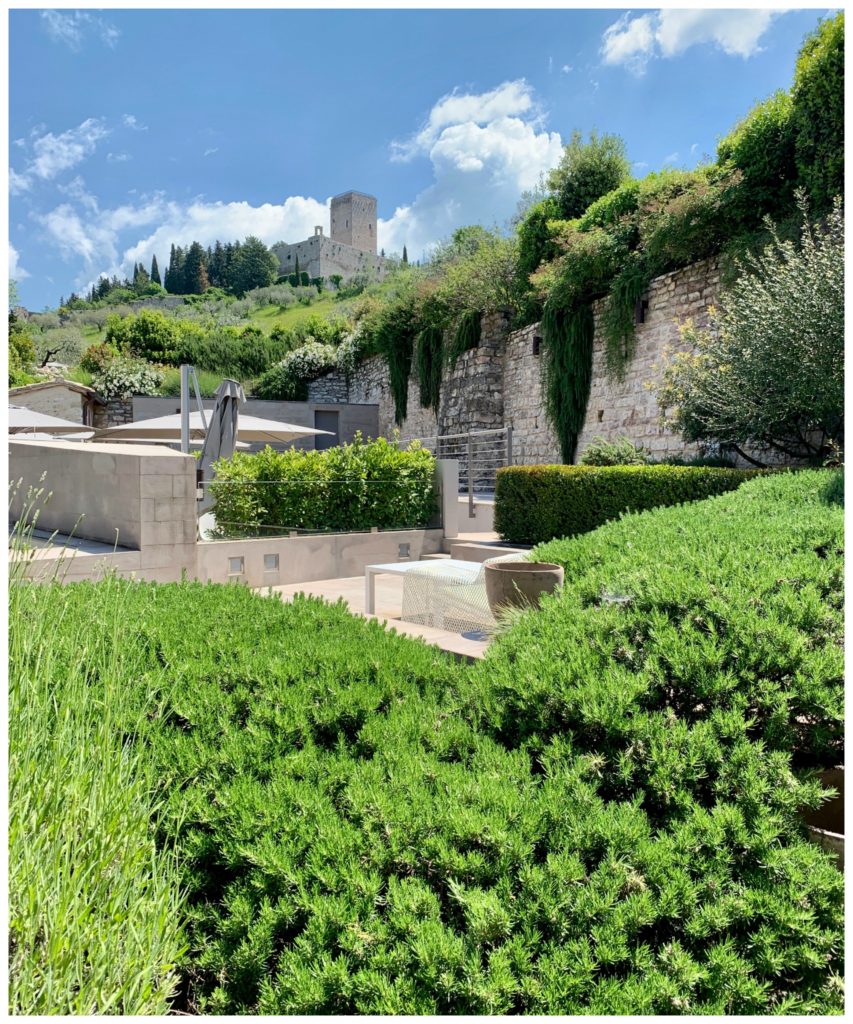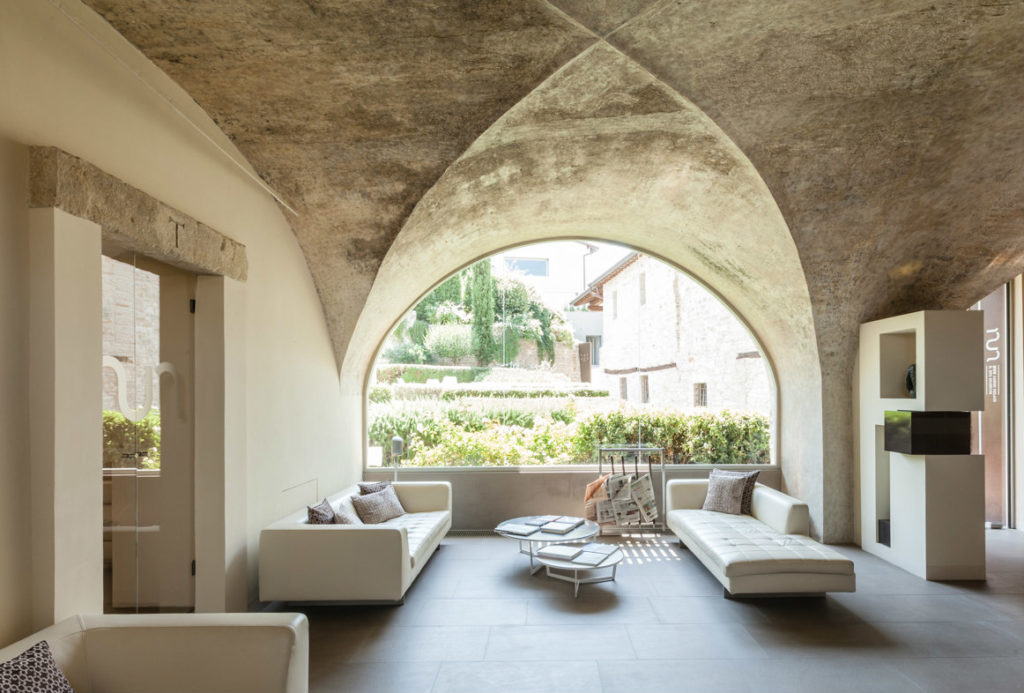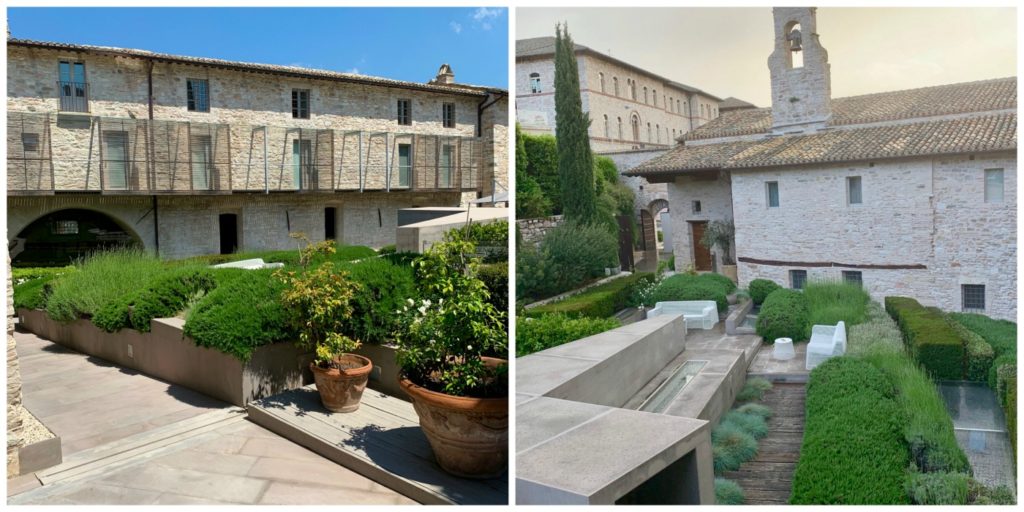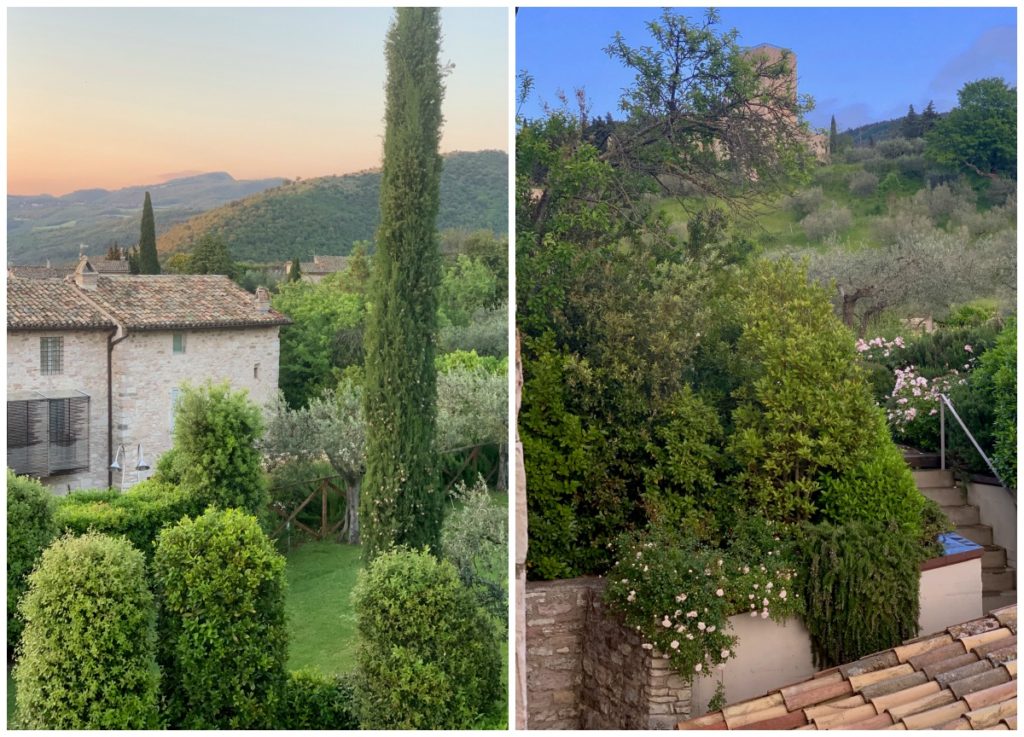 For the first time on our trip, we shared a room but the hotel was so good to give us a 2 story room. It came with 2 twin beds downstairs and a Queen bed upstairs that gave us ample room to relax and get ready. Once settled in, we had a short time until our driver was waiting for us to take us on our first adventure to Antonelli San Marco winery. It took about 45 minutes to get there but the drive through the countryside was beautiful.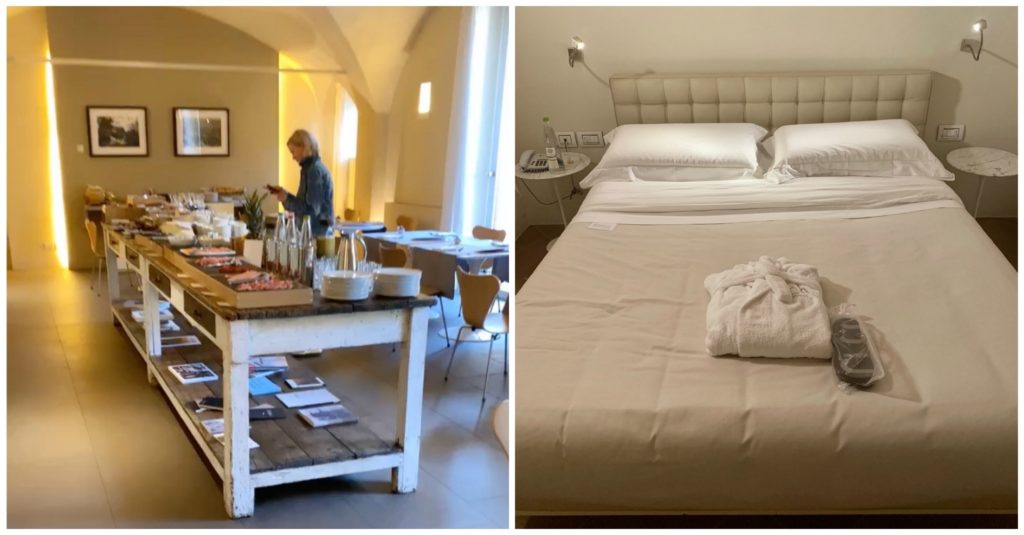 ANTONELLI SAN MARCO
Better knowns as the organic winemakers of Montefalco. Antonelli San Marco is an organic wine and farming estate located centrally within Montefalco's winemaking area in Umbria. With a background rich in history, the Antonelli family is passionately committed to caring for their territory. They are also dedicated to producing quality wines and extra virgin olive oil. And of late emmer wheat products, chickpeas and cured pork cuts made from their free-range pigs.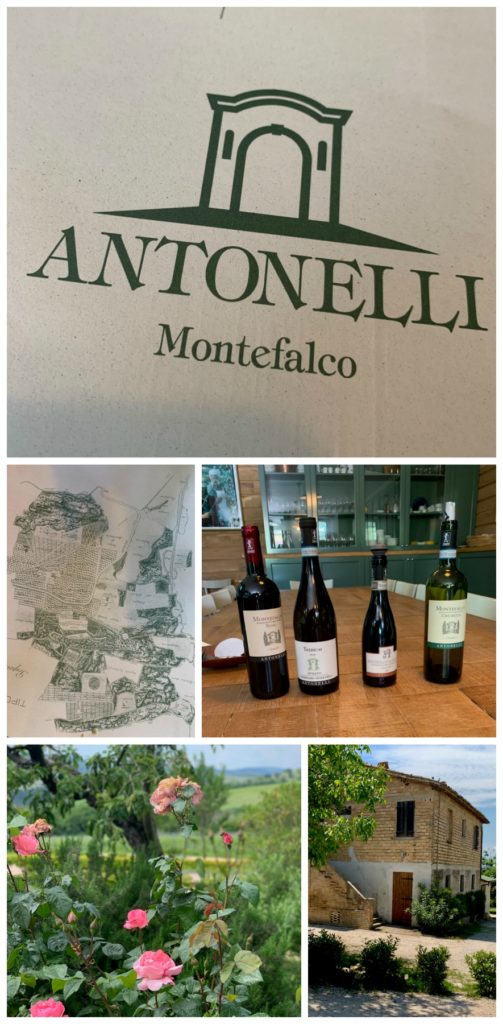 Our hostess, Wendy Aulsebrook, who actually spoke great English met us with a warm smile and charming personality. She toured us through the winery and cellar located in the heart of the estate under the manor house. There we learned all about how they make their wonderful wines. What was interesting to me is that they utilize the land to its maximum their business. They also grow olive trees where they make some of the best olive oil anywhere in Italy.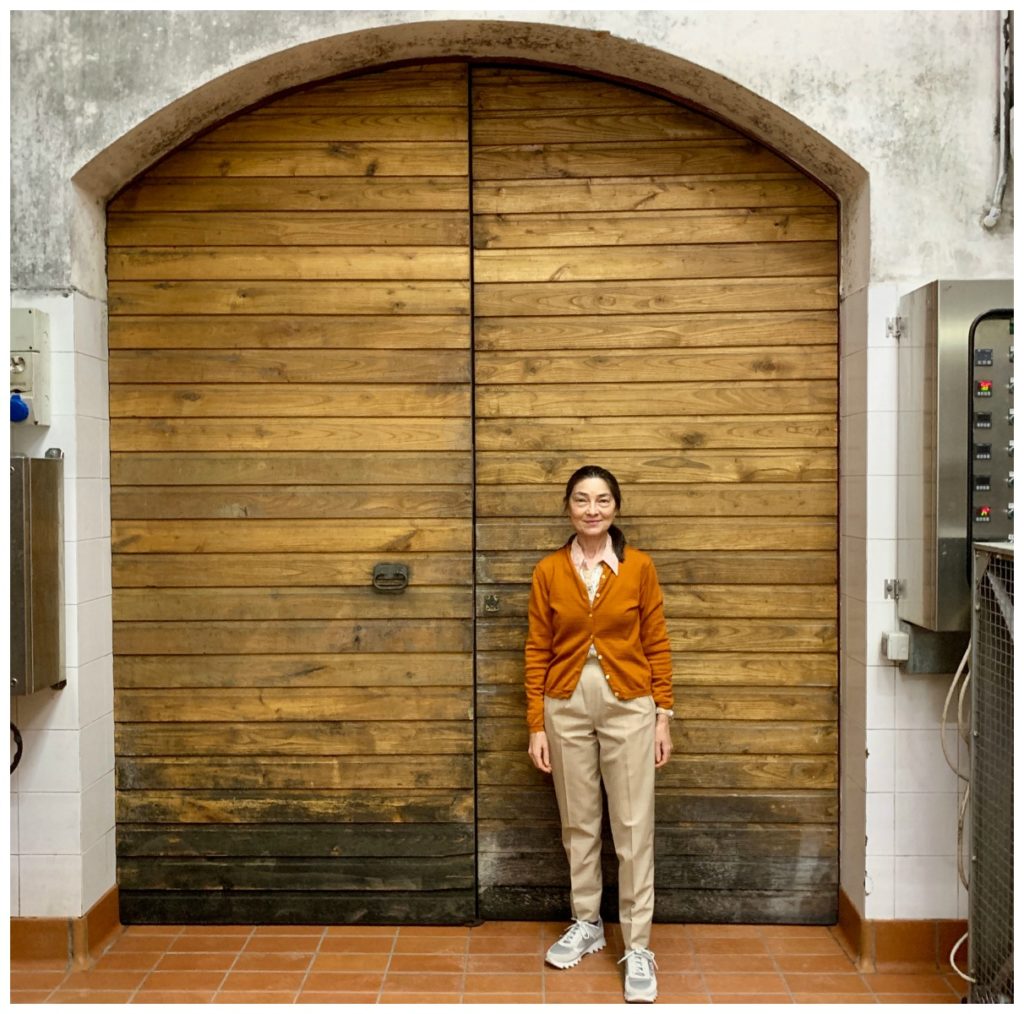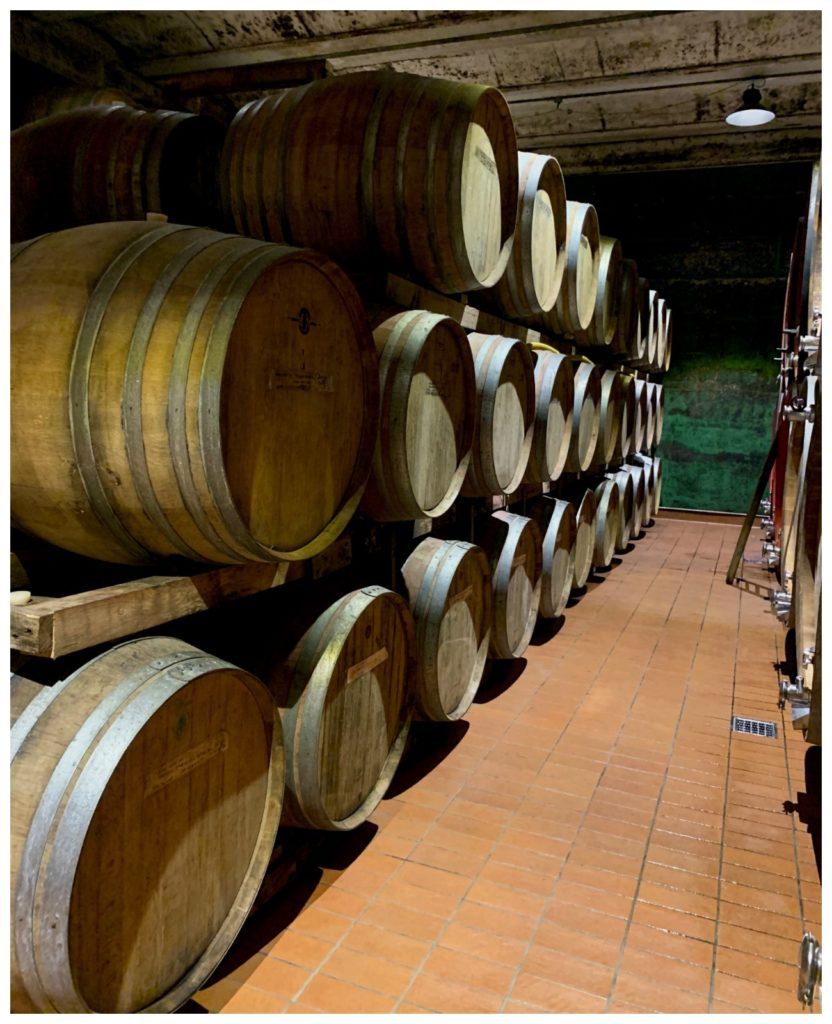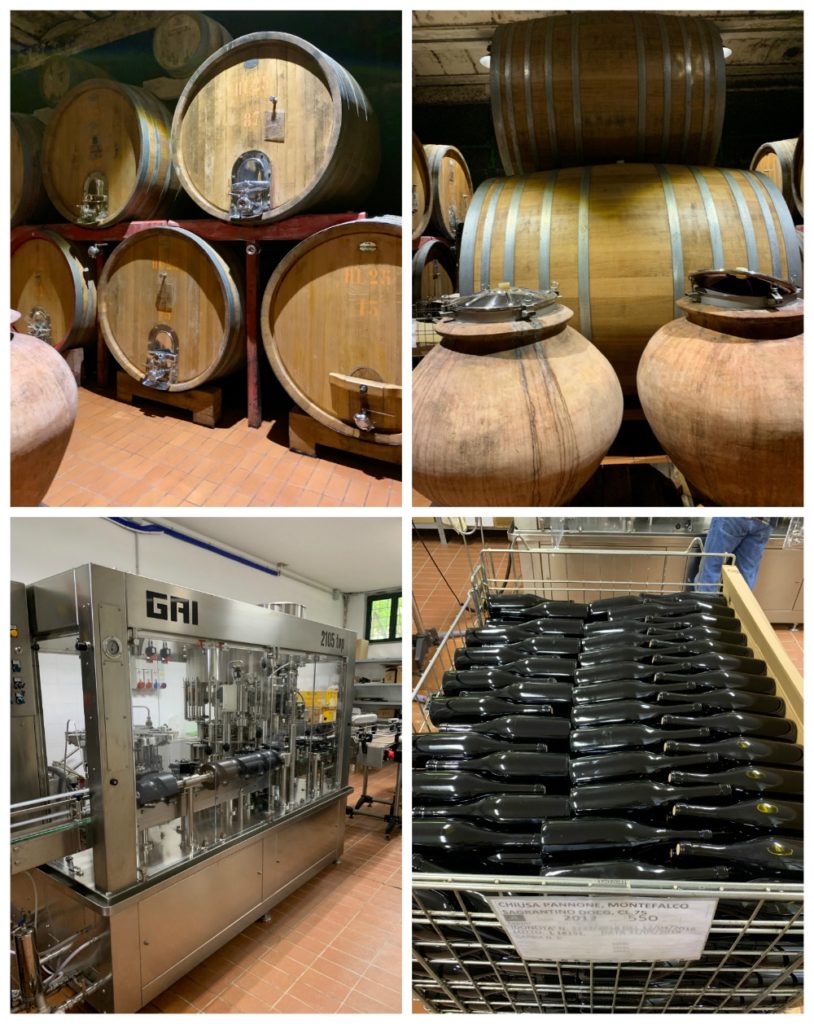 CUCINA IN CATINA
Cucina In Catina means Kitchen in the cellar and this is where we had a delicious lunch prepared just for the 3 of us. They mostly used their own ingredients we were treated to a delightful appetizer of bruschetta that was dripped in their own extra virgin olive oil. Alongside making a beautiful presentation we also enjoy pecorino cheese with Sagrantino jam. Local salamis and my favorite the focaccia with rosemary sauce was also so delicious. Our main entre was of course pasta but it was a seasonal farro pasta that was absolutely yummy!!
Tidbit: Ferro pasta is a gluten-free corn-based pasta. The flavor and texture of this pasta defy all stereotypes. It delivers a toothsome, delicious, corn-based pasta that many mistake for traditional durum wheat pasta.
To top off our lunch we sampled the wines of Antonelli San Marco winery.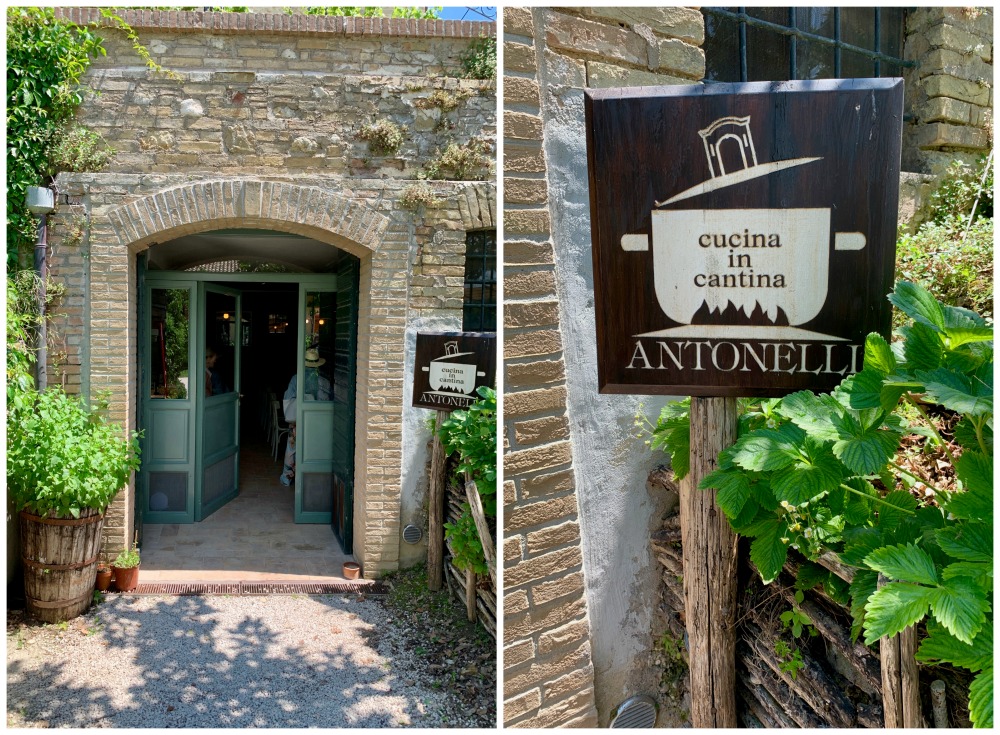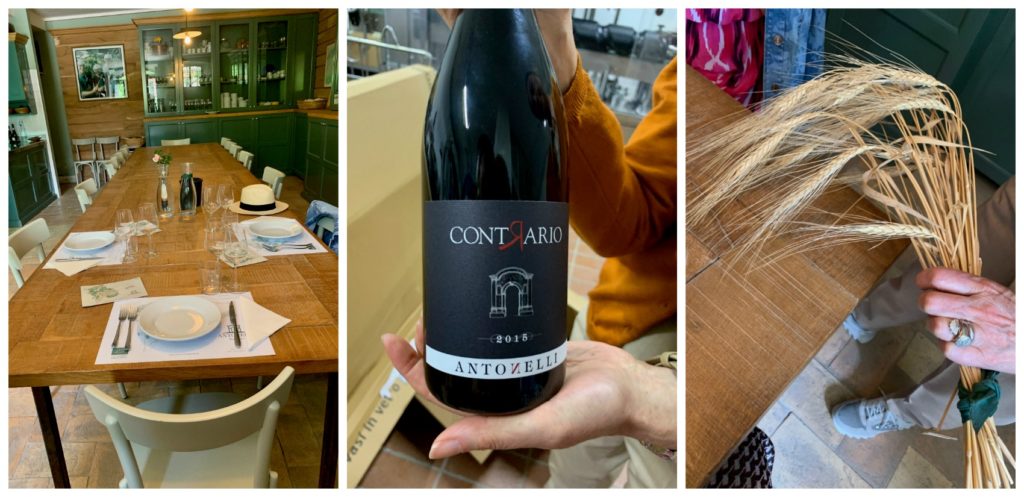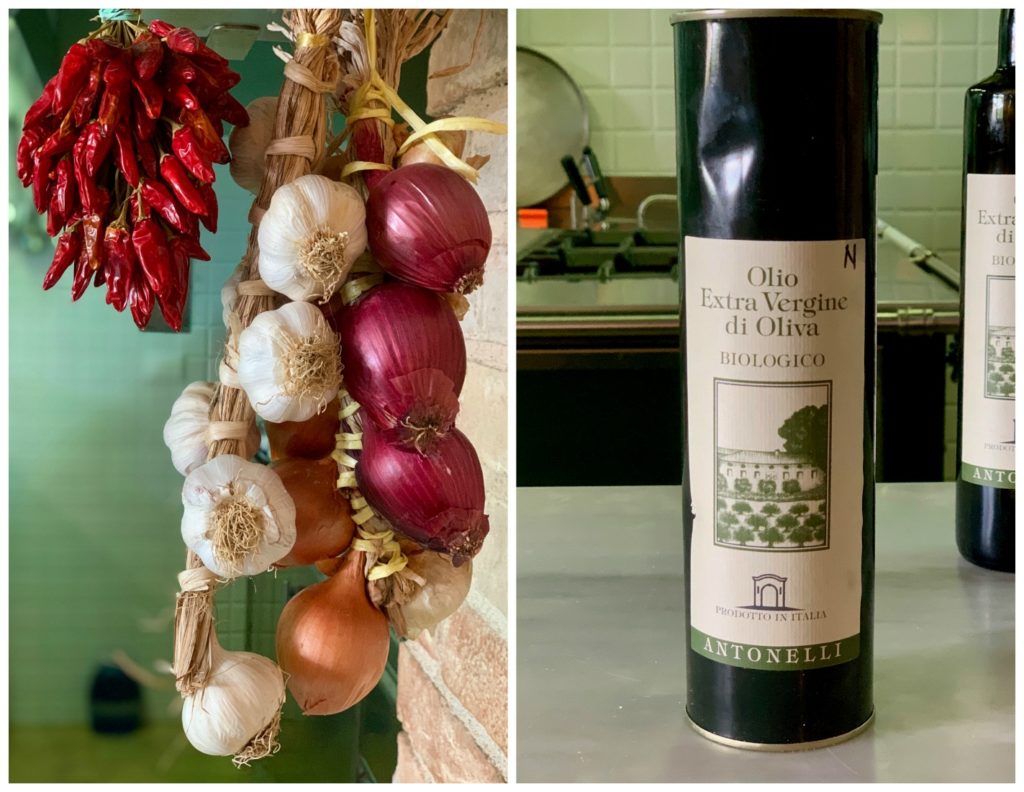 Looking for an authentic cooking experience while touring this region? I recommend booking a cooking class with wine-pairing for lunch or dinner at Antonelli San Marco. You will enjoy Umbrian home cooking made with typical products seasonal menus of Umbrian antipasto, pasta, eat, vegetable dishes and dessert. A team of "casalinga" home cooks, namely Teresa and Leonella prepares your meal and Home Economist Wendy Aulsebrook will direct your attention to particular aspects of preparations. Re-known for their excellent food & wine and professional service will give you the ultimate experience!
Go here to book and learn more about a number of experiences that you can enjoy.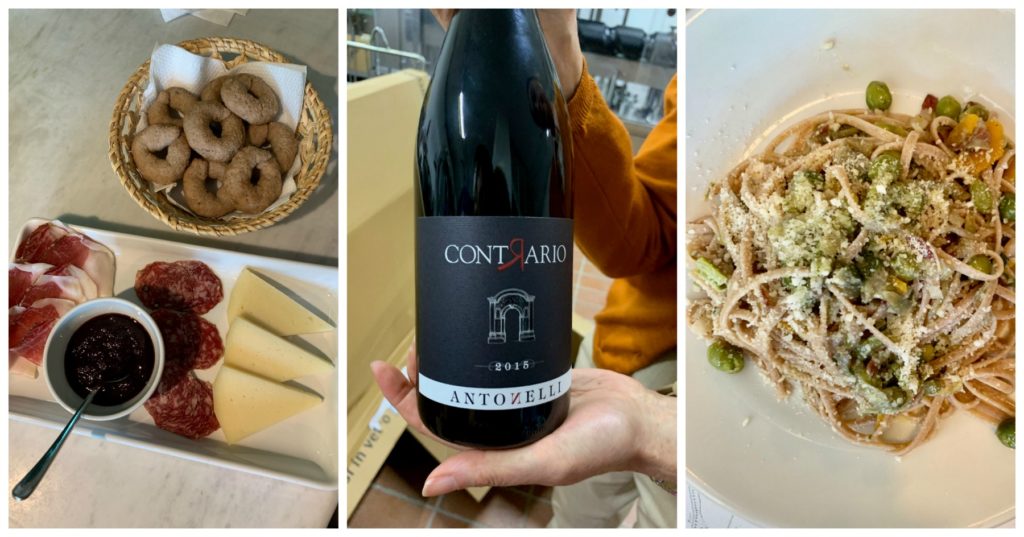 EATS ASSISI
After our already full day, we had a little downtime to do whatever before taking a short walk over to EATS for a fabulous dinner. The restaurant is located in the garden of the Nun Relais, it is a modern and very bright space thanks to the large panoramic windows. It has 40 seats inside and in summer there is also the outdoor terrace
The menu changes every three months depending on the season to enhance the best products for each time. It includes different tasting menus that represent the professional and emotional journey of the chef Emanuele Mazzella.
CHEF EMANUELE MAZELLA
Well-known young and talented chef Emanuele Mazella treated Shauna, Jamie and I to an over the top tasting menu that seemed to last forever. From Ischia (a volcanic island in near Naples, Italy), Emanuele has already earned the prestigious Michelin star during his professional career. He loves paying tribute to the cuisine and products of the tradition of his beloved country so he has chosen to reside in Assisi and Umbria. The Nun is blessed to have him as the chef of Eats because it is located in the garden right by the hotel.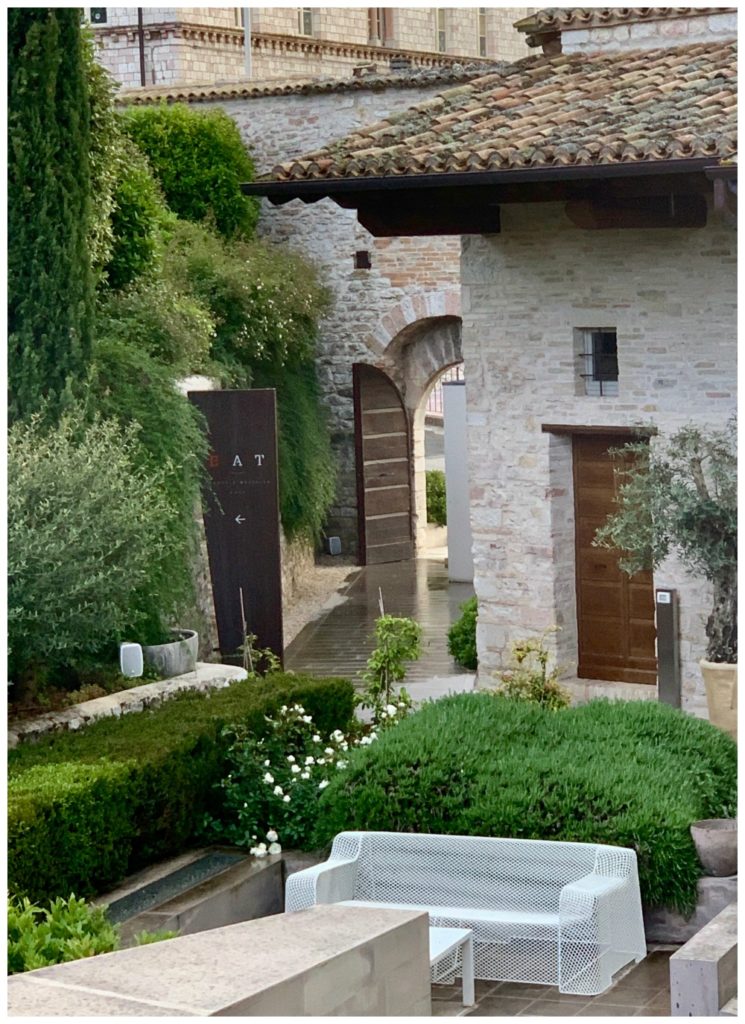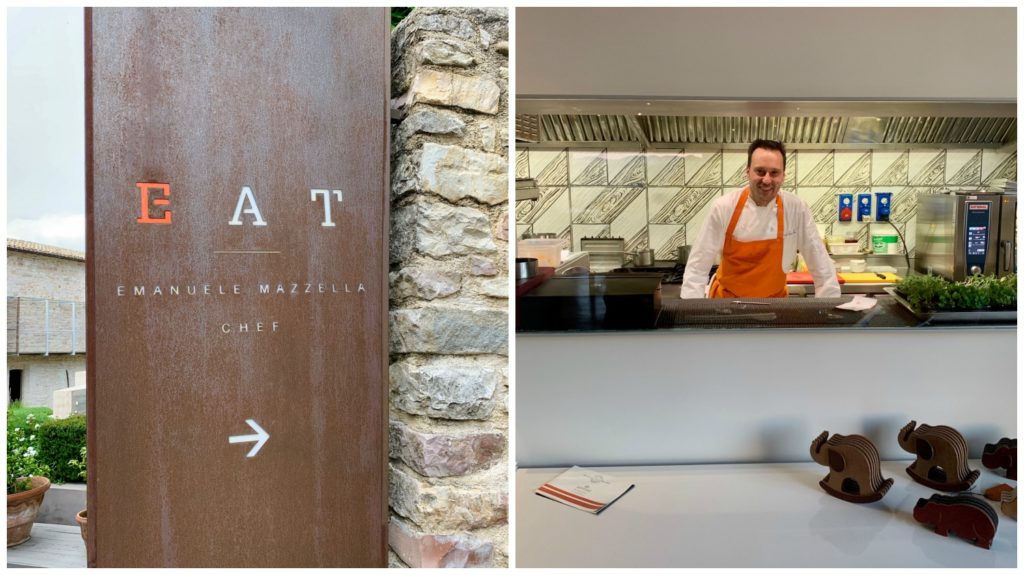 ….our view as the sun was setting from our table at Eats…..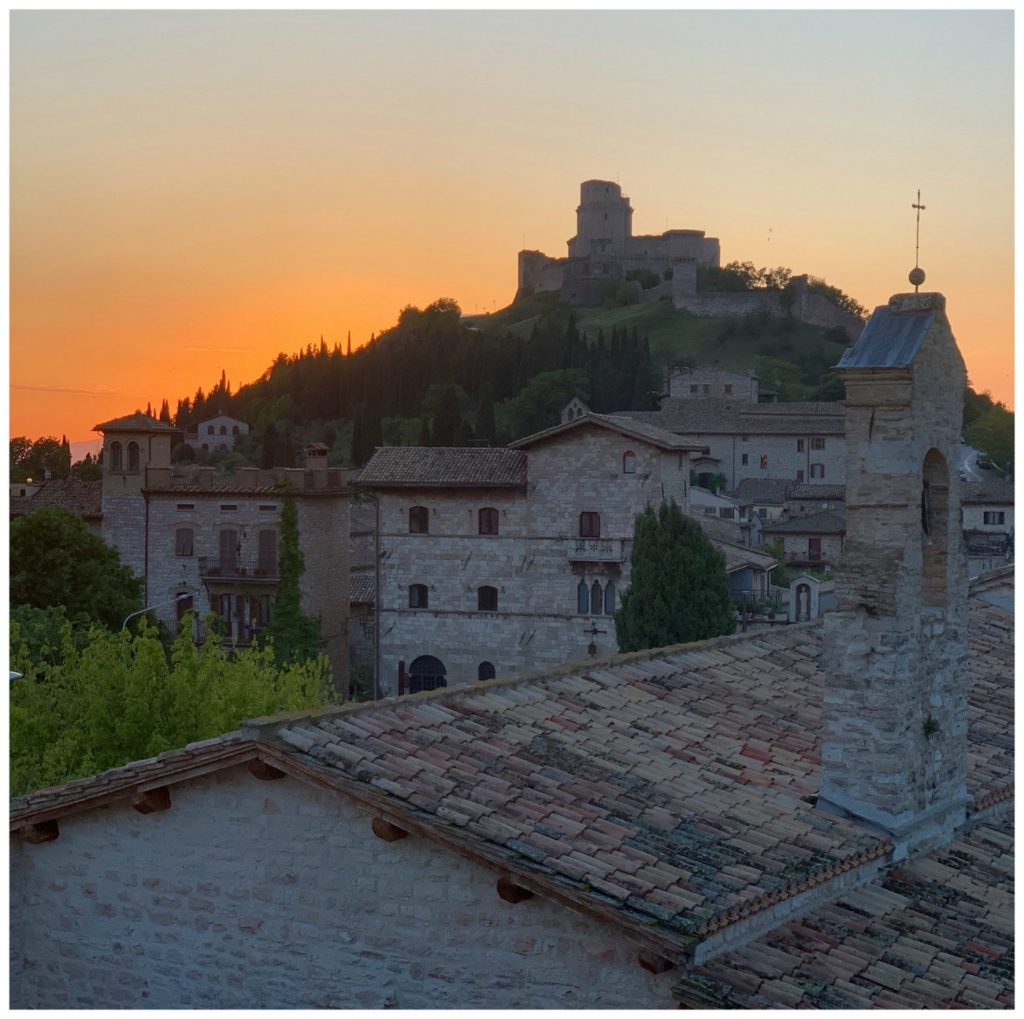 DAY 7
THE REASON FOR THE SEASON…..our trip to Italy all started with a live auction trip that I bid on at a fundraiser for a non-profit ( recipe4success.org )where I serve on the board. This Brunello Cucinelli curated trip was right up my alley so I placed my bid on the trip and won? My husband Norman did not want to fly overseas so he said I could bring a friend. Long story short, I worked out a plan with the Brunello Cuccinelli team so that I could bring my "RockinTheAges" girls with me. Our trip included a trip to Solemeo the home of designer and "King of Cashmere" Brunello Cuccinelli, dinners, lunches tours and more.
ABOUT BRUNELLO CUCINELLI
Brunello Cucinelli was born into a peasant family in Castel Rigone, a 15th-century little hamlet nearby Perugia, in 1953. At 16 years old he studied to be a land surveyor where he got his degree and then went on to enroll in the faculty of engineering but later dropped out. Brunello watched his dad as a boy work in an unwelcoming environment and he knew he had to do something to be a part of the change. This is so important to his story and what fueled his dreams and aspirations to promote a concept of work that ensured "being moral and economic dignity'
He came up with the idea of dying cashmere in around 1978.
Married Federica Benda in 1982 and later moved to Solomeo where he would fulfill his dreams
Bought a castle in Solomeo in 1985 and made it his company headquarters in 2000
2012 his company was listed on the Milan stock exchange. This move, too, was not driven by financial reasons alone, as Brunello saw wider participation in his business activity as an opportunity to spread his ideas of a new capitalism, a truly "Humanistic Capitalism".
Solomeo School of Arts and Crafts was established in 2013 and was inspired by William Morris and John Ruskin. 
MOVING FORWARD
Over the years Brunello has turned this ancient city on the hill into a thriving community that expands down into the valley. He has built a theatre, a school, parks, a monument, preserved the Church of St Bartholomew and built his factories from abandoned buildings. To sum up, who he really is "Brunello highlights the duty to restore the dignity of the land and, feeling like a sort of small custodian of the creation, he shows that "Beauty will save the world" whenever the world will, in turn, save Beauty."
His journey continues and I look forward to following along. Read more about Brunello Cucinelli here and here.
The Hamlet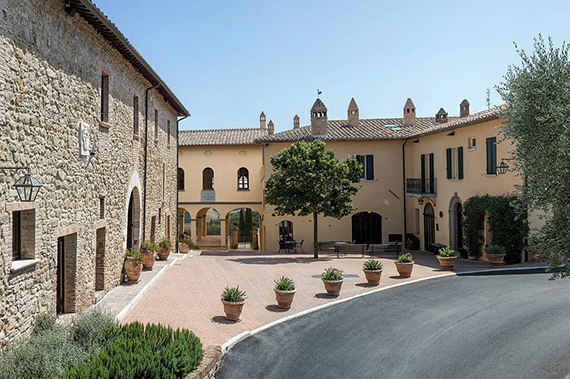 The Valley
The view of the valley from Piazza della Pace in Solomeo.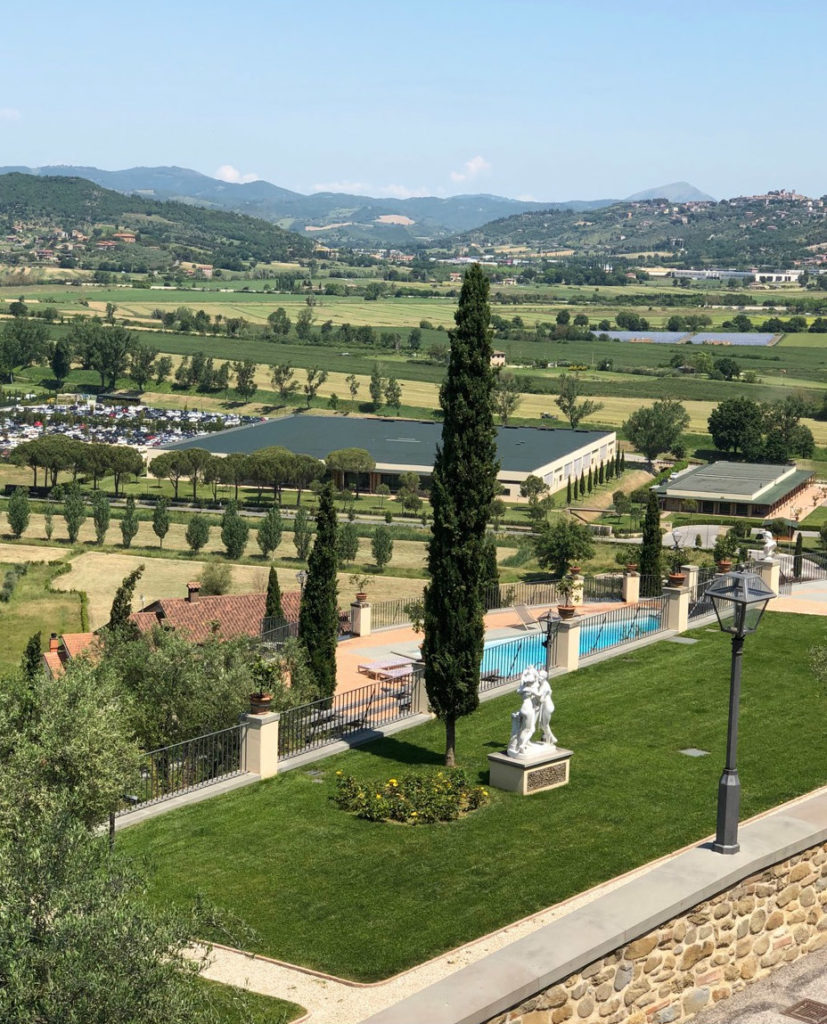 Theatre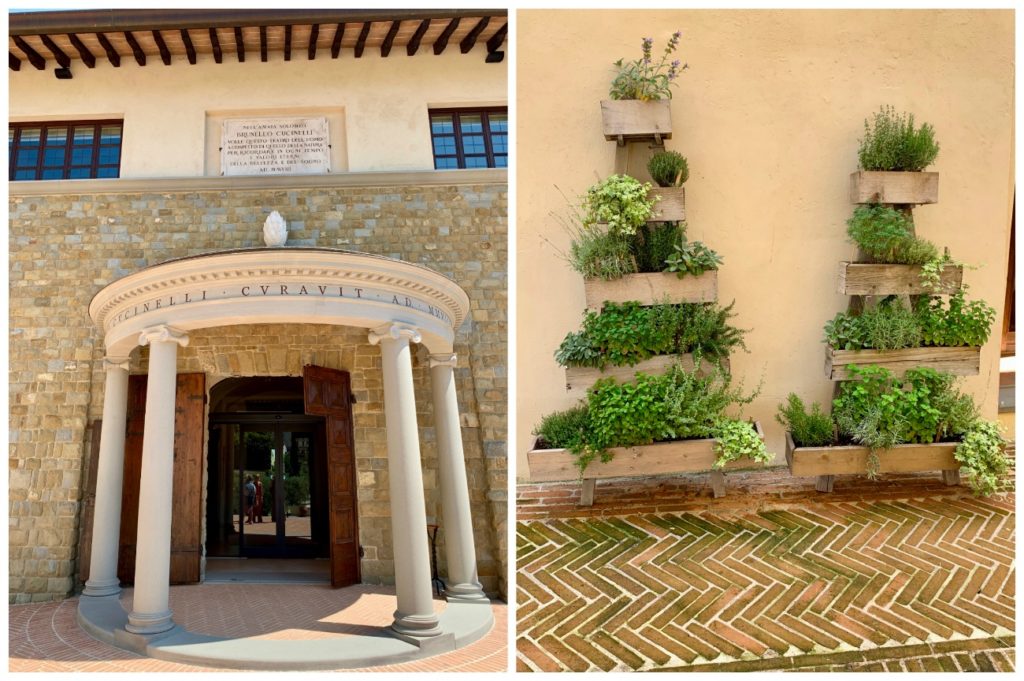 School of Crafts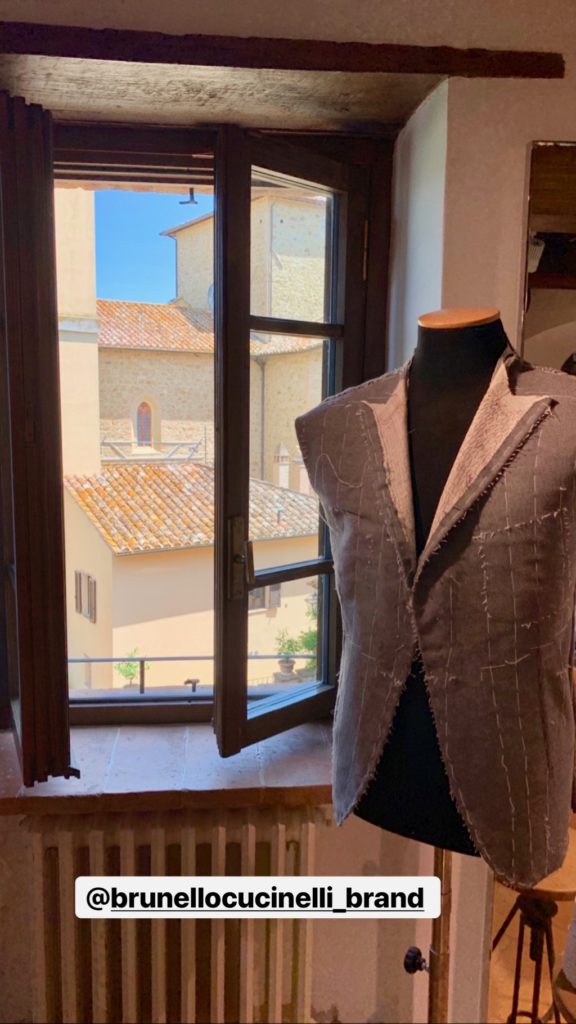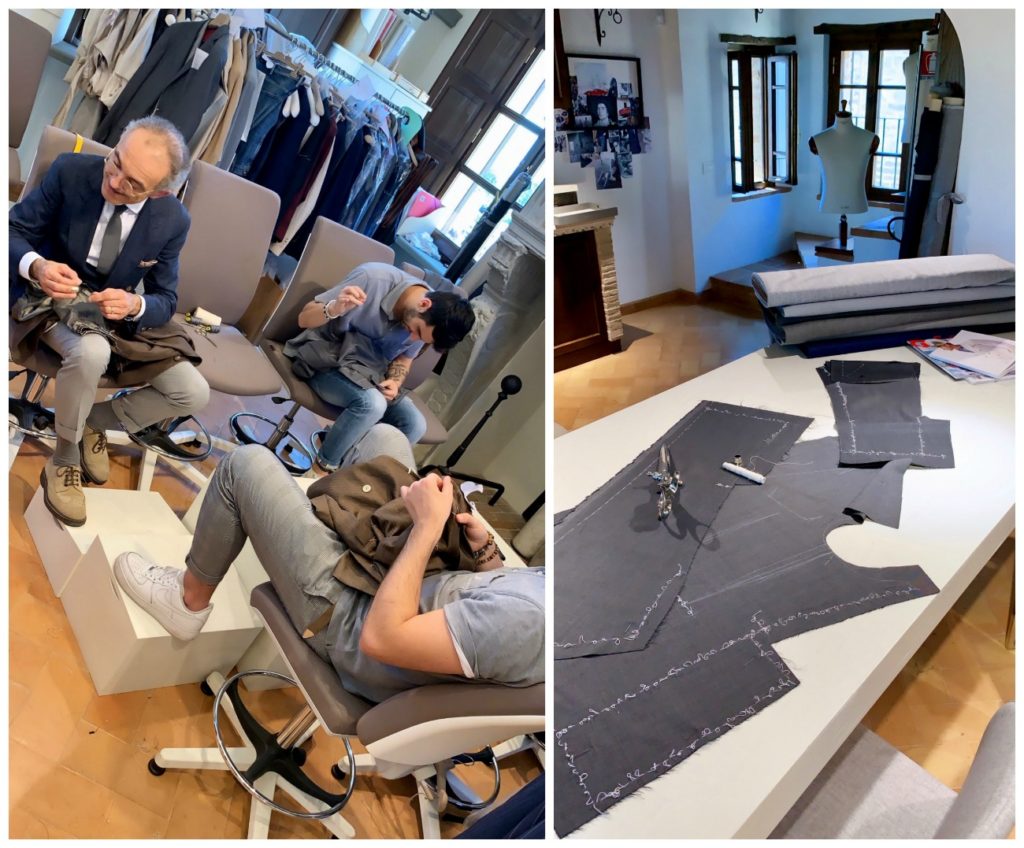 PARCHEGGIO MONUMENT
The "Tribute to Human Dignity" monument is an arcade on a hill outside of Solomeo. It is made out of huge blocks of travertine.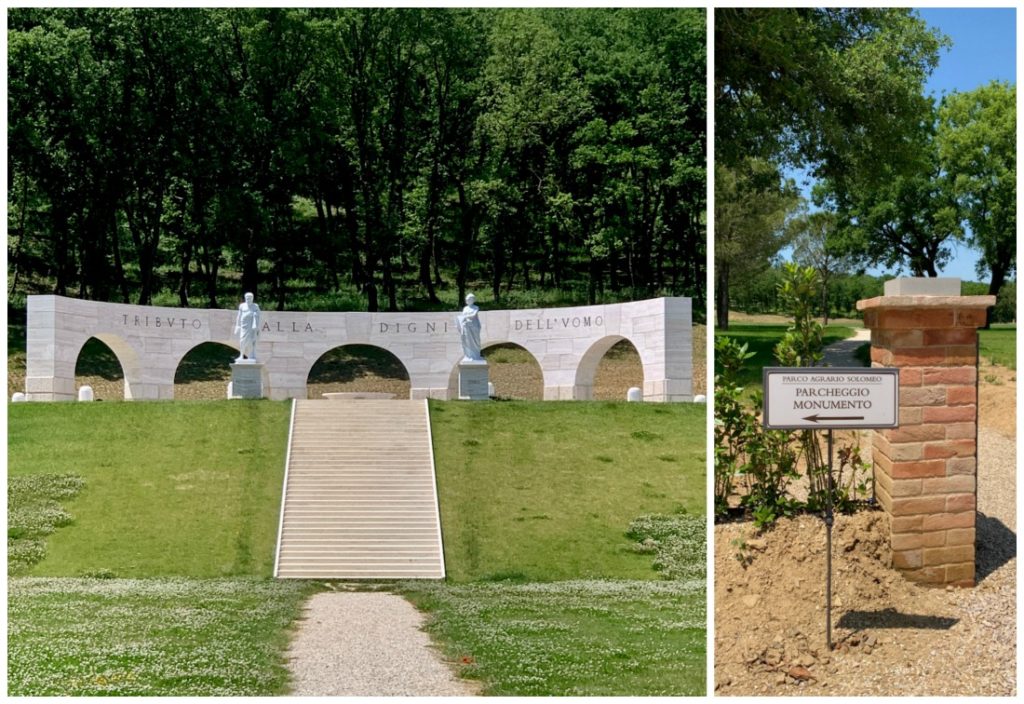 Winery
The winery……the first vintage is coming soon so his wine is not yet for sale.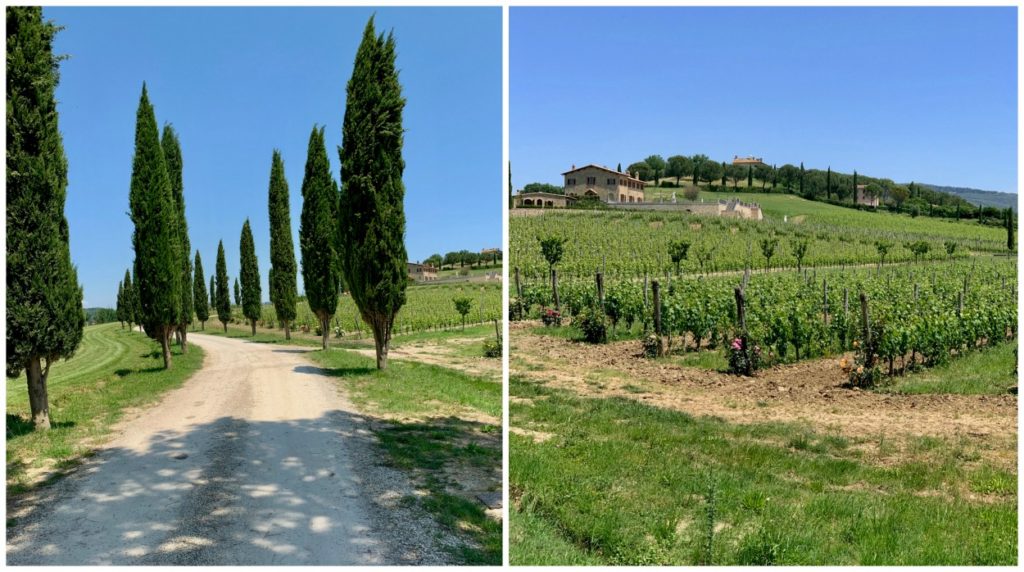 Factory
These are idea boards that line the corridor leading into the man factory area.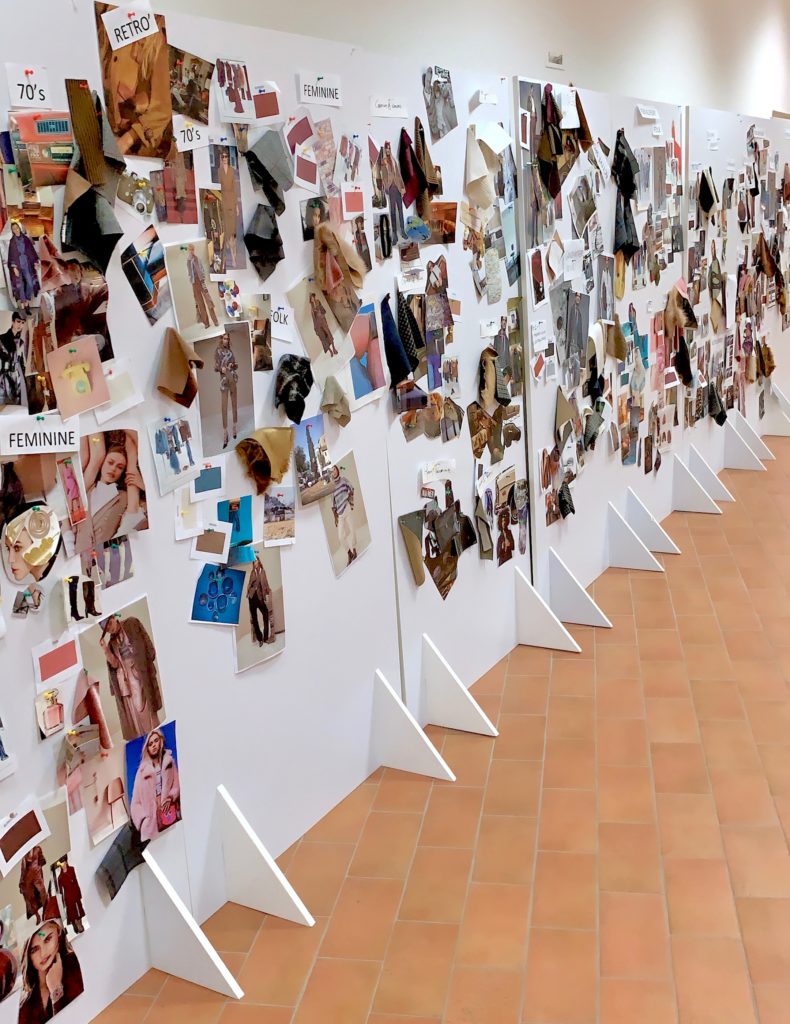 The Factory
This is part of his 430,000 sq foot factory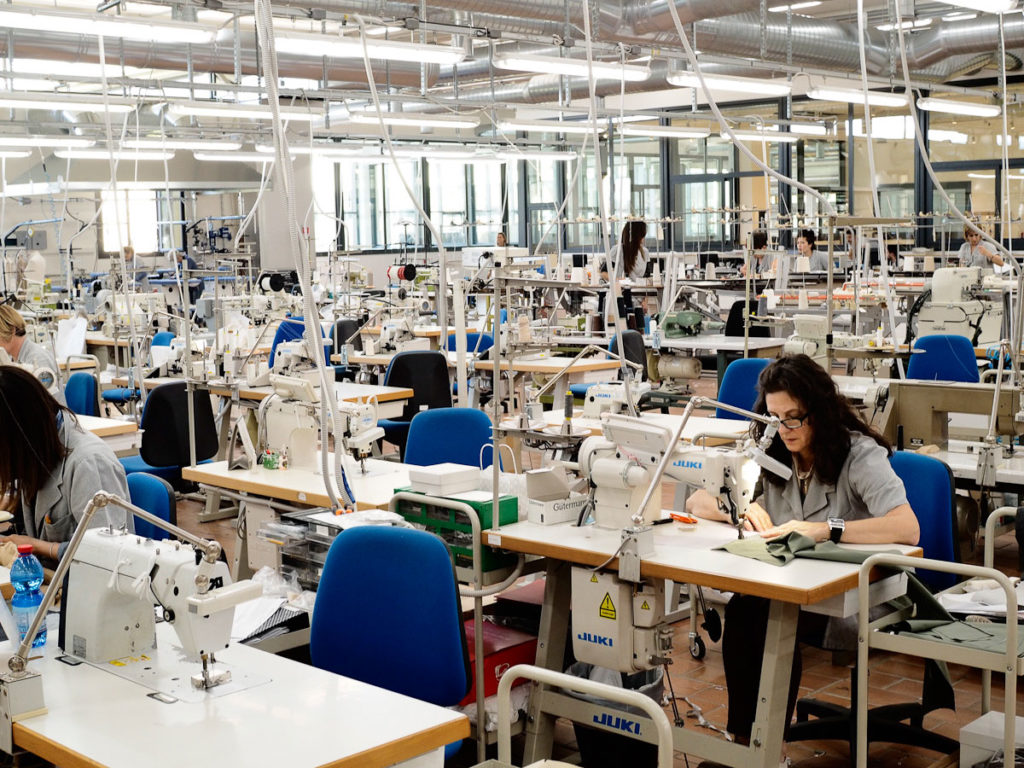 Workers below making sure the quality of the cashmere meets Brunello's high standards before going to the market place.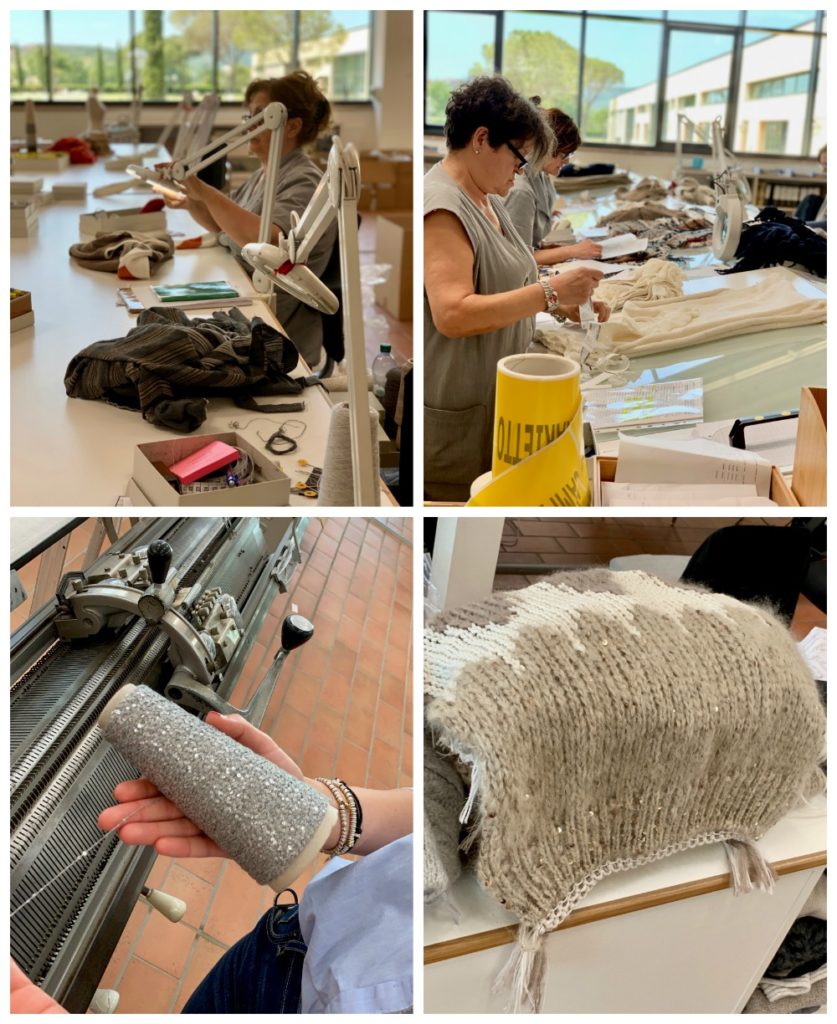 Company Restaurant
After our tour, we were invited to have a family-style lunch in the companies restaurant where we joined many of his employees. They offer them a healthy lunch prepared from locally grown vegetables and meats. Large platters of foods were sat in the middle of the table for all of us to enjoy. Wow, and it was soooo good!!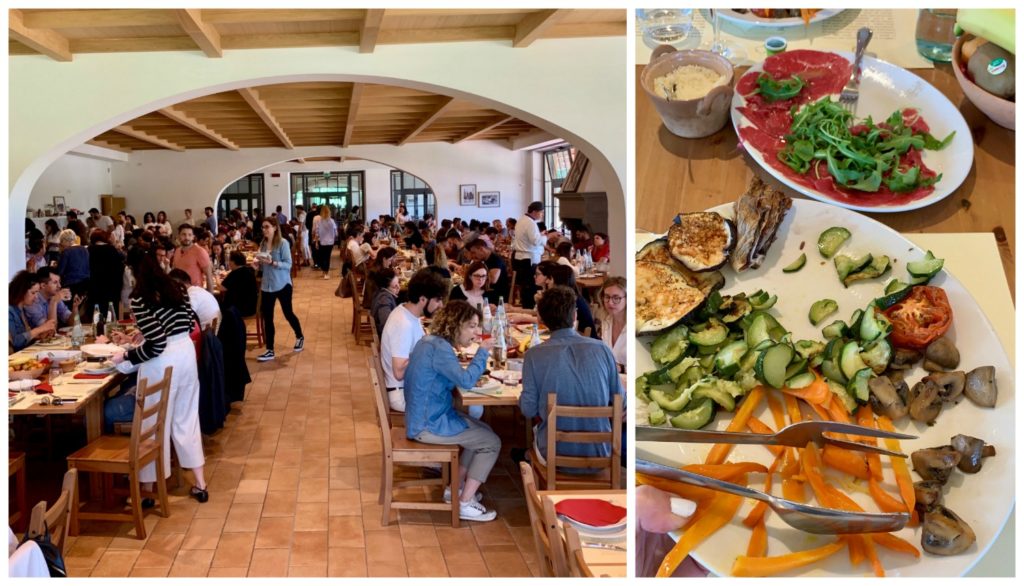 The Store
Before leaving Solomeo they took us back to the castle on the hill in Solomeo where Brunello Cucinelli has a store. Knowing beforehand that I wanted to find something special to purchase, even though his clothing is super expensive. I rarely wear heavy sweaters and such because I spend most of my time in warm climates, but I did find a classic midi length shirt dress. I styled it below as a duster but it looks amazing as a dress and I will be able to wear it for years to come.
My Souvenir
In this photo, I am wearing the dress that I picked out in the company store. Even though it came with a hefty price tag, I was thrilled to have something to remember my trip to Solomeo for years to come. My dress is not available in the US but I linked a few similar styles below the photo that cost much less.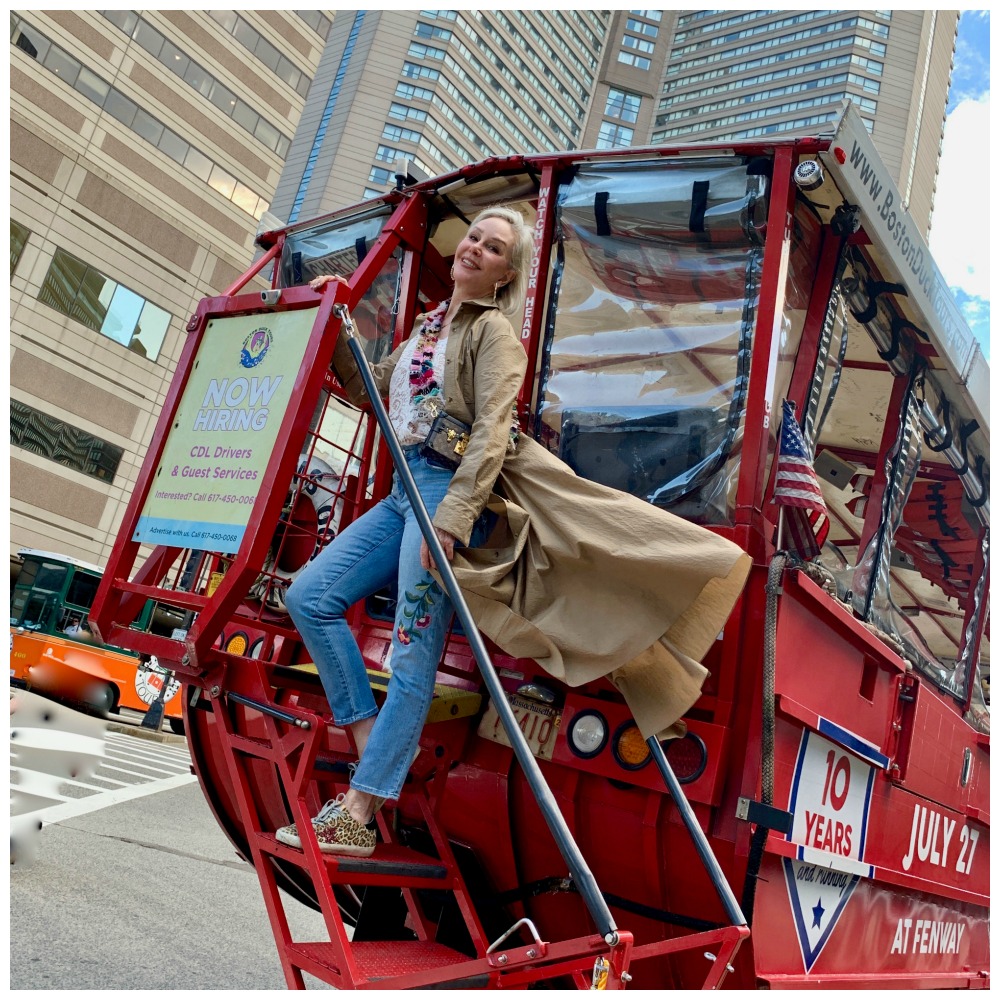 SHOP MY LOOK


ASSISSI
After our trip to Solomeo, we had some downtime before dinner. I took a nap then we headed out of our hotel and down the hill to see a little of the old old town of Assissi also built on a hill. We loved the charming narrow streets and at the very bottom of the hill was beautiful  Basilica of San Francesco d'Assisi.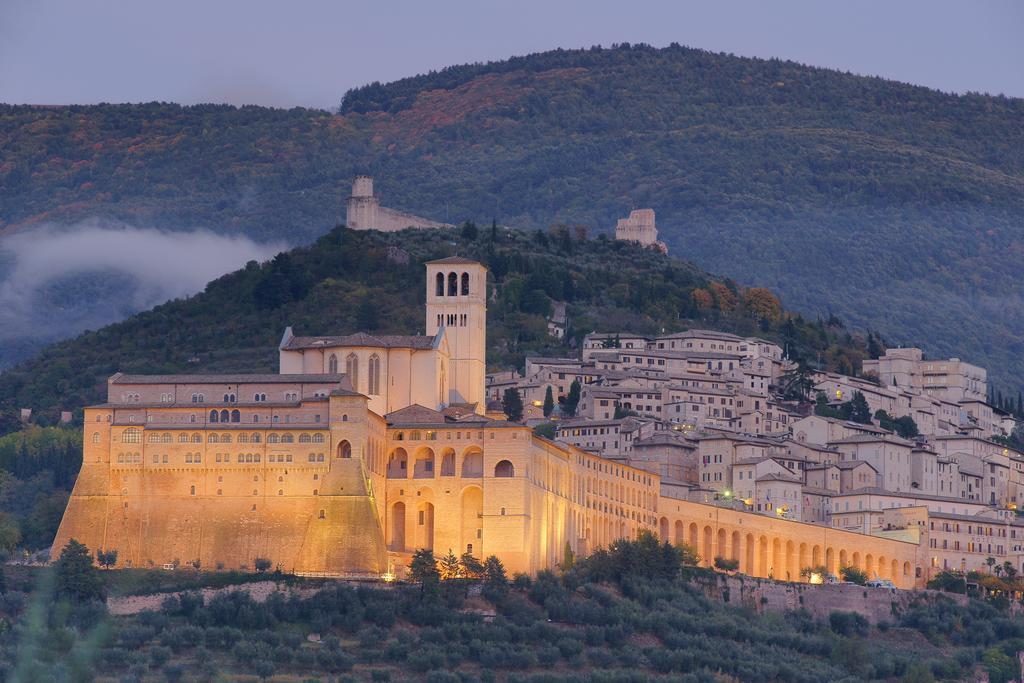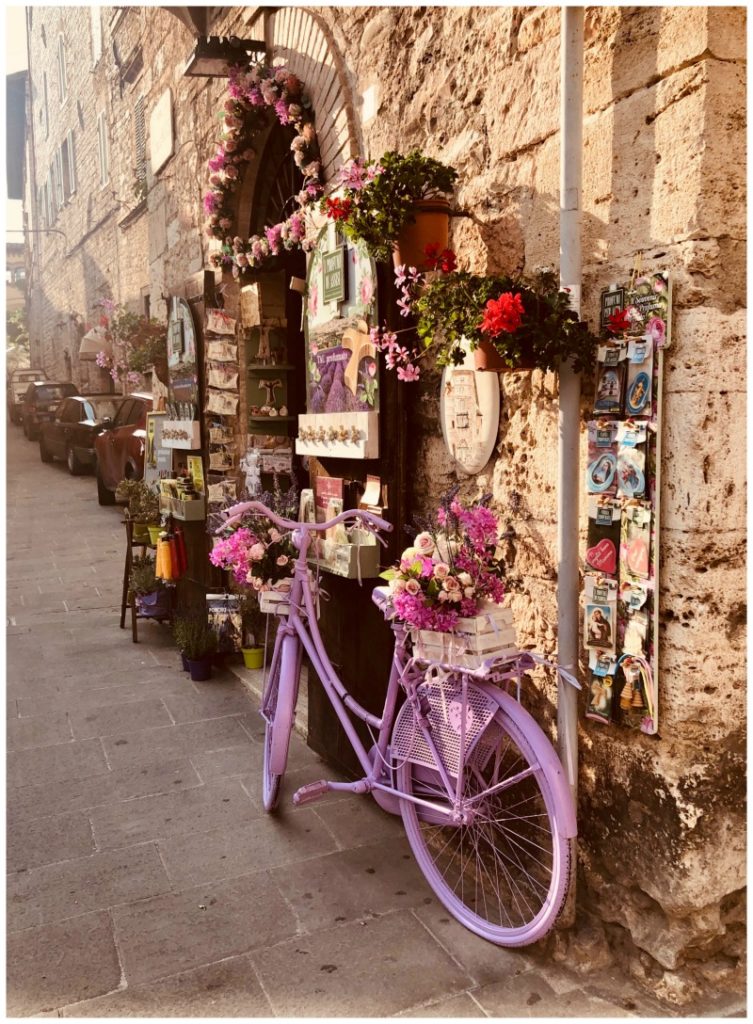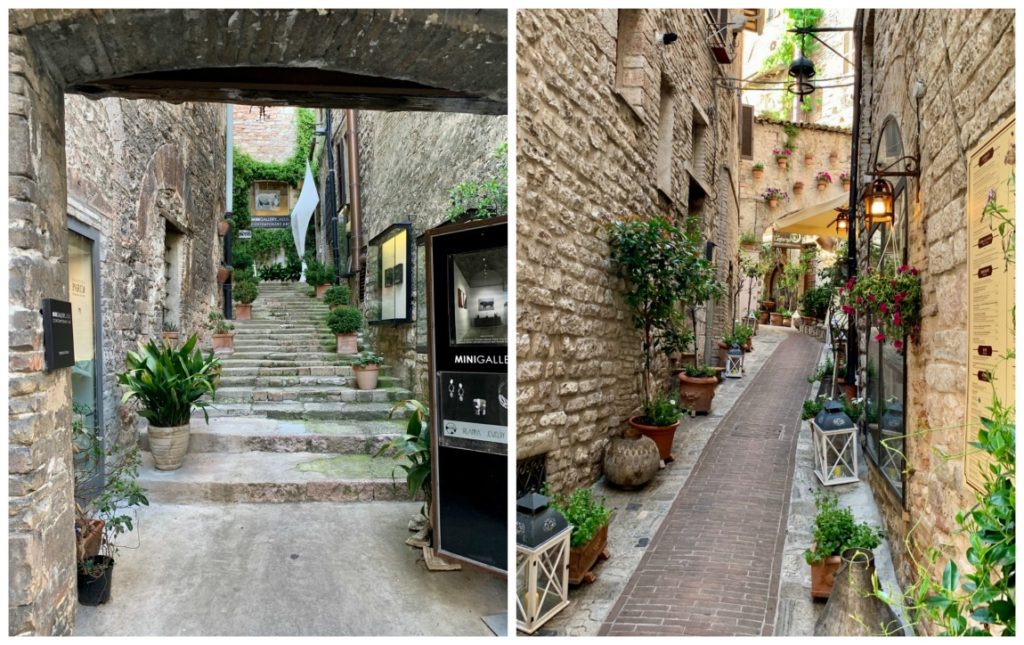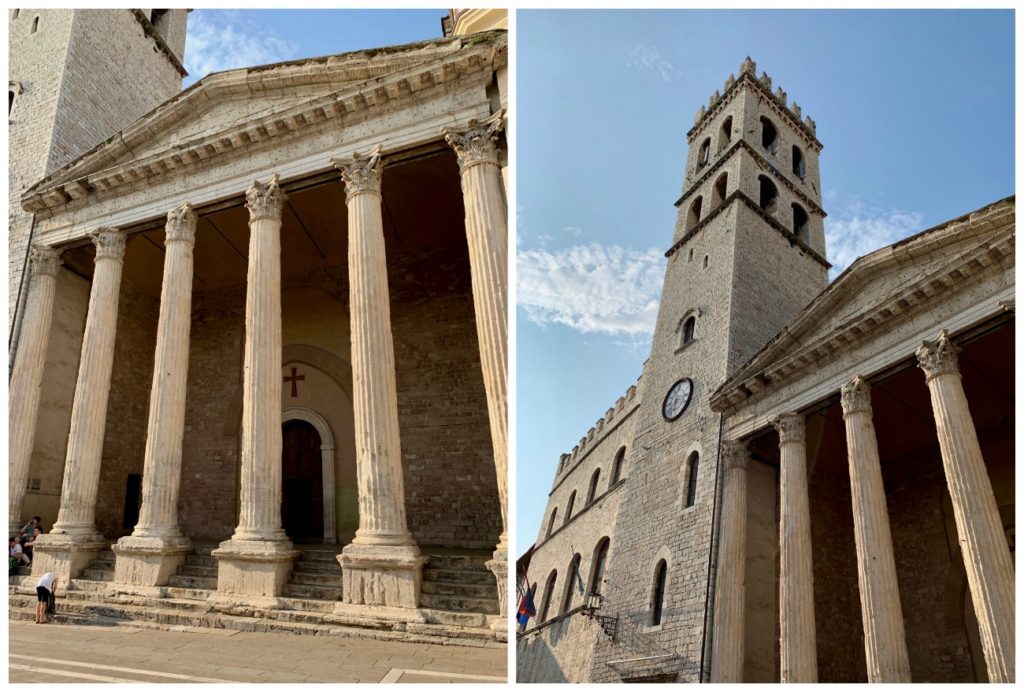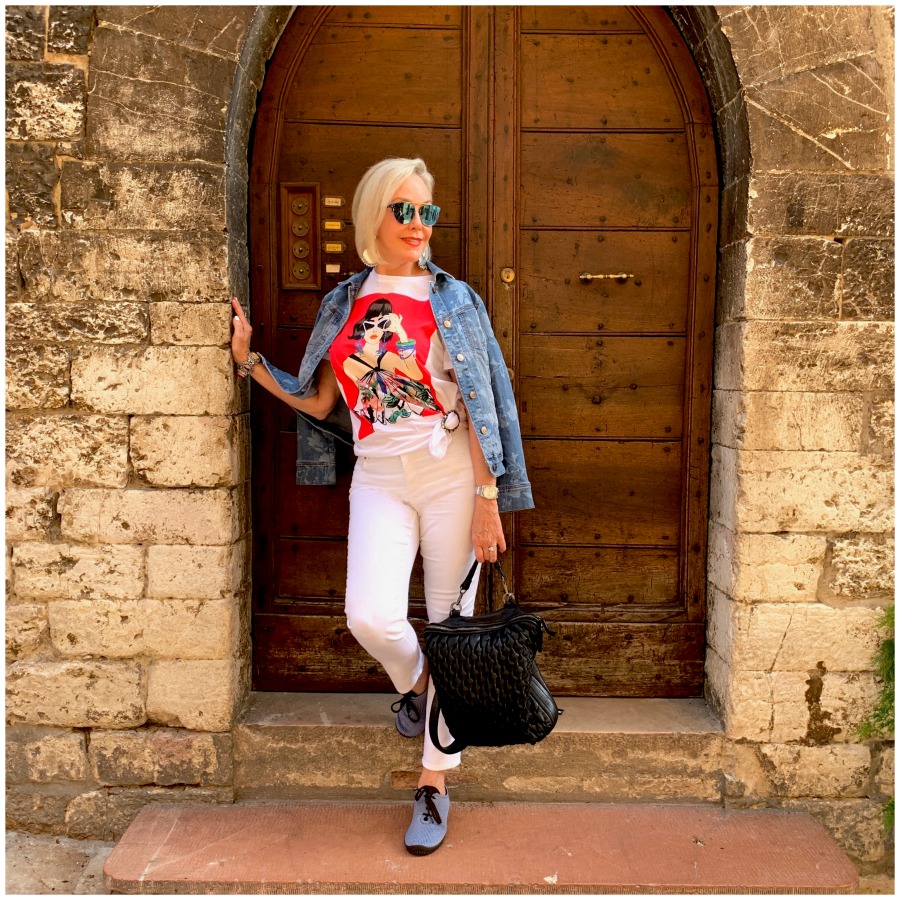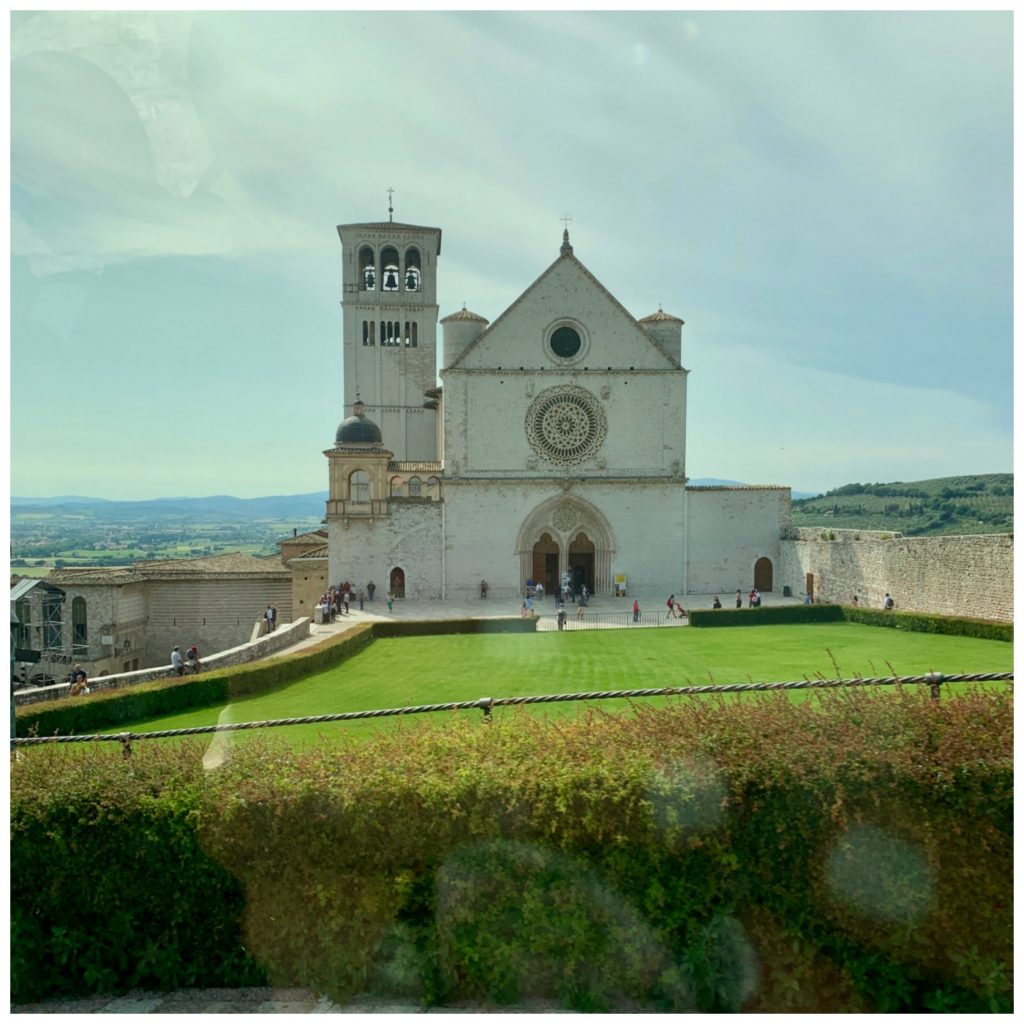 RISTORANTE SAN FRANCESCO
We spent our last night in Italy dining at the lovely Ristorante San Francesco located right across the street from St Francis Basilica. Dining on more wonderful Italian food while enjoying the beautiful sunsets from our table by the open window. What a way to end my day!!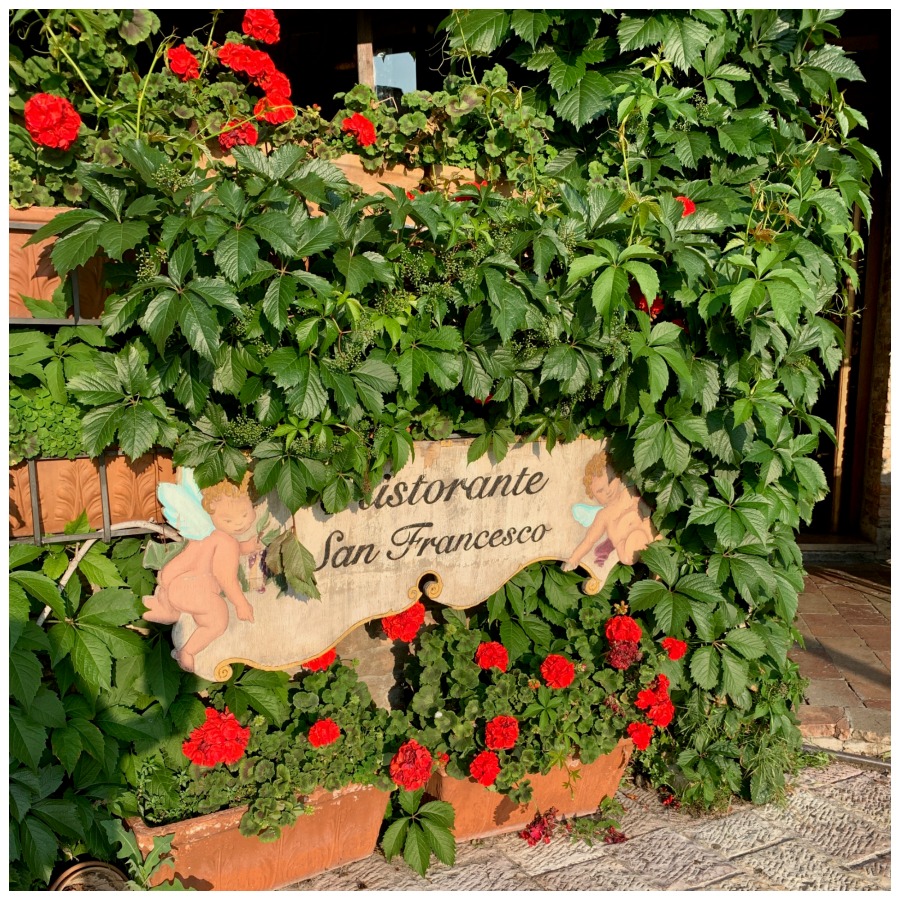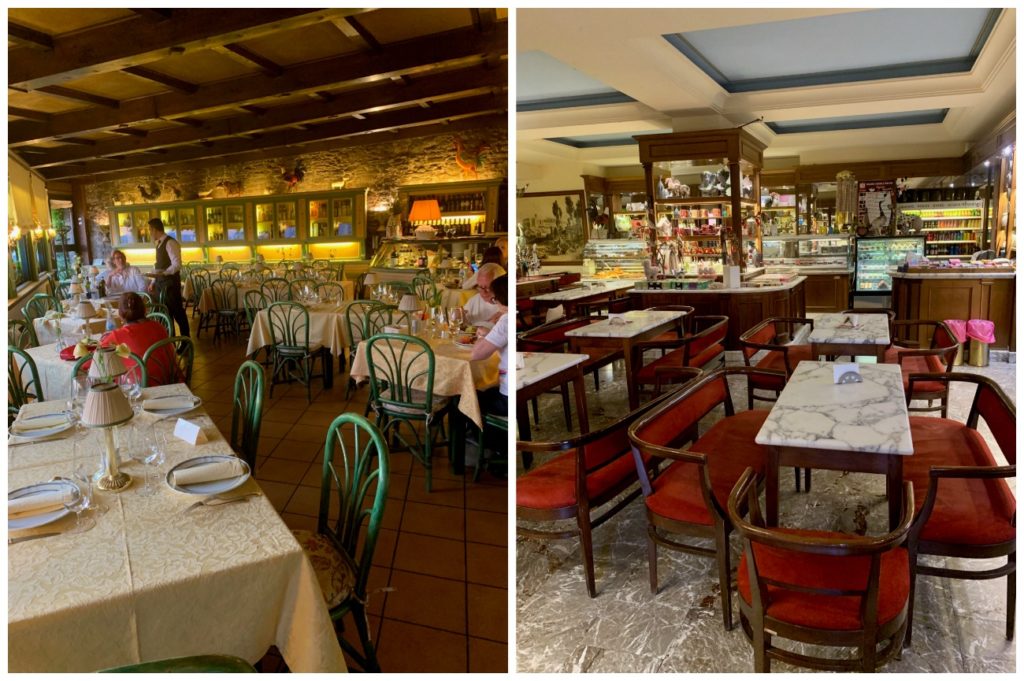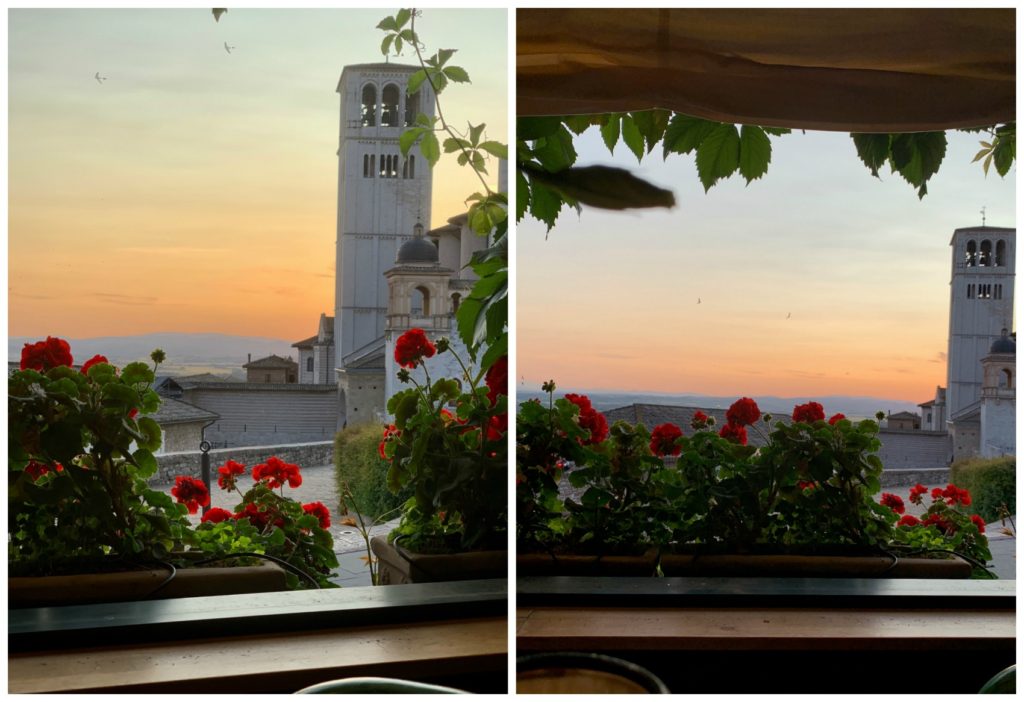 TRAVEL DAY
Last but not least we wanted to take a few photos in the beautiful gardens at the Nun Assissi. We captured one last shot wearing our comfy cozy cardigans and leggings from Soma Intimates. I bet you didn't know that they carry athleisure wear as well as their cute jammies and beautiful bras and panties. Wearing these looks made for a comfortable 11-hour flight home.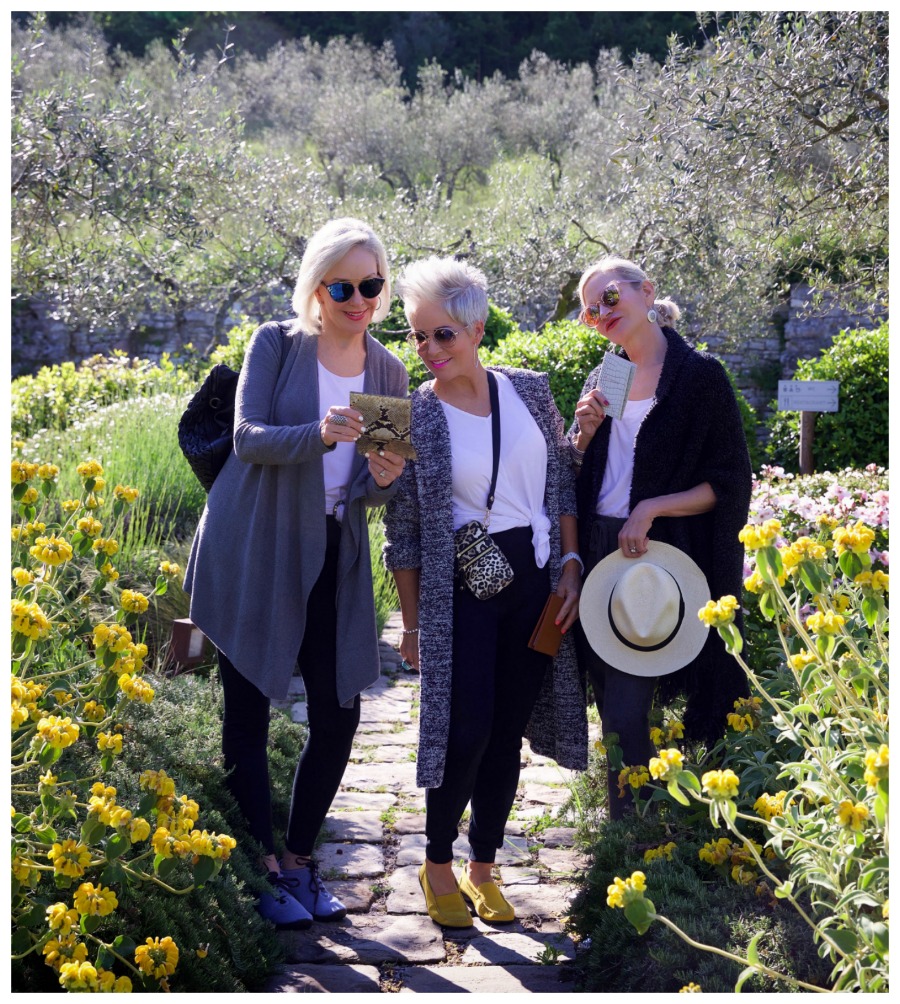 SHOP OUR LOOKS

IN CONCLUSION
Even though every part of our 8 days in Italy was amazing, I definitely loved Assissi, Antonelli San Marco and my experience in Solomeo at the Brunello Cucinelli headquarters the best. There is just something about small ancient towns, wineries, the Italian countryside and people helping humanity that speaks to me on another level. I hope you have enjoyed my 3 part series of "Rockin' the Ages" in Italy. Once again if you missed the other 2 posts then go to Rome- Part I and Florence – Part II.
Until our next adventure my friends. Ciao!
SHESHE'S TIDBITS
We are enjoying the cooler temps in Colorado this week. Catching up on some much-needed rest and then entertaining a few friends and family, so stay tuned. You can follow along on my Instastories @shesheshow
Gala's, weddings, graduations, holidays or just everyday wear…..we have fashion suggestions for you, so stay tuned. Be sure to check out ShopSheShe tab at the top in the menu bar. Hover over and choose the category in the dropdown. We try to keep it up to date with the latest and greatest for all budgets. Subscribe here and then you won't miss a post. Simply enter your email in the pop-up box or below.
WELCOME new readers. We are a fashion/travel/lifestyle blog. We talk about anything and everything, from fashion, travel, health issues to even an occasional recipe. Let us know if there is a topic that interests you. We will do our best to bring that story to you. Have a great week sweet friends and thank you for following along. Without you, we could not continue on this crazy fun journey.