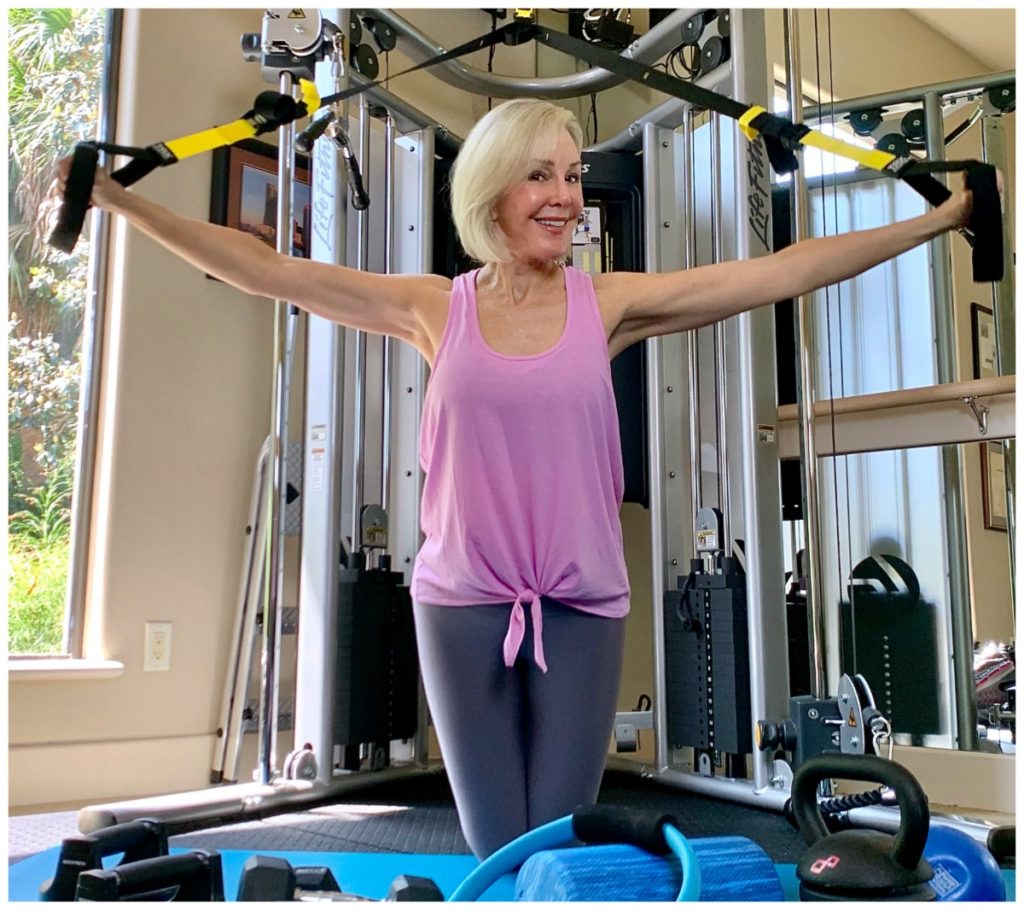 For me, an at-home workout has always been one of my preferred ways to exercise. If I can't squeeze in a full class (or just don't have the energy to get there), this option is perfect.
Obviously now, this is the only option. So, why not take this time to improve your routine?
We've covered at-home workouts a couple of times (check out this article from 2018 and this article from this fall)–and wanted to combine all our knowledge into one place.
So today we're talking all things at-home fitness: our favorite apps, at-home equipment, standout YouTube/Instagram pages, for the 50+ set and even some running tips.
Keep reading, and get ready to sweat!
Outfit Details

Apps
We first covered these in this article from this fall but added some new favorites. Honestly, these workouts are probably my favorite these days–because I NEED someone telling me what to do.
The Sculpt Society
I have long been a follower of Megan Roup, a fitness trainer in NY. She started The Sculpt Society (TSS, for short) as a class in NY, but just recently launched an app to bring this workout to the masses. Expect classes ranging from 10 minutes (quickies) to 50–consisting of dance cardio, body sculpting, mat Pilates…or a combination of all three. Warning: these workouts can be a bit more advanced.
$19.99 USD on monthly plan
$119.99 USD on yearly plan (on sale!)
Good for: dance cardio, toning, sculpting, mat pilates.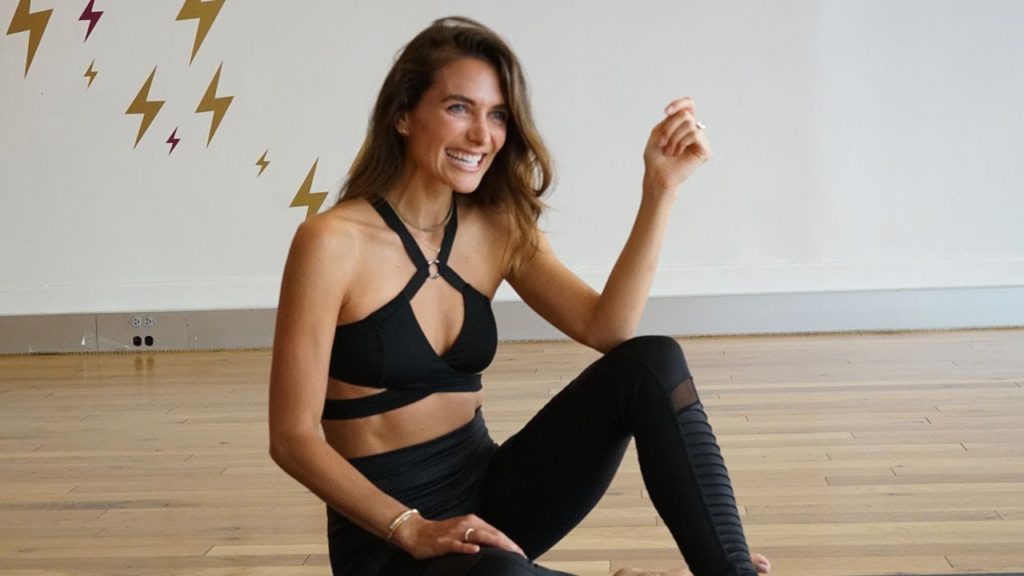 Melissa Wood Health
This is another New Yorker I've been following for quite some time. I love Melissa's workouts, which she often posts on her Instagram (not the full versions, of course). Melissa is all about long lean lines, and not overly-exerting your body. Expect lots of slow & controlled pilates, a few treadmill workouts, and chair series' to sculpt your body from home. Plus, she often includes meditation and pre/postnatal flows on her app. PERFECT for beginners or those looking for a low-impact workout.
$9.99 USD on monthly plan
$99.99 USD on yearly plan
Good for: Pilates, yoga, meditations.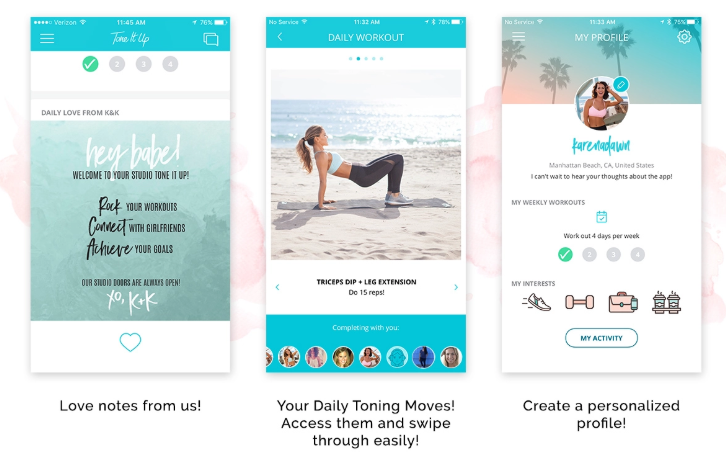 Studio Tone It Up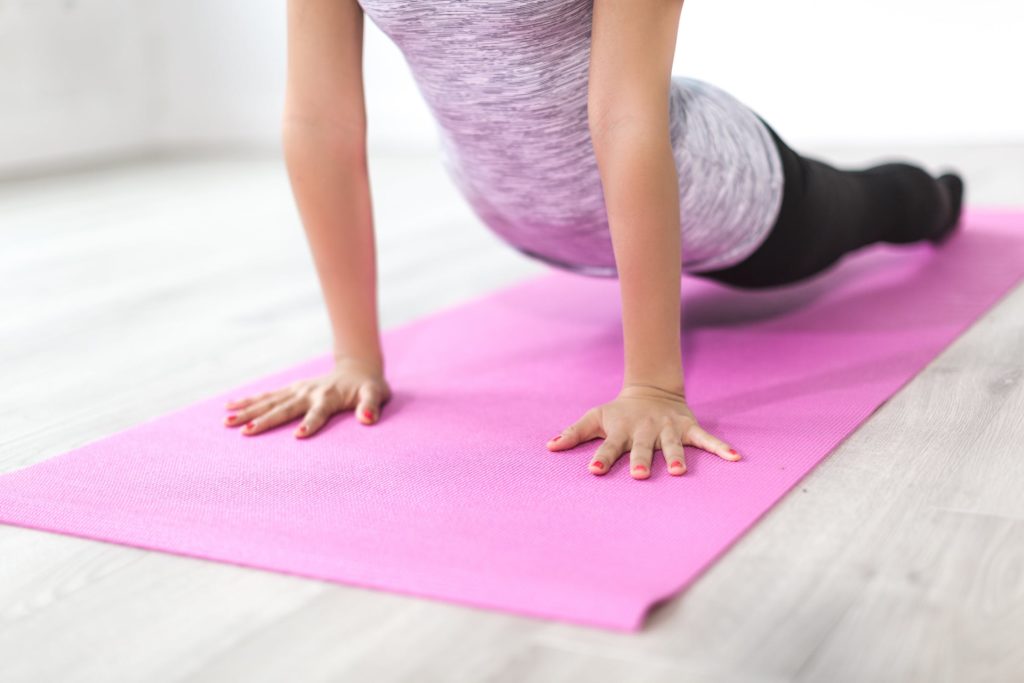 Trainers Kareena and Katrina are ready to help you achieve your fitness goals. I love this app because it is community-centered. They have 40+ on-demand workouts you can access at any time, with a whole team of different instructors. Additionally, you can see who else in the community is taking the class you are in real-time!
Good for: strength training, yoga, kickboxing, barre, dance…everything you could want!
$14.99 USD on a monthly plan
$99.99 USD on a yearly plan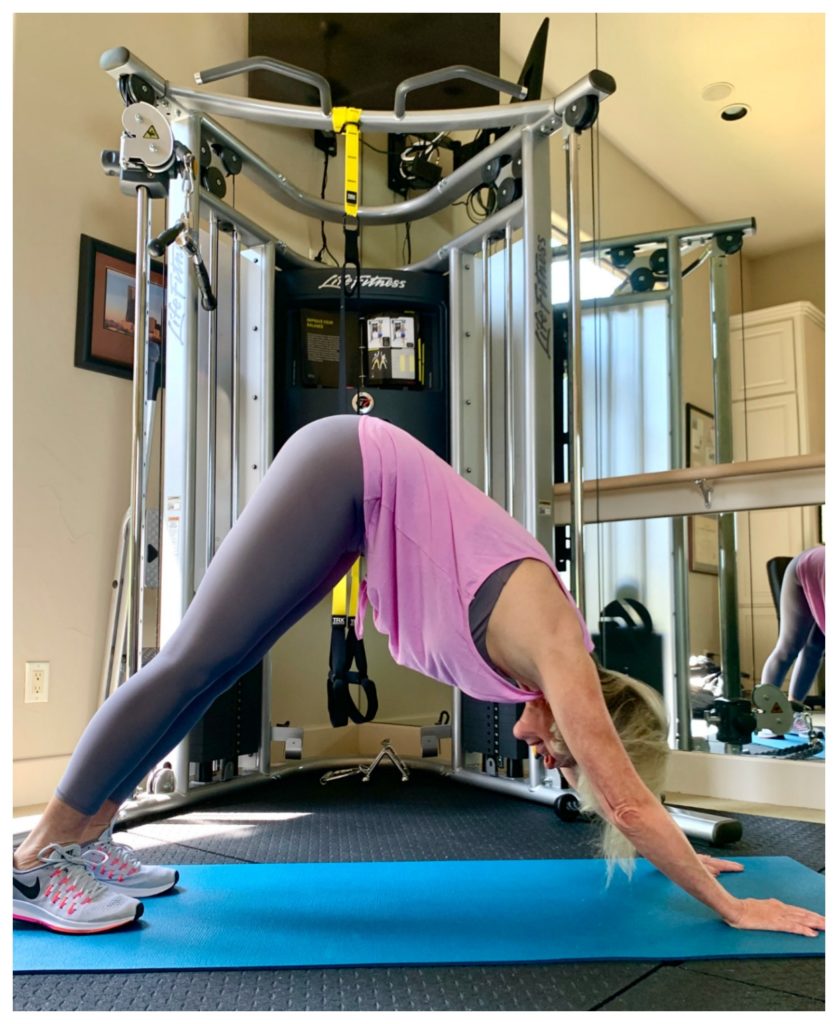 Aaptive
This one is perfect for you audio-lovers. The best part is that you don't have to stare at a screen while you're working out. Coaches on the Aaptive app guide you through a huge variety of workouts: weight training, cardio, at home sculpting, low impact, yoga, etc. as you perform these workouts wherever you want. When you sign up, you have unlimited access to over 2,500 guided workouts.
$14.99 USD on a monthly plan
$99 USD on a monthly plan
Good for: Running, cycling, cardio, weight-training, sculpting
Peloton Workout
Unless you're living under a rock, you've probably heard of Peloton. For those of us who aren't ready to shell out the thousands of dollars for a Peloton bike–there's a simple solution: the app!
The app is amazing because it's not just bike workouts–it's cardio, muscle toning, and everything in between. Some of these classes are killer, but fear not! If you're just getting started, there are plenty of stretching and meditation classes as well.
$12.99 USD on a monthly plan
Looking for an app specifically for running? Keep reading for our favorite one!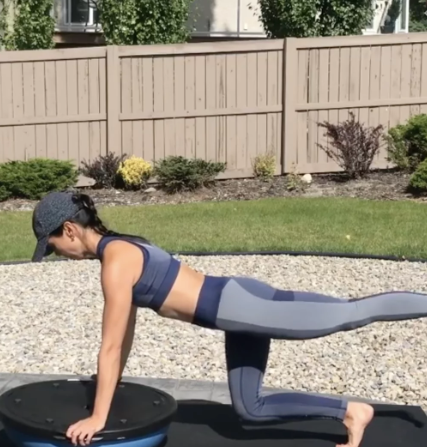 YouTube/Instagram Accounts
There is a TON of great content for free on YouTube and Instagram, which is perfect to use without "committing" to an app. Take a look at some of our favorites below, in no particular order:
It's also important to note: A lot of these instructors have their own websites, plans, and even apps besides just their free content. If you like what you see, think about purchasing their plans to support their small businesses!
Pahla B Fitness: Great YouTube channel that has all kinds of workouts designed for women 50 years and over. Plus, she posts a new video every week!
mat.pilates: Looking for a low-impact workout? Try this great account, which features a ton of mat pilates workouts. Easy on our joints and heart-rate but trust me…you WILL feel the burn.
Madeline Moves: Weights, circuits, and running. Love her circuits the most!
Cindy Yu Fitness: Instagram page with nothing but at-home workouts. She hardly ever uses equipment, which I love.
Stephanie Derby Fitness: I really like this account because Stephanie rarely uses equipment, and does a lot of low impact workouts. Plus, she has her own app!
Whitney Sicher: Another great Instagram page with great workouts for muscle toning. I do her weighted arm series' alllll the time.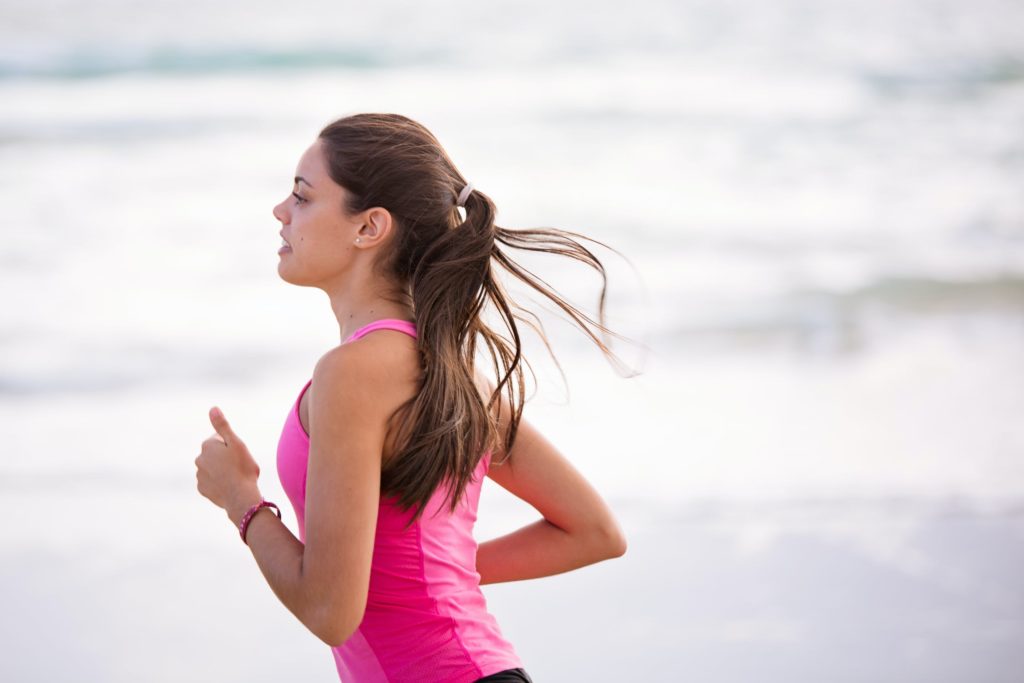 Running Workout
In polling a lot of my friends, it seems that running seems to be coming back into popularity. I guess this makes sense, because it delivers a full-body workout with absolutely no equipment needed.
We shared some tips for distance running in this article from 2018 that are also available below, but added a few new techniques in for us beginners.
Getting Started
There are truly a million ways to get started with running. Personally I really believe in starting small and adding on time as you go. In my experience, the BEST training for beginner runners is a plan called "Couch to 5K."
Obviously, given the name, the program is designed to get just about anyone to be able to run a 5k (3ish miles) in just 9 weeks. Check it out below.
Download the app here for only $2.99.
Distance
The most important thing about distance running is to be mindful of your pace to avoid burnout, but also challenge yourself to add distance when you're body is used to a normal routine.
While some sources advise to only add 10% to your baseline mileage (what you're comfortable running every week) per week, Competitor Running actually advises adding 15-25% weekly to really feel a difference when trying to arrive at your baseline amount. Once you've reached this point, you can add 5-10% biweekly to maintain this level.
If you're running consistently, take a recovery week every month or so. An example of this might also be running only 3 or 4 days instead of 5, and decreasing your mileage. This will give your body a needed break without losing endurance.
If you are running for over an hour, the Starting Line says it is crucial to get some fuel in your system before this amount of activity.
50+ WorkoutS
First and foremost, any workout is a 50+ workout. But we do want to call out a few options that are ideal for our 50 and over readers.
Melissa Wood Health is the queen of low-impact Pilates, so her app would be a perfect starting place. Speaking of pilates, the mat.pilates Instagram account is a great place for inspiration too.
Paula B Fitness has non-Pilates workouts directly targetted for this age group, and includes a lot of ideas for beginners which I love. Plus, she has a ton of weight loss ideas and workouts.
Not a fan of running? Get your cardio fix with a walk instead! Easier on the knees, while still getting your heart-rate up. Need something to keep you entertained during these walks? Check out our list of favorite podcasts here.
At-Home Equipment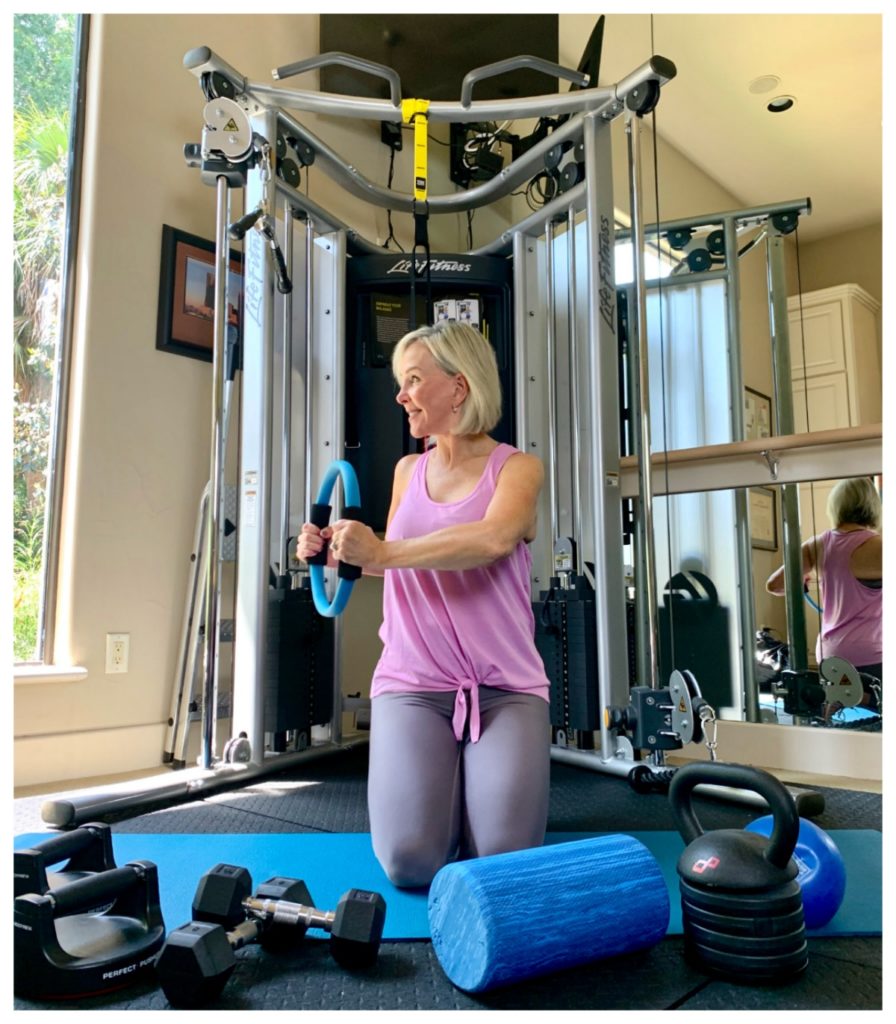 I feel like a good starting point for at-home workout equipment is a good yoga mat like this one. For me, having a yoga mat down before I start my workout helps really set the mood and gets me focused. It can be hard to get in "the zone" when working out at home, but this really helps.
I also love using wrist and ankle weights like this one. For workouts like The Sculpt Society and Melissa Wood Health, these weights add a little bit of intensity that goes a very long way.
Lastly–Tone It Up (the app we mentioned earlier) has a TON of great equipment, some of which are linked above. This booty band is my favorite and takes any workout to the next level.
All of these pieces of equipment can take your workout to the next level…while also allowing you to bring the gym to your house!
How are you getting your sweat on today?
SHOP FITNESS APPAREL


SHESHE'S TIDBITS
This week I am working on a cholesterol post and also a new skin care line. I can't wait to share. We are also planting my spring flowers, begonias, pentas and caladiums. Do you like gardening? We had a strong cool front this week and we will take it because heat is on the horizon.
WELCOME new readers. We are a fashion/travel/lifestyle blog. Be sure to check out the ShopSheShe tab at the top in the menu bar. All of your shopping research is done for you there. Hover over and choose the category in the dropdown. We try to keep it up to date with the latest and greatest fashions for all budgets.
Subscribe here and then you won't miss a post. Simply enter your email in the pop-up box or below.