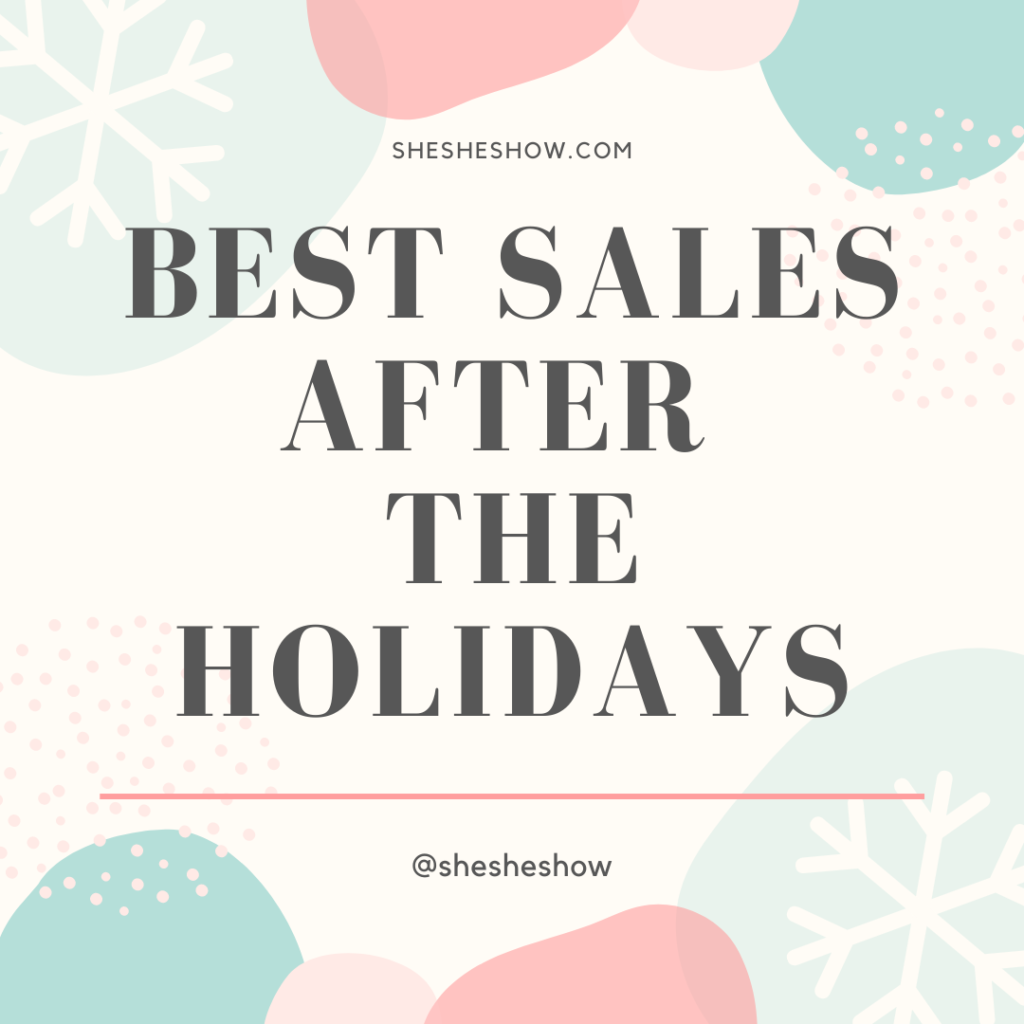 The holiday sales are continuing and the best ones we have covered! Today is all about those after Christmas sales! So sit tight and shop away!
Sales A – F
Abercrombie – Winter Sale Up to 50% Off + 20% Off Entire Purchase
Academy – Up tp 50% off of Fishing + Hunting
Aerie – 40% off of leggings. Up to 60% off Aerie
American Eagle – 25% Off AE Jeans, Joggers & Leggings
Anthropologie – Winter Sale Starting NOW!
Bed, Bath, & Beyond – Up tp 50% off
Bloomingdale's – THE AFTER-CHRISTMAS SALE! Take an extra 50% off clearance items
Chico's – Up to 70% off purchase CODE: 26880
Colleen Rothschild – Up to 50% off and 20% off of everything else.
DSW – Get 50% off of must have gifts – CODE: STAYWARM
Express – 40% – 60% off of EVERYTHING
Frontgate – Up to 70% off clearance.
Sales G – R
Gap – Up to 70% off – 20% off of everything else.
J. Crew – Extra 50% off of sale. CODE: MERRY
Madewell – 30% off purchase and up to 50% off select items.
Macy's – Up to 60% off CODE: JOY
Nordstrom – Half Yearly Sale Up to 40% off. Designer Clearance up to 60% off.
Nordstrom Rack – Extra 25% off bath, bedding + home organization. Extra 25% off of clearance.
Old Navy – Up to 75% off storewide.
QUAY – 15% off any two frames.
Sales S – Z
Soma Intimates – Semi Annual Sale – Up to 70% off.
Target 40% off of PJs, 50% off of sweaters, 50% off of boots
Tarte – 70% off + 20% extra off CODE: SALE
Tory Burch – Semi Annual Sale CODE: EXTRA
Walmart – Holiday Clearance event
Vince Camuto – Up to 60% off. 30% off of boots and booties.
West Elm – End Of Season Warehouse Sale: Up To 75% Off, Extra 50% Off Clearance With Code SAVE50
Williams Sonoma – Winter Clearance up to 75% off.
World Market – Save up to 50% off of furniture.
SHESHE'S TIDBITS
I hope you guys had a great Christmas. It was a little different this year for sure. Norman and I woke up early Christmas Eve with the diarrhea virus. We thought it could be Corona Virus so Norman went right away to get a rapid test and it was negative. Thank goodness! We were feeling better on Christmas Day so it was the 24-hour stomach crud. Just another day in 2020. Ha Ha, and it's almost over. It's just gotta be better in 2021!! Do I hear an AMEN?
ABOUT SHESHE SHOW
WELCOME new readers. We are a fashion/travel/lifestyle blog. We talk about anything and everything, from fashion, travel, health issues to even an occasional recipe. Let us know if there is a topic that interests you. We will do our best to bring that story to you. Have a great week sweet friends and thank you for following along. Without you, we could not continue on this crazy fun journey.
Be sure to check out the ShopSheShe tab at the top in the menu bar. Hover over and choose the category in the dropdown. We try to keep it up to date with the latest and greatest for all budgets. Subscribe here and then you won't miss a post. Simply enter your email in the pop-up box or below. Also, download the LiketoKnow.It App, follow @shesheshow to shop all of our daily outfits, home, beauty, and more. Go here for our LiketoKnow.It tutorial.