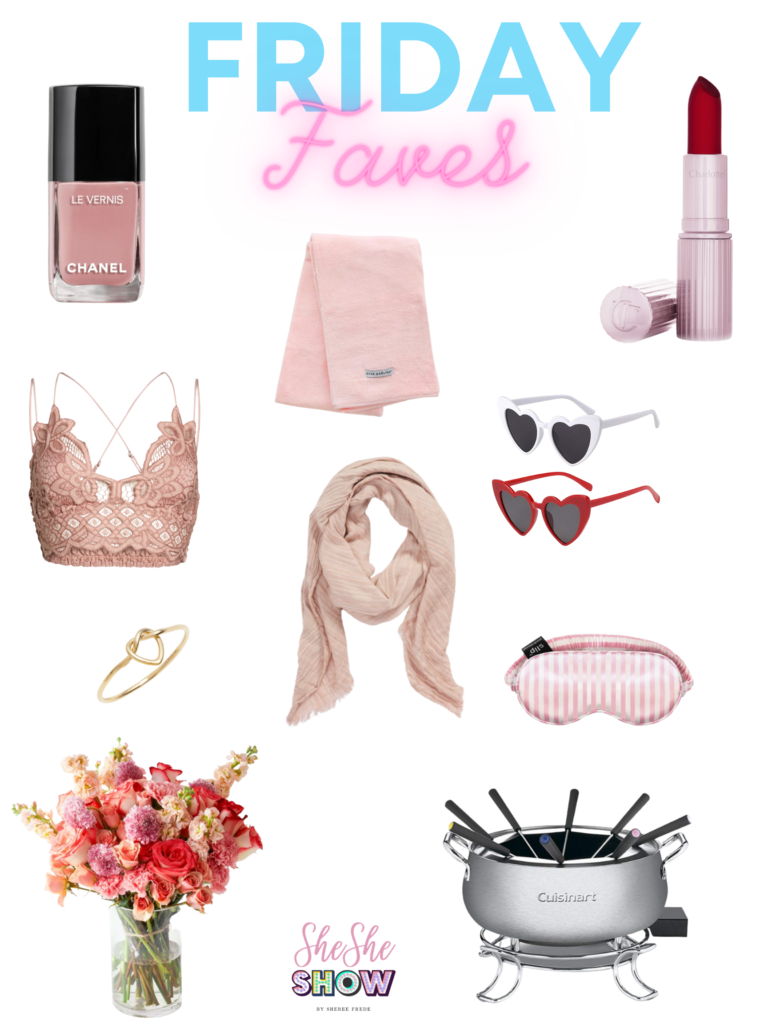 It's Friday and we are sharing all of our favorites from the week. You can find everything here from, home, lifestyle, fashion to beauty.
Friday 02|05|2021


This Friday we are focusing all on Valentines Day looks! Valentine's Day is around the corner and it is time to sprinkle some love in your closet with these fabulous picks!
Flowers
Last Minute But Lovely Flower Delivery – I would say February is a big year for flower sales! This company has BREATHTAKING bouquets and fast delivery!
Accessories
Designer Inspired Sunnies – These have been a favorite of mine and I can't get enough of them. While definitely designer inspired you can get these without the designer price tag. Two pairs for $12.99!
Petite Ring – This ring is the perfect gift for any girl – no matter her style preference!
Beauty
Hair Towel – It's time to cut your morning routine time in half so you can get going? This is the perfect product. Dry hair quickly, and spend less time fighting frizz with this microfiber hair towel.
Silk Sleep Mask – Protect those lashes, prevent wrinkles, save your face babes! Get a silk sleep mask or pillowcase to protect your locks, skin, and lashes!
Perfect Pink Polish – Pink polish is a necessity and a nail basic for every girl! This one by Chanel is a best-seller for that perfectly-feminine pink that we all adore.
Custom Lip Stick – Charlotte Tilbury is a fave of mine, and she has released a limited edition Glowgasm Glass Balm and it a custom gift for any woman. This balm is a color-morphing, hydrating lip balm that reacts with the natural pH of your lips to bring out their natural hue for a personalized shade.
Fashion
Bralette – This bralette has been a best-seller throughout all seasons. Perfect to have under a sweater or wear with an open back top.
Scarf Blanket – I tend to be hot-natured so when traveling or an outing I have a hard time wearing a ton of heavy clothes to keep me warm. I love a good blanket scarf for this reason. I can layer it on and if I am on a plane I can have a nice warm blanket.
Kitchen
Fondue Lover – More cheese, please! I think we all can agree that we love cheese and we LOVE chocolate! I do, that's for sure. A fondue maker is one thing that we do not think about, but how great is it to have on hand? Perfect for a fun family dinner, a romantic dinner with the hubs, or hosting a bunco party! I love my fondue maker!
Friday Fave Shop

SHESHE'S FRIDAY TIDBITS
I am thrilled it's Friday but where in the world did the week go? Norman and I got through the second Covid shot and so glad to have it behind us. I am a big needle phobic, but when it comes to beauty or saving my life then I will grit and bear it.
We are hanging out at home this weekend and so excited to watch the Super Bowl. I am such a Tom Brady fan, because not only is he so handsome but he is just so much fun to watch. What should I cook…..maybe just good old hamburgers and add some of my guacamole and chips on the side. Will you be tuning in and what will you be whipping up for the big game?
ABOUT SHESHE SHOW
WELCOME new readers. We are a fashion/travel/lifestyle blog. We talk about anything and everything, from fashion, travel, health issues, skincare tips, to even an occasional recipe. Let us know if there is a topic that interests you. We will do our best to bring that story to you. Have a great week sweet friends and thank you for following along. Without you, we could not continue on this crazy fun journey.