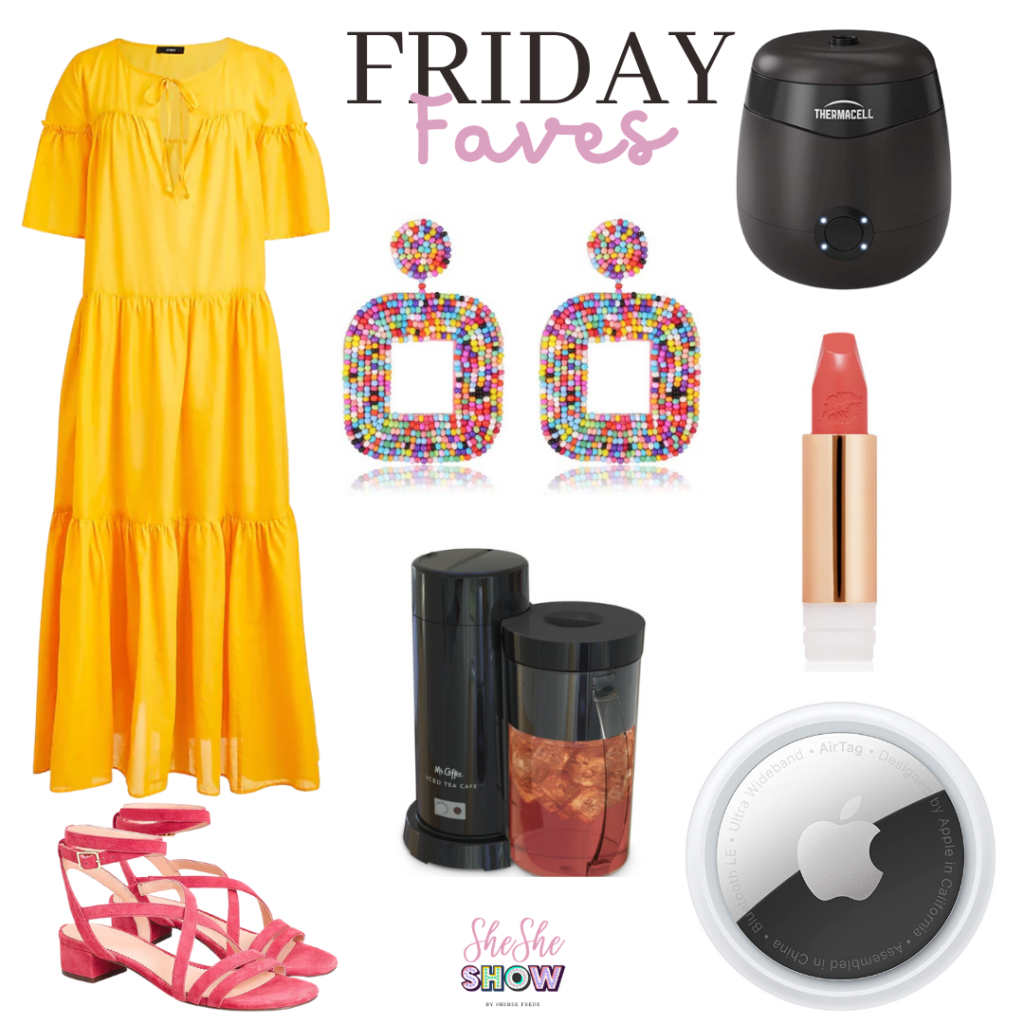 It's Friday and we are sharing all of our favorites from the week. You can find everything here from, home, lifestyle, fashion to beauty.

Friday 05|23|2021
Home + Outdoors

It's mosquito season…so it's time to be as comfortable as possible with these little pests flying around! This rechargeable mosquito repeller is the perfect way to stay bite-free. With this repeller, you can repel mosquitoes without chemicals or sprays on your skin. No lotions or DEET to apply. No smoke, flames, or citronella. So no mosquitos and no odors?!?! Yes, please!

The days of misplacing or losing things are soon to be a thing of the past! This simple tag will help you keep up with your keys, gym bag, luggage, etc.! You can track down whatever you put this in or attach it to and even make it play a sound to help you locate your missing things. As a woman who's constantly searching for "stuff", this is genius.

This is the #1 Best-Sellers for iced coffee makers! You may have seen all of the trends of people making their own Starbucks-inspired iced coffees and this is what everyone is using to make them. The easiest iced coffee maker and definitely the most satisfying! It's ONLY $20! That's 4 coffees from our favorite major coffee chain!
Friday Fashion + Beauty

We love bright summer dresses like this one… it features pretty tiered details, a chic above-the-ankle length, and sheer cotton voile fabric that's super cool, even on the hottest of days. Plus, it's made with organic cotton that is grown without chemical fertilizers and pesticides from nongenetically modified seeds.

Take your love for statement jewelry to a new level of affection with these colorful square seed bead earrings. These Boho dangle earrings boast a colorful rainbow palette crafted entirely of tiny seed beads, lending colorful interest to goes-with-everything style!

A special refill for your Charlotte Tilbury Hot Lips Lipstick bullet! This lipstick softens and moisturizes your lips while delivering a luminous, full-bodied pout. It captures light and reflects it back out. Charlotte Tilbury makes my FAVORITE lipsticks and I LOVE that we can refill them!

With a sherbert hue, these strappy suede sandals will add a serious kick to your warm-weather wardrobe. Ankle-wrap straps and a low heel make these as walkable as they are sweet. Wear them with everything from floaty dresses to mini skirts to jeans—you really can't go wrong.
Friday Shop

SHESHE'S TIDBITS
Are ya glad it's Friday?! I hope you had a great week!! It has been wild for me this week! Do ya wanna know why? I am at my home on Sanibel Island and Shauna, @chicover50 an influencer friend of mine came to visit. While here we worked with Chico's with an Instagram Live where we gave a tour of the original Chico's store located on Sanibel and Facebook Live where we did a style session with their style guru at their headquarters in Ft Myers. We also had so much fun shooting some great content that will be coming soon. Shauna leaves today so I will be resting and playing catch up all weekend. What are you up to?
ABOUT SHESHE SHOW
WELCOME new readers. We are a fashion/travel/lifestyle blog. We talk about anything and everything, from fashion, travel, health issues, skincare tips, to even an occasional recipe. Let us know if there is a topic that interests you. We will do our best to bring that story to you. Have a great week sweet friends and thank you for following along. Without you, we could not continue on this crazy fun journey.
Be sure to check out the Shop SheShe tab at the top of the menu bar. Hover over and choose the category in the dropdown. We try to keep it up to date with the latest and greatest for all budgets. Subscribe here and then you won't miss a post. Simply enter your email in the pop-up box or below. Also, download the LiketoKnow.It App, follow @shesheshow to shop all of our daily outfits, home, beauty, and more. Go here for our LiketoKnow.It tutorial.