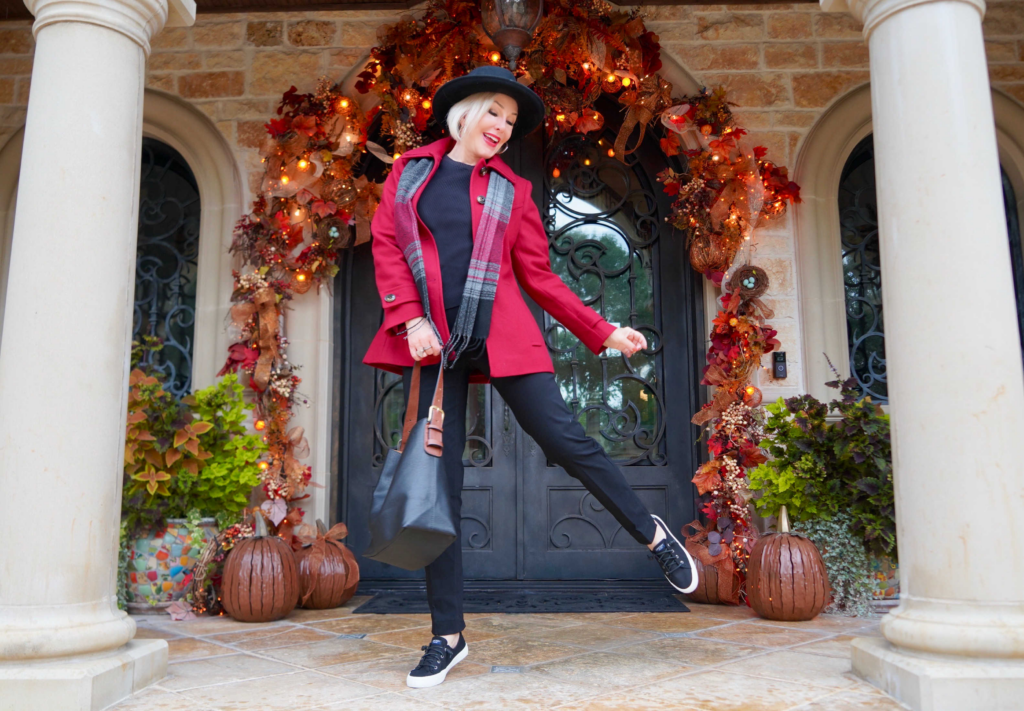 Appleseed's is one of my favorite brands! This season I am particularly loving their jackets and sweaters. This London Fog red jacket has inspired me to share my favorite looks to keep you warm and cozy. A lot of these pieces are great for the holidays and New Year as well.
This post is sponsored by Appleseed's. All opinions are my own.
Shop My Appleseed's Look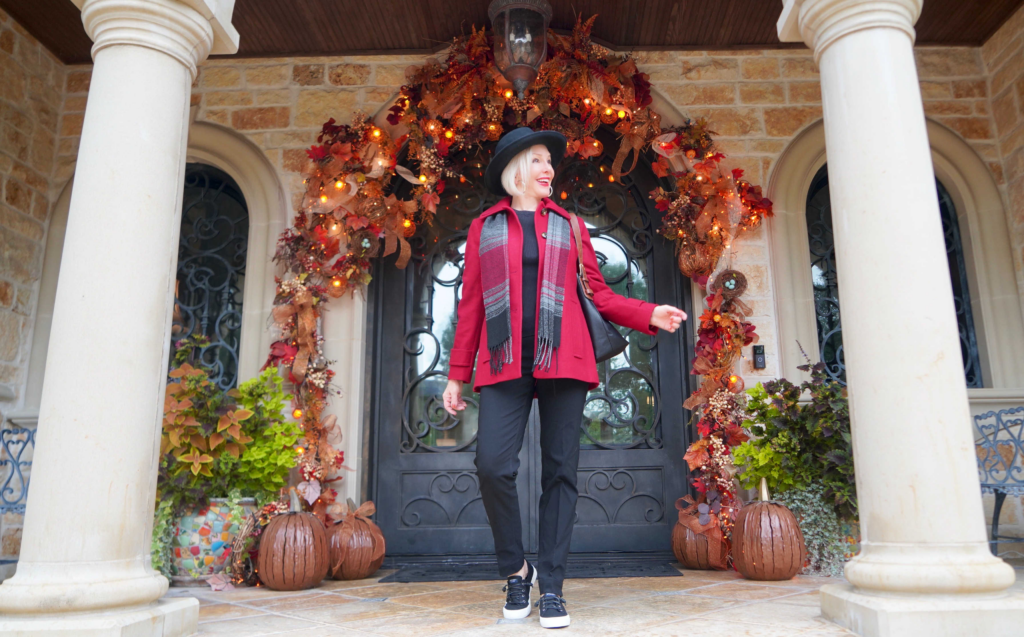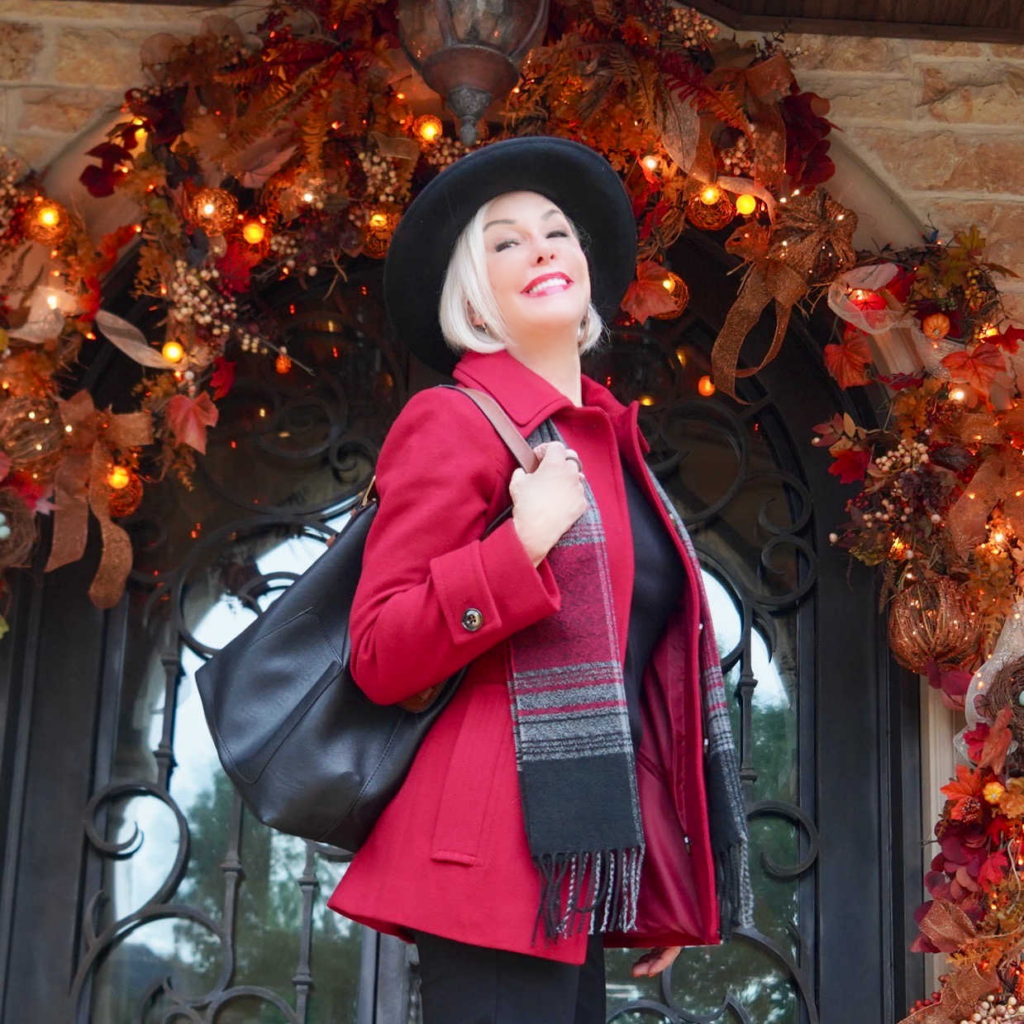 My fun and festive look can all be shopped here with one click and all within one page!!
I wanted to point out specifically my red coat pictured. The London Fog Wool Scarf Coat is going to be a go-to jacket for me this season. It is perfect for these Texas temps, and I love the fact that it comes with a scarf! The fabric is pure quality and for sure keeps me warm during fall and winter.
– Button front.
– Double-layer collar.
– Soft fringed scarf included. Princess seams.
– Welt pockets.
– Button-tab cuff detail.
– Back vent.
– Hits at mid-thigh.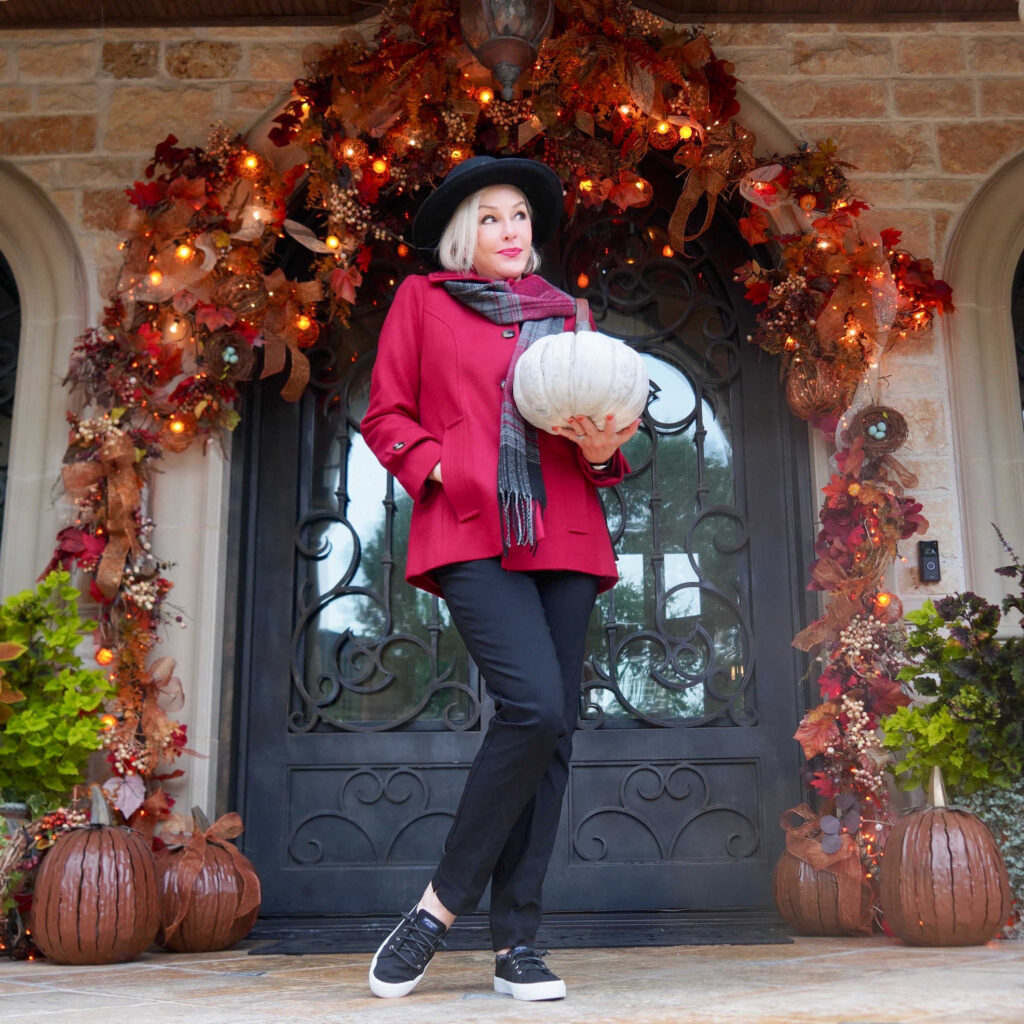 The Basics
Appleseed's has great basics and I strongly believe that every great wardrobe starts with good basics. That means tees, tanks, long sleeve tops, 3/4 sleeve tops, and great bottoms! I am loving the Appleseed's Ribbed Cotton Crewneck Sweater, a favorite all-cotton sweater that fits and feels even better with a smidge of extra length for flattering coverage, and smoother-fitting shoulder seams for greater comfort. The best part: the same low price as last year! These famous pants Slimsation® Full-Length Pants are everyone's slim-without-the-gym favorites which also come in richly textured, velvety soft corduroy. Featuring Slim-Sation's signature shape-recovery stretch, these pants are designed to hold their shape beautifully and flatter yours. The flat elastic waist fits comfortably and creates a smooth, slimming line under tops. I love that these pants nip and tuck me all while remaining comfortable throughout my day! In seasonal fashion colors or denim, they're the pair that dresses up or down!
More about the Slimsation® Full-Length Pants:
– Pull-on style
– Smooth, wide elastic waist
– 360° shaping control panel
– Faux fly front
– Faux pocket details
– Back yoke
– Double-needle top-stitch detailing
– Slim legs with side slits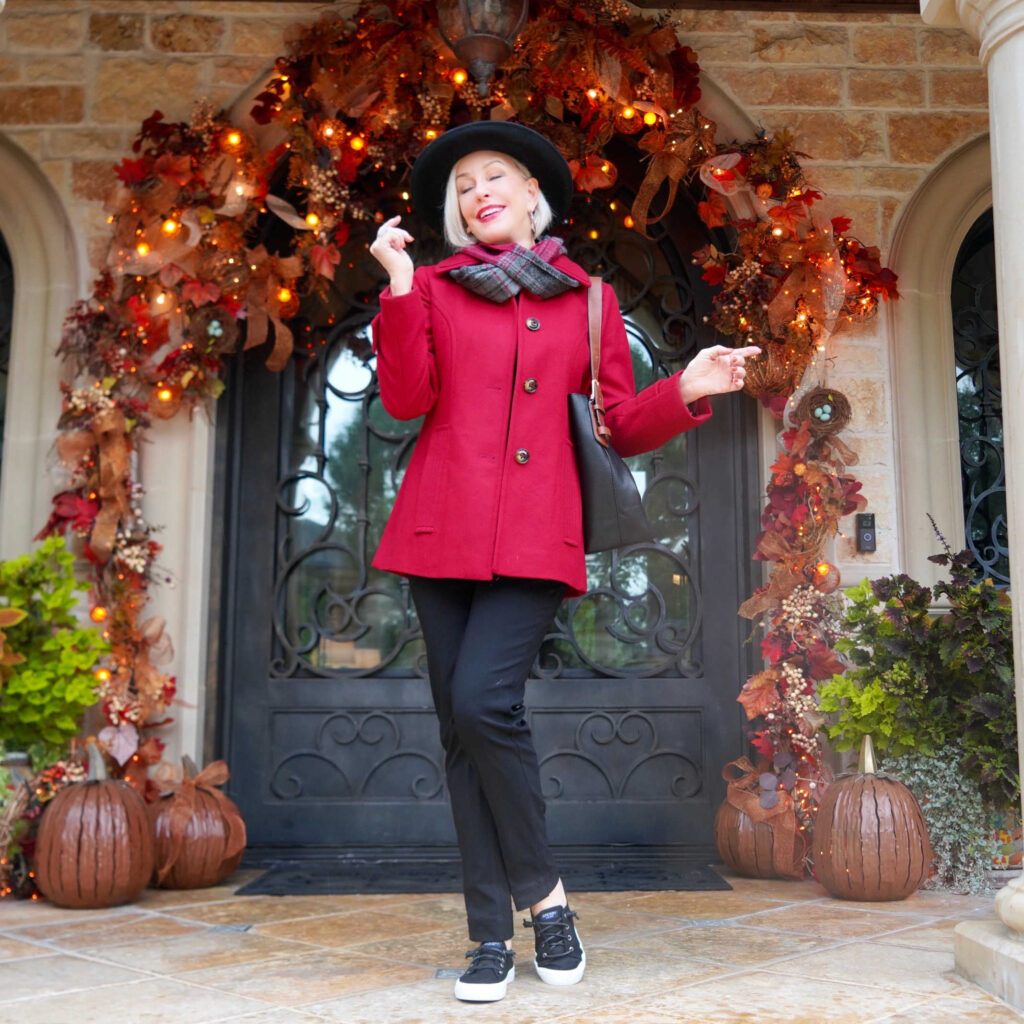 Layer Up!!
One of my favorite things about Appleseed's is their pieces are fabulous for layering! Here in Texas, we do not really get that cold! However, we do have chilly days and of course, getting cold indoors! I love this Ribbed Cotton Crewneck Sweater under their classic  Appleseed's also has great turtlenecks, if you are like me and do not like such high necks, then the Spindrift Long-Sleeve Mockneck is perfect!
Transition Easily

If you know me, you know I am all about versatile and transitional pieces. I think they can make your wardrobe go seamlessly from season to season. Appleseed's color palettes are just perfect for that and also on the top of the trends list! I love their mock necks, and I also think that their quarter sleeves are great for transitioning from summer to fall or winter to spring!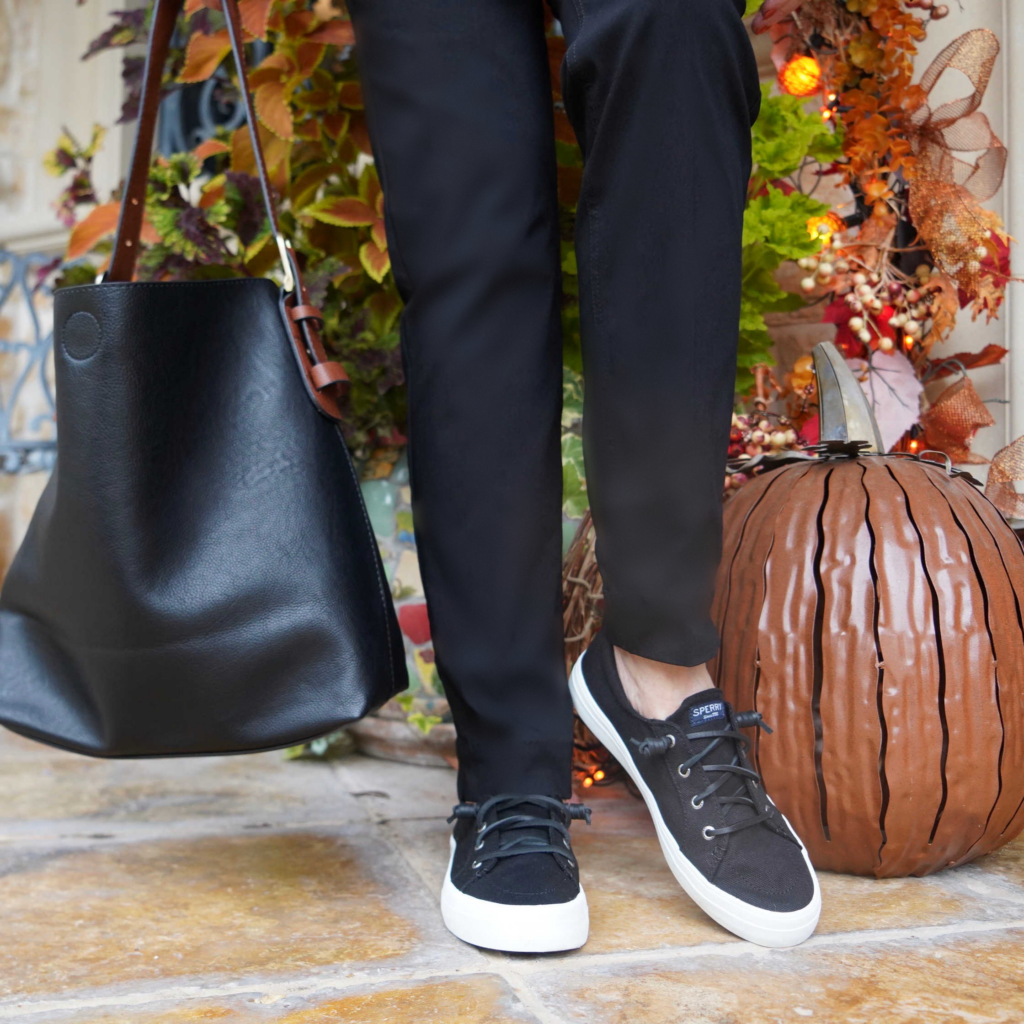 One thing that is for sure about Appleseed's is the level of comfort in all of their shoes! I love Sperry's and they even have a brand I am very fond of…Easy Spirit! As far as accessories go, I am a HUGE fan of this Classic Hobo Shoulder/Crossbody Bag! This convertible faux-leather bag comes with a removable inner zip-close pouch that acts as an organizer inside the larger shoulder bag or can be taken out and worn separately as a clutch or crossbody-style with the adjustable strap. Perfect for traveling or that lady on the go!
SHESHE'S TIDBITS
Hi Friends…..It's Friday Yeah!! Guess what? I am headed to my 48-year high school reunion in Maryville, TN. In 1973 our school was 3 grades 10-12 with a little over 600 students. I had 127 in my graduating class. This year 4 classes are coming together for a fun weekend. Since we were fairly small, I knew a lot of the students. Needless to say, I am super excited to reconnect and have a lot of fun. I will be sharing over on Instastories, so join me there this weekend. Have a great one!!
Have a wonderful day, sweet friends!
ABOUT SHESHE SHOW
WELCOME new readers. We are a fashion/travel/lifestyle blog. We talk about anything and everything, from fashion, travel, health issues, skincare tips, to even an occasional recipe. Let us know if there is a topic that interests you. We will do our best to bring that story to you. Have a great week sweet friends and thank you for following along. Without you, we could not continue on this crazy fun journey.
Be sure to check out the Shop SheShe tab at the top of the menu bar. Hover over and choose the category in the dropdown. We try to keep it up to date with the latest and greatest for all budgets. Subscribe here and then you won't miss a post. Simply enter your email in the pop-up box or below. Also, download the LiketoKnow.It App, follow @shesheshow to shop all of our daily outfits, home, beauty, and more. Go here for our LiketoKnow.It tutorial.