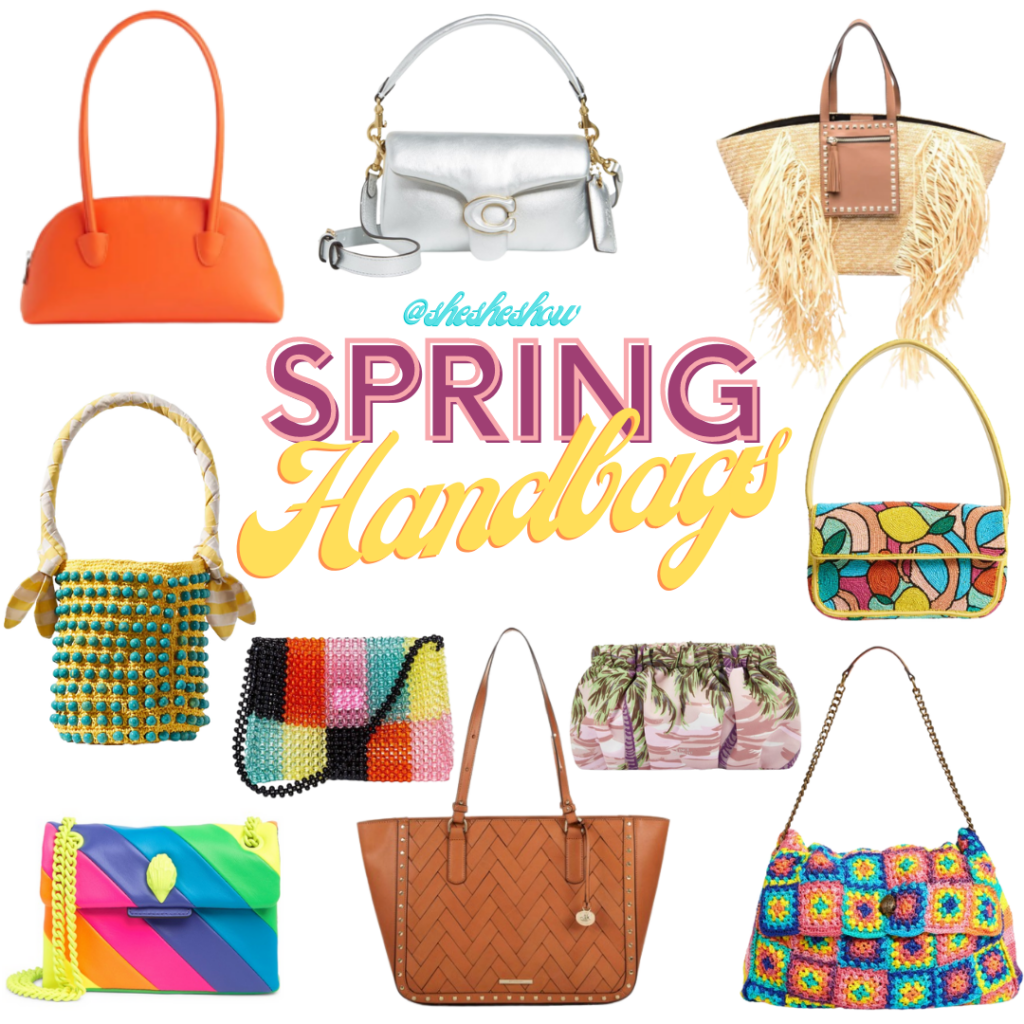 Spring has sprung – at least it has in Texas! We are feeling warmer temps and seeing brighter colors! I do not say that only referring to all of the new blooms, but in fashion too. As a handbag lover, I think it's time we share our favorite handbags. We love sharing the newest trends and keeping you ladies up to date on the latest fashion.
Out With The Mini?


Last year we saw the tiniest of tiny bags….can we just call them micro? Handbags that could only carry a credit card and lipgloss were trending everywhere! While they are PRECIOUS and I DID participate in the trend, I am certainly glad to see bigger handbags coming out. The mini is not completely out…we're just seeing less and less of them. Instead of the mini bag, try out a bag a little larger. In between the mini and a tote is a great size! This size, is not quite a medium, it is slightly smaller and the perfect size!
Bold and Bright


Color queen over here is beyond excited for all of the colors we are seeing this season! Lots of boldly bright colors to add to your look. I am not afraid of these colors at all, but if you are shy to be so bold with your look drenching in bright colors – I suggest a bright handbag to add a nice pop of color without stepping too far out of your comfort zone.
Textures


Textures really came into the picture last year with all of the lattice and woven bags! This year we are seeing lots of textures and new fabrics. I love this jute handbag, so fun and unique and has all of the colors! I recently got my hands on this Brahmin bag and I must say, ladies, it is YUMMY! The Ashlee Tan Nelani is pure quality, the leather, stitching, and feel are absolutely luxurious and the perfect size to travel with!
Fresh & Fun


We are seeing a lot of nostalgic bags! From beaded bags to crotcheted, the '90s are taking over the trends. I first saw the trend with my crocheted cardigan, which is where I first fell in love with this trend. Now we are seeing it on sandals, shorts, and even handbags! Like this one!
So Shapely


The shapes are popular this year! Whether it's round, square, or rectangle, the geometrical shapes are everywhere and I adore it!
The Spring Handbag Shop

SHESHE'S TIDBITS
Team SheShe did start our new Facebook group page called SheShe's Shopping Network. We would love for you to join the group and join us every Tuesday night for our Live segment all about shopping trends style tips and more. It is so much fun!!
We hope to see you there!! Here is the link to join
https://www.facebook.com/groups/shesshesshoppingnetwork
Have a wonderful day sweet friends!
ABOUT SHESHE SHOW
WELCOME new readers. We are a fashion/travel/lifestyle blog. We talk about anything and everything, from fashion, travel, health issues, skincare tips, to even an occasional recipe. Let us know if there is a topic that interests you. We will do our best to bring that story to you. Have a great week sweet friends and thank you for following along. Without you, we could not continue on this crazy fun journey.
Be sure to check out the Shop SheShe tab at the top of the menu bar. Hover over and choose the category in the dropdown. We try to keep it up to date with the latest and greatest for all budgets. Subscribe here and then you won't miss a post. Simply enter your email in the pop-up box or below. Also, download the LiketoKnow.It App, follow @shesheshow to shop all of our daily outfits, home, beauty, and more. Go here for our LiketoKnow.It tutorial.