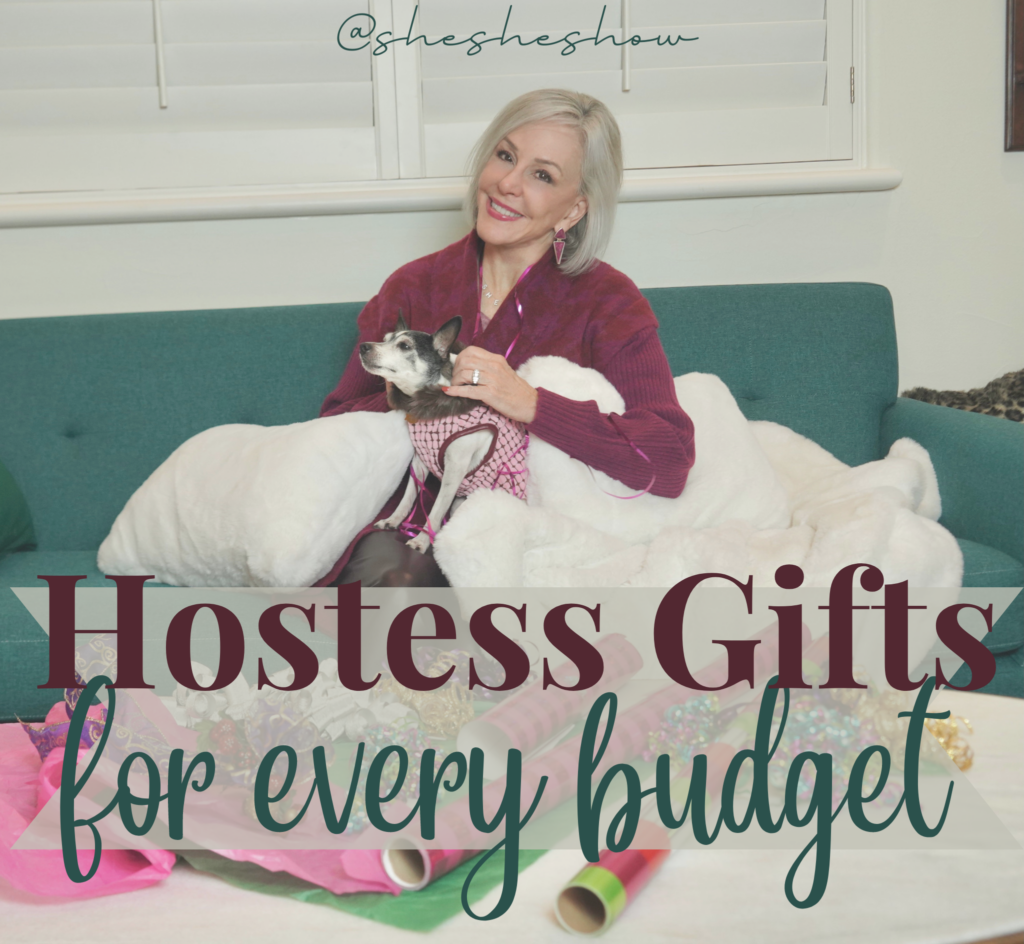 The hostess with the mostest! We all know one or are sure to be hosted by one this holiday season! Below we have 6 of our favorite gifts for that special hostess. Check the boutique for more!

This ultra-soft Quince cashmere throw is one of the best throw blanket options ever thanks to its 100% real cashmere. The budget-friendly price makes it one of the best hostess gifts, and a front-runner for everyone's holiday wish lists.

This PureWine Wand is the PERFECT gift for the wine lover (hello, me). Only PureWine alleviates ALL of the most common side effects from wine: headaches, stuffy nose, skin flush, next-day hangovers, and upset stomach. Imagine no longer having to throw away opened bottles of wine! The Wand restores open, oxidized wine to its natural taste using the Patented PureWine Purification technology. Does not add any harsh chemicals to your wine. PureWine Purification is proven safe and effective in independent tests. FDA-compliant and BPA-Free. 100% Made in the USA

Hey, hosting is a lot of work and lots of stressors happen! These aromatherapy-focused Cleverfy shower steamers come as a packaged gift set perfect for encouraging a little bit of self-care. Available in sets of six, 12, or 18 steamers, these soothing home spa products are fun to give on their own or bundled with other gifts.

A cookbook that teaches you how to cook without a book?! Everyone will love this book from Pam Anderson! Understanding that most recipes are simply variations on a theme, Pam innovatively teaches technique, ultimately eliminating the need for recipes. The new edition will reflect ingredients and techniques home cooks love to use today: chicken dishes are revamped by using thighs instead of boneless skinless breasts; hearty, dark greens like kale and swiss chard replace hearts of Romaine in salads; roasted Brussels sprouts and sweet potatoes move from side dish to the main event in more meatless entrees; plus, tips for creating a whole meal using one pot or one sheet pan (instead of dirtying multiple dishes). Each chapter contains helpful at-a-glance charts that highlight the key points of every technique and a master recipe with enough variations to keep you going until you've learned how to cook without a book.

This makeup brush set was introduced to me by a well-known Houston makeup blogger Meg O. There are so many great makeup brushes sets out there and some are not so budget-friendly. Find a great gift for under $40 for that beauty-loving hostess here!

I am LOVING this set of stunning colorful martini glasses as a gift for the perfect hostess. I have a similar set from Estelle and these are very similar at a fraction of the price. Even if your hostess is not one to divulge in alcohol, these are great to serve desserts in.
Hostess Gift Boutique

SHESHE'S TIDBITS
Team SheShe started our new Facebook page called SheShe's Shopping Network. We would love for you to like our page so you can join us every Tuesday night for our Live segment all about shopping trends, style tips, beauty, travel, and more to help women look and feel confident and be in the know. It is so much fun!!
We hope to see you there!! Here is the link to like our page
https://www.facebook.com/sheshesshoppingnetwork
*CHECK OUT MY INSTAGRAM SHOP TO SHOP ALL OF MY INSTAGRAM LOOKS
*YOU CAN ALSO DOWNLOAD THE LIKETOKNOW.IT APP AND FOLLOW ME ON IT BY CLICKING HERE. Go here for our LiketoKnow.It tutorial.
* STAY IN THE KNOW: SUBSCRIBE HERE to receive exclusive sale alerts, helpful style tips, and fabulous giveaways, AND GET ACCESS TO MY VIP ONLY FOR SUBSCRIBERS!
*Be sure to check out the Shop SheShe tab at the top of the menu bar. Hover over and choose the category in the dropdown. We try to keep it up to date with the latest and greatest for all budgets.
Have a great week sweet friends and thank you for following along. Without you, we could not continue on this crazy fun journey.