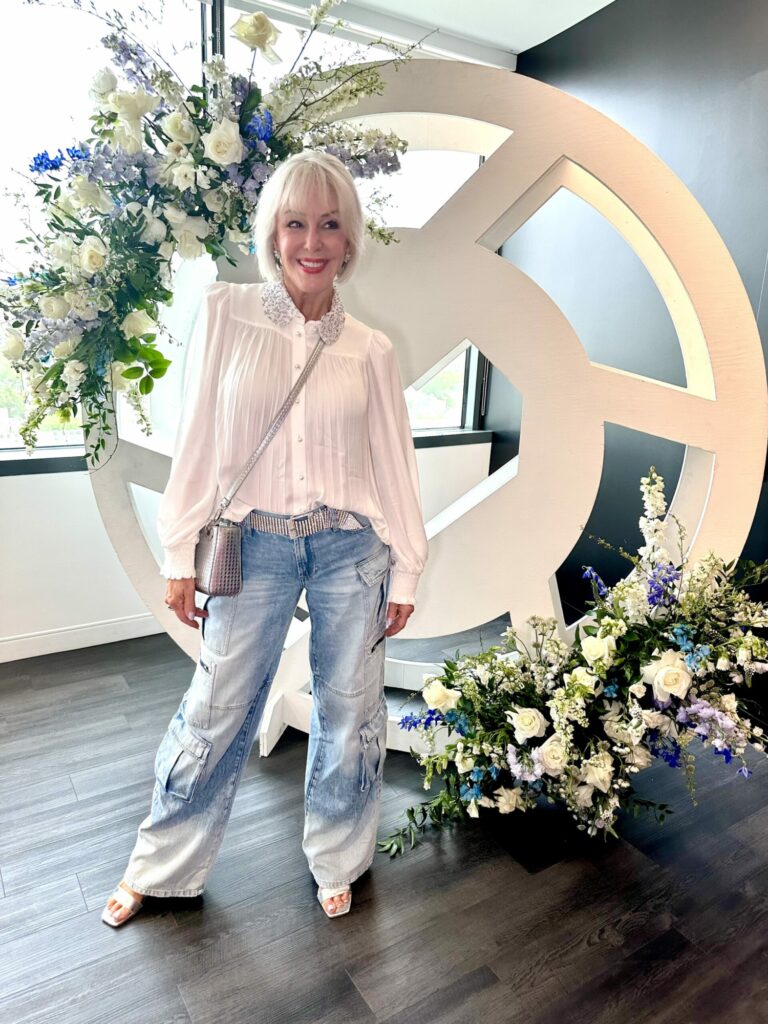 I am just saying…. the cargo pant is the hottest trend of this season. Personally, I have purchased all of these pants pictured and I have purchased new cargo shorts as well. I would say that I am obsessed for sure! Today, I will show you 4 style types of cargo pants/shorts and ideas on ways to style them.

History of the Cargo Pants
Like so many trends the Cargo pants originated in Britain in 1938. They where they were worn by military personnel as part of their Battle Dress Uniforms (BDUs). The original cargo pants style featured one pocket on the side thigh and one additional pocket on the hip.
Due to their popular functionality of having easily accessible and large pockets, they eventually made their way to the American military during the 1940s, although they were initially only used on paratroopers' uniforms, to allow for easy access to ammunition and radios.
Over 50 years later in the mid-1990s cargo pants surged to popularity as they have now once again, become a key silhouette in the fashion scene. Cargo pants first became popular amongst urban hip-hop performers.
Although the cargo pockets on most items are functional, they often are unused and just worn as decorative details. ( Taken from SelectShopFrame.com )
Cargo pants come in all kinds, offered in a variety of fabrics, colors and sometimes embellishments. Check out our favorite styles and how to create super cool girl looks.
DENIM CARGO PANT
There are so many styles of jeans this year and I will write on that subject a little later, but the denim cargo style are absolutely my favs. I especially love the pair I am wearing in the photo above. They are from one of my favorite designers Alice & Olivia. Yes, premium priced but I will definitely get my money's worth, plus if they take a back seat next year then I will just put them away because the cargo-style pants are kind of a classic. The sizing is disappearing fast, but they also come in white and pink. I always size up in Alice & Olivia.
Utility Pants
Most of you know that I went to Africa back in February. While shopping for my trip is when I became addicted to the cargo pants. I found this pair for under $45. They come in several colors plus a great camo print. These cargos are super soft and an easy color to work with and are only $59.95. For cooler climates this cargo pant is so cool and I love the vintage vibe. Free People does the best ones.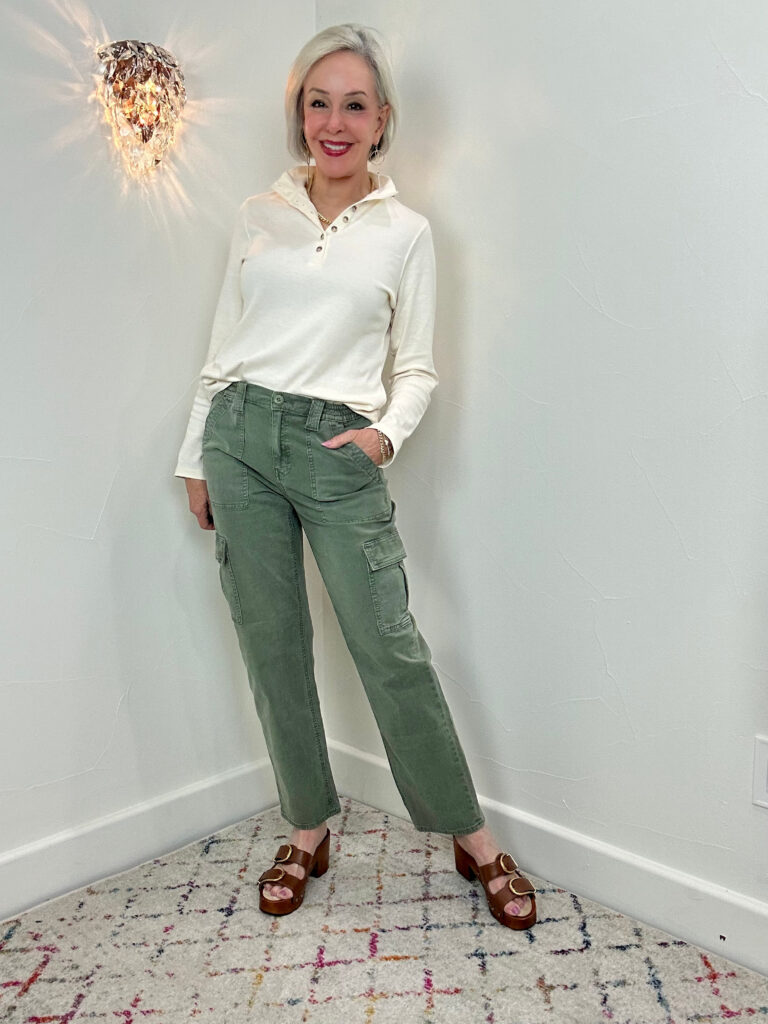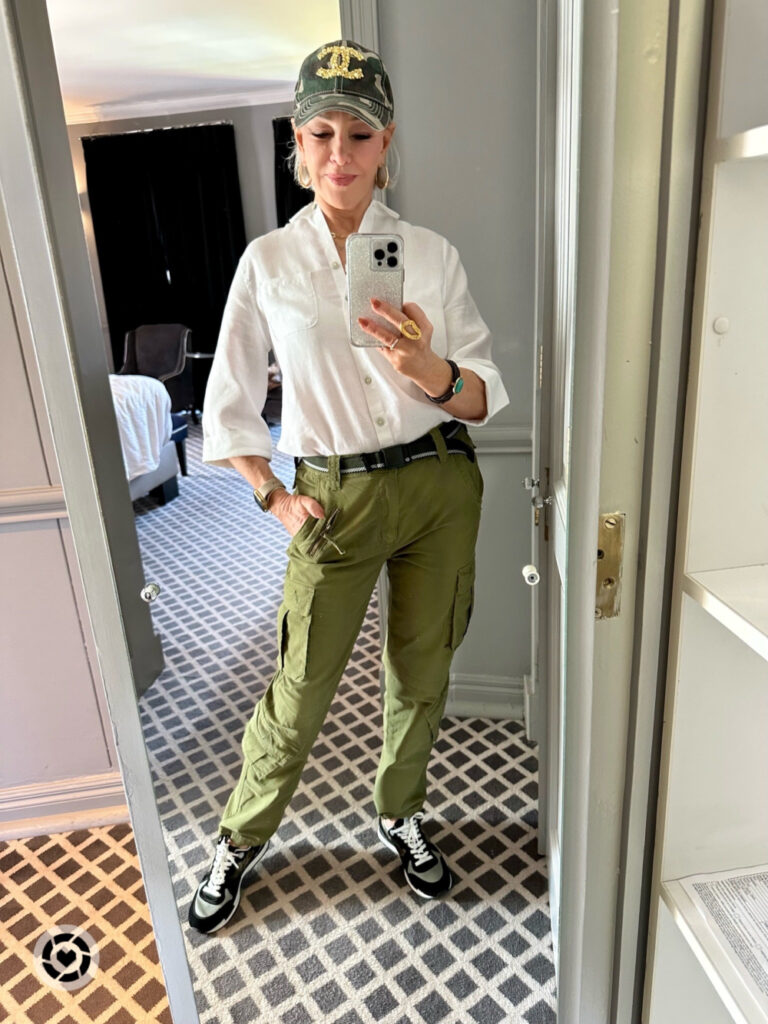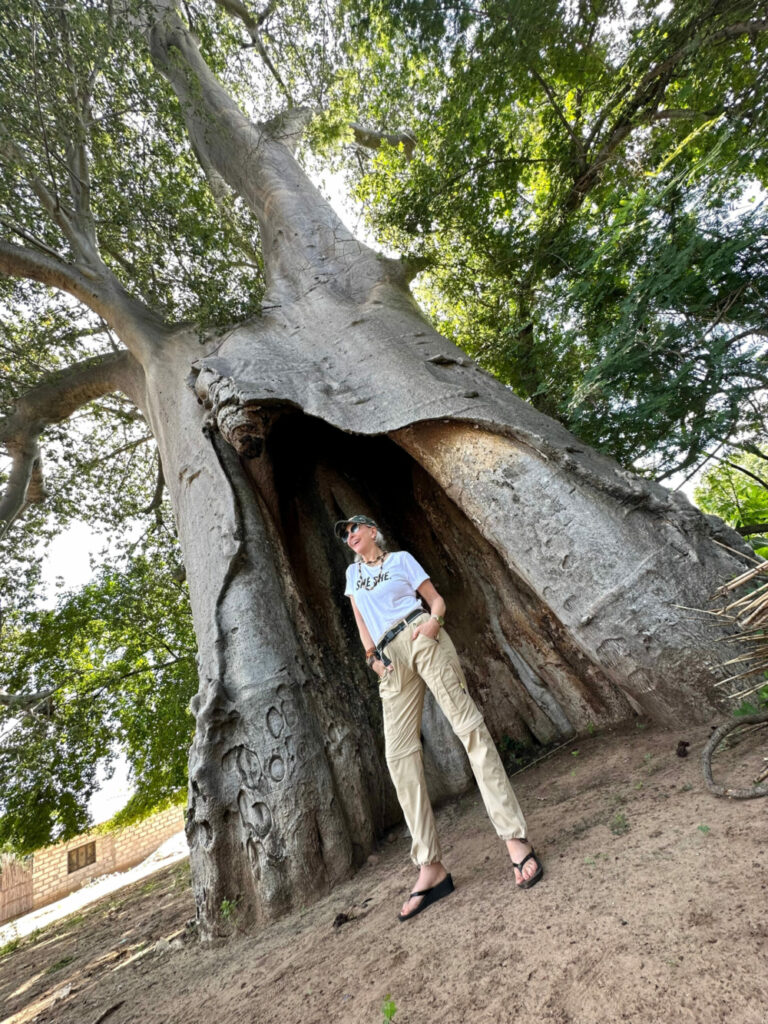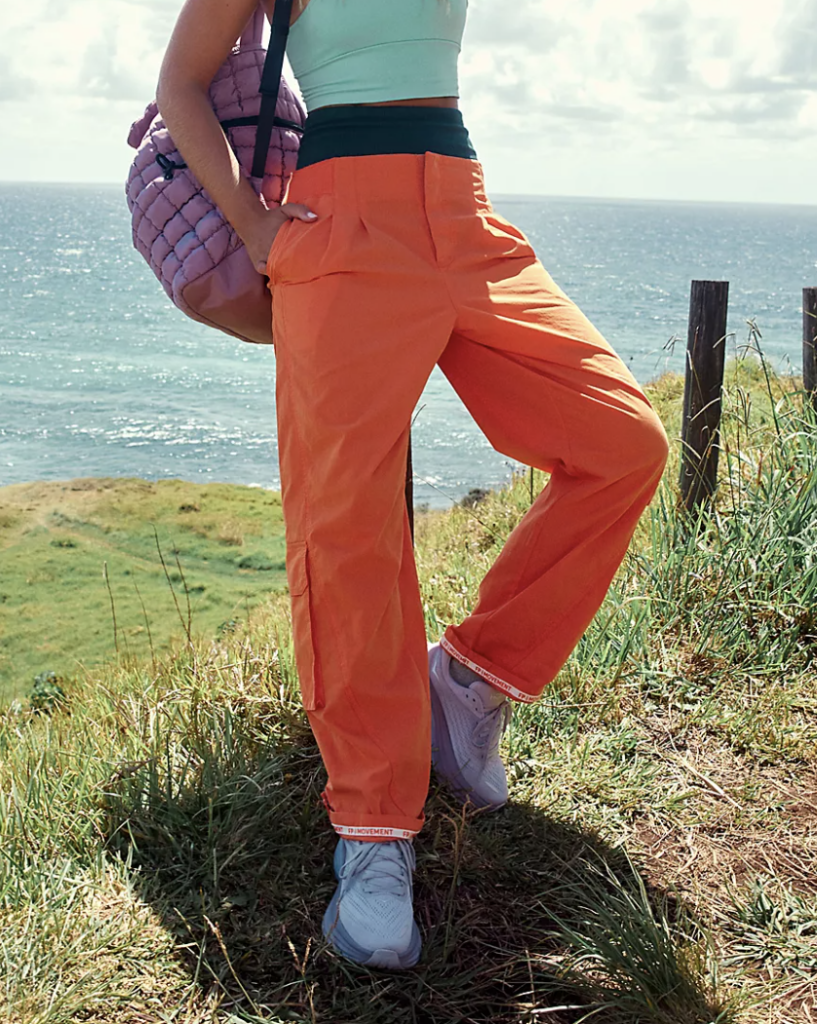 Cargo Shorts
It just made sense to the designers that if a trend can be great as a pant then why not shorts? These cargo styles are great for all ages because they are baggy and have longer lengths. The shorts I am wearing below are from Free People and they are a size small and are still a little big. I usually wear a small or a medium. Size 6 to 8.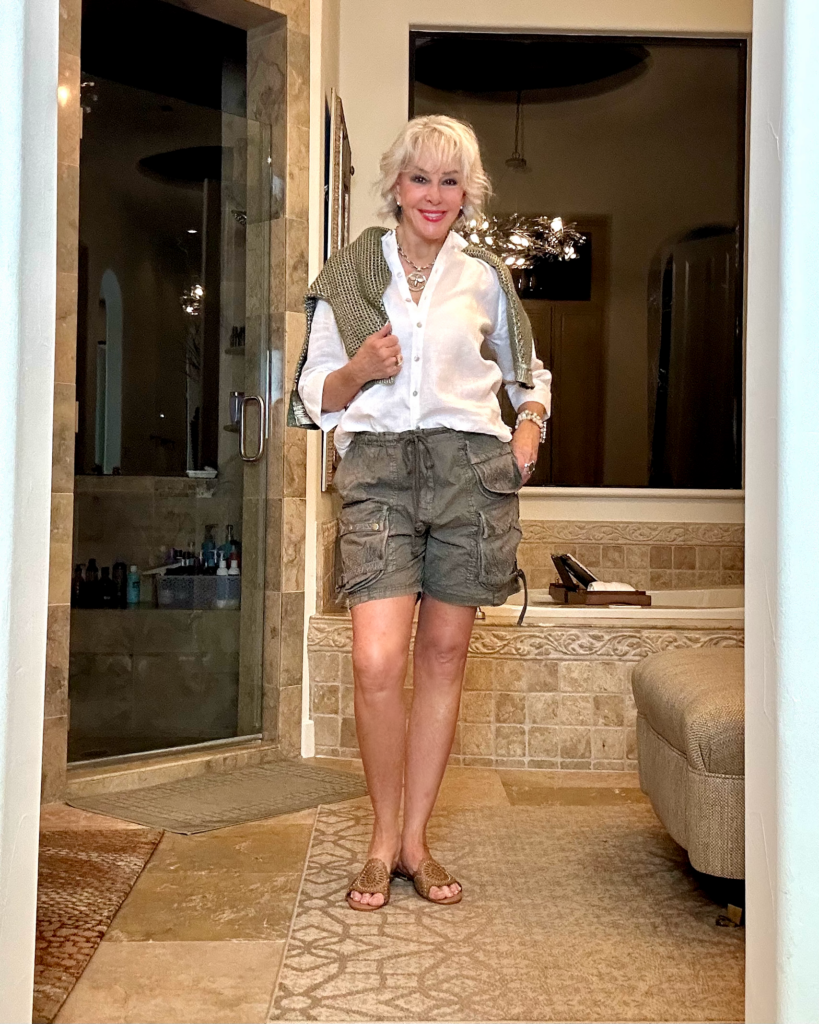 Dressy Cargo Pants
Ok girls, let's dress 'em up. Check out how I dressed up this top photo wearing the denim cargo jeans. I chose a white pleated blouse with a pearl & rhinestone collar and buttons. I also added silver rhinestone accessories and silver sandals. Many of these styles are either faux leather like this turquoise pair, and the khaki pair pictured below. or a satin or silk fabric.
Fortunately, I am not limited to wearing them just dressed up. I will also add a cute graphic tee and these cool sneakers to make them more casual.
Think about adding a blazer, cardigan, or denim jacket to any of these cargo styles to give you that really cool girl vibe. This blazer is a forever investment piece and this one is great for the affordable price of $74.99. And NO, you are not too old or too whatever your excuse is!!! Step out of your box and have some fun with your fashion!!

SHESHE'S TIDBITS:
Welcome to our new subscribers. Just so you all know, we are going to change how our blog posts get to you. We found out that many of your emails from SheShe Show are going to your spam box. It is a Google thing.
After some research, we decided to only do one newsletter every week unless there is something timely that you need to know. In the news, a letter will do a recap of the week's posts that we published. That will also eliminate so many emails coming into your inbox. I think this will be a nice change because I will also tip you off on sales, great articles to read plus more!!
I would love to get your feedback once we get rolling on this.
*CHECK OUT MY INSTAGRAM SHOP TO SHOP ALL OF MY INSTAGRAM LOOKS
*YOU CAN ALSO DOWNLOAD THE LIKETOKNOW.IT APP AND FOLLOW ME ON IT BY CLICKING HERE. Go here for our LiketoKnow.It tutorial.
* STAY IN THE KNOW: SUBSCRIBE HERE to receive exclusive sale alerts, helpful style tips, and fabulous giveaways, AND GET ACCESS TO MY VIP ONLY FOR SUBSCRIBERS!
* Follow us on PINTEREST BY CLICKING HERE.