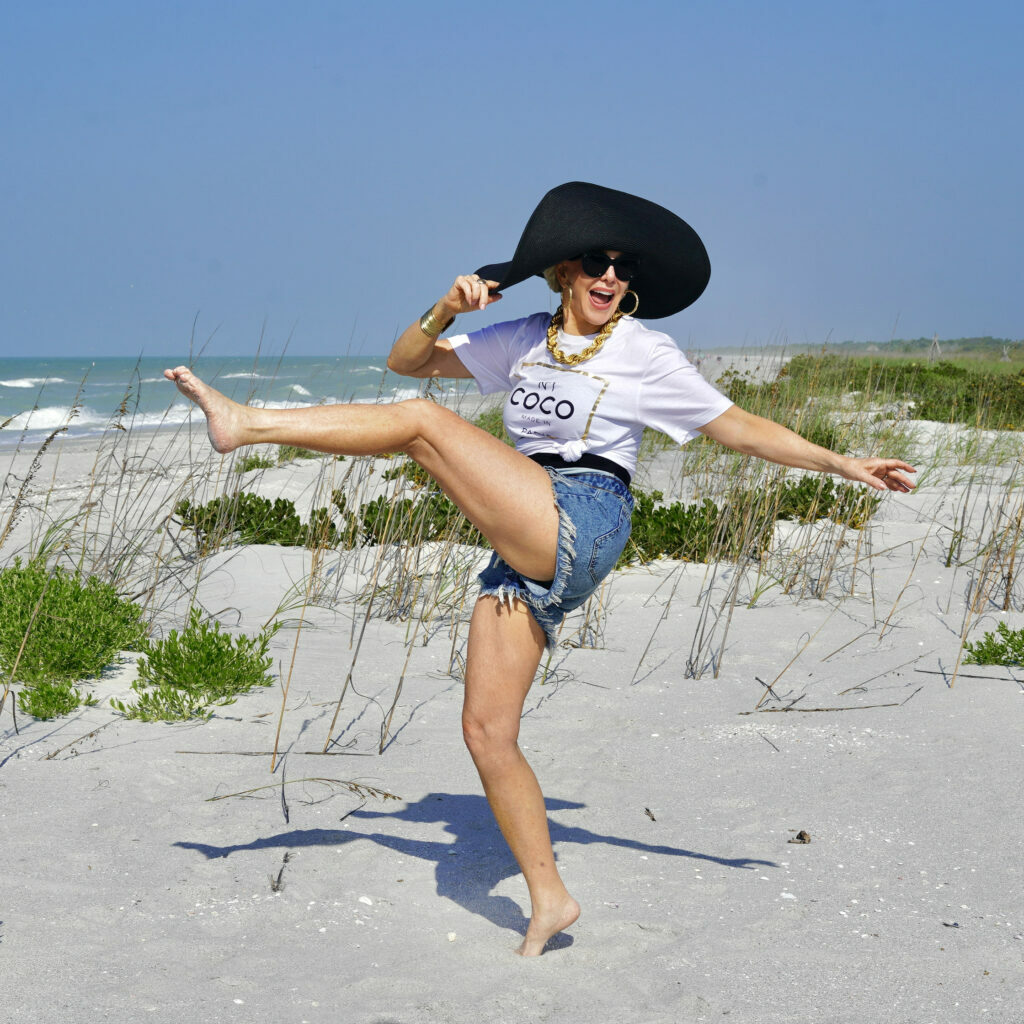 Wednesday, June 21st is the astronomical solstice that marks the official FIRST day of SUMMER!! With the hot season right around the corner, we are sharing my greatest secrets on how to wear shorts over 40! Your age shouldn't dictate your fashionista style and your legs should never hold you back from enjoying the sun! With that being said I am pulling out my summer tops and my cutest shorts to show off. Below I have featured all of my favorites and most are budget-friendly!
Table of Contents
OUTFIT DETAILS

How to Fabulously Wear Shorts Over 40
We are women – we often overthink things, right? Wearing shorts over 40 years old does not have to be as stressful as we make it! The right length for your body is the key here! I know I constantly hear from you ladies that you hate your knees or the skin on your legs and I can empathize with that, but when in your life have you EVER heard someone say "Wow, she has really pretty knees"? Probably never, at least I have never heard that! So stop beating yourself up, girlfriends!!
Choosing the Right Length


Just because you are wearing shorts doesn't mean they have to be baggy, extra long, or boring! Length is critical when choosing the type of shorts that will look best. I stick with shorts that have a 7″ to 9″ in-seam and sometimes up to 13″. These lengths are more flattering and slimming. A few of my favorites are the J. Crew 7″ Chino Shorts that are currently ON SALE 42% off! J.C. Penny also has a 7″ Chino short that is also on sale at only $14.99!? The 7-9″ in-seam hits the "pretty" part of the thigh, which for me starts about 2 to 3 inches above the knee.

For a little longer length, I go with the Talbot's Perfect Short 9″ or 10.5". With over 10 different colors and in-seam options up to 13″, Talbot's has options for every style and body shape! Keep in mind if you are petite, a 13″ in-seam will hit more like a "knee knocker."
Avoid Shorts That Are Too Tight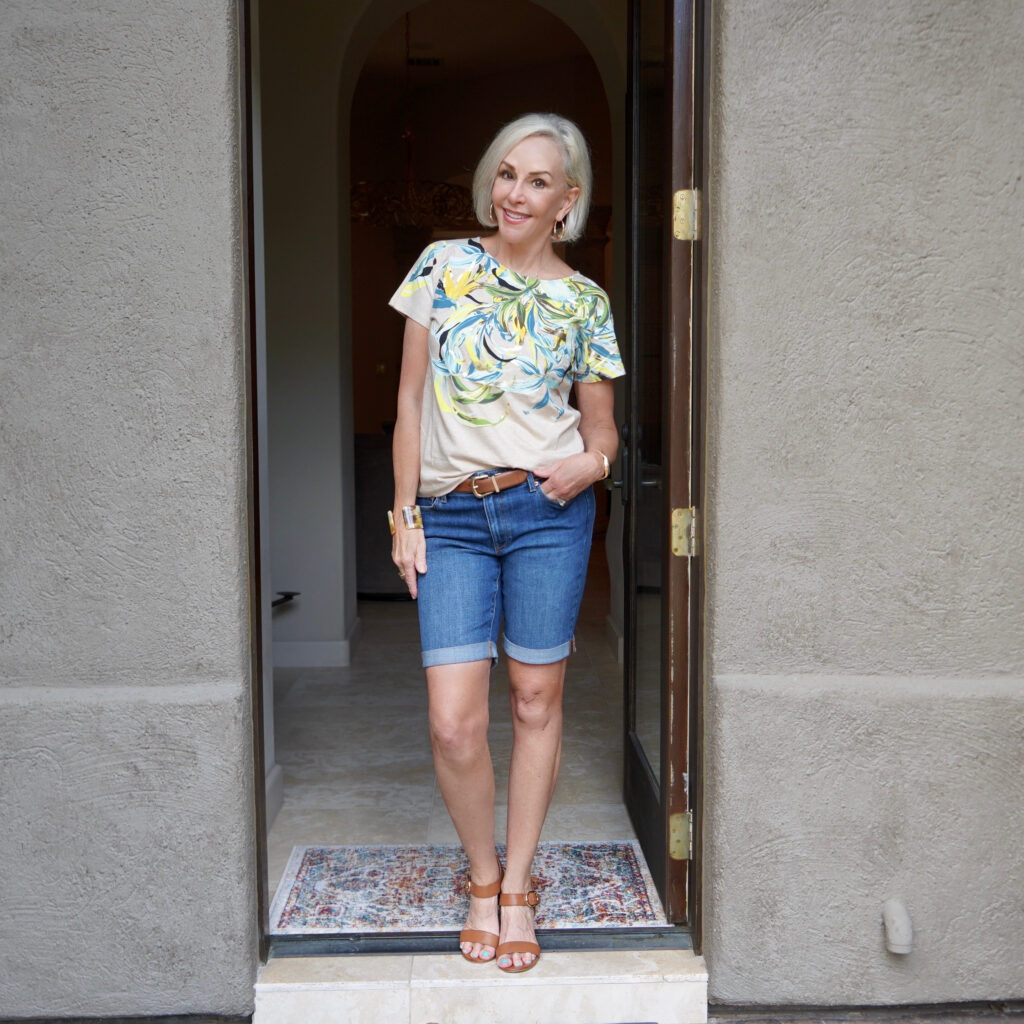 Ladies, the same rule goes for shorts that go for all mid-life fashion: avoid wearing them too tight!! Go for a loose-fitting style like this pleated wide-leg short or a Bermuda short that is more forgiving around the thighs if you have lost any of your youthful elasticity we took for granted in our 20s!! The goal is to feel CONFIDENT in shorts, so forcing our bodies into certain styles likely will not do the trick!
Cargo Shorts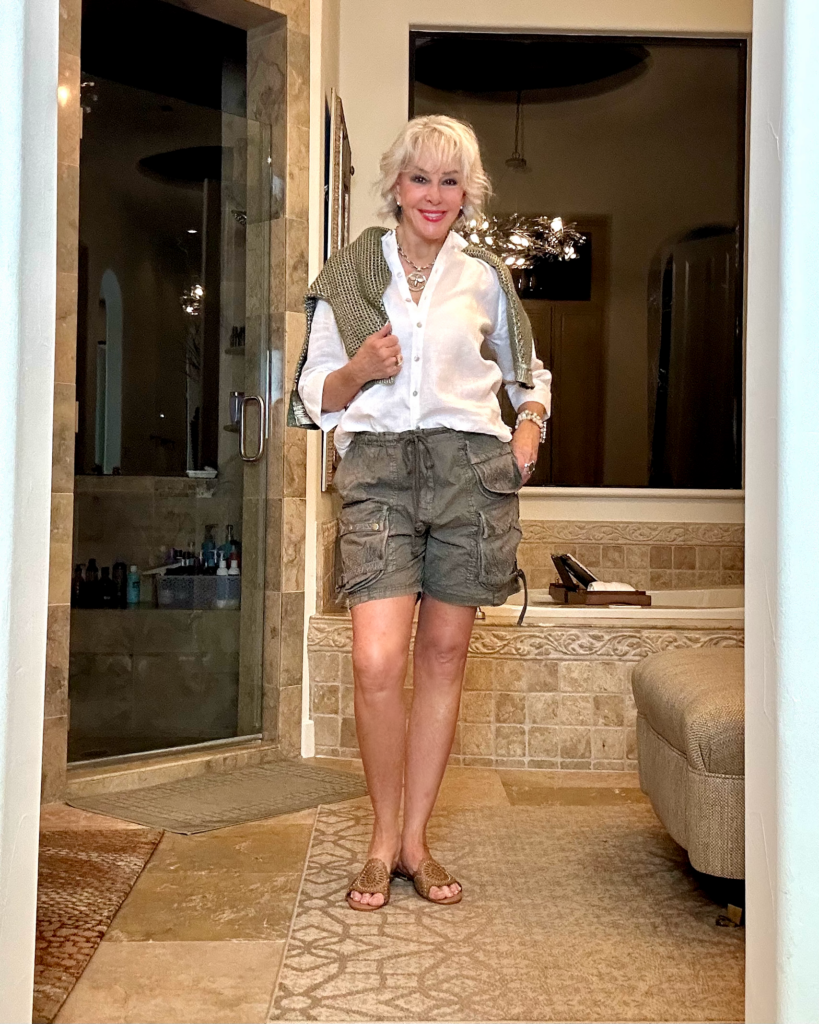 Luckily for us, Cargo pants and shorts are trending again and are extremely flattering! For more details on The Cargo Trend, my favorite types, and style tips check out my latest blog here. If you're like me, then you love POCKETS! They are the most underrated yet highly-utilized fashion invention!! With cargo shorts, you get fashion AND functionality…two things that are always a YES for me!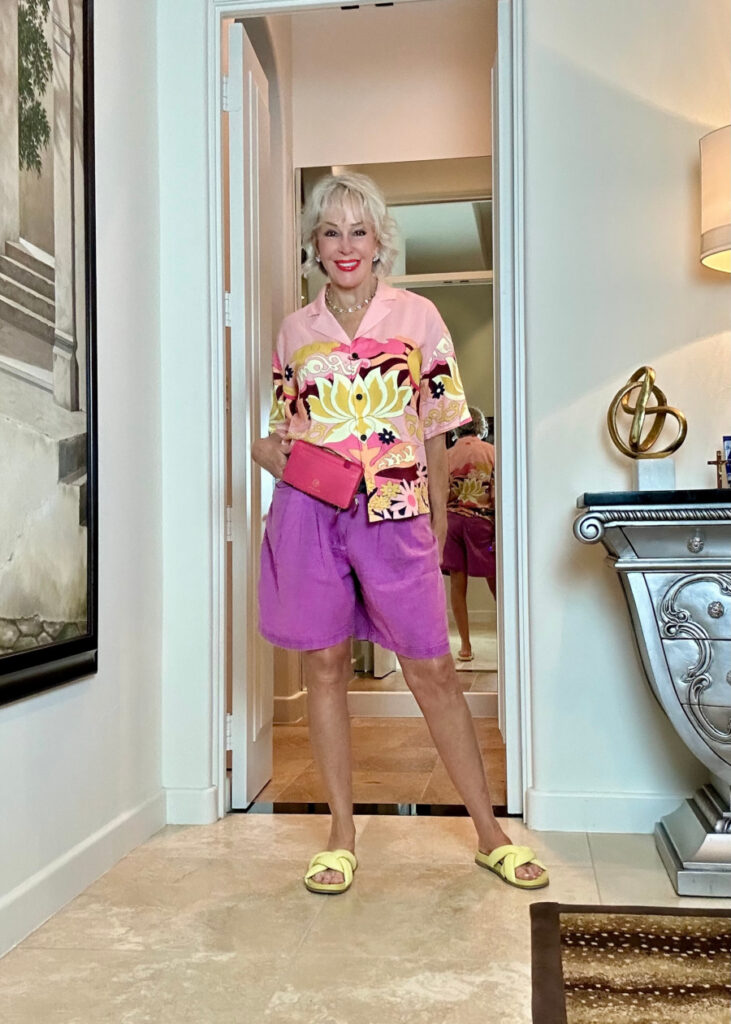 SHOP MY LOOK BELOW

Now get out and go BOLDLY into the world rockin' your shorts over 40 or ANY AGE! Make 2023 the summer you choose to be fabulously YOU!

SHESHE'S TIDBITS
Welcome to our blog, new subscribers!! Just so you all know, we are going to change how our blog posts get to you. We found out that many of your emails from SheShe Show are going to your spam box. It is a Google thing…but we are fixing it!!
After some research, we decided to only do one newsletter every week unless there is something timely that you need to know. In the news, a letter will do a recap of the week's posts that we published. That will also eliminate so many emails coming into your inbox. I think this will be a nice change because I will also tip you off on sales, great articles to read plus more!!
I would love to get your feedback once we get rolling on this.
This week I am in Colorado starting to decorate our new little villa! Follow along on Instagram and Facebook stories using the links below. It's going to be quite the journey as I don't even have a sofa!!!
*CHECK OUT MY INSTAGRAM SHOP TO SHOP ALL OF MY INSTAGRAM LOOKS
*YOU CAN ALSO DOWNLOAD THE LIKETOKNOW.IT APP AND FOLLOW ME ON IT BY CLICKING HERE. Go here for our LiketoKnow.It tutorial.
* STAY IN THE KNOW: SUBSCRIBE HERE to receive exclusive sale alerts, helpful style tips, and fabulous giveaways, AND GET ACCESS TO MY VIP ONLY FOR SUBSCRIBERS!
* Follow us on PINTEREST BY CLICKING HERE.