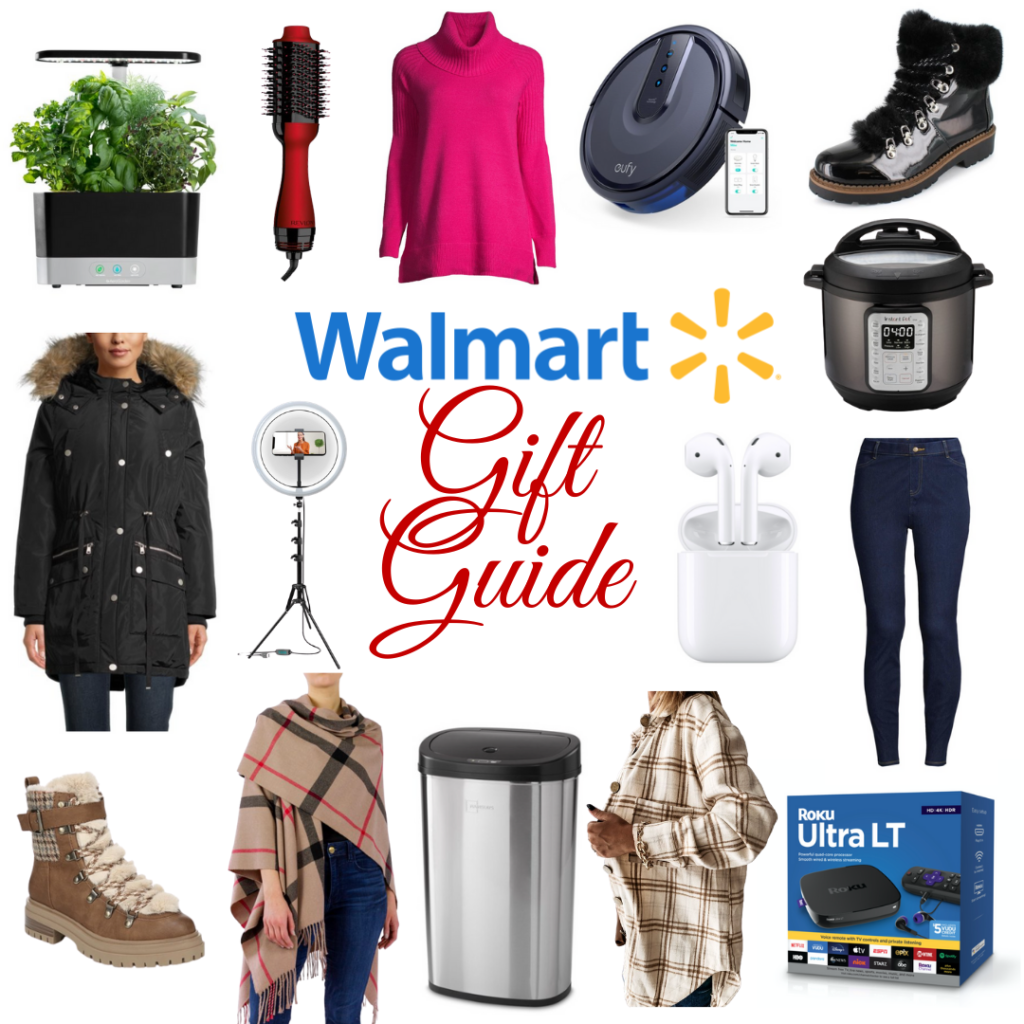 Walmart is stepping up their game! They offer one and two-day shipping, same day pickup, and even sell luxury brands! This is all new to me and today we are highlighting our favorites gifts from Walmart!
Instant Pot

Instant Pot® Viva Multi-Use 9-IN-1 6 Quart Pressure Cooker is a multi-cooker that pressure cooks, sautés, sous vide, steams, slow cooks, warms, makes yogurts and cakes, and sterilizes putting a world of culinary options at your fingertips. In short, it is a must-have for EVERYONE, which makes it your perfect kitchen go-to. I swear by my Instant Pot! Usually, you can find it on MAJOR sale this time of year as well!
Heavyweight Anorak with Faux Fur Trimmed Hood

This anorak jacket is a STEAL, it's under $50 and is so similar to a brand that's over $800. You cannot go wrong with this. I have both designer and this affordable option, and it is SO similar! We all know someone who is always "freezing" and this is the perfect gift!
Roku Ultra LT Streaming Media Player

Who isn't into streaming services these days? Cable has been pushed out of the way and everyone is hooked on Netflix, Hulu, Youtube, etc.. Last year, this Roku Player was one of the top trending gifts and is still at the top of the charts. I love these for my grandkids!
Revlon One-Step Hair Dryer And Volumizer Hot Air Brush

This Hot Air Brush is a lifesaver! Perfect to dry, style, and even touch up your hair. I love to use it when I've been at the gym and need to lift my flat roots again! I think this is a must for every girl. Walmart usually runs a great sale on this too!
Sam Edelman Gretchen Shearling Hiker Boot

Sam Edelman at Walmart…yes, you heard that right! Meet Gretchen, their best selling hiker! Combat the cold in style, pairs perfectly with a chunky fall knit and skinny jeans. Be quick, it's on sale and sells out FAST!
Apple Airpods

Everyone has earbuds, pods, etc., and everyone could use a pair of these hands-free and wireless headphones. They can be synced with Bluetooth to your laptop and cell! Perfect for Zoom meetings and giving you the ability to be on the phone without holding a phone!
Stretch Knit Jeggings

The look of jeans with the total comfort of leggings—jeggings are here to stay. Fall in love with this pair from Time and Tru with their feel-good fit and laid-back vibe. Jeggings are perfect year-round and perfect to pair with a cute sweater!
The Bower 12″ Selfie Ring Light Studio Kit

Know someone who loves selfies? Or dreams of being Insta-Famous? The Bower 12″ Selfie Ring Light Studio Kit is the supreme creator kit. Transforming your smartphone into a professional photo studio, make videos for all occasions and settings. Whether in the morning or evening, you can capture a quality picture at any time. The kit is ideal for creating live videos, vlogging, video chats, social media, health, beauty, and more! This is also great to set up for video chats so you can have that pretty, ideal lighting!
Super Soft Plaid Ruana With Fringe

How cute is this ruana? I love it and can I mention how buttery soft it is?! This ruana is the PERFECT gift and it's one size only so no need to worry about figuring out sizes. It's a cozy gift for moms, daughters, grandmas, sister, EVERY gal needs one of these in her wardrobe.
Only at Walmart – Motion Sensor Trash Can

For improved cleanliness and hygiene (which this year has definitely taught us a lesson), this trash can operates with infrared motion sensor technology to allow you to simply wave your hand above the sensor at the front of the lid to open it automatically. The lid will remain open as long as there is an object in front of the sensor and close gently five seconds after the object is removed. I love this so much because think about when cooking and having to remove a lid…off of the trash! Yuck! This motion sensor trash can gives me a relief knowing I am being EXTRA sanitary in the kitchen! It's under $50 and usually is on sale (now) during the holidays as it is a popular gift! Way to go Walmart!
Trendy Plaid Button Down

Isn't this the cutest top? It's essential for autumn and winter. Perfect with pants, jeans, and leggings, can wear alone or over a cute graphic tee/top. This classic plaid shirt has versatile ways to wear: Tied at the Waist; Wrapped around the waist, makes any look seem instantly more fashion-forward and hipster-Esque, super soft fabric. A perfect length for leggings and boots!
Women's Cowl Neck Tunic Sweater

Time to get cozy and expand your knits with this tunic sweater from Time and Tru. This women's pullover features a tunic-length silhouette with a slouchy cowl neck—perfect to keep toasty-warm with a soft design and makes a great gift! Sweaters are one of the most exchanged gifts between women! This sweater is UNDER $20 and available in 8 different colors.
AeroGarden Harvest Garden System

Grow fresh herbs and veggies year-round with the AeroGarden Harvest Black with Gourmet Herbs Seed Kit. It is available in multiple colors, so you are sure to find a look that complements your decor. This in-home garden system comes in a compact, rectangular shape with a glossy finish, so it fits anywhere in your home. It comes complete with everything you will need to grow six endlessly fresh gourmet herbs throughout the year. The AeroGarden garden system will add a wonderful taste to your meals directly from the plant to your dinner plate. It's also SOIL-FREE so that means NO MESS!! Perfect for that little gardener you know, or even the chef!
Eufy RoboVac Wi-Fi Connected Robot Vacuum

Don't you just love the simplicity of life these days!? Clean your floors with the push of a button using the Eufy RoboVac 25C Wi-Fi Connected Robot Vacuum. It connects to your home's wireless network and accepts commands both by touch, via a smartphone app, and even from your voice when paired with a smart home speaker. I love it when I do not have to clean my floors! Catch it on sale for $99 or at regular price for $150.
Portland Boot Company Faux Fur Lace-Up Boot

Flaunting a fur collar, these lace-up hikers will keep you warm and looking good all season long. SO trendy and SO cute! These types of boots are being seen everywhere are go well with just about all of your winter looks! These are under $35.
SHOP WALMART GIFTS

SHESHE'S TIDBITS
It is the time of year to think about Christmas. No matter what you are going to be doing, we assume you will still be doing your usual shopping for friends and family. We have a lot of gifts guides coming your way so stay tuned for some of the hottest gift items of the season. If you didn't see our Christmas Decor post then you can go here. It is full of great decorating ideas.
WELCOME new readers. We are a fashion/travel/lifestyle blog. We talk about anything and everything, from fashion, travel, health issues to even an occasional recipe. Let us know if there is a topic that interests you. We will do our best to bring that story to you. Have a great week sweet friends and thank you for following along. Without you, we could not continue on this crazy fun journey.
Be sure to check out the ShopSheShe tab at the top in the menu bar. Hover over and choose the category in the dropdown. We try to keep it up to date with the latest and greatest for all budgets. Subscribe here and then you won't miss a post. Simply enter your email in the pop-up box or below. Also, download the LiketoKnow.It App, follow @shesheshow to shop all of our daily outfits, home, beauty, and more. Go here for our LiketoKnow.It tutorial.