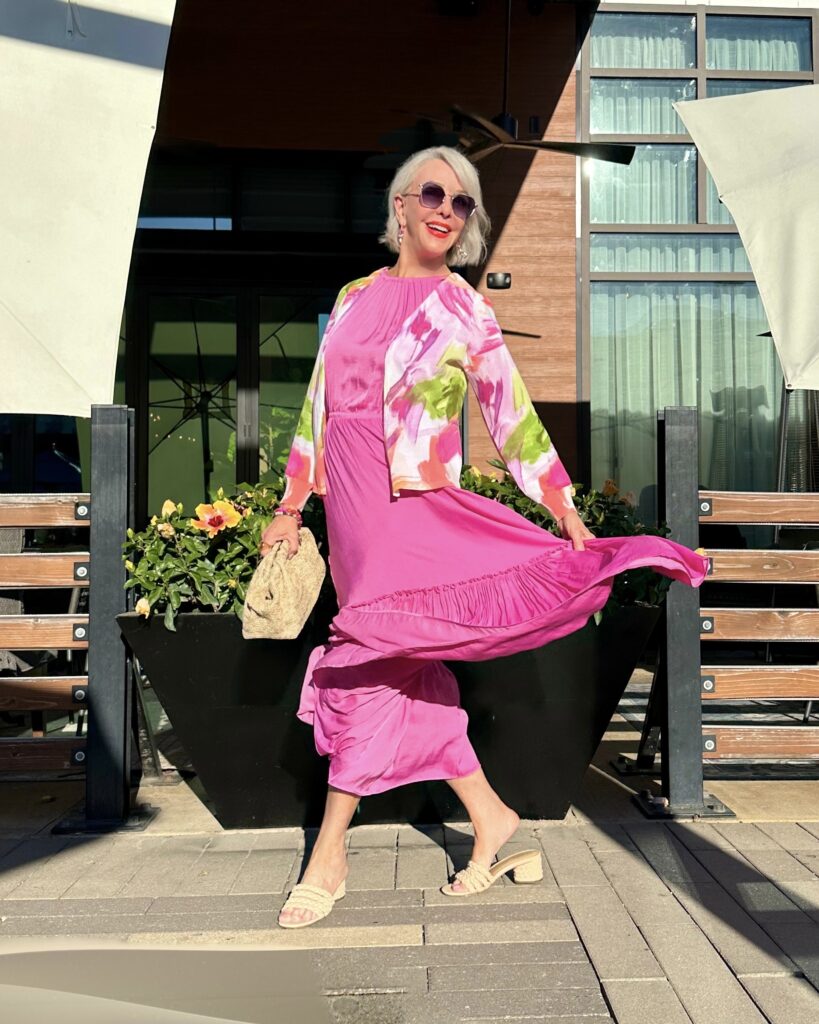 Well, ladies…… another year and I am blessed to still be here with you. Today, I am not only celebrating my birthday but also celebrating Chico's ( my favorite brand ) 40th Anniversary plus International Women's Day. How in the world could I be so privileged to celebrate this awesome day selected just for women on my birthday? WOW, now that is a lot of celebrating!!! I am proud to say that I am 68 years old today! That was easy to say. Do you tell your age?
How I Plan to Celebrate
It's RODEO HOUSTON month so I have already been twice. Opening day I went with a group of Houston Influencers to a kick-off party at The Ranch At Rodeo by B & B Steakhouse. Monday night Norman and I went and had a wonderful dinner at the same restaurant before going to NRG Stadium for the rodeo and to see Jason Aldean.
Today, I am having lunch with my old friends The YaYa's. I have traveled the world with these wonderful ladies on a yacht I might add. We are all scattered now but try to get together quarterly to celebrate birthdays.
I am going to have some beauty appointments….. hair, nails, pedi, and a little Botox.
Later this month I will be with my bunco girls for a birthday lunch for March babies.
Then next week Norman and I will head to Sanibel and continue putting my happy place back together, but I look forward to continuing my birthday celebration with my friends there.
So, you can see that I let no grass grow under my feet when it comes to celebrations.
CHICO'S 40TH ANNIVERSARY
I don't know about you but I have been a Chico's shopper for more about 25 years. I loved going there to buy my mom clothes before she passed. It never failed that I would walk out with cute stuff for myself as well. Chico's has endured so many highs and lows in retail and is still with us today still giving us fun colorful clothing to style with the best affordable accessories in the industry.
CHICO'S BEGINNINGS
As you know already, this is Chico's 40-year anniversary. They started as a Mexican Folk art store in 1983. You can read all about its beginnings. It is really an American success story beginning right on Sanibel Island, Florida.
FUN FACT: We bought a vacation home on Sanibel Island in April 2018. I discovered it by learning all about the beginnings of Chico's for a blog post. We had never vacationed there much less been to Sanibel.  I just knew it must be special. My marketing contact Jennifer referred us to the best realtor ever and the rest is history!!
MY LOOK TODAY
This adorable halter maxi dress from Chico's, in my favorite pretty fuchsia color, rings all the bells for the perfect birthday dress. I will be able to wear it now with this darling lightweight cardigan and then later on through the hot summer months.
Did you know that Chico's now carries shoes? I am obsessed with these woven neutral-colored slides. They will go with almost everything. These run a little narrow but overall true to size. My neutral clutch also has a chain strap if you prefer to wear it as a shoulder bag. It is the perfect size for your everyday looks.
For jewelry, I chose a medium size multi-colored link earring with multi-colored beaded stretch bracelets. If you are so daring then I think these orange chandelier earrings would be fabulous with this look.
Oh, and one more thing….. you will need a strapless bra and this bra from SOMA INTIMATES is so good.
At the bottom of my blog, I usually have a boutique of my picks. Check out some of my current Chicos favs.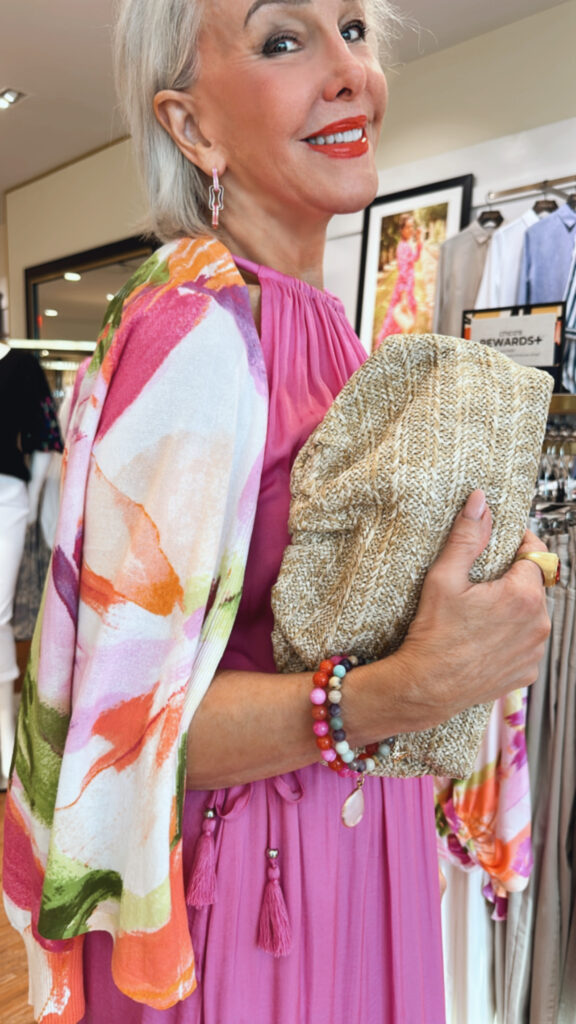 INTERNATIONAL WOMEN'S DAY
The below content was taken from a post I wrote several years ago.
Because this day falls on my birthday I have learned all about it. Celebrated mostly in Europe but now the movement has taken the US by a firestorm and growing rapidly around the world. Be sure to read this post from 6 years ago. It will explain how, where, and why it was started. The following exert was taken from that post.
A SHORT STORY
I want to tell you a little about my background and why International Women's Day matters to me. In 1978 I was a flight attendant and I was inspired by one of my roommates to learn how to fly an airplane. She just wasn't any old roommate she was the 5th woman pilot hired by American Airlines. On many occasions, she would come in after a trip and tell us all kinds of stories about men reacting to her in the cockpit. Some stories were mostly funny ones but on occasion, she would really get demeaned and belittled unnecessarily. She really was a pioneer woman that had entered into what had always been a man's world. They didn't know how to react.
Fast forward 10 years, I finally decided to learn how to fly. Even in 1987, it was a rare sight to see a woman fly an airplane, especially in commercial aviation. By 1988 I had finished all of my ratings and was hired by a charter aviation company located at Hobby Airport in Houston, TX  Getting the job wasn't that hard because at that time companies were really being watched to make sure they were hiring minorities. What was hard though, was proving to them that I was smart enough and capable of handling a complex aircraft. I always felt like I had to work harder than any of the other guys to prove that I was a safe competent pilot. I always felt like they were waiting for me to screw up so they could say "I told you so".
IN CONCLUSION
So, you see, here we are almost 30 years later and yes it keeps getting better for women in the workplace, but it is still going so slowly. They say the gap will not close between men and women until 2186. What????? Why? Ladies, in everything that we do, we must "be bold and be strong". There is no reason at all that we shouldn't have the same opportunities and be treated with the same respect as men. Today and always, we here at SheShe Show lift up all the fierce, bold women in the world trying to make their way! Never ever give up!!
Even without International Women's Day, women are finally using their voices. 
I am woman, hear me roar!!
SHOP MY LOOK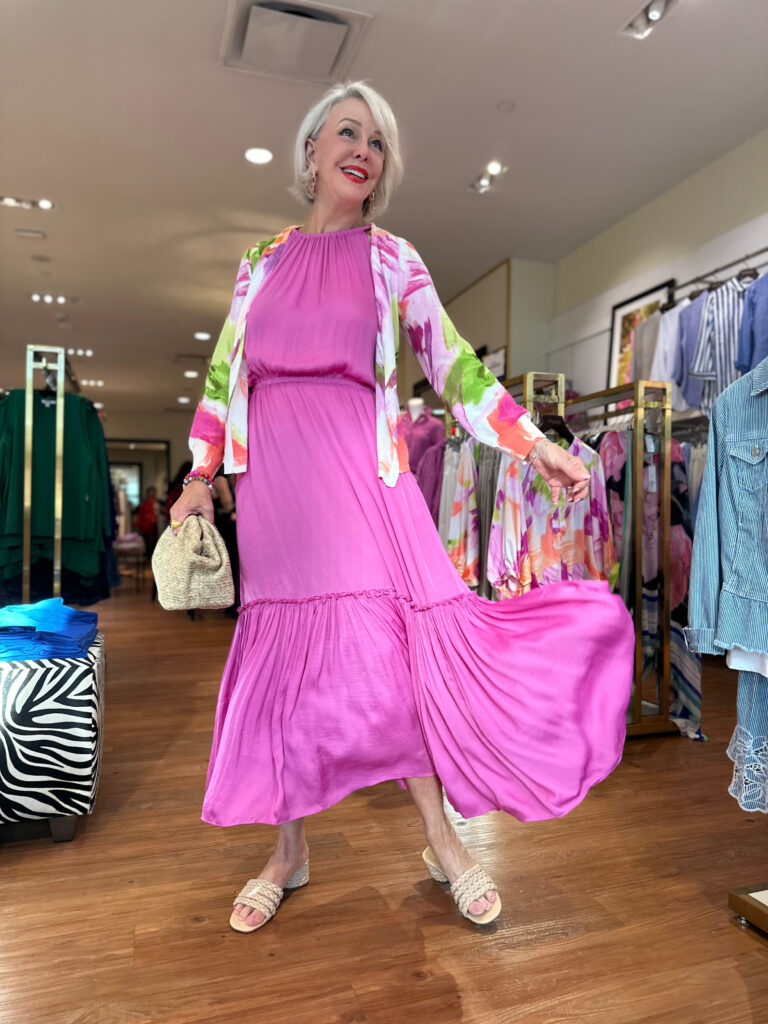 BOUTIQUE SHOP

SHESHE'S TIDBITS
It's my birthday week so be sure to follow my stories on IG and Facebook. You will be entertained!!
I am home from a wonderful trip to Africa. A complete recap is to come. If you have the travel bug then a safari in Africa should be on your bucket list! Life changing!!!
*CHECK OUT MY INSTAGRAM SHOP TO SHOP ALL OF MY INSTAGRAM LOOKS
*YOU CAN ALSO DOWNLOAD THE LIKETOKNOW.IT APP AND FOLLOW ME ON IT BY CLICKING HERE. Go here for our LiketoKnow.It tutorial.
* STAY IN THE KNOW: SUBSCRIBE HERE to receive exclusive sale alerts, helpful style tips, and fabulous giveaways, AND GET ACCESS TO MY VIP ONLY FOR SUBSCRIBERS!