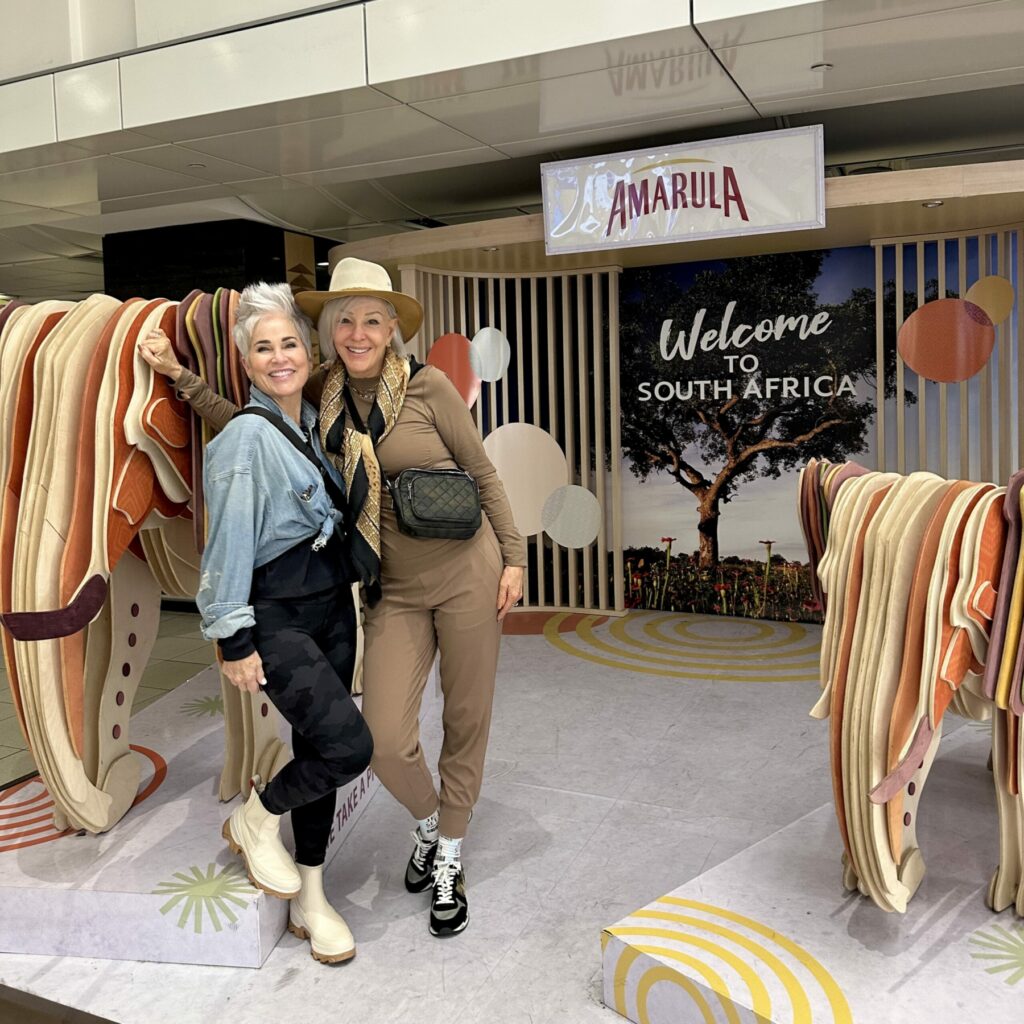 As you already know, I LOVE to travel and Africa always remains at the top of my bucket list. Last month my friend Shauna Chicover50 and I partnered with CroisiEurope on a luxury land + water safari experience that exceeded my expectations. It is definitely my #1 DREAM TRIP!
This post will take you to Johannesburg, to the grandeur of the "smoke that thunders," Victoria Falls, South Africa, Nambia, Zimbabwe, Zambia, and Botswana, all in southern Africa. You will see the incredible wildlife in their natural habit by land and water, natural reserves, the magic of Lake Karibe, and not forget the beautiful menus specially crafted to reflect the savors of Africa. By the time you read this, you will want to book your trip to southern Africa with CroisiEurope. A surprise offer is at the end of this post.
ABOUT CROISERE EUROPE
In 1976 the Schmitter family began their business and is now considered Europe's premiere leader in riverboat cruises. They specialize in intimate-sized groups, offering cruises on rivers, canals, and seas. They have a fleet of 55 ships where you can book travel throughout Europe, South Africa, Asia, and Egypt. I love that the size of their ships provides more intimate settings, quality service, and more. The trip is all-inclusive with the exception of tips and your personal extra needs.
DAY 1
JOHANNESBURG
Hotel 54 on Bath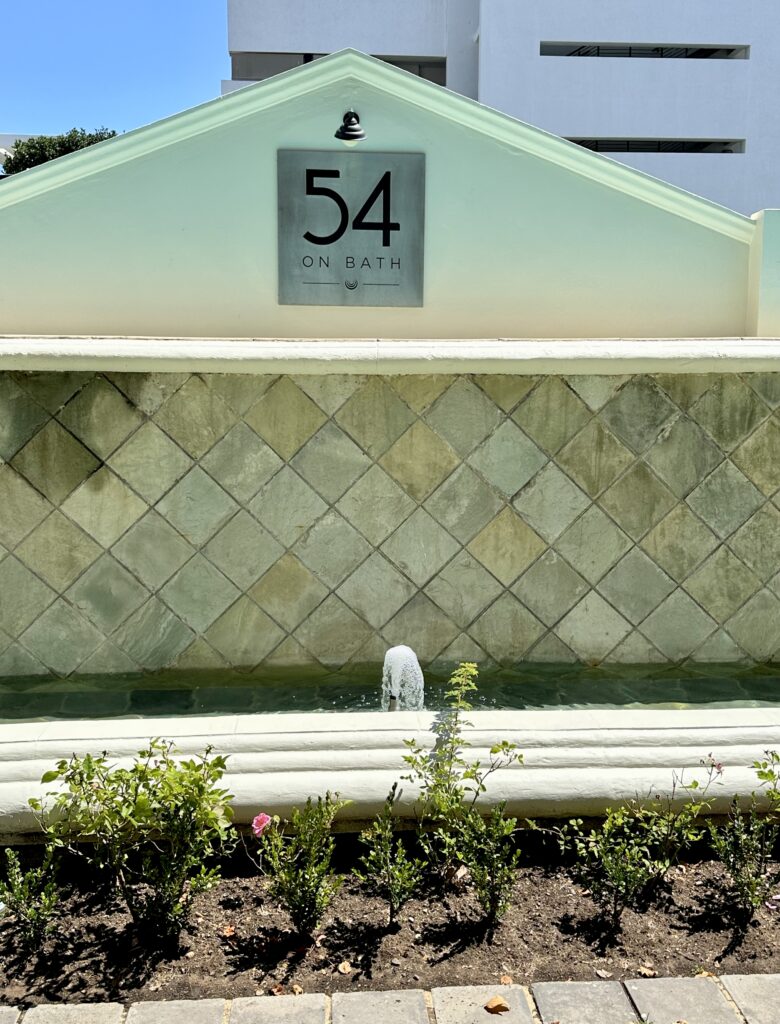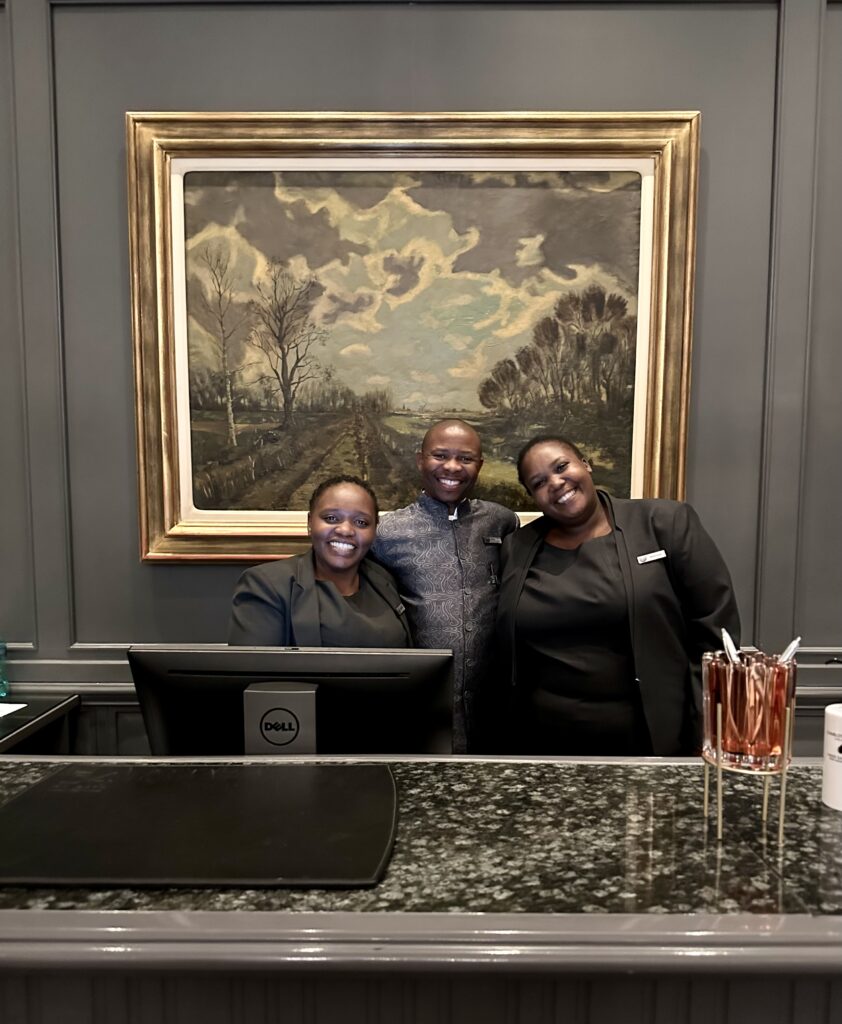 Upon our arrival at Johannesburg International Airport, Shauna and I stopped off for our first photo of the trip. We loaded up with our driver that was waiting on us. Like everyone that helped us through this trip, our driver was delightful and informative about our route to our hotel. For 2 nights, we stayed at the beautiful Hotel 54 on Bath which offered every amenity, excellent friendly service, and a good location.
Saturday morning we met up with our group of 4 couples from France and our well-versed guide for the day. We started off with a wonderful lunch at the hotel where we got acquainted then off to the Apartheid Museum followed by a bus tour of this amazing city.
The Apartheid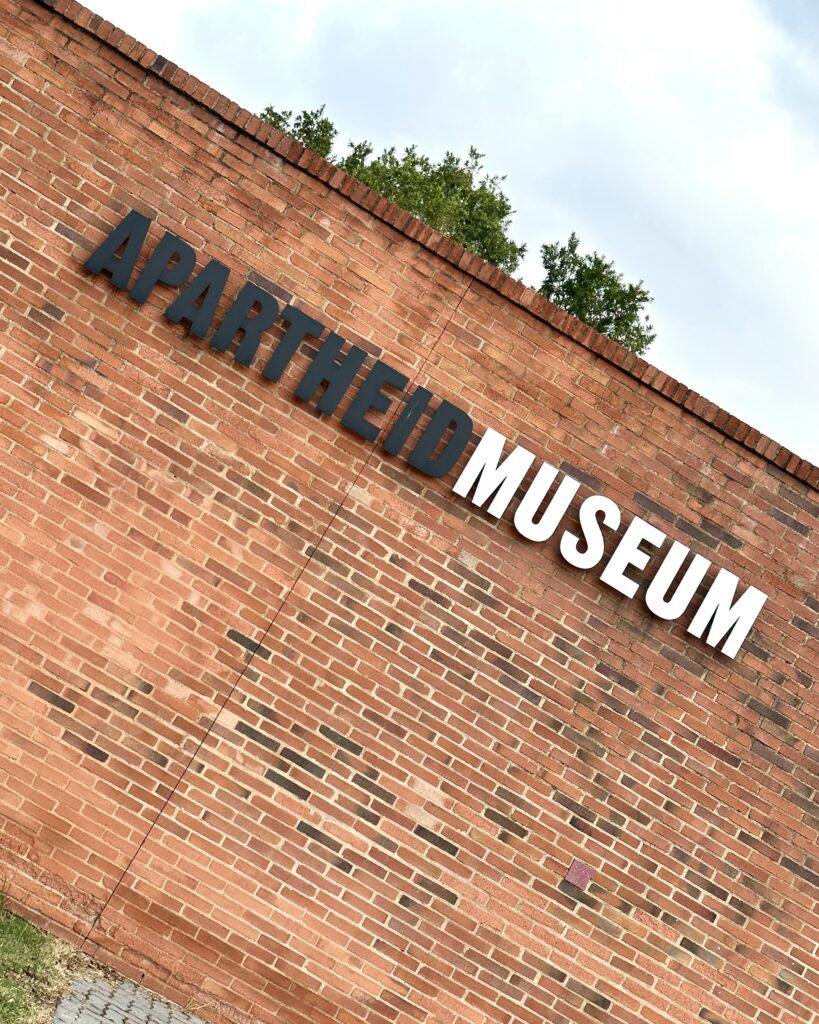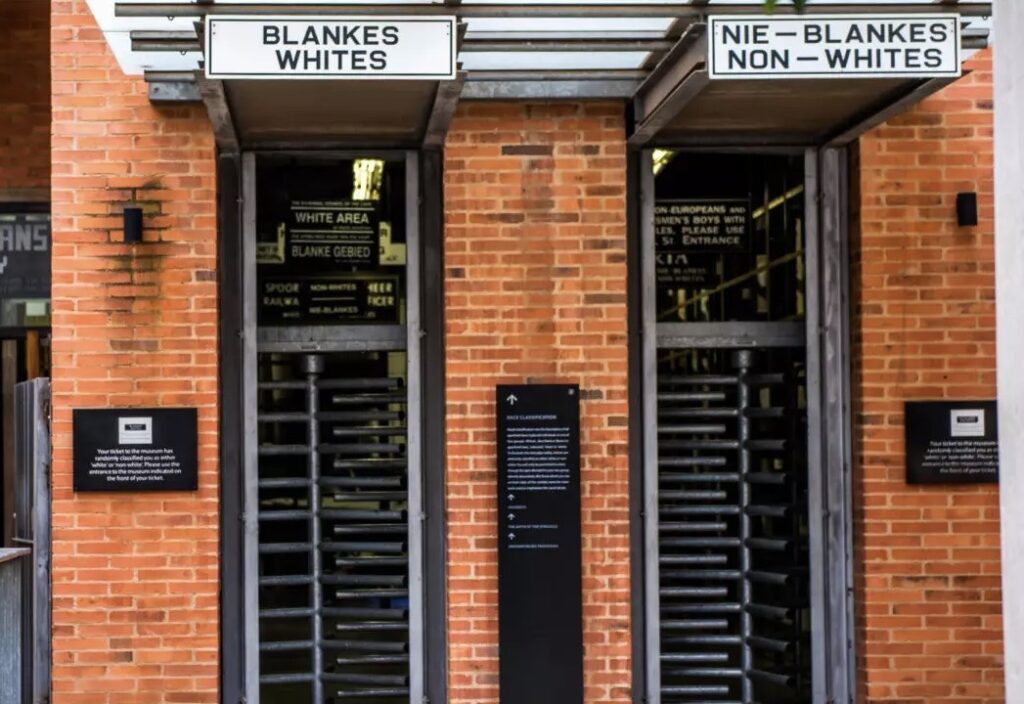 WOW, WOW, WOW! Why did I not know much about Apartheid? The Apartheid Museum, the first of its kind, illustrates the rise and fall of apartheid. We spent over 2 hours there and we really needed about 2 days to really take it all in. I was emotionally drained after our tour. If you are like me and you don't know much about what happened, how it happened, and how it ended then go to this website and also this one. For sure this museum should be on your bucket list and be sure to allow a lot of time for discovery. Go to The Apartheid Museum website to learn more about the museum and how to get your tickets.
About Johannesburg
A city of 6+ million people speaking 5 different languages. Only 7% of whites make up the population. Loaded with great restaurants and nightlife plus full of history and culture to explore. Known as the "city of gold" because of its beginning as a gold mining town. I especially liked our tour through Soweto which is located near their mining area.
Soweto is widely known for a series of demonstrations led by thousands of black school-aged students in 1976 to protest the introduction of Afrikaans in local schools. Students were met with police brutality and hundreds of children lost their lives at the hands of law enforcement.
June 16 is now a public holiday in South Africa known as Youth Day to commemorate the children. To learn more about this area of Johannesburg, you can read all about it HERE.
DAY 2
Johannesburg to Kasane, Botswana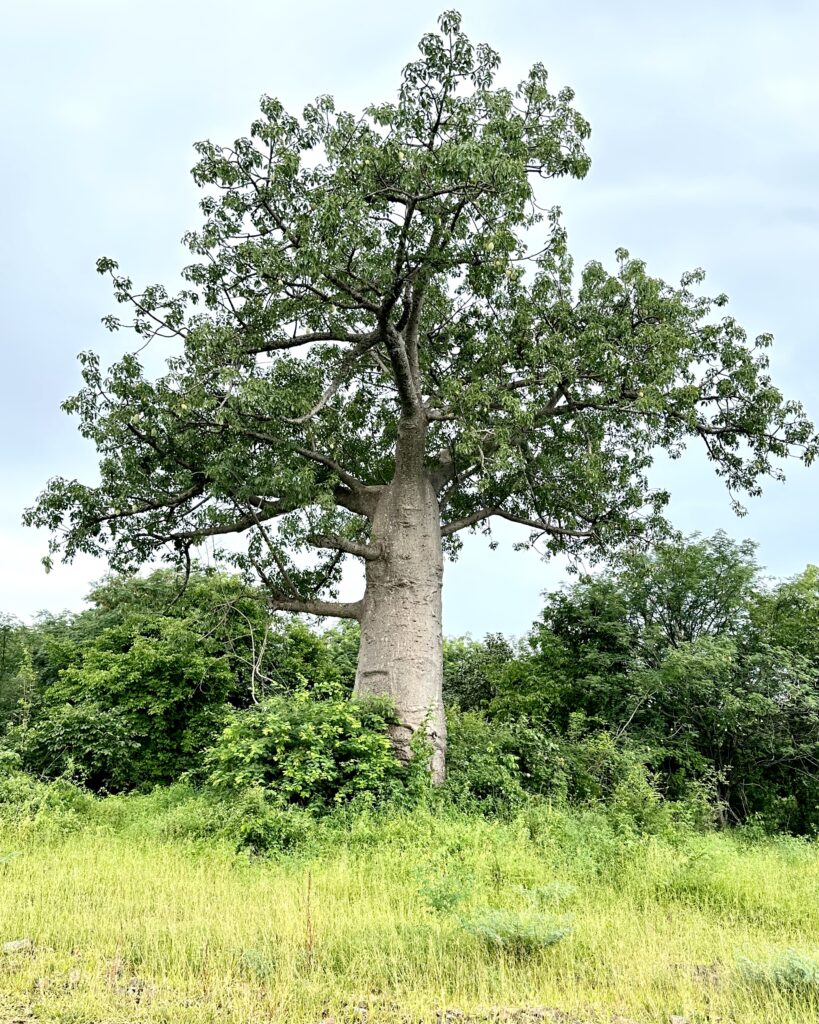 We took an hour-and-a-half flight on Spirit Air, a small commercial jet service to Kasane Airport in Botswana then to Cascade Island Lodge in Namibia, by a small private double-decker pontoon boat. Along the way, we saw baboons, elephants, our first crocodile, and African Fish Eagles. Crocodiles are everywhere!! We also saw a baby Balboa tree. Adolescent girls cut the nipples off the Crocodile Trees and grind them down then rub them on their chests. It is supposed to make their boobies larger. Ha Ha!
Swallows build their nest in hanging balls on the south side of the acacia trees. We saw a lot of Papyrus fluffy plants all along the river banks.
Our boat trip started on the Chobe River then -> Kasai -> channel-> Zambezie River 45 minutes to Cascade Island Lodge on Sedudu Island.
Cascade Island Lodge in Namibia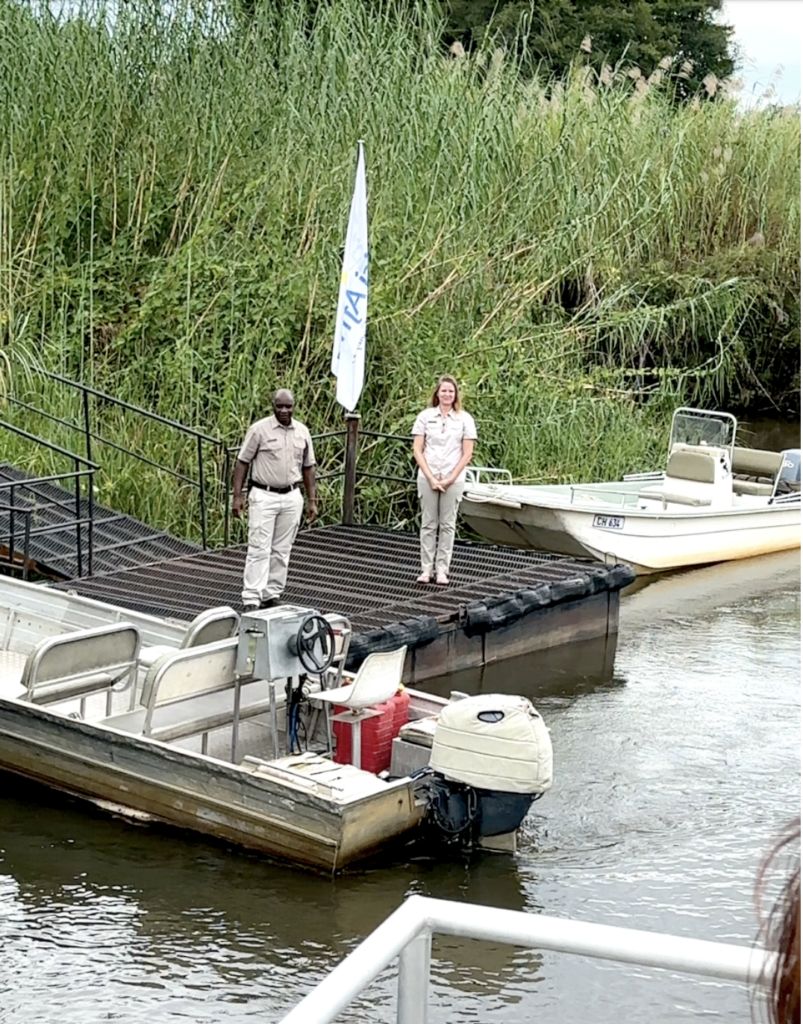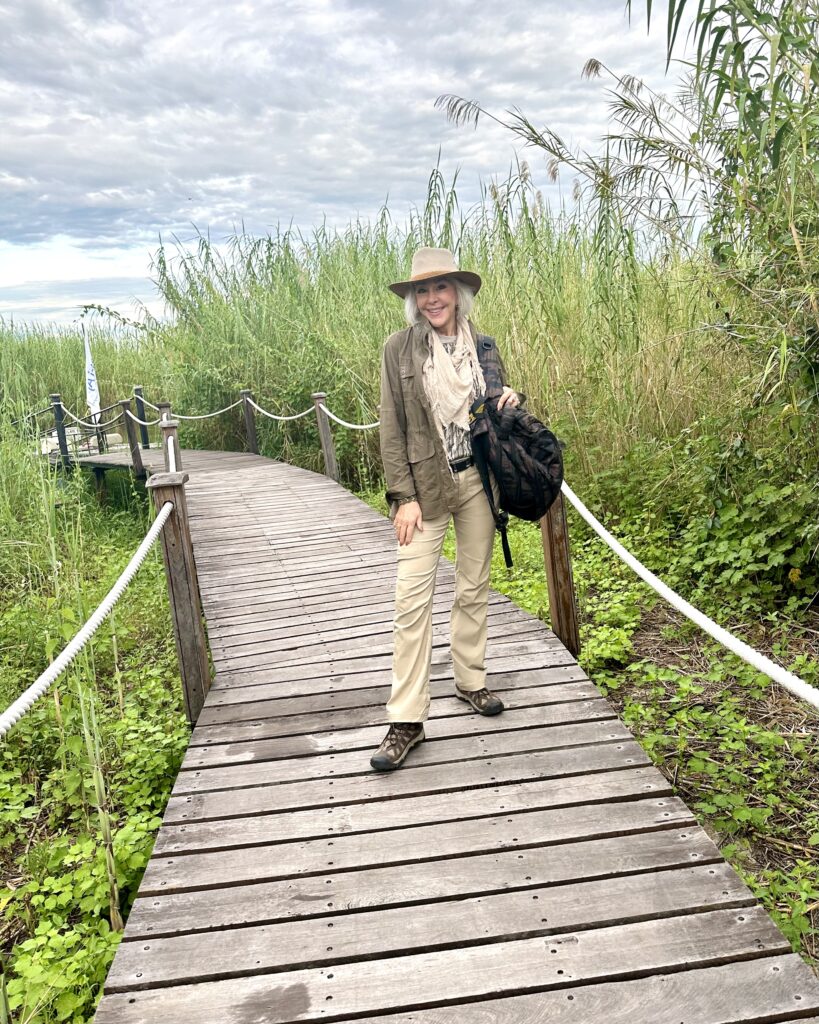 We were met at the dock by the manager and guides who escorted us up the beautiful boardwalk to the lodge. We were entertained by native songs by some of our staff and enjoyed a fruit drink to quench our thirst. After we settled in, we all met for our daily briefing and cocktails on the deck right on the river. A delicious dinner was served then we all crashed so we could be ready to go on our first land safari the next day.
OUR LODGE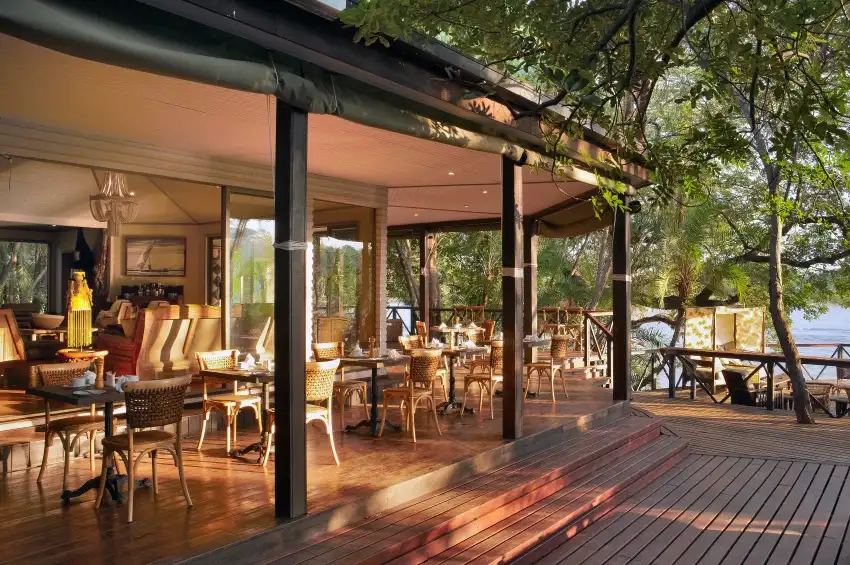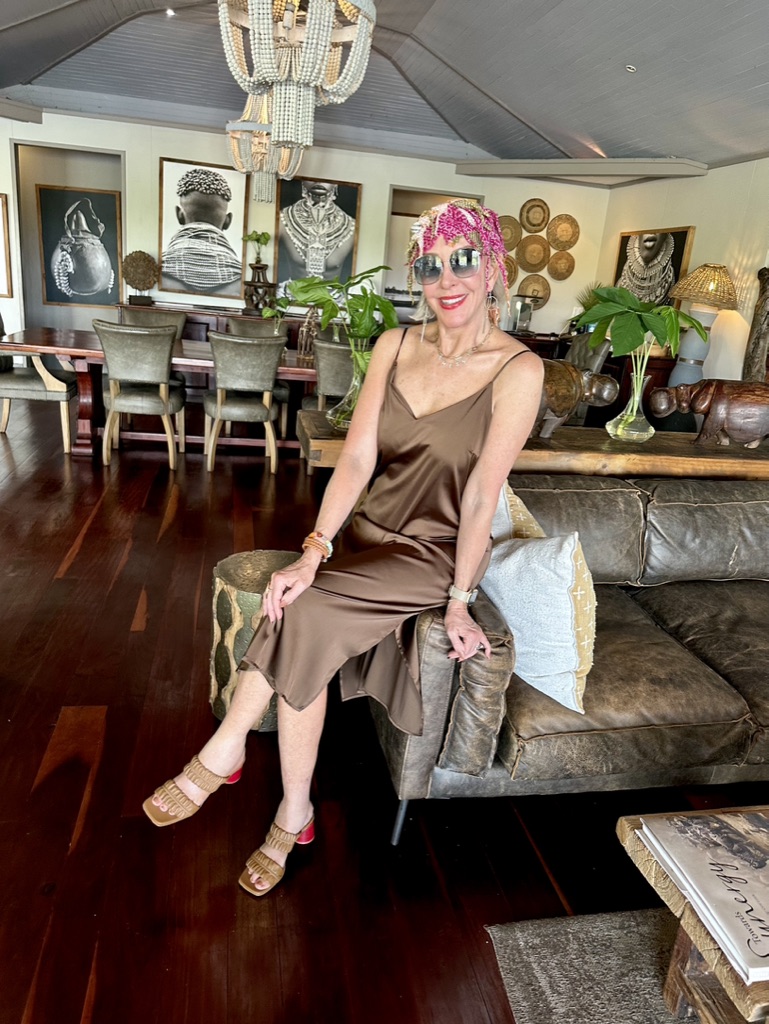 This little slip dress is affordable, packable, versatile, and comes in so many colors. I added an army green utility jacket after dinner. So many options to style this dress.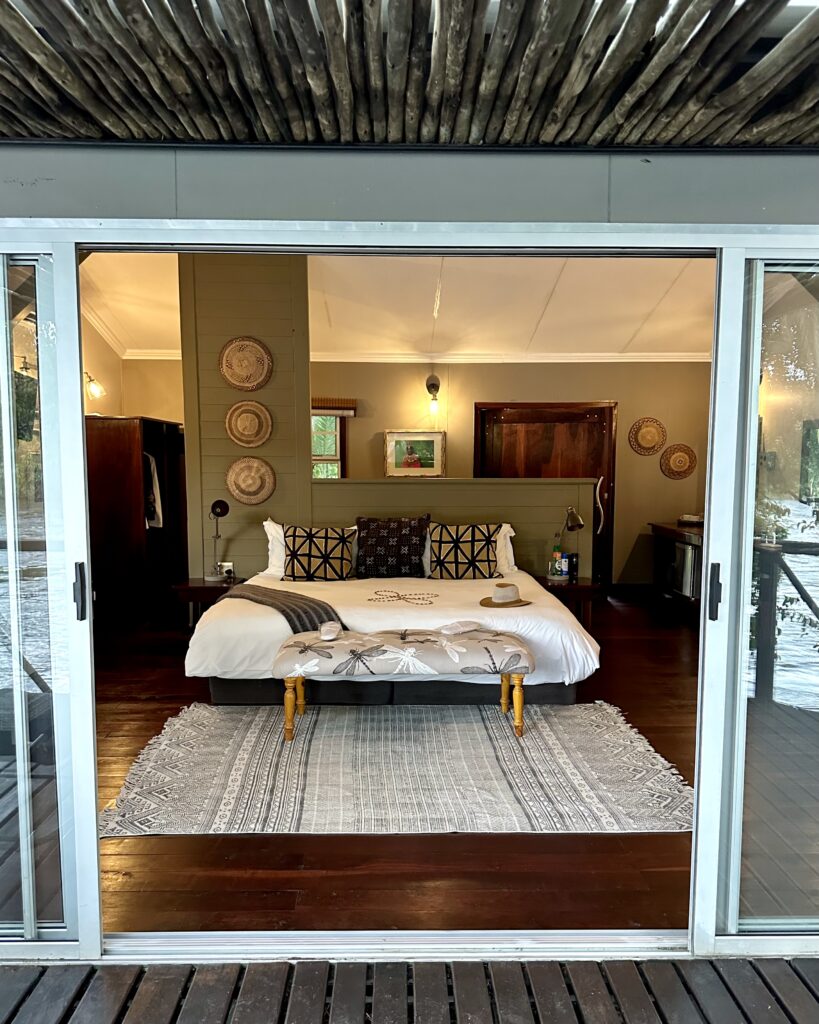 Located on an island with only 8 cottages made this spot so amazing. We each had our own cottage for a couple or single. It is a true luxury right on the river in the middle of nowhere. Charming, tranquil, and private in the wilderness. Tracy, our hostess met our every need while at the lodge. She spoke fluent languages making it easy to talk to all of the guests offering great information and highlights about this area of Africa.
For dinner, I wore a little black dress from Chico's. It is from their Travelers Collection, so it is versatile and easy to pack.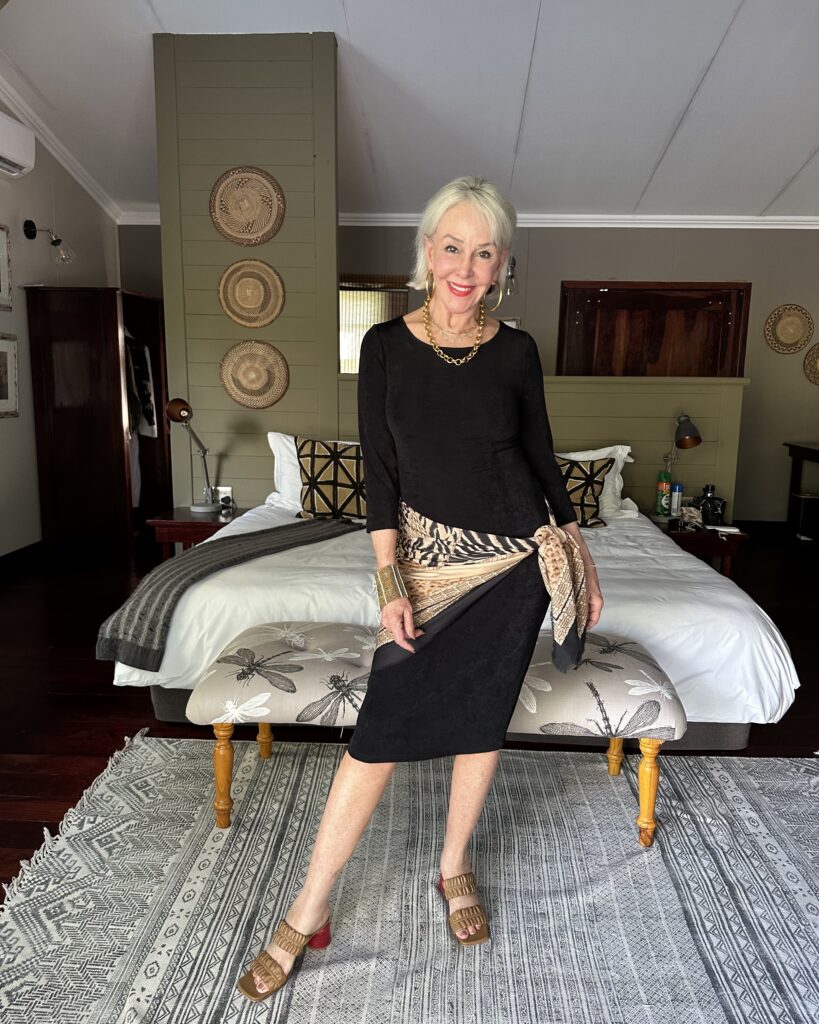 Great travel dress that you can style in so many ways. casual or dressy. Shop below.

DAY 3
CHOBE NATIONAL PARK + CHOBE MARINA LODGE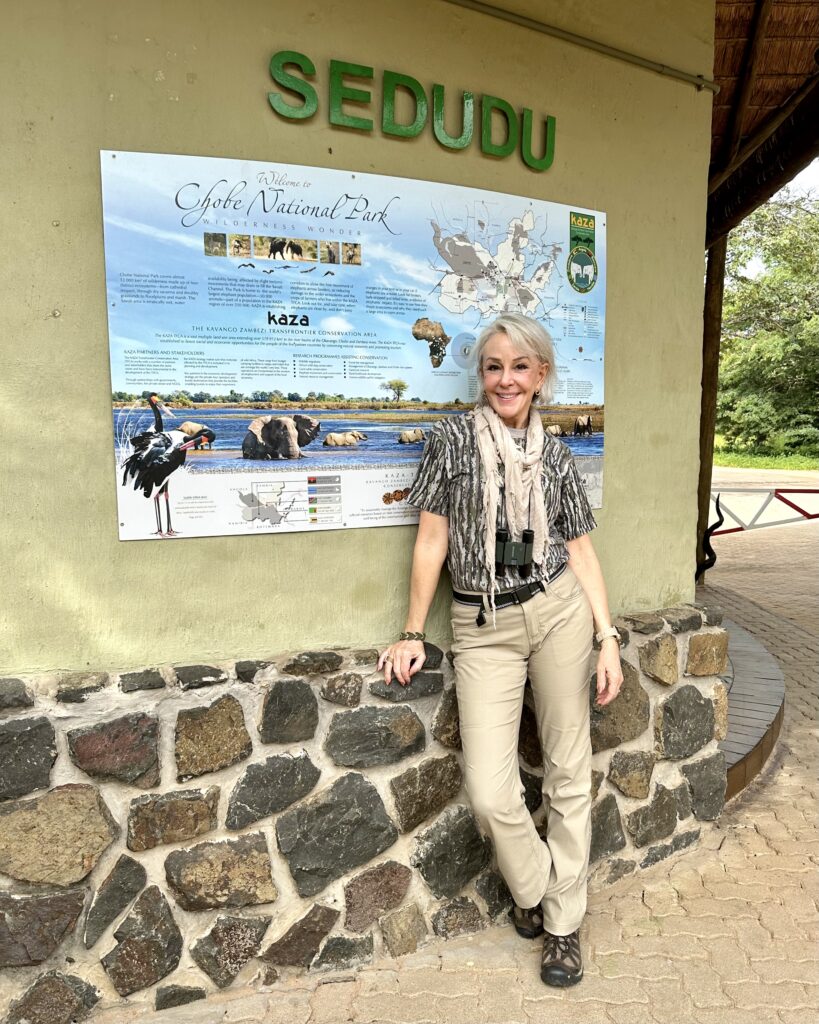 Best safari pants on the market!!! Shop them below. They run true to size.

Today was broken out into a morning safari, then lunch at the Chobe Marina Lodge, and an afternoon safari. We also took a break during the morning safari and parked where we could get out of our vehicle to stretch our legs and have coffee, tea, and cookies. Our spot was the place where all of the groups meet up at about the same time. Side note- I ran into a group of Texans traveling on a University-sponsored trip. Small world……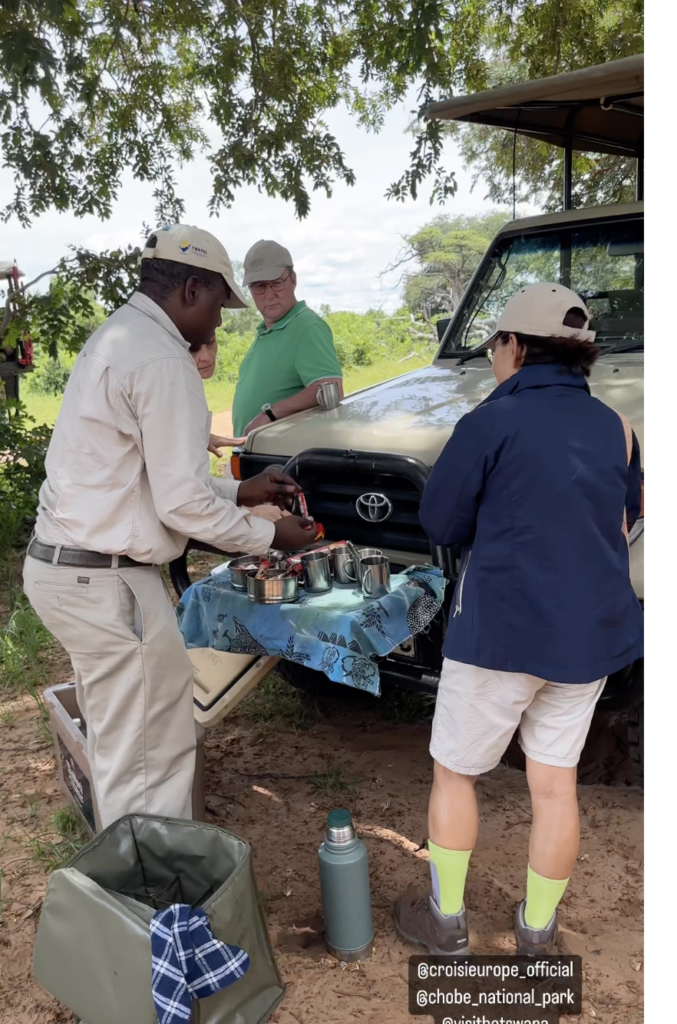 CHOBE NATIONAL PARK
Game & Big Game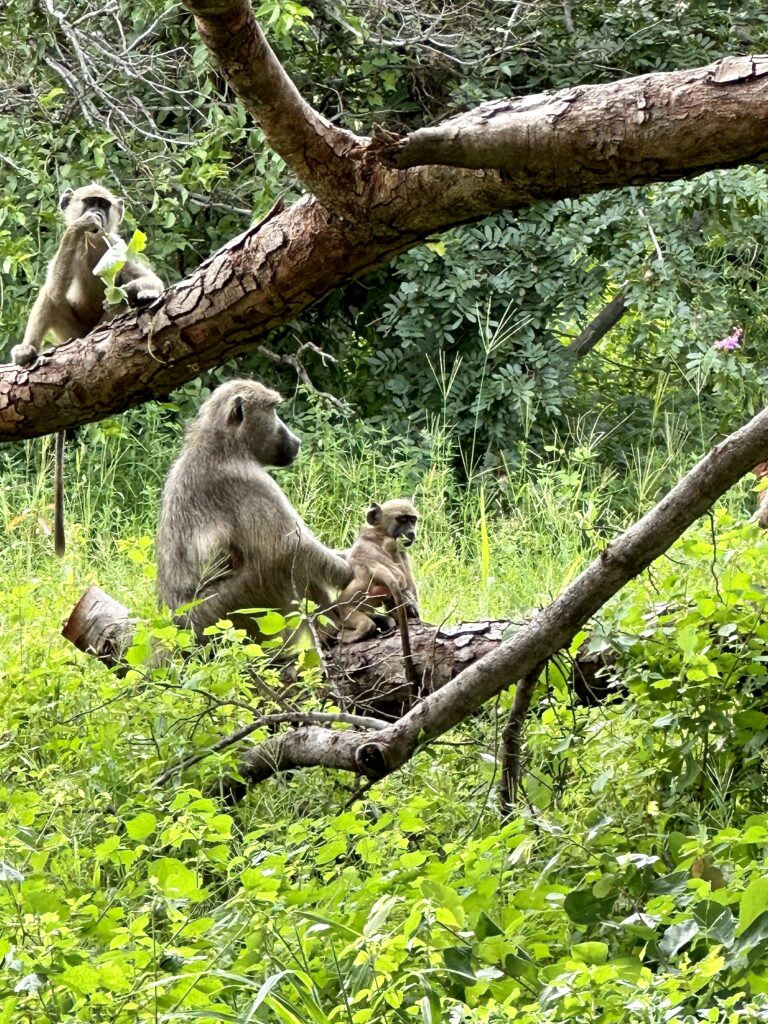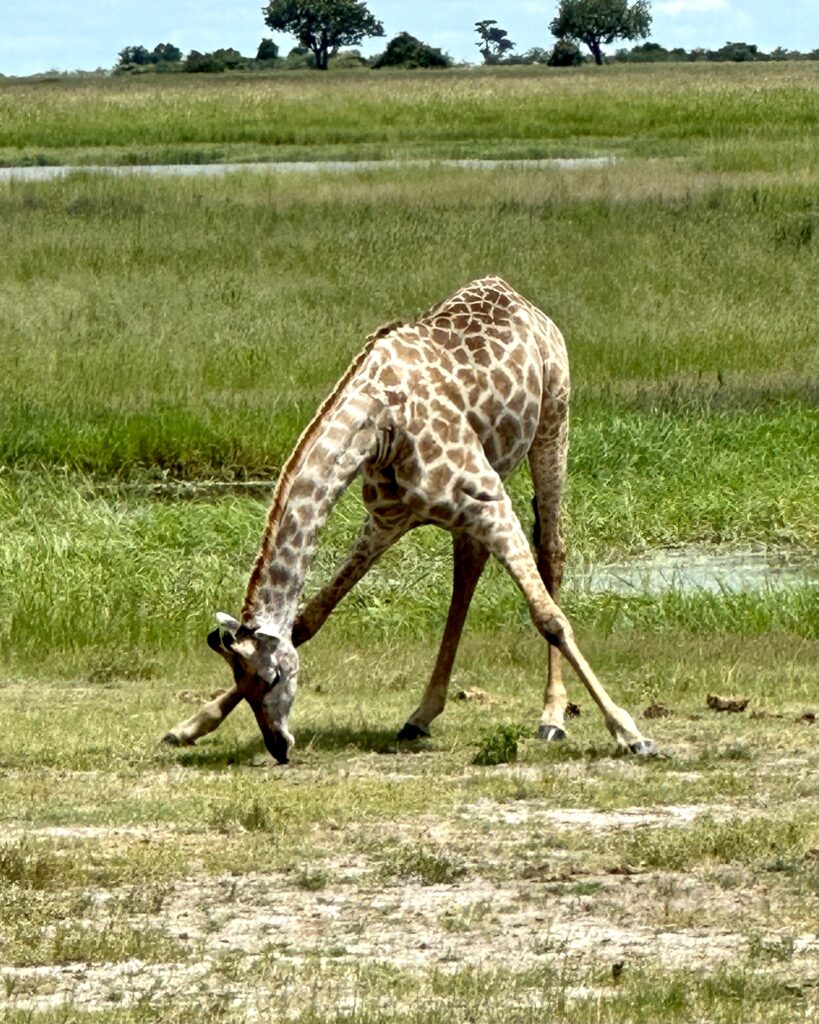 Today we took our boat to a bus that took us to Chobe National Park. I was so excited because I knew we would see some animals. We loaded into one of those 10-passenger safari vehicles with Wes as our knowledgeable guide. Today we saw so much…. and our favorite being the Giraffs and of course Elephants. We also saw an abundance of Impalas and a few Antelopes. The hippos are huge and we saw a crocodile cooling off with his mouth wide open…..how about that Water Buffalo? It is so funny to me the way we novice visitors take in the magnificent nature. The Kudu, Red Lichwe, and Black Sable were new to my sitings. I visited Tanzania 7 years ago and did not see these animals.
Birds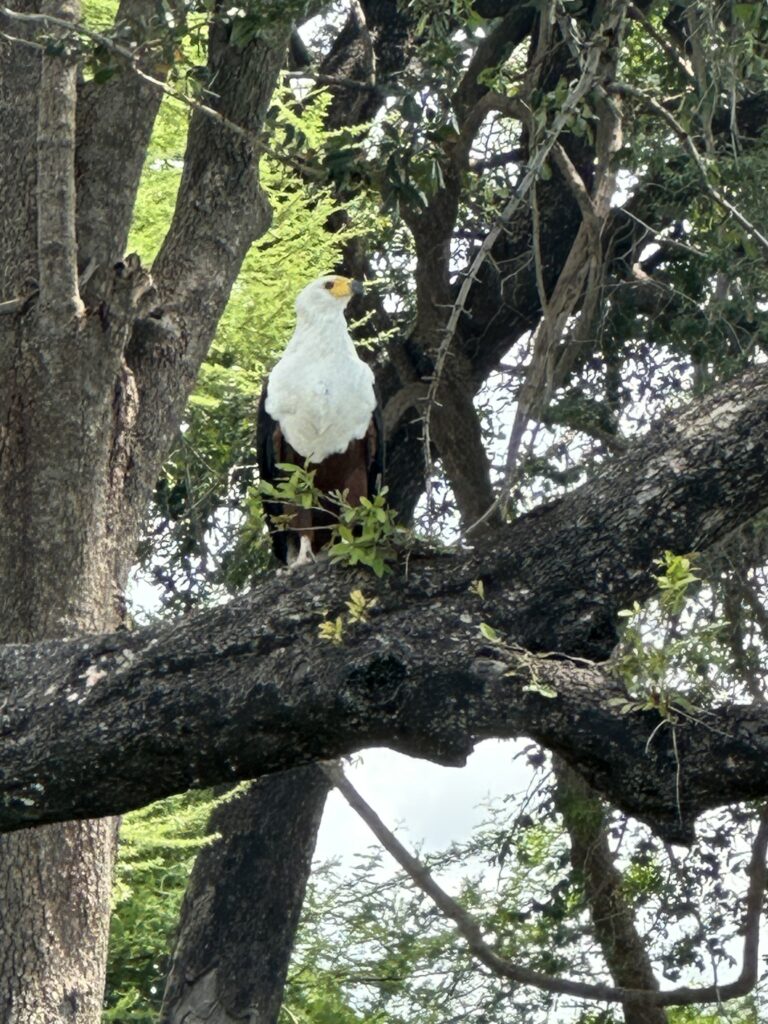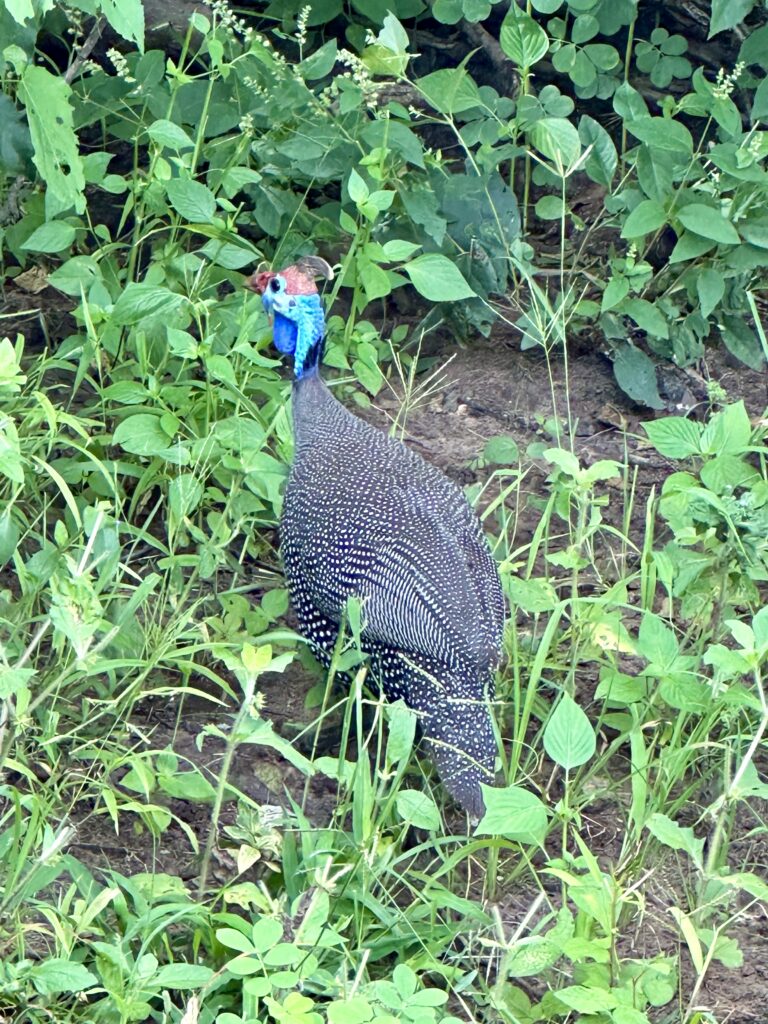 A safari is a bird lover's paradise and this one is no exception. Today at Chobe National Park we saw more African Fish Eagles and just know that they are monogamous and can carry 3 times their weight. The Zulu (sacred Ibis bird) and the Goliath Herron which is the biggest Herron in Egypt were just a few of the many birds that we saw.
Lunch at Chobe Lodge Marina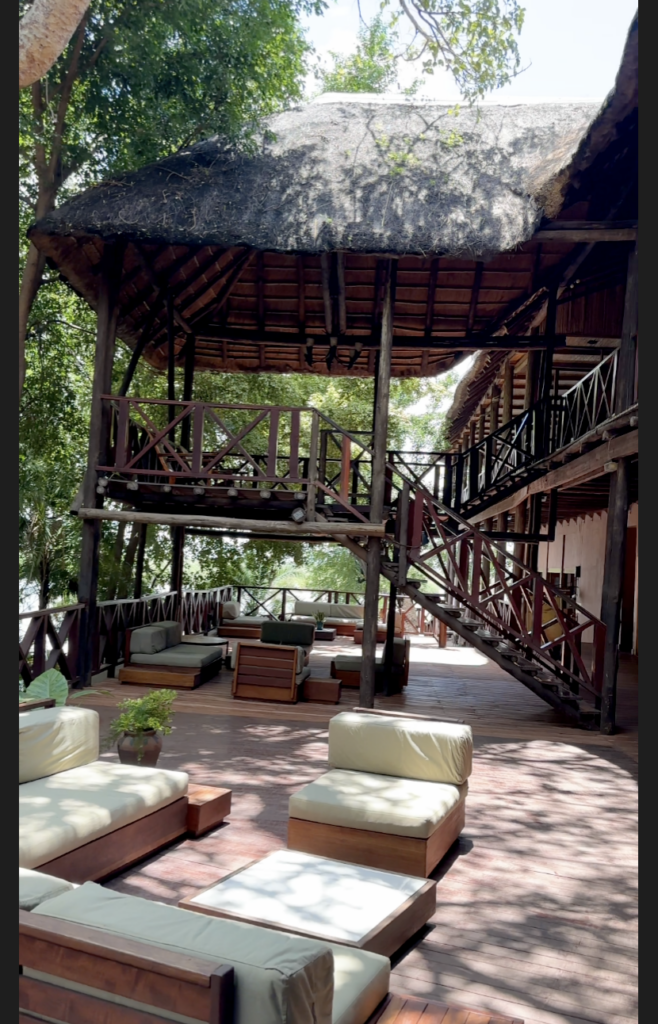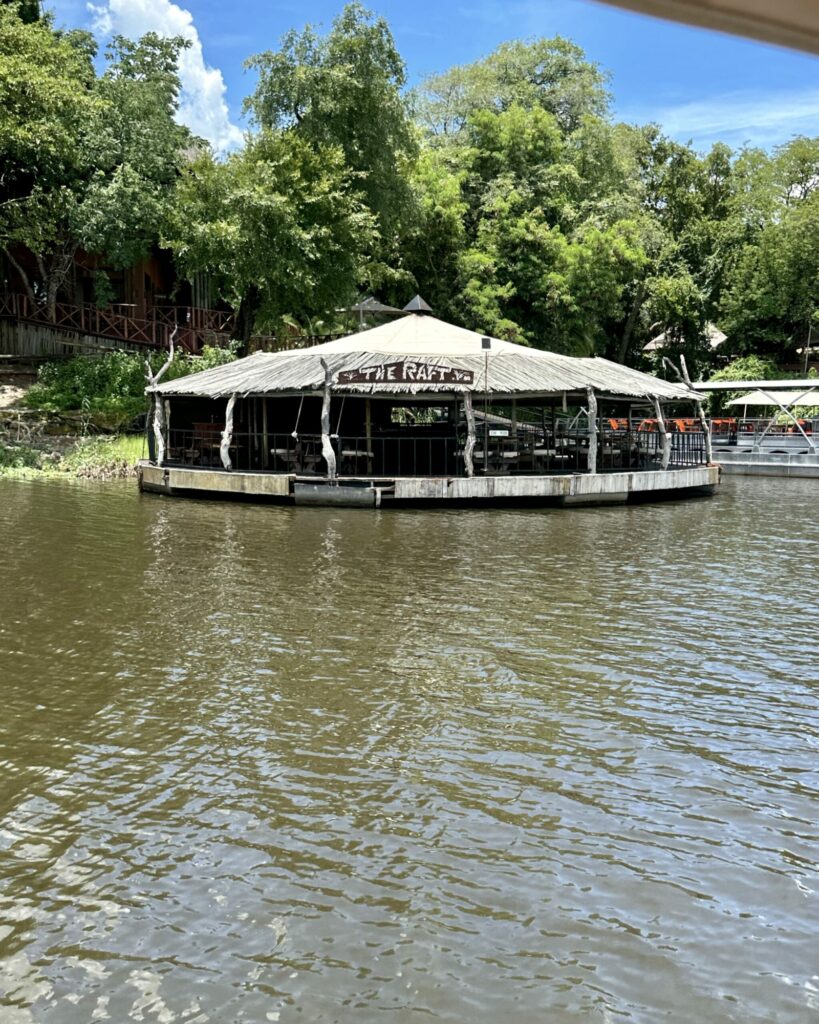 Our lunch was at or should I say on the Raft Restaurant located at the popular Chobe Marina Lodge. It is just as it says, a floating raft on the Chobe River. It was a beautiful setting that looks like a treehouse and oh so Africa!!
DAY 4
IMPALILA ISLAND (NAMIBIA)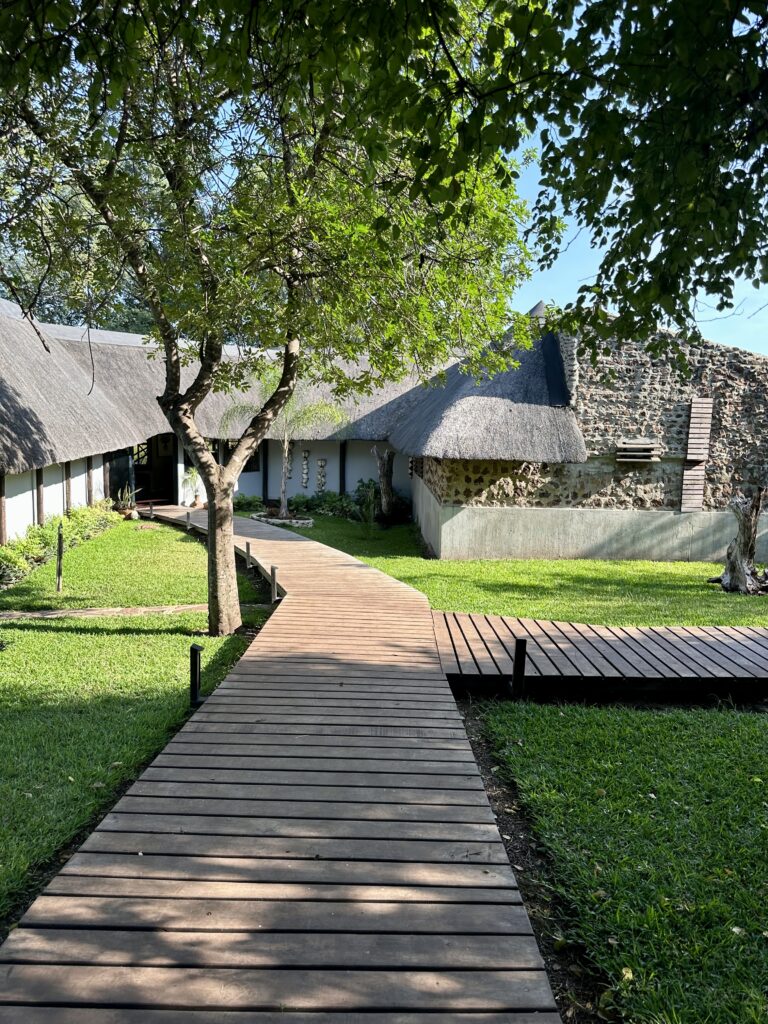 Did I say that we had breakfast every morning? I am not a breakfast eater but I did eat some fruit, cold cuts, and cheese every morning. The rest looked delicious!
We took our boat to nearby Kaza Lodge, which is a CroisiEurope sister lodge that has been recently renovated. Equally as charming as Cascade Island Lodge, but it has its own vibe. While there we took a walk/ride into the village and mingled with the local Impalila Tribe on the island. Oh my, what a cultural experience. 42 villages make up this tribe meaning 1 family and extended family per village. Homes made of stone, mud/mopane tree, and brick using thatch for roofs. They do NOT have electricity or running purified/treated water as we have back home in the US.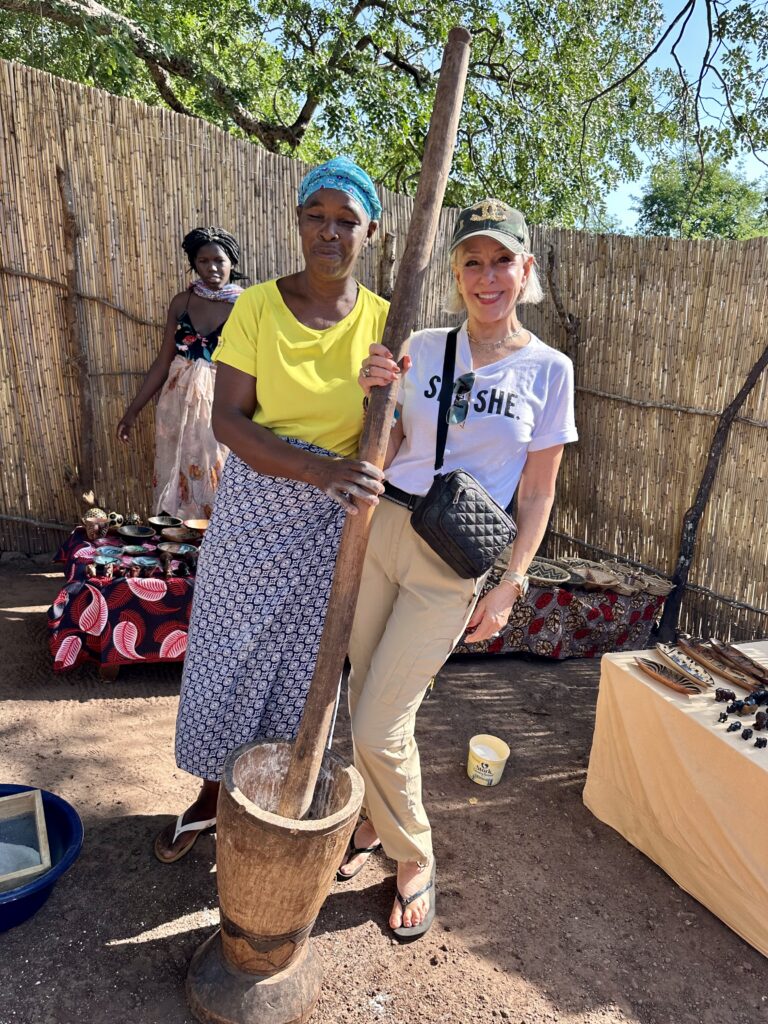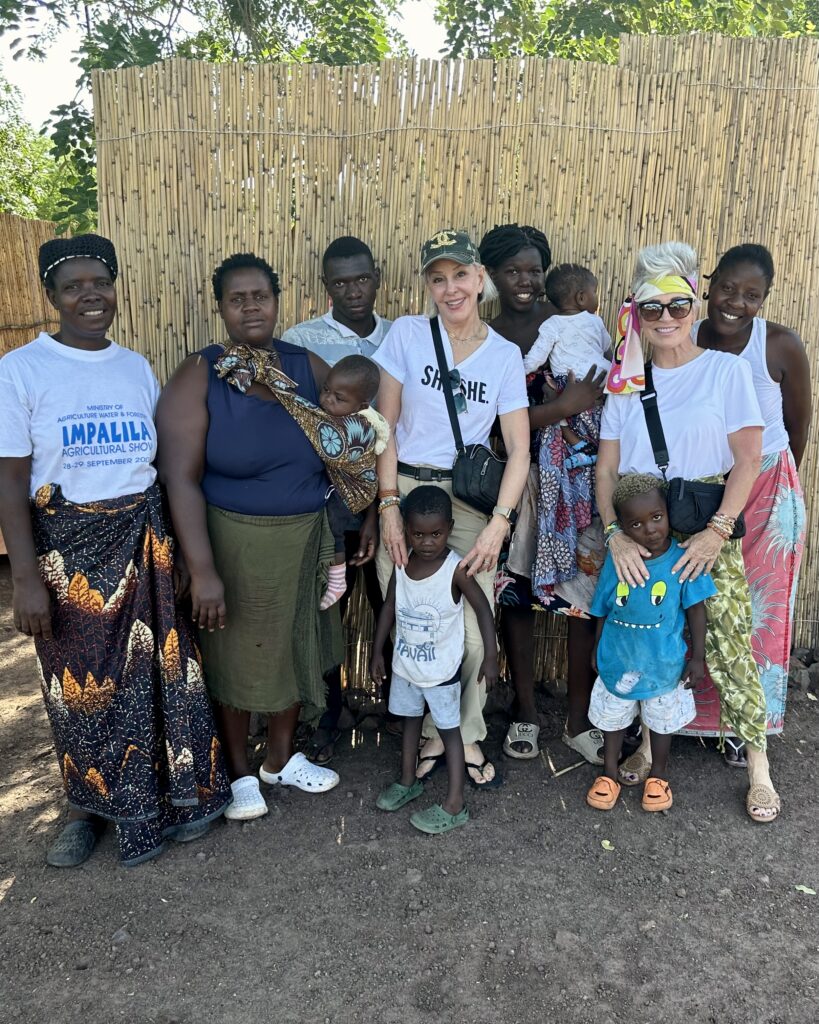 There are 3 denominations on the island Christian, Catholic, and 7-Day Adventist. The schools comprise grades 0-10 with 400 students and 15 teachers. Some walk 20 minutes one way every day.
The ladies make lots of unique items like baskets, textiles and as well as tribal jewelry that Shauna and I scooped up. They demonstrated to us how to make Maize which is their staple food. They let us try our hand at crushing and mashing. Trust me, their life is not for sissies which made me feel so blessed at the ease and conveniences of our North American culture, however, they don't know any other way of life. They are a HAPPY people.
A Special Treat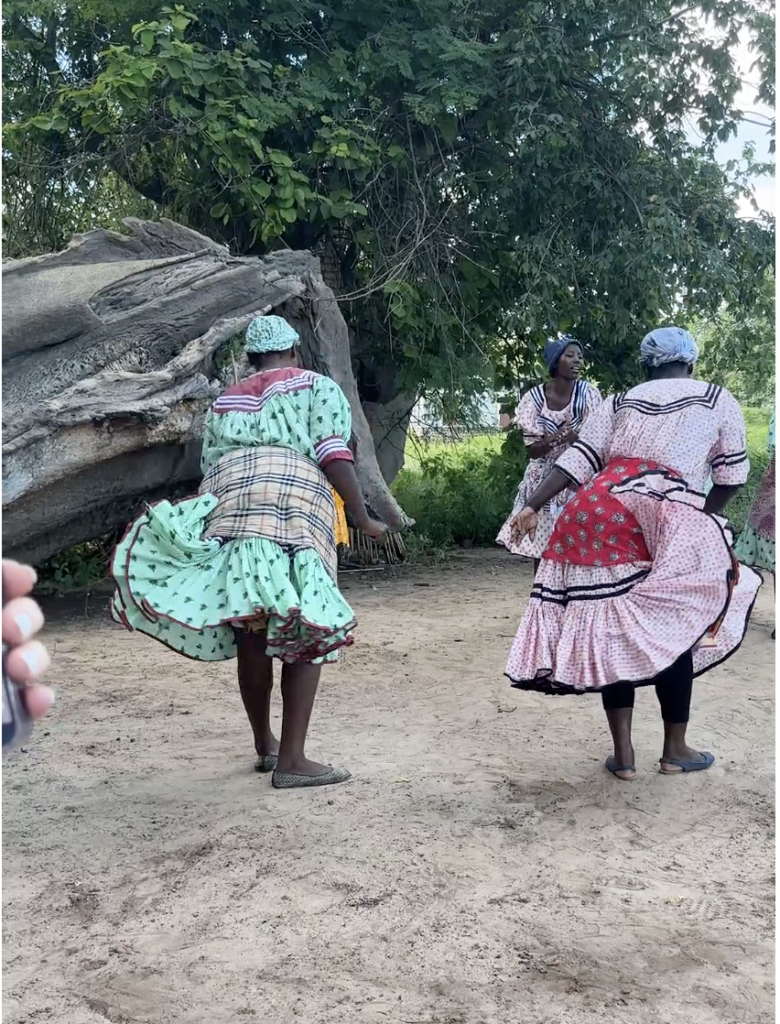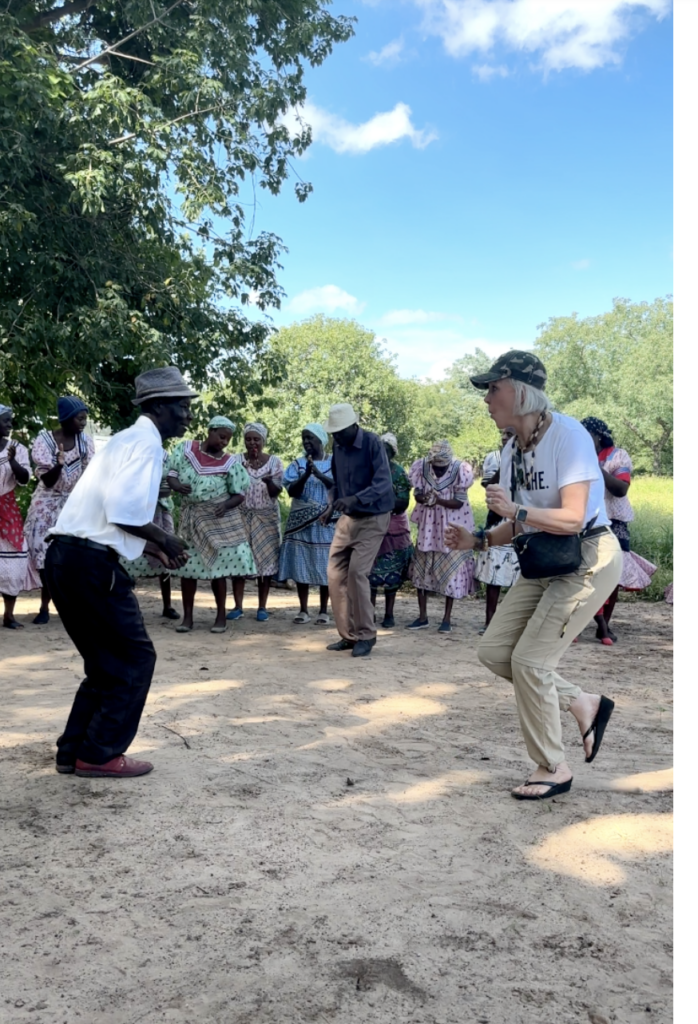 A highlight of the day was a dance by the Impalila Spell Group. They perform for presidents and dignitaries from everywhere. Their dresses are made to look like a peacock. The more layers of petticoats mean they are more senior or higher up in importance. Their ages range from 28-80. Of course, yours truly took my place on the dance floor. Only one life to live, right?
Afternoon Free Time
No downtime for us. We had some swimsuits that we wanted to shoot for Chico's so we played around our cottages and took some pretty photos and videos. What a backdrop!! You can shop this swimsuit here.
**** To shop for anything that I wore in Africa, go to THIS POST. It is full of great information about how to prepare for a trip to Africa.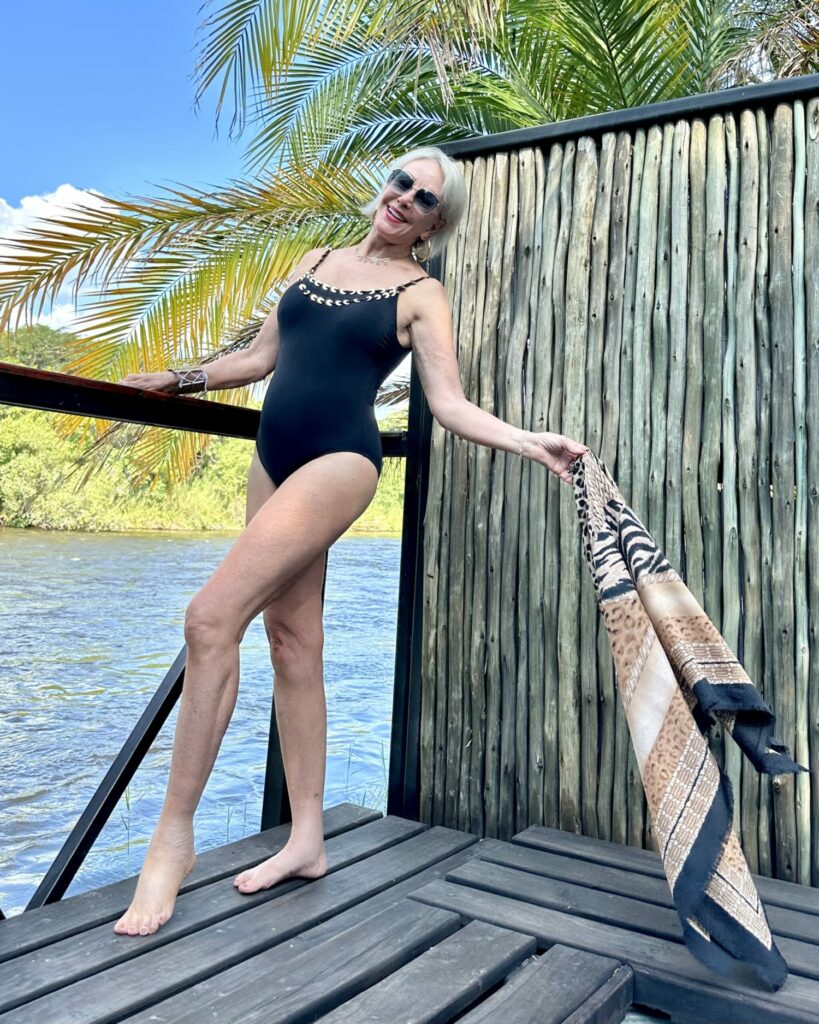 Both properties have hot tubs. You will need a swimsuit if you love taking a dip after being on the dusty trail!

Sunset Cruise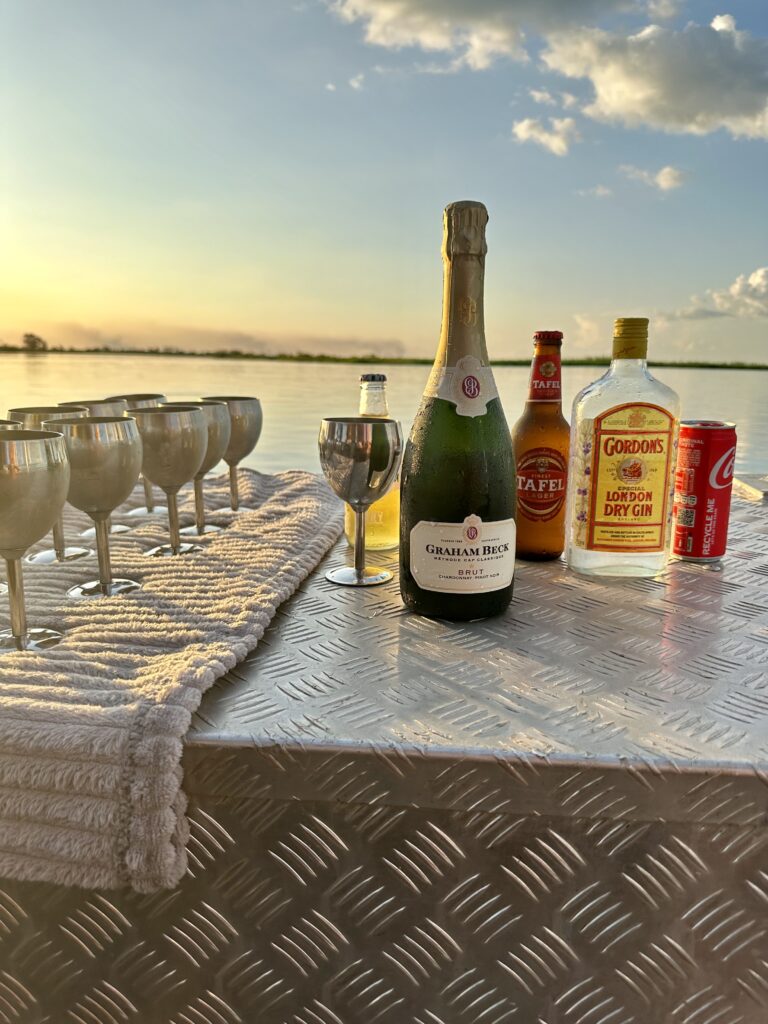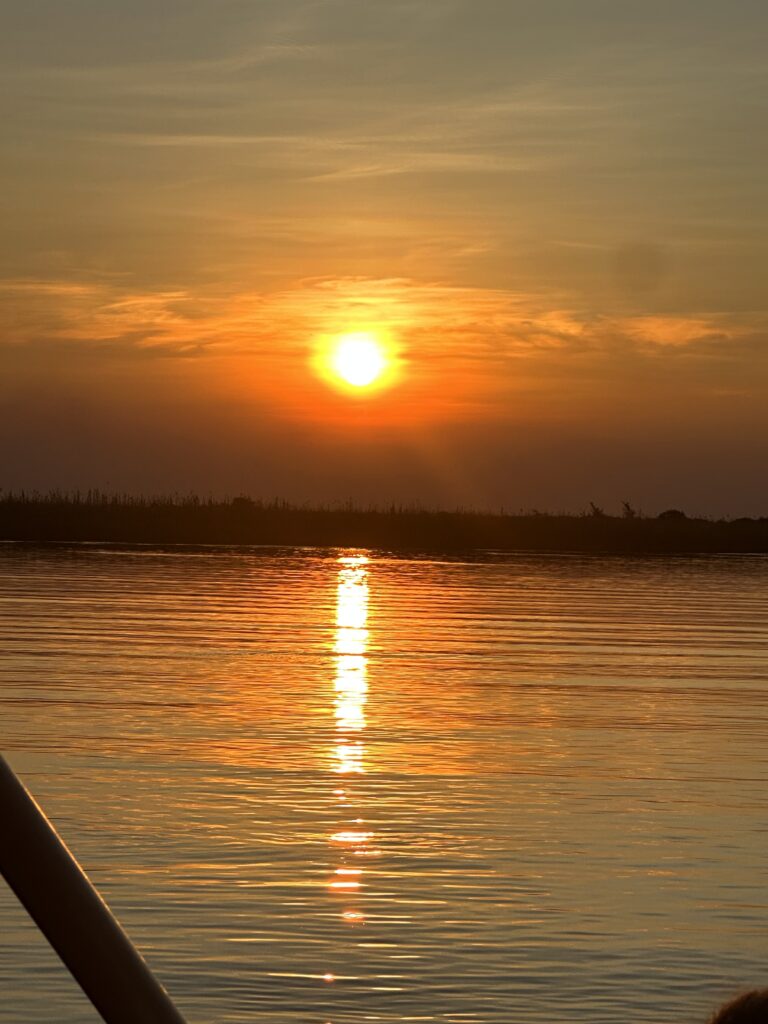 Rather than a sundowner on the plains, we did a sunset cruise on the Zambezi River, catching the most beautiful moments of a vibrant sunset. Celebrating with champagne and appetizers at the end of our time at Cascade Island Lodge was actually sad because Shauna and I agreed that we could stay there for a long time.
DAY 5
Flight to Lake Kariba and Board the African Dream
Final Boat Trip from Cascade Island Lodge
Before we left this area of Africa, we took another water safari cruise. We saw a lot of birds like the Open Billed Stork, and more African Fish Eagles. Of course our friends the crocodiles made their appearances.
It was so sad to leave my friends, especially TT & Tracy (see photo above) but hopefully, we will meet again someday.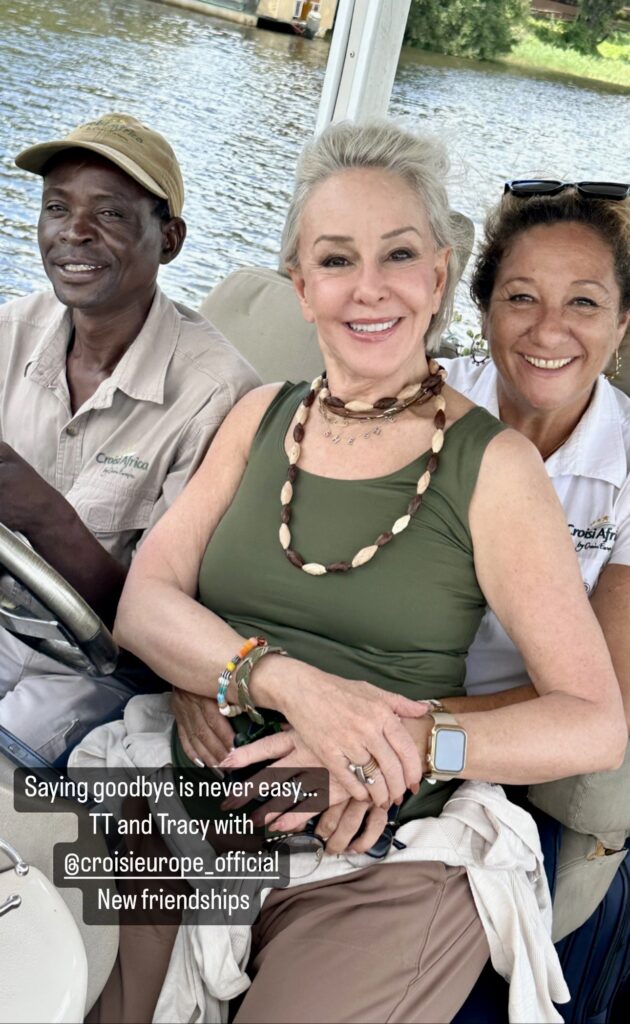 Flight from Kasane to Lake Kariba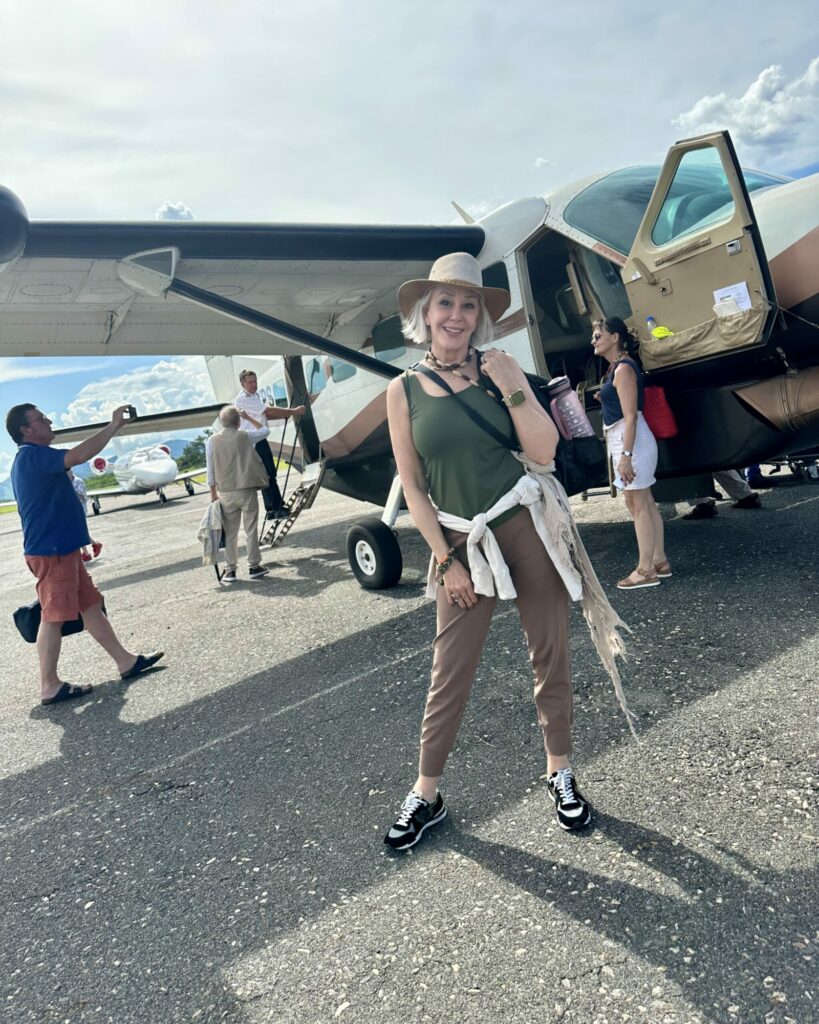 Being a commercial pilot I always love an adventure by air. Today we flew in a Cessna Caravan for an hour and 45-minute flight to Lake Kariba then boarded our CroisIEurope's 8-cabin ship called the African Dream. On the way, we flew over Kariba Dam and Victoria Falls. We literally had a bird's eye view, don't ya think?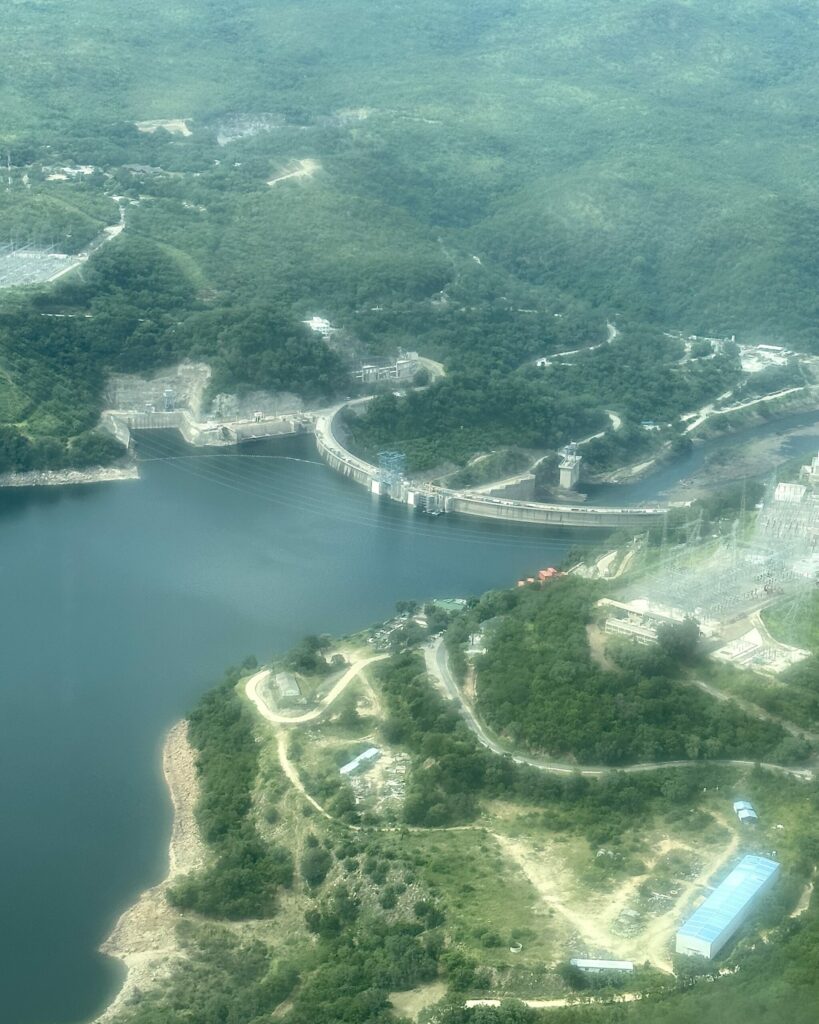 Upon our arrival at Lake Kariba Airport, we were transferred by tender over to our home for the next 3 nights. Our crew met us with open arms. Only one girl, I might add. Her name was Jackie and the guys loved her!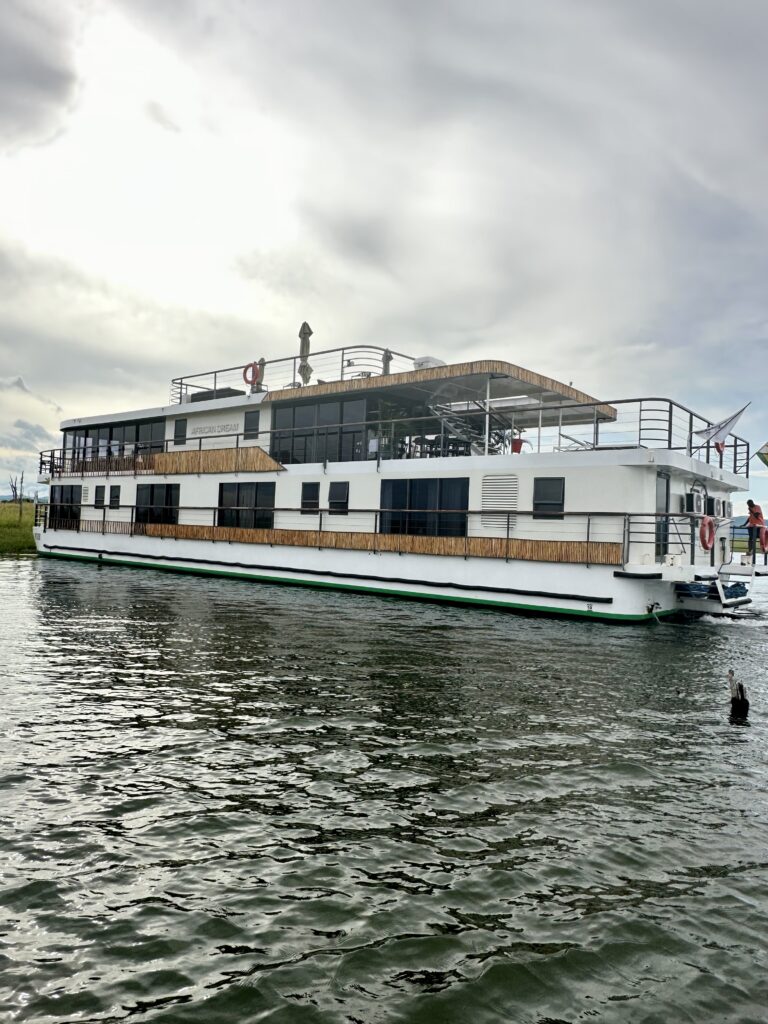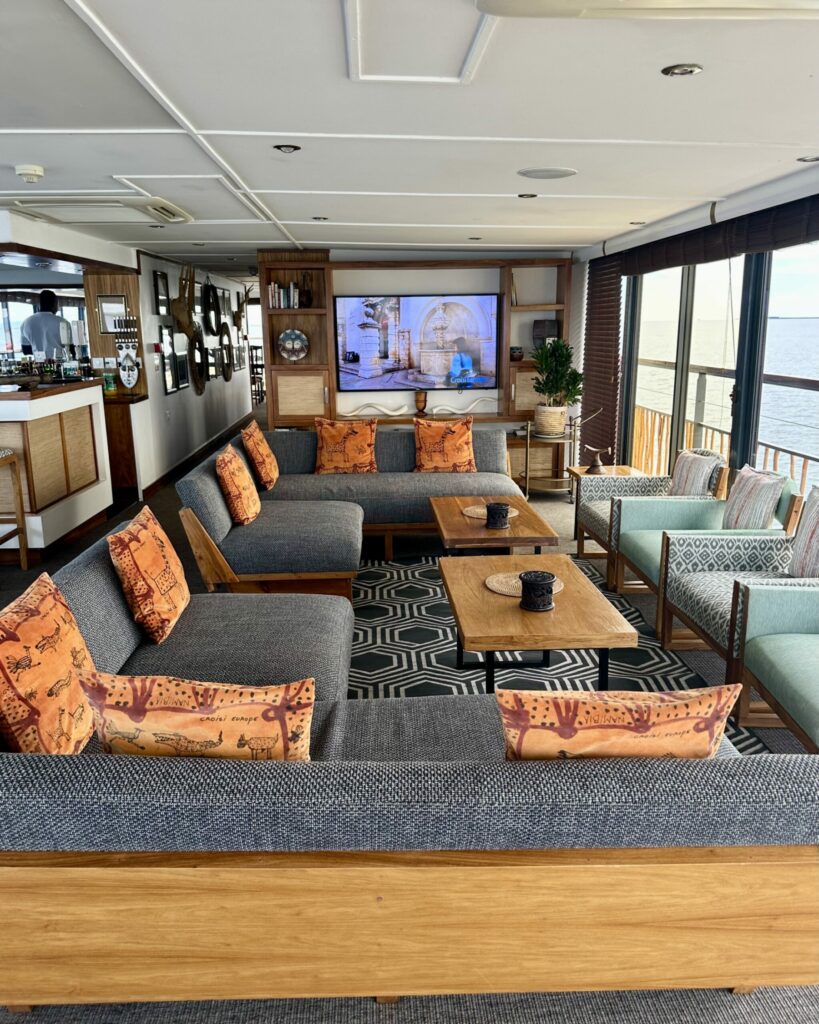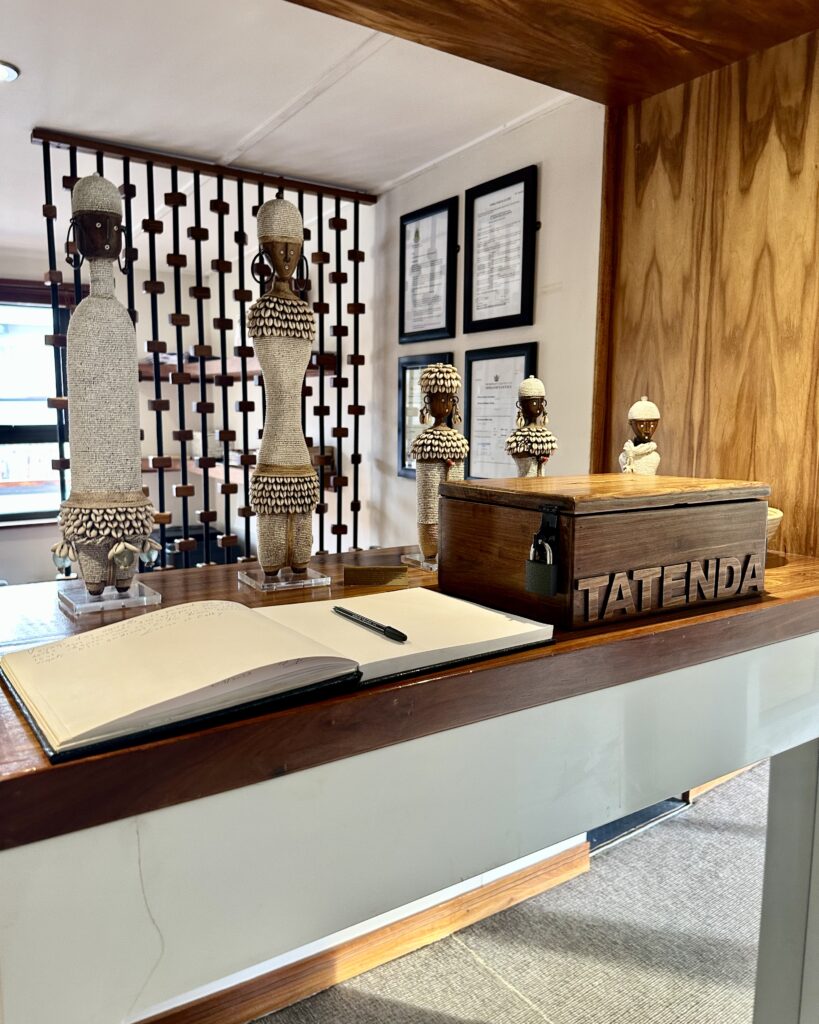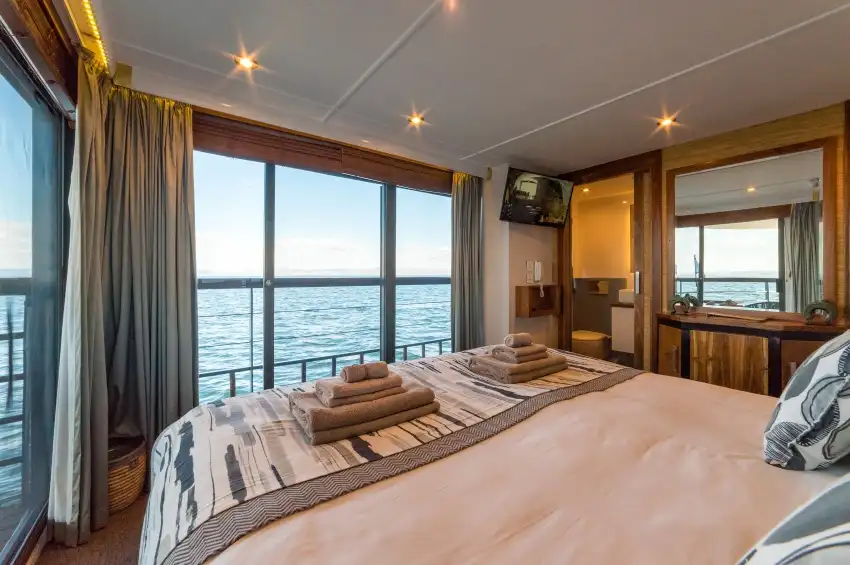 We set sail while we settled in getting acquainted with our new digs. Can I just say that this boat called the African Dream was so gorgeous! Only 8 staterooms so it was like our own private yacht. We met up for our introductions, briefings, and then a beautifully crafted dinner. Afterward, we retired for the evening so we could be ready for our safari by water.
*** Lake Kariba is 140 miles long and spans a distance of approximately 25 miles at the widest point. Since it is a manmade lake, it has flooded flatlands, hills, and forests alike creating emblematic landscapes.
DAY 6
Safari by Water
Morning Adventure
After breakfast, we boarded our tender (small boat) for a morning water safari. We saw so much raw beauty on the Gache Gache River where we zig-zagged around the drowned trees creating a unique visual of the landscape.
We saw lots of birds including the African Darter. Its neck and beak look like a dart. Hippos love hanging around the banks nestled amongst the drowned trees. I counted a group of 17 mamas, daddys, and babies. They only eat grass, snort a lot, relax in the water, and can stay underwater for up to 6 minutes. The Tiger Fish season is the big fishing sport on Lake Kariba plus they are good to eat.
Bushbucks were seen on the hills along the lakeside. Much like an Antelope and very smart!
Mopani Trees dominate the Zimbabwe Valley which Angola, Botswana, Namibia, and Mozambique make up this valley.
Afternoon Adventures
Back to the boat for lunch while cruising towards Changa. Shauna and I took this time to create some more content. Another cute floral swimsuit and coverup were perfect for the African Dream rooftop deck.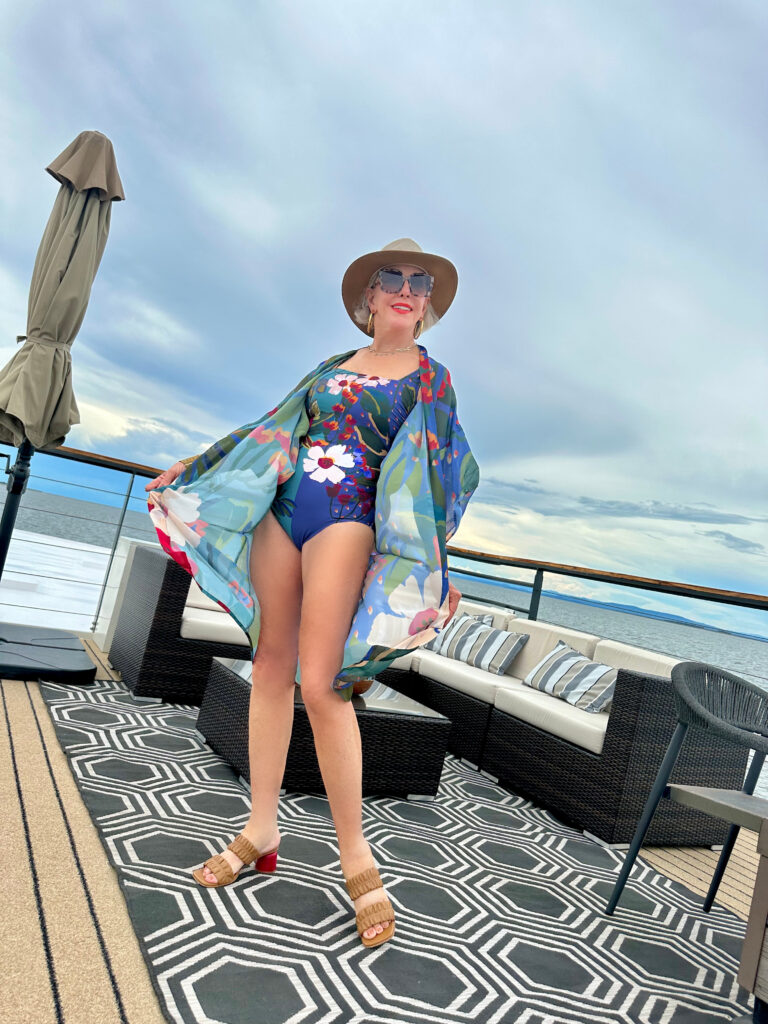 Another swimsuit option you can wear on any of your vacations. I use my swimsuits as body suits as well. They can be worn with pants or skirts.

Right before sunset, we found our spot to anchor down for the night. We loaded our tender and headed out for some more sightseeing, beautiful sunsets, and even a little fishing. Shauna and I both caught a HUGE catfish. Ha ha! See my big catch below.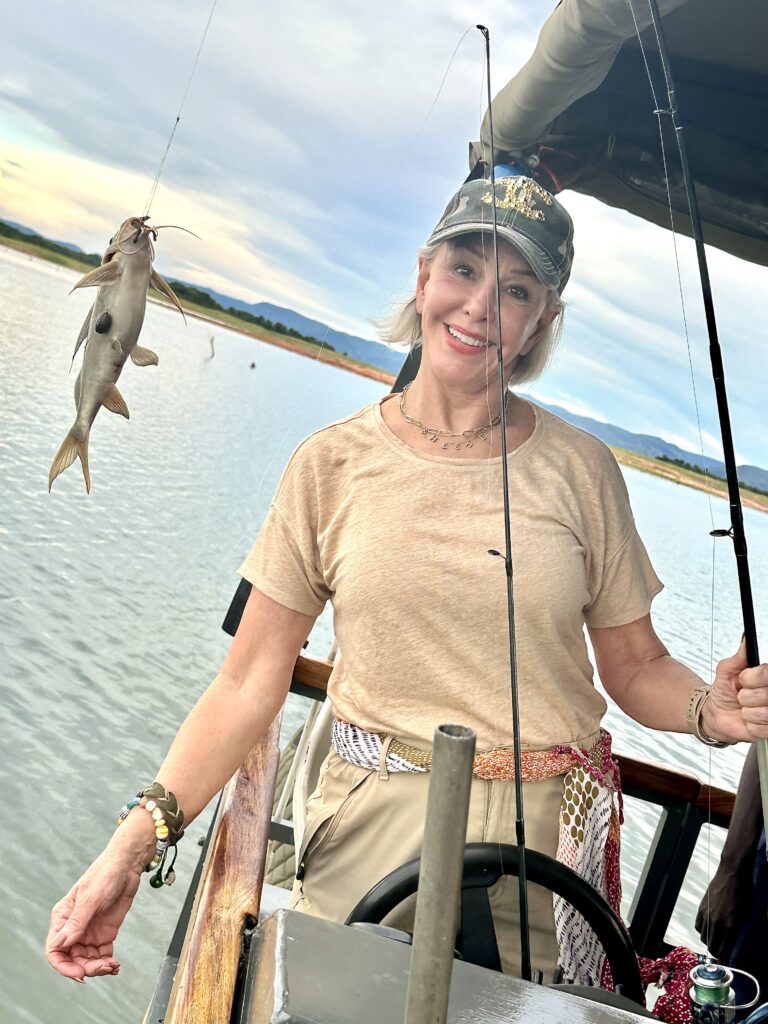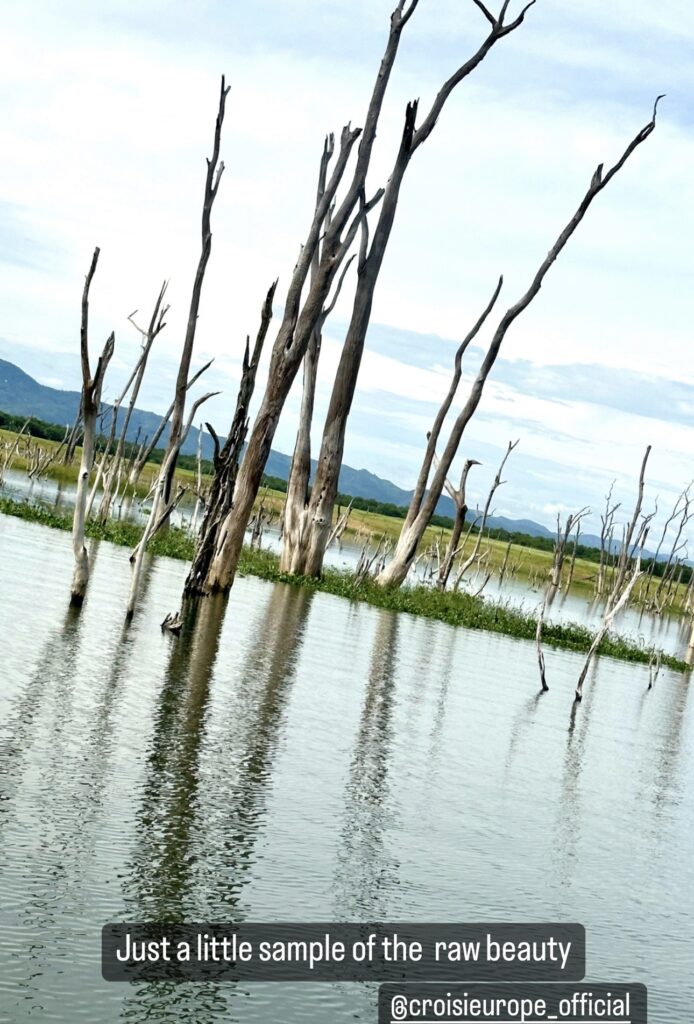 DAY 7
Matusadona National Park (Zimbabwe)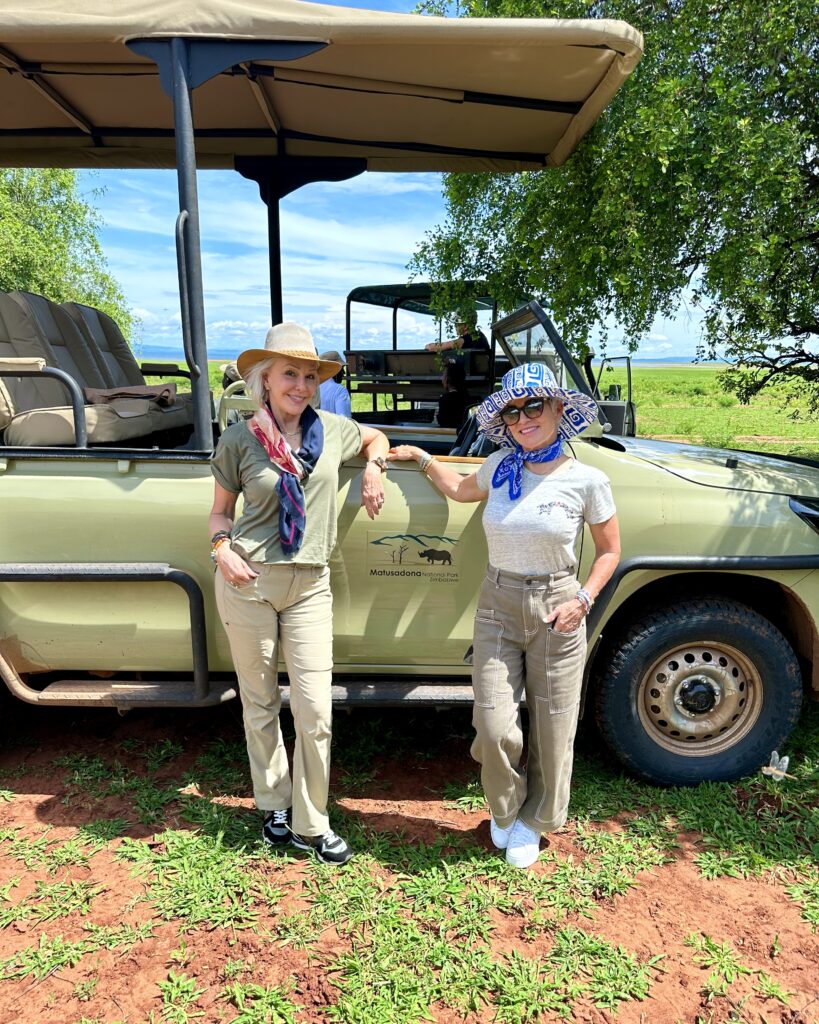 We left the boat for another land safari only this time in the Matusadona National Park in Zimbabwe. This huge park is 450 square miles home to numerous animal species which includes our favorite birds, the national bird for Zambia, the African Fish Eagle as well as the Saddle Bill Stork, Yellow-billed Stork, African Gray Hornbill, Black Heron, and more. They all have their own ways to hunt.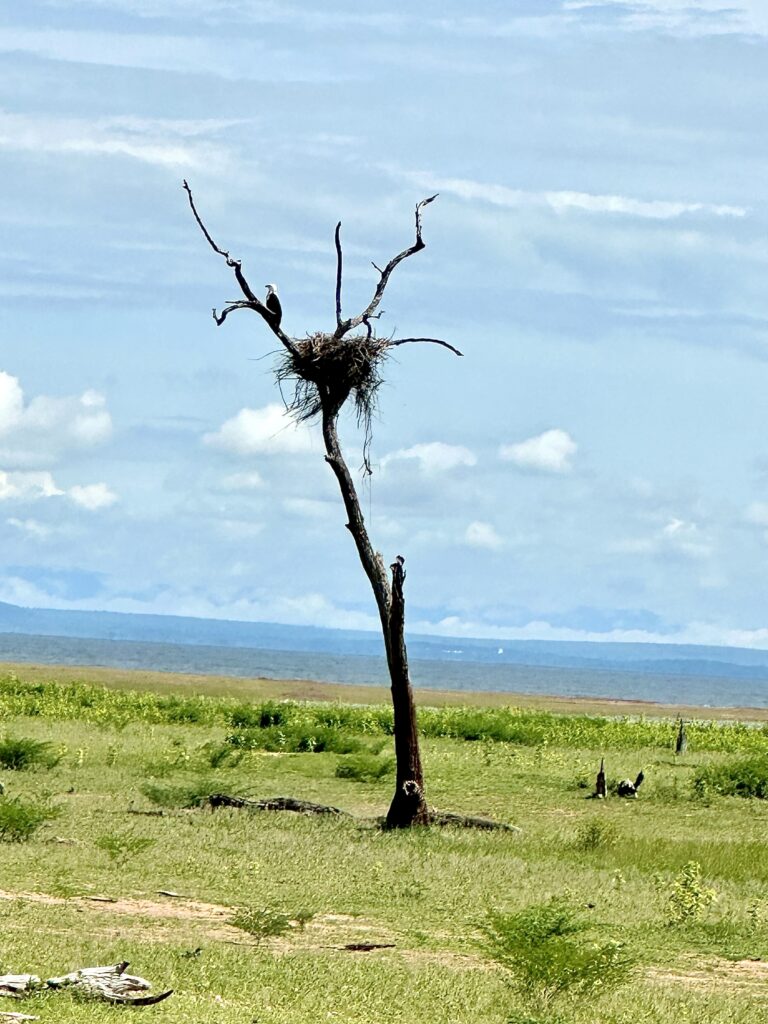 The Warthog is so ugly. The male has 2 pairs of warts on their faces and the female has one pair of warts. We loved seeing the Zebras!!! These were Plains Zebras. They have shadow striping and also have great eyesight.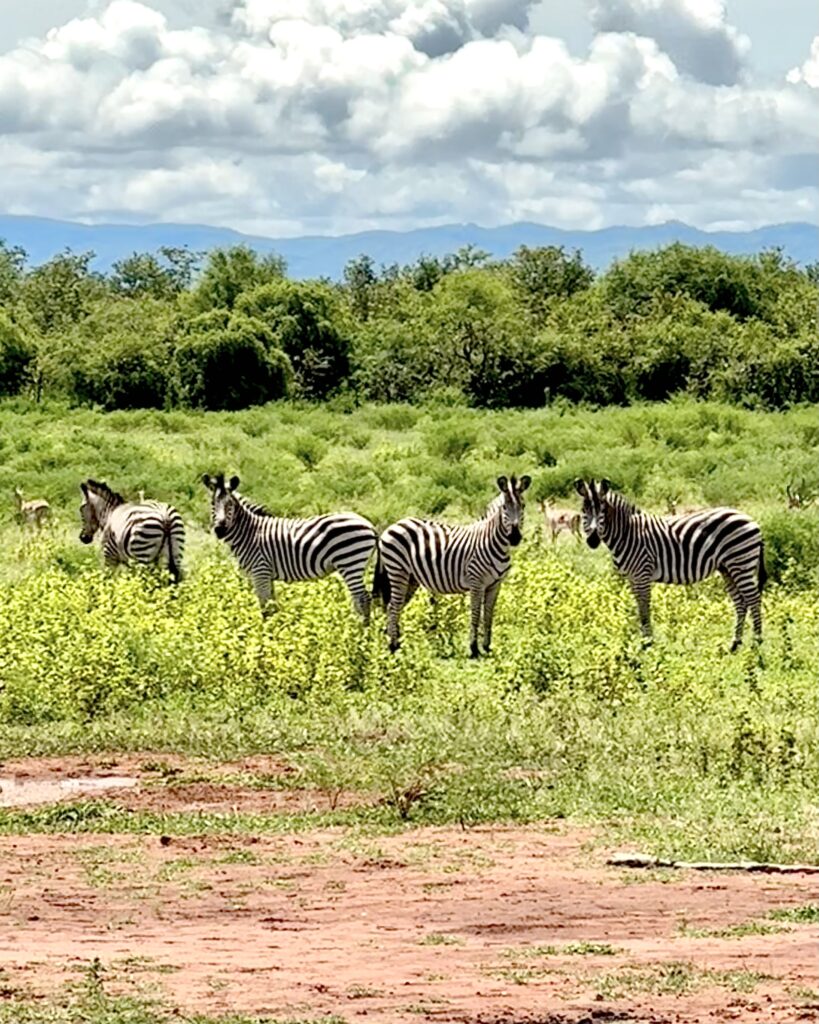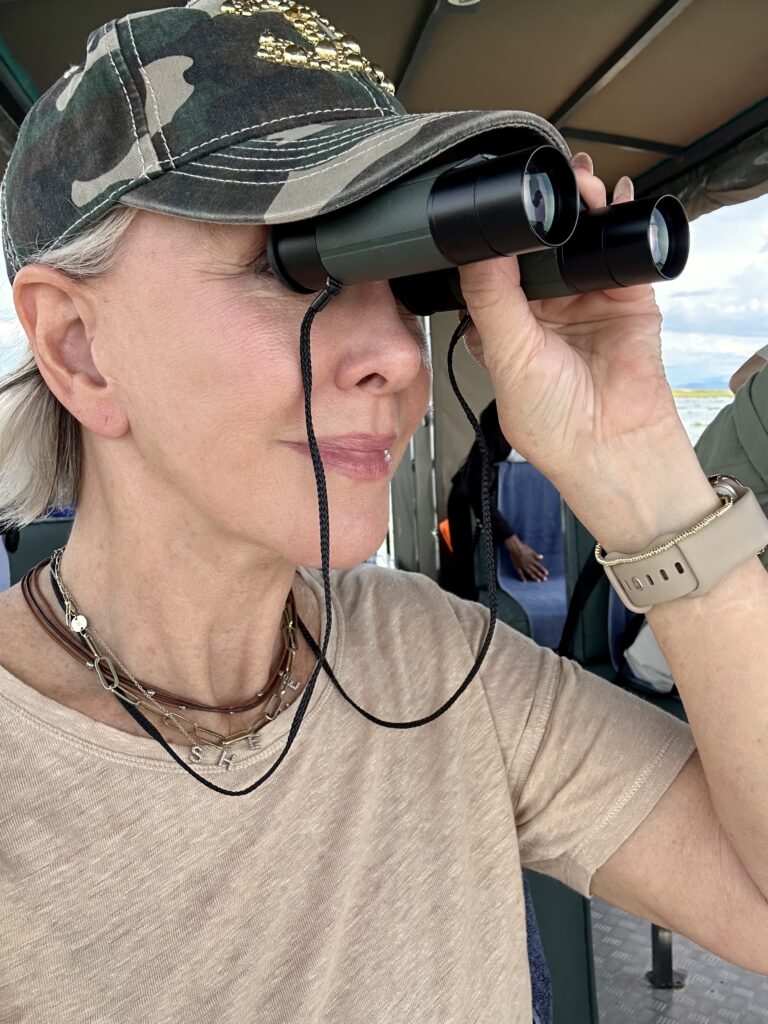 Here are 2 great compact binoculars that Norman and I use for everything! They make great gifts too. Shop below.

ELEPHANTS
Also, magnificent elephants showed off for us. In other words, they got a little mad so one of them flapped her ears, waived her head, and trunk stomped into the brush. Clearly, she wanted us to leave so we did!!! The male has a rounded head (see the below photo) and the female has a squared-off head. The smallest of elephants are Indian/Asian Elephants and the Savannah elephant is the largest.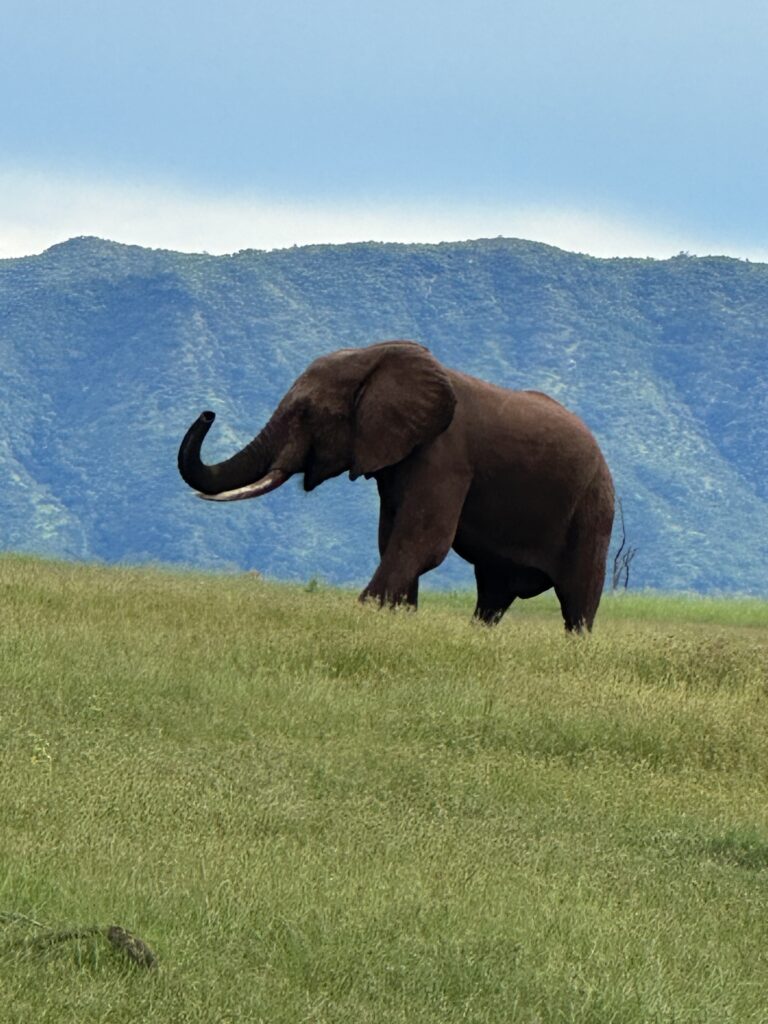 There is so much history surrounding this park all having to do with the damming of the valley. The rising flood water affected the native wildlife but Operation Noah, an initiative saved the lives of over 6,000 animals. This operation protected the bigger animals from being killed by hunters by moving them to protected areas. It took 5 years for the animals to get used to their environment.
Afternoon Boat Tour and Round Table Informative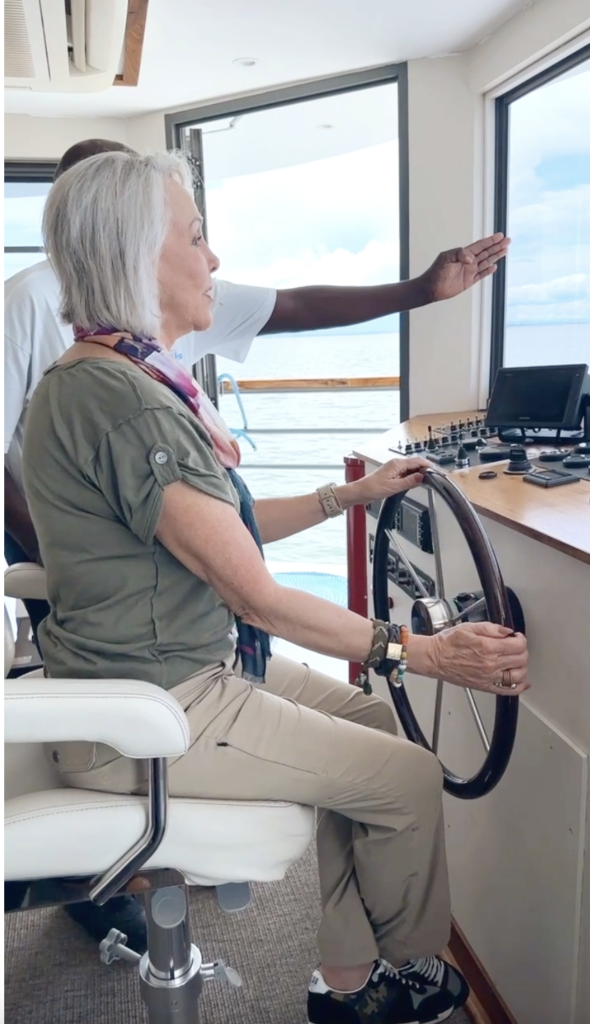 After all of our water and land safaris, we had some time on our last afternoon to take a tour of the boat including the engine room and the captain's quarters which isn't swanky. I know how to fly but I don't know much about manning a ship. It was so nice of the captain to allow us to have a hand at the helm. We also saw a video about the dam, the lake, and its ecosystem. This lake provides so much money to this area. Fishing and safari bring in so many visitors that ultimately provide jobs for the local tribes. It is all so spectacular!!
Farewell Dinner and a Surprise
We had a wonderful farewell… cocktails, appetizers, a delicious dinner followed by an always amazing dessert. I never eat 3 meals a day and I don't allow myself many sweet treats but I LIVED on this trip and enjoyed every flavor and every bite!! CroisiEurope knows how to bring it to their guest!!
After dinner, our crew of about 11 men and Jackie performed their native song and dance. It filled my soul and put the exclamation on why this was and is my #1 dream trip. Thank you Croisėre Europe!
DAY 8
LAKE KARIBA TO VICTORIA FALLS
Up early for an early group photo with our new friends. Today was another sad day because we had to leave our new friends (the crew) and beautiful environment on to our last and final adventure by CroisiEurope…..Victoria Falls, the grand finale!
Below photo are 3 of the 4 couples from France that we traveled with. Missing Dominique, my favorite gentleman and his wife Mary Christy. They were all so nice. I loved getting the opportunity to practice my french with them.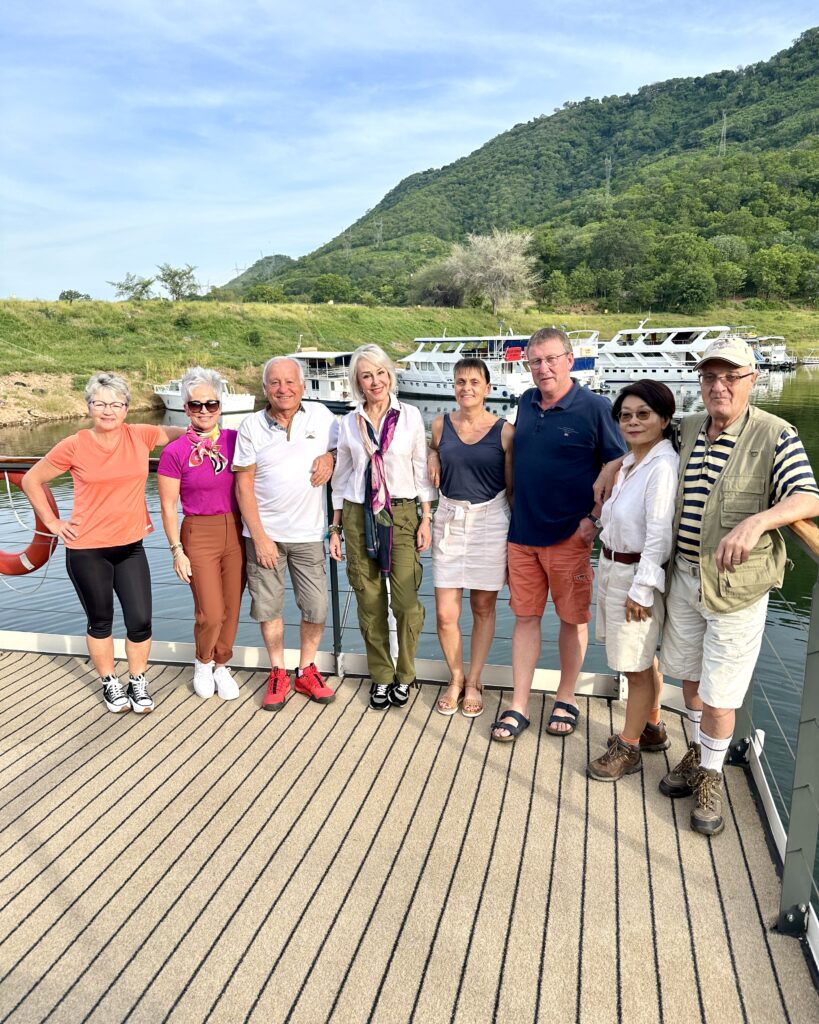 We first visited Kariba Dam learning all about the dam that was built in 1955 and finished in 1959. Today, the dam serves as a source of electric power for 70% of Zimbabwe. Go here for more on the largest dam in the world.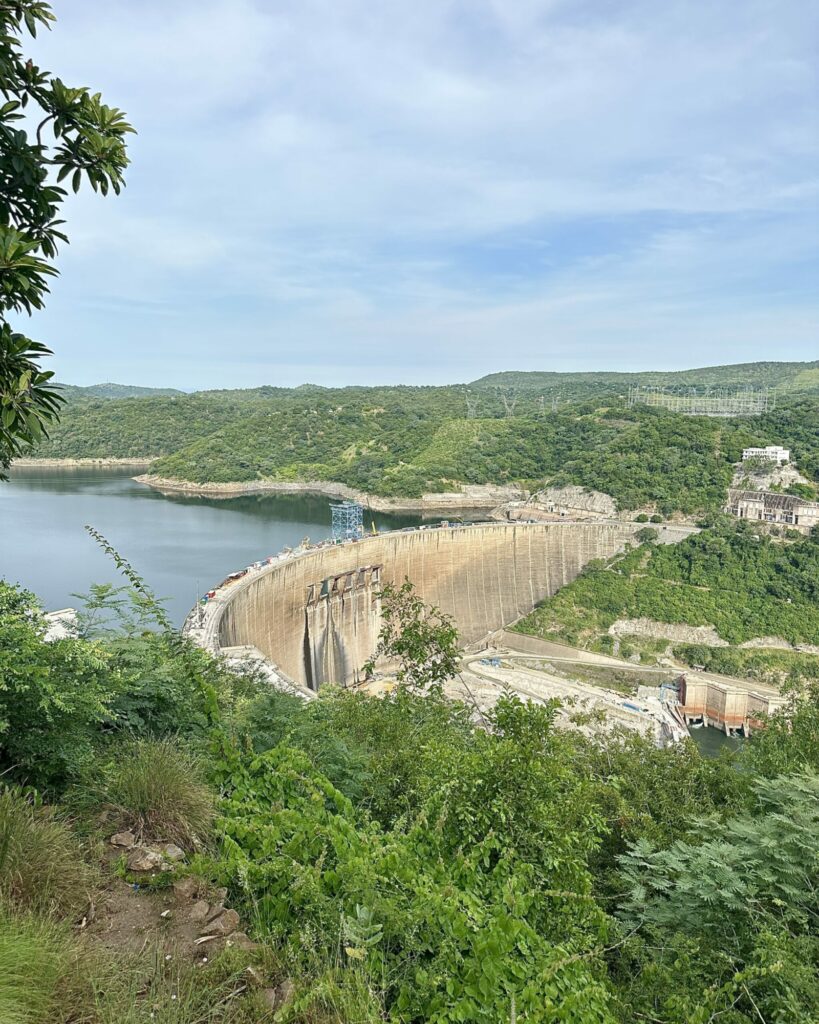 Flight to Victoria Falls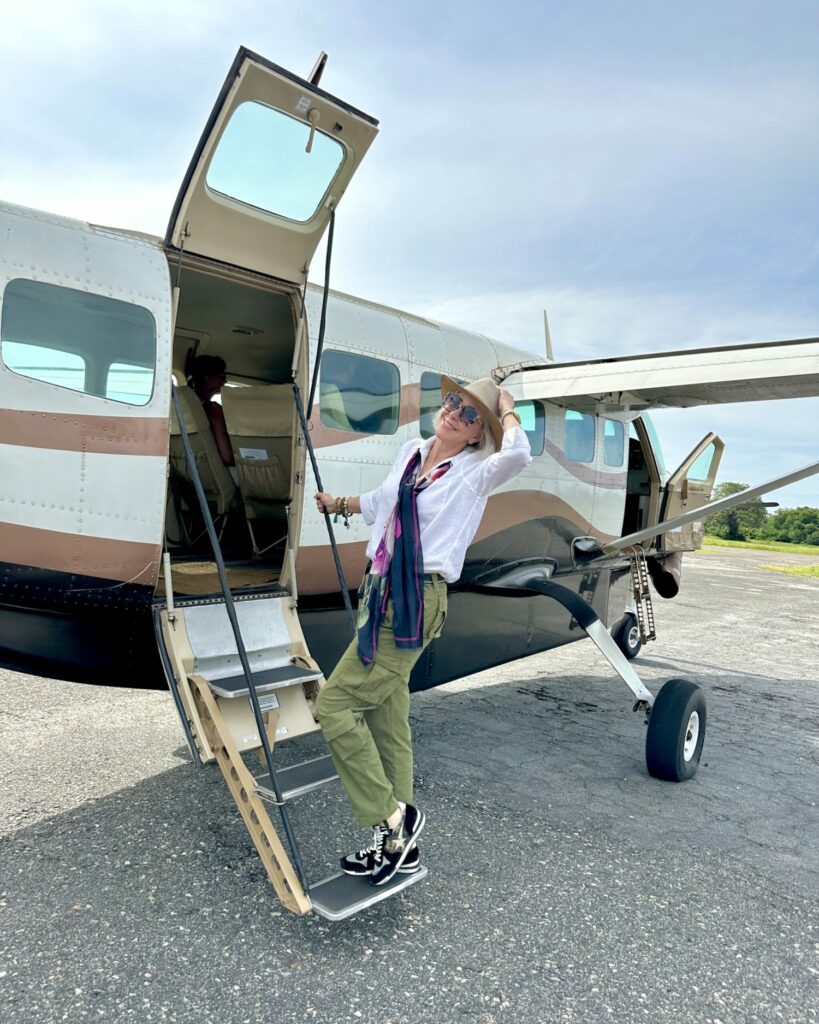 A linen shirt is always good to pack. This one is washable.

Our third flight in and out between 5 African countries in what they call Southern Africa. I am all in traveling by air even though our water trips were just off the chart amazing. We flew low enough to enjoy the landscapes on our way back to Victoria Falls.
Lunch Cruise
We checked into the Victoria Falls Lodge which has 98 rooms and overlooks the Victoria Falls National Park. Shauna and I loved our rooms with all the mosquito netting around the bed and our grandeur vista from our balcony. There again, I could stay forever!!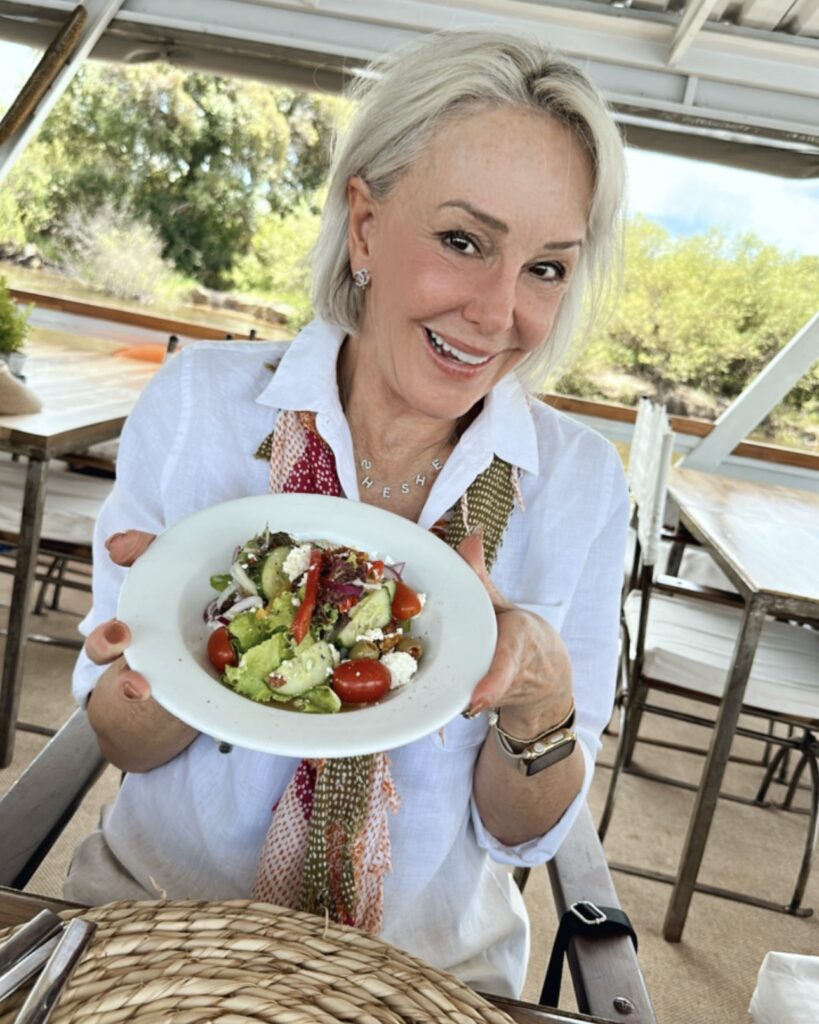 We boarded our private tour bus and enjoyed a lunch cruise on the Zambezi River upstream from the falls. It was so relaxing and again so much eye candy!! After a great lunch and some delicious South African Rosé, we headed to Victoria Falls for a tour of the falls on foot where the view was among the most exceptional in the world. The rainbows showed up everywhere. It felt like you could reach out and touch one…..they were so vibrant.
This is also where the Zembezi River plunges into one of the wildest waterfalls in the world creating "the smoke that thunders"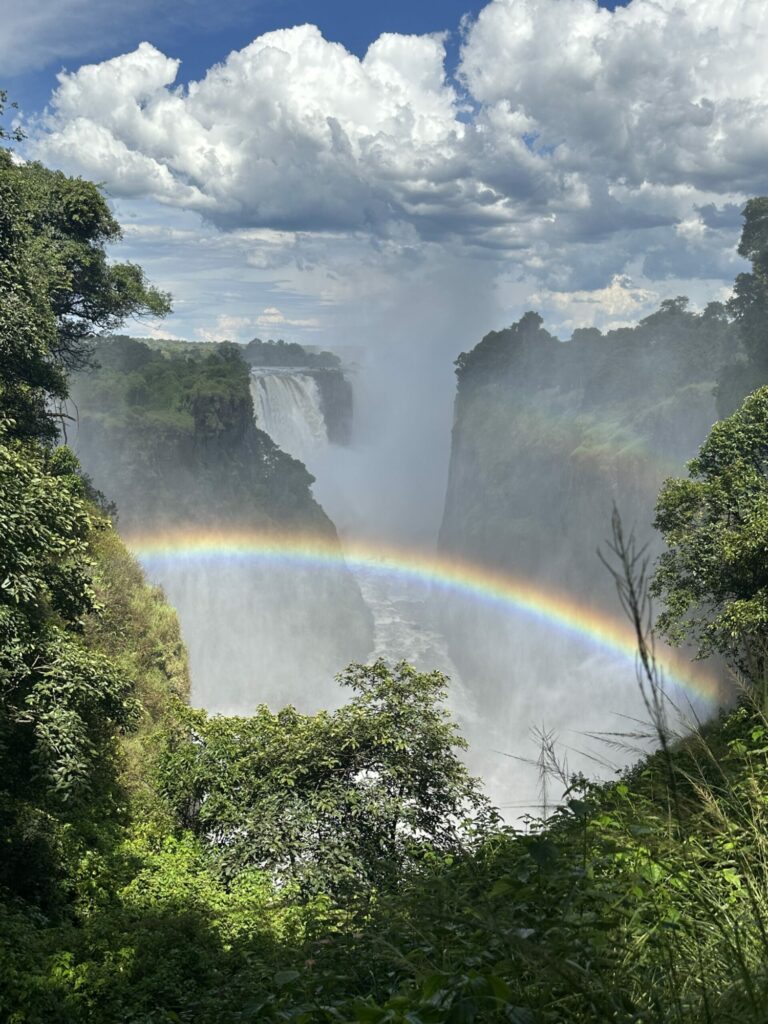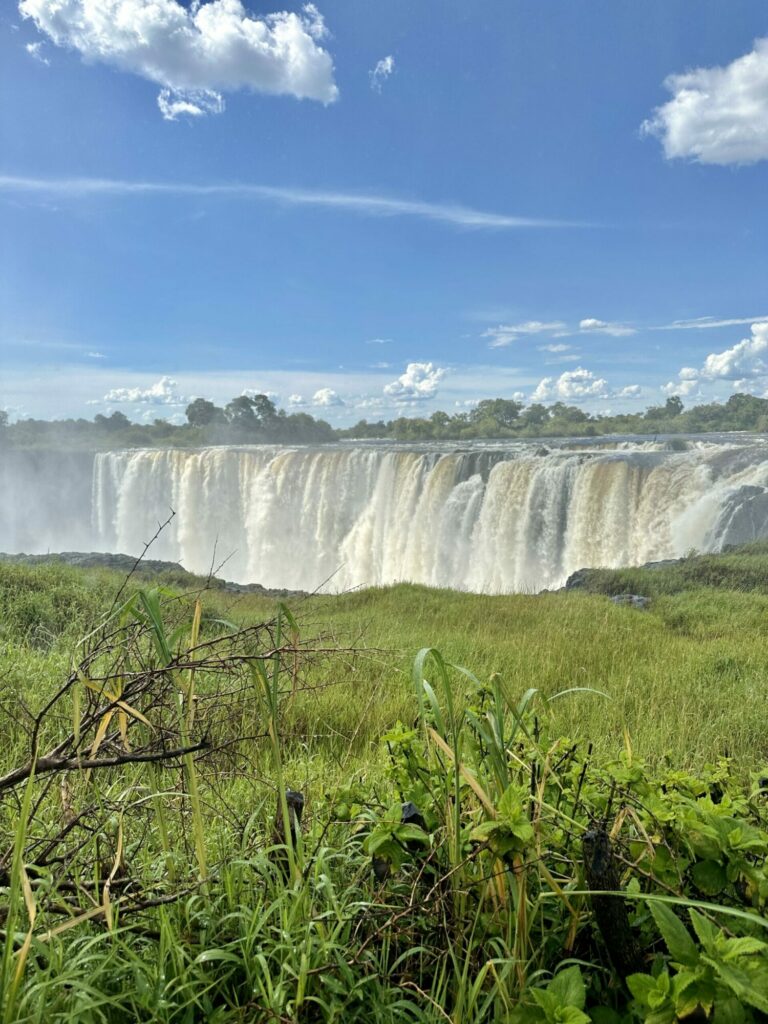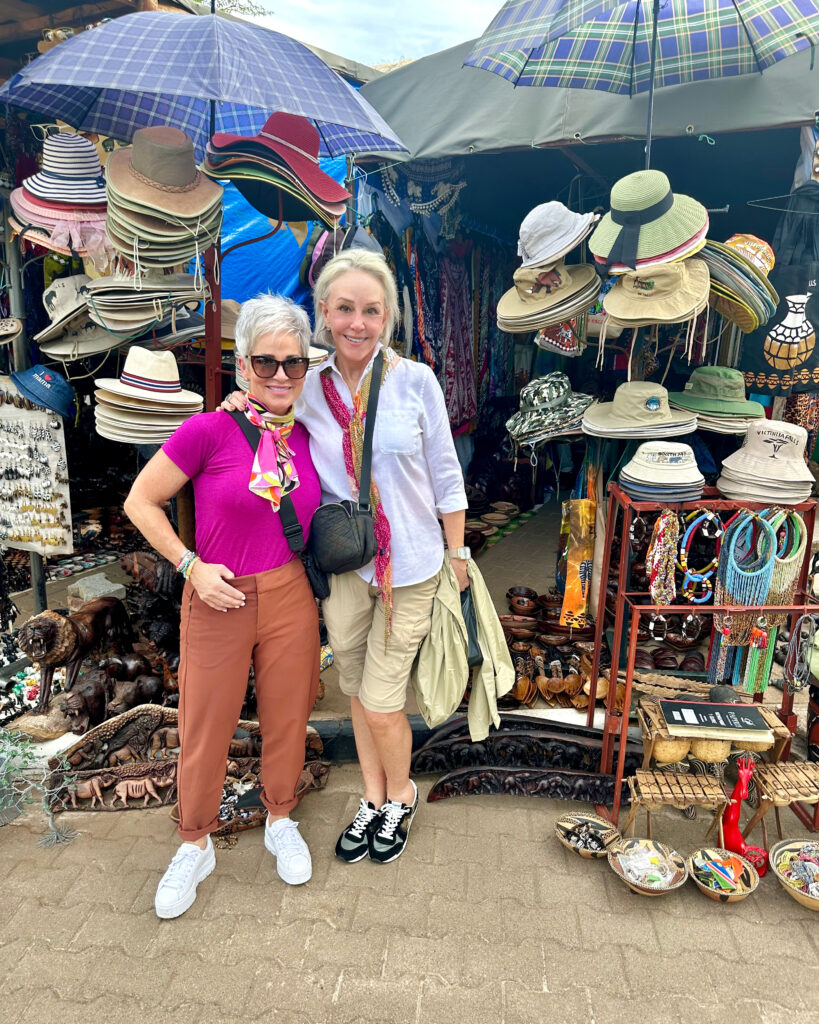 These shorts I am wearing are actually zip-off lightweight pants. So glad I took them because it was warmer than I expected.

DAY 9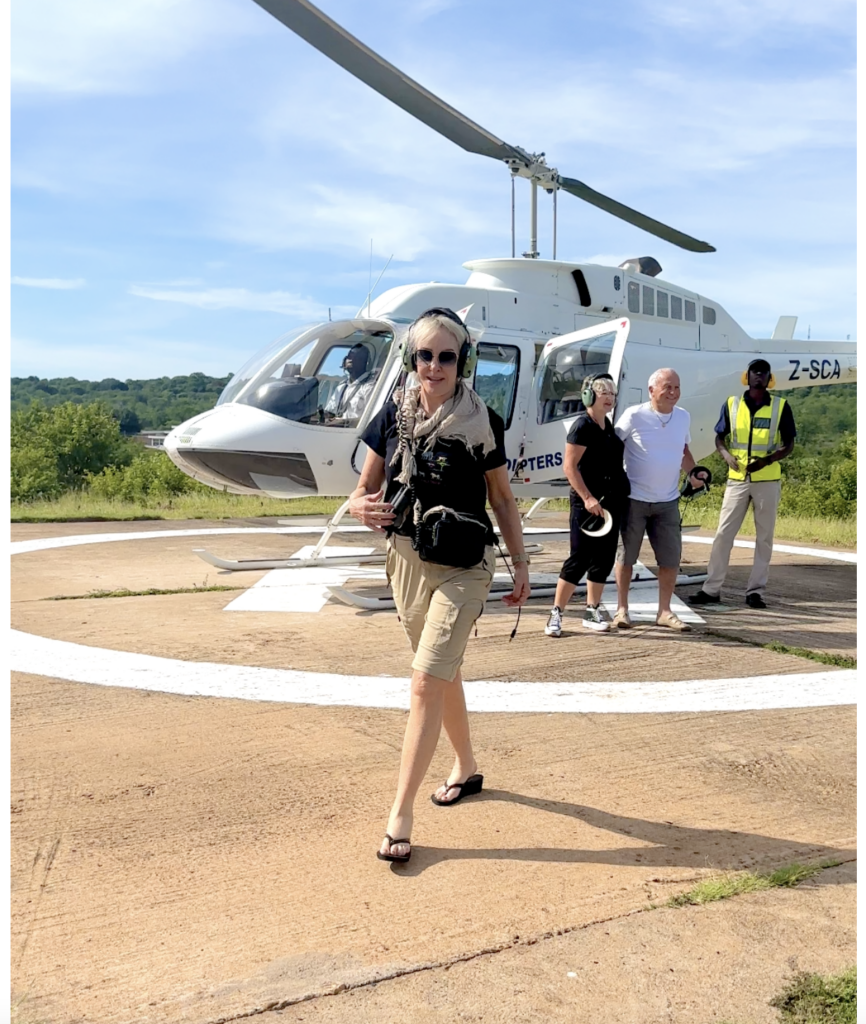 Even though February falls in the rainy season, we had amazing weather, so on our last day before we headed to the airport we got to take a helicopter flight over Victoria Falls. There were 2 helicopters for our group, so Shauna and I both got to ride in the front seat right by the pilot. WOW WOW WOW!!!! This trip took my breath away!!
You must read all about Victoria Falls HERE.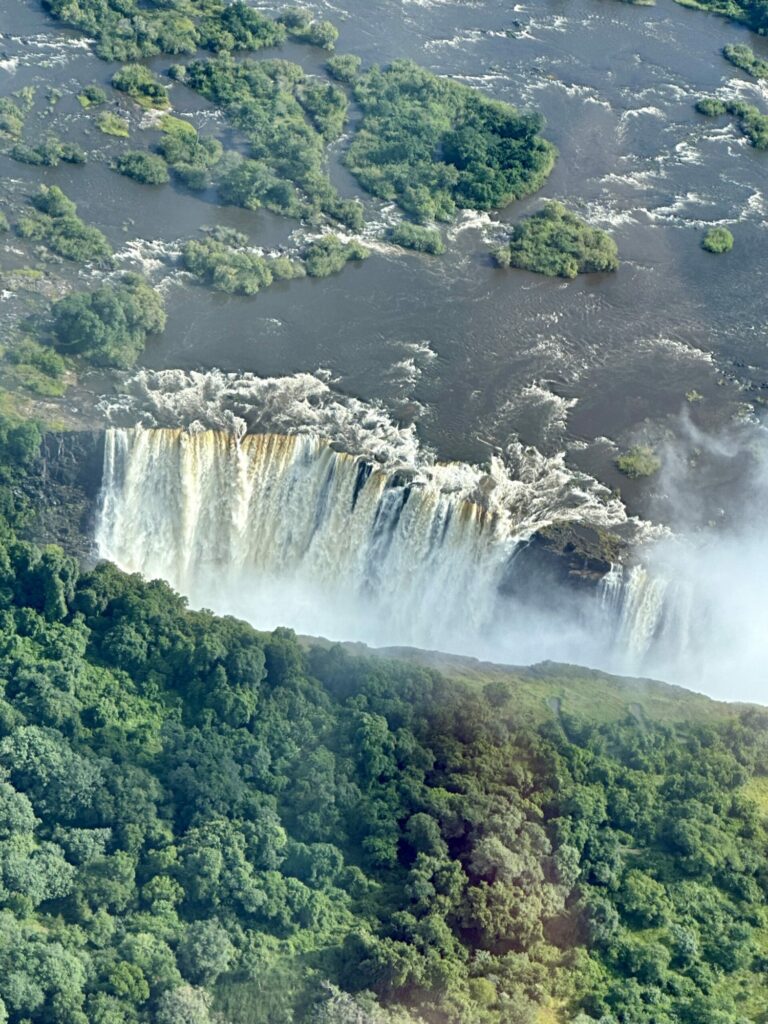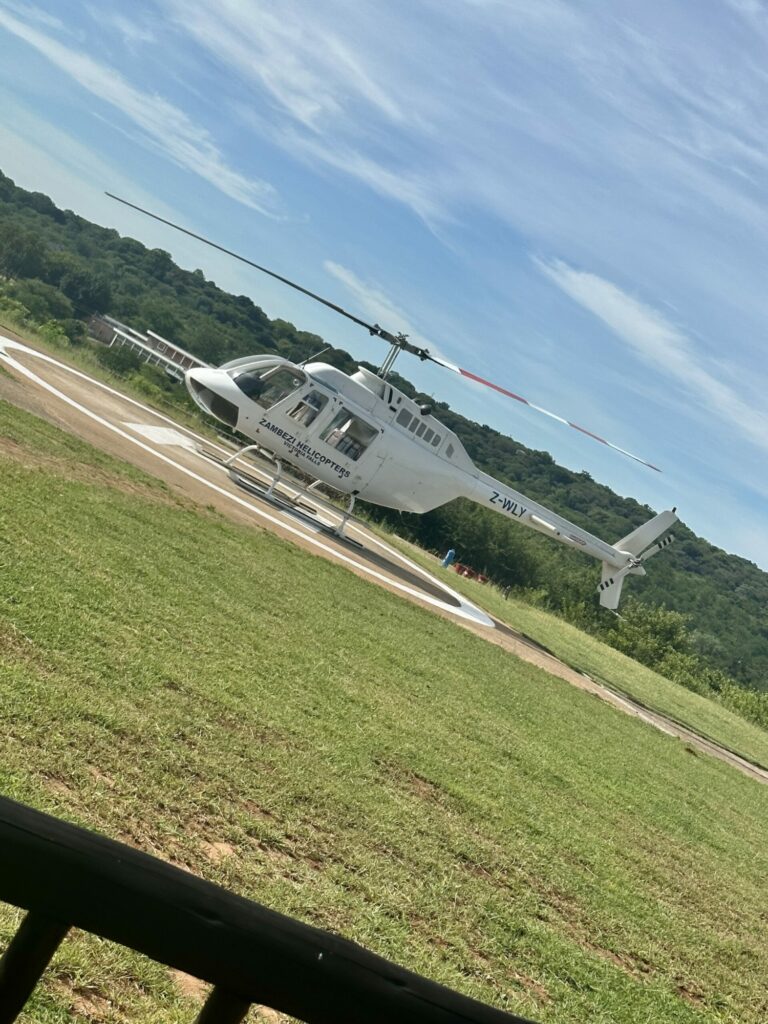 IMPORTANT SIDE NOTES
I traveled throughout my trip with my https://medjetassist.com/medjethorizon membership. It works on top of my travel insurance as a higher level of protection. If I'd been hospitalized, they'd have gotten me moved to my hospital at home. If I encountered a safety threat, they'd have come to my aid with a security response. It's unbelievable travel peace of mind. They have memberships for individuals and families, corporations and non-profits, students, expatriates, and more, and it's incredibly affordable. I never travel without it these days!
ATTENTION ALL ……. SURPRISE
WE HAVE A SUPER DEAL FOR YOU!!
Book a new land-and-cruise African safari reservation with CroisiEurope for any 2023 or 2024 departure and get 25% OFF …..YES, 25% OFF!!! This is the exact same experience as Shauna and I just had. Book your trip HERE with CroisiEurope and use our code ChicAndSheShe to get this amazing discount. We could not believe what a wonderful offer this is for our followers or anyone you might know that wants to experience a DREAM TRIP of a lifetime!! Don't think about it too long because this deal has a timeline. This trip is luxurious and over the top in every way. Intimate groups, accommodations, itineraries, and more make this a journey to remember forever!!
CLICK THIS LINK TO BOOK USING CODE ChicAndSheShe
IN CONCLUSION
NO WORDS LEFT TO DESCRIBE ……. MY #1 DREAM TRIP!!
I hope you enjoyed this read! I had the pleasure of living it out all over again as I wrote and put this blog altogether. If you have any questions about this trip, then please don't hesitate to send me a message.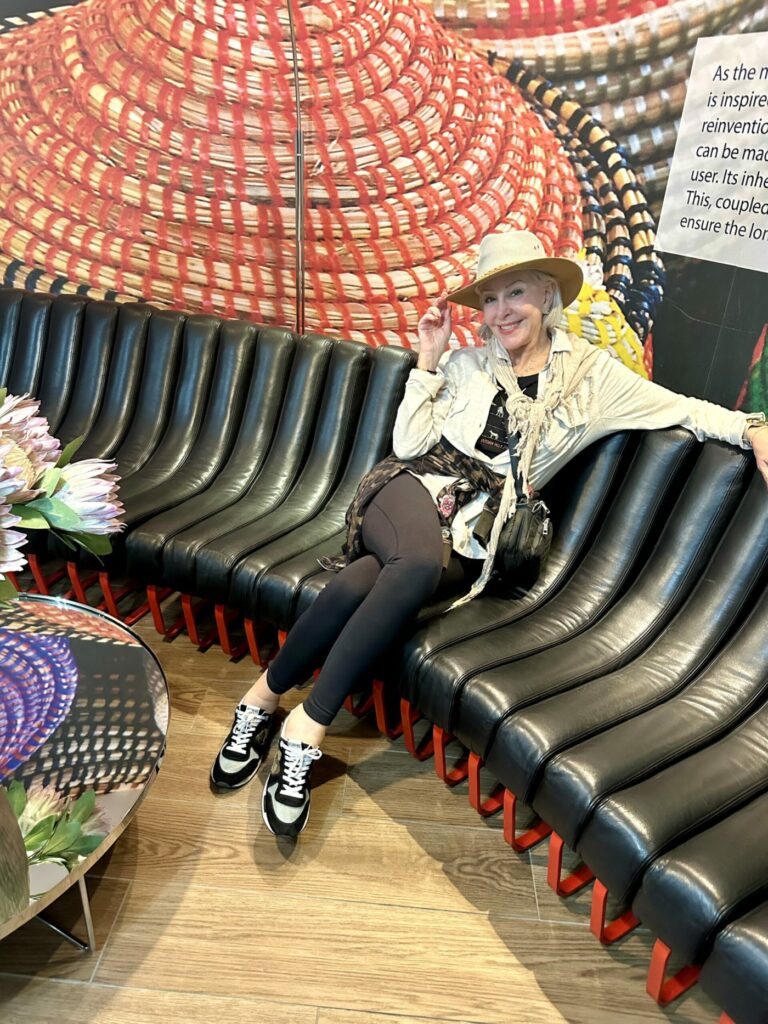 You can shop what I packed and other great items to take on your trip here.
SHESHE'S TIDBITS
We have been in Florida for a couple of weeks and heading home Monday. Our reconstruction is going slow but at least we can stay in our house while we are there!! There is still so much to do!! One day at a time.
*CHECK OUT MY INSTAGRAM SHOP TO SHOP ALL OF MY INSTAGRAM LOOKS
*YOU CAN ALSO DOWNLOAD THE LIKETOKNOW.IT APP AND FOLLOW ME ON IT BY CLICKING HERE. Go here for our LiketoKnow.It tutorial.
* STAY IN THE KNOW: SUBSCRIBE HERE to receive exclusive sale alerts, helpful style tips, and fabulous giveaways, AND GET ACCESS TO MY VIP ONLY FOR SUBSCRIBERS!