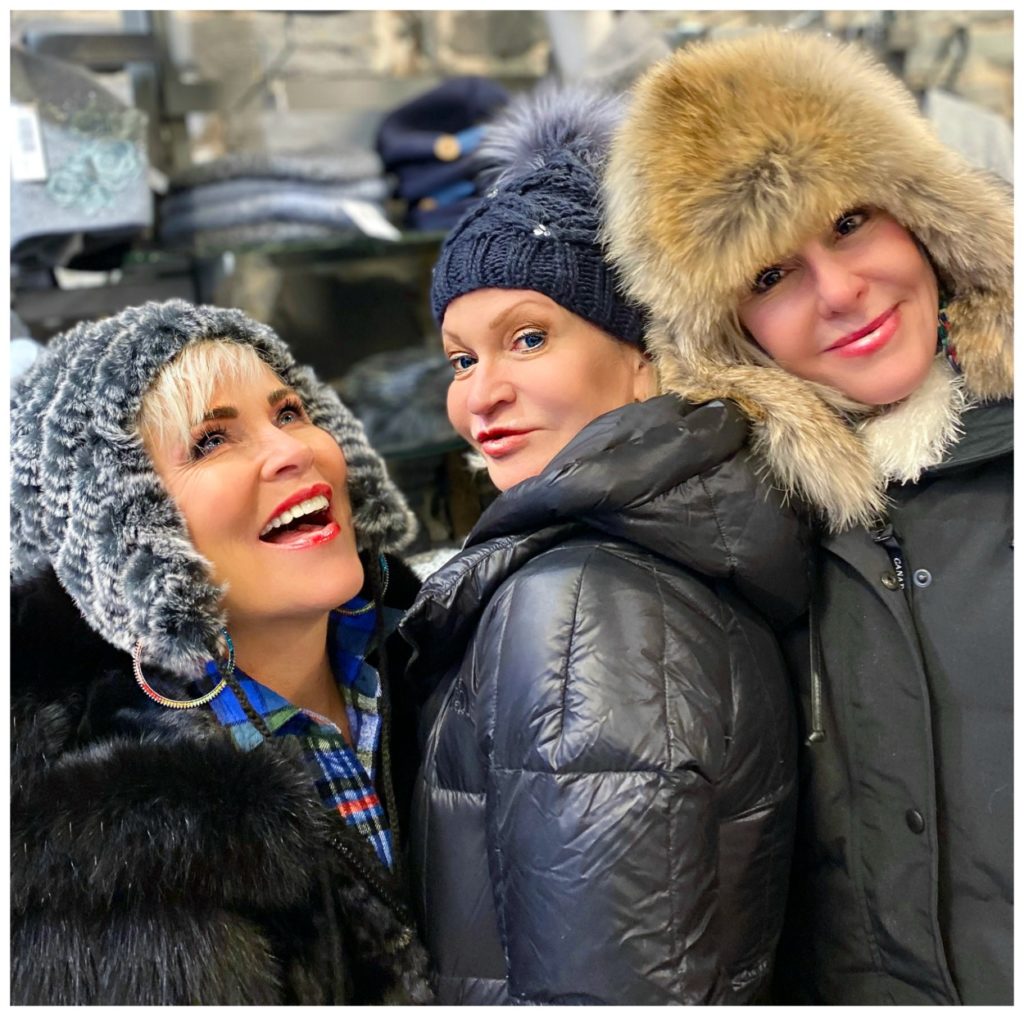 This post is in partnership with Quebec Original. All comments are my own.
HELLO SWEET READERS …. it's another wonderful trip you should know about. Yes, I had to squeeze in another trip before the end of the year. So in early December, my Rockin' the Ages travel gals Shauna, Jamie and I flew to Canada for an amazing 6 day 5-night experience that I will forever cherish and talk about. By the time you are finished reading this post, you will understand why the region of Quebec Canada was a magical destination.
DAY 1 – QUEBEC
TRAVEL DAY
I was the first to arrive at the Jean Lesage International Airport in Quebec Canada. I had some time to unpack, check out the hotel and have a fabulous dinner at the Italian Restaurant Portofino Bistro and yes by myself. Just so have it this was the best Italian restaurant I have ever eaten and was right across the street from the hotel. The owner was so friendly and made sure that I had a wonderful experience. Be sure to check out the sorbet dessert and after dinner shot of really good sauce!!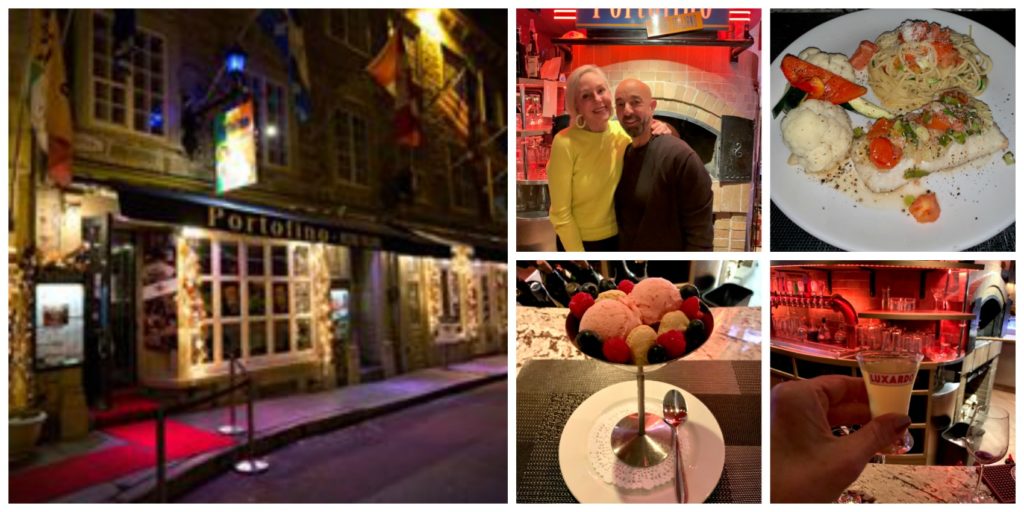 This province in Canada proved to be everything and more than I could ever have imagined. Did you know that this area of Canada is predominately French-speaking? After having been to Paris in October, I was able to practice my French-speaking skills again. Parlez Vous Francais?
HOTEL MONSIEUR JEAN ~ MAGICAL DESTINATION
Our first 3 nights were spent at the oh so cool Hotel Monsieur Jean. This most unique hotel sits right smack dab in the center of Old Quebec City. It is a contemporary hotel that has the coolest interior design and furnishings. This girl was scoping out all of the great colorful photo ops for my Rockin the Ages girlfriends Shauna and Jamie before they arrived. As you look through the photos below you will see why I think that their decor is some of the best in all the hotels I have ever visited. Also, this location was everything!!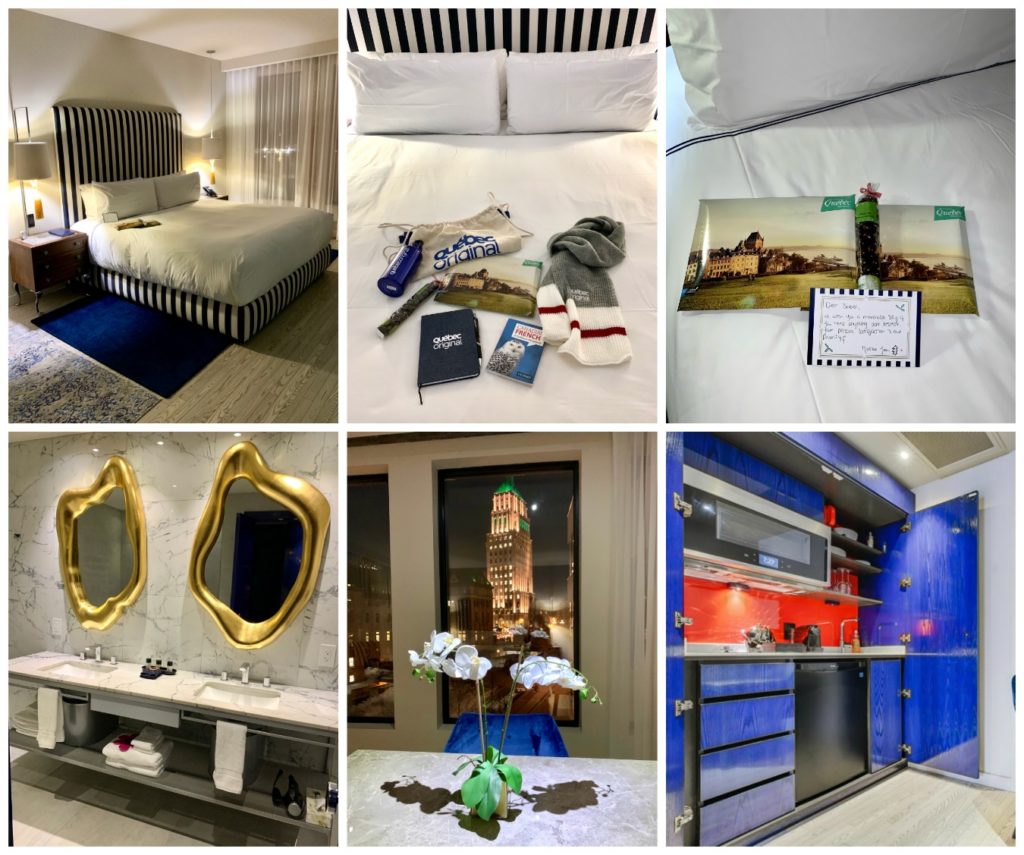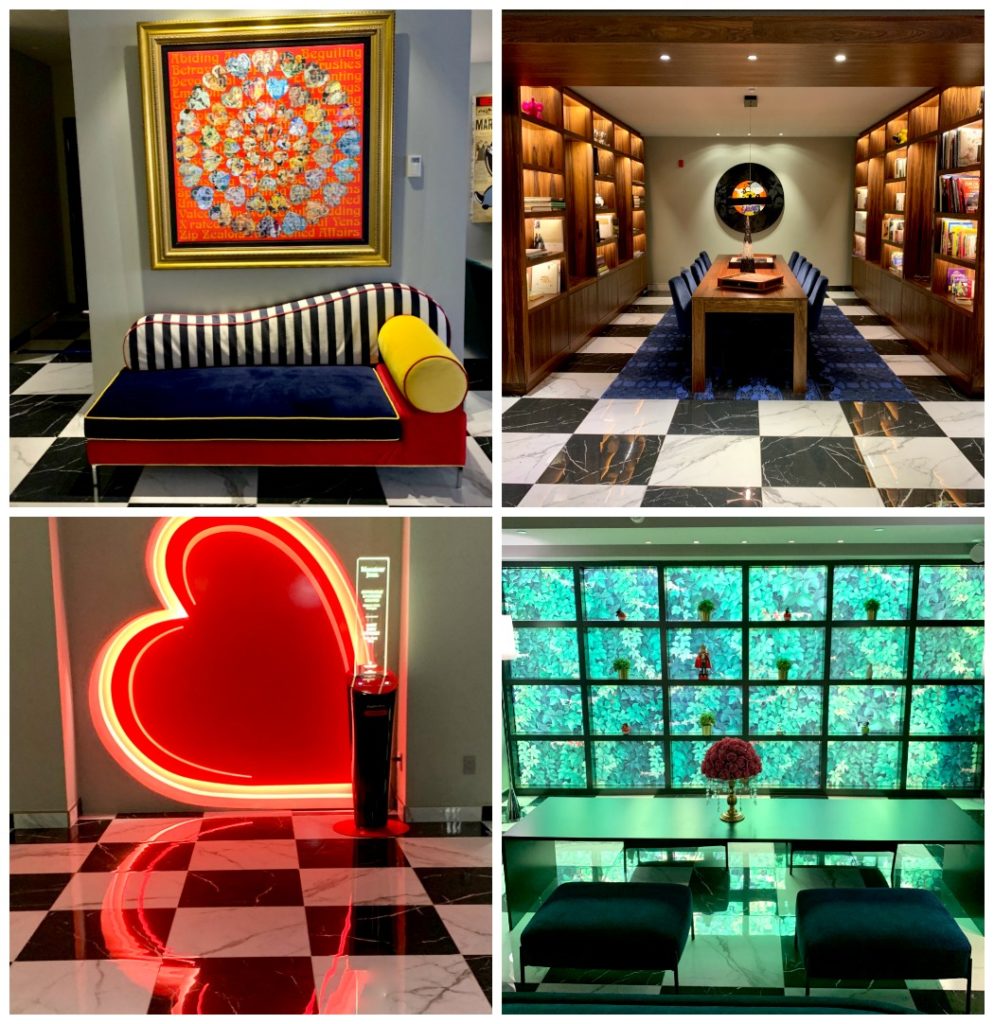 DAY 2 – QUEBEC
QUEBEC CITY TOUR – A MAGICAL DESTINATION
Before starting our day we met our sweetest guide, Michelle, in the Grocery/ Cafe Boho for a light breakfast. It is conveniently located on the first floor of the hotel and they make food right on the spot that will make your day bright. I was eyeballing several dishes that looked so yummy!
We all loaded up in Michelle's ( our host from Quebec City Tourism ) car for a drive around Old Quebec City, Battlefield Park, Ville de Quebec – Québec's City Hall, and more. Michelle told us in storytelling format about many of the historic facts about Quebec City. She was an amazing historian which made for a wonderful experience.
Quebec Historical Facts
It is important to know some history about this province before we go any further, that way you can understand why the people of this area want to preserve the French culture.
What fascinated me the most is that Old Quebec City sits inside a wall and has 5 gates to enter and leave. These Gates A series of gates were built to protect the old city.
At the beginning when the French ruled there were 3 gates built to protect the city, The Saint Louis Gate, the Saint-Jean Gate, and the Palais Gate. When the British came, won the war and took over to rule there were 2 more gates added. Go here to read more about this only fortified city north of Mexico. Lovely at every turn……a magical destination.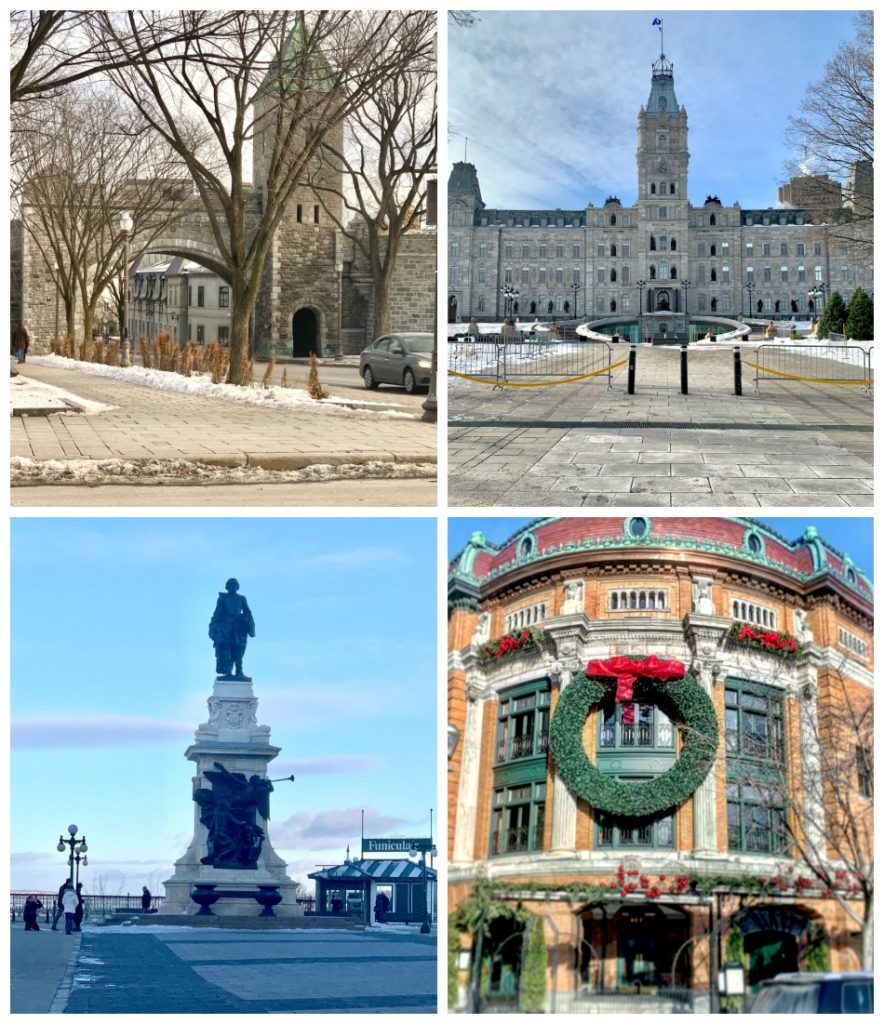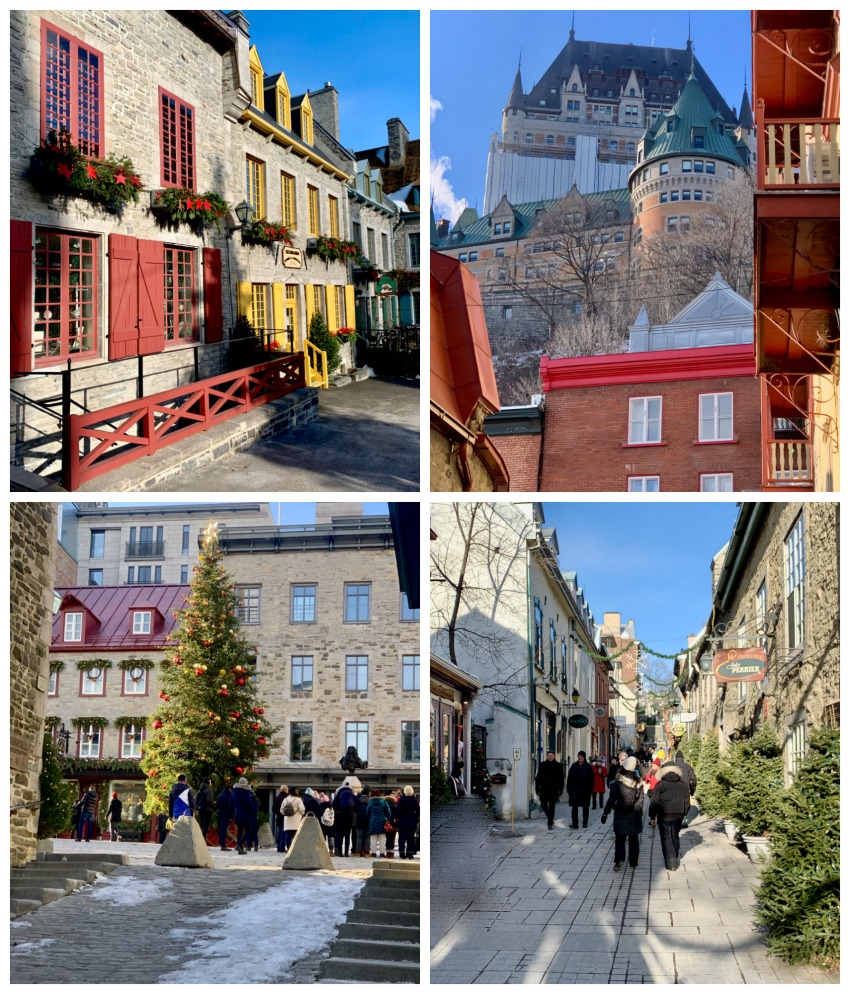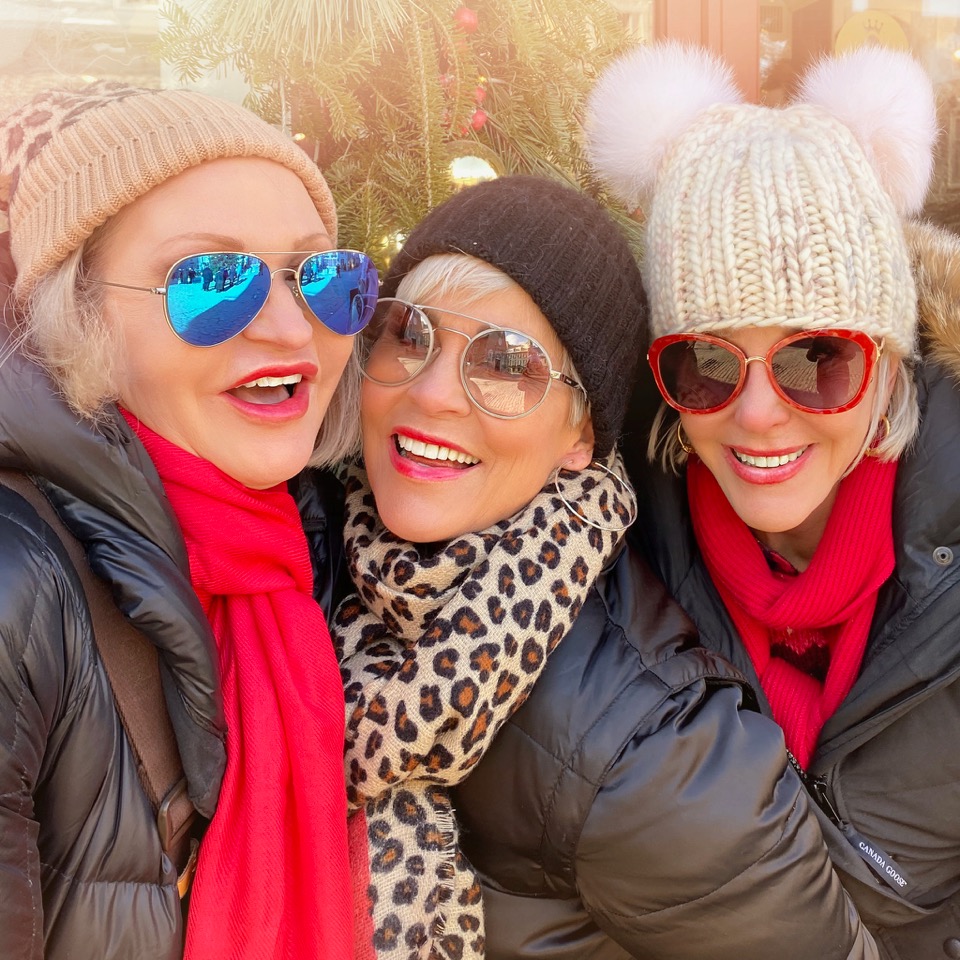 After the tour, Michelle took us to a street in the heart of the city called Rue du Petit Champlain. This street has been voted the prettiest street in all of Canada located at the foot of the cliff below the Chateau Frontenac. We got out of the car and walked through the streets that were full of people from all over the world. Christmas decorations were everywhere even in the windowsills and I loved the big Christmas located right in Champlain Square. It was such a magical destination to start our time in Old Quebec City.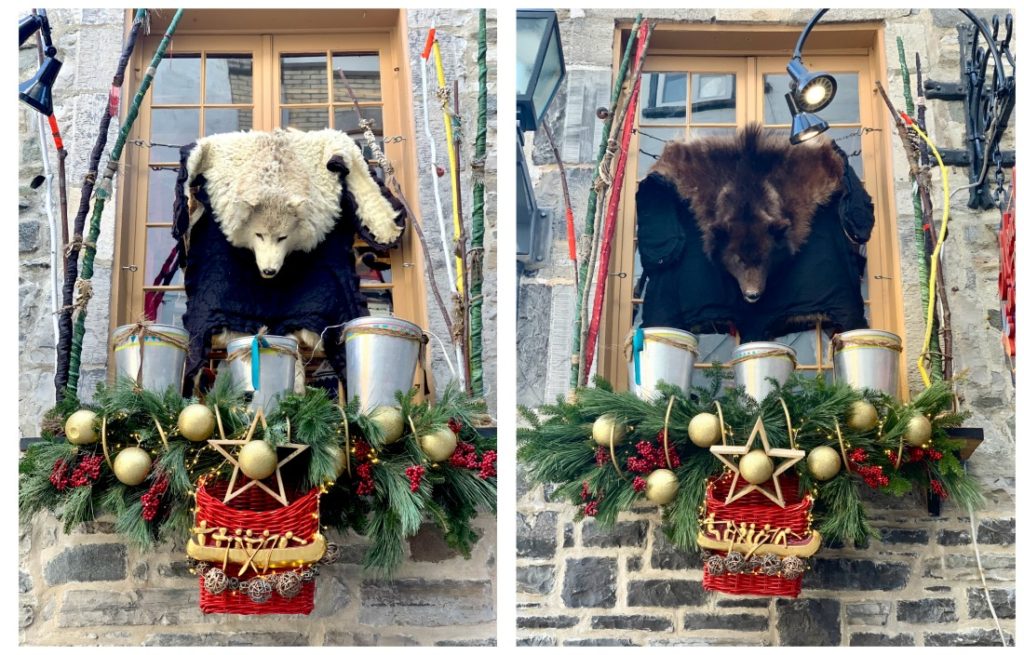 By the way, it was cold but normally it would have been even colder so we did pretty good. There are warming stations located around town if you need to warm up. If you prepare you will be fine. I had my Canada Goose coat, sweater and the cutest warm booties gifted from Cecelia New York. Fact: They have the cutest shoes!! We all stayed comfortable during our outing.
Grand Marche de Quebec
Our hostess kept us on a schedule plus we were getting hungry so we headed on over to the Grand Marche de Quebec for lunch and to shop.
The Grand Marche is an indoor market with over 100 producers and processors from the region. There was something for all to enjoy and I loved learning about the region by the products sold here. We had so much fun sampling and taste testing and the displays of pastries, fruits, chocolates, vegetables, and fishmongers. You will find this market open all year round and every day.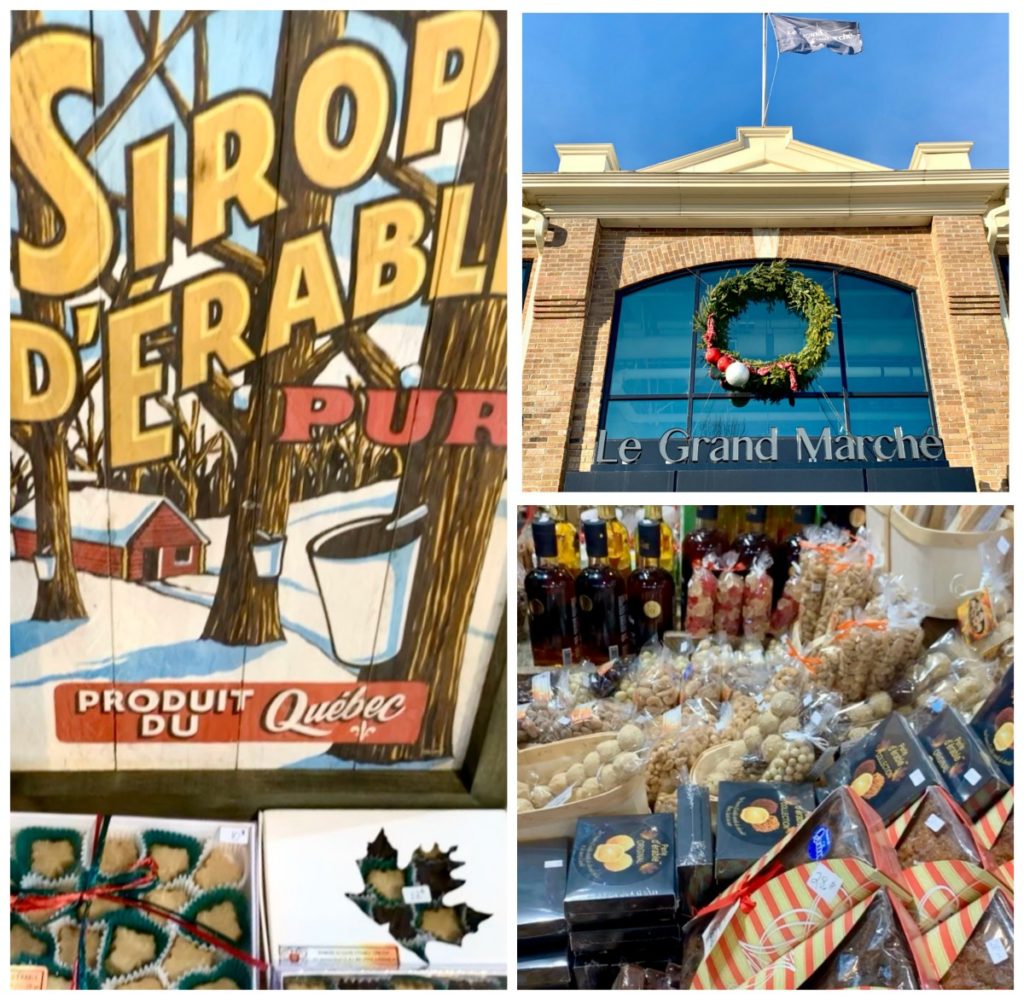 Before we began shopping we headed upstairs to the onsite cafe where we had a delicious bowl of soup and we tried out a box of french fries, cheese curds with brown gravy. This dish called Poutine is ta true Québec specialty. Oh my gosh was that heaven!! I would definitely add this market to your to-do list.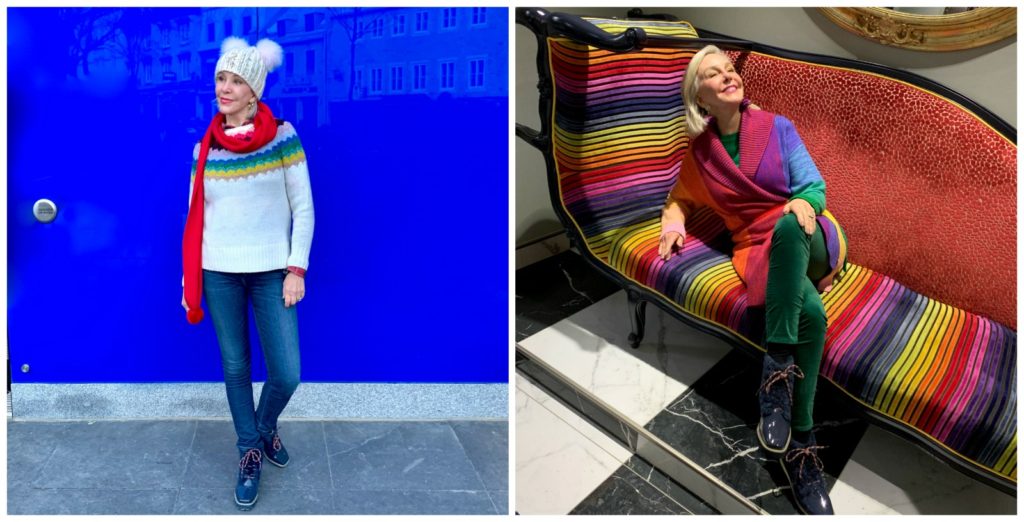 We had a little downtime before dinner so we snapped some photos around the colorful Monsieur Jean Hotel. The blue wall (bottom left) is actually the front door and the chaise lounge (bottom right) is located on the right as you enter the hotel.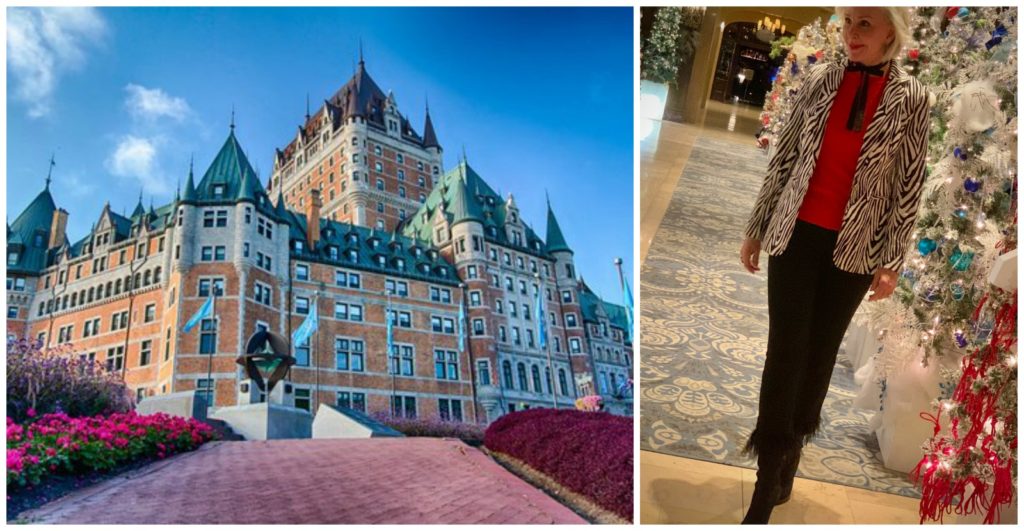 HOTEL FAIRMONT FRONTENAC – OLD QUEBEC CITY
On this night we had the pleasure of meeting up with Nancy Dacres from the Quebec Original office. We all took a short walk from the hotel to the Fairmont Le Château Frontenac for dinner at Le Sam Bistro located inside the hotel.
Before dinner, we strolled through this magnificent 5-Star hotel that is known the be the most photographed hotel in the world. I can't tell you how beautiful and festive it all was. The dozens of Christmas trees lined down the foyer corridor were decorated by different charities from the area They were in full gorgeousness for all of us to enjoy. Nothing like this to put you in the Christmas spirit.
LE SAM BISTRO
We loved Le Sam. I had the lamb, Shauna had a gourmet pizza and Jamie had a delicious plate of usual vegetables. We all cleaned our plates!! The food, ambiance, and service was up to our standards but the best was the conversation we all had with our lovely hostess Nancy. She could easily fit right into our crazy lives!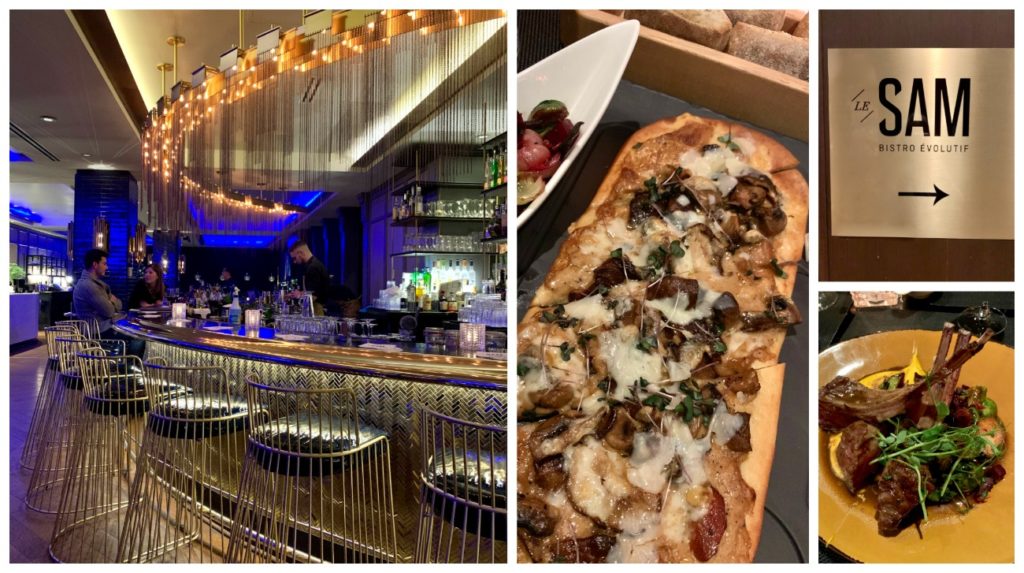 DAY 3 – QUEBEC
Look what we were wearing before Christmas. These cute jammies by Soma are awesome. Even though most of these styles are now sold out, check out their Cool Night pajamas. They are so soft. I am a huge fan!!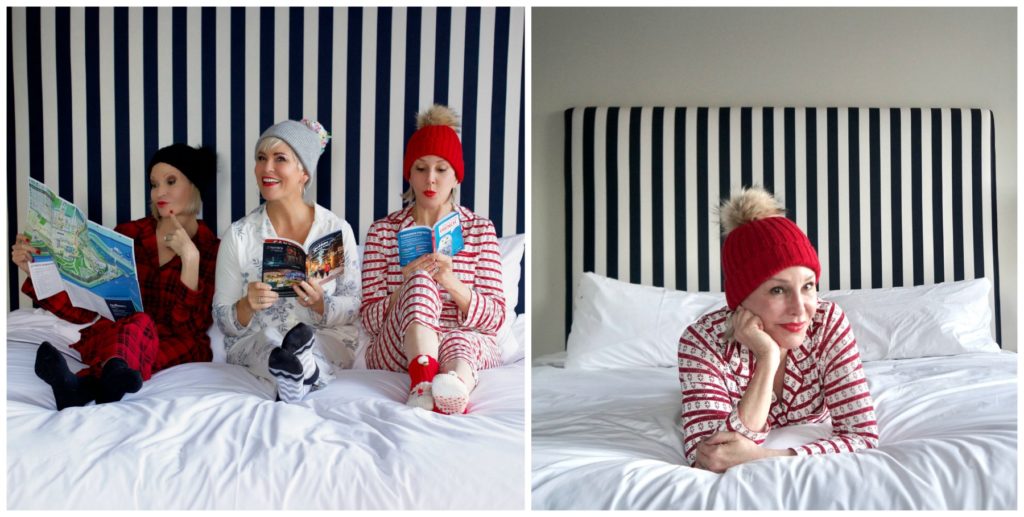 Le Monastere des Augustines – Old Quebec City
Another site you will not want to miss is the Le Monastere des Augustines. It too is just a quick 10-minute walk from our hotel and it is the most interesting accumulation of a lot of history and meshing it into today's world we live in.
Hospital
Le Monastere was once a monastery in the 17th century and later became the very first hospital north of Mexico. It has now evolved into a wellness and renewal center.
The Augustine Sisters who were nurses back in the day were declining in numbers, so they had to make some decisions on how to plan for the future of the Monastery. Their mission now is to bear witness to the lifestyle and social mission of the Augustinian Sisters, who laid the foundation and developed Canada's healthcare system.
Holistic and Wellness Retreat
Since their numbers were declining they had to make the choice to pass on their valuable heritage to the public. It opened recently as a holistic and wellness retreat. What a haven of heritage, culture, and wellness all in one place.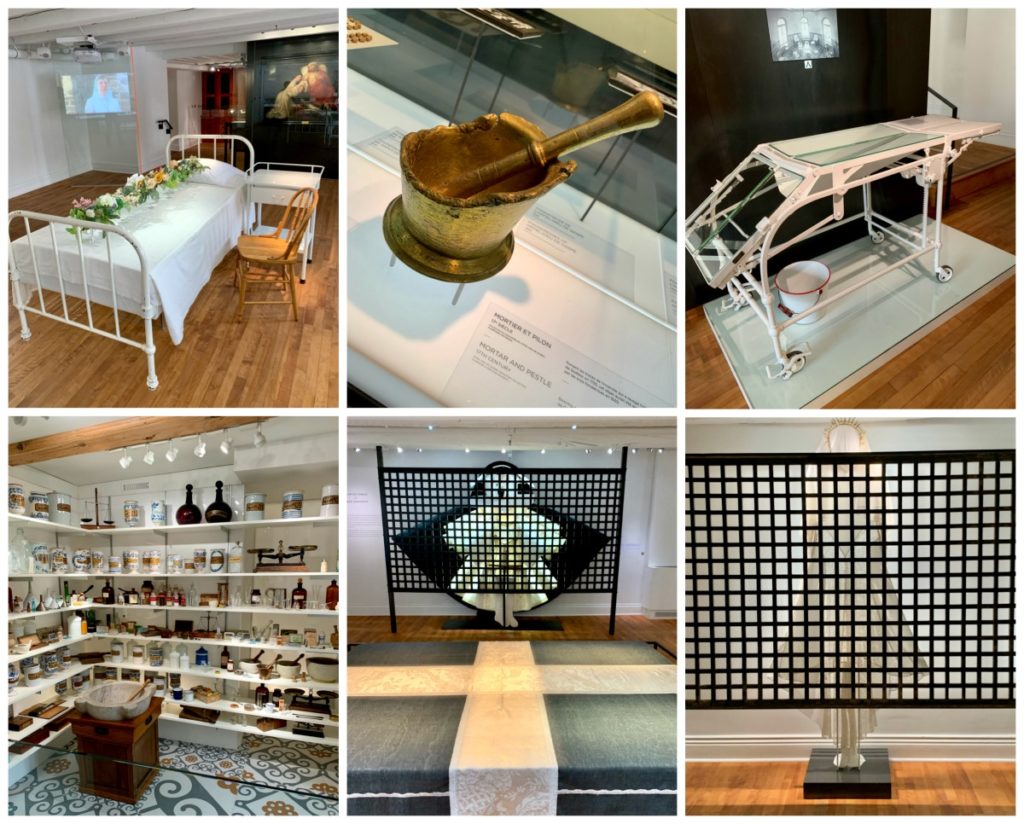 There were so many things to look at when touring but one thing that caught our attention was the display of the habit that the nuns wear. How would you like to put on 21 pieces of clothing….I would need to get up an extra hour in the morning to get dressed and it must be so cumbersome. Oh my…… Then there is the wedding dress where they will marry Christ. A true commitment to their faith.
The Mission
These remaining 8 sister's mission is to bear witness to the lifestyle and social mission of the Augustinian Sisters, who laid the foundation and developed Canada's healthcare system.
"We are committed to making Le Monastère des Augustines one of Quebec City's leading destinations: a place that, each year, will attract thousands of visitors seeking rest and wellness. This is a wholly attainable goal, given the exceptional heritage value of the site and the quality of what we offer in total health and culture."
– Isabelle Duchesneau, Executive Director of Le Monastère des Augustines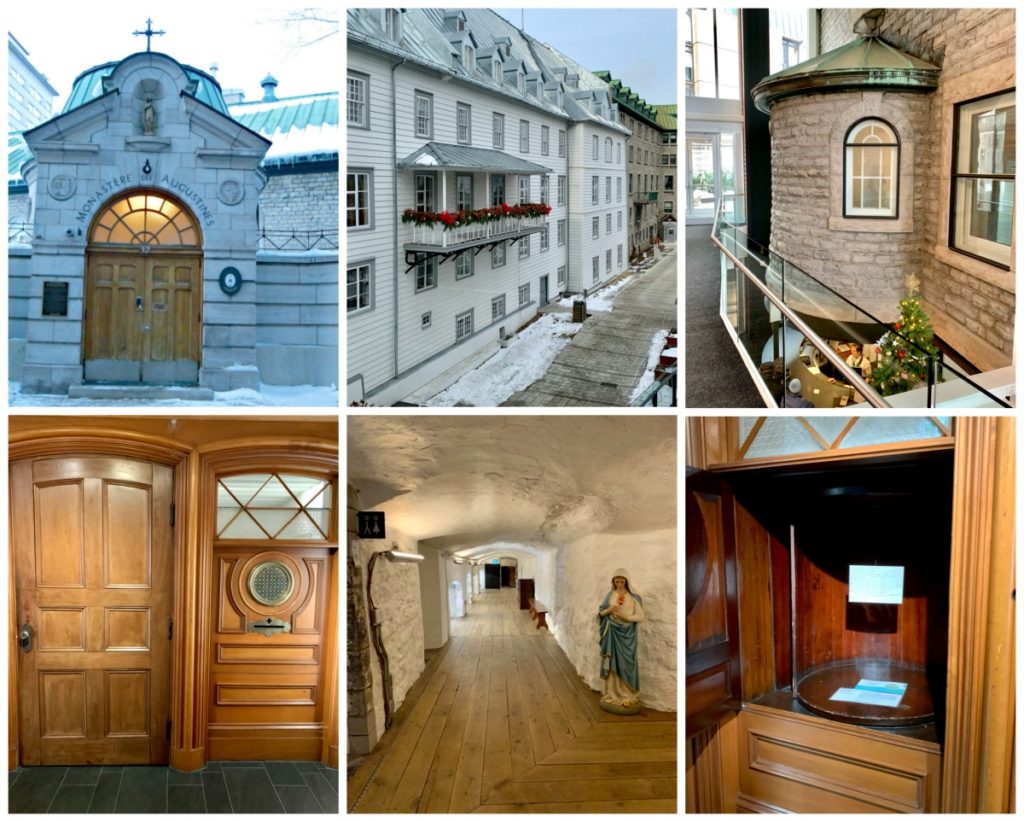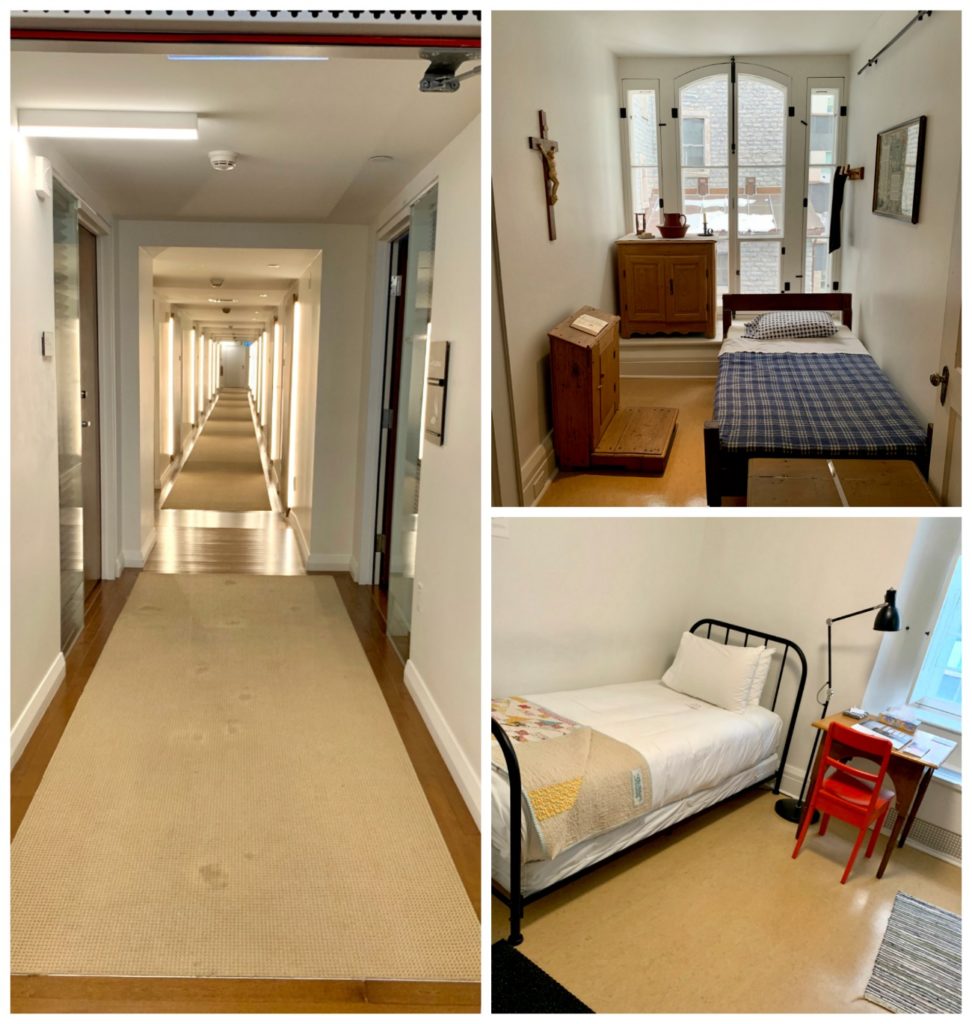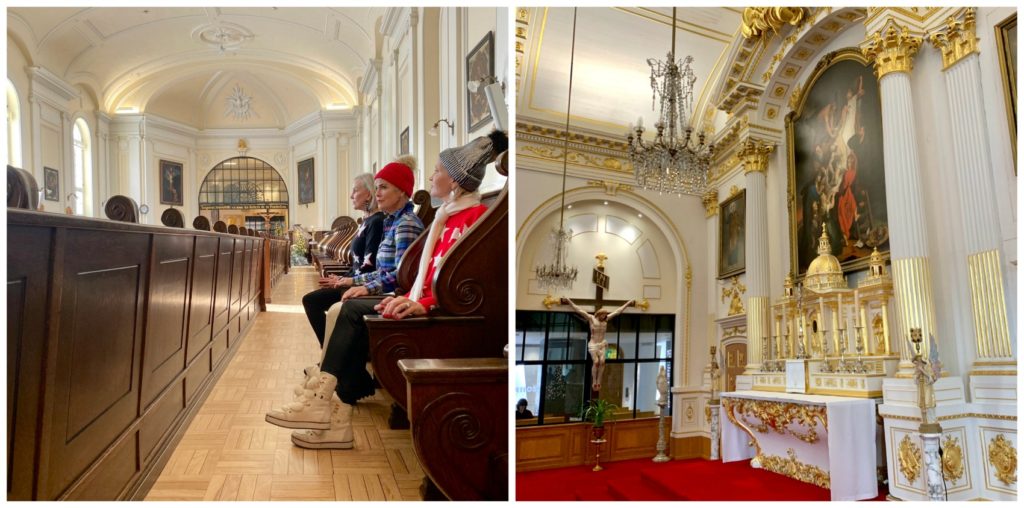 We had the most lovely ladies Rachel and Katie take us on this educational tour of this wonderful place. Both ladies were a great representative to share the mission of the monastery. Rachel led the tour with superb knowledge then we enjoyed a farm to table lunch in their on-site restaurant with Katie. I was in heaven because I love farm to table style of dining.
Christophe Perny and his team invite you to a true culinary experience in line with the location's global health vocation.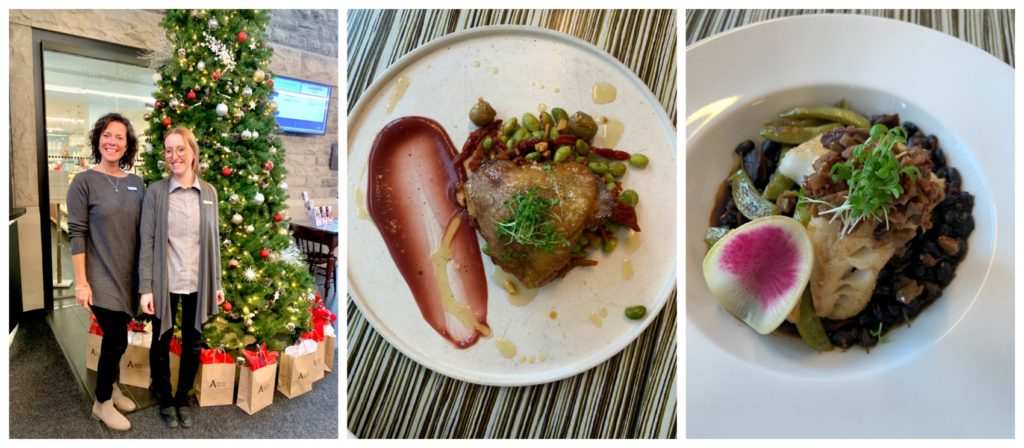 LUNCH ~ Le Monestere des Augustines
Ok, so we had heard that the sisters roam around the property and as of lunch, we had yet to see any of them. Most are in their 70's and 80's with one in her 40's. We were about to leave and then all of a sudden we coincidently met up with Louiza ( I think that is her name). She was so sweet and agreed to have her photo made with us and then I snuck in a selfie. Sometimes I just can't help myself!
To learn more about Le Monestere des Augustines see this short video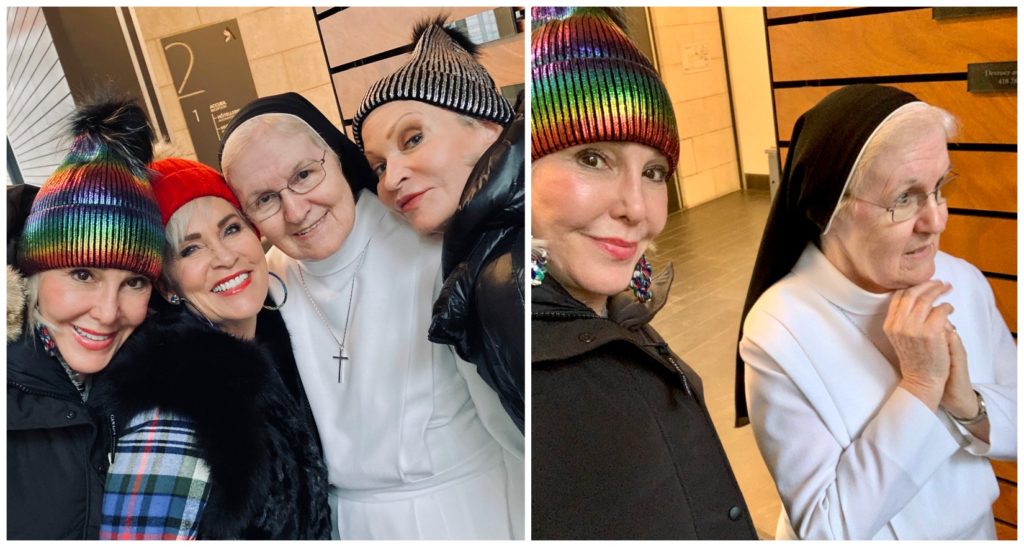 German Christmas Market – Old Quebec City
Next up was what I was really curious about before coming to Quebec City and that is the German Christmas Market. Again located just a short walk from our hotel we stepped into an old world of traditions. The weather was perfect for Christmas in Quebec. It started snowing and we were super excited. We shopped for winter beanies, sipped hot cocoa and I tasted some warm wine as well as we belted out a few Christmas jingles. I love Christmas time in this beautiful historic city and the German Christmas Market was so fun and festive…… Old Quebec City!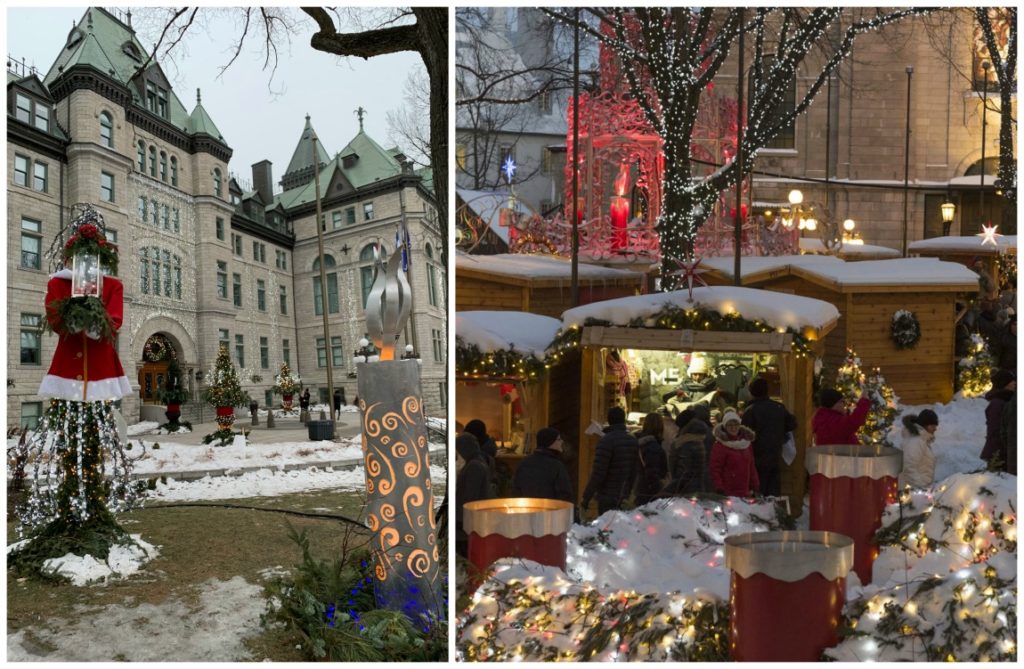 I loved trying on fun hats and this one almost had me at $250 but I live in Houston and rarely travel north in the winter. Meh!!! It went back on the rack.
Then we had some fun at the Christmas Market standing in front of the funky mirror.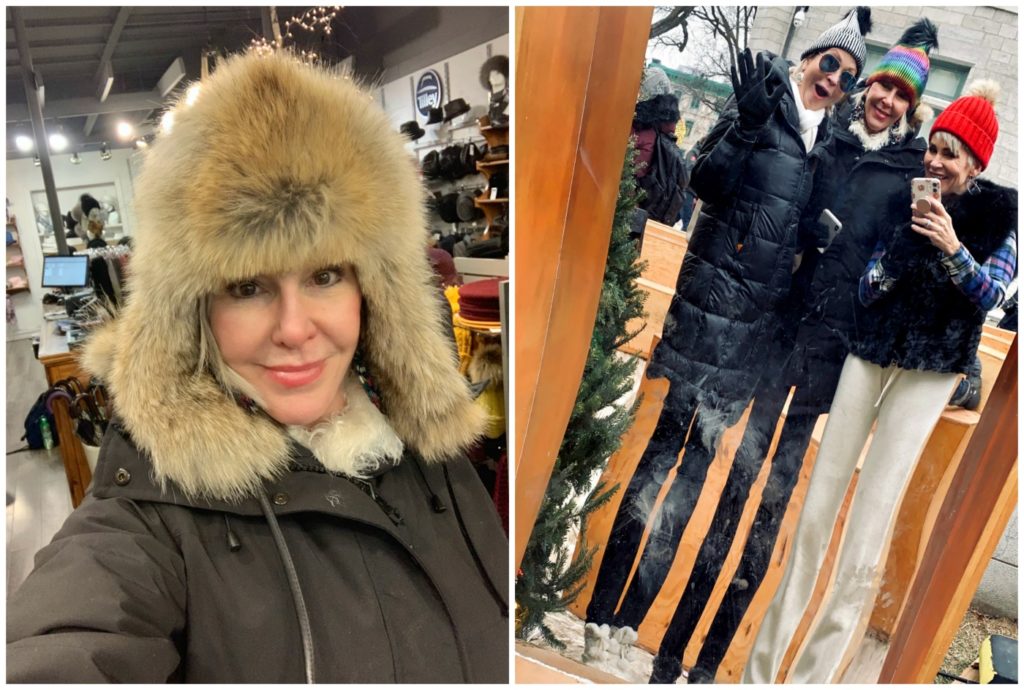 Simons's is the oldest department store in Quebec City.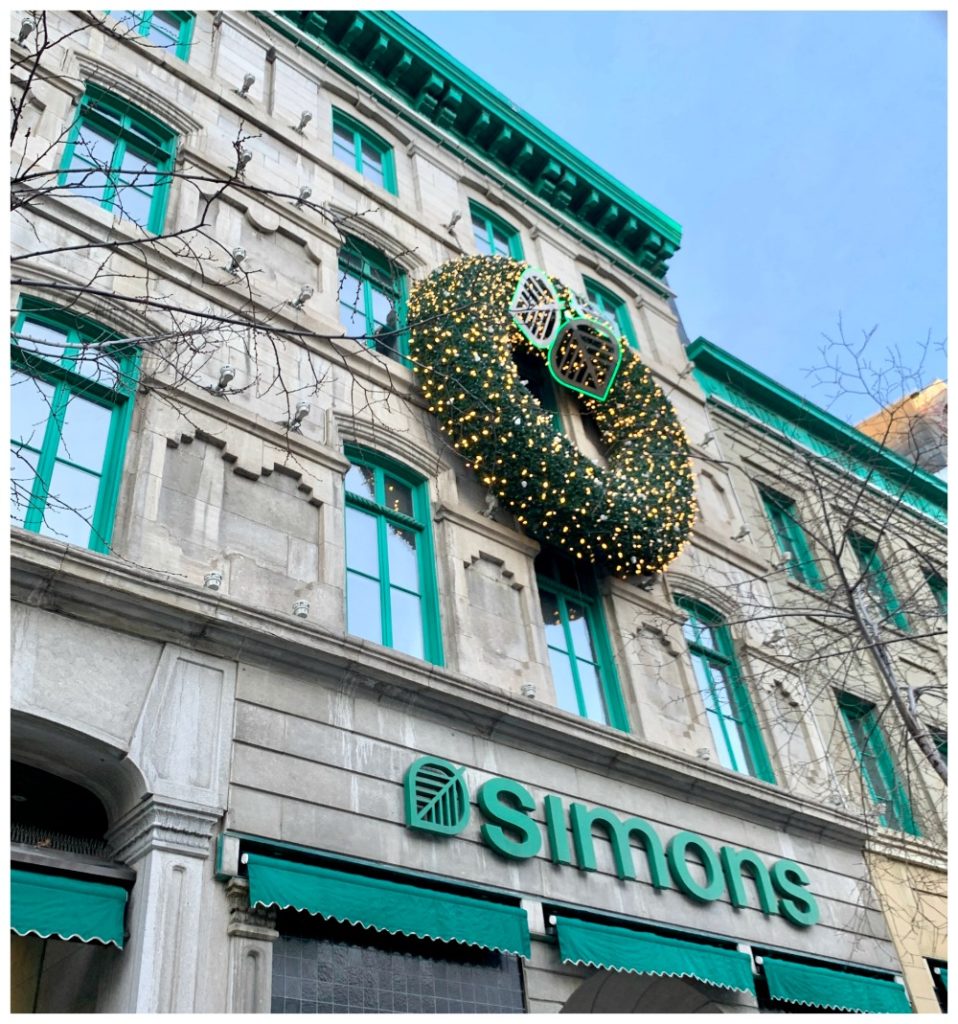 Dinner – Louise Tavern Bar a Vin
Once we had made our mark at the Christmas Market we went back to the hotel, changed clothes and headed out to Louise Taverne & Bar à Vin. What I understand is that the blend of the rich cultural history of English, French and Irish culminated into a foodie experience at this restaurant.
You can order food like Elvens Farm Guinea Fowl, or Sausage & Blood Pudding, Saint Margarite Sheep and more interesting traditional foods from these old-world cultures. I loved sampling all of these foods but Jamie and Shauna are not as adventuresome as I am.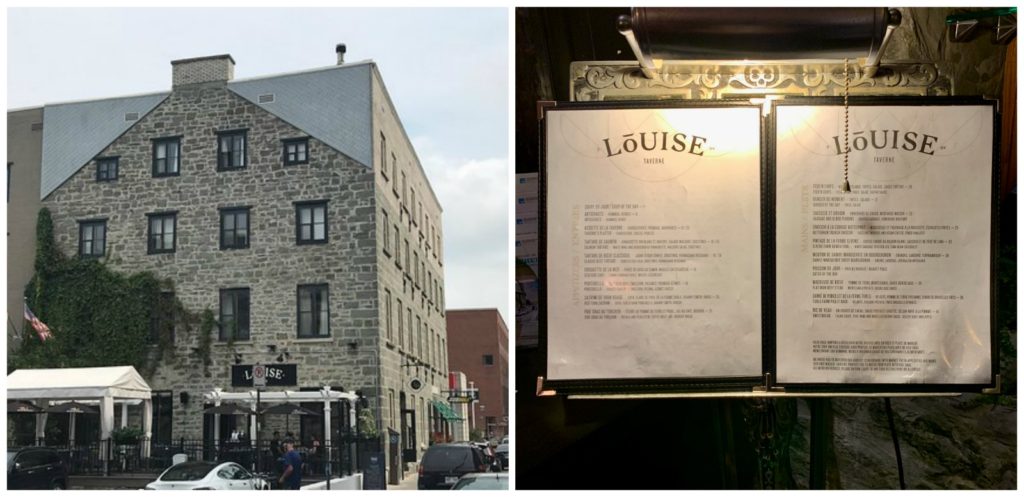 Before checking out of the beautiful Monsieur Jean, I wanted to snap some more photos. It was a blogger haven, especially for this color-loving girl!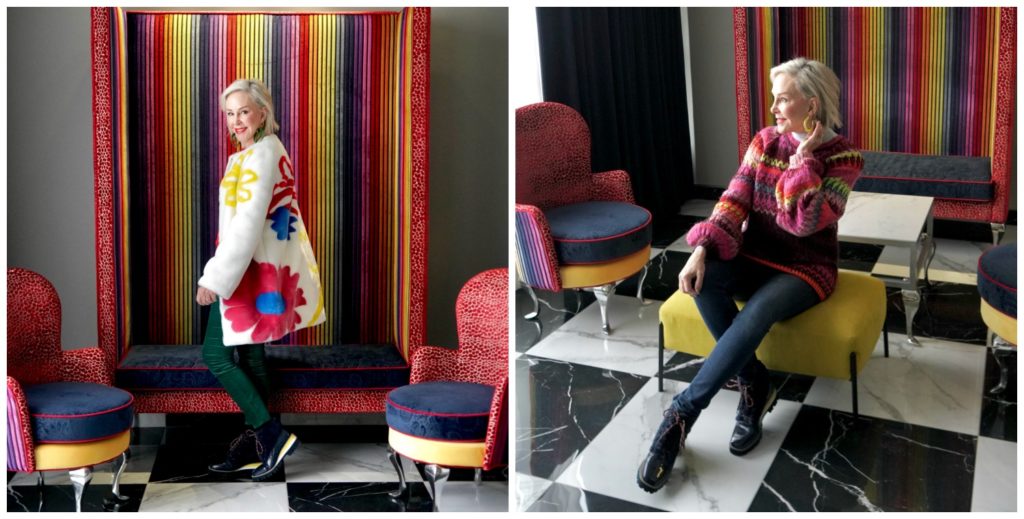 DAY 4 – QUEBEC
DESTINATION CHARLEVOIX
ROAD TRIP……oh yes, the 3 Muskateers picked up our rental car and began our journey to the countryside region of Charlevoix. Jamie got nominated to drive (she did great) and thank goodness it was pretty much a straight shot up the along the Saint Lawrence River. We went through some beautiful little towns and thoroughly enjoyed the ride. It took us less than 2 hours to get to our first stop…..lunch at Faux Bergers.
What a treat to get a specially curated lunch by the chef and his wife, a sommelier, suggested the wines which of course, I had to try! I think we all thought we were getting burgers but not a chance!
He brought out several dishes to try. I loved them all and loved the fact that they use farm-raised organic meats and vegetables. All of the dishes were so good but my favorites were the chaga mushroom broth with a poached egg and beet bread crumbs. The cabbage and rice puff with a yummy sauce was also delish and not to forget the shortcake and berry dessert. A-M-A-Z-I-N-G!
We were actually dining on a day that they are normally closed but we were special I guess!!! They were also hosting a group of sommelier students to teach them about how to pair wines with foods.
FAUX BERGERS

CENTRE DE L'ÉMEUE
We were having the best day so far but we had no idea what our next stop would be until we pulled up to a farm in the middle of nowhere and voila…….Centre de l'Émeu. More fun and this time with the Emus!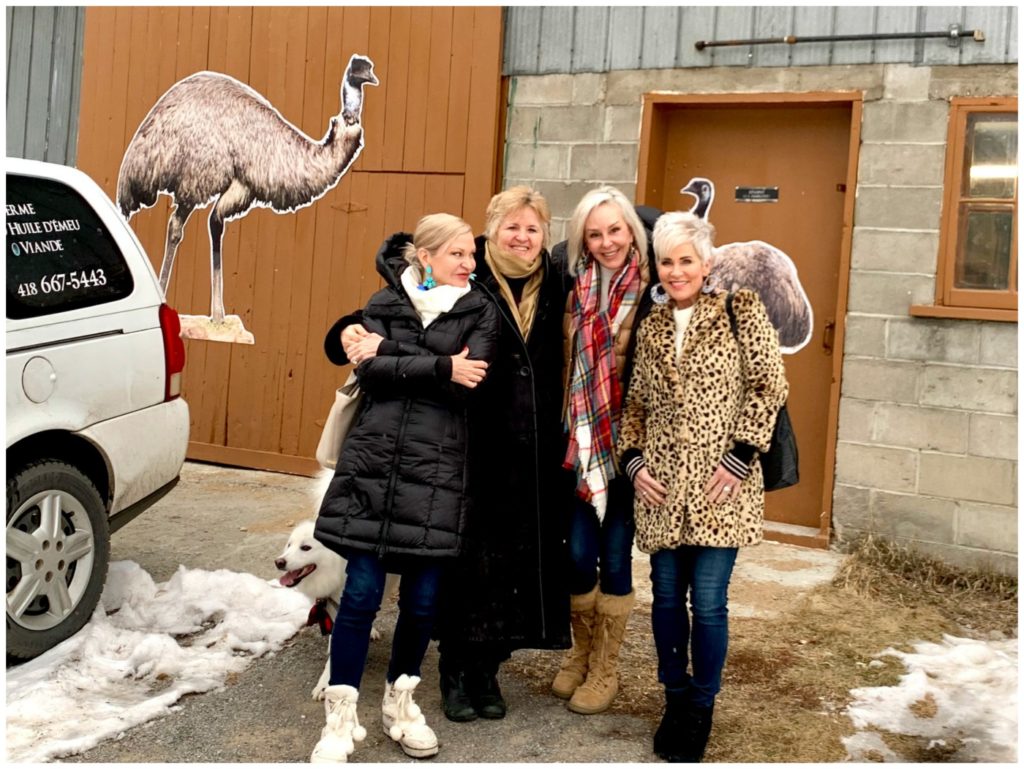 I thought these animals had the cutest faces and how about laying a very large green egg. They are hard as a rock too!!
This whole experience was far more educational than I could have imagined. Did you know that Emu is the second largest bird in the world? Also, you can eat their meat? I know because I ate 4 different appetizers made with Emu. Very interesting flavor…….. The last thing is that over 1,000 different products can be derived from the emu.
As a blogger, I review a lot of beauty products so I was thrilled to take home some emu oil. Emu oil is known around the world for its exceptional benefits on the skin.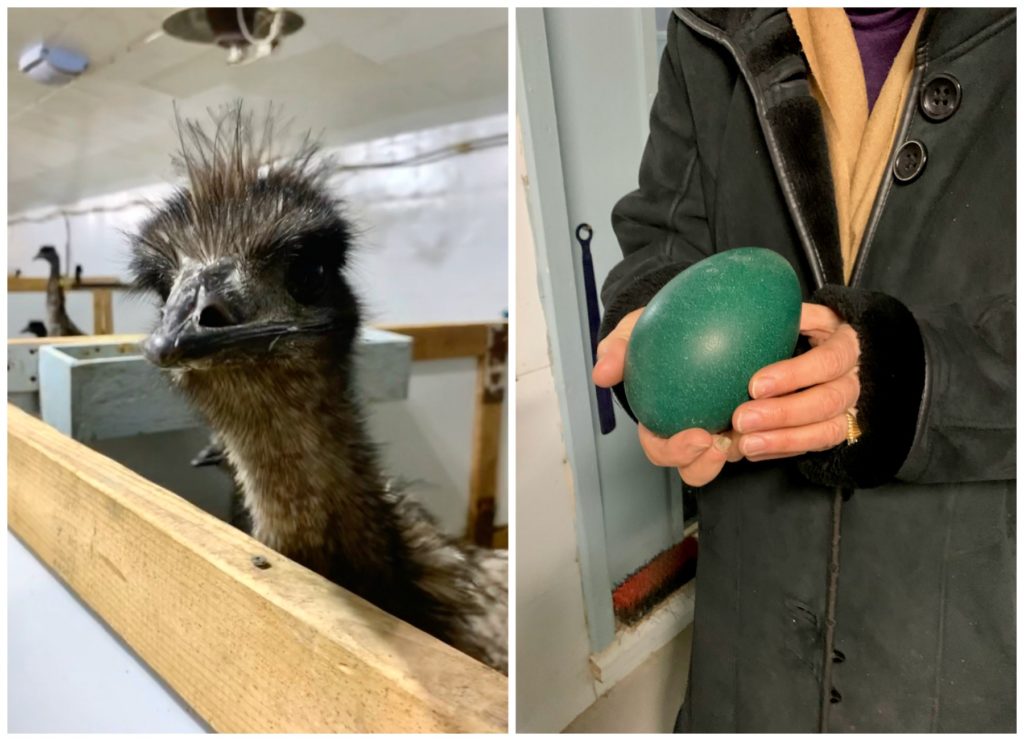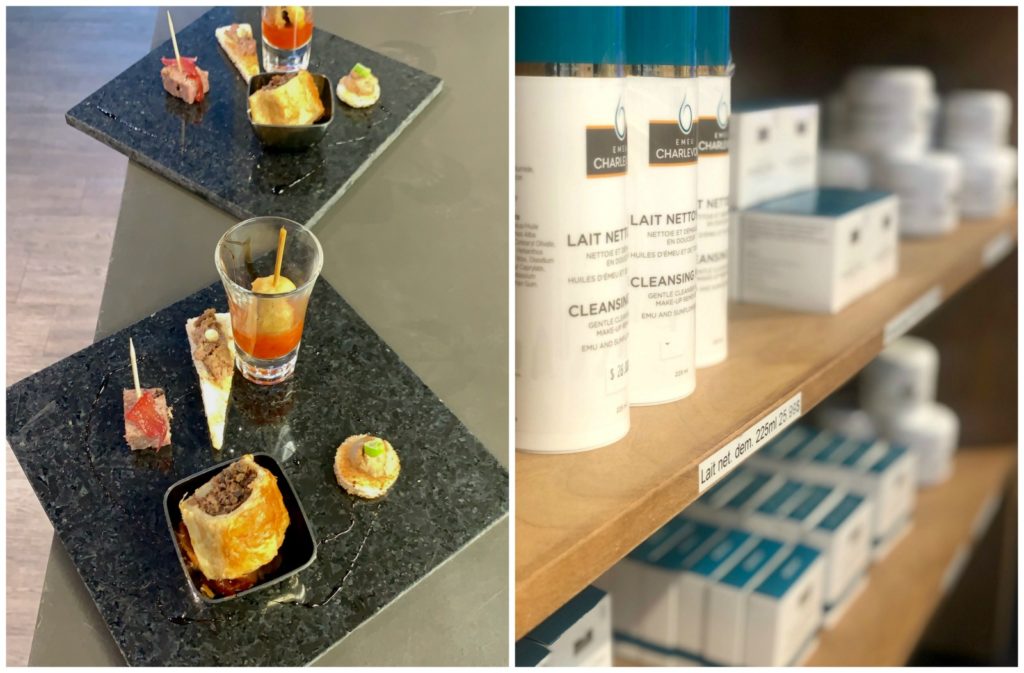 FAIRMONT LE MANOIR RICHELIEU
Last stop for the day but certainly not done for the day. It was time to check into the spectacular Fairmont Le Manoir Richelieu. This majestic property located in the Charlevoix region is loaded with amenities and activities for all. Be sure to take note of all it has to offer. You really never need to leave unless you would like to venture into charming Bai-Saint-Paul to explore the shops and galleries. Oh and snow skiers can ski at a nearby ski mountain.
AMENITIES
405 smoke-free guestrooms
Golf course
Casino
4 restaurants and 2 bars/lounges
Indoor pool and outdoor pool
Breakfast available
2 outdoor tennis courts
Valet parking
Spa services
Business center
Airport shuttle
Childcare
Free WiFi and free parking
This hotel would make a great girlfriend trip as well as a romantic getaway for you and your sweetheart. Valentine's Day is right around the corner. FYI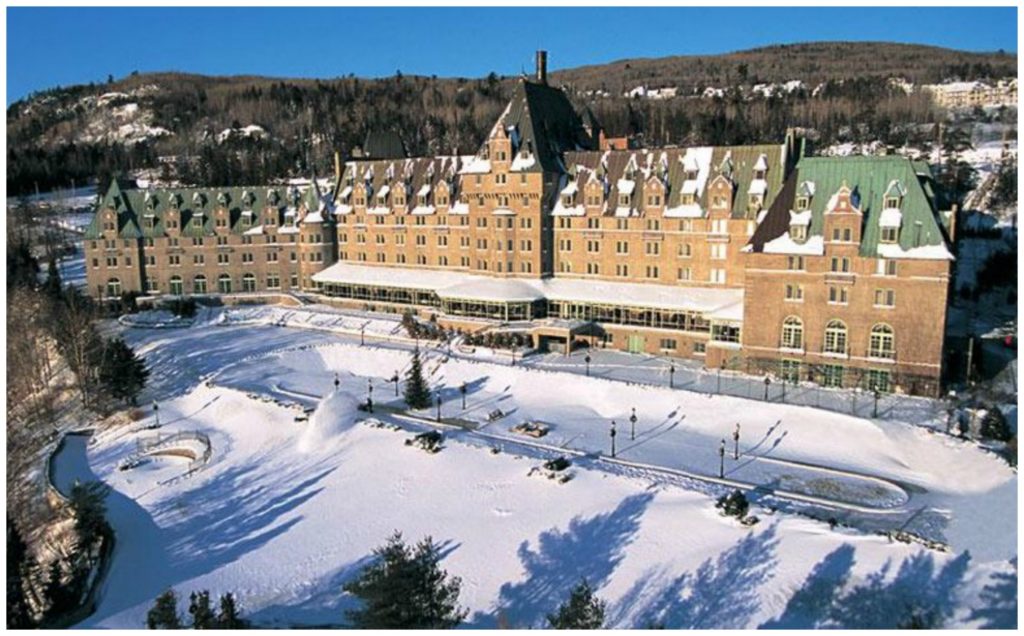 When we got to our room we had a delicious array of goodies to nibble as well as a beautiful book about Charlevoix. Our rooms were spacious especially the corner rooms and we had our own personalized shampoo, condition, and body wash.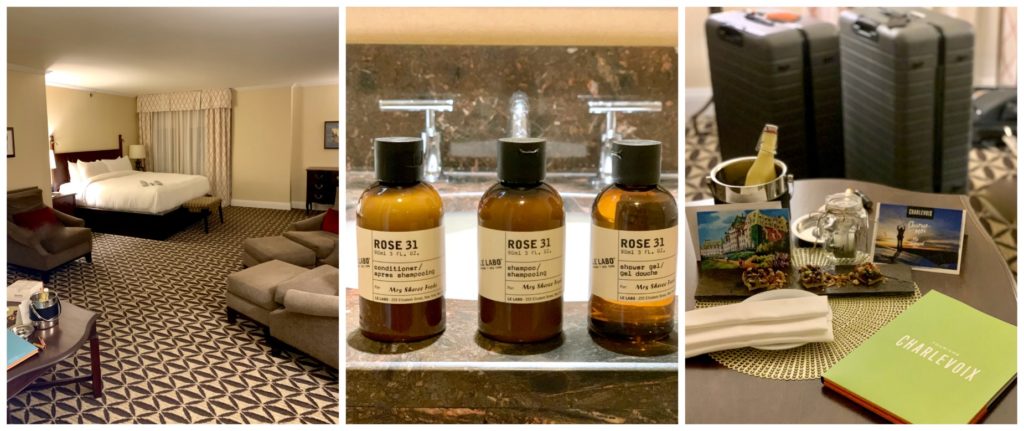 The indoor swimming pool was huge and many take the plunge in the outdoor pool in the winter as well as the summer. I feel sure that it is heated.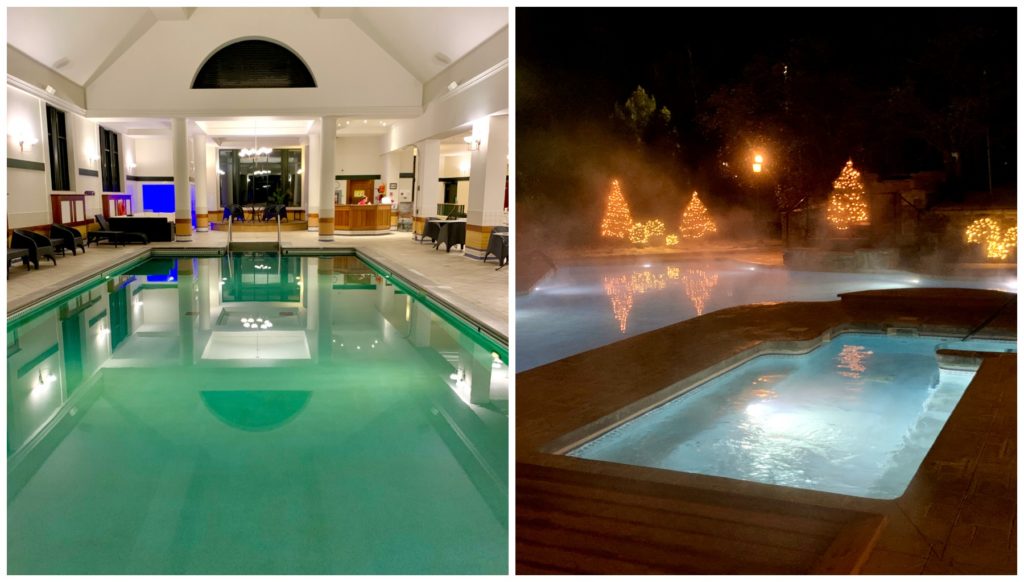 This day just kept going but we had to eat dinner. We were invited to join Caroline Manon Director of Marketing and Sales for a tour of the hotel and then dinner at Le Saint Laurent. The hotel was so decked out in all of its Christmas decor so it seemed fit that we too looked the part.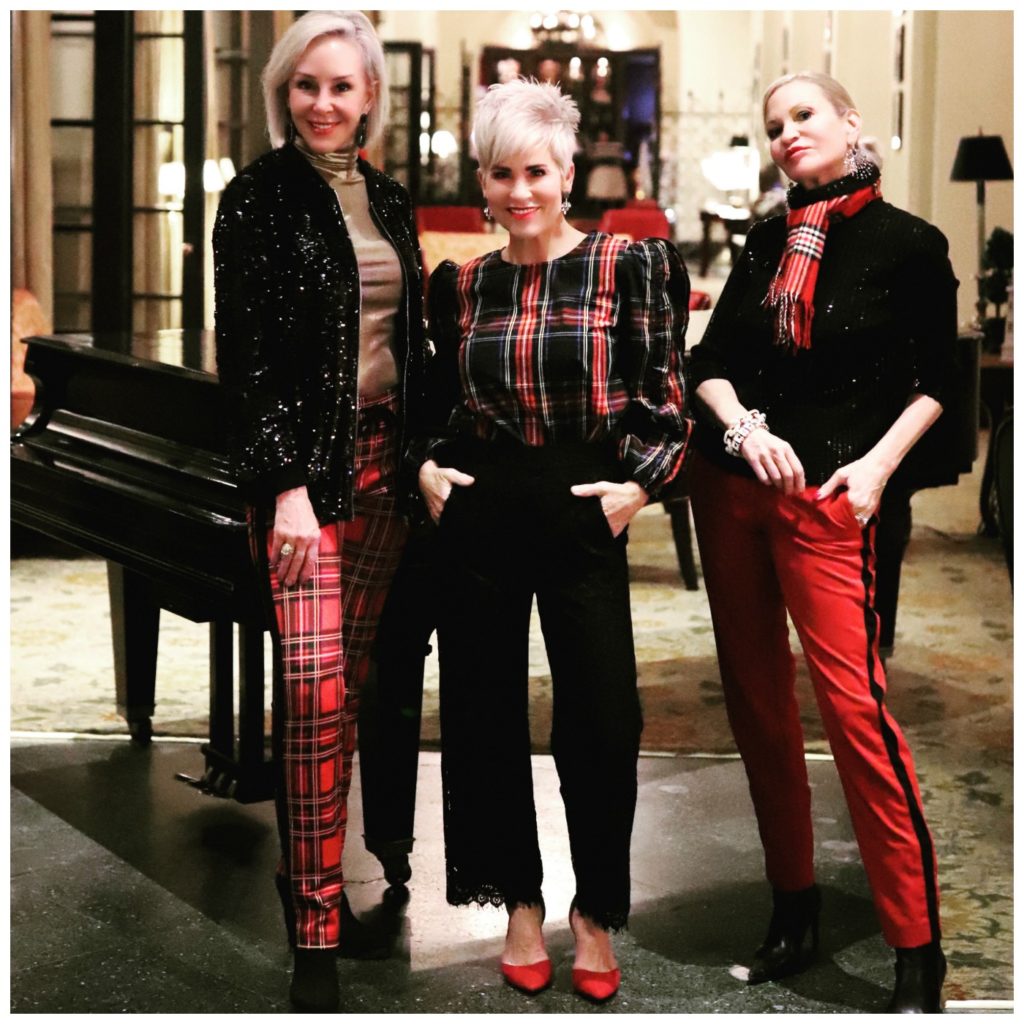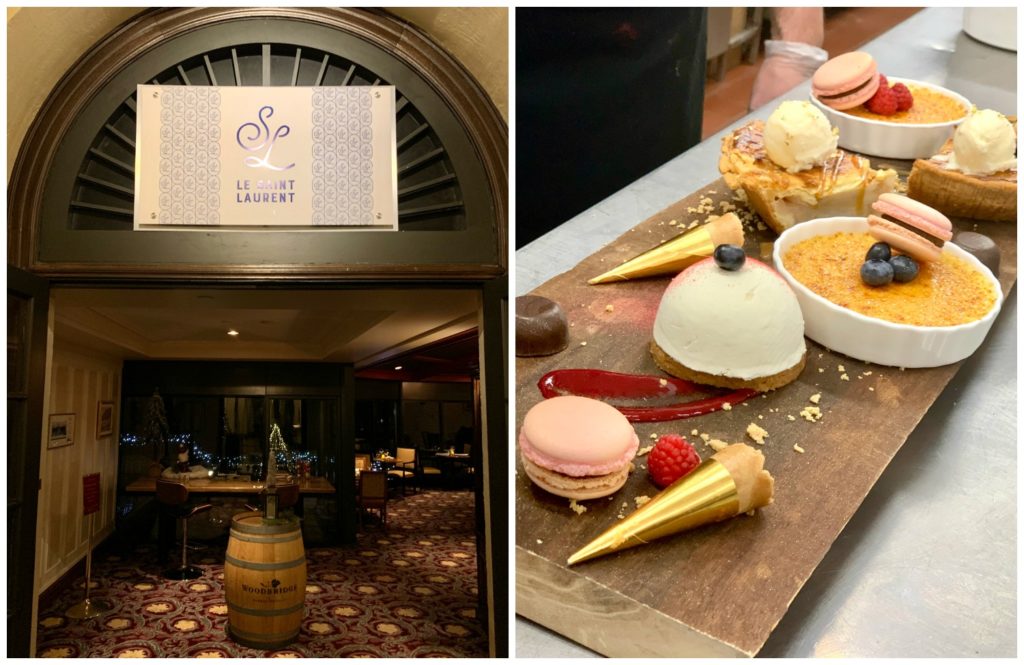 Again, we had the privilege of meeting the chef as well as get a special tour of the kitchen. What we didn't know is that our hostess had planned a surprise of a delicious dessert for us and we got to watch the chef make it in his kitchen. We enjoyed every bite!!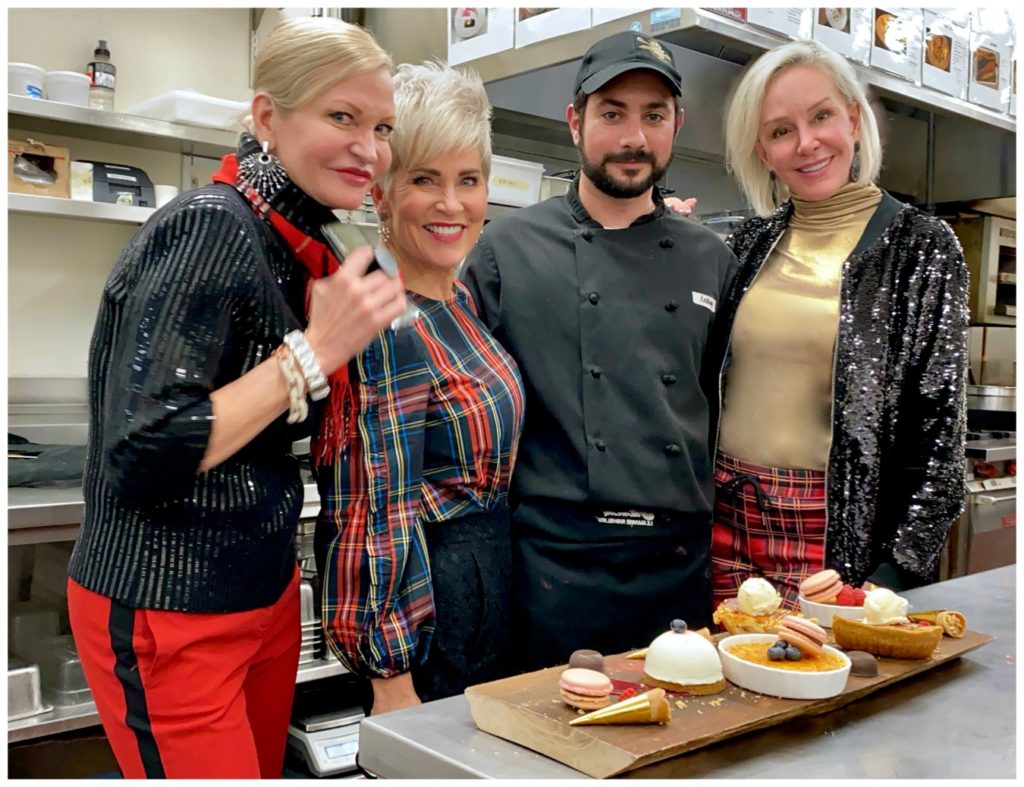 Many times we will partner with brands and give them some gratitude for supplying us with clothes, shoes, beauty products or in this case a supplement while on our trips.
Serovital
The brand Serovital created Serovital Advanced a wellness and beauty supplement that all 3 of us take because the benefits are so helpful especially when keeping up a fast pace of these sponsored travel trips. I love it because it helps with my mood, weight loss, tightened skin but most of all extra energy. We tripped across the children's playroom and thought it was a fun place to shoot our photos for Serovital and our hotel correspondent was so sweet to help us make it happen.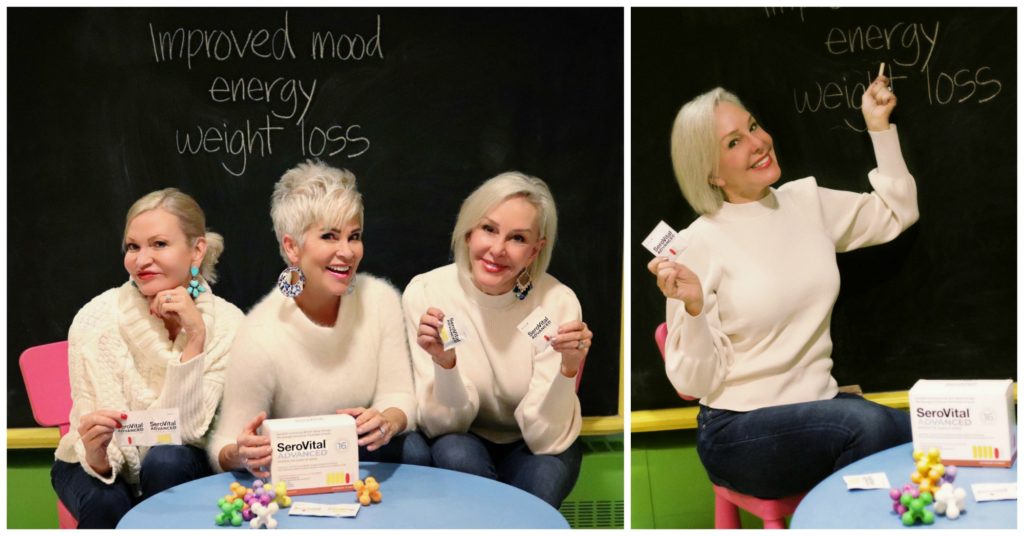 DAY 5 – QUEBEC
BAI-SAINT-PAUL
It was sad to leave the Fairmont Manoir but we wanted to check out one more hotel before we left Quebec so we checked after a yummy breakfast.
After about a 45-minute gorgeous drive along the St. Lawrence River (one of North America's most beautiful panoramic highways), we made it to Bai-Saint-Paul.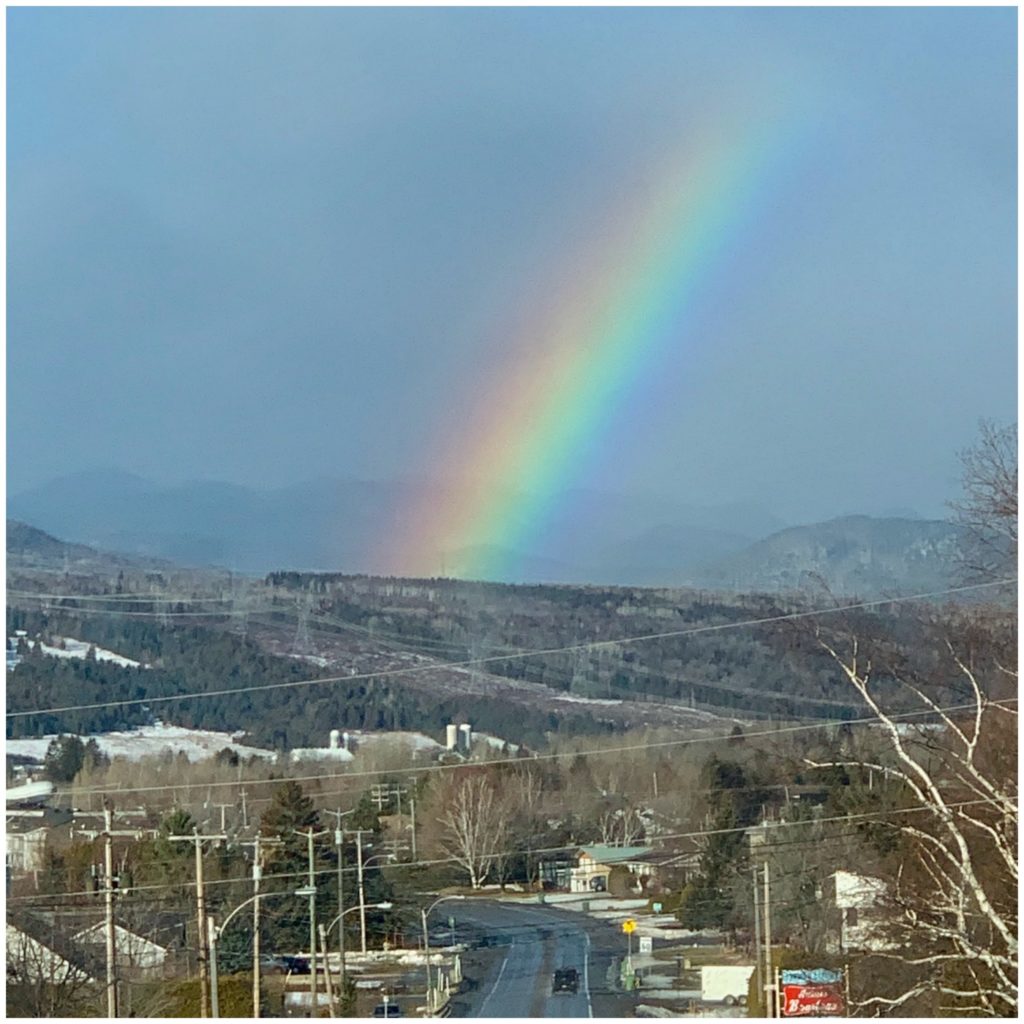 We spent most of this day exploring. We first visited a couple of art galleries. Galerie Art et Style is the oldest gallery in Quebec. Located in an older home where they curated art from over 50 artists and sculptures as well as a collectors' section with renowned Canadian artists such as: Marcelle Ferron, Jean-Paul Riopelle, Alfred Pellan, Marcel Barbeau and Paul-Émile Borduas.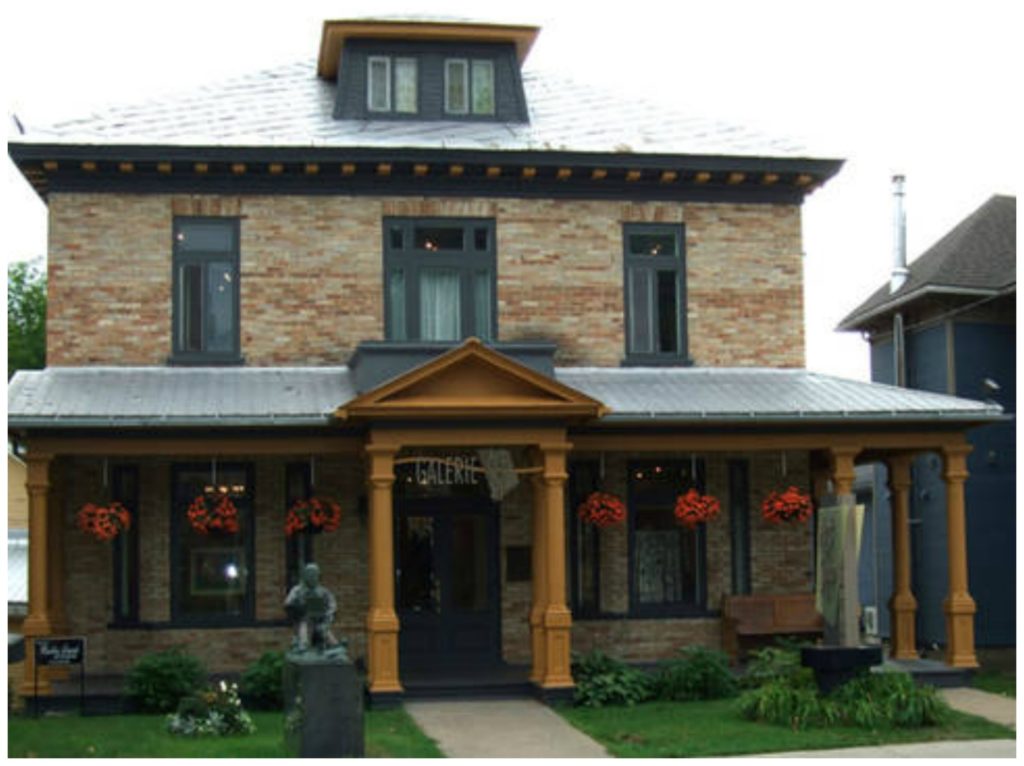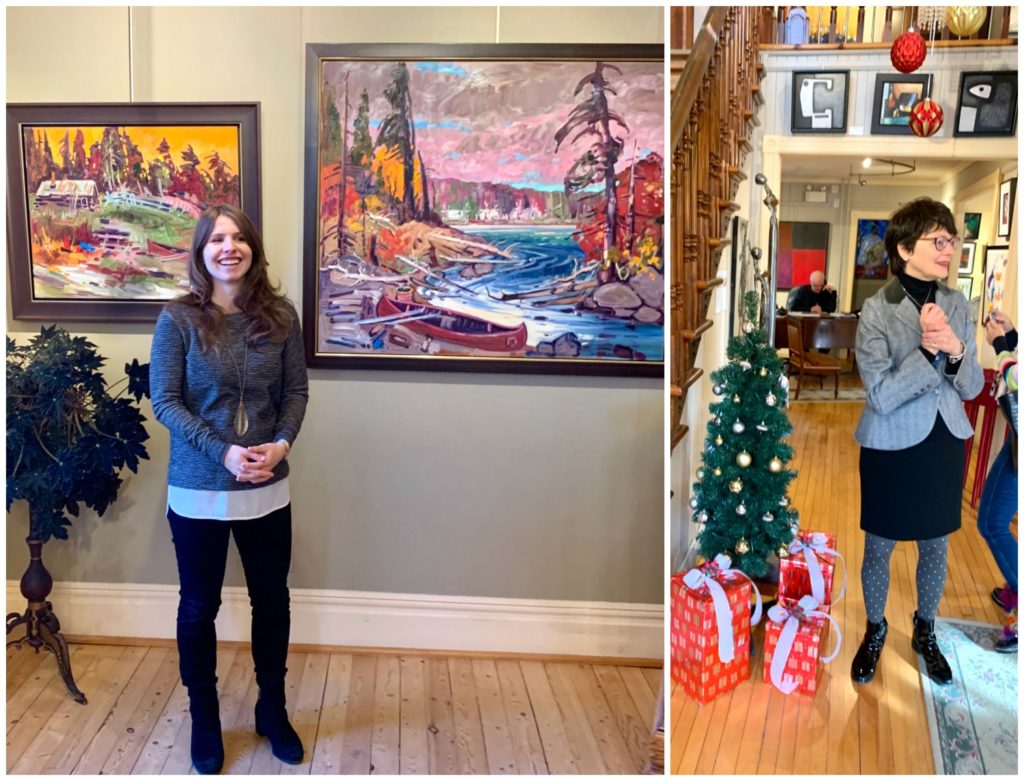 Galerie l'Harmattan was our next stop where we saw art by current contemporary artists. We had the pleasure of meeting the owner of both galleries.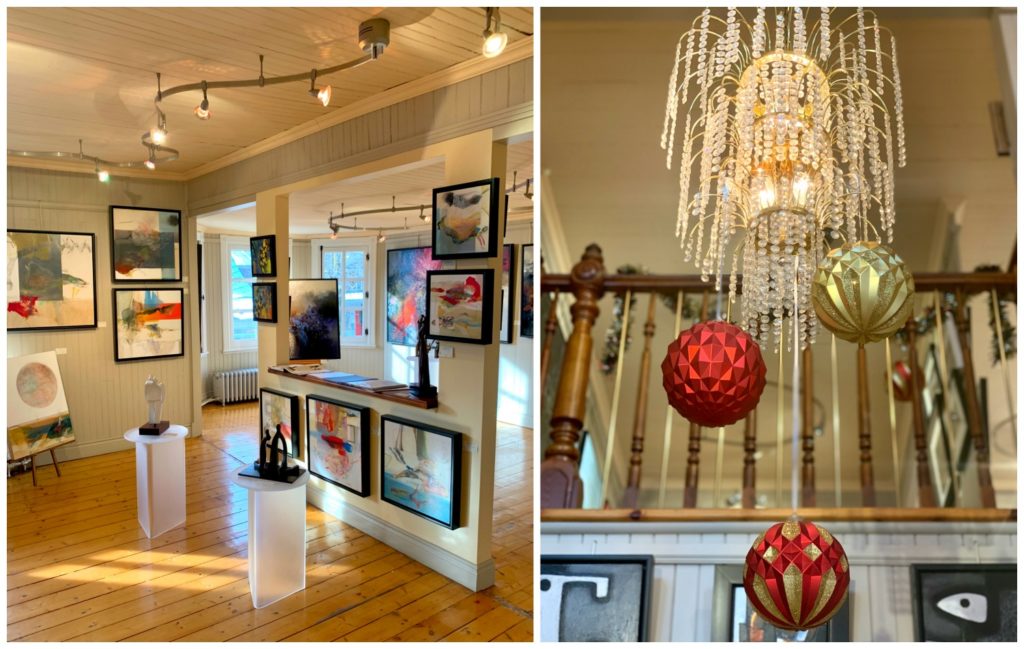 By lunchtime, we had worked up an appetite so we met Camille with the Tourisme Charlevoix office for lunch at a cute restaurant and candy shop Café Arômes et Saveurs. We loved their homemade soups and sandwiches. Their hot cocoa also hit the spot.
HELI TIME
Being the pilot in the group I was so excited about taking a helicopter trip over the Saint Lawrence River to Isle-aux-Cordes for a cider tasting at Cidrerie des Vergers Pedneaul. Unfortunately, the weather took a quick turn for the worse so our pilot Benoit decided to cancel the trip. I am always a safety first pilot so he made the right call. I was super disappointed though. Rather than taking a ferry to this island, this ride would give you much more perspective of this region and see the beautiful river from a birds-eye.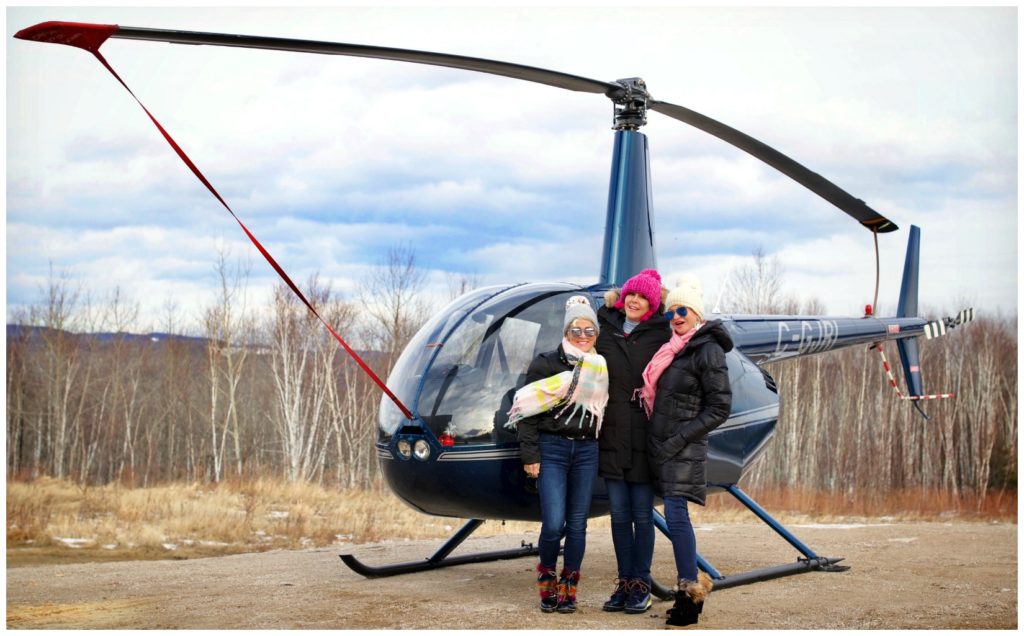 LE GERMAINE CHARLEVOIX HOTEL & SPA
For our last night experience in Quebec, our hosts at Quebec Original set us up in the urban, modern and a little rustic Le Germain Charlevoix Hotel & Spa . This hotel & spa is nestled between the mountains and the Saint Lawrence River and has been honored with Top Design in the World Retail & Leisure Interior Award.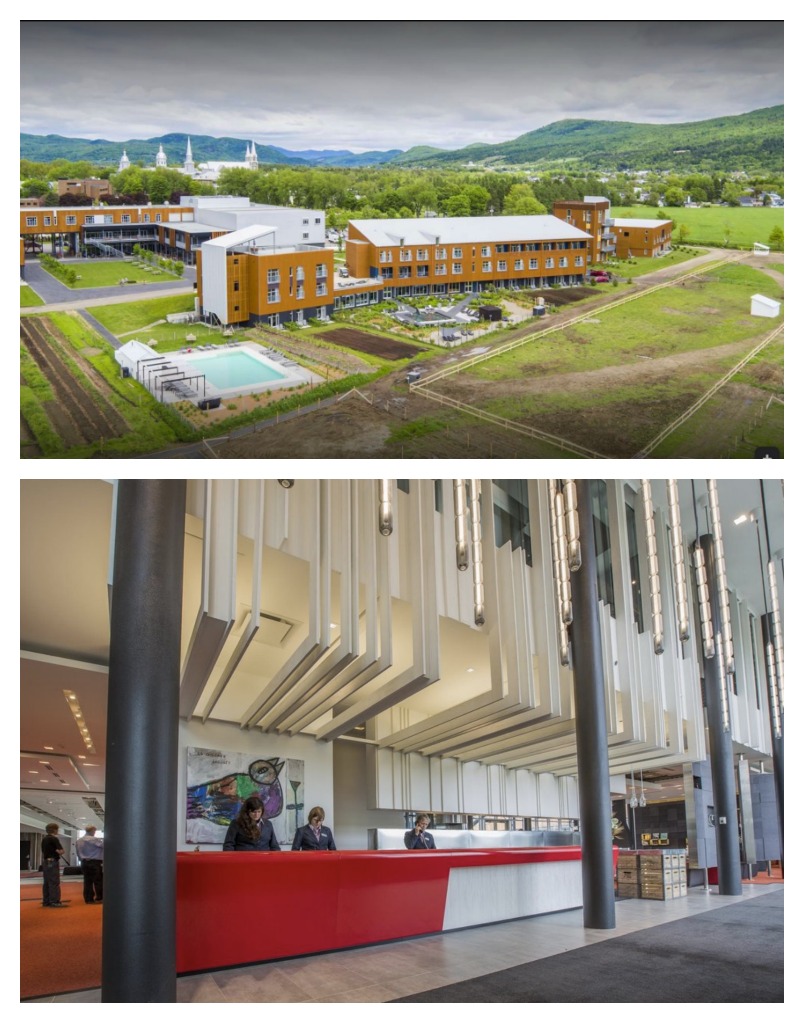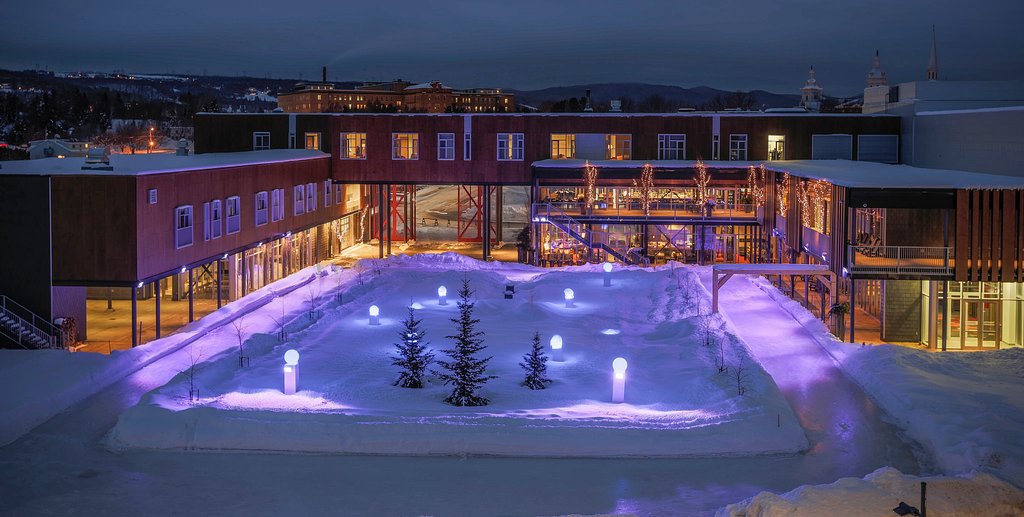 We only had one night to take it all in but for sure I will have to go back. We did check out the spa and the outdoor swimming pool. So before dinner, we walked over to the spa to do the Nordic plunge.
I wish I could share our outdoor pool experience but the hotel doesn't allow photos in the spa and pool area. I will say that leaving a nice hot pool and then jump into the 50-degree water of another pool and then back to the 110 degrees was exhilarating for sure! It literally took the breath out of me and was almost painful, but when it was all said and done, sooooo worth it!!
Did you know that hot water causes vasodilation (relaxation of the blood vessels) and coldwater causes vasoconstriction (narrowing of blood vessels). This therapy is extremely beneficial to blood circulation.

Our rooms were so very urban but with modern country charm. So comfy and chill….. not literally just put me in a very chill frame of mind.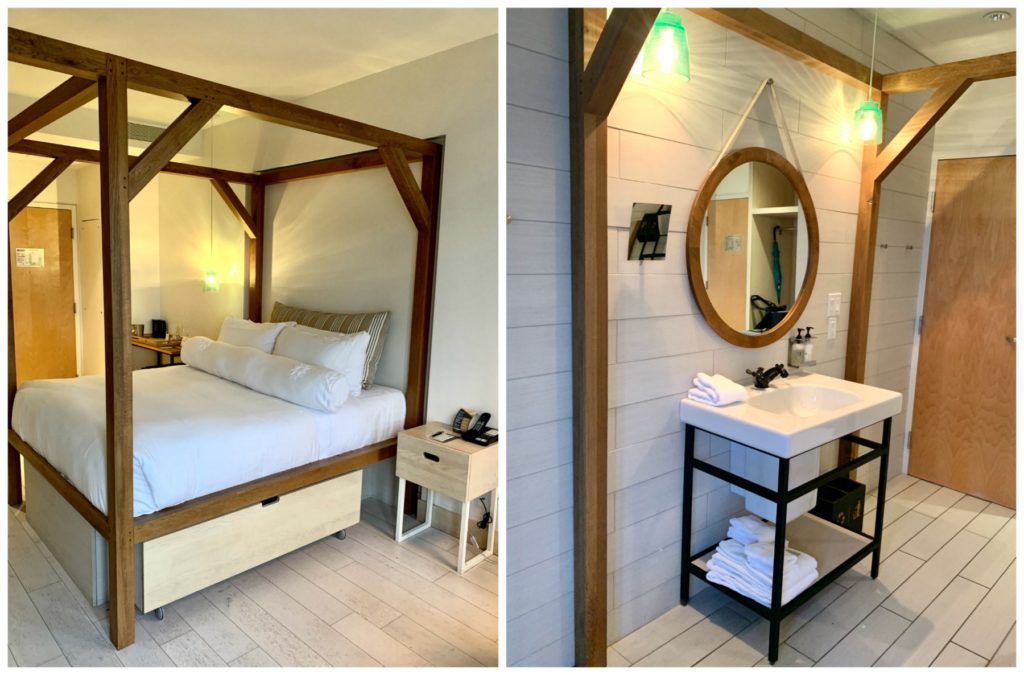 Again, there is a ski mountain not too far away and easy driving to Bai-Saint-Paul. I would love to come back for a summer visit.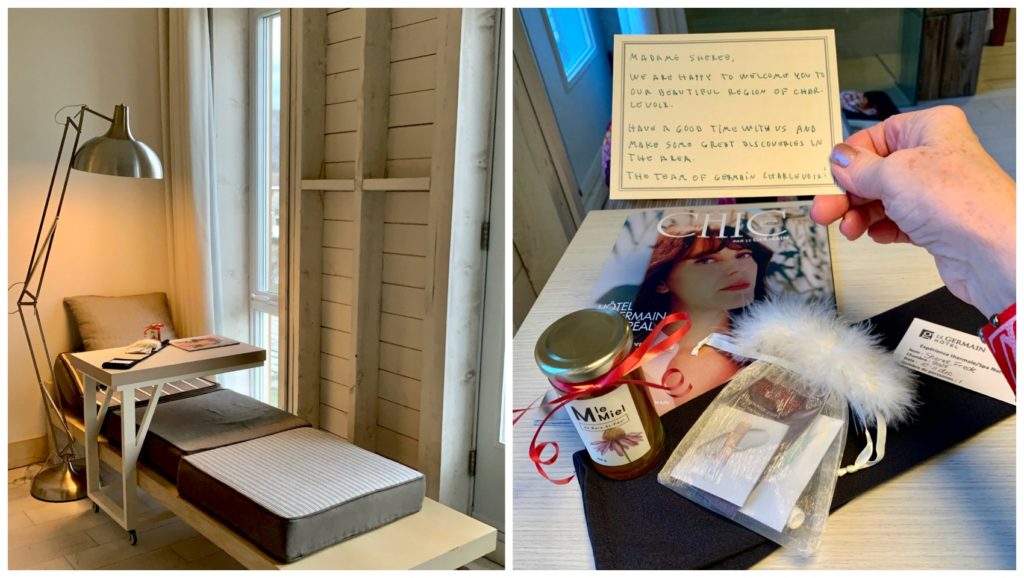 LES LABOURS
After our invigorating experience in the Nordic pool, we got dressed and headed over to one of the restaurants called Les Labours. I was in heaven when I found out that I could order venison and they use fresh produce and meats from the region to create wonderful menus daily.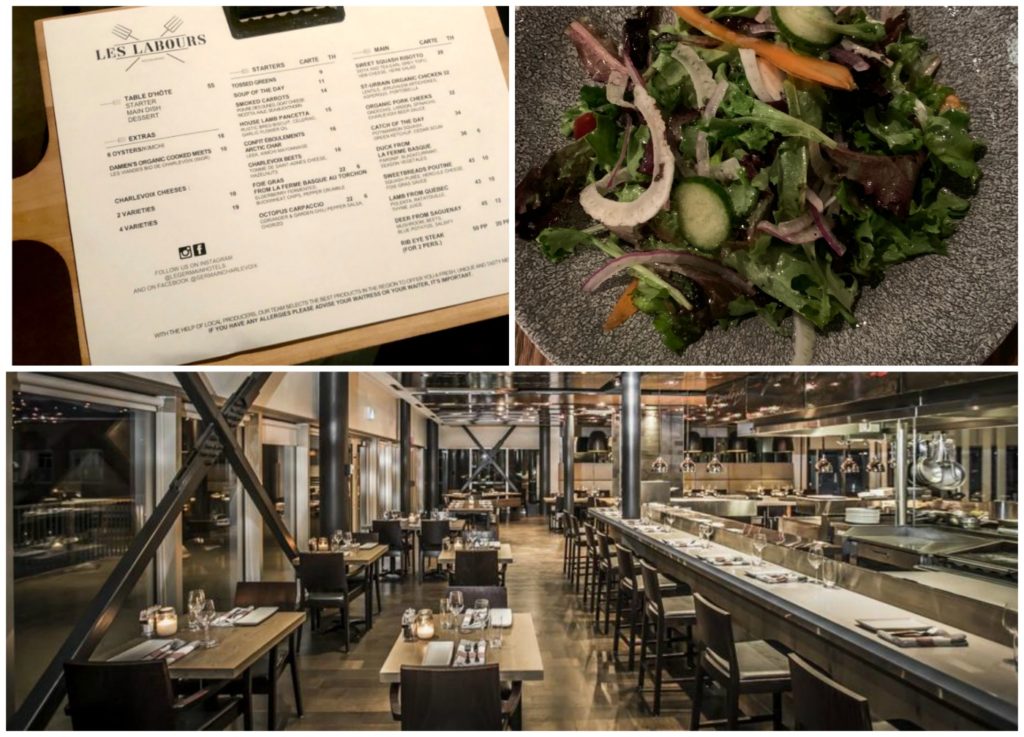 DAY 6 – Travel Day
Final Thoughts
If you are planning your travel calendar or adding destinations to your bucket list then you should definitely consider visiting the province of Quebec Canada.
Old Quebec City with its history and charm as well as the beautiful countryside of Charlevoix will take you to a different place and time experiencing the unique culture and the graciousness of the people who work hard to preserve all that is good of this beautiful area of North America.
I would like to thank Québec Original and their regional partners for hosting us for a most memorable trip. To learn more about Québec and Charlevoix, follow them both on Instagram at @tourismequebec &  @charlevoixatr. All images are my own and/or courtesy of each brand's website. 
This ends my year of 2019 travel with my Rockin The Ages girls and boy it has been an exciting journey!
If you are a travel enthusiast or just like to dream then read my 2019 travel blogs on Memphis, Paris, Florence, Assisi, and Sonoma Valley.
SHESHE'S TIDBITS
I am home through Monday working on some house projects as well as some upcoming campaigns with tight deadlines. Tuesday I will go back to Florida to continue my working campaigns and start a new beach house project. My sisters will be back down to enjoy shelling and overall beach life. I can't wait and I know that they are excited!!
Gala's, weddings, graduations, holidays or just everyday wear…..we have fashion suggestions for you, so stay tuned. Be sure to check out the ShopSheShe tab at the top in the menu bar. Hover over and choose the category in the dropdown. We try to keep it up to date with the latest and greatest for all budgets. Subscribe here and then you won't miss a post. Simply enter your email in the pop-up box or below.
WELCOME new readers. We are a fashion/travel/lifestyle blog. We talk about anything and everything, from fashion, travel, health issues to even an occasional recipe. Let us know if there is a topic that interests you. We will do our best to bring that story to you. Have a great week sweet friends and thank you for following along. Without you, we could not continue on this