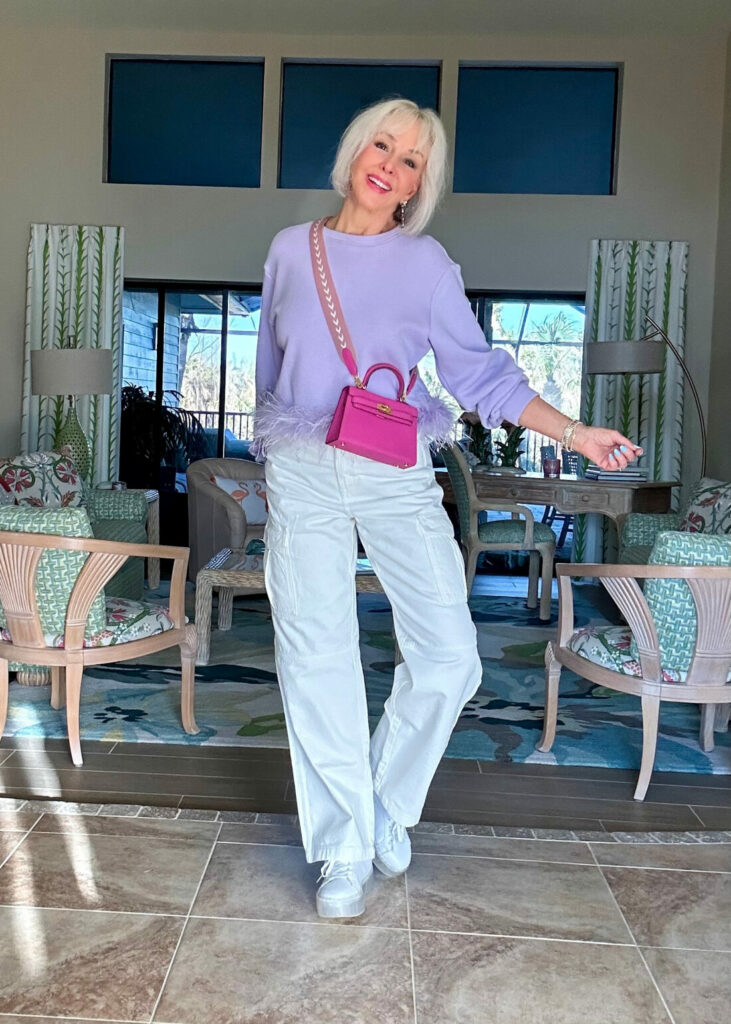 White Pants…you either love 'em or hate 'em. Ladies, if you're not convinced about the idea of white pants, I'm here to change your mind! They are a versatile staple that deserves to be in your closet!! Today we are sharing my favorite white bottoms, some styling inspiration and a few do's and don'ts to help you jump on the white pants train!!
SHOP MY LOOK above

Table of Contents
Types of White Bottoms
Cropped

I love a good cropped white pants because of their versatility – they can be dressed up or dressed down! The style is designed naturally to make you look taller which makes them a great option for the shorter-than-average women out there. The proper length of cropped pants is from right below your knee to a few inches above your ankle. I recommend taking them to your tailor to be hemmed to the length that is the most flattering for your body.
Linen

Linen pants are super comfy, lightweight, and breathable which makes them PERFECT for summer! Breezy and effortless, you'll find me in these when it's 95 degrees outside and I haven't had a chance to apply self-tanner on my legs! (Read more about my favorite self-tanners here!) Like cropped pants, they are versatile – head to the beach in a casual pair, dress them up with a heel or throw on some slides and you've got an effortless, stylish look!
Jeans

White jeans are perfect for pairing with your boldest prints. Another adaptable option, they can be paired with your favorite graphic tee and sneakers or dressed up with heels and an eyelet puff sleeve top.
Knit Pants

Whether your day calls for work or play, white knit pants make an instant statement with your favorite top! My favorite is these Amazon Palazzo pants that are perfect for travel – stretchy and lightweight, they're great for curling up in the car and comfortable enough for a long flight.
High-Waisted

While this isn't the best fit for me personally, high-waisted jeans are a great option for many women – particularly curvy! A higher-rise pant elongates the body and helps hide the dreaded "muffin top" instantly.
Kick-Flare or Boot-Cut

If you are fuller in the hips, the kick-flare or boot-cut style will help visually balance you out by slimming the thigh and proportionately balancing the widest part of your hips with the flare.
Wide Leg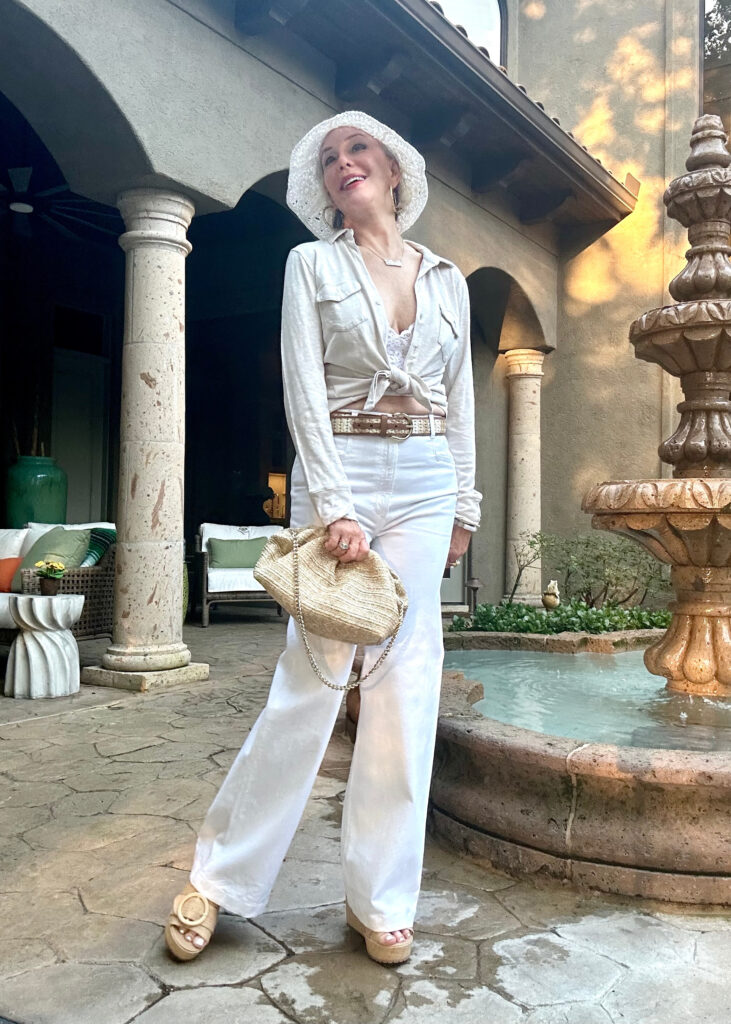 Shop My Look

With an ultra-flattering silhouette & body-slimming effect, the wide-leg white pant definitely makes a statement. Pair them with a voluminous blouse or a basic cami and you're on your way to a chic, attention-getting outfit!

Style Inspiration

Dress up your white jeans with this detailed puff sleeve top paired with these trendy key-lime heels and dainty Kendra Scott cuff and earring combo! Bring all the details together with this colorful, carousel-inspired Tory Burch handbag. Don't forget this complimenting eyeshadow pallet to finish off your look!

For the women who can pull off the high-waisted pant, I am envious that you can rock these super high waisted linen paperbag pants from Express. The wide leg pairs beautifully with this ruffle neck mango J. Crew linen top. I'd give it a fun summer POP with this floral crossbody bag by Kurt Geiger London. The shoes are from Chico's and the necklace and earrings pair divinely by Kendra Scott.

Y'all know I love Chico's and Talbots so I had to take the opportunity to highlight Chico's NEW Botanical Print Poncho with the Talbots Wide Leg Pant!! I would accessories this look with a gorgeous Chico's multistrand teal necklace and these super fun straw earrings by Lisi Lerch and fun fuchsia raffia heel.

I'm loving bright blues and key-lime greens this season!! The adorable confetti off-the-shoulder top and the blue-heeled mules are by the one-and-only Chicos! Make the red accent of the summery Tory Burch handbag pop with a matte red lip by Gucci.
Rules for White Pants…
Do:
Find a flattering fit – not everyone can pull off the same style of white pants.
Keep Tide-To-Go Pens or Shout Wipe & Go Pads in your purse and/or car for any stain accidents!
Add white vinegar to the wash to preserve the BRIGHT white color of your jeans. Read more on how to care for white jeans here.
Use hydrogen peroxide for those occasional red wine stains 😉
Don't:
Wear them too tight (always a "no"!)
Go too distressed (leave the completely "destroyed" look to the teens!)
Wear them baggy or slouchy (it makes your bottom look saggy and a low crotch makes your leg line look even shorter!)
Pick bottoms that are see-through/sheer (unless it's as a swim cover-up)
Use bleach (even chlorine-free or color-safe bleach will turn whites yellow over time!)
Just like any other closet staple, every woman should have a pair (…or 4 pairs) of white bottoms in her closet. Done correctly, white pants allow you to look polished, feel confident and command attention when you walk into a room. We hope this post helps you take that leap of faith and finally buy the pair you've had your eyes on!
Happy shopping, dolls! XO – SheShe
SHESHE'S TIDBITS

I just got back from Colorado and OH MY, am I tired!! Nevertheless, I am getting SO excited to share all of the upcoming Memorial Day sales with ya'll on my Instagram Stories and LTK shop! Do you have any exciting Memorial Day plans? Let us know in the comments!
Be sure to check out our most recent blog posts on The Ultimate Over 40 Swimwear Guide and How to Fabulously Wear Shorts Over 40.
*CHECK OUT MY INSTAGRAM SHOP TO SHOP ALL OF MY INSTAGRAM LOOKS
*YOU CAN ALSO DOWNLOAD THE LIKETOKNOW.IT APP AND FOLLOW ME ON IT BY CLICKING HERE. Go here for our LiketoKnow.It tutorial.
* STAY IN THE KNOW: SUBSCRIBE HERE to receive exclusive sale alerts, helpful style tips, and fabulous giveaways, AND GET ACCESS TO MY VIP ONLY FOR SUBSCRIBERS!
* Follow us on PINTEREST BY CLICKING HERE.