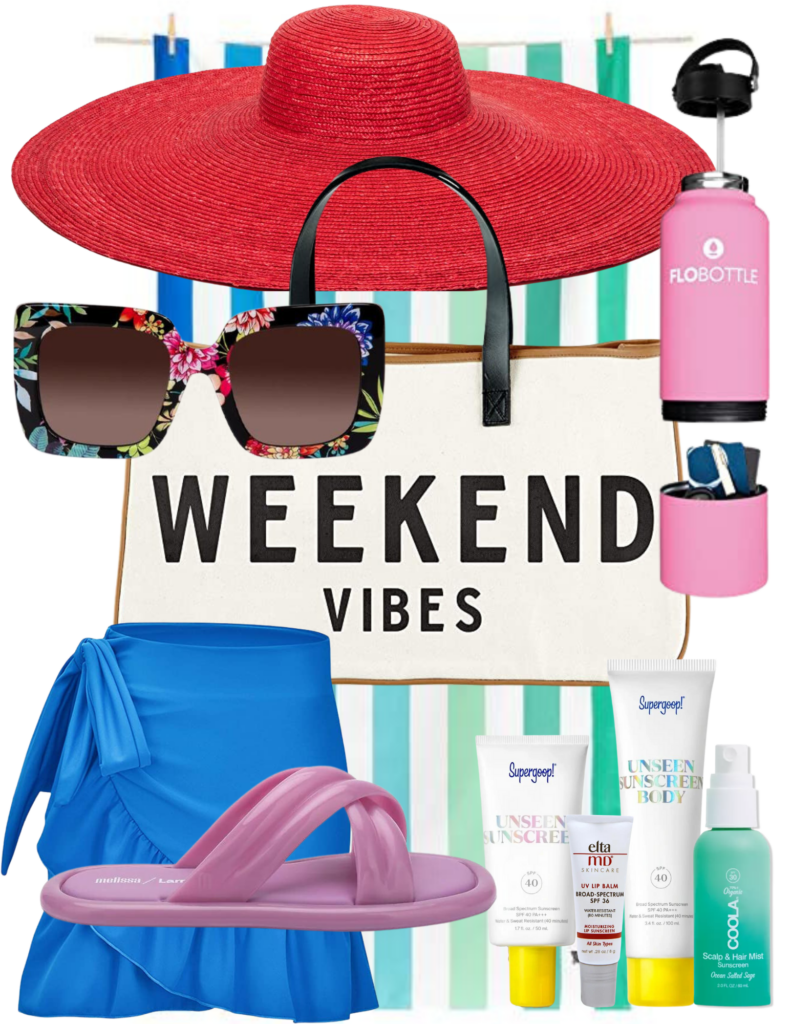 It's officially beach season! If you have a beach trip planned for this summer, this post is for YOU! Find out what's in my beach bag and print out our handy Beach Bag Checklist so you never forget anything again! From sunscreens to jelly sandals, here are our top picks for beach essentials!
Shop the Collage

Table of Contents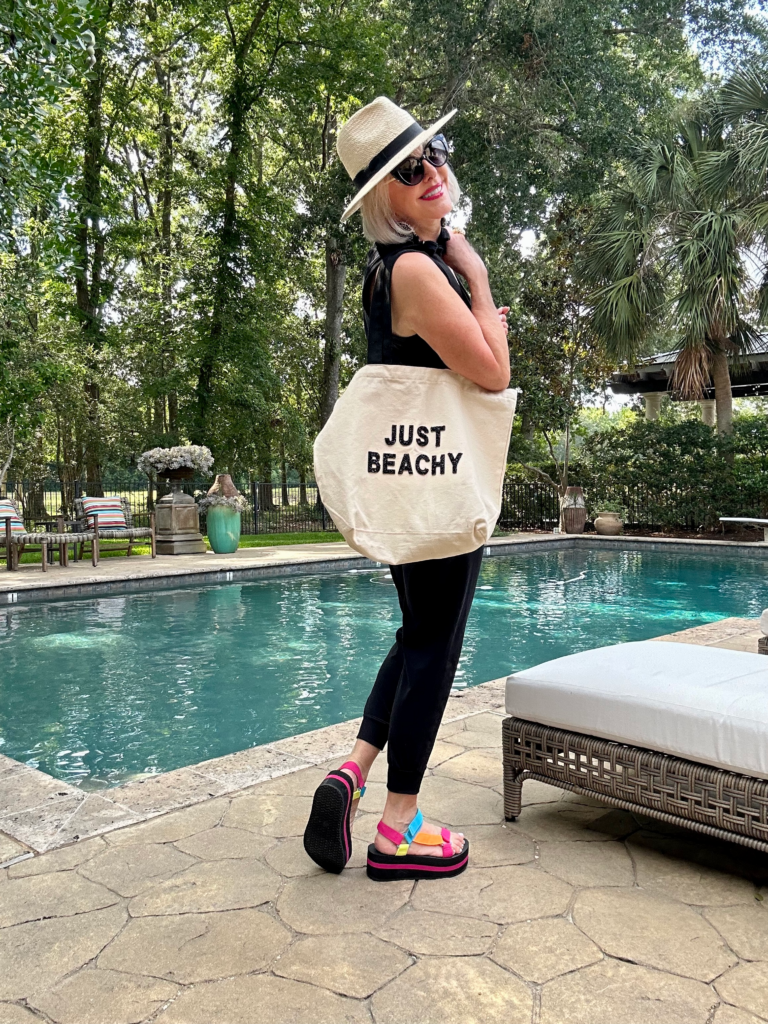 Shop My Look

BEACH BAG NECESSITIES
We have a beach house in Sanibel and I cannot seem to stay away from the sand and waves, but can be tricky remembering everything you need for a day at the beach. First things first, start with a LARGE tote – this minimizes the back-and-forth trips to the car and ensures you have the essentials on hand!
BEACH TOTES
I typically stick to canvas, woven/straw, mesh or neoprene beach bags with POCKETS!! At minimum, your bag should have at least one inner zip pocket to keep your small items like car keys, ID, etc. safe. For a designer look, this mesh Marc Jacobs Tote Bag is perfect because it has a neoprene zip pouch with 2 pockets.
Designer

Budget-Friendly

SUNSCREEN
Sun protection is absolutely essential for a day at the beach, not just for your body but for your lips and scalp, too. Read my blog on Skin Cancer Prevention and How to Safely Soak Up the Sun with Cabana Life UPF Clothing for the ultimate skin cancer prevention tips.
Face + Body SPF

Lips + Scalp

HATS + HAIR PROTECTION
Did you know approximately 13% of skin cancers are found on the scalp? When I found this out I was immediately terrified. It's so important we protect our scalp from the harsh sun be it with scalp SPF spray, an oversized floppy hat, or a trendy turban.
Beach Hats

Turbans

SUNGLASSES
Sunglasses are a must-have at the beach. Just as important as protecting our skin, we have to protect our eyes, too! Plus they help keep the sand out of your eyes!! I love my designer Dior sunglasses but I also have a variety of budget-friendly shades in my collection, too.
Designer

Budget-Friendly

BEACH TOWELS
Highly absorbent and compact, Turkish beach towels are great for rolling up and tucking them into your beach bag. The Dock & Bay beach towel is another best seller! Available in a variety of colors, these towels are a hit because of their quick drying and sand-proof qualities and fold up into a handy travel-friendly pouch.

SANDALS
Whether you are swimming or relaxing under an umbrella listening to crashing waves, you need jelly sandals. Comfortable, fashionable, and waterproof, they provide good traction on sand and are extremely easy to clean.

SWIM COVERUPS
Taking a swimsuit coverup in your beach bag allows you to go straight from the beach into brunch with ease!! If you're wearing a one-piece, simply throw on a wrap skirt or pair of flowy pants and go! Kaftans and dress coverups are great choices, too, for a more full-coverage look.
For those of you who may have missed it, we discussed our favorite swimwear options in our Ultimate Over 40 Swimwear Guide blog.

MISCELLANOUS ITEMS
Once you have the essentials covered, you can throw in a good book, a hand-held fan or a waterproof speaker for some fun beach tunes!! I love this water bottle with a secret compartment for your valuables!

BEACH BAG CHECK LIST
Save and print our handy Beach Bag Check List below so you never forget anything again!

SHESHE'S TIDBITS:
What do you like to take to the beach that I didn't include? We would love to know your beach packing secrets!!
Don't forget there are 2 more patriotic holidays this summer to prepare for!! Flag Day is June 14th and then, of course, the 4th of July. Shop our patriotic outfits guide HERE.
Be sure to check out our most recent blog posts on Trendy Shoe Must Haves – Summer Sandals + Flats + Sneakers, Versatile Memorial Day Sundresses You Can Strut All Summer Long, Bold & Patriotic Outfits to Honor the Brave, The Ultimate Over 40 Swimwear Guide, and How to Fabulously Wear Shorts Over 40.
*CHECK OUT MY INSTAGRAM SHOP TO SHOP ALL OF MY INSTAGRAM LOOKS
*YOU CAN ALSO DOWNLOAD THE LIKETOKNOW.IT APP AND FOLLOW ME ON IT BY CLICKING HERE. Go here for our LiketoKnow.It tutorial.
* STAY IN THE KNOW: SUBSCRIBE HERE to receive exclusive sale alerts, helpful style tips, and fabulous giveaways, AND GET ACCESS TO MY VIP ONLY FOR SUBSCRIBERS!
* Follow us on PINTEREST BY CLICKING HERE.