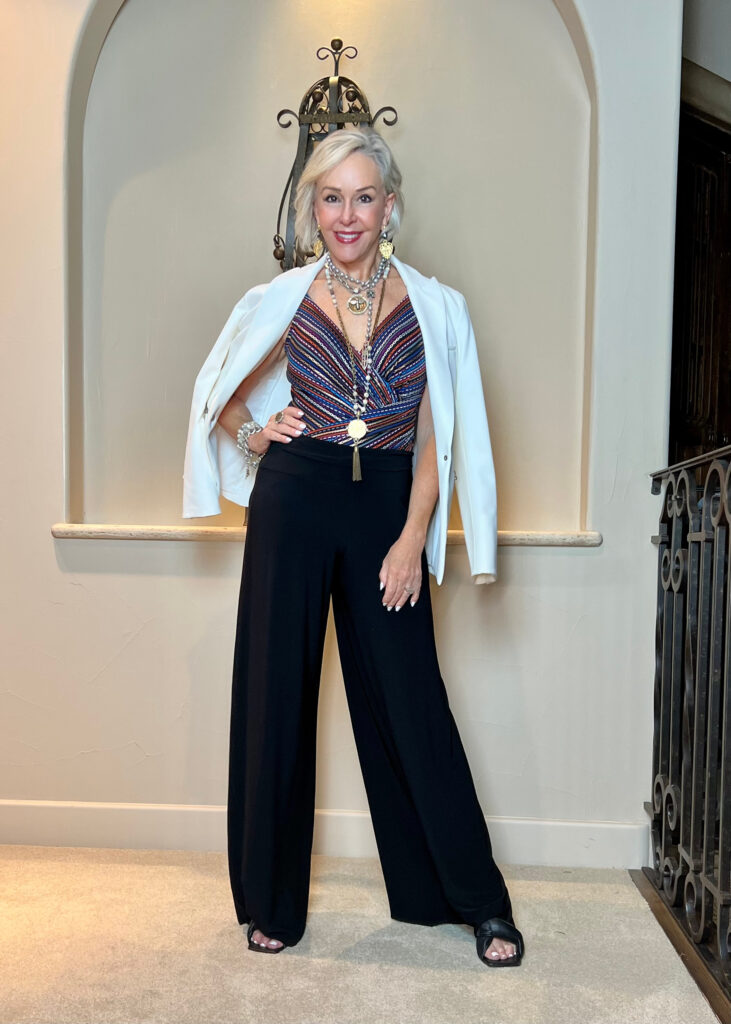 One-piece swimsuits have more uses than just for the beach or pool… they can be used as a bodysuit! Swimsuits aren't just "Plain Jane" anymore – you get all sorts of designs like cut-outs, bandages, mesh, halters, tubes, etc. which also means you have more outfit ideas to style up from your swimwear collection. Below, we share 5 ways to style your one-piece swimsuit to get the most bang for your buck!
…Sure, going to the bathroom might be a pain, but sometimes you have to make sacrifices for style 😉
I also have a trick for that! If there is a will there is a way.
Outfit Details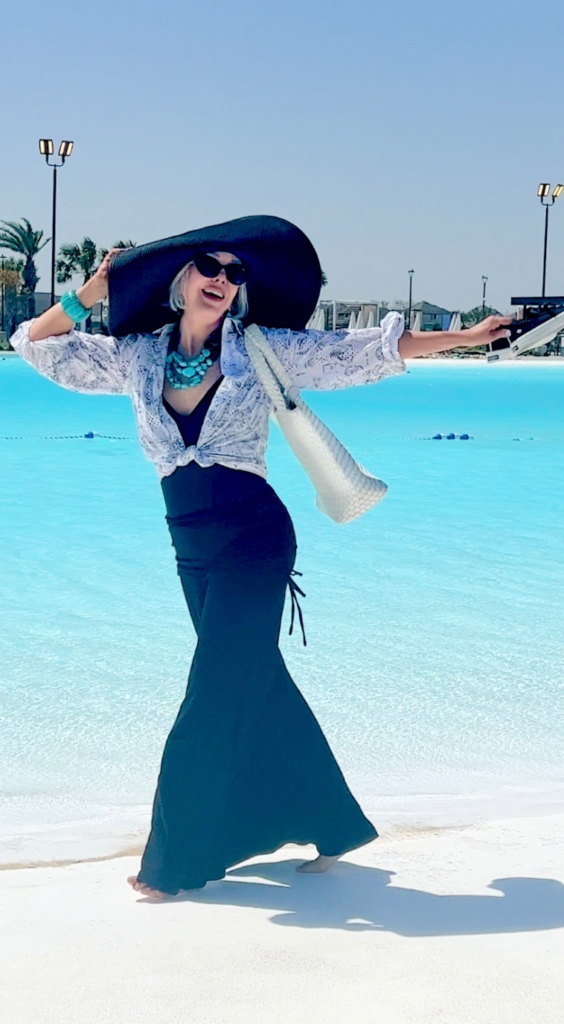 Outfit Details

Table of Contents
5 Ways to Style
1. With a Skirt
Bodysuits (or in this case, your swimsuit) always look great contrasted with a skirt, but be sure to consider the neckline and straps of your swimwear.
For example, if the skirt is more traditional and dressy, you might want to stick with a swimsuit that has a traditional set of straps, making it look like an actual tank top instead of a bodysuit.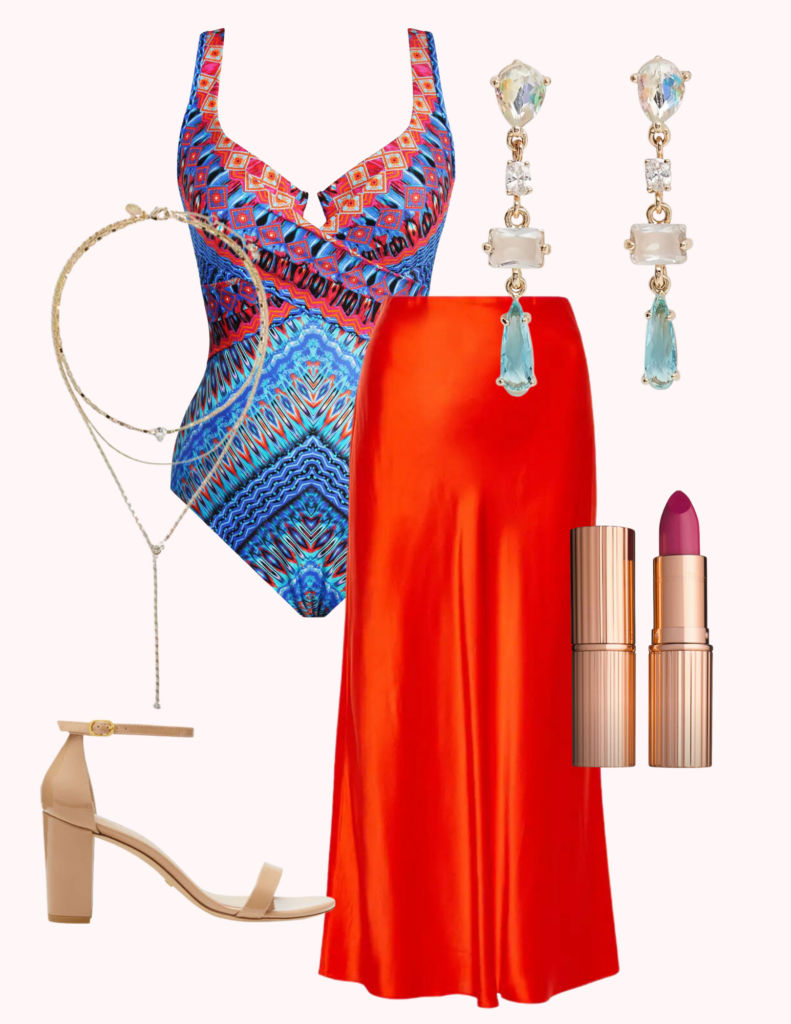 Alternatively, a skirt with a slit up one side could look incredible with a single-strap or an off-the-shoulder one-piece swimsuit. Add some dangly earrings and heeled sandals and you'll look fantastic for date night.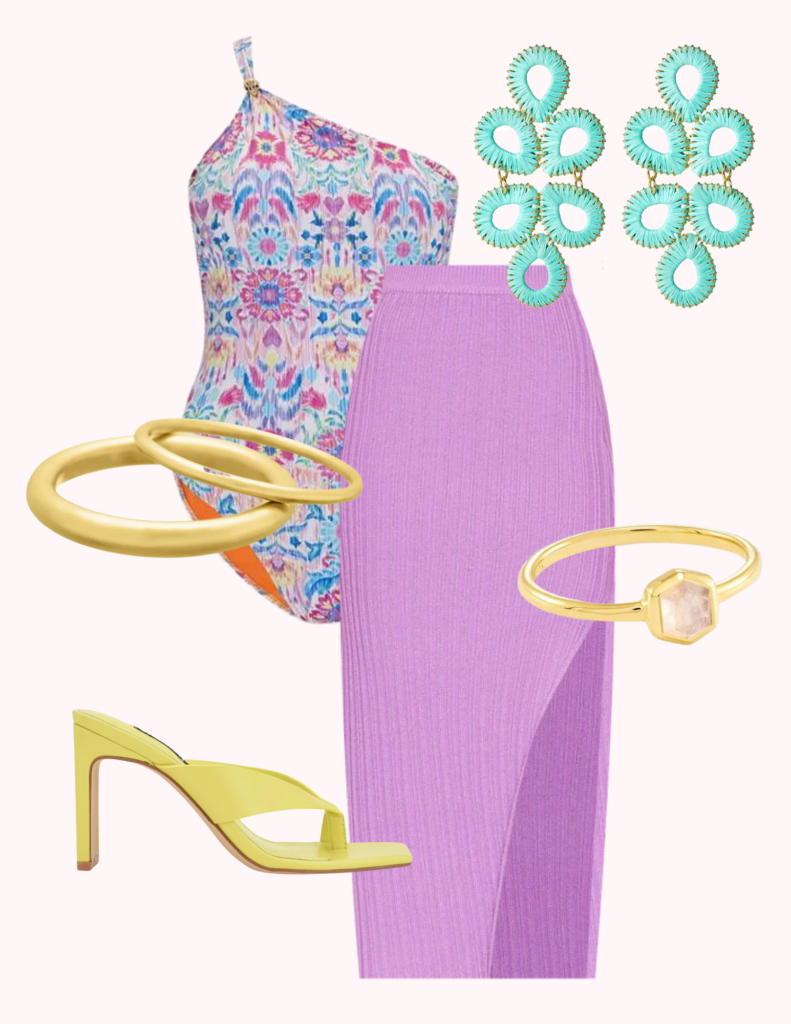 2. Under a Blazer
There's really no reason anyone has to know your "bodysuit" is actually a swimsuit when you wear it under a blazer or kimono. Pick a pant-suit set like this one from EXPRESS that is available in pink, green, gray and peach for an instant, effortless high-professional model look.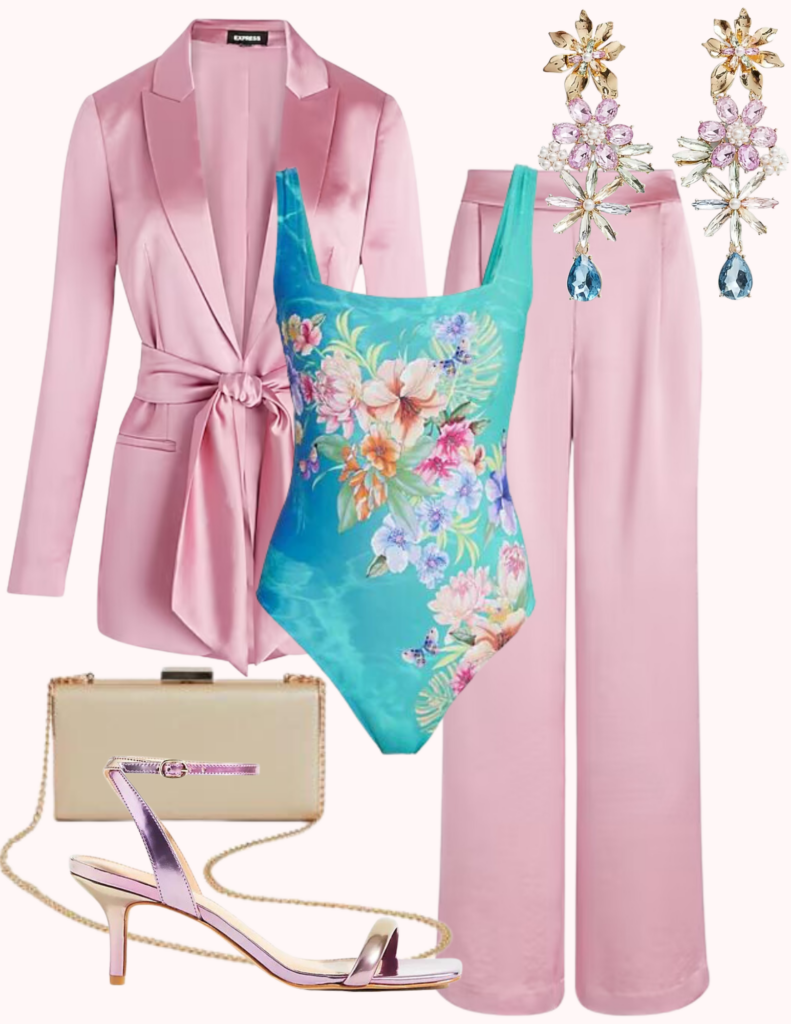 3. With Denim Jeans or Shorts
You can never go wrong with denim! This match-all fabric makes pairing your pseudo "bodysuit" a breeze! Jazz up a classic black swimsuit with bright accessories like these hot pink tassel earrings by Tara Grinna and trendy designer square sunglasses.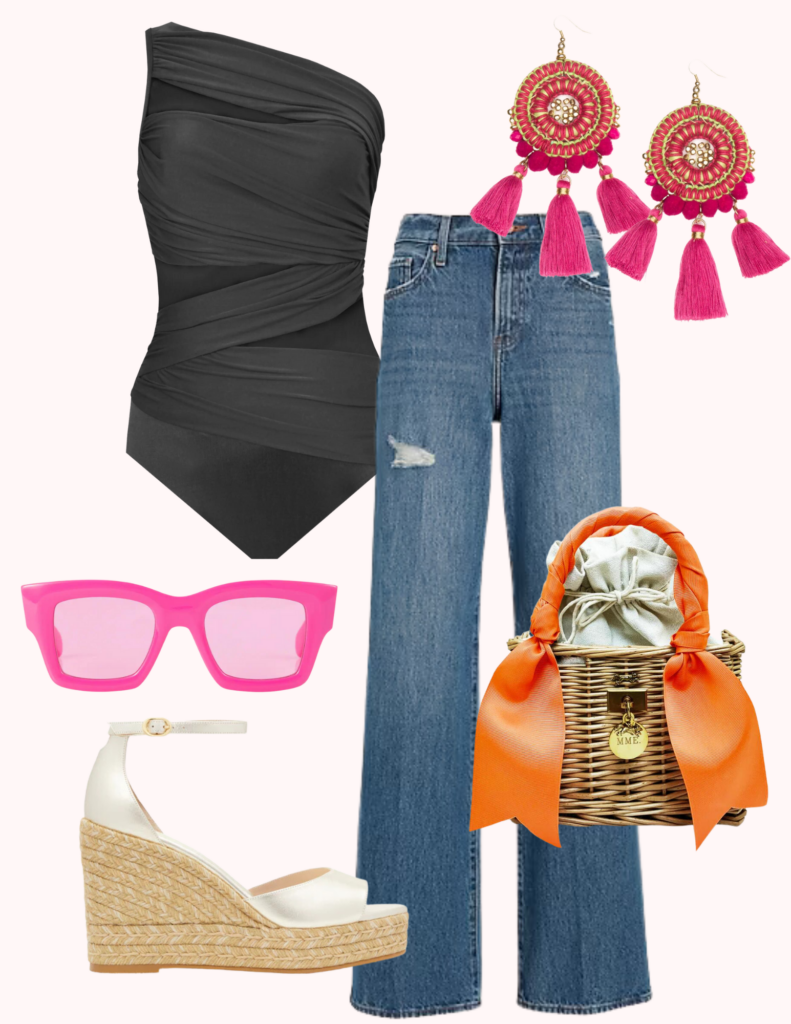 4. With White Bottoms
We recently published an entire blog on our Favorite White Bottoms for summer which go perfectly with bodysuits! The neutrality of white bottoms makes them easy to pair with multi-colored or patterned swimsuits like this feminine floral swimsuit by EXPRESS.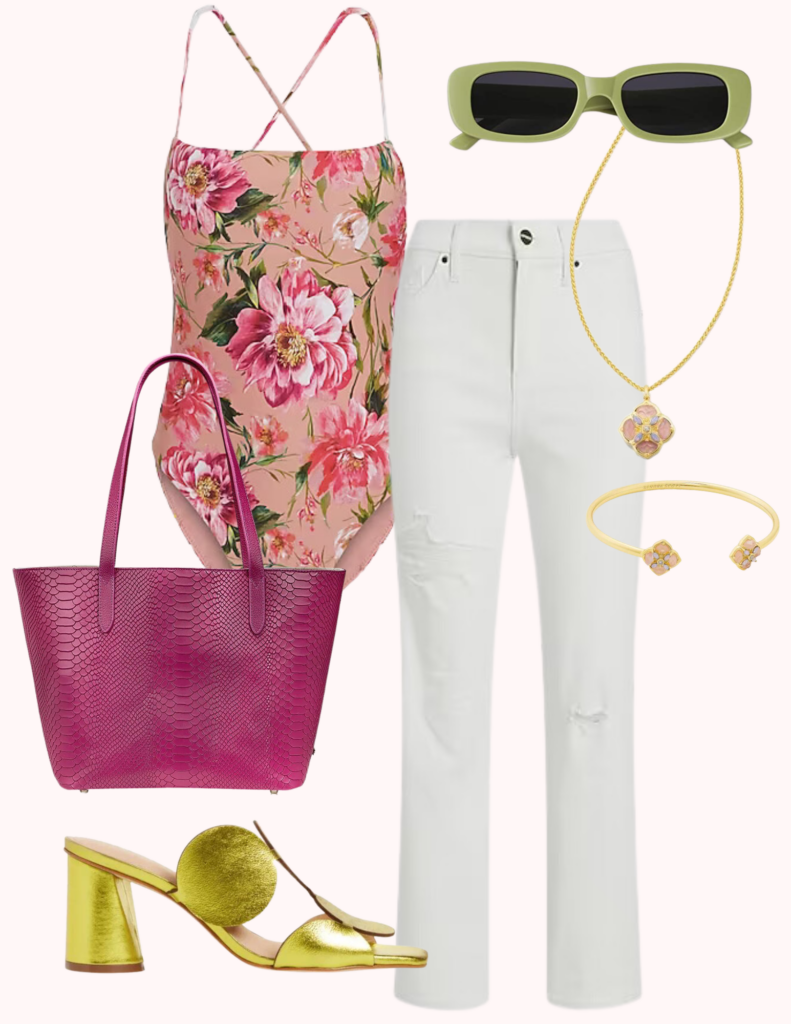 5. As a Patriotic Outfit
Use a red, white, or blue one-piece for a 4th of July outfit by pairing it with a pair of shorts in coordinating patriotic colors. Be sure to check out our recent blog post HERE for tons of USA-inspired accessories and outfit inspiration!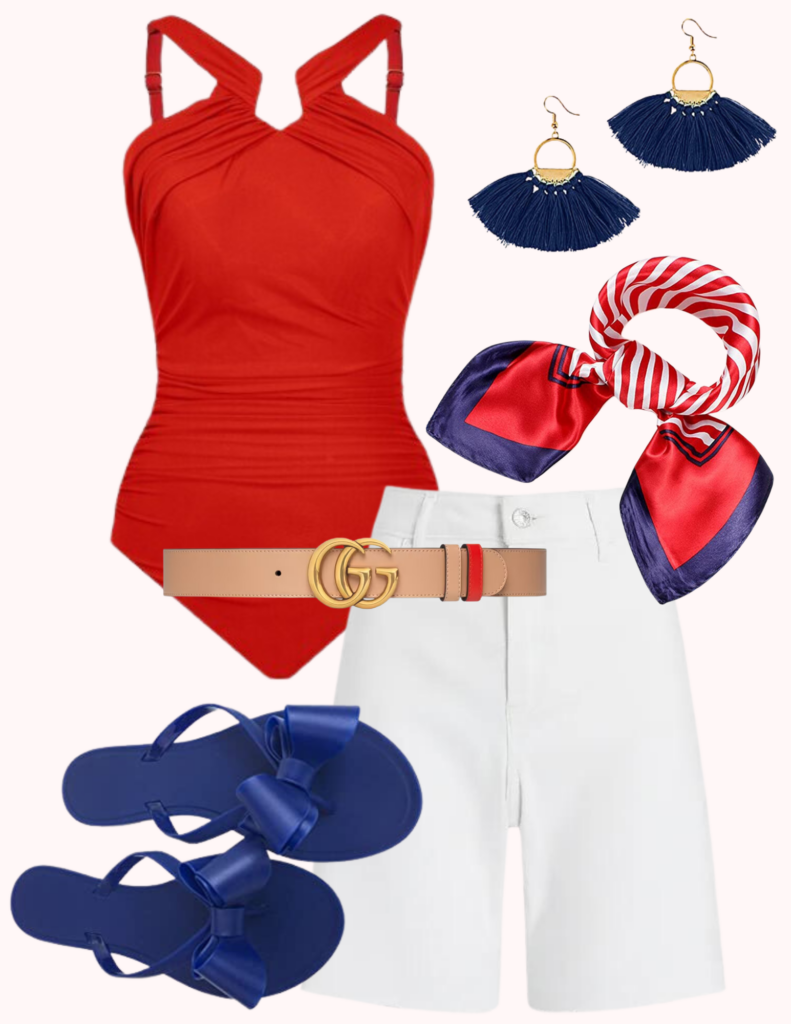 Letting your one-piece swimsuit double as a bodysuit is not limited to just the summer months – you can adapt the concepts above for almost any season with the appropriate layering, outerwear, and accessories! Repurposing items in your wardrobe is simply a smart and stylish way to make the most of the clothes you already have!

SHESHE'S TIDBITS:
Have you ever worn a one-piece as a bodysuit before? We'd love to see how you styled yours! Tag me in your photo on Instagram (@SheSheShow) with your best swimsuit "bodysuit" outfit for a chance to be featured on our IG story or the blog!!!
Don't forget there are 2 more patriotic holidays this summer to prepare for!! Flag Day is June 14th and then, of course, the 4th of July. Shop our patriotic outfits guide HERE.
Be sure to check out our most recent blog posts on What is in My Beach Bag | Beach Necessities 2023, Trendy Shoe Must Haves – Summer Sandals + Flats + Sneakers, Versatile Memorial Day Sundresses You Can Strut All Summer Long, Bold & Patriotic Outfits to Honor the Brave, The Ultimate Over 40 Swimwear Guide, and How to Fabulously Wear Shorts Over 40.
*CHECK OUT MY INSTAGRAM SHOP TO SHOP ALL OF MY INSTAGRAM LOOKS
*YOU CAN ALSO DOWNLOAD THE LIKETOKNOW.IT APP AND FOLLOW ME ON IT BY CLICKING HERE. Go here for our LiketoKnow.It tutorial.
* STAY IN THE KNOW: SUBSCRIBE HERE to receive exclusive sale alerts, helpful style tips, and fabulous giveaways, AND GET ACCESS TO MY VIP ONLY FOR SUBSCRIBERS!
* Follow us on PINTEREST BY CLICKING HERE.