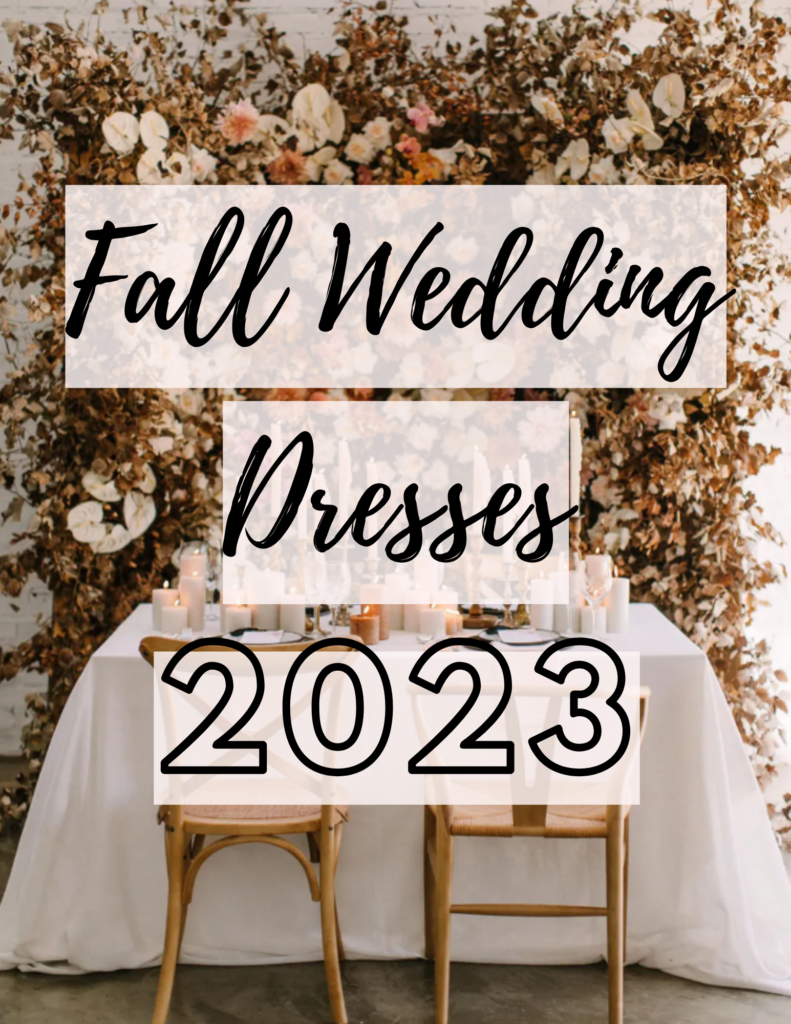 Have you been invited to a fall wedding this year? You've RSVP'd "yes!" and booked your stay, now what will you wear? No matter if it's a fall wedding for your best friend or for your grandkids, you'll want a dress that makes you feel like a tasteful attendee of the ceremony and a classy life-of-the-party at the reception. We have all the perfect styles you're looking for, for every type of wedding this fall.
Table of Contents
BEACH | DESTINATION FALL WEDDING


Have you been invited to a destination fall wedding? Beach weddings are very popular this time of year and a great time to pull out those colorful dresses.. How cute is this hybiscus floral midi dress?! I can totally see this colorful Farm Rio midi dress for a beach wedding destination in Mexico.
CASUAL | DAYTIME FALL WEDDING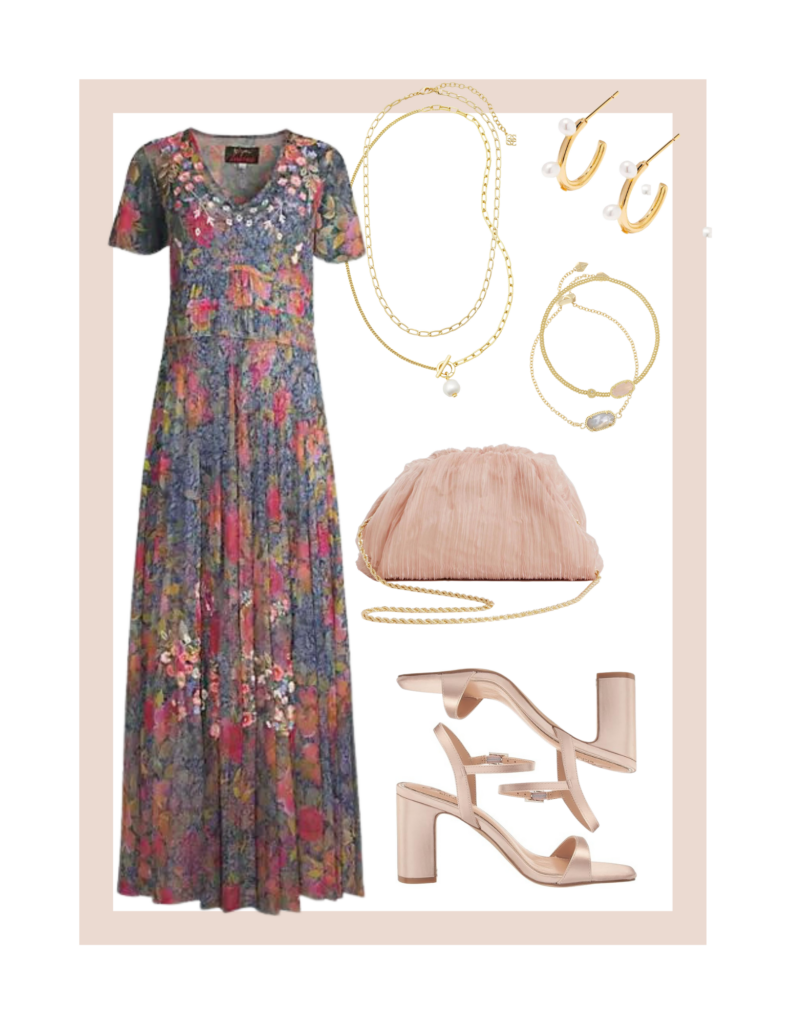 SHOP THE PHOTO

SHOP CASUAL DAYTIME DRESSES

Not sure what to wear to a casual/daytime wedding? They are usually from 10 AM to 3 or 4 PM. Think about what you would wear to church on Sunday or brunch at a nice restaurant. Choose a nice suite or a casual dress like this red Chico's lace tiered midi dress, or this gorgeous floral and cinnamon pleated dress.
FORMAL FALL WEDDING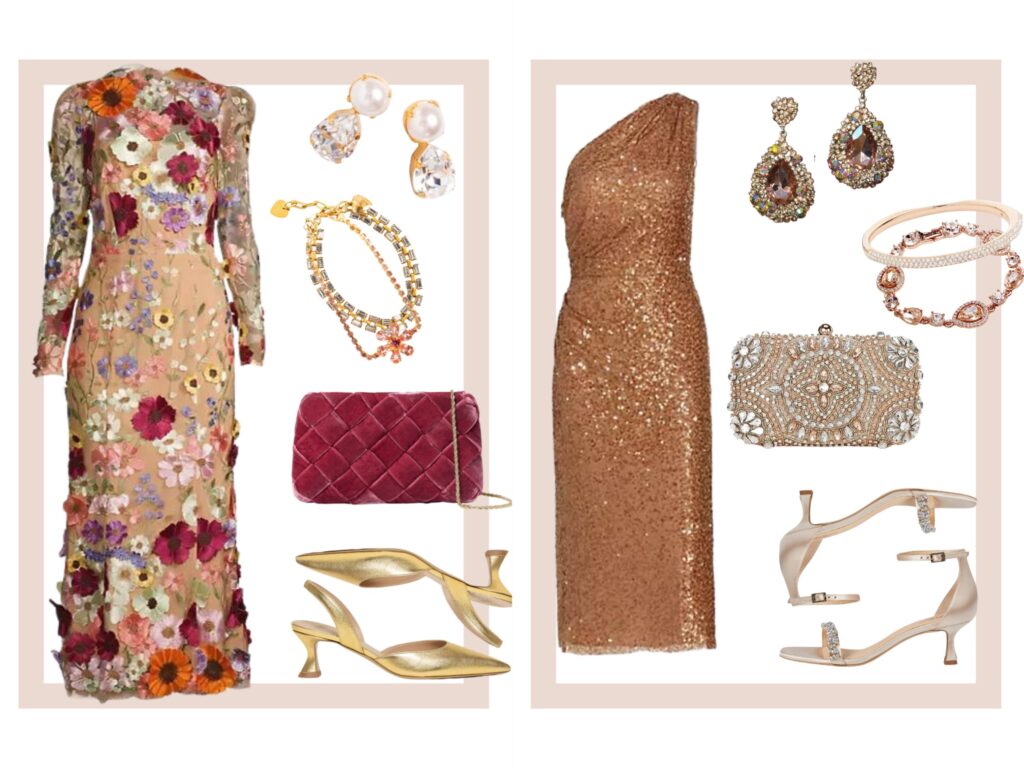 SHOP THE PHOTOS


SHOP ALL FORMAL DRESSES

A formal wedding is normally at 7 or after. Black tie is usually a later wedding and guests dresses don't need to lack color or personal style. Choose a floor-sweeping black and gold shimmer gown, a stand-out pink sequin dress, or opt for a stunning a-symmetrical one sleeve maxi dress. or a more of-the-moment ensemble. Unsure of how to accessorize black tie event dresses? Consider sparkly drop earrings, a chic updo, a rhinestone necklace and a formal clutch.
COCKTAIL DRESSES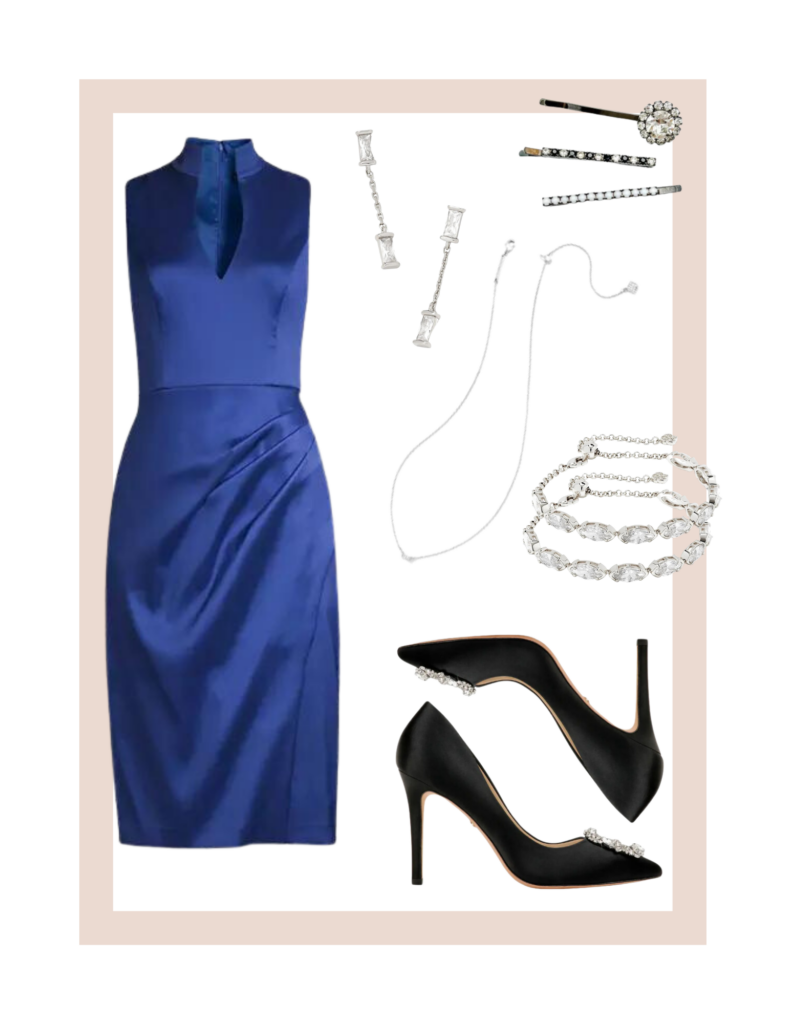 SHOP THE PHOTO

SHOP COCKTAIL DRESSES

A bride can request cocktail attire any time of the day so there are so many options. Midi dresses are a timelessly ladylike option – choose one with of-the-moment Blouson-sleeves, or consider a ruffled A-line midi dress like this begonia one. Don't forget some beautiful statement shoes, but remember they must be comfortable if you love to dance!!
FALL WEDDING SHOES


FALL WEDDING ACCESSORIES


SHOP THE FALL WEDDING BOUTIQUE

SHESHE'S TIDBITS
Happy October, Happy Fall and Happy Halloween!!!
If you missed it, check out our 3 Spooky Stylish Halloween Decor Themes blog HERE.
Did you read My 4 Skincare Must Haves? Check it out HERE if so to learn about the NO!NO!, Dermawand and more! I have a discount code for you to save!
The Ultimate FALL CAPSULE 2023 by SheShe has been trending!!! Don't miss out on my favorite picks and outfit combos for this fall season!! Read HERE!!
Be sure to check out our most recent blog posts on The Best of Fall Decor 2023, 4 Ways to Style a Denim Jacket, 5 Styles of Transitional Dresses for an Effortless Seasonal Change, The Classic Button Front Shirt, 4 Ways to Dial-Up Denim, Luxury Luggage for Every Budget, 
*CHECK OUT MY LTK INSTAGRAM SHOP TO SHOP ALL OF MY INSTAGRAM LOOKS
*YOU CAN ALSO DOWNLOAD THE LIKETOKNOW.IT APP AND FOLLOW ME ON IT BY CLICKING HERE. Go here for our LiketoKnow.It tutorial.
* STAY IN THE KNOW: SUBSCRIBE HERE to receive exclusive sale alerts, helpful style tips, and fabulous giveaways, AND GET ACCESS TO MY VIP ONLY FOR SUBSCRIBERS!
* Follow us on PINTEREST BY CLICKING HERE.
ABOUT SHESHE SHOW
WELCOME new readers. We are a fashion/travel/lifestyle blog that focuses on the midlife woman. We talk about anything and everything, from fashion, travel, health issues, and skincare tips, to even an occasional recipe. Let us know if there is a topic that interests you. We will do our best to bring that story to you.
Be sure to check out the Shop SheShe tab at the top of the menu bar. Hover over and choose the category in the dropdown. We try to keep it up to date with the latest and greatest for all budgets.