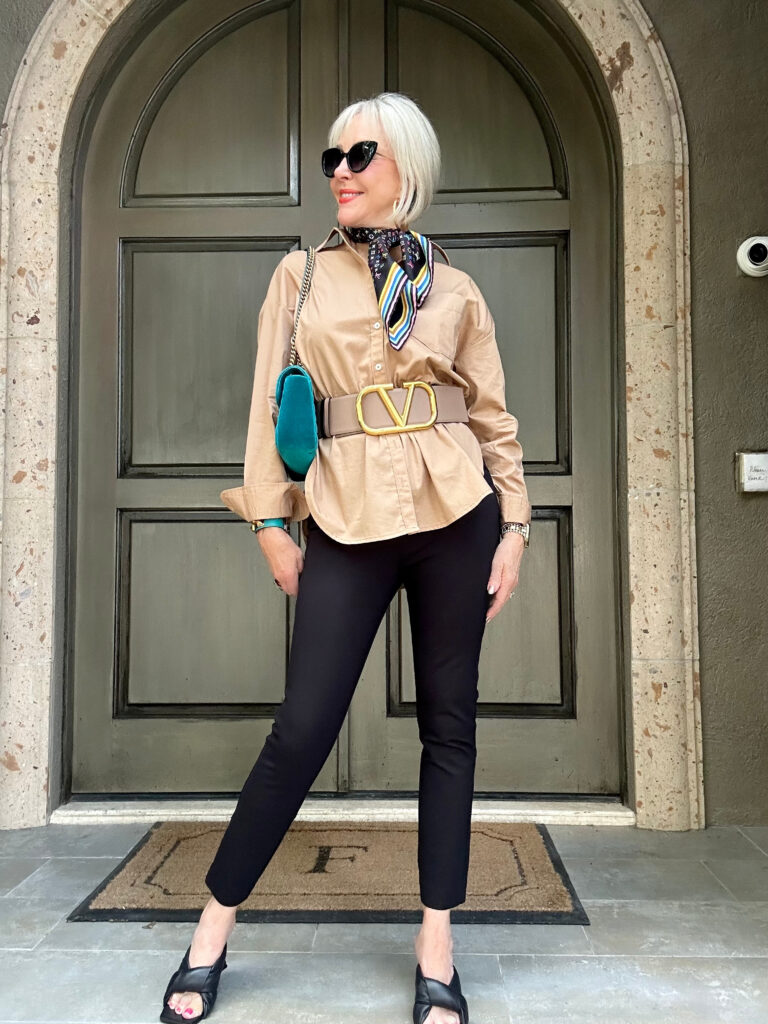 Whether you call it a "Button Up," "Button Down," "Button Front," or the "Boyfriend shirt," a classic button front shirt is a versatile wardrobe staple that you can style for date night, brunch, running errands, and everything else on your calendar in between. This closet must-have is always in style, but this year it's trending EXTRA. The trend is real and it is here to stay. Today we are sharing how to style our favorite classic button down shirts 5 different ways.
SHOP THE PHOTO

Table of Contents
First, let's start by shopping all our favorite button-front shirts before we move on to styling them…
SHOP CLASSIC WHITE + IVORY

SHOP SOLIDS

SHOP PATTERNED

5 WAYS TO STYLE THE CLASSIC BUTTON FRONT SHIRT
1. WITH BOYFRIEND JEANS OR JEAN SHORTS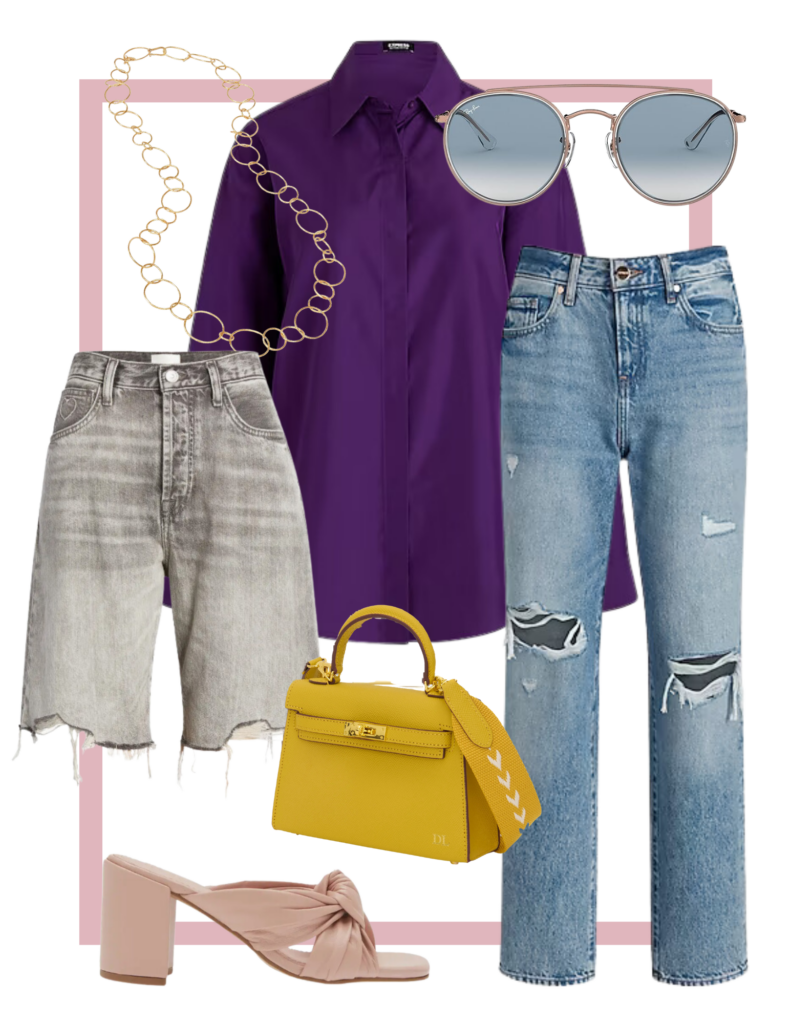 SHOP THE PHOTO

Boyfriend or cargo jeans with a boyfriend shirt?? Sounds right to me!! And it is!! For those of you who don't already know, the "boyfriend" trend basically means the outfits that seem to be borrowed from boyfriends…
For example, boyfriend jeans are usually relaxed fit and might even be ripped while the traditional boyfriend shirt is a little more oversized and usually a slightly more masculine cut rather than a more slim-fit standard women's button front shirt.
Check out our recent post on How to Fabulously Wear Shorts Over 40 for more of our favorite denim jean shorts!
SHOP BOYFRIEND SHIRTS

SHOP BOYFRIEND JEANS + SHORTS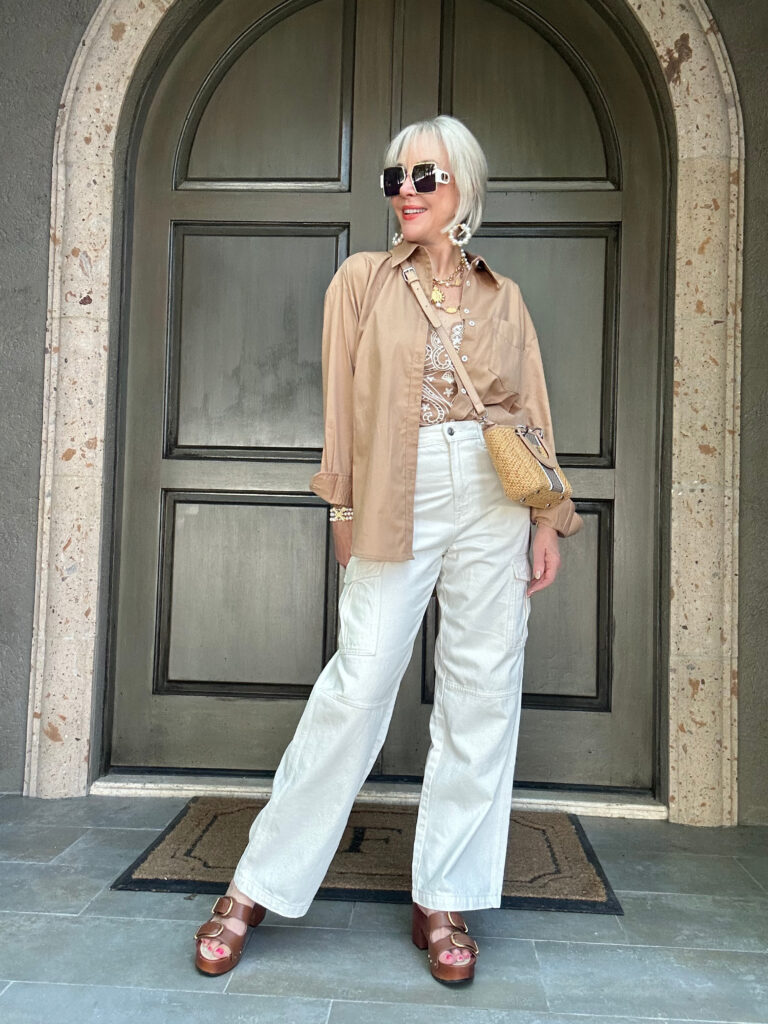 2. CINCHED UP WITH A BELT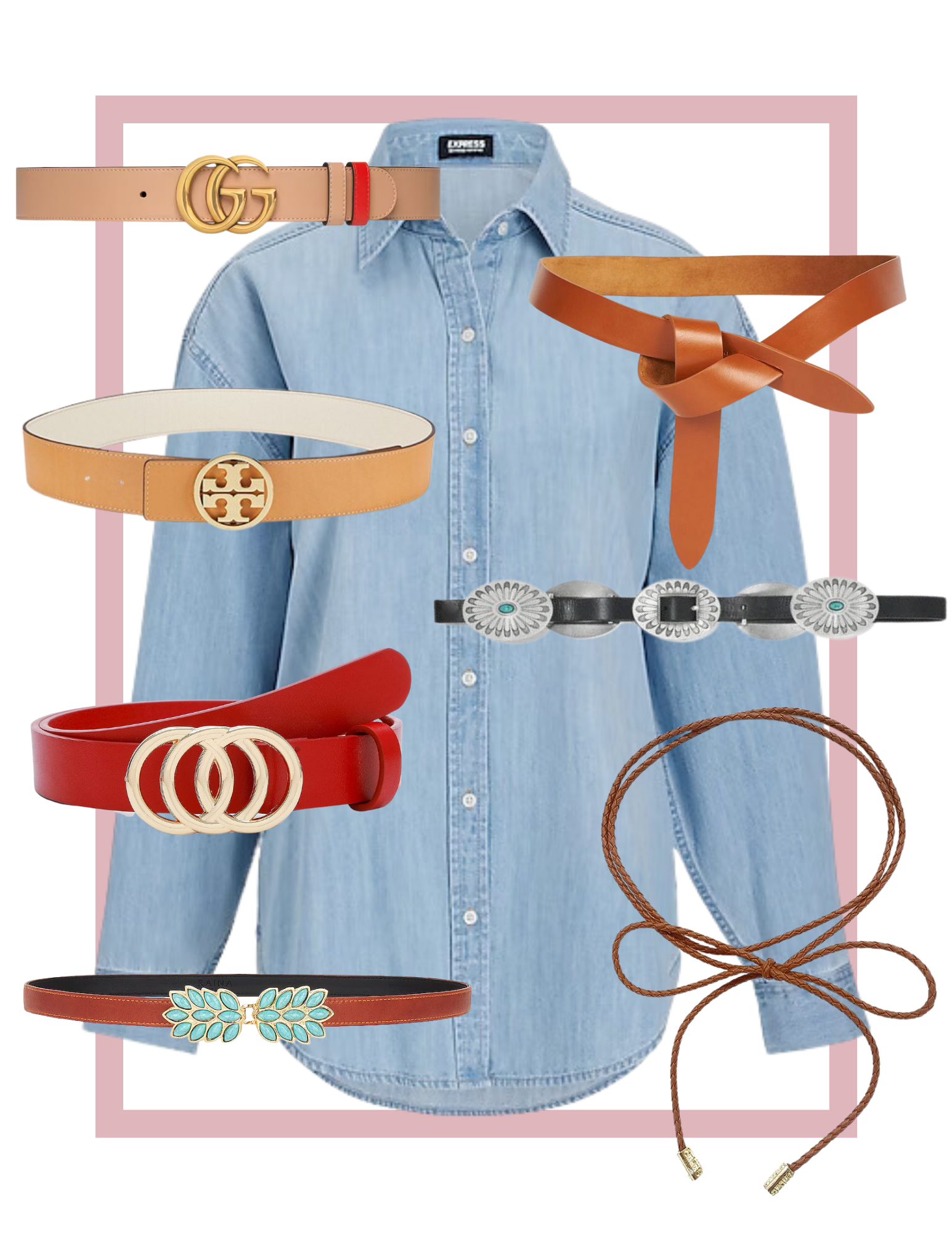 From brunch outfits to chic fashionista-approved looks, you'll see we really can't stop raving about the versatility of the button-front shirt. Here's another glamorous example: wear your button-front shirt cinched at the waist with a belt.
Opt for a slightly oversized boyfriend cut and cinch it at the waist with a belt of your choosing – skinny or extra wide! Wear over skinny trousers like these SPANX Slim Straight Pants or these caramel faux suede leggings.
We recommend open-toed sandals or strappy block-heeled sandals for your footwear this season or heeled booties like these gorgeous studded ones or an over-the-knee boot as we head into fall and winter.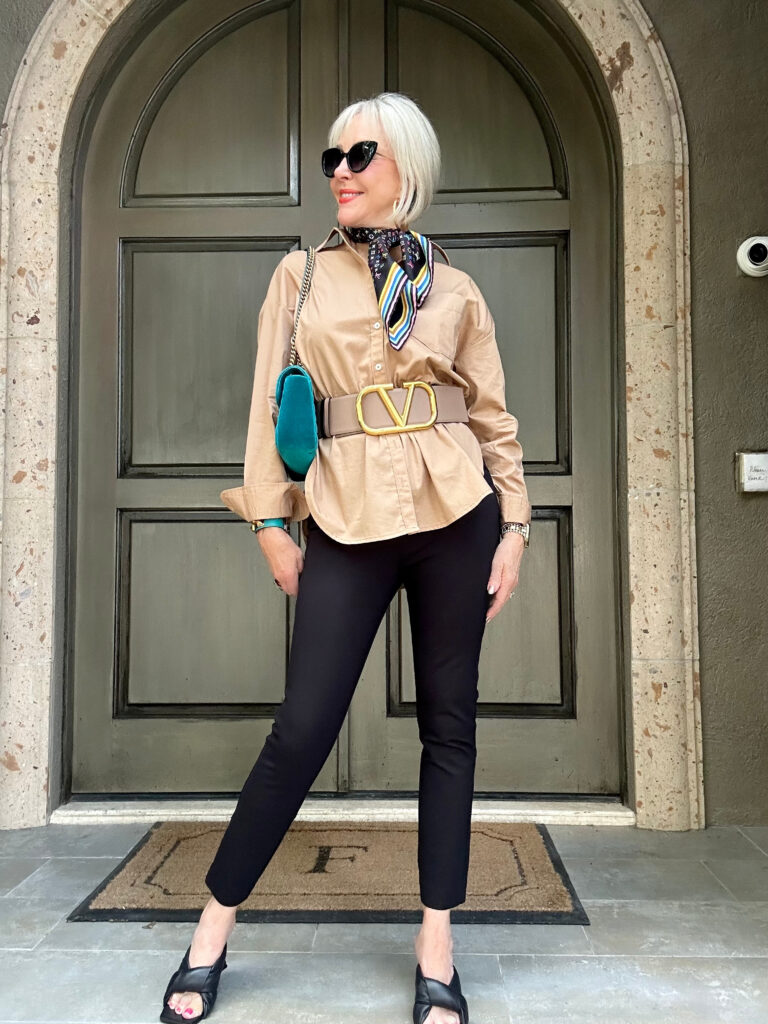 SHOP MY LOOK

SHOP BELTS

3. UNBUTTONED + KNOTTED OVER A DRESS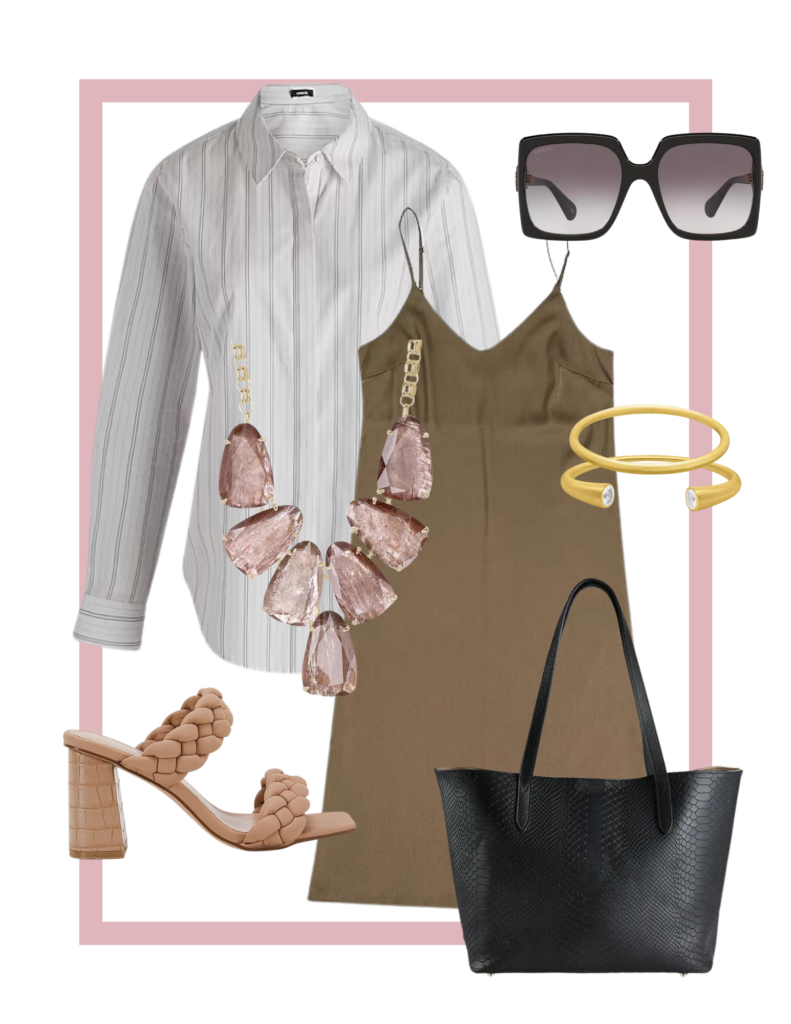 SHOP THE PHOTO

A cute and trendy way to wear a shirt over a dress is to knot it in the front. This can be done with any type of shirt but looks especially good with a button-front shirt. Just put on the shirt, then knot it in the front – easy as that!
SHOP DRESSES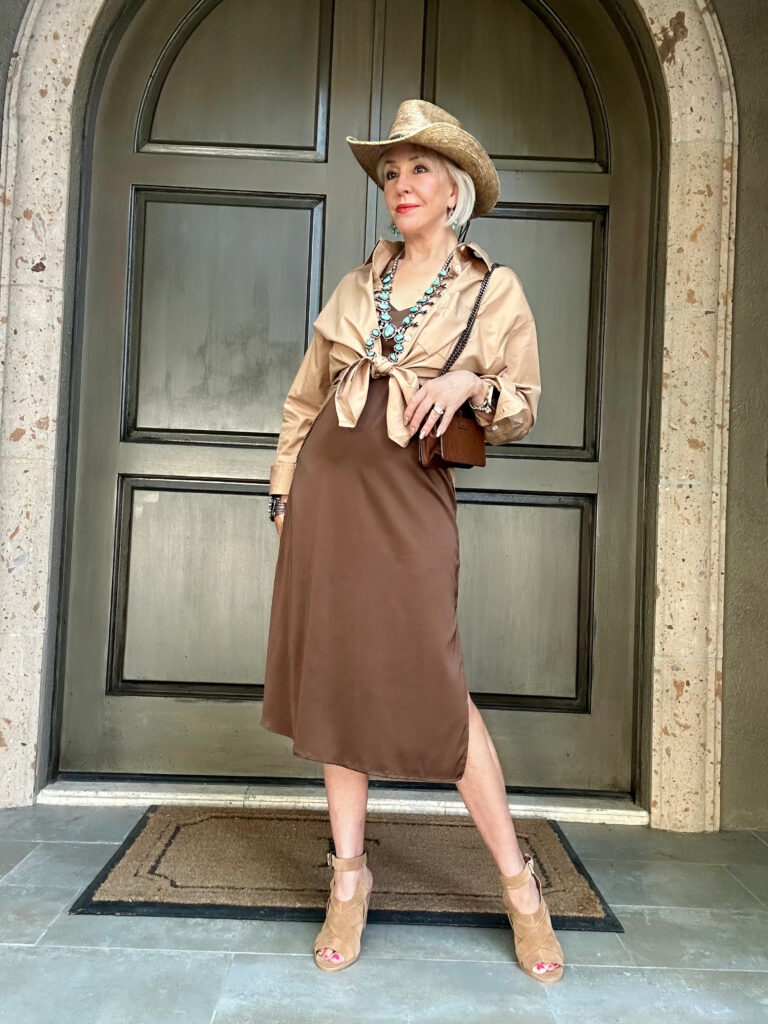 SHOP MY LOOK

4. WITH A COLLAR OR STATEMENT NECKLACE
The look below is very similar to our recent post on 4 Ways to Dial-Up Denim – check it out for other ways to dress up this EXPRESS rhinestone button boyfriend shirt that's currently on sale for $27.00 (originally $54)!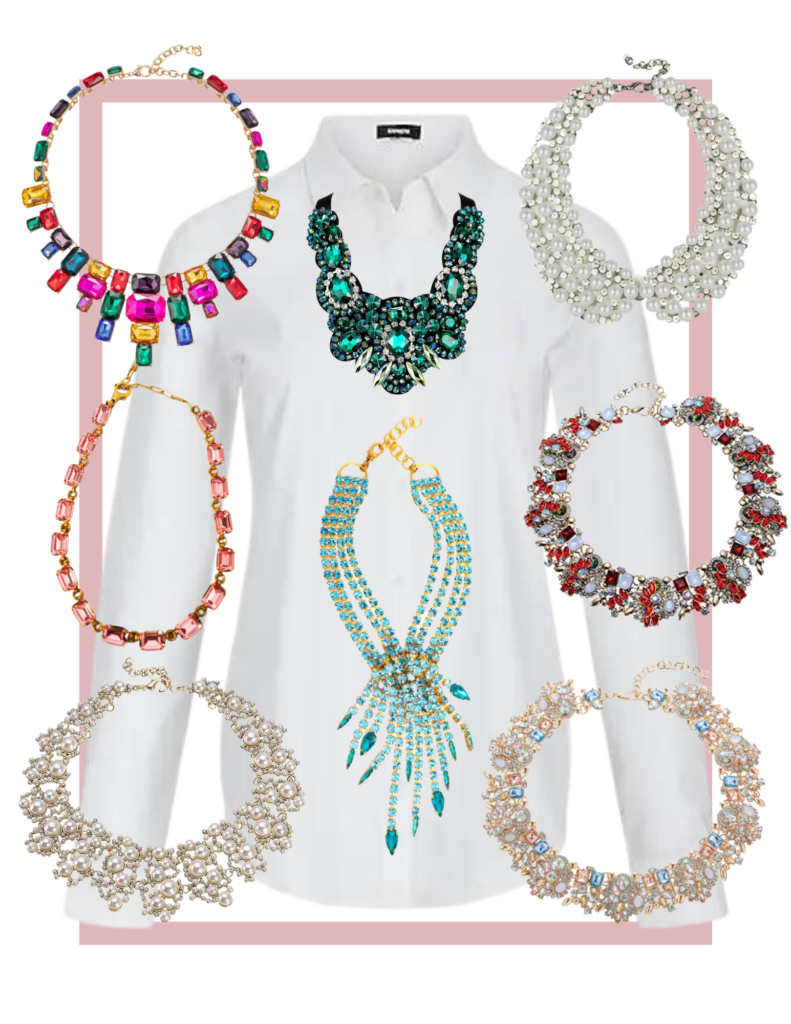 It might sound weird to add a collar onto a collar, but bib or collar necklaces look preppy and pretty when a button-front shirt is done up right to the top and a collar necklace is looped around and under the tips so that it peeks out the front.  Don't want to button your shirt all the way up? A collared or statement necklace looks uber-pretty tucked inside as well and can tone down its bold appearance.
Lately, I've been ooo-ing and aww-ing over Elizabeth Cole Jewelry, specifically her statement necklaces like this eye-catching blue and turquoise alternating pear stone necklace and this gunmetal crystal necklace.
SHOP COLLAR + STATEMENT NECKLACES

5. WEAR IT LONG OVER LEGGINGS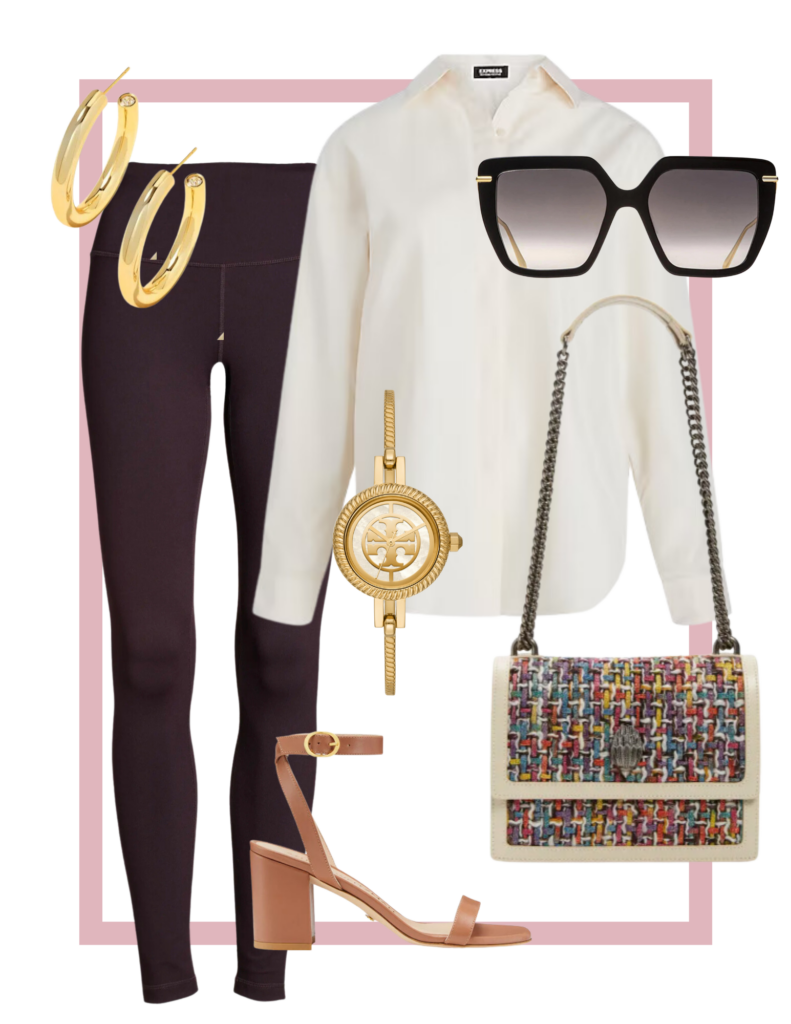 DRESSY LEGGINGS LOOK
Now, who wouldn't love to wear some leggings and heels and call it a day? This is a dressier look that maybe you would not normally put together. But we do love our versatility. By this point, we hope you do, too!
Throw on your favorite pair of leggings and top it off with this long white button front shirt. The long length should cover the seems of your leggings. Roll up the sleeves but keep your buttons done up. Opt for heels and a small tote purse with sunglasses for your accessories.
SHOP THE PHOTO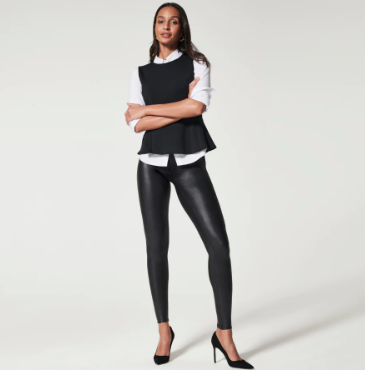 SHOP THE PHOTO

CASUAL LEGGINGS LOOK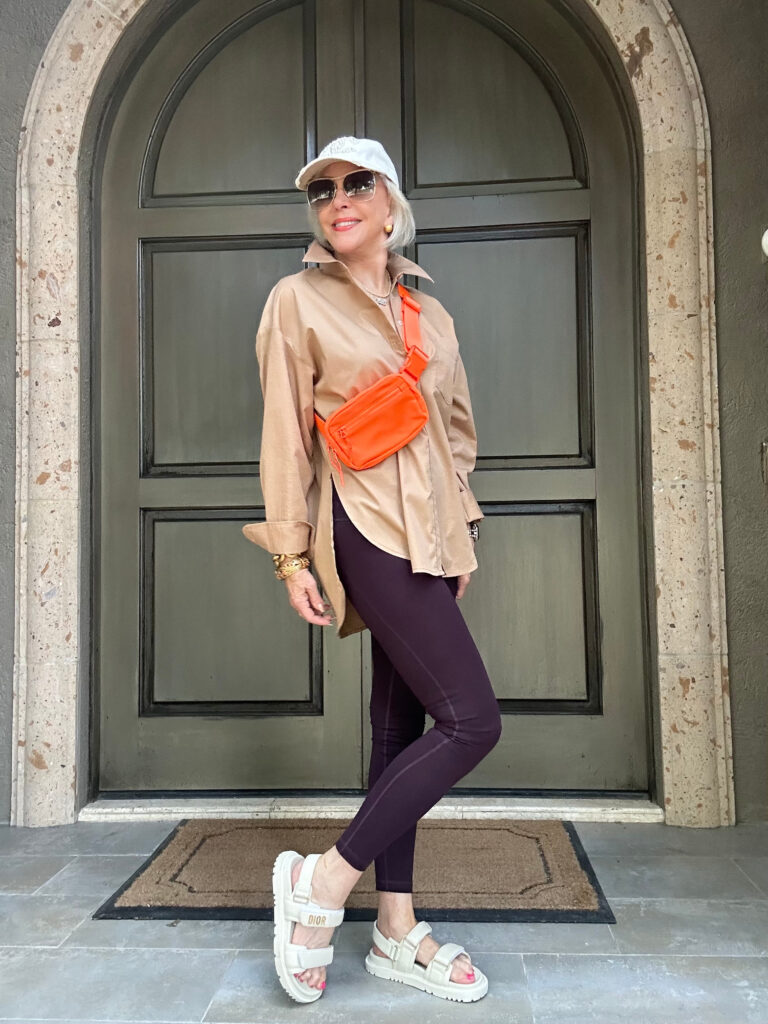 SHOP MY LOOK

For a casual, daytime errands outfit, pair your favorite long boyfriend shirt with…you guessed it –leggings!! Throw on some buckle sandals, strap on your favorite belt bag, a ball cap, some sunnies, and hit the streets! For a jean look but a leggings feel, check out these SPANX jean-ish leggings in white, black, and denim options!
SHOP LEGGINGS

SHOP BUCKLE SANDALS

SHOP BELT BAGS

SHESHE'S TIDBITS:
Hi darlings,
Just a reminder that the NSale ends August 6th and prices will skyrocket back up so don't miss out on our favorites we listed in the Best of Beauty NSale Buys and Simplifying the Nordstrom Sale + NSale 2023 Picks!!
Be sure to check out our most recent blog posts on TRENDING Barbiecore | 4 Ways to Wear the Best of Barbie Fashion, Best of Beauty NSale Buys, Simplifying the Nordstrom Sale + NSale 2023 Picks, What You Need to Know About the Nordstrom Anniversary Sale 2023, Festive 4th of July Fashion 2023 | Summer Fashion Fun, 4 Ways to Dial Up Denim, Luxury Luggage for Every Budget,
Must-Have Summer Handbags, 5 Ways to Style Your One-Piece Swimsuit As A Bodysuit, What is in My Beach Bag | Beach Necessities 2023, Trendy Shoe Must Haves – Summer Sandals + Flats + Sneakers, and How to Fabulously Wear Shorts Over 40.
*CHECK OUT MY LTK INSTAGRAM SHOP TO SHOP ALL OF MY INSTAGRAM LOOKS
*YOU CAN ALSO DOWNLOAD THE LIKETOKNOW.IT APP AND FOLLOW ME ON IT BY CLICKING HERE. Go here for our LiketoKnow.It tutorial.
* STAY IN THE KNOW: SUBSCRIBE HERE to receive exclusive sale alerts, helpful style tips, and fabulous giveaways, AND GET ACCESS TO MY VIP ONLY FOR SUBSCRIBERS!
* Follow us on PINTEREST BY CLICKING HERE.