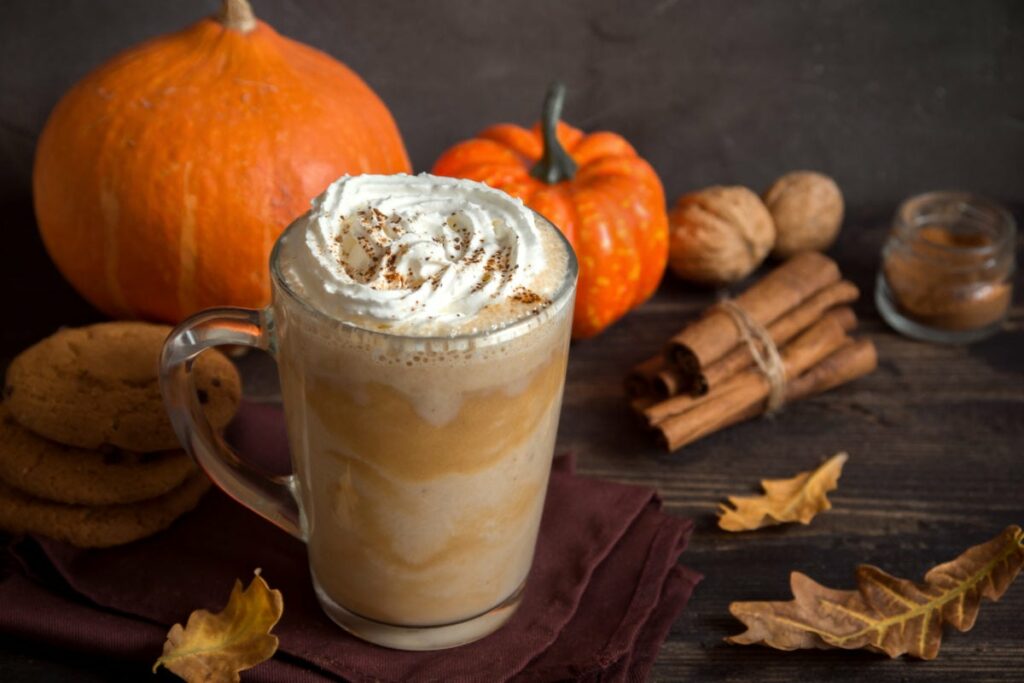 The words "pumpkin spice" either make your mouth water or your eyes roll. Surprisingly and quite hilariously, the "pumpkin spice" (or PS for short) topic can be rather controversial. People either love it while others think the obessive craze is completely overrated. I freely admit I happen to like pumpkin spice, so today we are sharing all things pumpkins spice and everything nice! From food, skincare and homegoods to even dog shampoo and trashbags, we've got you covered on everything you could ever need or want in pumpkin spice this fall!
Table of Contents
PUMPKIN SPICE EVERYTHING
COFFEE + TEA
According to this Mason Dixie article, "The big boom of pumpkin spice truly came in the 1990s with the launch of the PSL (Pumpkin Spice Latte) by Starbucks. After its launch, pumpkin-flavored everything started to pop up, further fueling America's obsession." You can make a cup of Starbucks Pumpkin Spice Coffee, mix in some Pumpkin Spice Creamer and Skinny Zero Calorie + Zero Sugar PSL syrup, and serve it in your own Custom Reusable Starbucks Cup for a delightful at-home PSL experience!

COFFEE CREAMERS + SYRUPS

EATS
For the pumpkin spice obsessed, you can have PS Cheerios or fluffy Waffles (with accompanying PS maple syrup!) for breakfast, a PSL protein bar for a mid-day snack, and finish your evening with this 4-Layer Pumpkin Spice Cake or bake some PS cookies for dessert!

SCENTS
Candles and room sprays are one of my favorite was to incorporate PS into my home. I love Voluspa candles because they are stong, yet not overpowering and come in beautiful jars. Luck for me, they have a gorgeous PSL candle and a complete PSL Candle + Diffuser Colletction Set, too.

BEAUTY + SKINCARE
Marthastewart.com says, "According to Dr. Engelman, pumpkin enzymes are alpha-hydroxy acids (AHAs) that encourage skin gentle exfoliation. They also contain vitamin A to stimulate collagen production and antioxidant vitamin C, which tones and brightens the complexion. Zinc is yet another component; it can balance oil and reduce breakouts." I recommend this Peter Thomas Roth Pumpkin Enzymatic Dermal Resurfacer which is rated 4.7 Stars on Sephora.com and this PSL Whipped Soap and Whipped Body Butter look divine!

GIFT BASKETS
Know someone with a Pumpkin Spice obsession? What better gift than this Harry & David Pumpkin Spice and Everything Nice gift basket or this PS Spa Bath gift set!

HOMEGOODS + DECOR + FASHION
From Pumpkin Spice All-Purpose Cleaners to scented trashbags, you can have PS flowing all throughout your home!

PETS
Who knew they even made Pumpkin Spice dog treats, pet collars, or Halloween costumes?!? Well, the do…. Admittedly, this Pumpkin Spice dog cologne spray did catch my eye. 😉

SHOP THE PUMPKIN SPICE BOUTIQUE

SHESHE'S TIDBITS
Happy PSL Season!!! Ohhh, and I suppose….Happy October, Happy Fall and Happy Halloween, too!!! 😉
If you missed it, check out our Best Fall Wedding Guest Dresses of 2023 blog HERE.
Did you read My 4 Skincare Must Haves? Check it out HERE if so to learn about the NO!NO!, Dermawand and more! I have a discount code for you to save!
The Ultimate FALL CAPSULE 2023 by SheShe has been trending!!! Don't miss out on my favorite picks and outfit combos for this fall season!! Read HERE!!
Be sure to check out our most recent blog posts on The Best Fall Gardening Tip + Tools 2023, 3 Spooky Stylish Halloween Decor Themes, The Best of Fall Decor 2023, 4 Ways to Style a Denim Jacket, 5 Styles of Transitional Dresses for an Effortless Seasonal Change, The Classic Button Front Shirt, 4 Ways to Dial-Up Denim, Luxury Luggage for Every Budget,
*CHECK OUT MY LTK INSTAGRAM SHOP TO SHOP ALL OF MY INSTAGRAM LOOKS
*YOU CAN ALSO DOWNLOAD THE LIKETOKNOW.IT APP AND FOLLOW ME ON IT BY CLICKING HERE. Go here for our LiketoKnow.It tutorial.
* STAY IN THE KNOW: SUBSCRIBE HERE to receive exclusive sale alerts, helpful style tips, and fabulous giveaways, AND GET ACCESS TO MY VIP ONLY FOR SUBSCRIBERS!
* Follow us on PINTEREST BY CLICKING HERE.
ABOUT SHESHE SHOW
WELCOME new readers. We are a fashion/travel/lifestyle blog that focuses on the midlife woman. We talk about anything and everything, from fashion, travel, health issues, and skincare tips, to even an occasional recipe. Let us know if there is a topic that interests you. We will do our best to bring that story to you.
Be sure to check out the Shop SheShe tab at the top of the menu bar. Hover over and choose the category in the dropdown. We try to keep it up to date with the latest and greatest for all budgets.