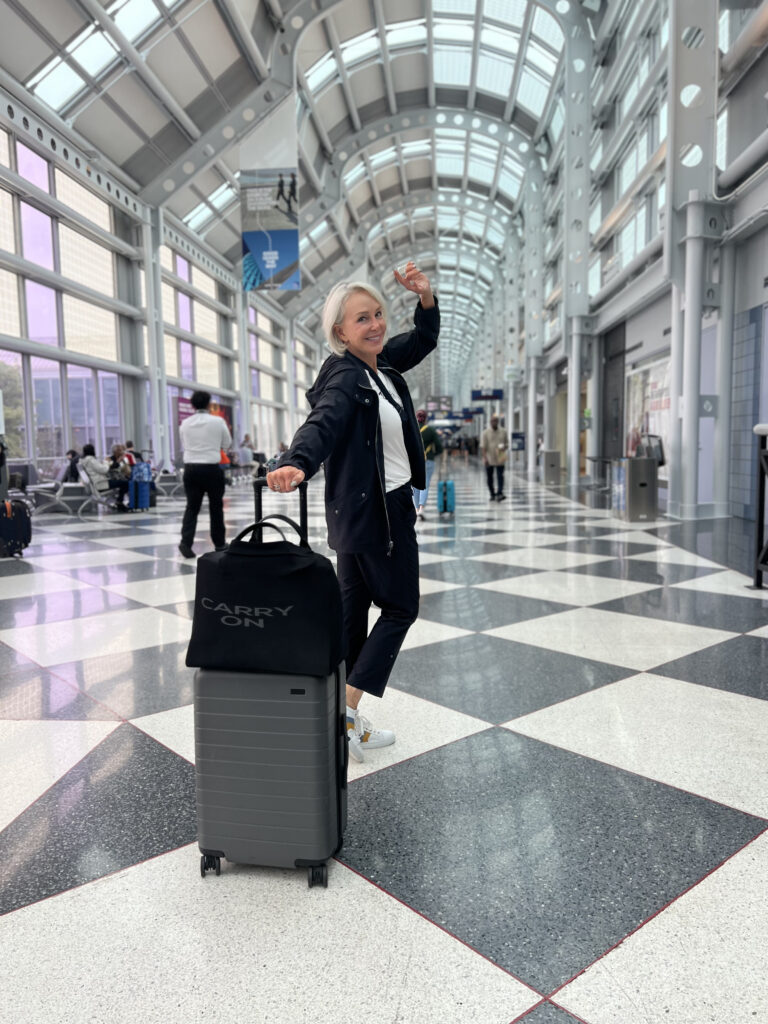 Summer is the time to travel to new and exciting places! From vacations to visiting family, most of us find ourselves in an airport or all packed up on the road at some point in the summer. Today we are sharing our favorite luxury travel luggage including suitcases, carry-ons, and toiletry bags for every budget.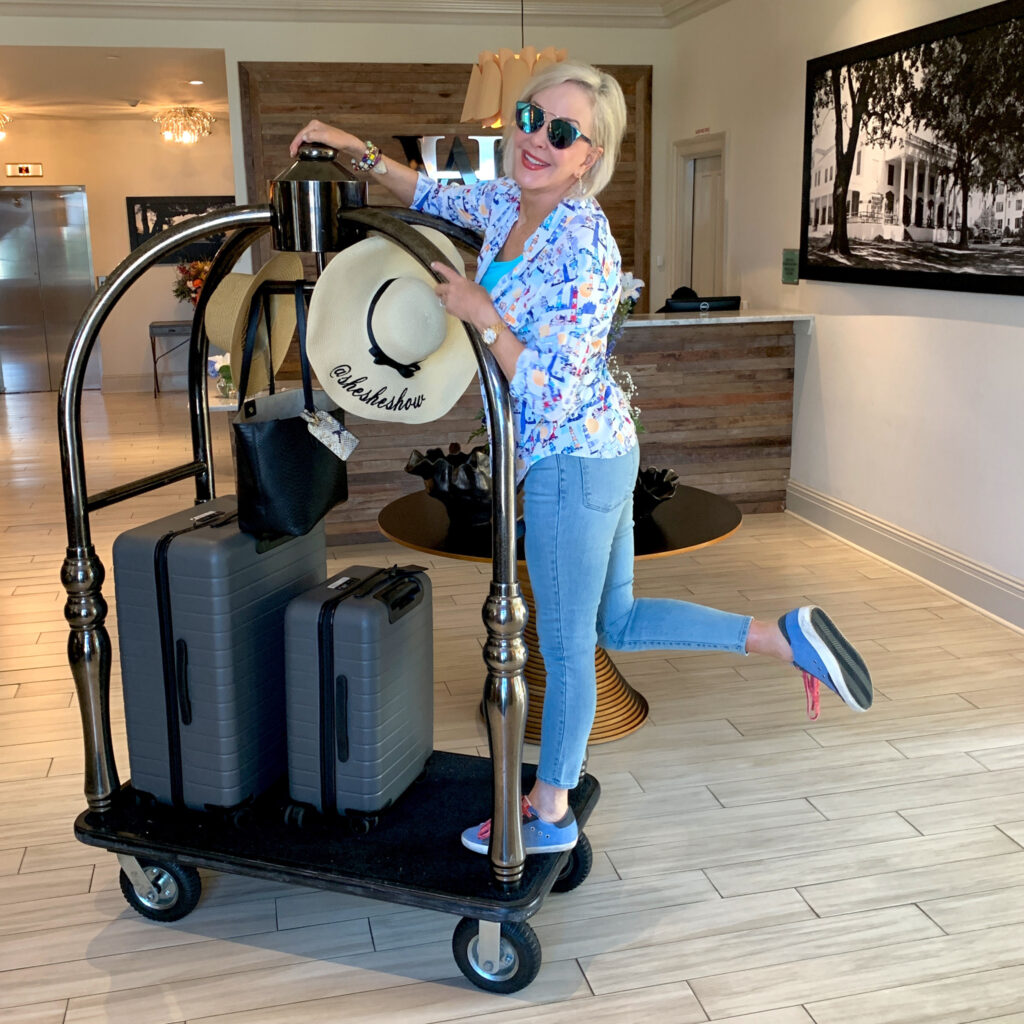 SHOP MY LOOK
Exact items are no longer available, but shop a similar look below!

Table of Contents
LUXURY TRAVEL LUGGAGE
I am a huge fan of Away's luggage (shop here), but I have moved on to other brands – lately, I am really LOVING Tumi. Both brands are sturdy and reliable! So that means no busted wheels on those runs through the airport dodging missing a flight. When purchasing luggage do take into consideration that these should be investment pieces. You will use them year after year and they go through a pretty rough time through the travel process. Have you ever watched your luggage be launched into the underbelly? Quite scary! That's why I always go for a hard shell, too!
TUMI is having its SEMI-ANNUAL SALE now!! Be sure to shop the new markdowns on luggage, bags, backpacks, totes, and more!
SUITCASES
Travel luggage can be the difference between a check-in counter disaster and an easy-peasy trip. From indestructible spinners to designer duffels, there are suitcases for every budget that you'll be proud to grab at the baggage claim!
DESIGNER

BUDGET-FRIENDLY

CARRY-ONS
If you're like me, you can't just pack in a checked bag!! You must have more goodies in a carry-on, too!
For my carry-on, I do like this one by Tumi. You will see with Tumi's carry-ons is how they have the top zipper which makes it easier when you need something out of it in the overhead bin.
This DELSEY large spinner carry-on is on sale for $280.49 (originally $660!!) through June 19!
Use code: DAD at checkout.
DESIGNER

BUDGET-FRIENDLY
For a more affordable option, this hard shell spinner has a built-in power bank to charge your phone or electronics! How handy is that?!

DUFFLES
Duffle bags are great for weekend trips or over-night stays! Depending on the size, they can also be used as a carry-on instead of a rolling bag, however, I personally don't like hauling them through the airport over my shoulder, etc.

TOTES
Travel totes are a MUST in your luggage collection! If you're in and out of airports, a tote with a trolley sleeve is the way to go. No more fussing and worrying about your bag falling off while you're walking because the handle of your spinner fits perfectly into the sleeve and keeps your bag steadily on top.
I love this TUMI tote with the trolley sleeve or this canvas carry-all bag for a more affordable option.

MISCELLANEOUS PACKING ACCESSORIES
MAKEUP + TOILETRY BAGS

PACKING + ORGANIZING
I want to start by mentioning that you should NEVER, EVER, EVER put your precious and expensive jewelry in your checked luggage! EVER!! What if your luggage never arrives with you? There goes everything, this applies to just about anything with a high dollar value. Your best bet is to make sure it is in your carry-on. This travel jewelry box actually has a lock on it providing even more security.

LUGGAGE TAGS

Shop Our Picks

SHESHE'S TIDBITS:
Where are you going this summer?! Let me know in the comments or on Instagram (@SheSheShow)!
Don't forget we have one more patriotic holiday this summer to prepare for – the 4th of July! Shop our patriotic outfits guide HERE.
Be sure to check out our most recent blog posts on Must-Have Summer Handbags, 5 Ways to Style Your One-Piece Swimsuit As A Bodysuit, What is in My Beach Bag | Beach Necessities 2023, Trendy Shoe Must Haves – Summer Sandals + Flats + Sneakers, Versatile Memorial Day Sundresses You Can Strut All Summer Long, Bold & Patriotic Outfits to Honor the Brave, The Ultimate Over 40 Swimwear Guide, and How to Fabulously Wear Shorts Over 40.
*CHECK OUT MY LTK INSTAGRAM SHOP TO SHOP ALL OF MY INSTAGRAM LOOKS
*YOU CAN ALSO DOWNLOAD THE LIKETOKNOW.IT APP AND FOLLOW ME ON IT BY CLICKING HERE. Go here for our LiketoKnow.It tutorial.
* STAY IN THE KNOW: SUBSCRIBE HERE to receive exclusive sale alerts, helpful style tips, and fabulous giveaways, AND GET ACCESS TO MY VIP ONLY FOR SUBSCRIBERS!
* Follow us on PINTEREST BY CLICKING HERE.