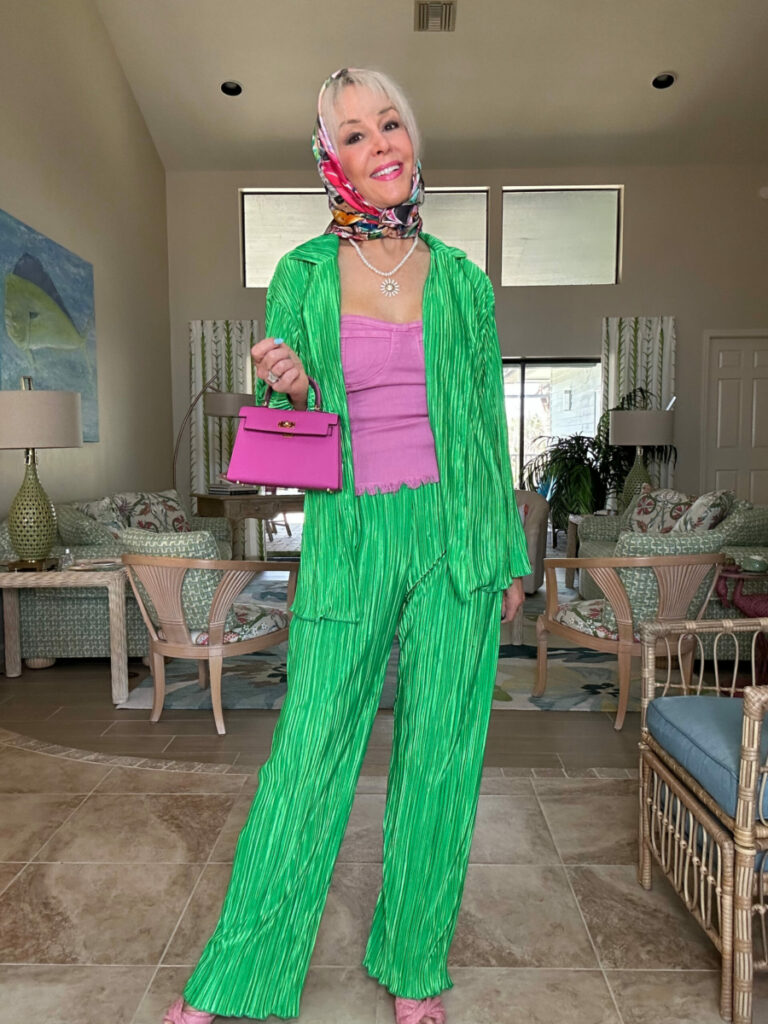 Can you imagine would be like without handbags?! They are practically a girl's best friend so we'd be failing you if we didn't have a post dedicated to the newest trends for summer handbags. Today we are discussing our favorite noteworthy naturals, luscious leather, and colorful canvas bags that are sure to spice up this season's outfits!! For summer of 2023, we are seeing lots of totes, canvas, raffia, and woven bags with tons of vibrant colors!
If you missed it, be sure to check out our recent, related post all about our favorite beach bags and beach bag necessities!
My look today is a budget-friendly 2 pc set that comes in multiple colors. I added a 35″ scarf to bring back that nostalgic 50's vibe. My bag from Lily & Bean is one of my go to bags. I also have it in blue and here in a neutral. It has the Hérmes vibe to it but for much less. Shop it all below.

Table of Contents
SUMMER HANDBAGS 2023
NOTEWORTHY NATURALS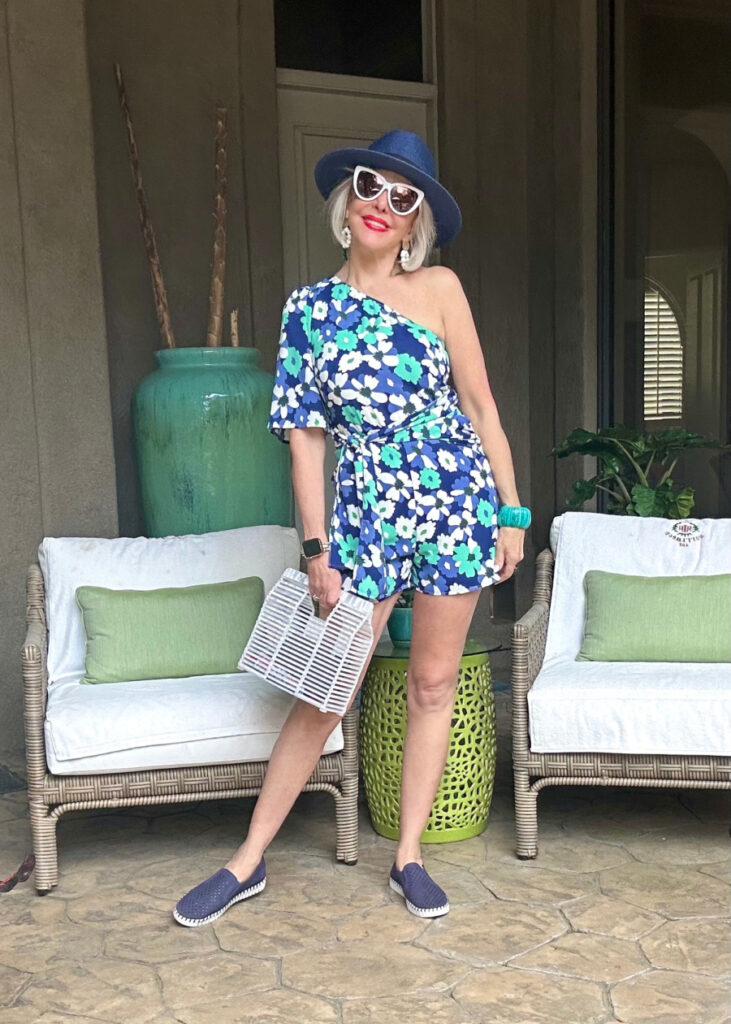 The first white bag is a style that has been trending big time for about 6 years. They have been copied over and over but I found one here that is on sale. The second bag is by a small designer Soli and Sun, that works with a village of ladies in the Philippines. She uses their artisan and craftsmanship to bring us the cutest bags in many colors. This one is the mini but she has a larger version that is awesome. To get 15% off use code SUNSHINE at checkout.
OUTFIT DETAILS (above)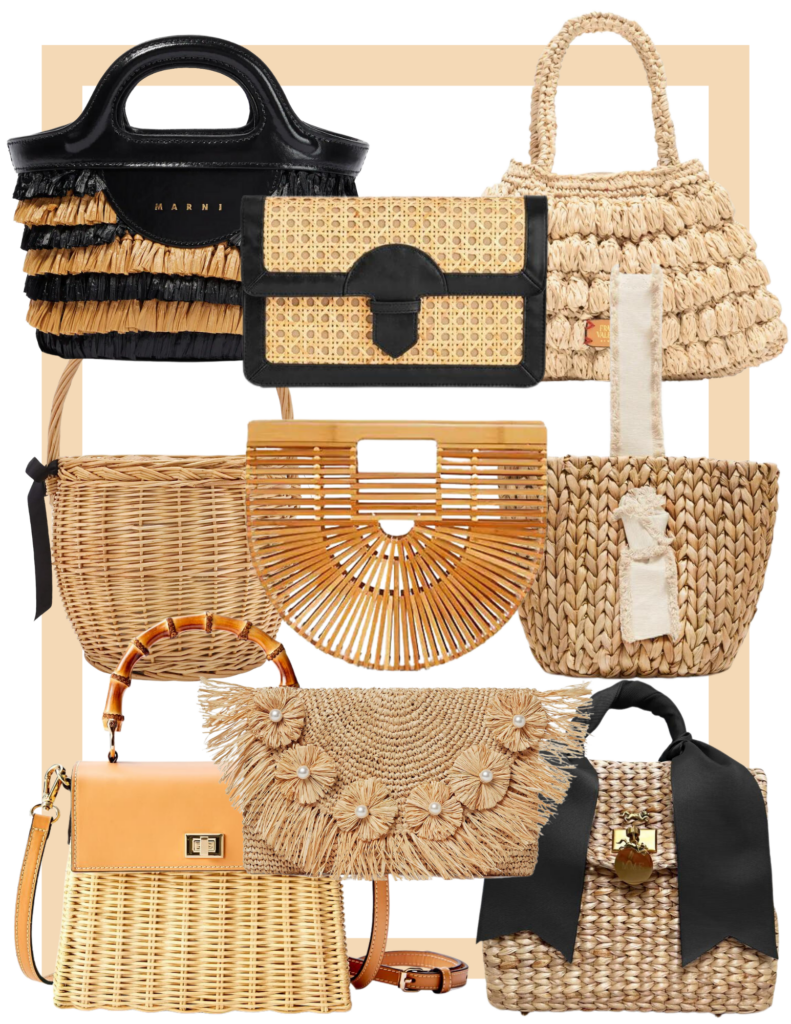 Bamboo, straw, wicker, and raffia woven handbags are all the rage! From the iconic bamboo arc handbag to this woven beauty, these bags are sure to be a show stopper. Simple, lightweight, and fun bamboo and woven handbags of natural materials are an easy go-to this summer.
The Petite Picnic Basket shape is IN for 2023. Unlike a larger basket bag or woven tote, these mini to small-sized top handles make a lovely option for summer nights or stand-in for a wedding guest clutch.
DESIGNER

BUDGET- FRIENDLY

LUSCIOUS LEATHERS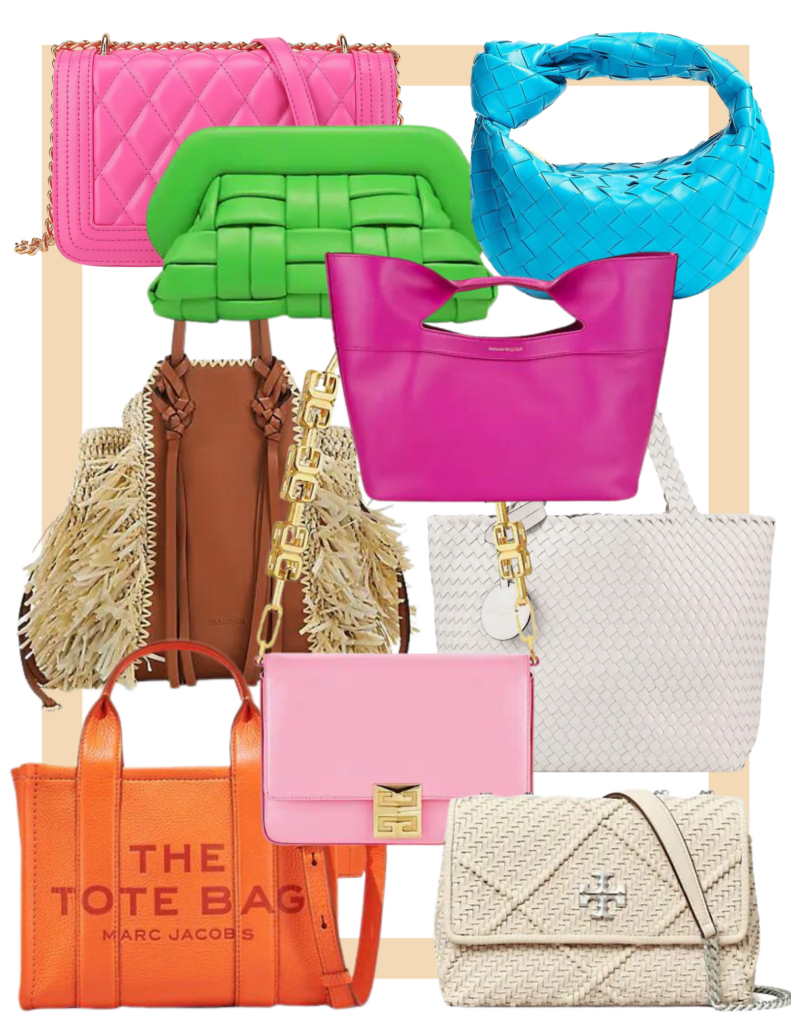 Genuine and faux leather bags are a year-round staple for any handbag collection. They are trending this summer in craftily woven styles and bright colors that give off a "sunny day" feel. According to this Harper's Bazaar article on Summer 2023 Bag Trends, "A sun-kissed summer outfit includes a blush toned bag. Pink is a trend across all categories this season."
And if the all-over woven leather or solid leather look isn't your cup of tea, there are plenty of mixed-material styles featuring leather detailing like this wicker + leather crossbody bag with bamboo handles. From totes, to cross body bags and top handles, luscious leather bags are a durable, stylish option for your next handbag purchase.
DESIGNER

BUDGET-FRIENDLY

COLORFUL CANVAS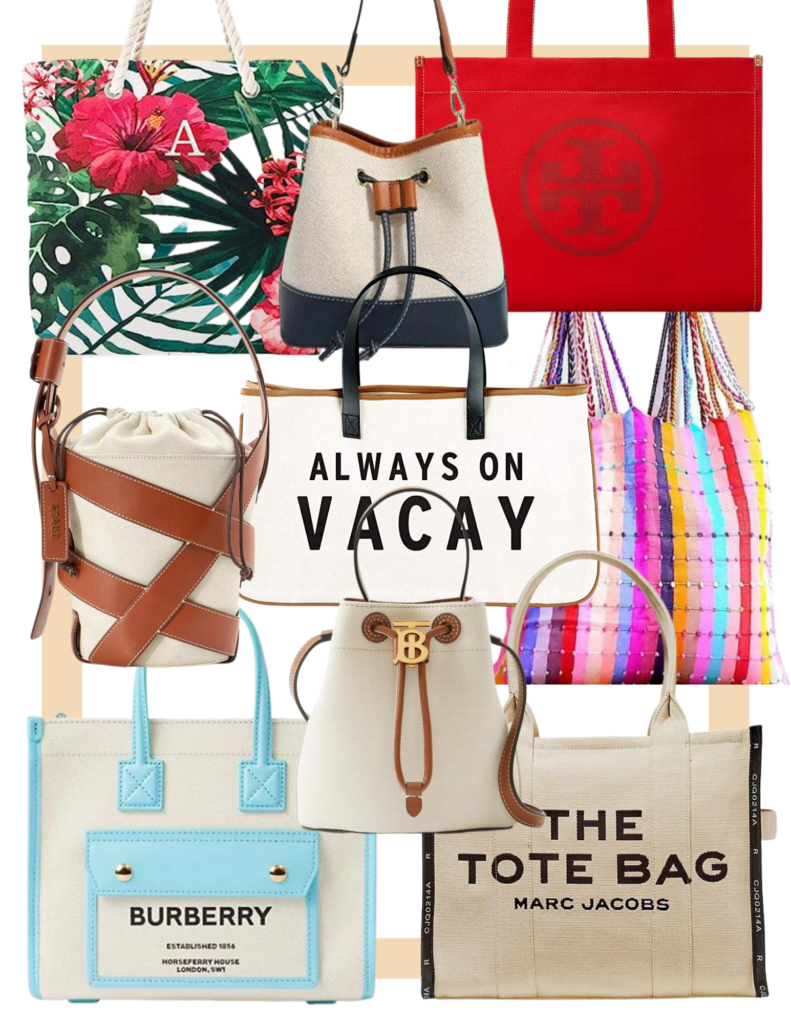 Canvas bucket bags and totes are hitting the streets this summer and are popular in both toned-down neutrals AND bright colors like this adorable dotted Mexican canvas tote. Whether you prefer this Tory Burch Tote in bright candy apple red or the classic, yet ever-iconic Marc Jacobs Tote Bag in natural canvas, you literally can't go wrong this season with whatever color palette you choose!
DESIGNER

BUDGET-FRIENDLY

As you can see, this year's summer handbags are full of fun textures and eye-popping colors!! Shop our carefully curated boutique below for all of our favorite summer bags!
Our SheShe Shop

SHESHE'S TIDBITS:
Which handbags have you bought to strut this summer? We'd love to see!! Tag me in your photo on Instagram (@SheSheShow) so I can check out your favorite summer handbags!
Don't forget there are 2 more patriotic holidays this summer to prepare for!! Flag Day is June 14th and then, of course, the 4th of July. Shop our patriotic outfits guide HERE.
Be sure to check out our most recent blog posts on 5 Ways to Style Your One-Piece Swimsuit As A Bodysuit, What is in My Beach Bag | Beach Necessities 2023, Trendy Shoe Must Haves – Summer Sandals + Flats + Sneakers, Versatile Memorial Day Sundresses You Can Strut All Summer Long, Bold & Patriotic Outfits to Honor the Brave, The Ultimate Over 40 Swimwear Guide, and How to Fabulously Wear Shorts Over 40.
*CHECK OUT MY LTK INSTAGRAM SHOP TO SHOP ALL OF MY INSTAGRAM LOOKS
*YOU CAN ALSO DOWNLOAD THE LIKETOKNOW.IT APP AND FOLLOW ME ON IT BY CLICKING HERE. Go here for our LiketoKnow.It tutorial.
* STAY IN THE KNOW: SUBSCRIBE HERE to receive exclusive sale alerts, helpful style tips, and fabulous giveaways, AND GET ACCESS TO MY VIP ONLY FOR SUBSCRIBERS!
* Follow us on PINTEREST BY CLICKING HERE.