One of the most important sales of the year is almost here, the Nordstrom Anniversary Sale! This sale is unique because the items going on sale are brand new for fall. After the sale ends these items will go back to regular pricing. We have all of the latest information and even earlier access! This is a one-of-a-kind event where you'll find amazing deals on clothing, shoes, handbags, accessories, jewelry, cosmetics, fragrances, home goods, and more. You can preview Nordstrom Anniversary Sale items starting on July 3.
The Nordstrom Anniversary Sale offers new arrivals on sale from top brands like Good American, Stuart Weitzman, MOTHER jeans, Charlotte Tilbury, and more. As always, Nordstrom cardmembers get to shop the sale before everyone else during Early Access. Apply for a Nordstrom credit card to unlock Early Access. Subject to credit approval.
Who Gets to Participate?
A lot of folks are wondering who all gets to participate in this glorious Nordstrom Anniversary sale that only comes once a year. Well, the answer is me, you, your sister, your cousin, your grandpa, the kids, and even your best friend! We ALL get to enjoy the sale. But not everyone gets to participate early!
Nordstrom Anniversary Sale Timing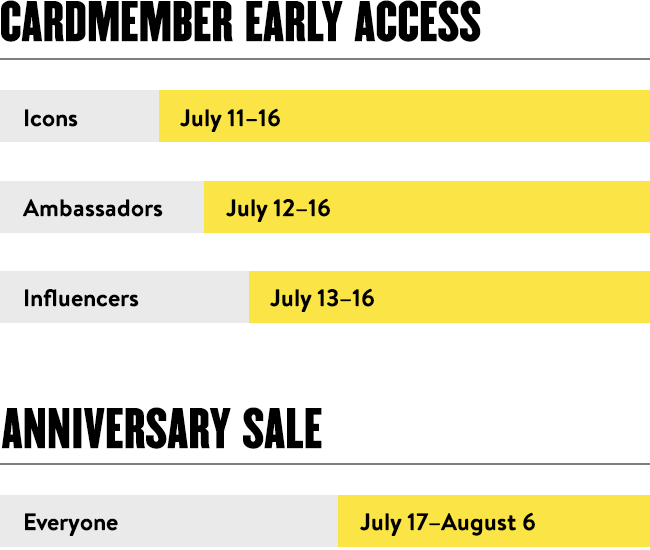 What are the Nordstrom Anniversary Sale Early Access tiers?
Your Nordy Club level is based on yearly spend amounts, though all cardmembers automatically start at Influencer status. You can only shop Anniversary Sale Early Access as a cardmember.
July 11: Early Access for cardmembers with Icon status.
July 12: Early Access for cardmembers with Ambassador status.
July 13: Early Access for cardmembers with Influencer status.
July 17: Anniversary Sale opens to the general public.
What is included in the Nordstrom Anniversary Sale?
Anniversary Sale is an especially great time to get jeans, coats, jackets, and shoes for both men and women. Families with kids save a lot by stocking up—buying sizes that fit now and ones to grow into. It's also a great time to stock up on the wardrobe staples you'll need throughout the year, like undershirts and underwear, plus larger sizes of our beauty exclusives, which are only available during the sale.
What brands are included in the Nordstrom Anniversary Sale?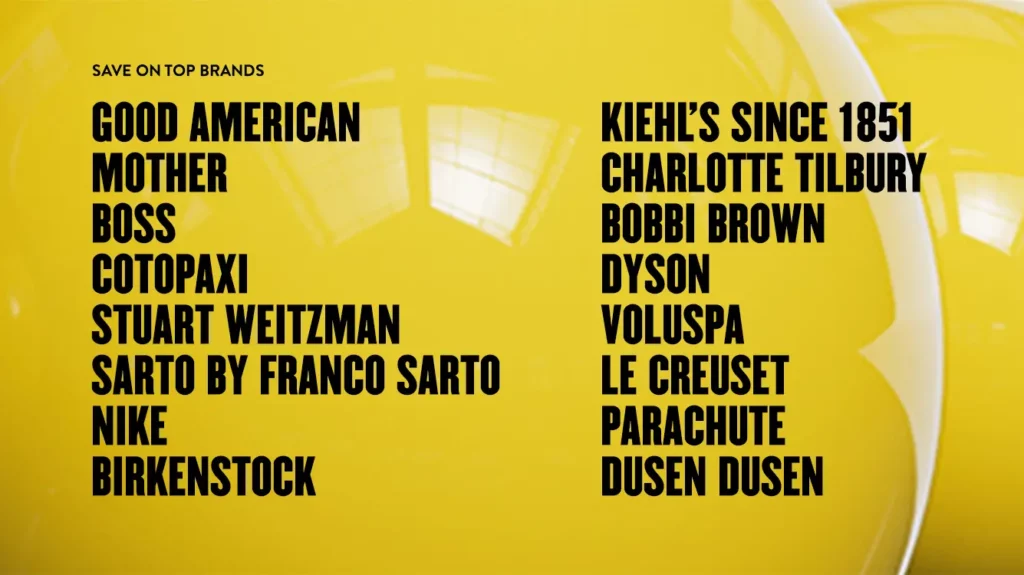 Nordstrom always offers a mix of on-trend styles and wardrobe staples from the best brands, and the Anniversary Sale is no different. Some brands—like Zella, Barefoot Dreams and Kiehl's Since 1851—are included in the sale most years, so it's a great chance to stock up on your favorite leggings, throw blankets and skin care products. Plus, this year there are tons of brands making their Anniversary Sale debut.

Final Notes On Nordstrom Sale
We will be your go-to resource for everything you need to know about this sale. Don't get overwhelmed because we will do most of the work for you. Curating categories in home, beauty, fashion, athleisure, accessories, shoes and boots, and more is what we love to do. So stay tuned as we get to preview we will share our picks with you so you will be armed and ready on the day you get to shop!
SHESHE'S TIDBITS:
Hi Beauties,
Guess where I am now? We crossed the bridge yesterday afternoon to our happy place on Sanibel Island. It is still really rough around here after Hurricane Ian last fall. It is coming along but very slowly. Every time we return there are more businesses and restaurants opening up and homes getting their new looks. All in all, it is still a wonderful little island.
If I have time, I will post a list of some great sales going on during the 4th. This is the time of year that retailers start dumping their stock which means MAJOR savings for you and me! What are your plans for the upcoming 4th holiday and what 4th of July fashion will you be rockin'?! Let me know in the comments or on Instagram!! XO – SheShe
Be sure to check out our most recent blog posts on Festive 4th of July Fashion 2023 | Summer Fashion Fun,  4 Ways to Dial Up Denim, Luxury Luggage for Every Budget, Must-Have Summer Handbags, 5 Ways to Style Your One-Piece Swimsuit As A Bodysuit, What is in My Beach Bag | Beach Necessities 2023, Trendy Shoe Must Haves – Summer Sandals + Flats + Sneakers, Versatile Memorial Day Sundresses You Can Strut All Summer Long, Bold & Patriotic Outfits to Honor the Brave, The Ultimate Over 40 Swimwear Guide, and How to Fabulously Wear Shorts Over 40.
*CHECK OUT MY LTK INSTAGRAM SHOP TO SHOP ALL OF MY INSTAGRAM LOOKS
*YOU CAN ALSO DOWNLOAD THE LIKETOKNOW.IT APP AND FOLLOW ME ON IT BY CLICKING HERE. Go here for our LiketoKnow.It tutorial.
* STAY IN THE KNOW: SUBSCRIBE HERE to receive exclusive sale alerts, helpful style tips, and fabulous giveaways, AND GET ACCESS TO MY VIP ONLY FOR SUBSCRIBERS!
* Follow us on PINTEREST BY CLICKING HERE.